We use cookies to improve our site and your shopping experience. By continuing to browse our site you accept our cookie policy. More info
We ship worldwide to over 180 countries!
Lundia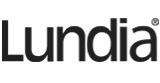 Lundia
Lundia is a Finnish family business, founded in 1948. Lundia was born in the 1940's when the carpenter and inventor Harald Lindqvist changed the world of furniture in his workshop. Lindqvist had discovered, that when people move they could not take the permanently installed shelves with them. From this he got the idea to start designing a new type of shelf, which could be both dissembled and re-assembled. Lindqvist's invention made it possible to adjust storage units by the space and the need of the individuals. This was how the first collection of Lundia was born. Since then the Lundia collection has been joined by several high-quality shelving units, beds and lamps.
Lundia values domestic production and materials, ethical choices and high quality design. The products from Lundia are made in Finland and also the wood materials come from Finland. Lundia takes environmental issues seriously and the company tries among other things to minimize the transportation needs and uses only renewable energy in their production. Opposed to the throw-away culture Lundia aims to offer products that are made to last and grow together with the people.
This brand has collaborated with: Tapio Anttila, Helorinne & Kallio, Joanna Laajisto, Jukka Korpihete
---
Show filters
---
---