LYFA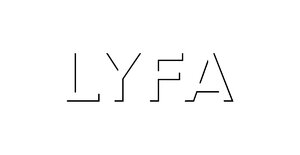 LYFA
Danish lighting brand LYFA aims to create light fixtures suitable for any space and occasion, or as they call them, "Lyspunkter i tilværelsen", shining lights in everyday life. The brand is best known for its long-term collaboration with Danish designer Bent Karlby and his luminaire creations Peanut, Mosaik and Pan.
The history of LYFA is very multifaceted with many ups and downs. Originally founded in 1903, the company was at first called Kjøbenhavns Lampe- og Lysekronefabrik (Copenhagen lamp and chandelier factory), but in the 1930s, the name was shortened to its current form. Although the name was made more concise, the brand still wanted to show respect for the early days of the business with it: the first part of the name LY was taken from the word Lysekrone, and the rest FA from the word Fabrik.
In the middle of the 20th century, the company gained a reputation both in its home country, Denmark and internationally, and collaborated with numerous well-known designers from Bent Karlby to Finn Juhl. Many of LYFA's most famous luminaires date from this period. However, during the late '70s and early '80s, LYFA underwent several changes and mergers, until in 1998 the company finally ceased operations altogether.
To the delight of Danish design fans, LYFA was revived in 2020, and some of its most iconic luminaires were re-launched – the shining lights in everyday life were made available again for all lovers of impeccable Nordic lighting design.
This brand has collaborated with: GamFratesi, Simon P. Henningsen, Bent Karlby