The seats are often literally overshadowed by the table, but these captivatingly colorful dining chairs might end up taking center stage. Design Stories chose nine beautiful chairs packed with character to brighten up the mood of your kitchen or dining area and to make dining even more fun.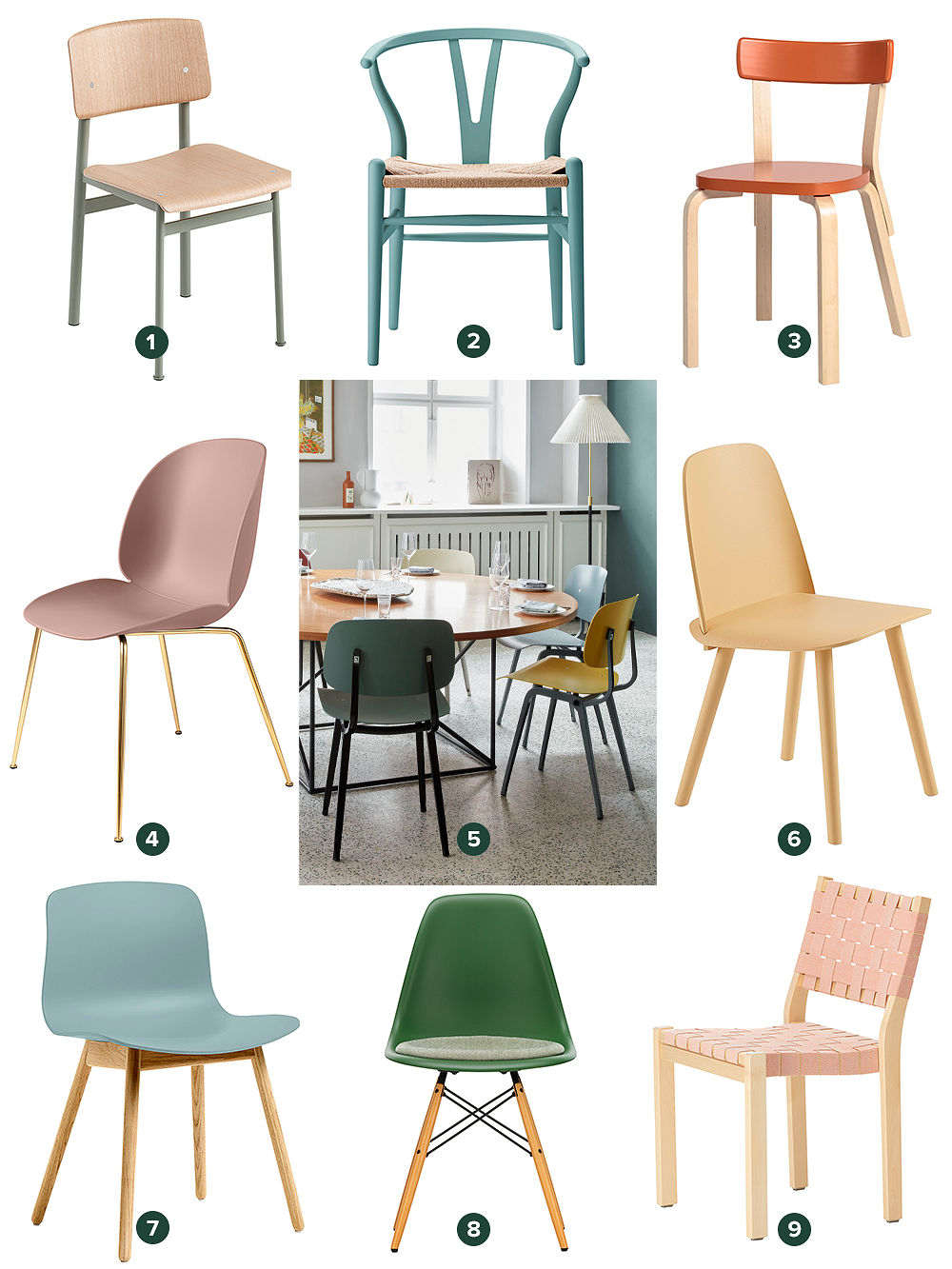 1. Muuto's Loft chair, designed by Thomas Bentzen, is a playful junction of opposite elements, where soft and sharp shapes collide, and warm and cold materials meet. 2. Inspired by the raw beauty of the Nordic landscapes, designer Ilse Crawford created nine new colours for the iconic CH24 Wishbone chairs. The eco-friendly, water-based matte colours are launched one by one during 2022. 3. Artek's multifunctional Aalto chair 69 is one of Alvar Aalto's best-known dining chairs, and its simple yet vivid character easily suits any room of the house.
4. Stine Gam and Enrico Fratesi drew inspiration for GUBI's playful Beetle chair from the anatomy of beetles, which is apparent in the delicate, insect-like legs and hard, curved shell. 5. The gist of HAY's Revolt chair lies in its metal frame, which, a bit unusually, is not made of a metal tube but of a thin, angled steel plate. The reinvented classic is originally designed by Friso Kramer in the 1950s. 6. Muuto's Nerd chair has a joyful and balanced appearance that features an innovative, overlapping structure between the backrest and the seat.
7. HAY's About A Chair collection was created together with designer Hee Welling with a mission to create a product that hits all levels in the combination of shape, function, comfort, detail, and esthetic. 8. Did you know where Vitra's iconic DSW chair gets its name from? It comes from the words Dining Height Side Chair Wood Base. A true design classic created by Ray and Charles Eames, the timeless chair is available in various colours. 9. The Aalto chair 611 by Alvar Aalto has a solid birch frame with a linen webbing, giving it a soft, natural character and making it easy to re-upholster again.
See also:
• All dining chairs at Finnish Design Shop >
• All dining tables at Finnish Design Shop >
Text: Design Stories Images: Manufacturers