The best way to keep small items organized at home is to have a designated place for each and every one. If you seem to be short of storage space, various boxes, shelves, and racks will come in handy. Beautiful storage items can be left visible and they can hold a good amount of stuff.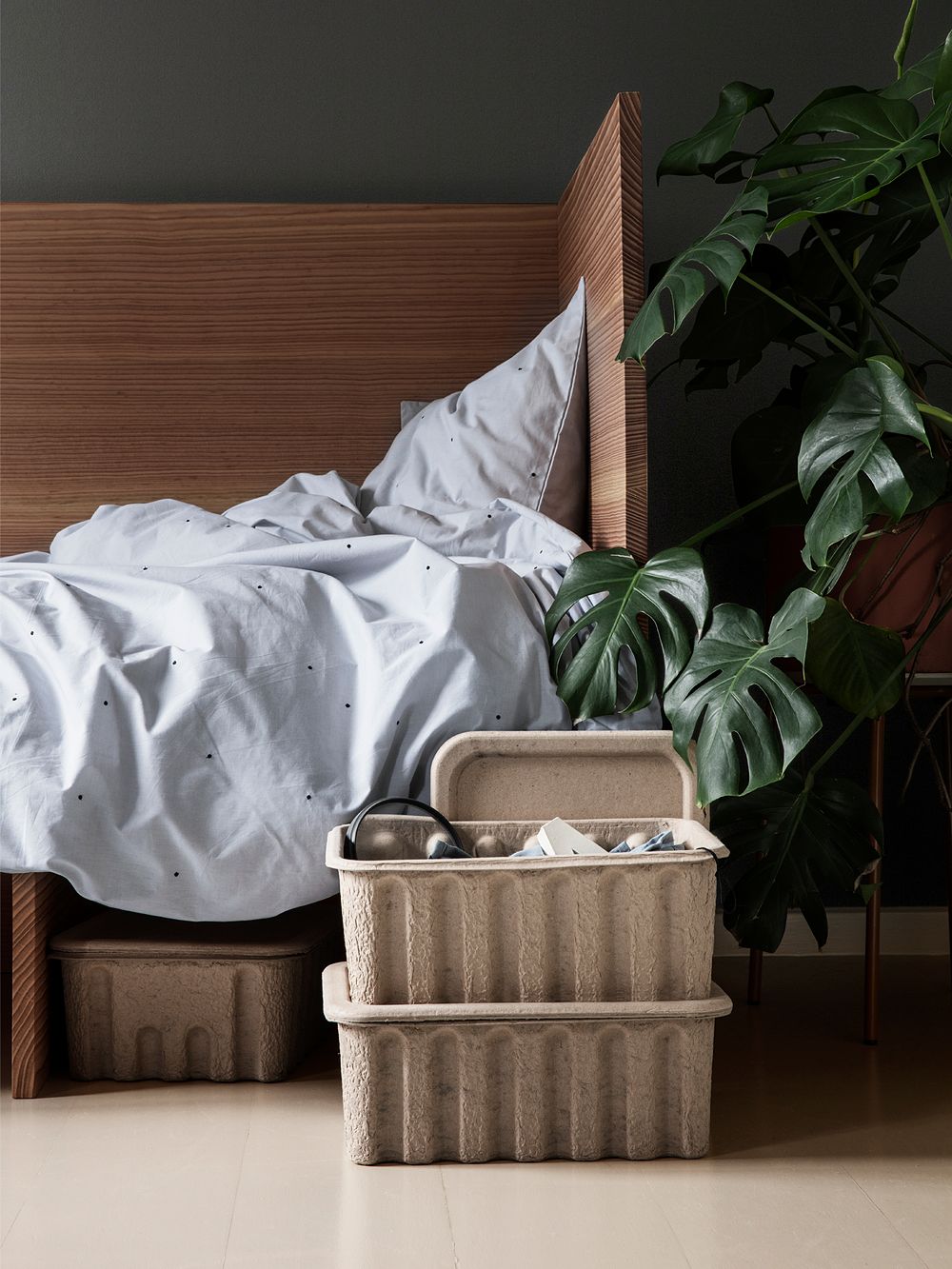 An ecological option
Made from recycled paper pulp, Ferm Living's storage boxes are ideal for any type of storage, either in cabinets or in sight. The boxes with lids are easy to stack and are lightweight for easy handling. The rough-looking paper pulp boxes also provide a fun solution for interior design: an open-minded decorator can stack the boxes to make for example a convenient side table or bedside table. The size of the boxes is 30 x 40 cm and height 15 cm.
• Ferm Living's Paper pulp boxes >
• All storage containers >
Space for the necessary belongings
Do you keep losing your glasses, keys or wallet? Woud's elegant Pocket Mirror features a handy storage shelf on which it is easy to place the small accessories you need every day. The decorative object is a beautiful detail for example in the hall where you often need a place for small items. Two different sizes are available in the trendy smoked oak finish.
• Woud's Pocket Mirror >
• All mirrors >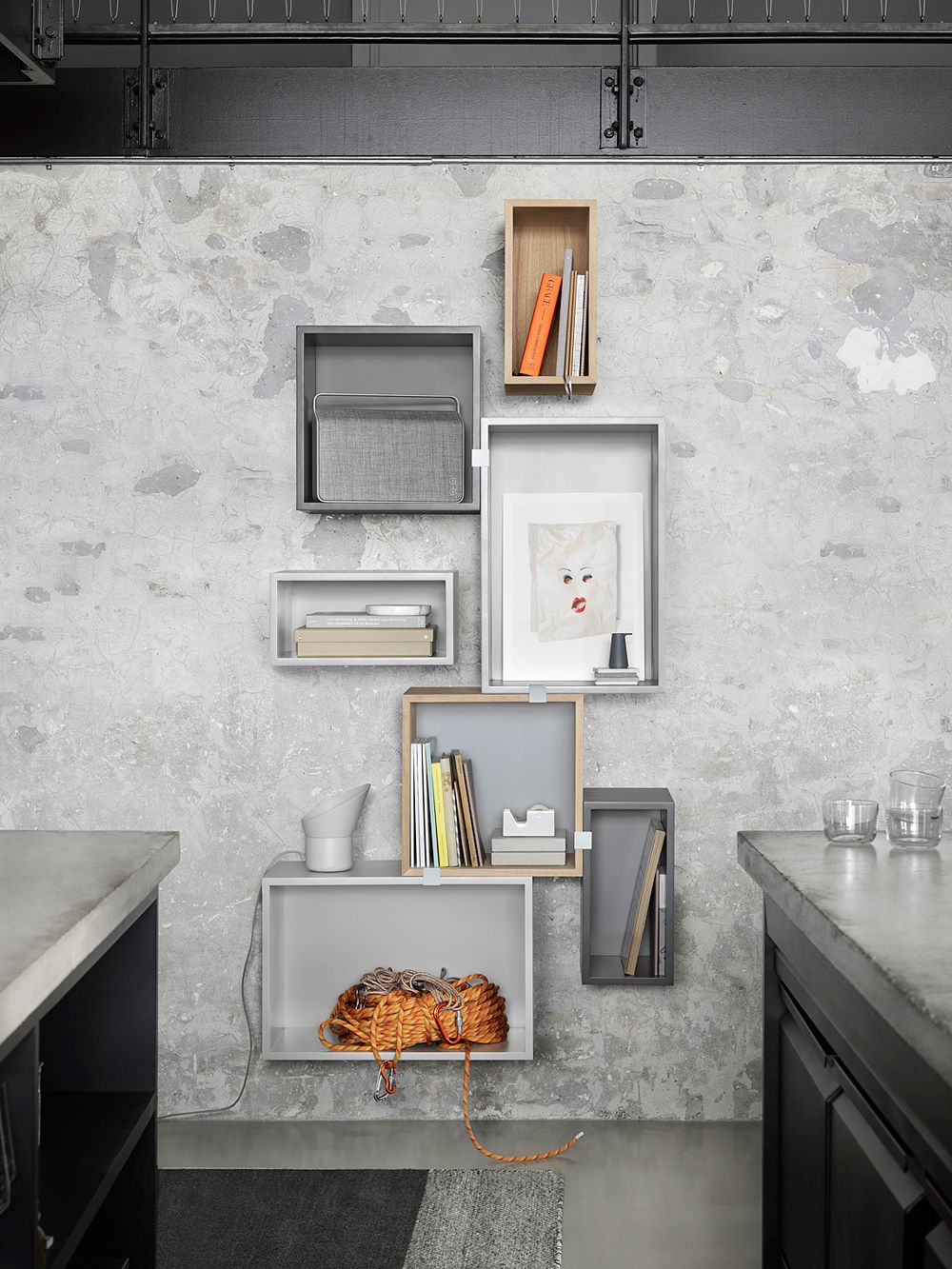 Get inspired and combine
A storage solution can also be a unique eye-catcher. Muuto's Stacked shelving modules, ideal for all kinds of spaces and storage needs, make room for creativity. The versatile shelving system includes individual shelf modules of various sizes and modules with doors, which can be stacked on the floor or mounted on the wall. Multiple sizes and endless combinations make the shelves easy to modify to meet your needs – the choice is yours.
• Muuto's Stacked shelving system >
• All shelving units >
With Muuto's Stack shelving modules you can create the storage system you need – be it a bookshelf or a TV stand.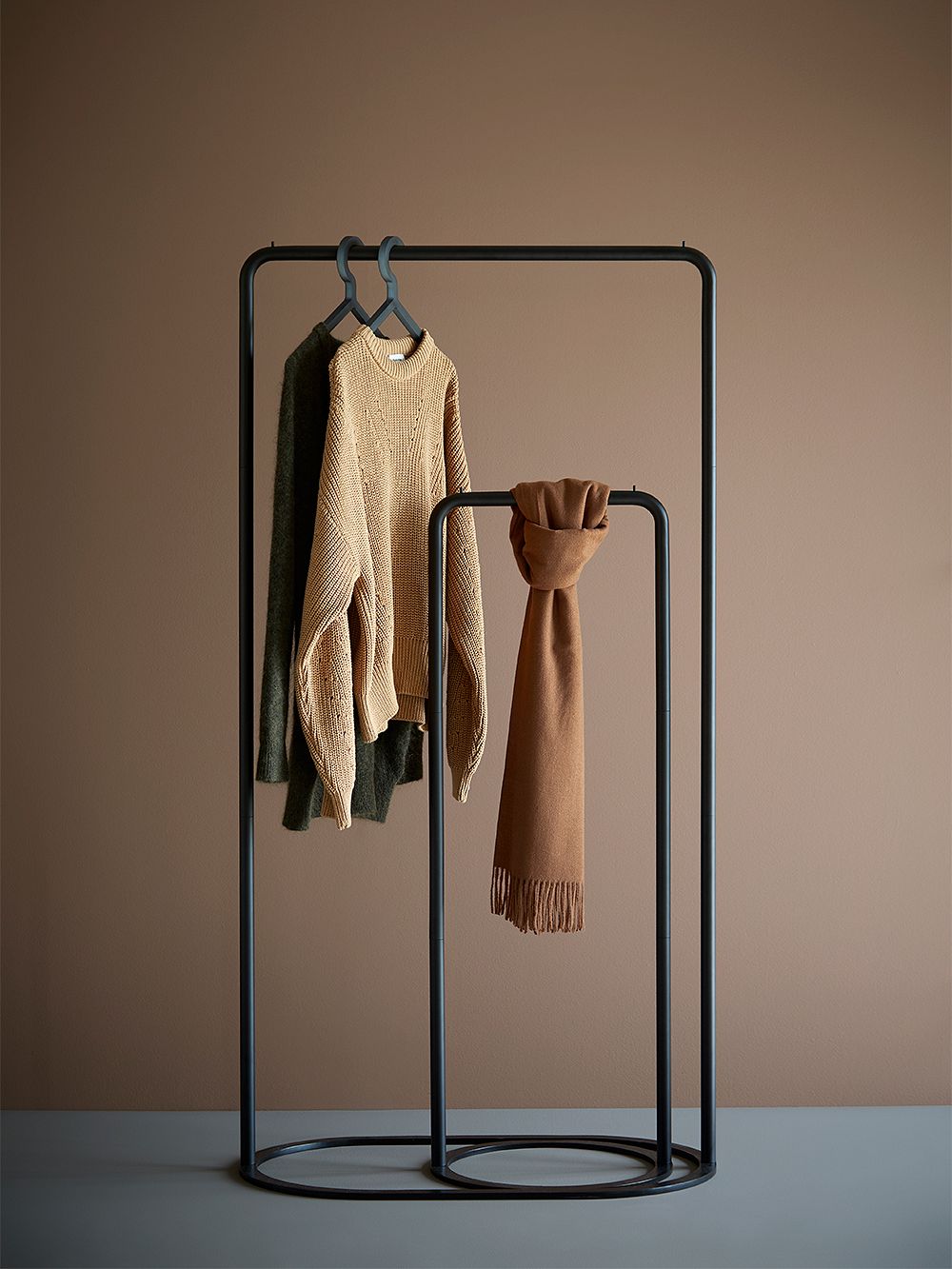 Extra space in the wardrobe
If your wardrobe is full to bursting point, why not arrange extra space outside it? The minimalist O&O clothes rack by Woud is a charming addition to the room, both solo and as a pair – the racks of different sizes form an interesting ensemble that can be easily re-arranged, and they also merge perfectly together. The simple, sleek rack made from metal is ideal for hanging clothes you've worn but don't need washing yet, or the absolute beauties of your wardrobe, but it also adapts well to the storage needs of your hallway.
• Woud's O&O clothes rack >
• All coat racks & hangers >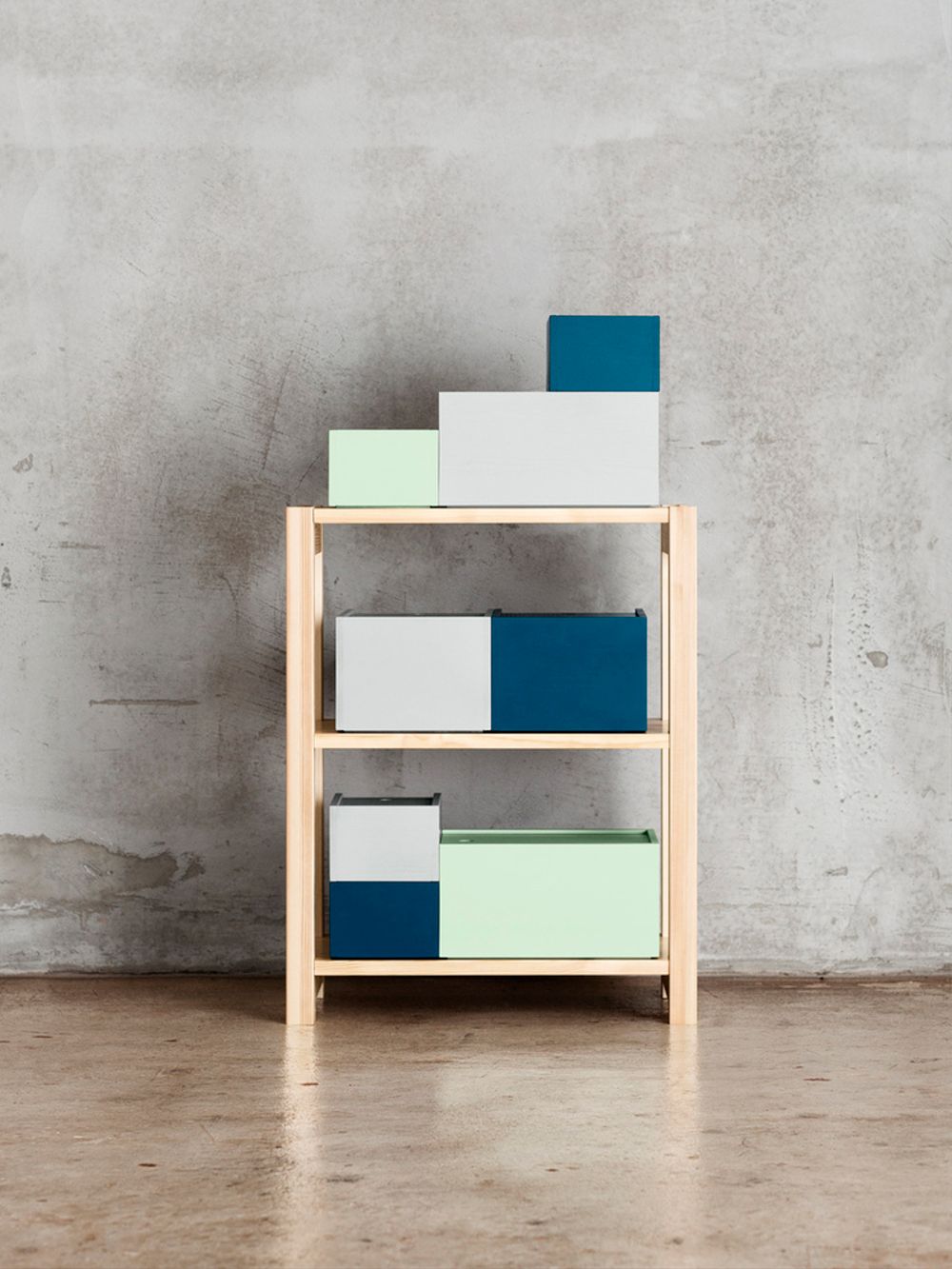 Hide in boxes
Various decorative boxes are an easy and functional storage solution for items that tend to float around. The System storage boxes, designed by Joanna Laajisto for Lundia, are delightful in their attractive shades. The boxes, made of sturdy pine with a sliding lid, are designed to be stackable and scaled to fit the Lundia shelves perfectly. A simple storage box is a convenient and eye-catching addition to various open shelves and arrangements.
• Lundia's System storage boxes >
• All small storage >
Beautiful storage boxes also make a decorative element. They conceal toys and other items that tend to float around.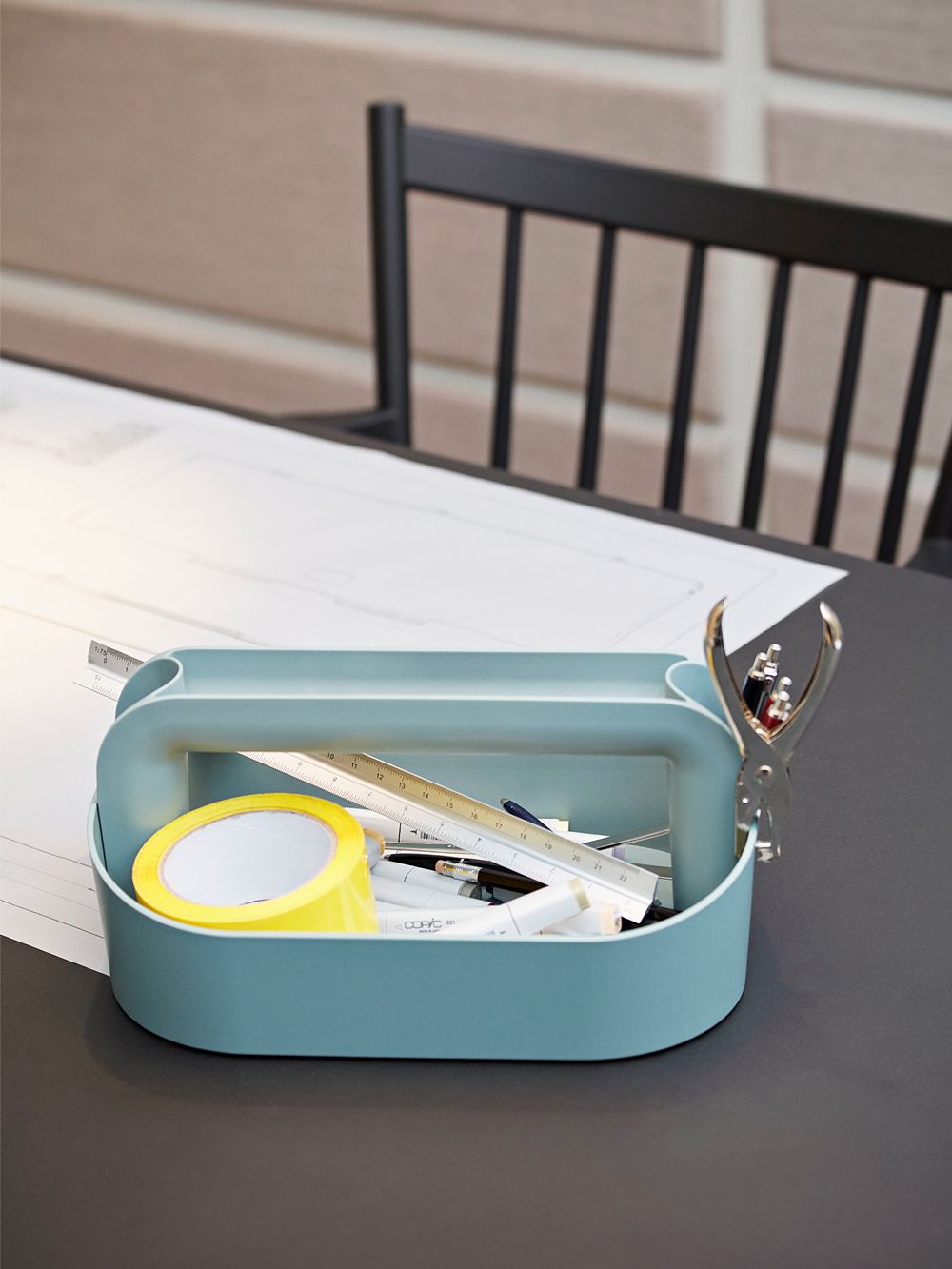 A place for small sundries
HAY's Tool Box organizer is ideal for small items floating around on the desktop, spices in the kitchen, or handicraft necessities. The carrying handle not only makes the box easy to move from one place to another but also provides extra storage space for smaller items. The easy-to-clean plastic box is available in two colors, green and grey.
• HAY's Tool Box >
• All storage containers >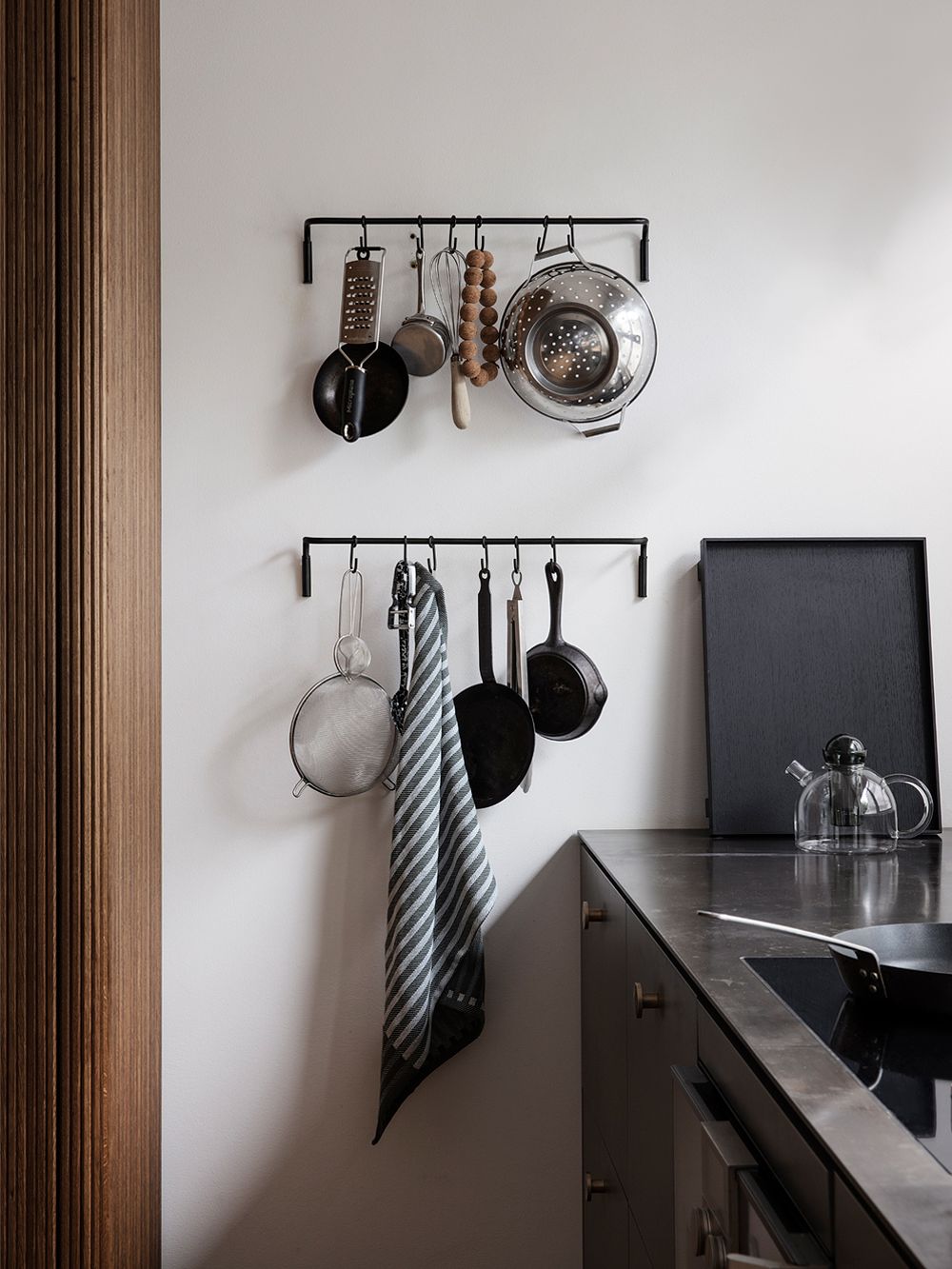 Hang on a rod
If your kitchen cabinets don't have enough space, make some room by placing some of the utensils on the wall. Ferm Living's kitchen rods give a relaxed industrial feel to the kitchen and provide a place for storing kitchen towels, cookware and frying pans. The rods are 55.3 cm long and are available in black and brass.
• Ferm Living Kitchen rod >
• All wall coat racks >
See also:
• More storage ideas at Finnish Design Shop >
Text: Maija Rasila Photos: Manufacturers