Beautiful cleaning products tempt you to roll up your sleeves! We chose nine eye-catching cleaning products that don't need to be hidden in the closet – find your favorite and make cleaning the highlight of the week.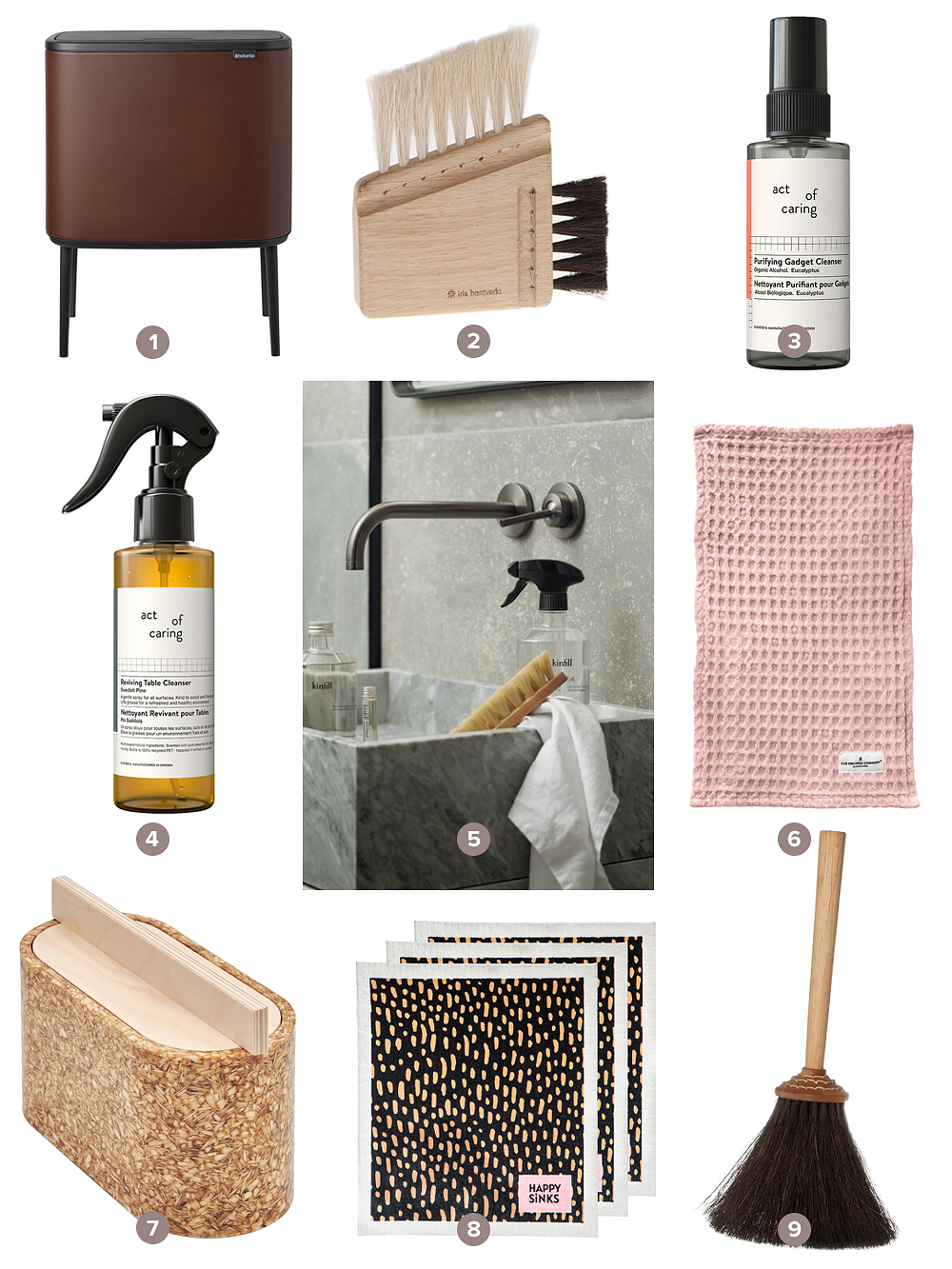 1. Brabantia's Bo Touch Bin is a beautiful and functional waste solution for the home. Made of elegant and durable coated steel, Bo Touch Bin is equipped with two separate inner containers and a silent and odor-free lid. 2. Made from oak and horsehair, the smaller bristles of Iris Hantverk's computer brush give easy access between the keyboard keys, while the longer, naturally anti-static bristles are great for wiping the screen. 3. When was the last time you cleaned your smartphone? Act of Caring's Purifying Gadget Cleanser is a gentle and safe product designed for cleaning all surfaces from mobile phones and keyboards to door handles and toys.
4. Act of Caring's Reviving Table Cleanser is specially designed for the dining table, but the effective spray also lifts grease and grime from the backsplash and the kitchen counters, for example. 5. Make windows and mirrors spotless and squeaky clean with the Glass and Mirror cleaner! The idea behind Kinfill's blend-at-home concentrates and glass bottles is to reduce the amount of plastic waste. The same bottles can be used over and over: pour the concentrate into the bottle, fill it with water and swirl gently 6. The Organic Company's Big Waffle kitchen cloth adds a modern, relaxed touch to your kitchen – and can also be used as a small towel!
7. Niimaar's beautifully designed and easy-to-clean Biowaste Box can be stored on the kitchen counter and used without a biowaste bag. 8. Adorned with a graphic pattern, the Happy Sinks dishcloths are made of a 100% biodegradable and plastic-free material that can absorb up to 16 times its weight and still dries quickly. See also the Happy Sinks dishcloth holder. 9. Iris Hantverk's porch broom is a beautiful, lightweight and traditional tool for wiping off dirt and gravel on a patio or balcony. The broom has a short handle crafted from birch, and the bristles are made from durable, water- and heat-resistant Arenga fiber.
See also:
• All products for housekeeping at Finnish Design Shop >
• All products at Finnish Design Shop >
Text: Design Stories Images: Manufacturers