The Eames Lounge Chair is a design classic that will last you for decades to come – and therefore when choosing it, you should take into account the possible variations in wood color. It's always a good idea to purchase the lounge chair and ottoman at the same time so that the wooden parts will match as closely as possible.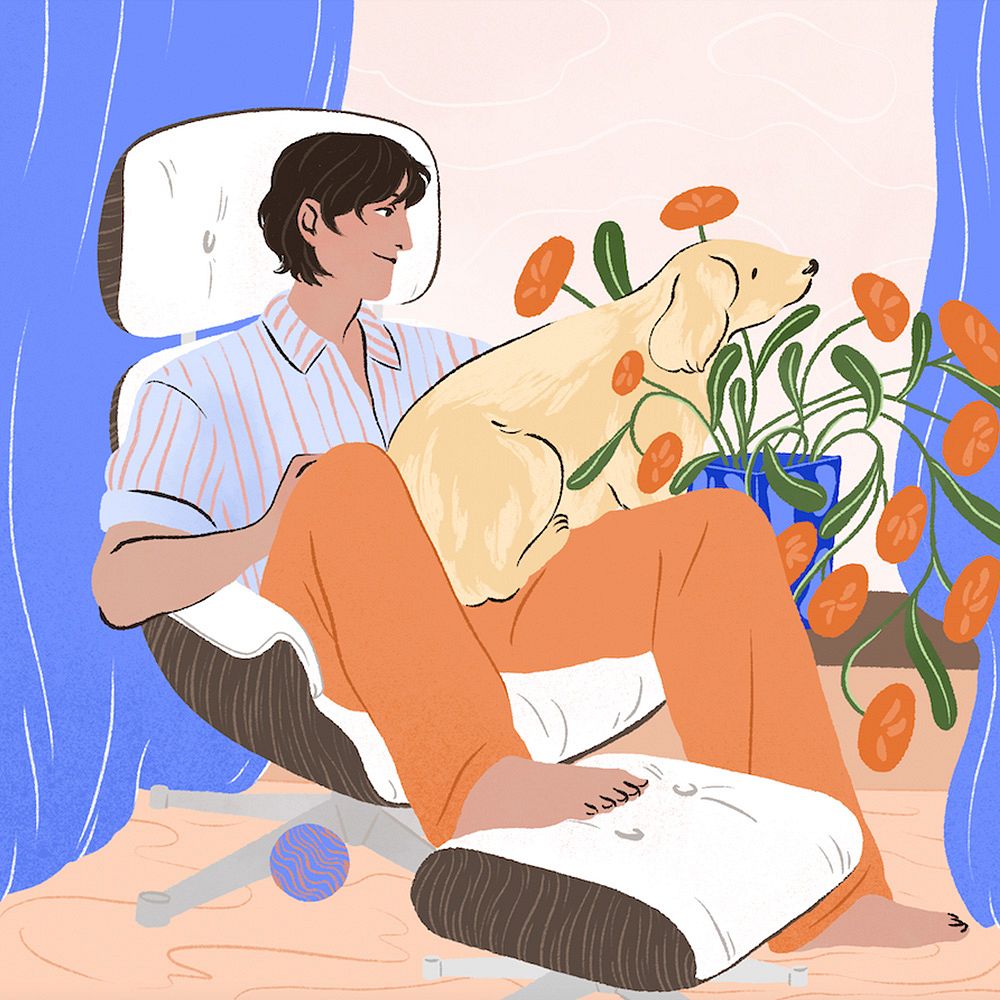 OF ALL OF VITRA'S superbly crafted design classics, one of the iconic and above all most enduring is undoubtedly the Eames Lounge Chair by Charles and Ray Eames. This elegant home centerpiece is the outcome of a painstaking design process, and when paired with a footstool from the same series the lounge chair offers perfect relaxation for people of all sizes. You can choose your preferred color of veneered plywood frame and leather upholstery. To ensure that the wooden parts are the same shade, especially the lounge chair and ottoman in palisander wood should be chosen from the same batch.
This Design Stories column provides answers to popular questions, which may be helpful and inspirational to others, as well. Miina Lindblad from Finnish Design Shop's customer service team answers the questions.
---
How can I ensure that the wood color of the Eames Lounge Chair and the Ottoman footstool I'm buying are as evenly matched as possible?
"If possible, we recommend ordering the lounge chair and ottoman at the same time. In this case, the wooden parts will have been selected in production to be as closely compatible with each other as possible. In the case of strongly patterned palisander wood, in particular, the differences in tone between different production batches can be considerable – for this reason, the Eames Lounge Chair and Eames Lounge Ottoman in palisander should be from the same production batch. And when it comes to American cherry, its red tone is intensified by ultraviolet light, so it's best not to leave too much time between the purchase of the lounge chair and ottoman if choosing this color. Other types of wood do not vary in color as much, but like all wood they also become patinated and their color fades and darkens over time.
If you want to combine light wood with dark leather, you should also keep in mind that the inside of the wood parts can be either white or black. The color can show through the spaces between the cushions and can be distracting if the combination has not been carefully considered.
Vitra recently updated the dimensions of the Eames Lounge Chair to better suit modern-day users. You can still order your lounge chair either with the original classic dimensions or with the new, slightly larger dimensions. Our customer service team will be happy to help you with your lounge chair purchase."
• Vitra's Eames Lounge Chair >
• Vitra's Eames Lounge Ottoman >
---
Where are Vitra chairs made?
"All Vitra furniture is made in Europe and in line with the company's philosophy, and the leather used is also European. The high quality of Vitra furniture is the result of its long history of product development, and even classic products may be adapted to better meet today's expectations if this is what customers wish.
In early summer, Finnish Design Shop visited once again the birthplace of Vitra chairs, in the town of Weil am Rhein in southwest Germany. Among other highlights, we visited a testing unit on the Vitra Campus, where chairs are subjected round the clock by robots to the stresses of normal use. We also visited the factory, where the chairs are still meticulously handcrafted. Concern for the environment is always part of the product development process, and vegetable-tanned leathers are a great addition to the range of upholstery options."
• Vitra chairs >
• All Vitra products >
---
Is it possible to buy new wooden runners for the Eames RAR rocking chair? My puppy chewed on them.
"Yes – new wooden runners are available for the rocking chair as replacement parts. Although the runners are sturdy and made to last, they still can't withstand sharp teeth without damage. The height and other dimensions of the Eames Plastic Armchair RAR were changed in 2019 for added structural stability, so to ensure compatibility it's a good idea to first find out whether you need to replace just the wooden runners or the whole rocker base. The rocker base is available in chrome, black or white, and the wooden runners in a light or dark shade. The runners are easy to replace – no carpentry skills are required.
If an item of Vitra furniture or other valued object breaks in one way or another, you should always contact our customer service first. We will then consult with the manufacturer to determine the availability of any replacement parts that might be needed. In this way, we can ensure that the item will remain in good condition for decades to come."
• Vitra's Eames RAR rocking chair >
---
Miina Lindblad works as a design sales representative in Finnish Design Shop's Customer Service team. Her design treasures include a self-designed lamp based on an old spinning wheel, and underneath it, her latest acquisition, Artek's Trienna table.
---
Help with your design purchases:
• Finnish Design Shop's Customer Service >
Text: Miina Lindblad Illustration: Evi Rinkinen