Arabia's Moomin seasonal set for summer 2022 continues the Moomin family's summer adventure with a jolly fishing theme. The tableware's pastel-hued illustration features a collage of elements from three Moomin comic strip stories.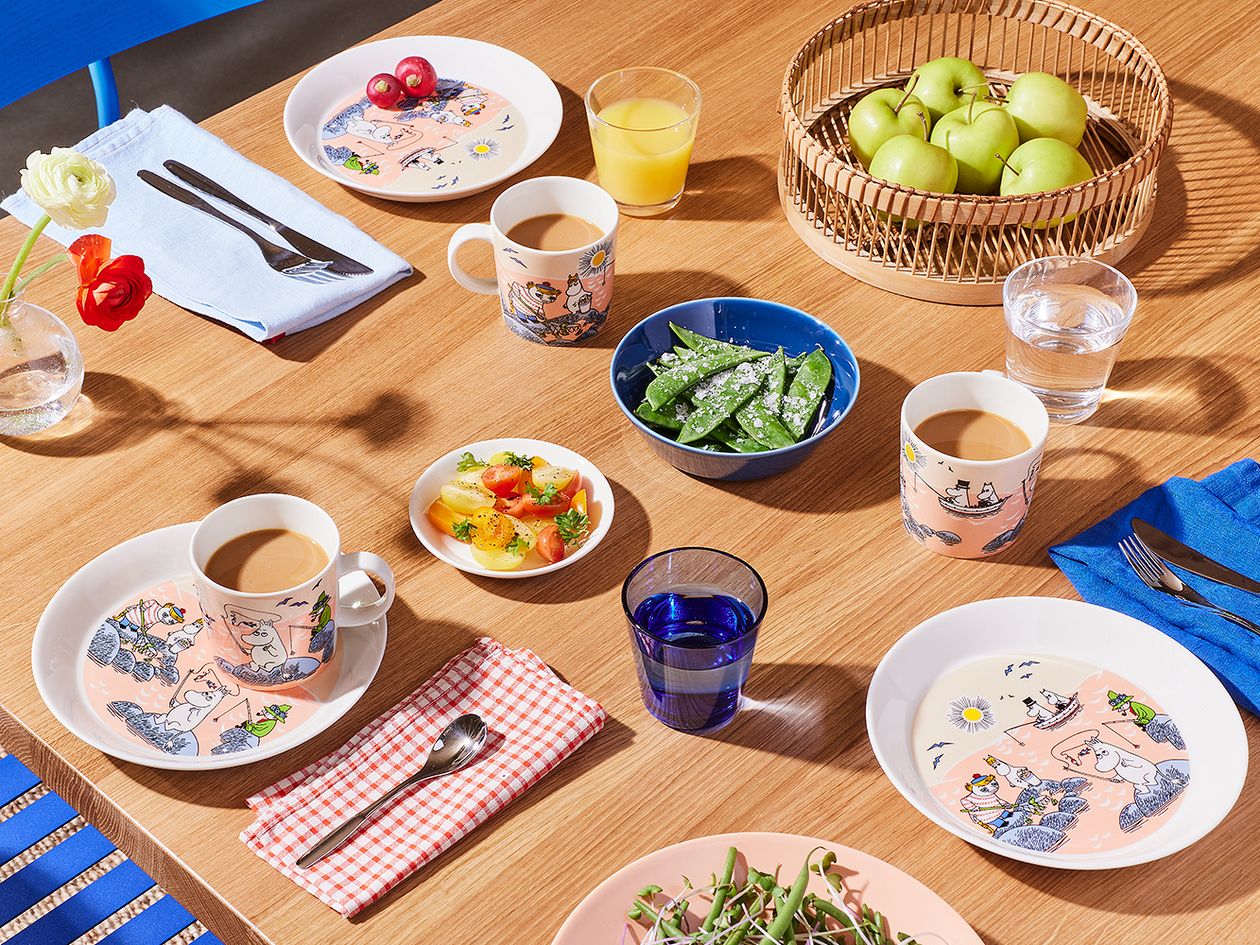 THE MOOMIN SUMMER MUG 2022 features the Moomin family having yet another summer adventure: this time, they are enjoying a bout of fishing. Adorned with a beautiful pastel-hued illustration, the seasonal tableware set is called Fishing, and it also features a plate. As in previous years, the seasonal set is available for a limited time only.
The Fishing tableware set continues the Moomins' summer adventure that began in 2018. The Moomins have already gone swimming, lounged in the garden, and taken a trip to the French Riviera. The set's pastel color scheme is also familiar from the previous seasonal tableware like 2021's Together and 2019's Evening Swim.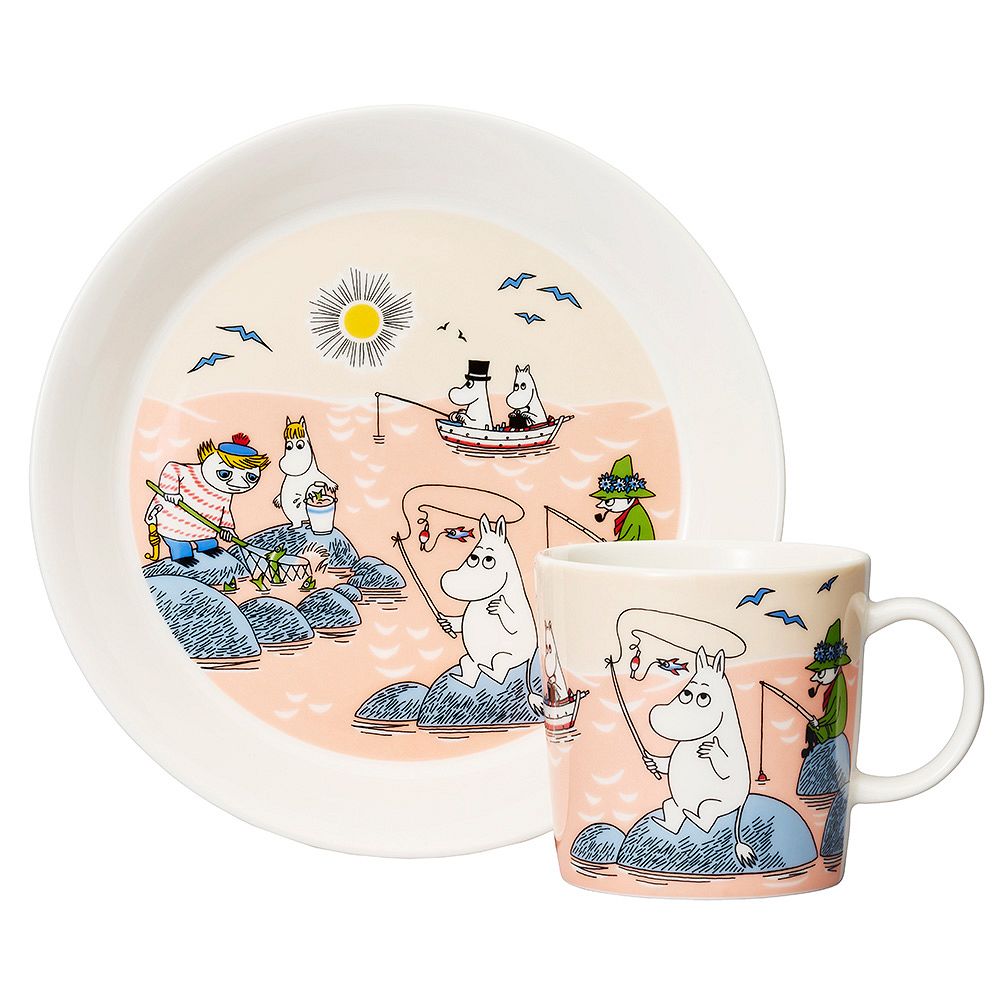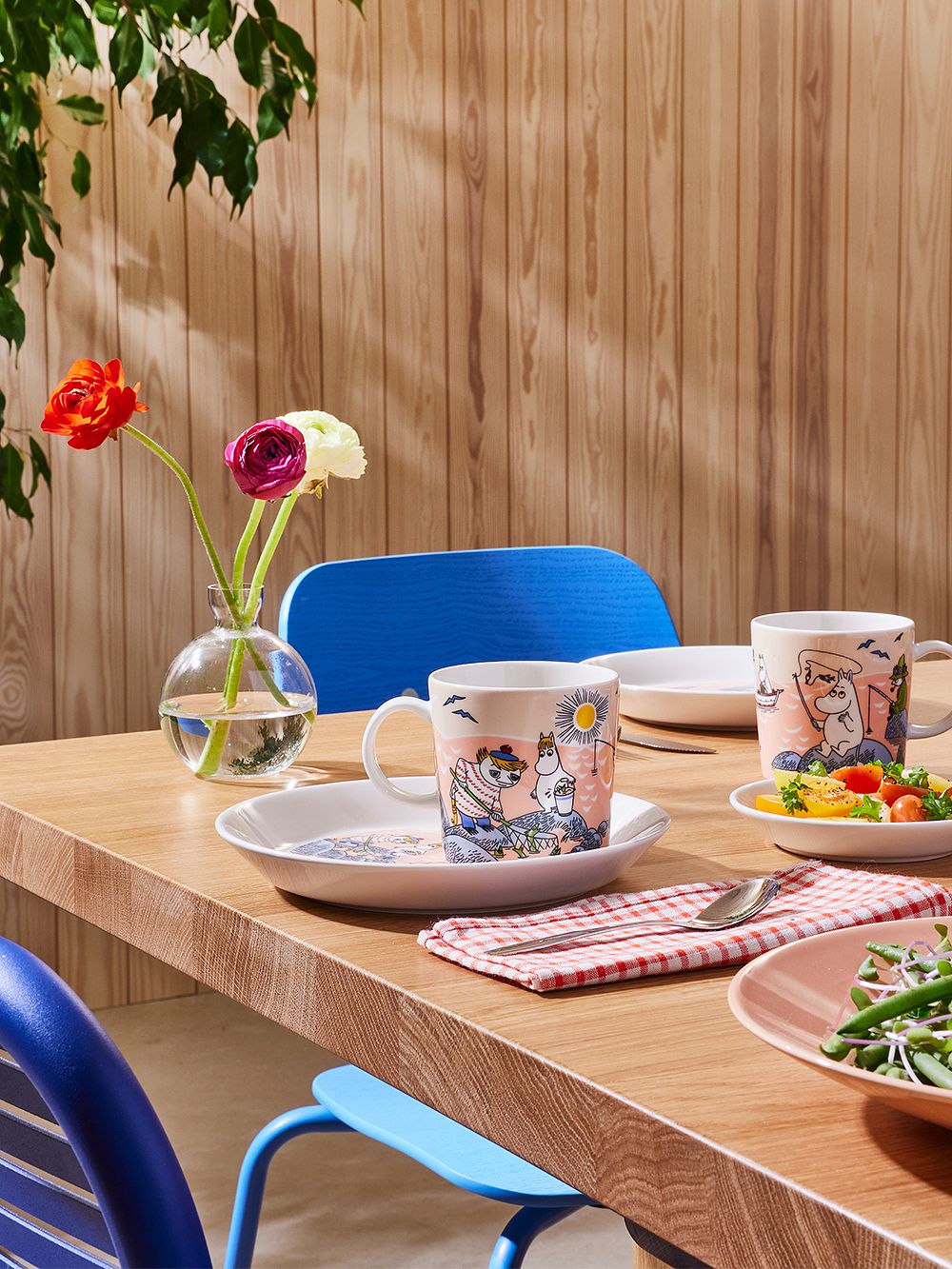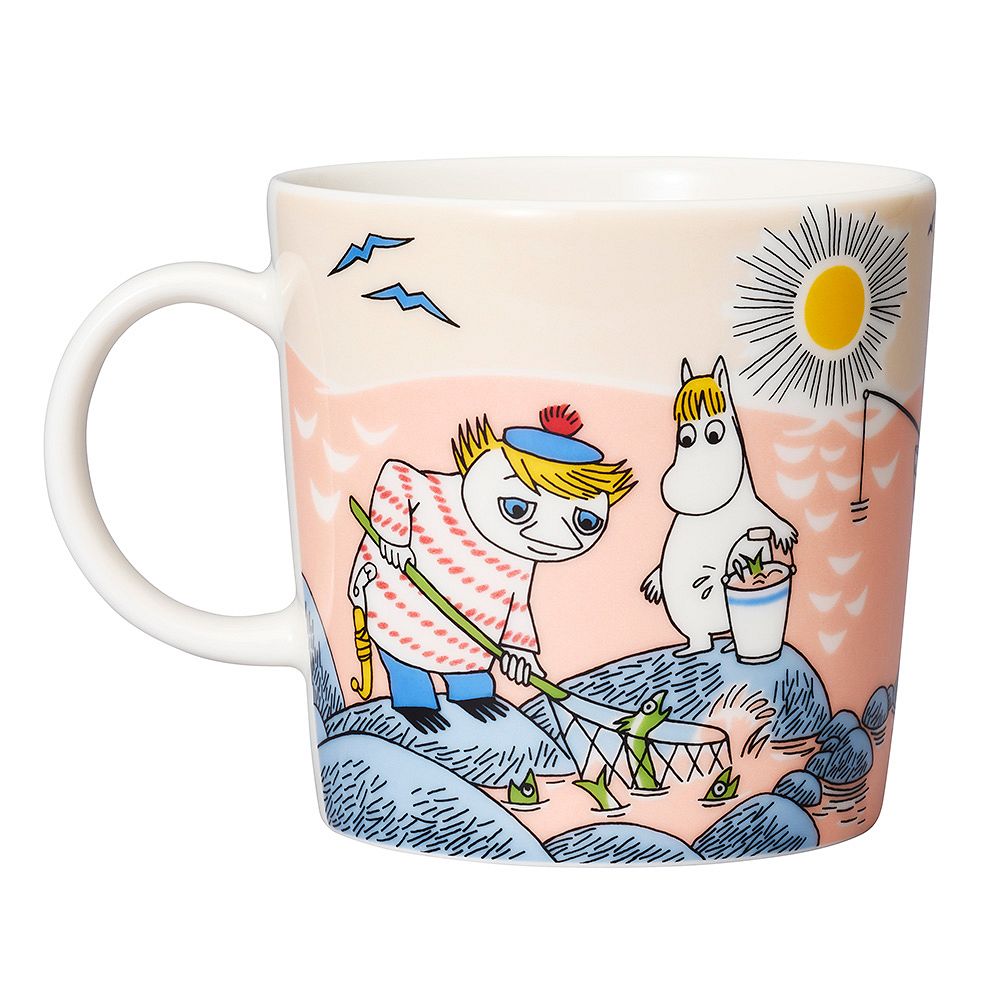 The illustration of the Fishing tableware is based on three different comics by Tove and Lars Jansson. The illustration was created with the collage technique, in which selected elements of the original comic strips are combined in a way that creates a narrative illustration – in other words, the different characters are picked from different comics.
Too-Ticky, Snorkmaiden, and Moominpappa are from the comic strip story "Moomin and the Sea" from 1957, while Moomintroll was picked from the 1959 comic "Moomin under Sail". Snufkin, who is sitting on a rock with a rod in his hand, stems from the comic "Moomin and the Golden Tail," which was originally published in 1958.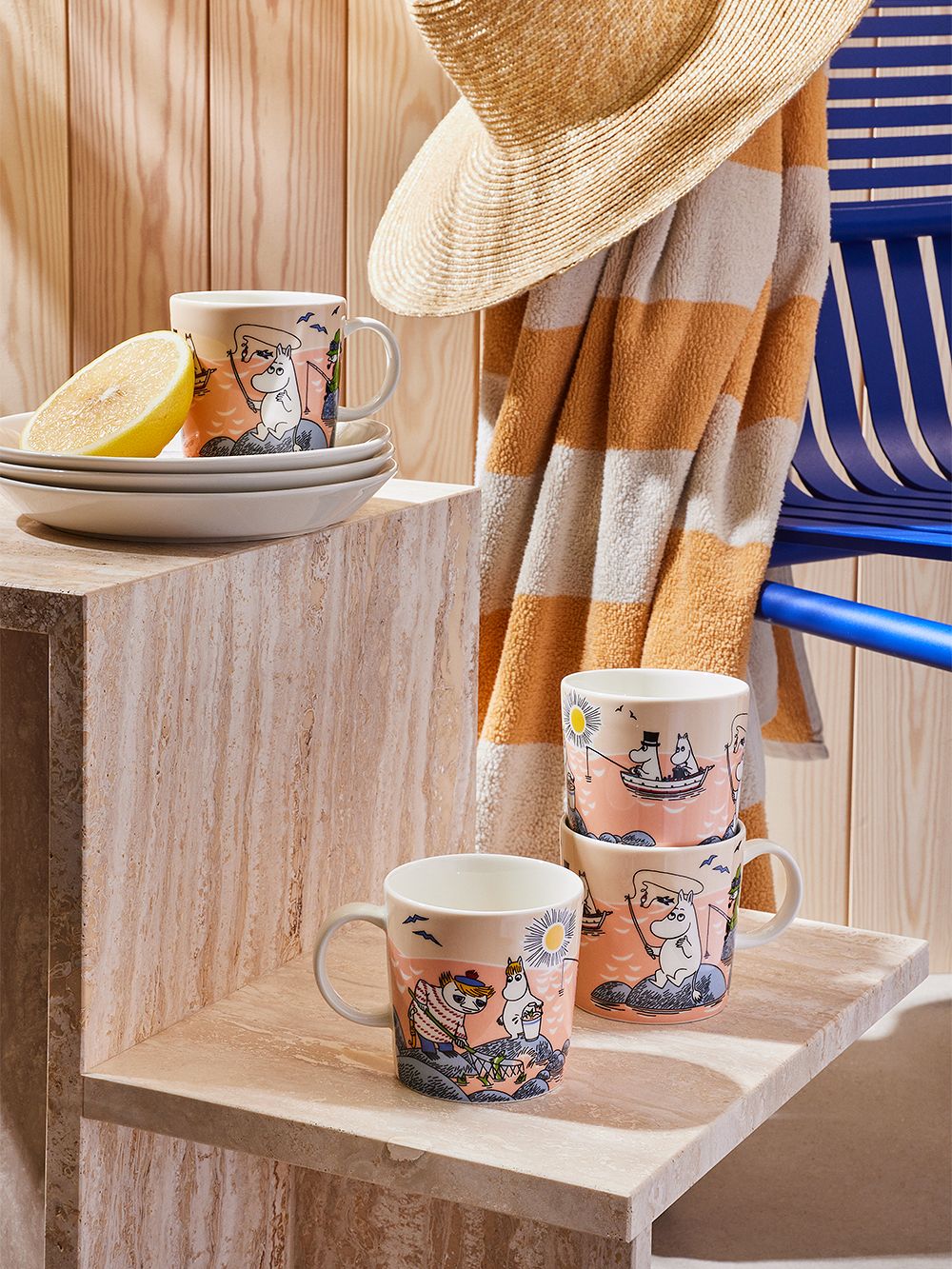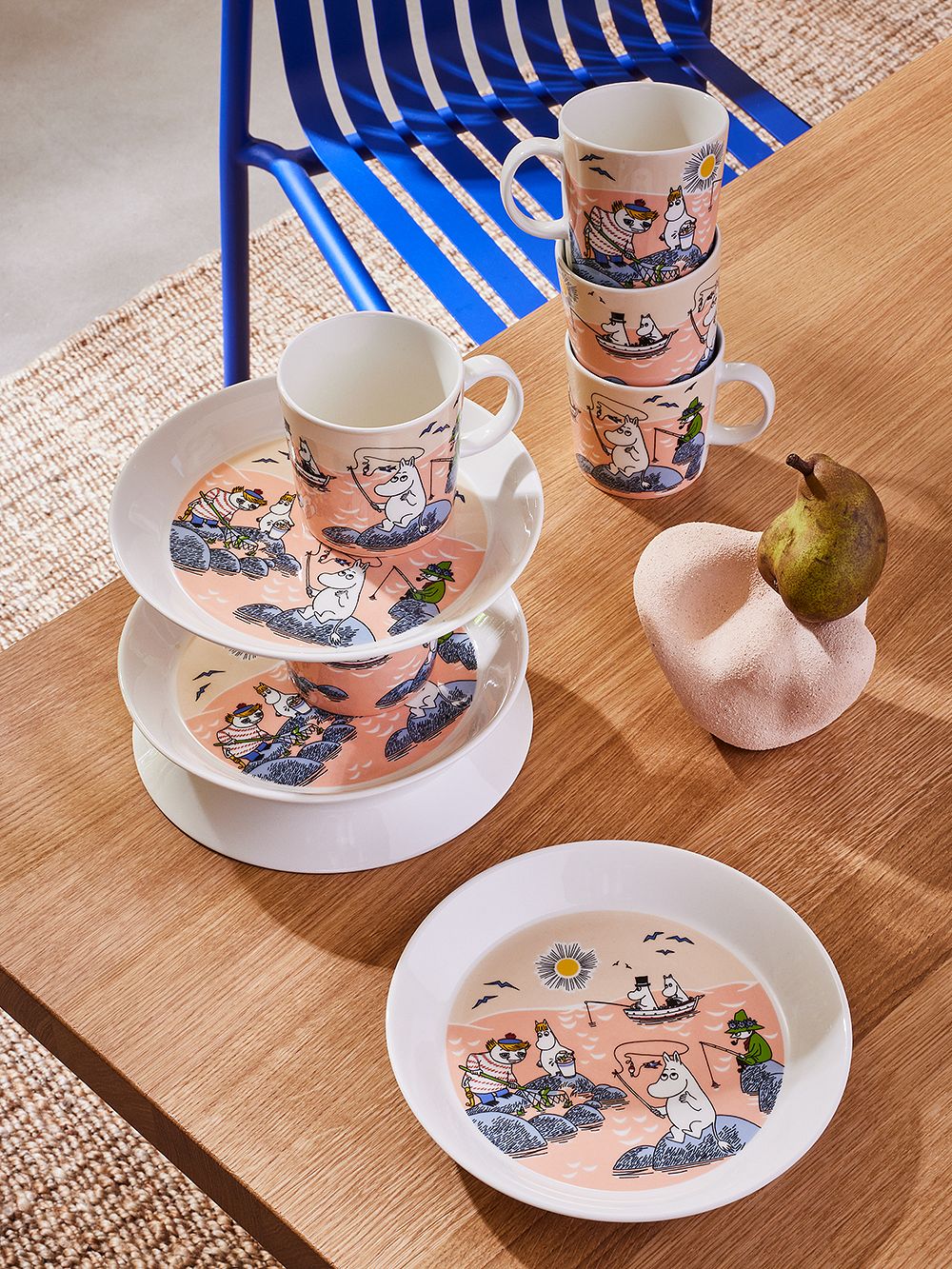 Out of all possible summer activities, fishing is particularly well suited as a theme for the tableware – it is one of the Moomins' favorite pastimes and is depicted in numerous Moomin stories.
The narrative background of the Fishing illustration is based on a story where the Moomin family and friends set sail towards a lighthouse where they also decide to reside. On the barren island, the Moomins are at the mercy of the sea and harsh weather conditions – but when the sun is out, they get to enjoy fishing.
The Moomin seasonal set for summer 2022 will be available at Finnish Design Shop at the beginning of May, and it will be sold for a limited time only.
See also:
Edit: Emmi Ratilainen Images: Arabia