The Moomin Classics Collection will be updated in spring 2023 when Moominpappa and Hemulen get brand-new illustrations. The new mugs feature the characters occupied with their favorite chores: Moominpappa taking care of the Moominhouse and Hemulen collecting plants.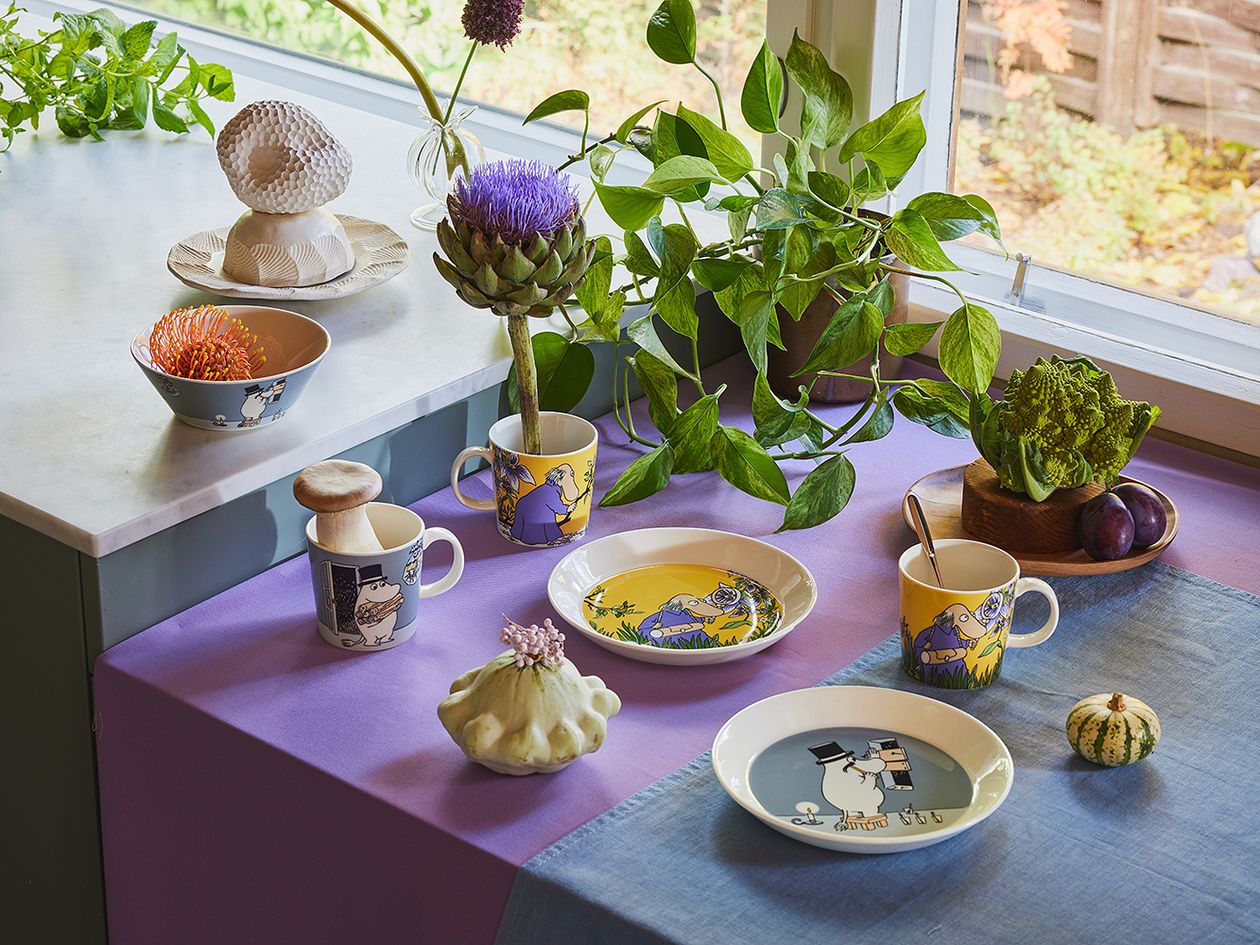 THE MOOMIN CLASSIC COLLECTION is due to expand in March with two new mugs starring Moominpappa and Hemulen. Seasonal mugs and other special editions come out several times a year, but the classics are updated rarely – the last ones to be renewed were Little My and Stinky. The new mugs will be accompanied by new bowls and plates.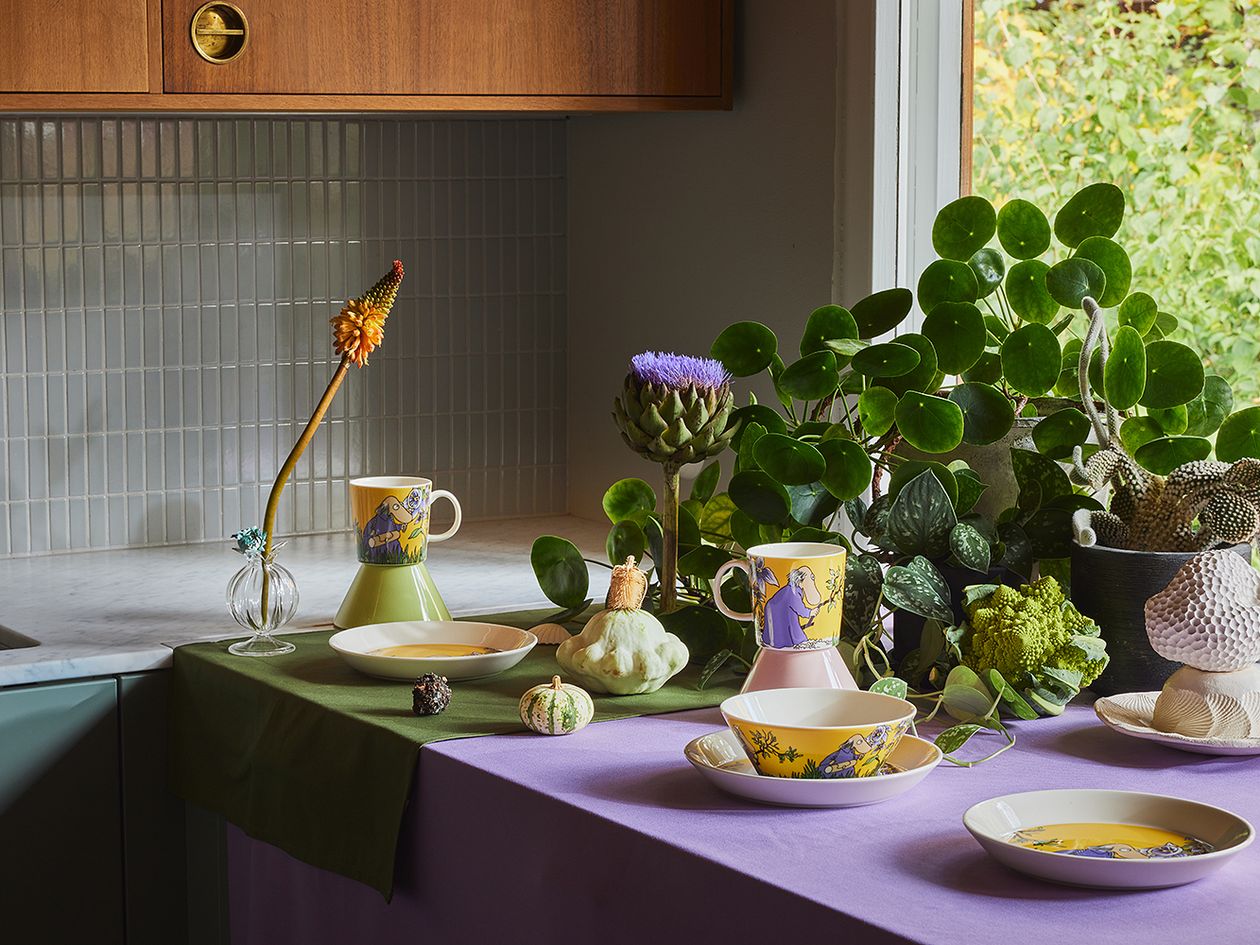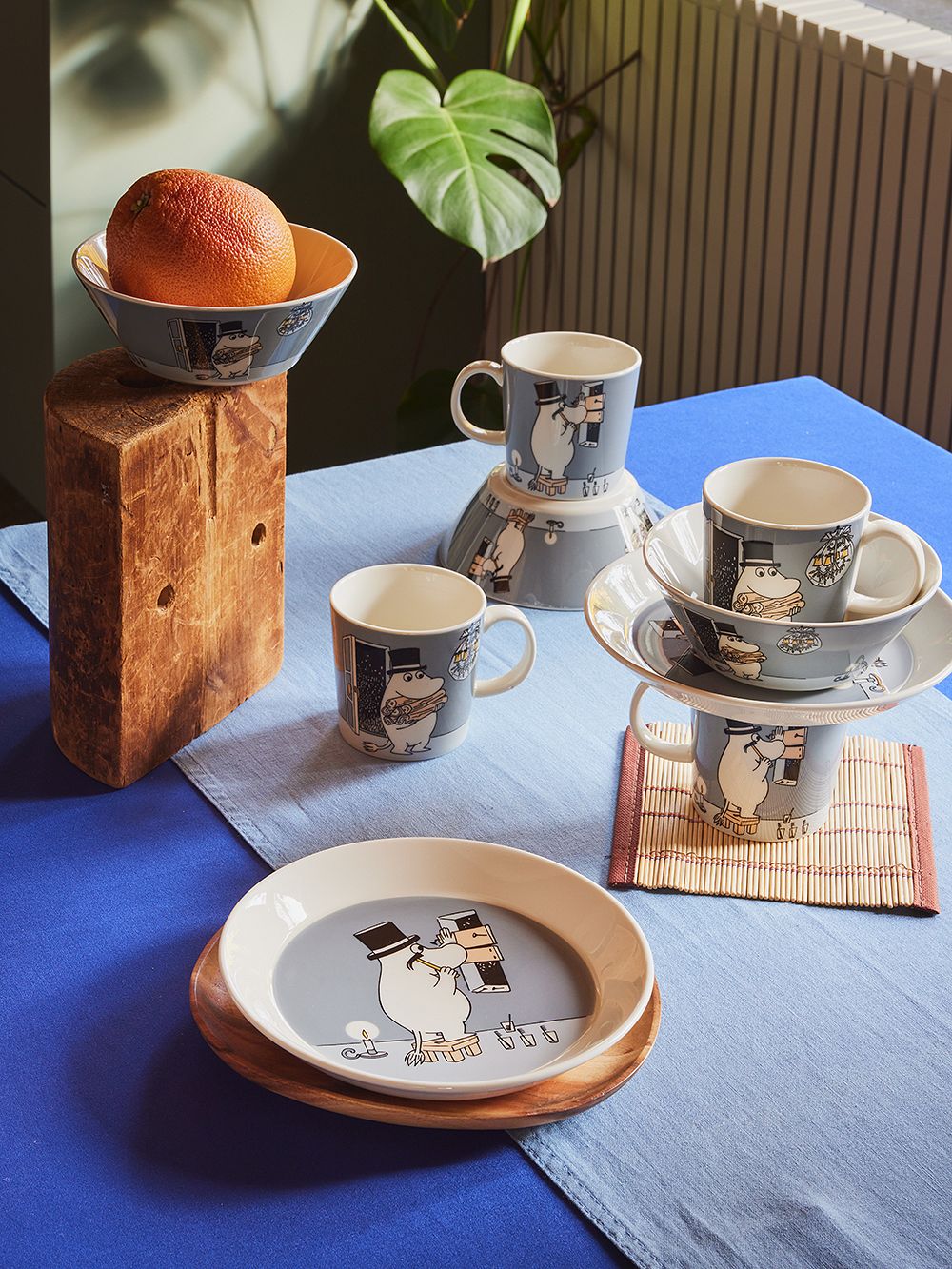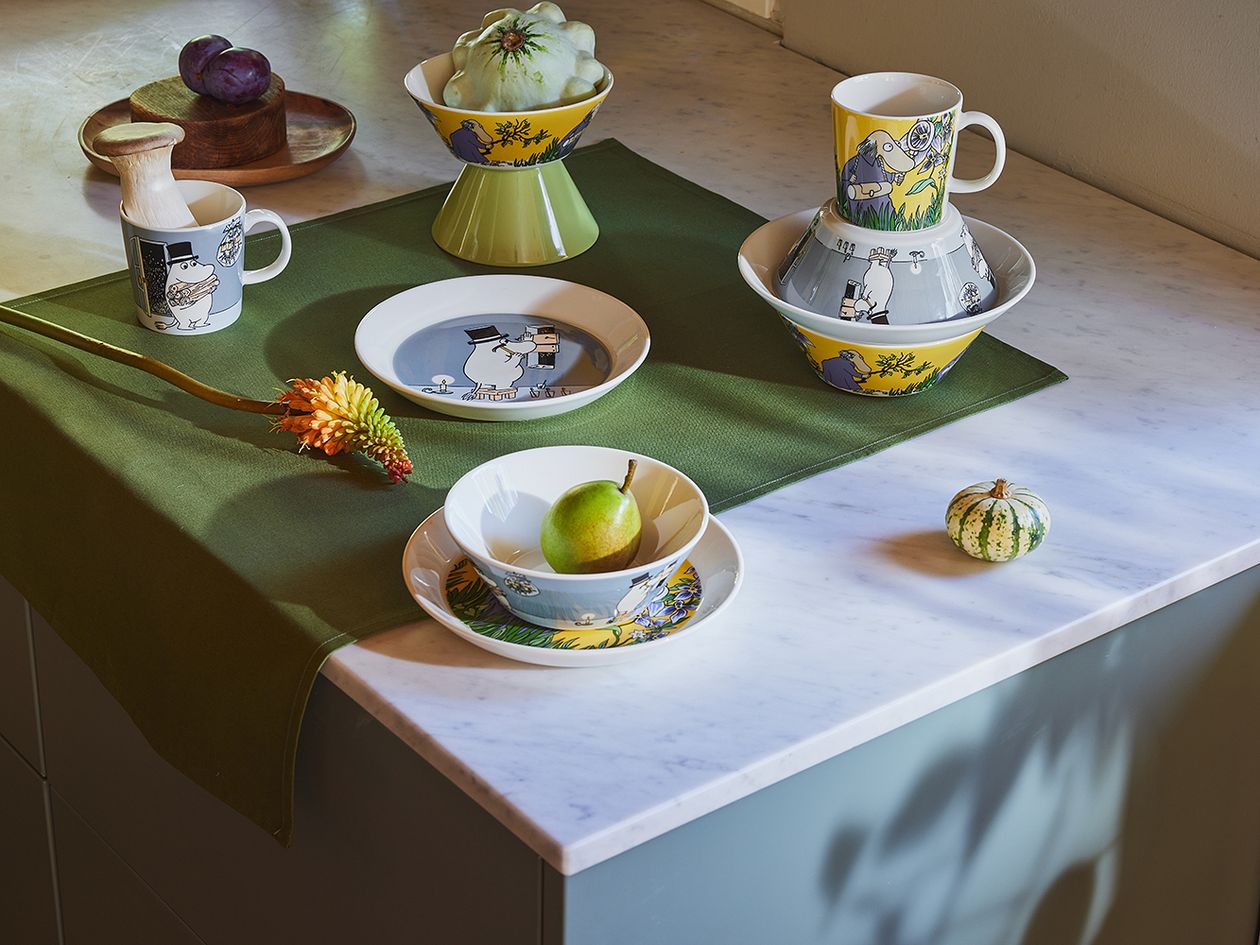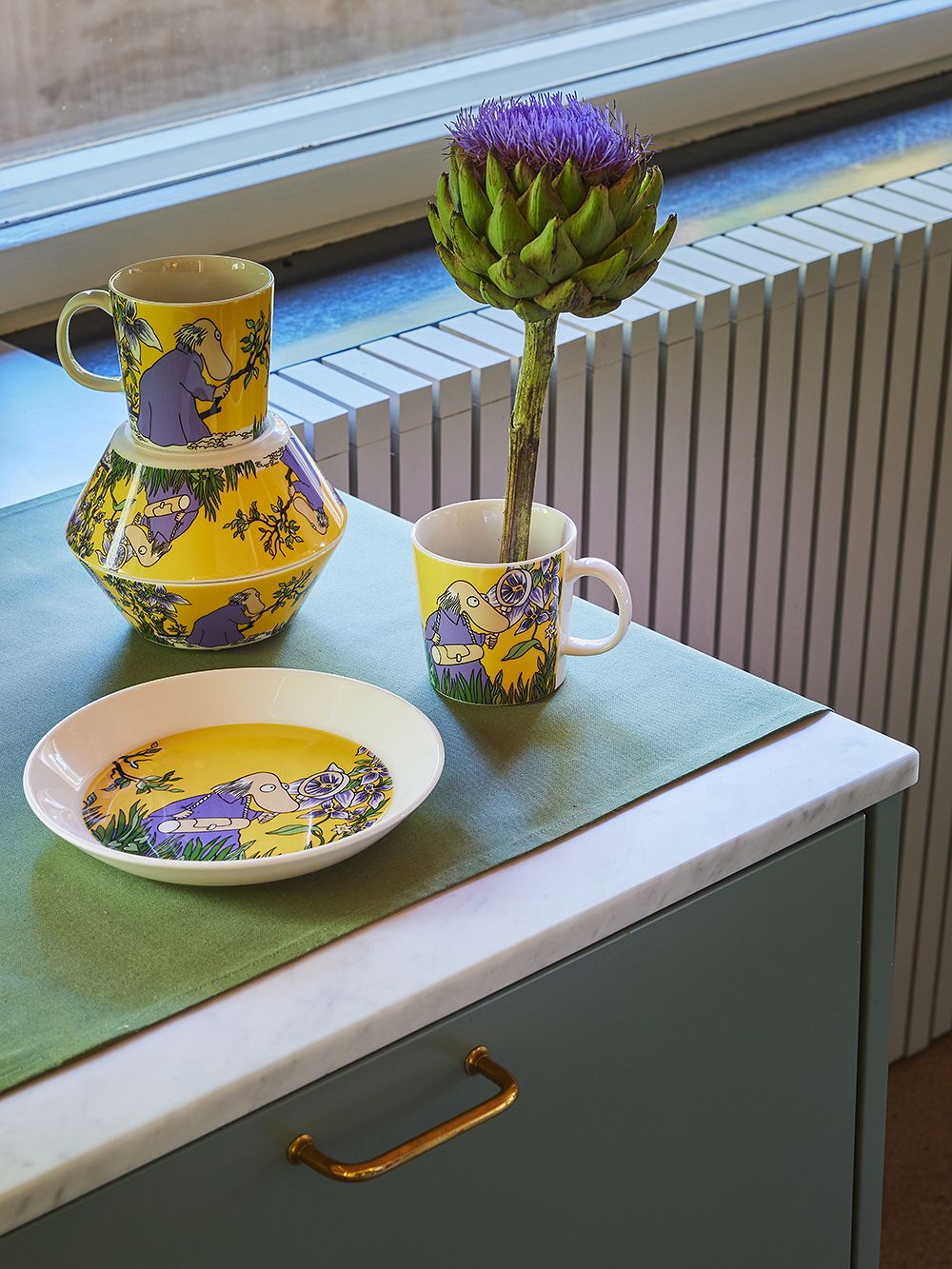 Moominpappa's redesign and Hemulen's comeback
Moominpappa has featured in several Moomin mugs throughout the years, and when the new dishes arrive, the previous dark blue Moominpappa items will be discontinued. Hemulen, however, hasn't featured in a Classics Collection Moomin mug since the lilac Hemulen mug that was in production from 2004 to 2013.
And hey: did you know that you can look for old Moomin mugs and other discontinued items on Franckly, our marketplace for preloved design? If you're looking for, say, a specific Moomin mug but it's currently not available, you can use Franckly's Follow feature – you'll be notified when your dream product is listed for sale!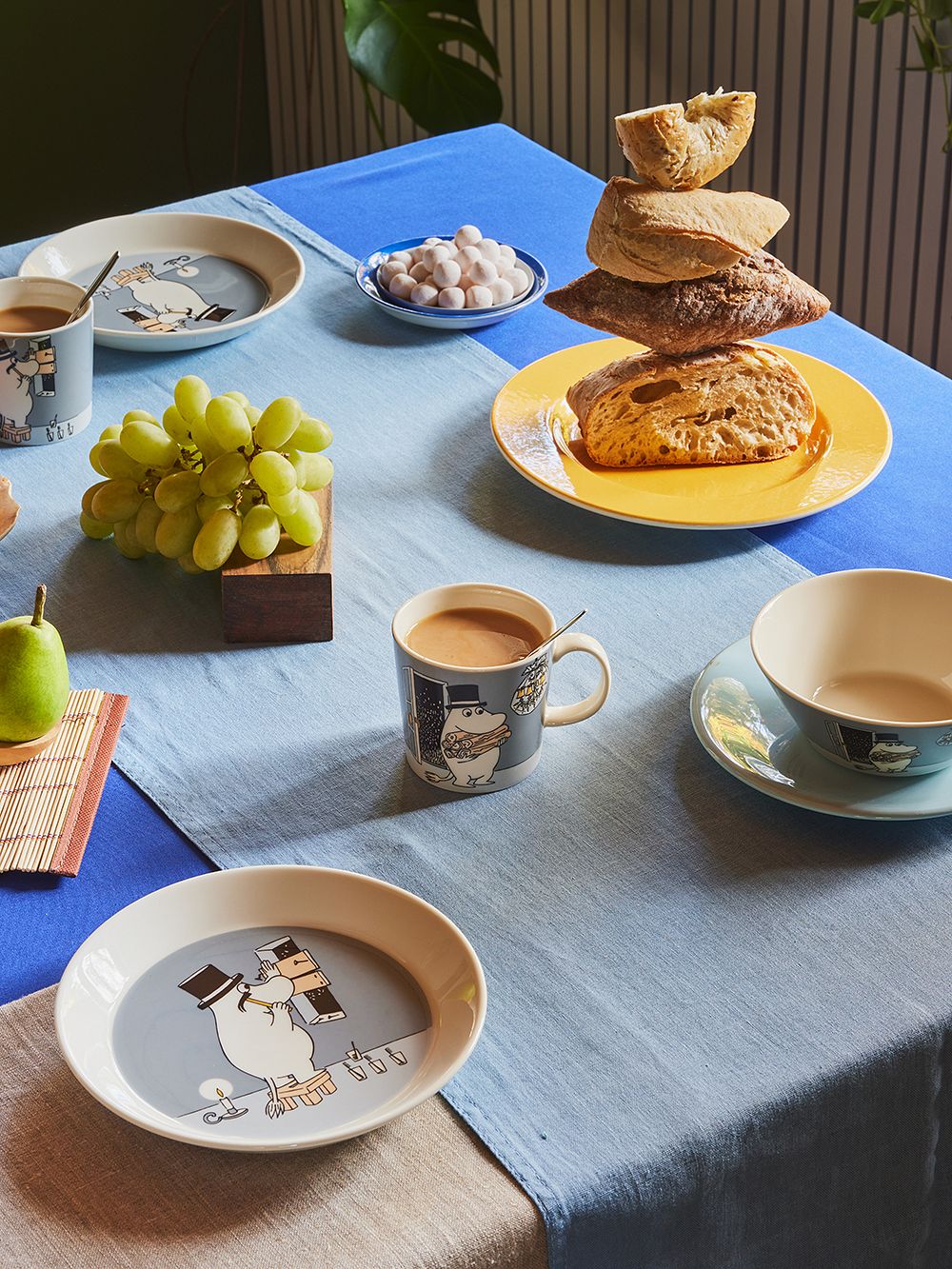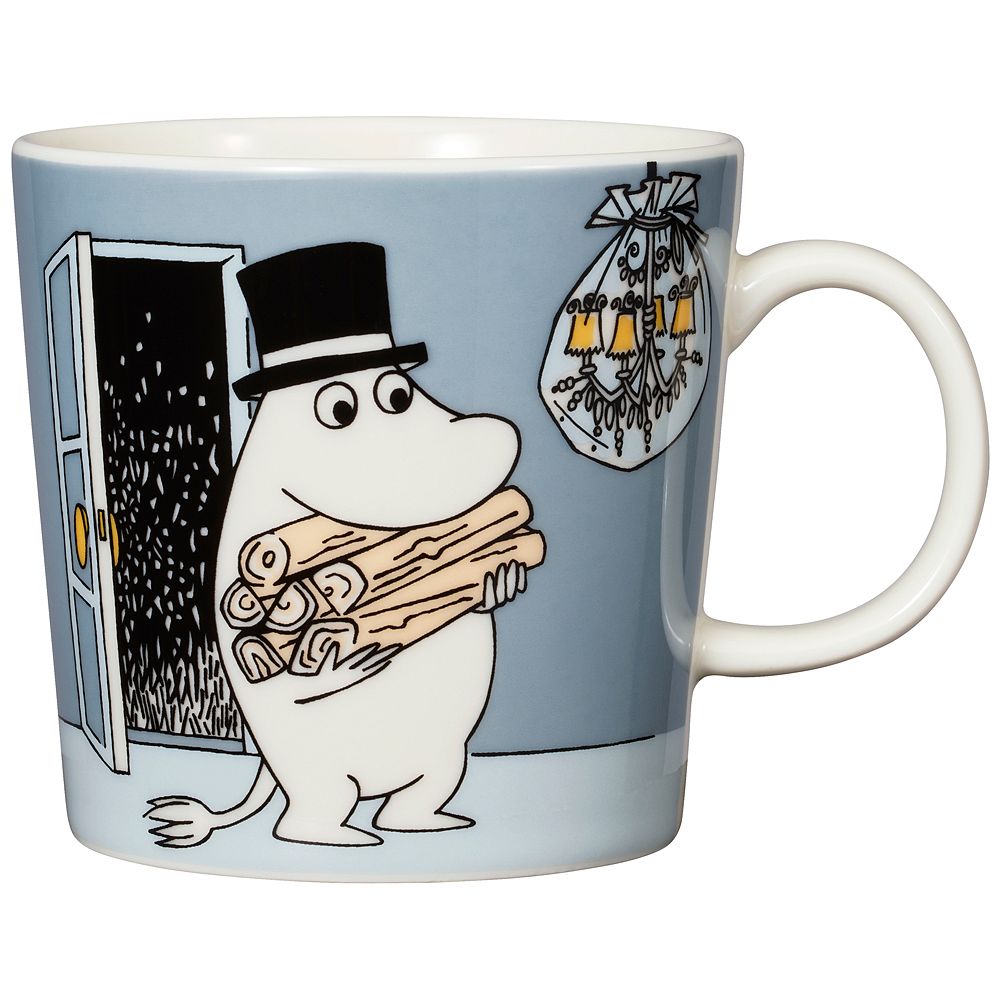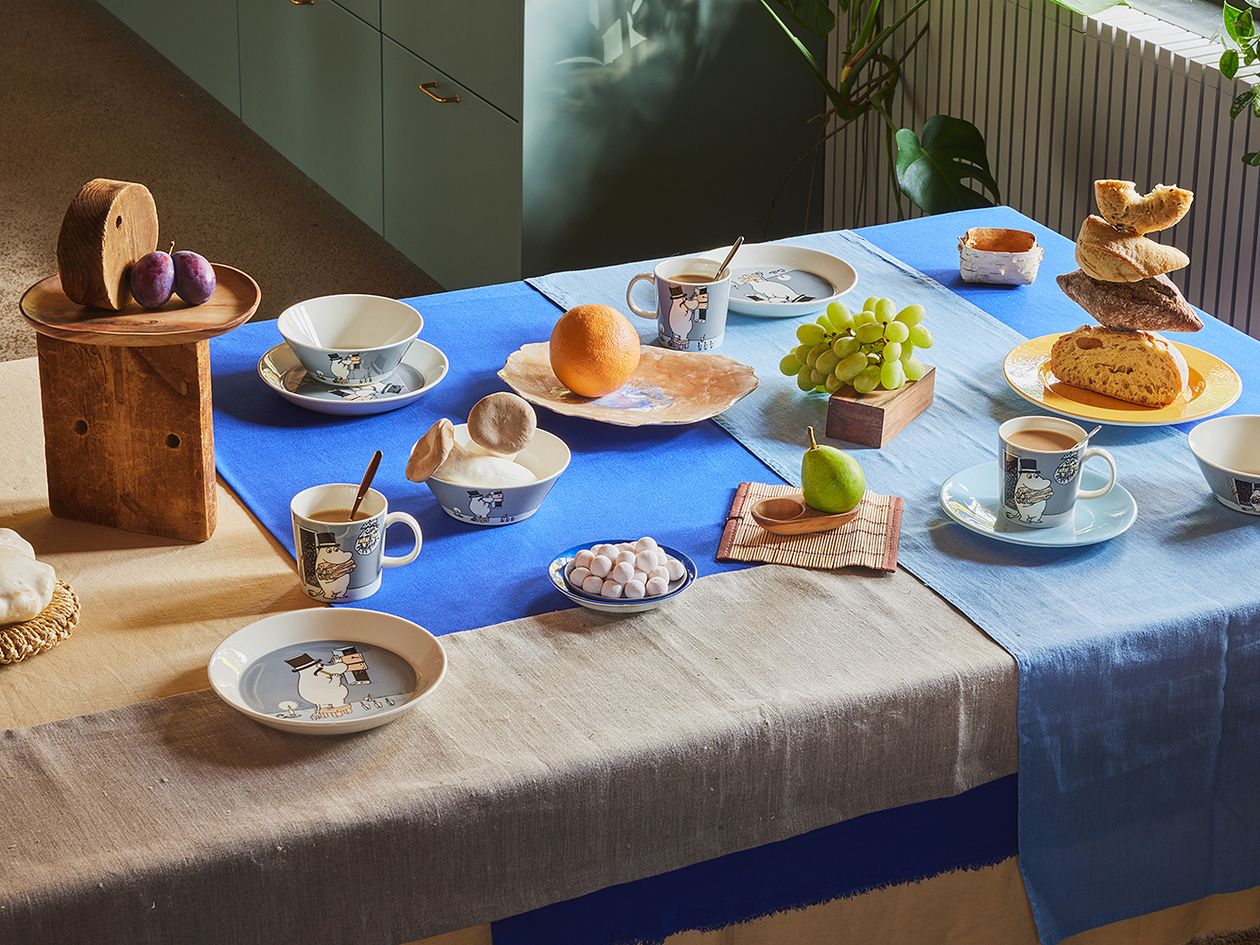 Pappa getting ready for winter
The new Moominpappa mug features the character as a doting dad who always wants the best for his family. The illustrations are based on Tove Jansson's comic Moomin winter from 1959 and show the character making preparations for the arrival of winter, boarding the Moominhouse's windows and carrying firewood.
The color scheme is wintery grey with muted pops of yellow in details like the candle, Moominpappa's hammer, and the chandelier.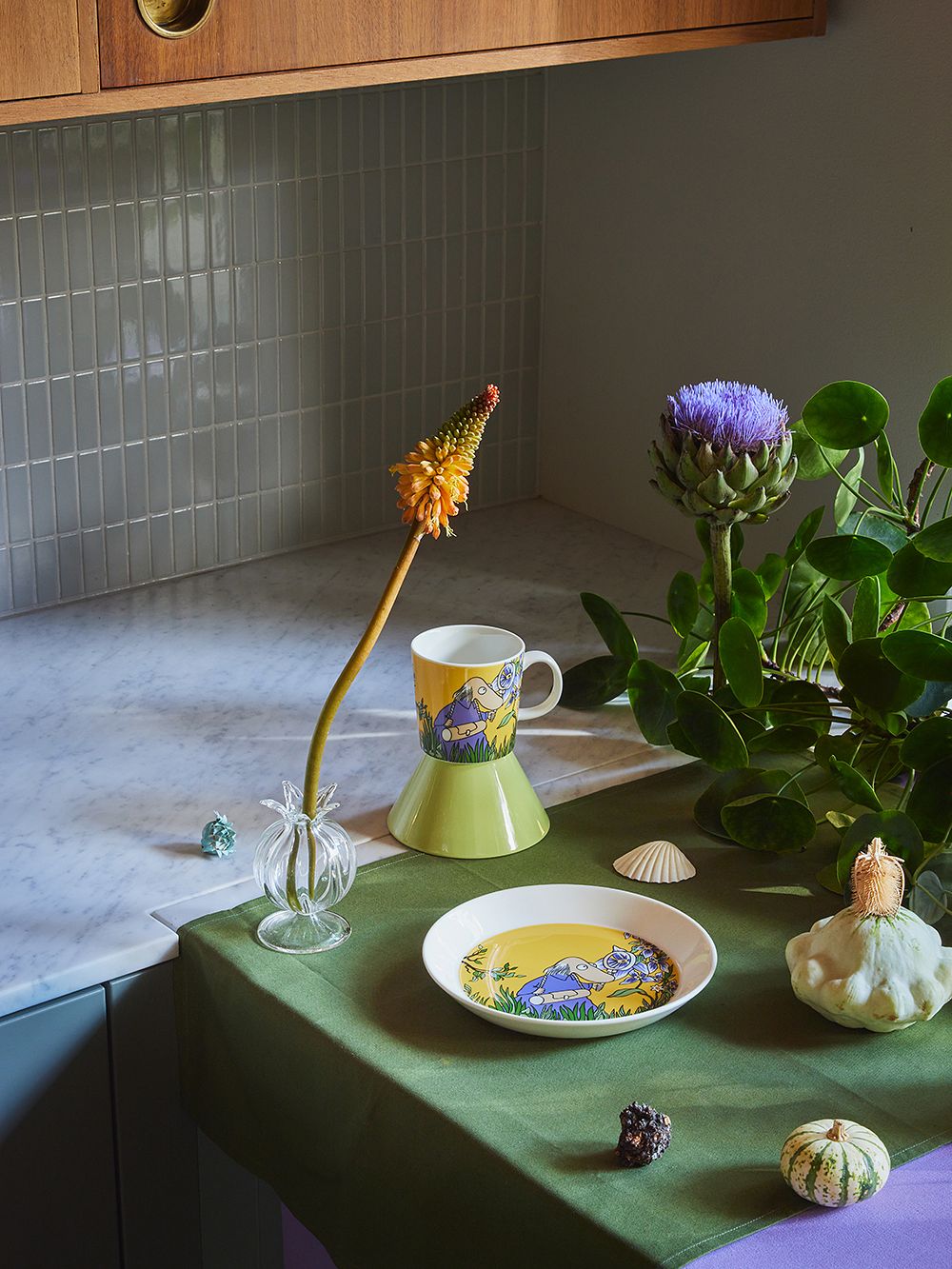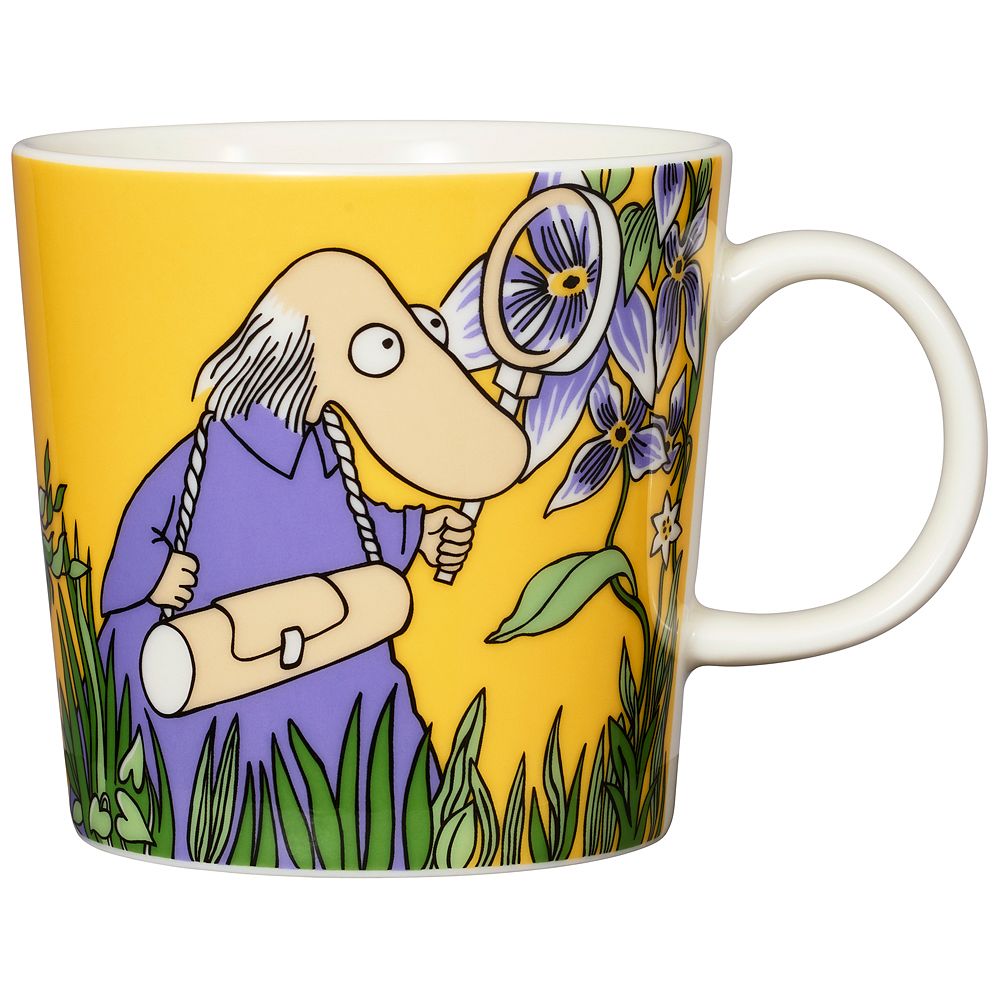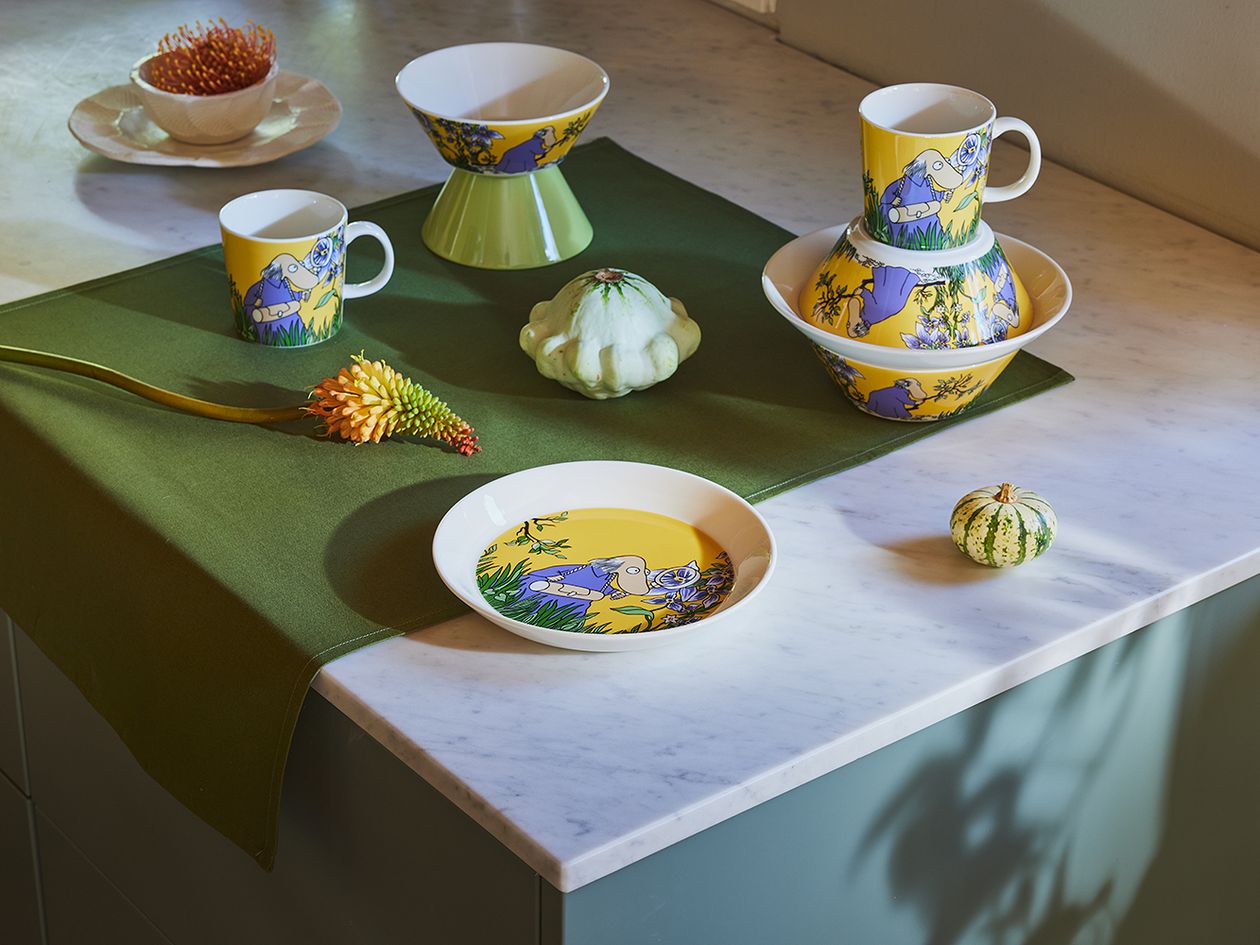 Hemulen explores the nature
The new Hemulen dishware introduces the character's new hobby from the novel Finn Family Moomintroll. In the book, Hemulen begins collecting plants after realizing he could no longer continue his hobby of collecting stamps – there are simply no stamps left to collect.
On the front of the mug, Hemulen has traveled to the island of the Hattifatteners and immediately begins looking for rare plants to add to his collection. On the other side, he is building a fire with branches. He plans to use the heat to dry up his dress which has gotten wet during his adventures. The vivid-hued tableware is colored in yellow, purple, and green.
The new Moominpappa and Hemulen tableware are due to arrive at Finnish Design Shop in March 2023.
See also:
• Moomin products at Finnish Design Shop >
• Pre-owned Moomin products at Franckly >
Edit: Emmi Ratilainen Images: Arabia