The fickle spring weather might leave your skin feeling dry and vulnerable and longing for some nurturing. Design Stories chose nine gentle but efficient skincare products – take a moment to yourself and give your skin a bit of TLC.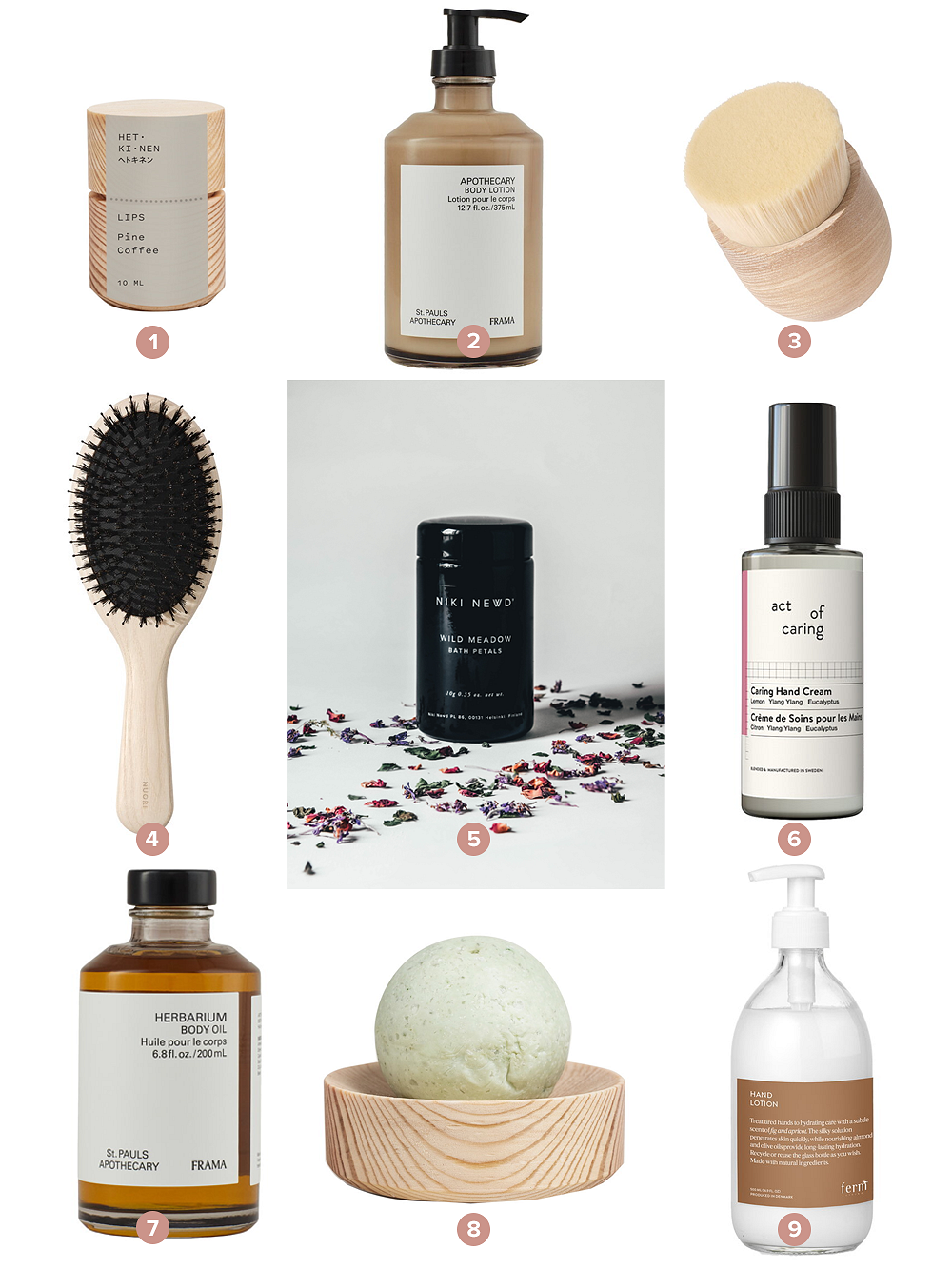 1. Containing coffea Arabica seed butter and essential pine oil, the all-natural Hetkinen lip balm balances and invigorates the skin with the refreshing powers of Nordic forests and the sheer energy provided by coffee beans. 2. Frama's Apothecary body lotion moisturises the skin gently and leaves it feeling soft – notes of sandalwood, cedar and ylang-ylang give the lotion a pleasant, gender neutral scent. 3. Regular dry brushing improves the texture of the skin, increases its natural glow and reduces puffiness. Nuori's handmade Caressing facial brush features a beautiful ash-wood handle with feather-soft nylon bristles.
4. The rounded nylon bristles of Nuori's Revitalizing hairbrush detangle the hair gently, massaging and stimulating the scalp, while the shorter natural bristles help to distribute the scalp's natural oils through the hair for a smooth and frizz-free result. 5. The aesthetic and pampering Wild Meadow petal bath is made from petals of rose and rosebay willowherb as well as mint leaves, all grown in Finland. 6. A luxurious blend of sunflower oil, shea butter and olive oil, Act of Caring's Caring Hand Cream moisturizes and softens dry skin, while natural extracts of lemon, ylang-ylang and eucalyptus wrap your hands in a fresh and invigorating scent. 
7. Frama's nourishing Herbarium body oil can also be used on the face or hair, and it comes in a beautiful reusable glass bottle. 8. Scented with essential oils from lemon and eucalyptus, the Hetkinen round salt soap also contains coconut butter, olive oil and Finnish sunflower oil that moisturize the skin efficiently. 9. Ferm LIVING's fast-absorbing hand lotion is made in Denmark from natural ingredients, such as skin-pampering almond and olive oils, and it has a pleasant scent of figs and apricots.
See also:
• All cosmetics & hygiene products at Finnish Design Shop >
• All products at Finnish Design Shop >
Text: Design Stories Images: Manufacturers