Whether you are looking for a holiday gift for someone who is passionate about interior design, art, fashion or food, these new books available at Finnish Design Shop make for inspiring, high-quality reading for everyone.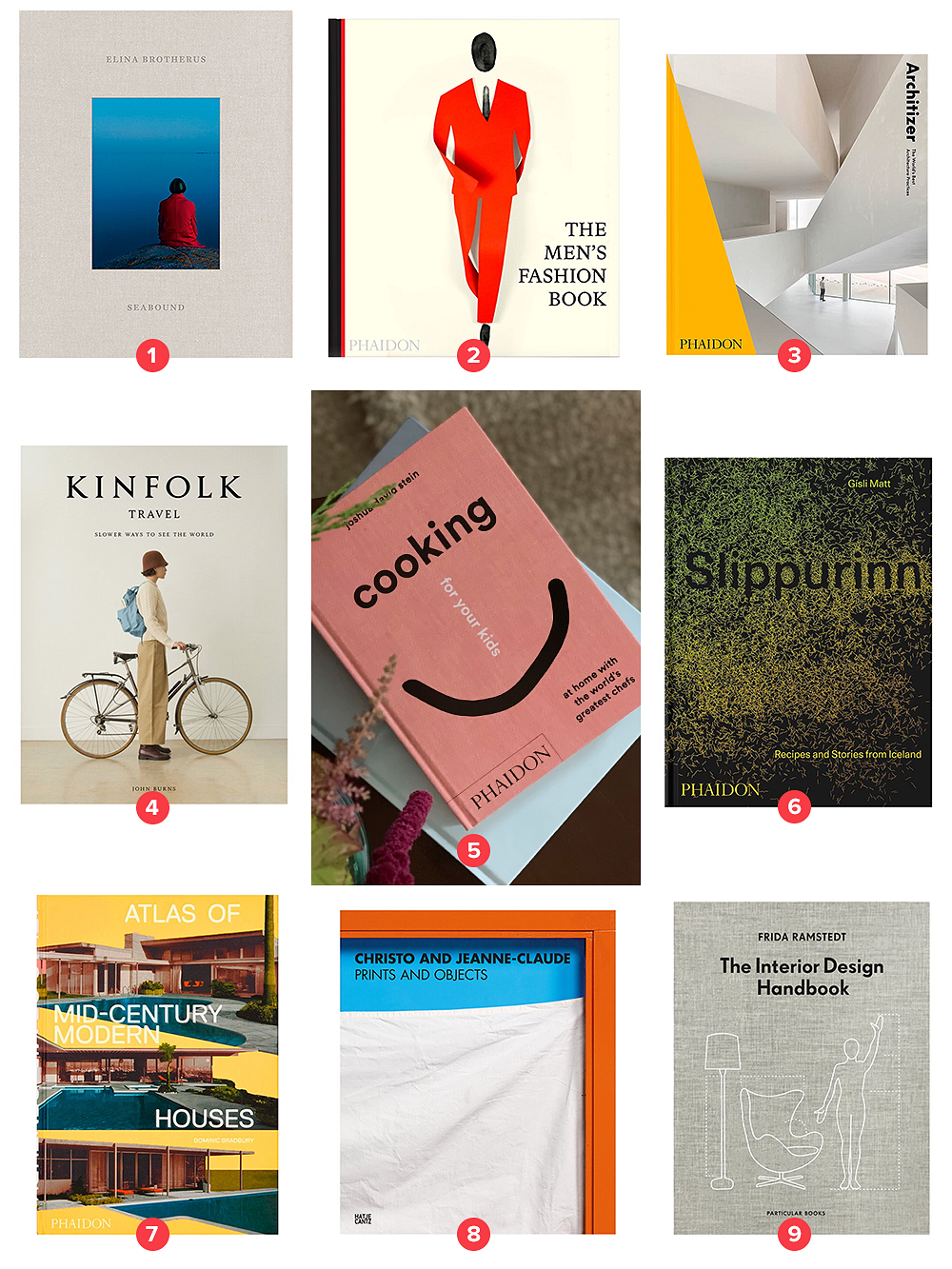 1. Seabound is a compilation of pictures taken by artist Elina Brotherus in Søderlandet on the south coast of Norway. The layout designed by Dog Design with its light-blue pages and blue printing ink, binding thread and slipcase adds the finishing touch to this absolutely stunning book. 2. If you are looking for something for a style-guru, The Men's Fashion Book is a perfect choice for anyone interested in fashion. This comprehensive piece offers an in-depth look into a total of 500 leading names in men's fashion from designers and brands to photographers, stylists and publications. 3. Phaidon's Architizer volume for 2021 is dedicated to the best architecture firms and design studios of today: it contains 300 images and covers 31 creative collectives, every one of which has won the prestigious A+Firm Award.
4. The latest book from the team behind Kinfolk magazine, Kinfolk Travel, invites you to explore the world more slowly and mindfully and shift your focus from following a specific itinerary to making discoveries and experiencing authentic local culture. 5. As the name suggests, Cooking for Your Kids: At Home with the World's Greatest Chefs features many recipes for children-friendly dishes, created by international top chefs for their families. The book offers recipes for tasty meals and the opportunity to spend time together as a family, and who knows, it might even spark the little ones' interest in the culinary world! 6. Slippurinn takes the reader on a fascinating food trip to an Icelandic restaurant established by Gísli Matt and his family. Matt creates one elaborate dish after another using ingredients offered by the volcanic nature. With its amazing images, stories and recipes, this book makes for a suberb gift for any foodie or Nordic-food enthusiast.
7. Alvar Aalto, Le Corbusier and Marcel Breuer are among the almost 300 architects whose impressive works, built between the 1940s and 1960s, are showcased in Phaidon's Atlas of Mid-Century Modern Houses. The 400 homes and a total of 750 images in the book offer plenty of inspiration for the fans of the era. 8. The artist couple Christo Vladimir Javacheff and Jeanne-Claude Denat de Guillebon rose to world fame with their phenomenal, large-scale works of installation art, often involving the enveloping of entire landmarks with fabric. Christo and Jeanne-Claude – Prints and Objects by Hatje Cantz is a compilation of those works and the prints, objects and collages created to raise funding for them. 9. The Interior Design Handbook by award-winning Swedish design blogger Frida Ramstedt is a handy helper for anyone interested in home decor. The tips it provides help choose a rug, lamp and curtains and arrange decorative objects, framed art and sofa cushions like a pro. So, no wonder that the original volume published in Swedish is a bestseller!
See also:
• All books at Finnish Design Shop >
• More gift ideas >
Text: Laura Hallikainen Images: Finnish Design Shop and publishers