A carefully selected Christmas gift delights both the giver and the receiver. What makes giving the gift feel even better is knowing that it is an ethically and sustainably manufactured product that can bring joy for years to come.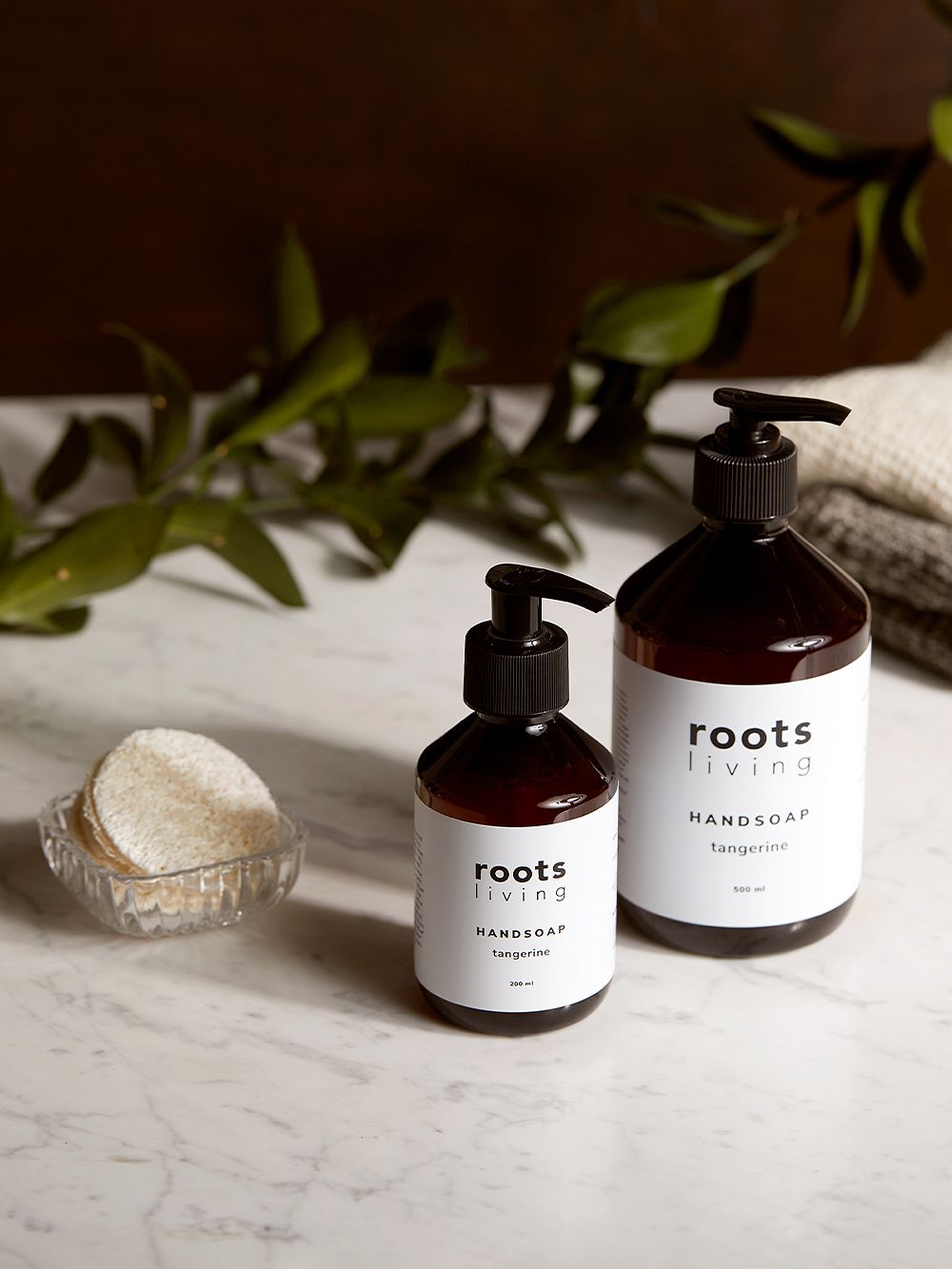 Natural freshness
The Tangerine hand soap has a fresh citrus scent, as well an aroma of tangerine and rose geranium, which are perfect for Christmas. The soap is part of Roots Living's Clean Collection, the products in which are made by hand in Finland using natural, vegan ingredients. The stylish pump bottle is made of fully recyclable plastic.
• Roots Living's Tangerine hand soap >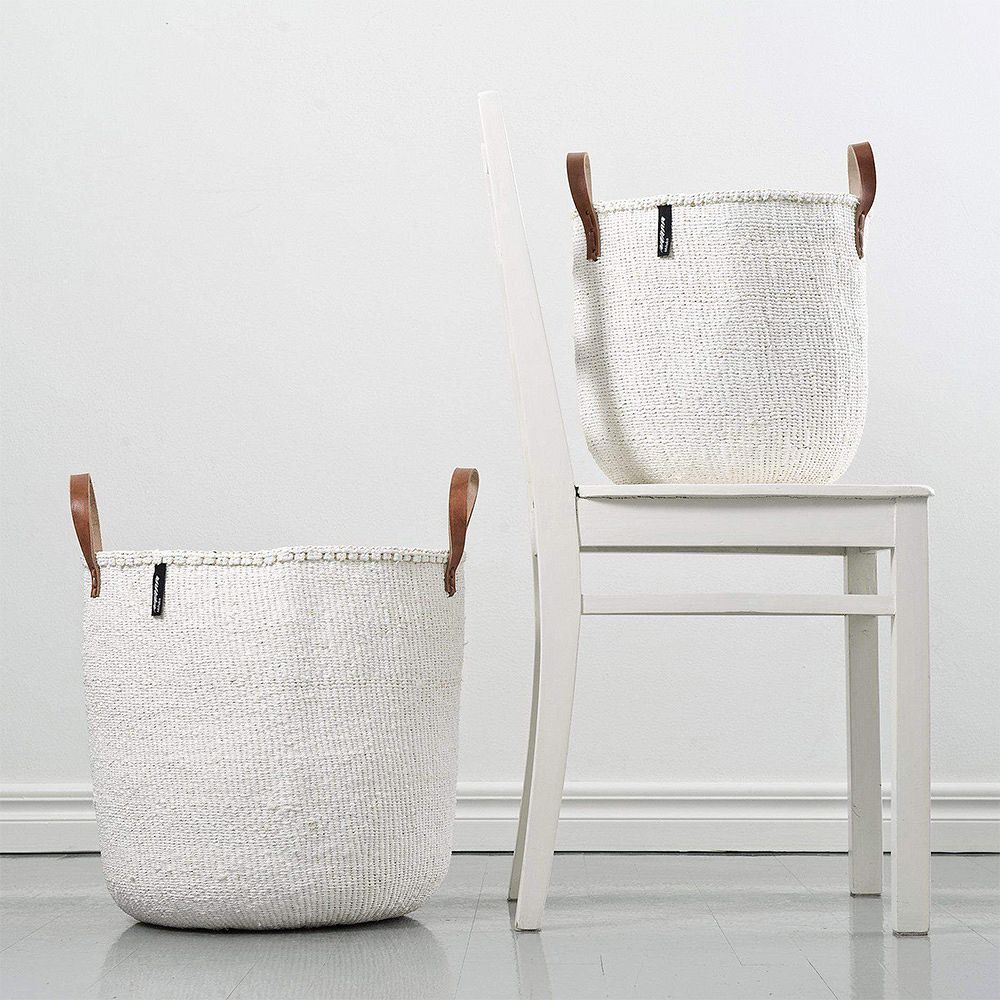 A basketful of opportunities
In the Kiondo basket by Finnish Mifuko, Nordic minimalism meets Kenyan handicraft tradition in a delightful way. The basket, which is made of durable and ecological sisal fiber and paper, is ideal for storing household items, but can also be used as a bread basket or planter. The convenient leather handles enable moving the basket around whenever needed or using it as a shopper, for instance.
The unique baskets are made by hand in Kenya, and the artisans working for Mifuko receive fair compensation for their work without any intermediaries. This way, the company helps provide safe and flexible work for local artisans.
• Mifuko's Kiondo basket >
• Read also: Mifuko's baskets combine Finnish design and Kenyan craftsmanship >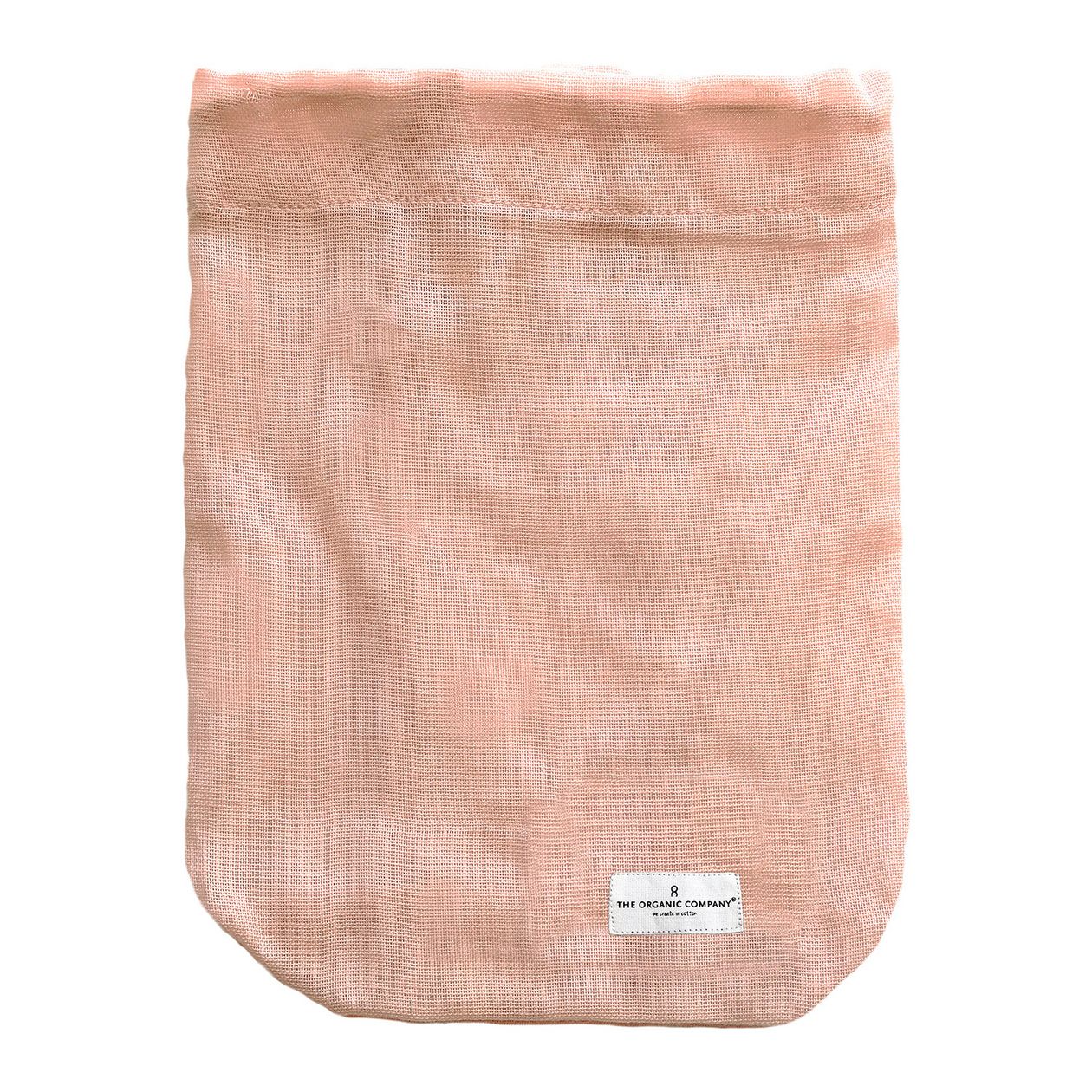 Stylish alternatives to plastic bags
The Organic Company's reusable All Purpose Bags are designed to be used instead of plastic bags when going to the store or at home and in free time. These handy reusable bags, made of organic cotton and equipped with drawstrings, can be machine washed. The bags are available in three sizes and several earthy colors.
The All Purpose Bags are designed to be used instead of plastic bags when going to the store.
When you give the receiver more than one bag, they can store some in the kitchen and some in the shopper – or wherever such bags are most often needed.
• The Organic Company's All Purpose Bags >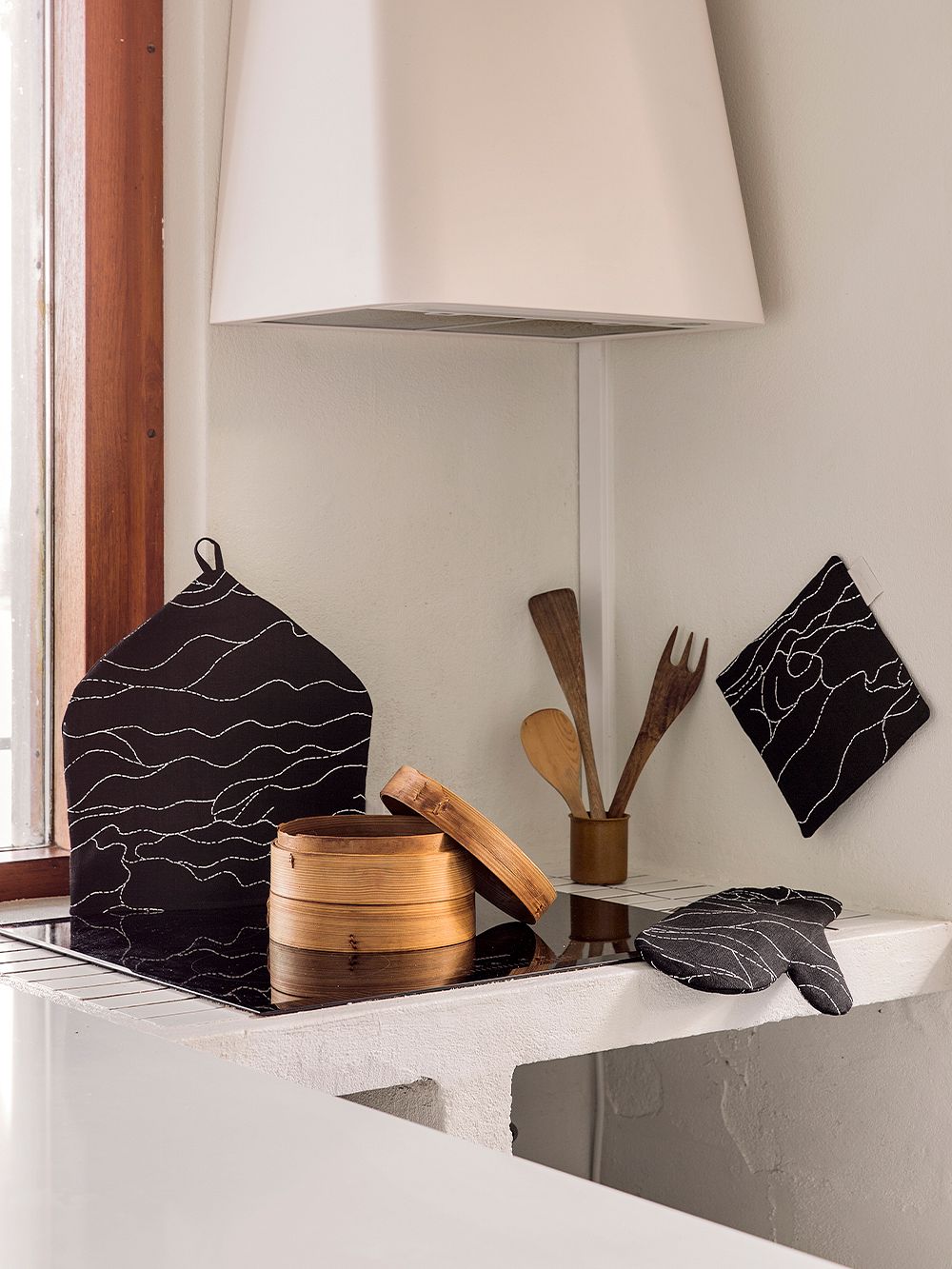 For beautiful table settings
The Rakkauden meri tea cozy by Saana ja Olli keeps the coffee, tea or glogg hot even if it has to sit in the pot for a while during a lovely gathering with friends or family. The wavy motif of the pattern celebrates love and its unpredictability: love in its various forms can change a person's life in a variety of ways. Those who look at the pattern closely enough, may even discern various shapes and human figures in the lines that form the waves of love.
All Saana ja Olli products are made in Finland in accordance with the principles of sustainable development, and the material of the textile products is ecological hemp fabric produced in Europe.
• Saana ja Olli's Rakkauden meri tea cozy >
• Read also: Timeless holiday gifts made in Finland >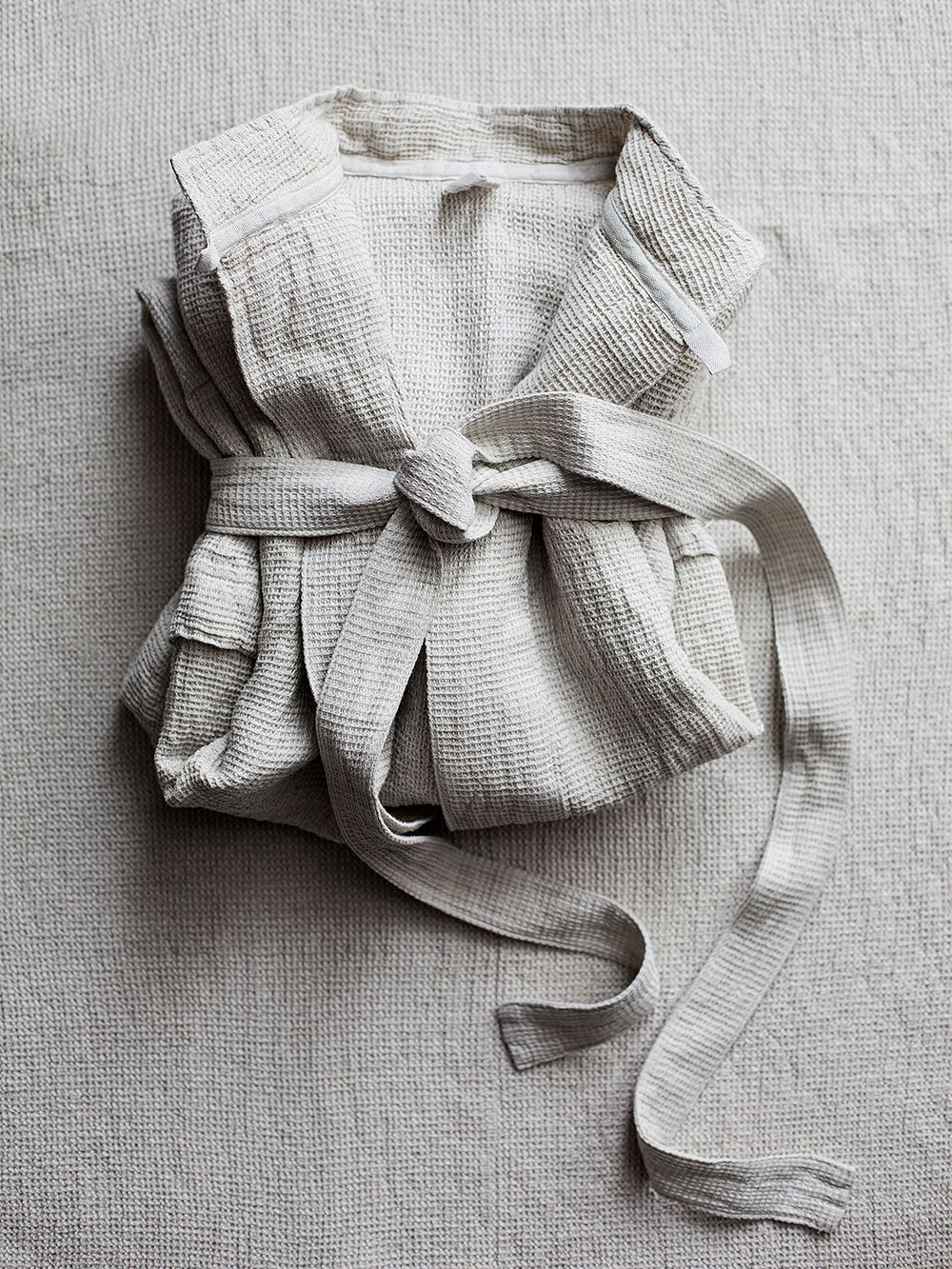 Everyday luxury
A beautiful, soft bathrobe is a classic Christmas gift that will delight the recipient all year round. The simple yet elegant Terva bathrobe is an excellent choice for a person who loves subdued tones and high-quality materials. The bathrobe is made of durable and quickly-drying linen blend produced in Europe in accordance with the Öko-Tex standard, and it features a handy collar button.
A beautiful, soft bathrobe is a classic gift that will delight the recipient all year round.
The bathrobe has a loose fit and is available in four sizes. The products of Lapuan Kankurit are mainly manufactured in the company's own weaving mill in Ostrobothnia, Finland.
• Lapuan Kankurit's Terva bathrobe >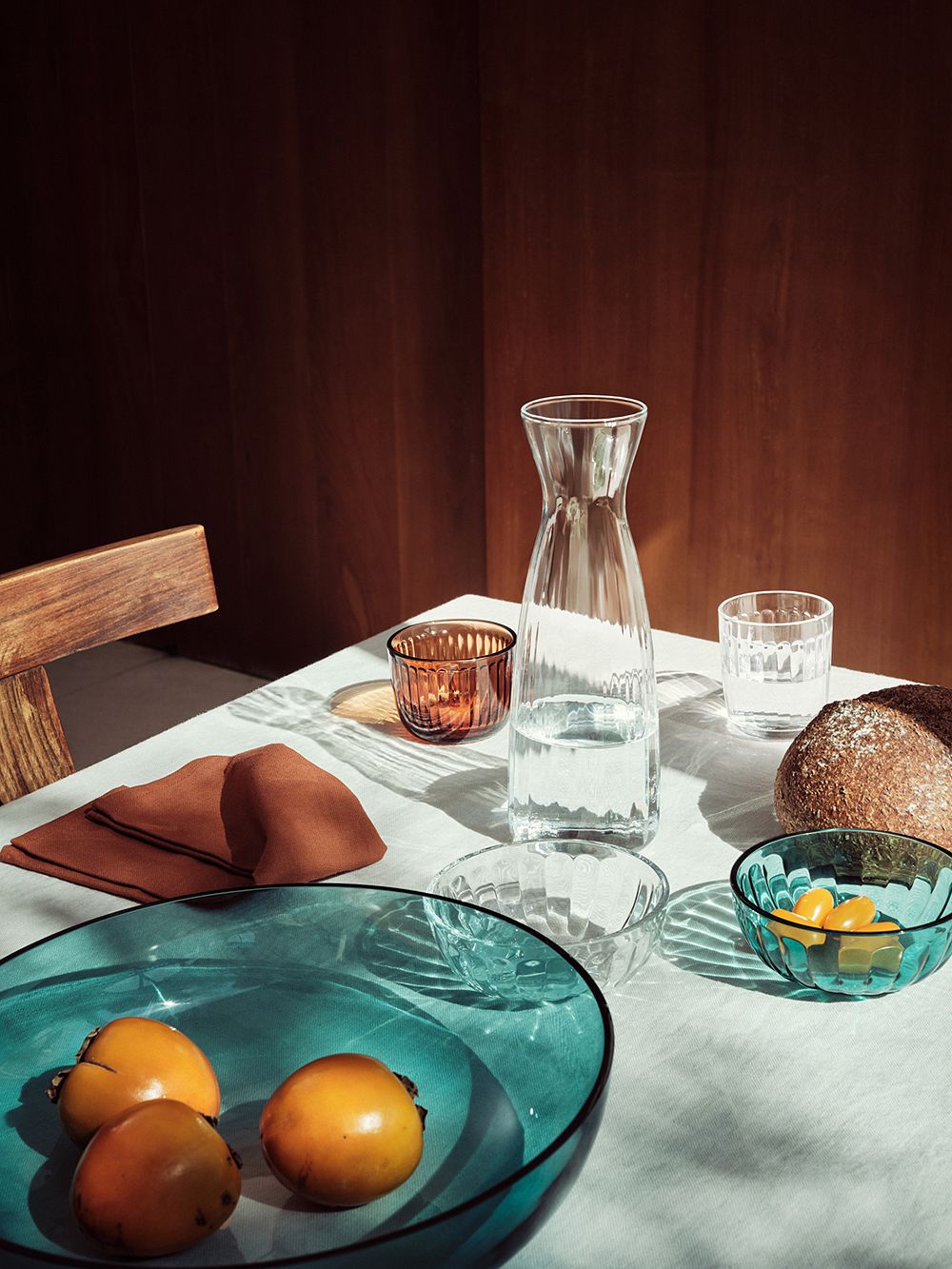 A toast to recycling
The one-liter Raami carafe designed by Jasper Morrison is part of a product family, which aims to provide a beautiful framework for shared meals. The Raami carafe, made of recycled glass, is part of Iittala's special collection of products manufactured using waste glass from the company's factory. As the raw material varies according to what is currently available, the colors of the decanters also vary from clear to blue or green tones. Small bubbles are a natural characteristic of recycled glass. They, too, are a sign of sustainable production and unique beauty.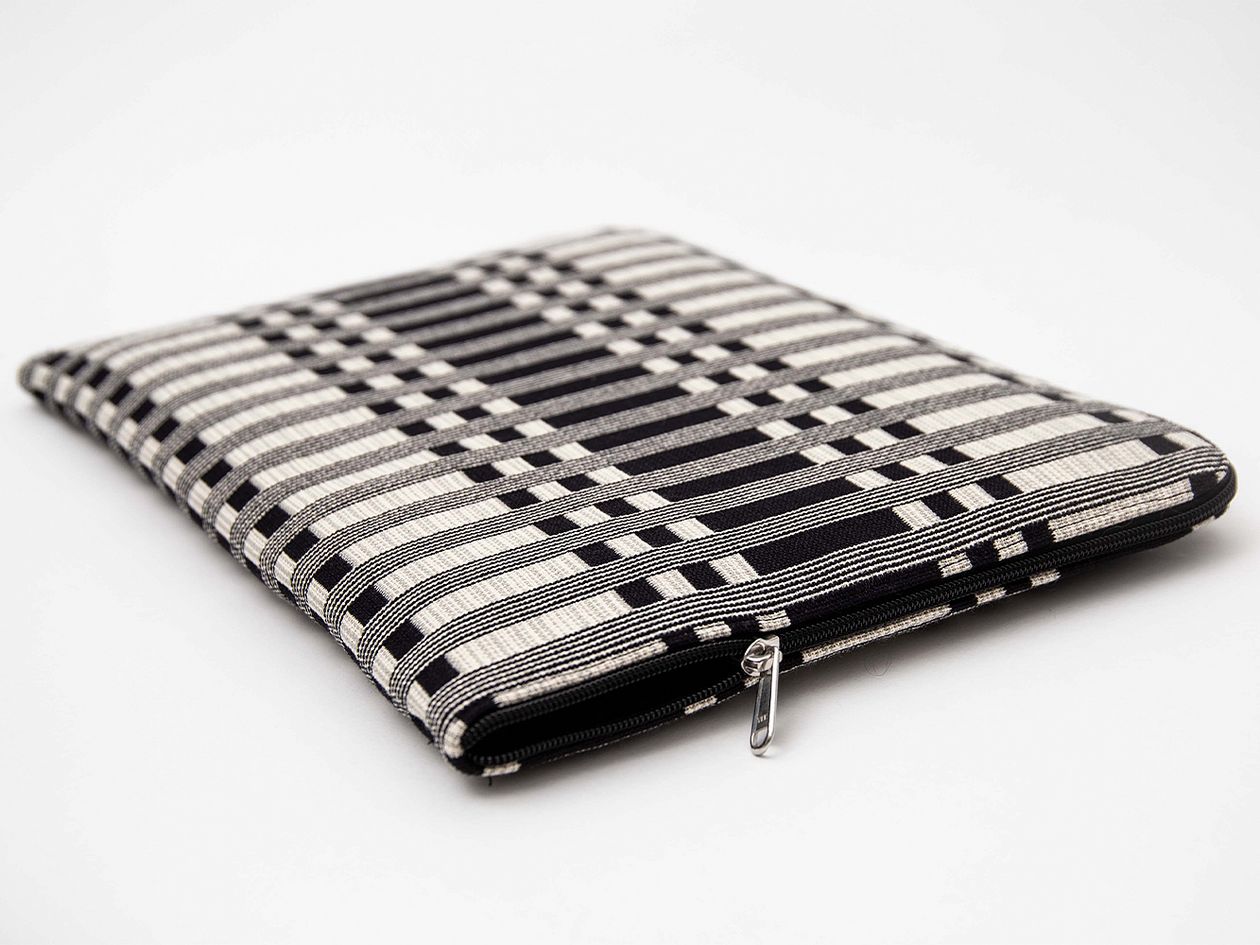 Style for work and studies
The Normandie upholstery fabric, designed by Johanna Gullichsen, is perfect for a laptop sleeve, as it is made of strong, GOTS-certified organic cotton that even withstands a gentle wash in the washing machine.
Johanna Gullichsen's upholstery facric is perfect for a laptop sleeve.
The classic, stylish Tithonus pattern in black, gray and white will please the eye of the recipient for a long time, and a 15-inch laptop is sure to feel comfortable in the padded sleeve that is sewn in Finland.
• Johanna Gullichsen's Tithonus laptop sleeve >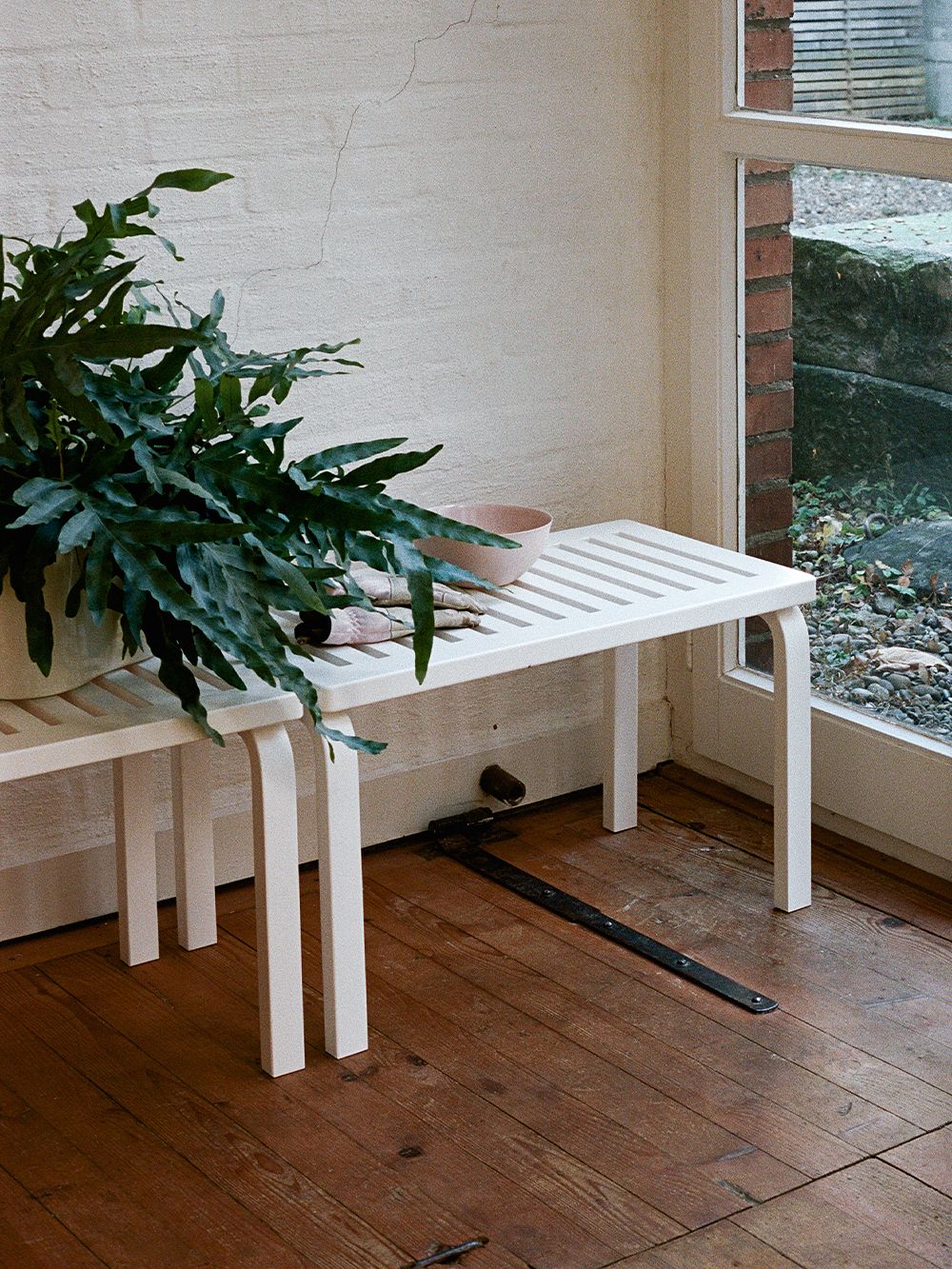 A real friend for life
If Santa wants to give someone a timeless and slightly more valuable gift, he cannot go wrong with Artek's classic Bench 153B that will last for decades. The bench, designed by Alvar Aalto in 1945, adapts to changing life situations and can be used as a seat in the hallway as well as a TV or coffee table, for example. The solid-birch bench, which features the iconic L-leg structure, is made in Finland.
See also:
• Finnish Design Shop's gift card >
• Pre-owned design treasures at Franckly >
• More holiday gift ideas >
Text: Kaisa Mikkola Images: Manufacturers