If you are interested in the Amos Rex art museum, contemporary Chinese architecture, Kengo Kuma's buildings in Tokyo or Carlo Scarpa's life's work, check out these new titles that we have picked from Finnish Design Shop's book selection.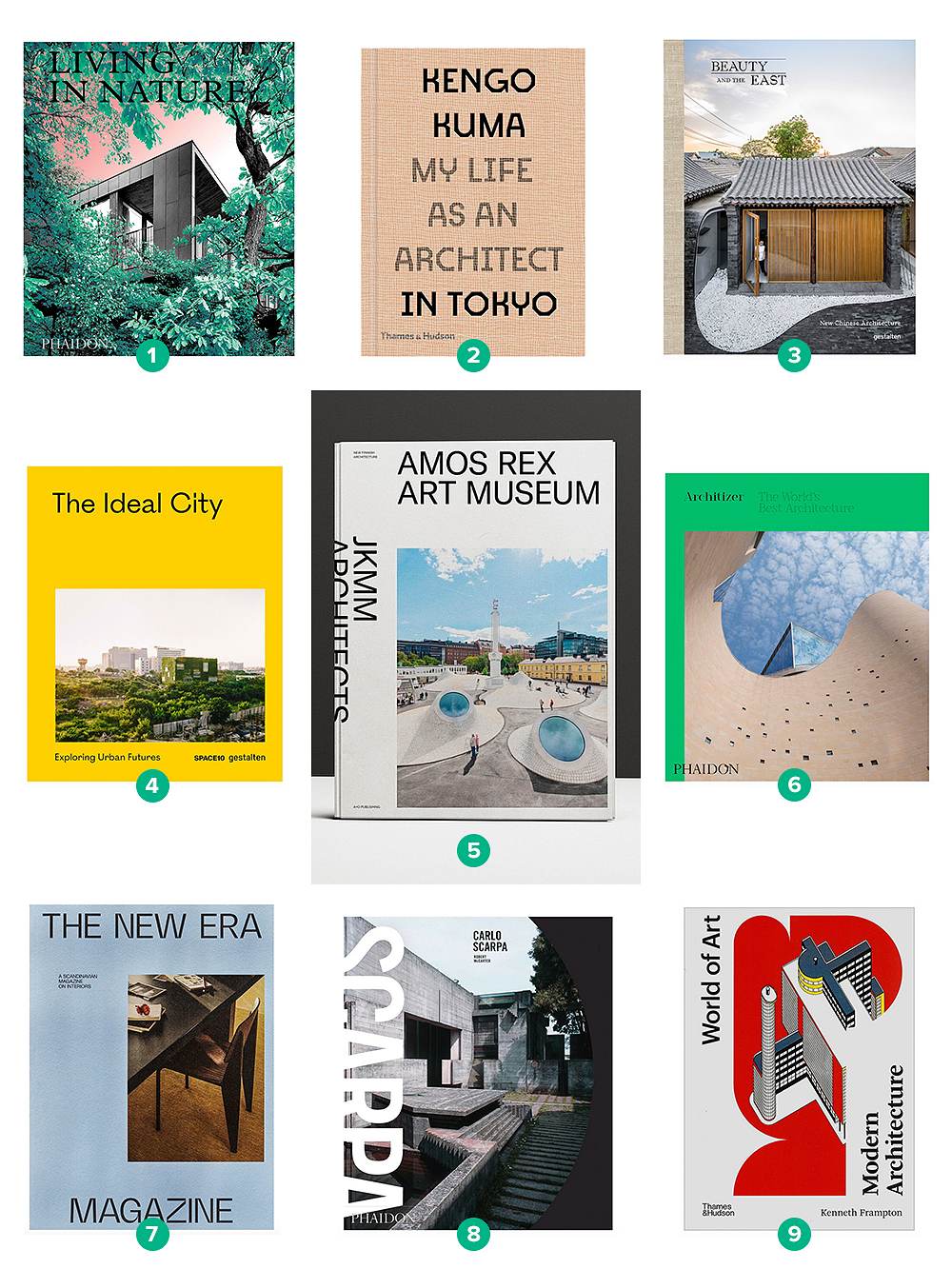 1. AS ITS NAME SUGGESTS, Living in Nature, the latest addition to Phaidon's Living book series focuses on living in nature, whether it be in a house built on top of a mountain, in the desert, at the top of a tree or on a shore. 2. Kengo Kuma, who is known for eye-catching wood architecture, reflects on the buildings he has designed for the capital of Japan in Kengo Kuma: My Life as an Architect in Tokyo. 3. Gestalten's Beauty and the East provides a glimpse into contemporary Chinese architecture as well as its rising stars and industry leaders.
4. Created together with Danish research and design lab SPACE10, The Ideal City explores innovative solutions built in 53 cities, designed to improve urban living. 5. Amos Rex Art Museum – JKMM Architects is the first book dedicated to the Amos Rex museum, and it is also the first volume of the book series on the most prominent buildings in contemporary Nordic architecture published by Arvinius + Orfeus. 6. Phaidon's Architizer books provide an overview of the most exciting new buildings in the world one year at a time. The winners of the 2020 Architizer A+Awards were selected by a panel of as many as 400 professionals.
7. The New Era magazine presents the most inspiring homes and spaces in the Nordic countries, and its second issue features a contemporary hideaway by design studio Halleroed and House G by Tham & Videgård, among others. 8. The book on Carlo Scarpa, which is available again, provides a comprehensive account of the life and works of the Venice-based architect, ranging from glass objects created on the island of Murano to modernist masterpieces. 9. World of Art: Modern Architecture, published by Thames & Hudson, introduces the reader to modern architecture and its origins with over 800 images. It is telling of the popularity of the book written by architect Kenneth Frampton that the edition published last year was already the fifth.
See also:
• All architecture books >
• Amos Rex is a new landmark in Helsinki >
• Holidaying in a modern gazebo atmosphere on Krokholmen island >
Text: Laura Hallikainen Images: Publishers