In Design Stories' new column, the editorial staff of the Finnish interior design magazine Avotakka will share their favorite products and interior design solutions that have proved functional in their own homes. Managing Editor Miia Kauhanen picked seven products for a functional hallway.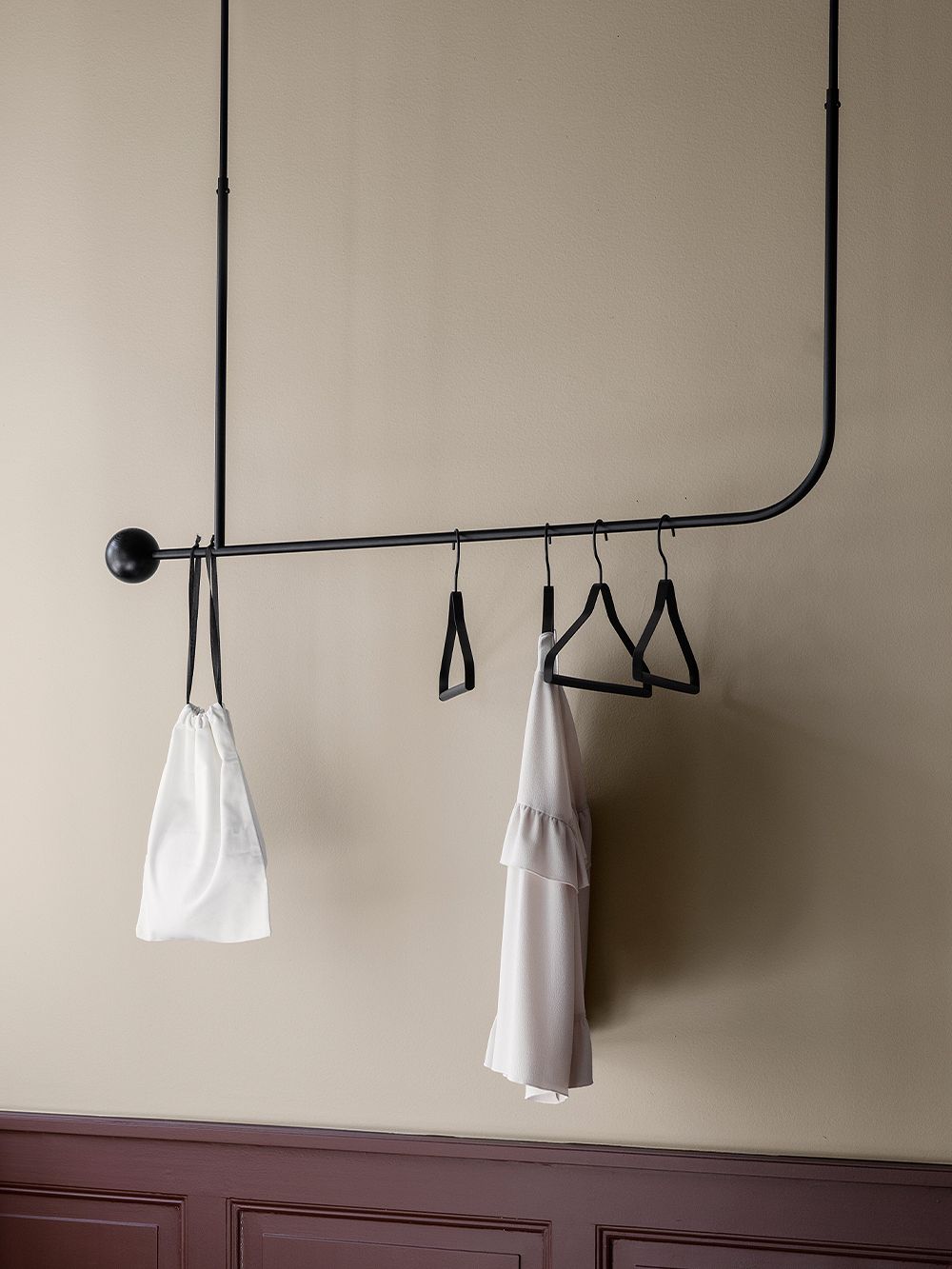 1. Something light
"The hallway is often the most neglected space in home design. When I had my house built, I got the golden opportunity to design the hallway to my liking. A separate hallway for everyday use adds a touch of luxury to daily life – and people with children swoon over it. It accommodates the outdoor wear of our family of five as well as our recreational equipment. Each family member has their own drawer for accessories. One wall of the hallway is covered by a fixed cabinet that stretches from floor to ceiling. I left the doors off to make it easier for things to end up in their own place. To offset the massiveness of the cabinet, I wanted a light, wall-mounted coat rack – there is never too much space on the closet rod.
For this purpose, the perfect choice was the delicate and beautifully curved Pujo, designed by the Finnish Studio Finna for Ferm Living. The minimalist metal rod can be hung from the ceiling or mounted on a wall, so it won't take up any floor space. It makes you only want to hang the most beautiful coats, and perhaps also the guests' coats, on it. With S-hooks, you can also hang bags."
• Ferm Living's Pujo hanging coat rack >
• All coat racks >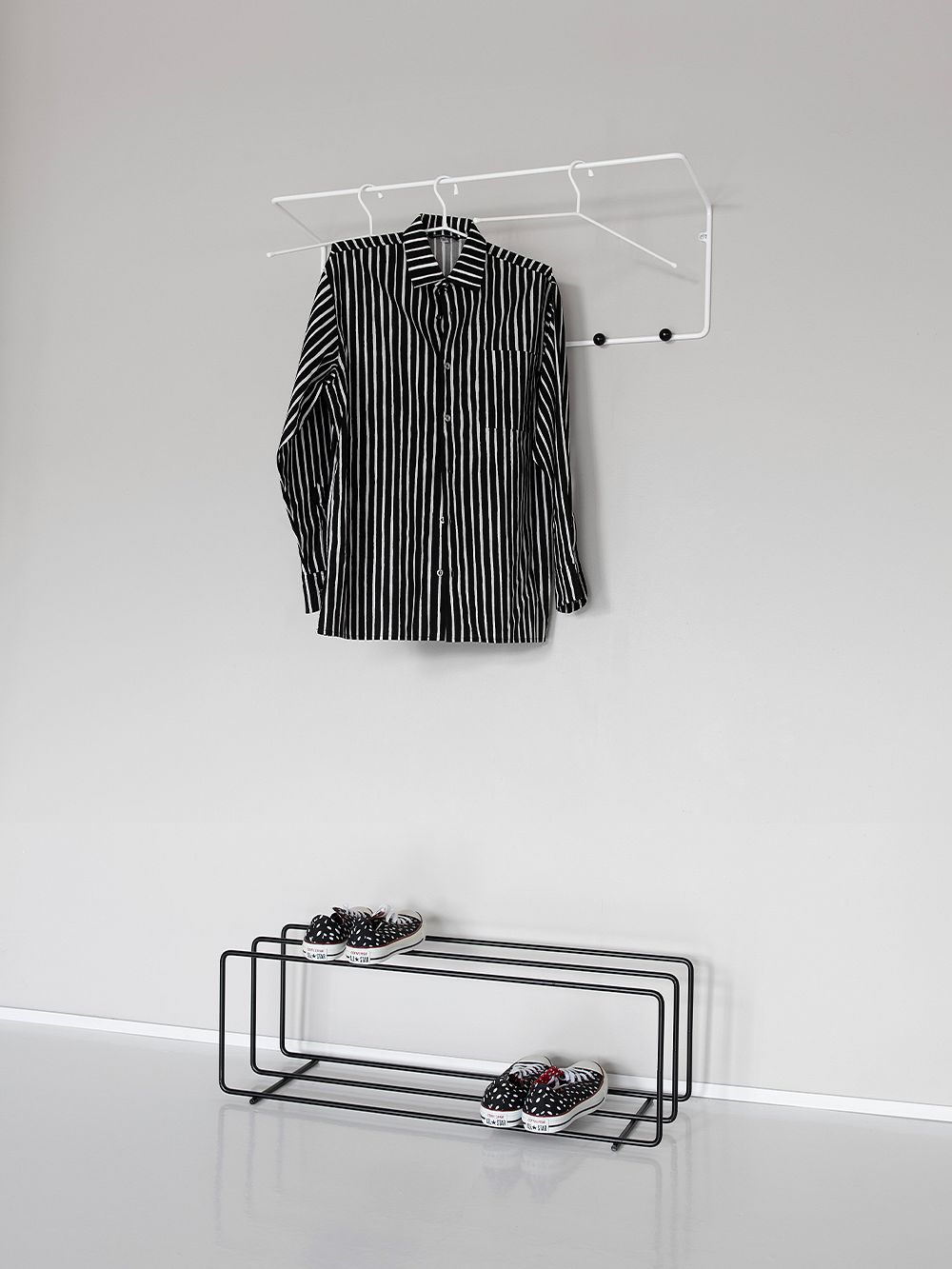 2. The more delicate, the better
"The floor space saved by a coat rack hung from the ceiling can be utilized with a beautiful shoe rack or baskets. In our hallway, seasonal recreational equipment from roller skates to ski boots is stored in bamboo baskets. It's practical that the baskets are on the floor – since that's the direction in which things usually fly from our hands. Even though I designed much space for shoes in the fixed cabinet, I also had to buy a light shoe rack.
Showroom Finland's shoe rack is streamlined and airy, and it's perfect for giving the often cramped hallway a lighter look.
It's as if the sleek Mixrack shoe rack, designed by Tapio Anttila, was made to be placed under the Pujo coat rack. The metal rack, painted black or white, is streamlined and airy, and it's perfect for giving the often cramped hallway a lighter look. Favorite shoes are put on display on it."
• Showroom Finland's Mixrack shoe rack >
• All shoe racks >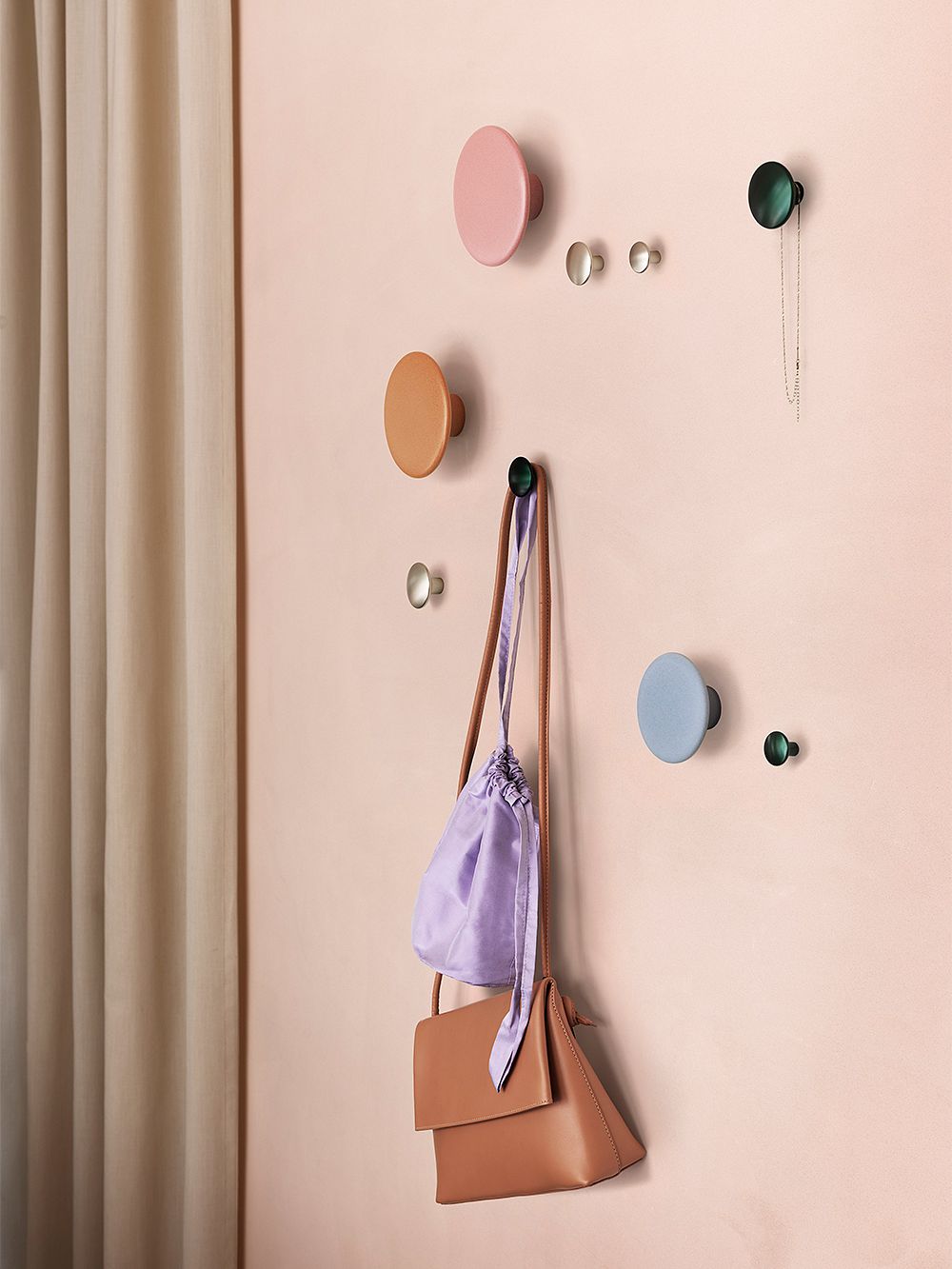 3. Playful circles
"Our guests don't have to see the enormous amounts of stuff in the hallway intended for everyday use. Instead, they are meant to enjoy the visual tranquility of the minimalist hallway next to the entrance. The space only features a full-length mirror, a few small shelves and a bench, above which the wall is adorned with a selection of Muuto's round Dots coat hooks. The collection of round coat hooks is at its most beautiful when it's empty or half empty, which makes it perfect for temporary use, mainly by guests. This would also be an ideal solution for a narrow hallway.
A Dots assembly can be made vibrant and almost like a piece of art by combining the various colors, sizes and materials available. Ceramic rose, brass, as well as natural and gray ash suit our home best."
• Muuto's Dots coat hook >
• All wall hooks >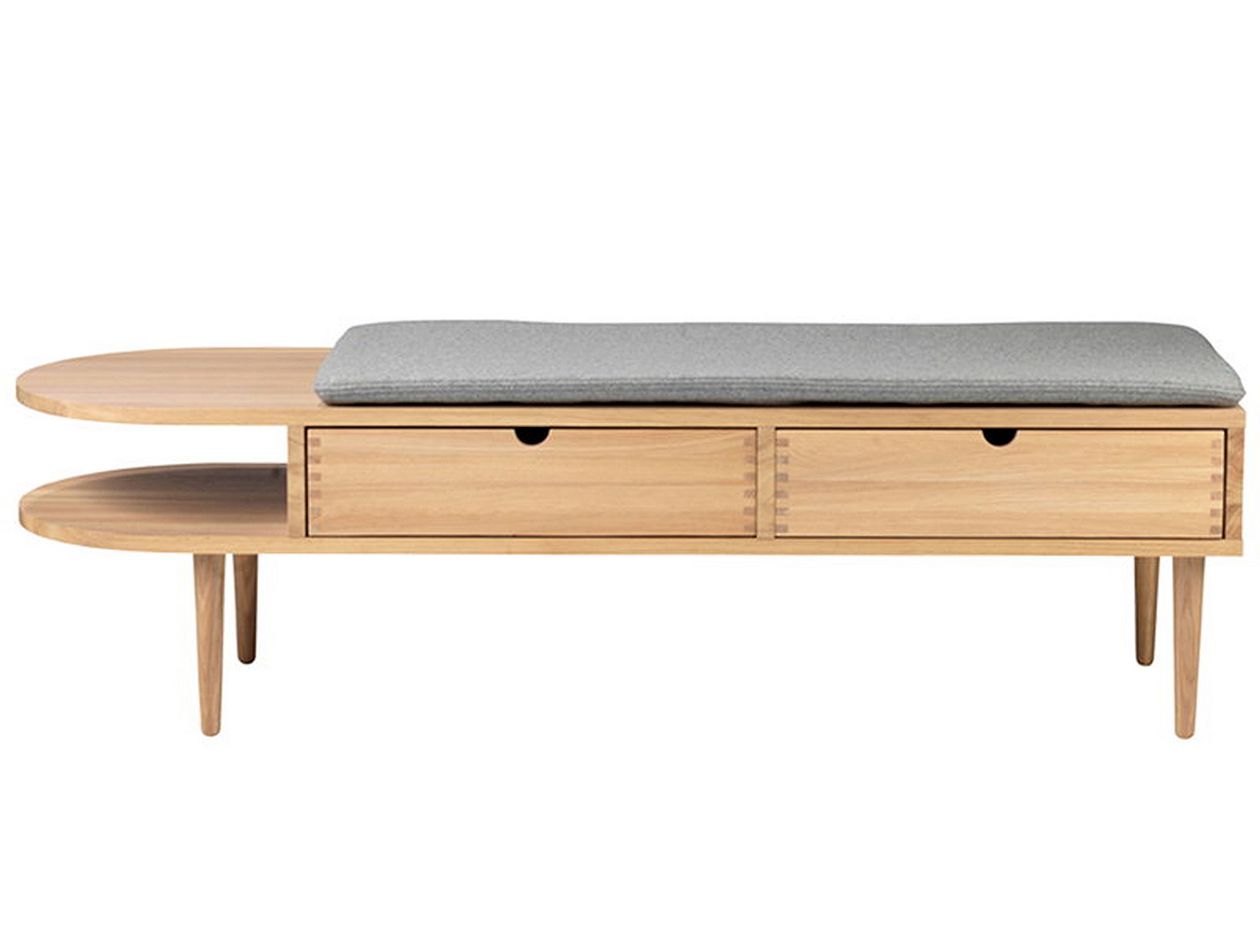 4. A multipurpose item for everyday use
"When squares are scarce, the best piece of furniture has many uses. It's a good idea to have a seat in the hallway for tying shoes and putting clothes on children. The space under the seat, on the other hand, is best used for storage. The hallway should also feature a surface for items such as mail and shopping bags, so that you can get them out of your hands as soon as you get in.
These requirements are perfectly fulfilled by FDB Møbler's F24 Radius bench, which, without the cushion, also functions as a side table or TV stand. The rounded shelf at the end is suitable for things like outgoing and incoming mail, and the drawers for sunglasses, accessories or mobile phone chargers. I'm slightly 'allergic' to yellowing of wood, so the white lacquered oak pleases my eye."
• FDB Møbler's F24 Radius bench >
• All benches >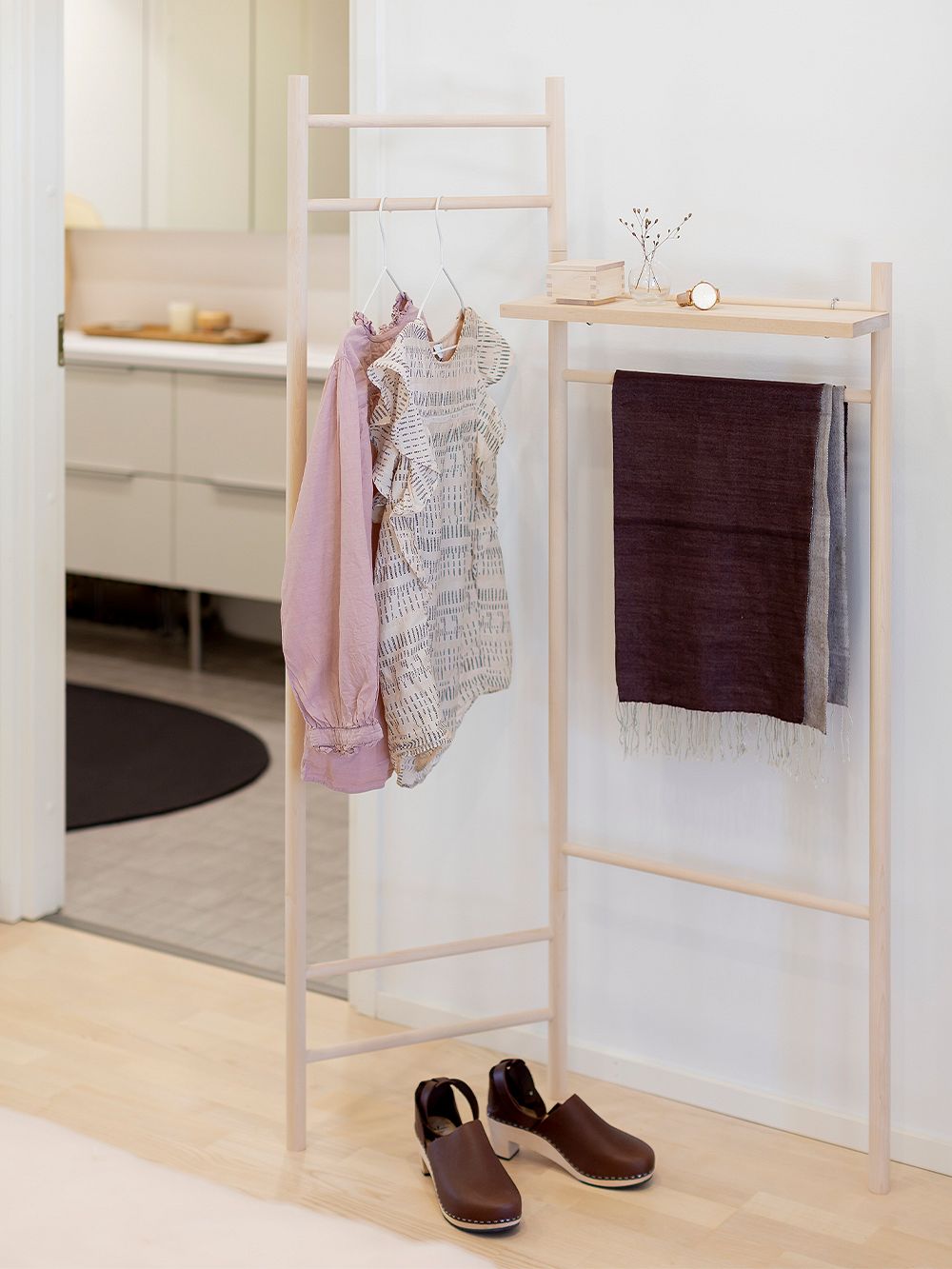 5. Wherever needed
"The best thing is if the guest can see right away after entering the hallway where they are supposed to hang their coat and bag. A light coat rack gives a subtle hint and fits anywhere without making even narrow hallways feel cramped.
Verso Design's Tikas clothes rack in birch also fits in extremely narrow spaces even if there is no continuous wall area, since, due to its partition-like shape, it can be used as a room divider. It has a sleek and – thanks to the rounded wooden frame – a soft look, and the rack would be just as suitable for use in the bedroom for next days' clothes or as a towel rack in the dry part of the bathroom."
• Verso Design's Tikas clothes rack >
​​​​​​​• All coat stands >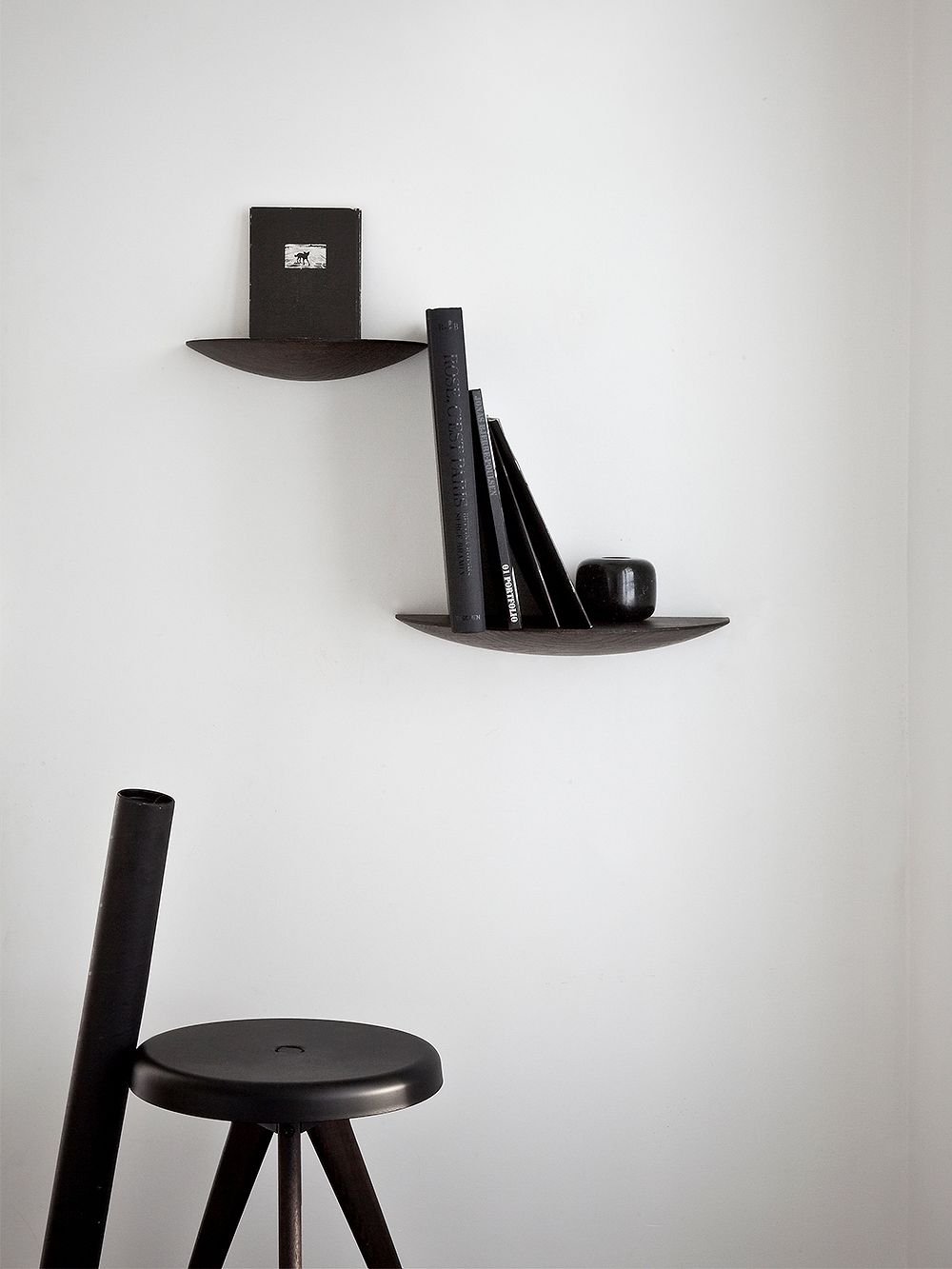 6. For loose items
"Car keys, headphones and wallets easily drift all the way to the kitchen. That's why it's a good idea to place 'landing pads' for loose items right next to the entrance so that they are put down already in the hallway. When valuables have their own permanent places, you don't have to look for them every time you're leaving. A beautiful, small shelf or a tray or bowl placed on a surface is perfect for this purpose.
Menu's Gridy Fungi oak shelf charms with its sleek simplicity and soft, rounded shape. It's available in two sizes, in either black or natural wood. I can make a beautiful, subtle composition that has a clear everyday function using just a few shelves on the wall next to the entrance. Although, I think I'll reserve one shelf for a vase and a flowering branch."
• Menu's Gridy Fungi shelf >
• All wall shelves >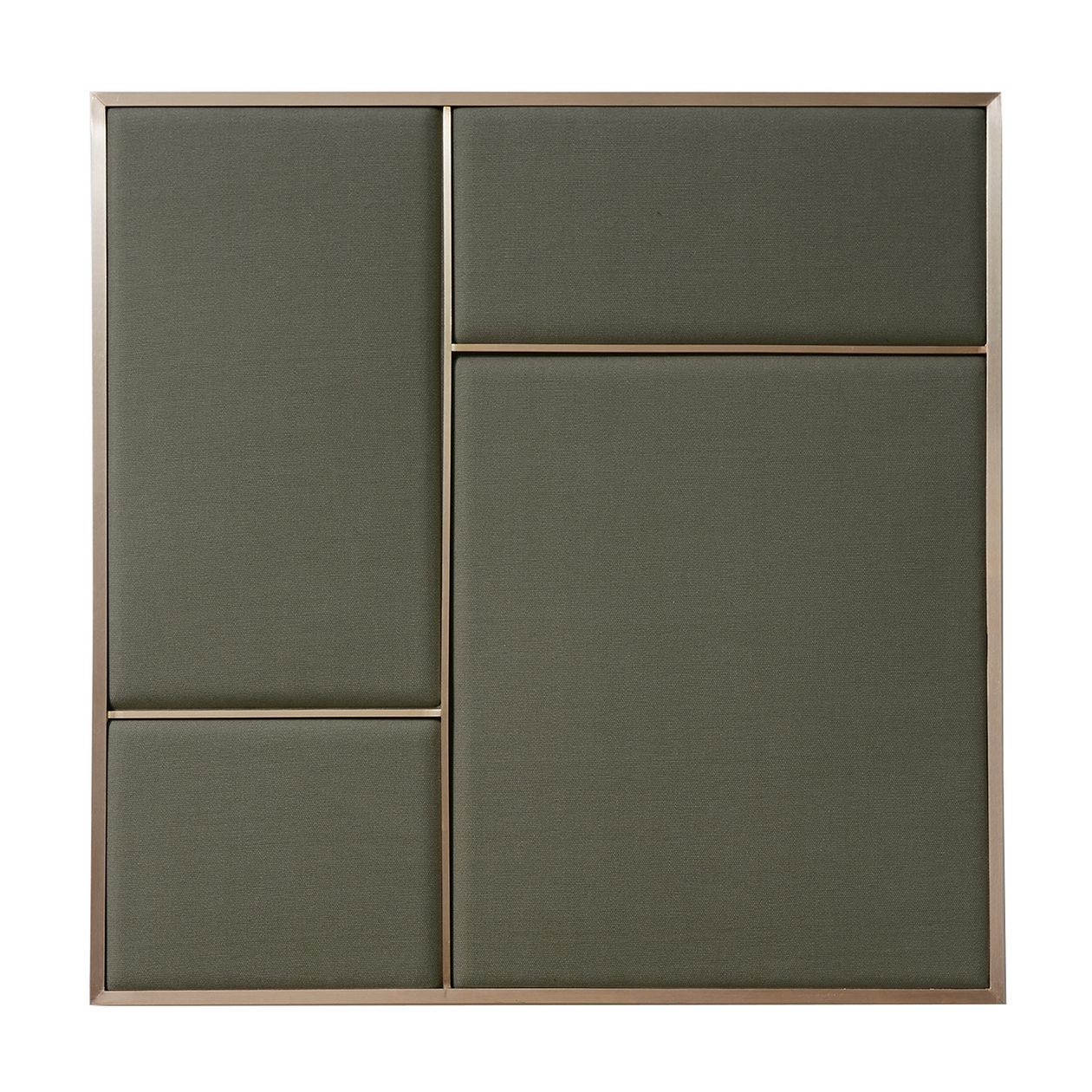 7. "Nerve center" of the home
"At our house, the hallway is also the place that hosts the wall calendar, school timetables and hobby schedules of the whole family. That's why it must have a proper notice board for attaching important notes and checklists.
The Nouveau Pin notice board by the Danish company Please Wait to be Seated adds a touch of luxury to the hallway with its brass frame. The fabric is available in dark blue, deep red and gray. Thanks to the foam underneath the fabric, the board also functions as an acoustic element. This is as sophisticated a notice board as it gets!"
• Please Wait to be Seated's Nouveau Pin notice board >
• All memory boards >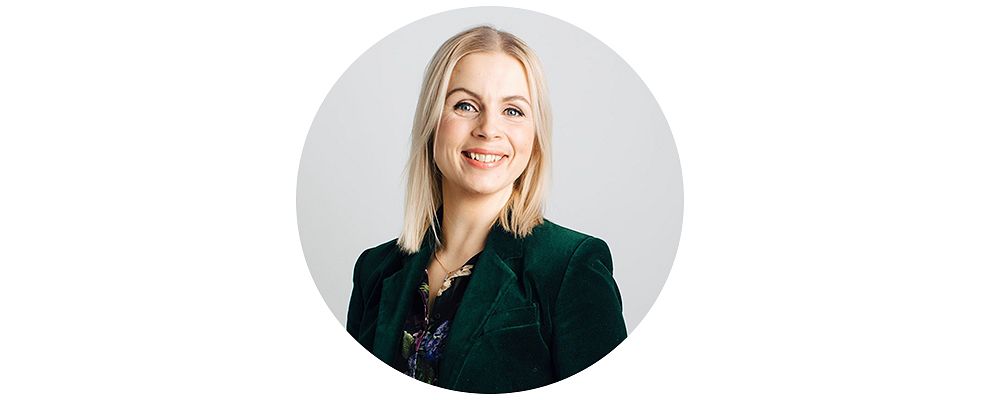 Miia Kauhanen, Managing Editor at Avotakka magazine, loves the silent beauty of minimalism without compromising on everyday functionality. References to nature and Japanese aesthetics are always a bonus.
See also:
• More items for small storage >
Text: Miia Kauhanen Images: Manufacturers