As the winter sun only appears later in the morning, we Nordic people like to make the most of the dark season, staying under the duvet to sleep just a bit longer. We picked nine products to make your den nice and soft for the winter.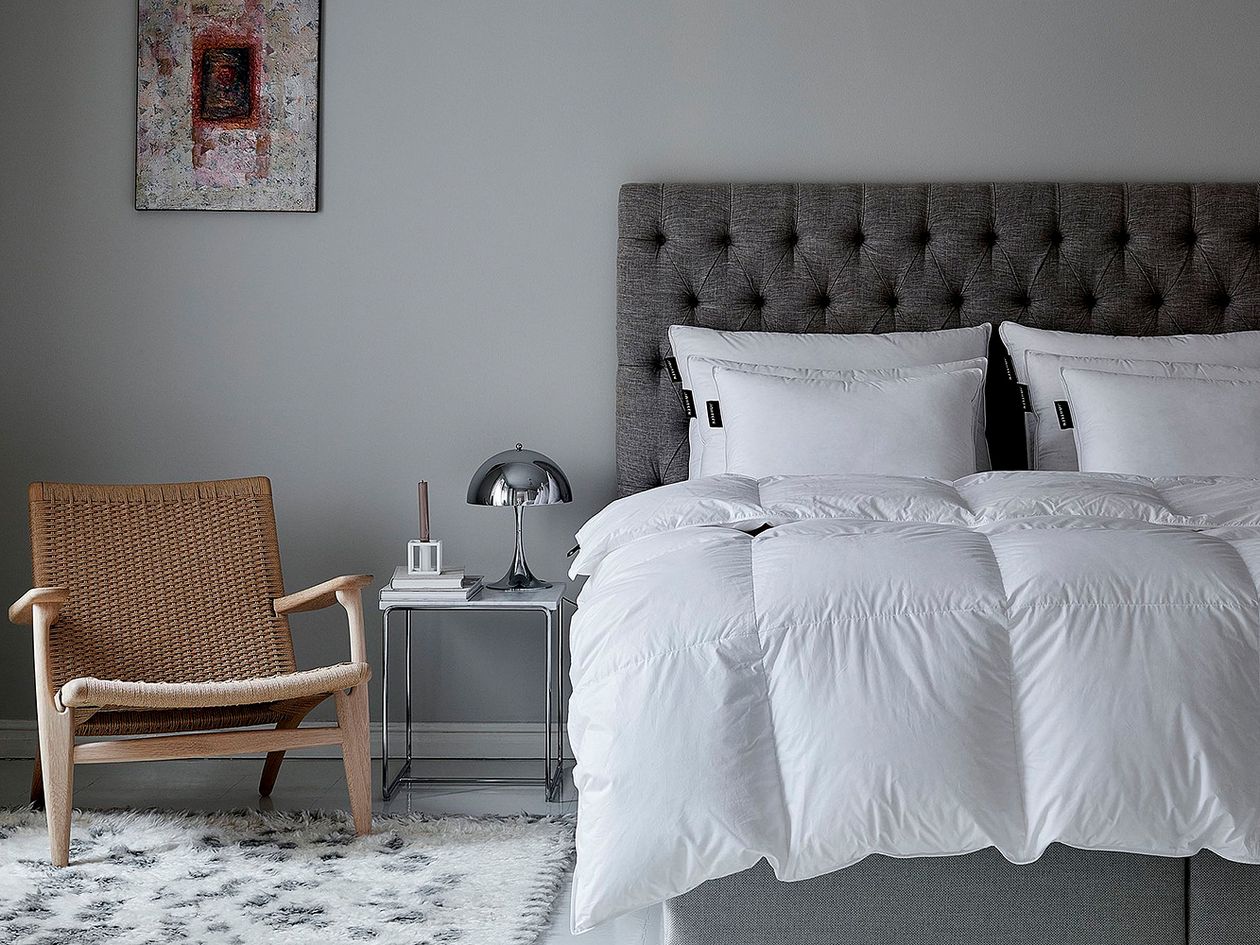 A piece of the land of Nod
A pillow that supports your head well and suits your sleeping position has an immense effect on your sleep quality and thereby on how well you feel during the day. The Joutsen Jalo down pillow, made of luxurious natural materials, is the choice of a sleeper who values Finnish quality. Filled with breathable down and covered with cotton batiste with a high thread count, the pillow is designed to provide optimal support for the head and neck, especially if you sleep on your side.
Joutsen bedclothes are made with carefully cleaned, dust-free and non-allergenic down, earning them the Finnish Allergy, Skin and Asthma Federation's Allergy Label.
• Jalo down pillow by Joutsen >
• All duvets & pillows >
Duvet as fluffy as the clouds
Under the SimpleFluff down duvet by Happy Fluffy Cloud, you can dream about spring in a plush, safe and warm nest. The Swedish company's down duvet descends soothingly over the sleeper like a thick, fluffy cloud: the duvet filled with duck down and feathers weighs almost five kilograms.
To ensure maximum fluffiness, Happy Fluffy Cloud duvets do not have checkered stitching, allowing the filling to find its own place freely. The down filling is also an extremely breathable material, so you will not feel sweaty despite its warmth. The only risk in having a blanket like this is that when your alarm goes off in the morning, you just don't want to let go of its gentle caresses.
• Happy Fluffy Cloud's SimpleFluff down duvet >
• All duvets & pillows >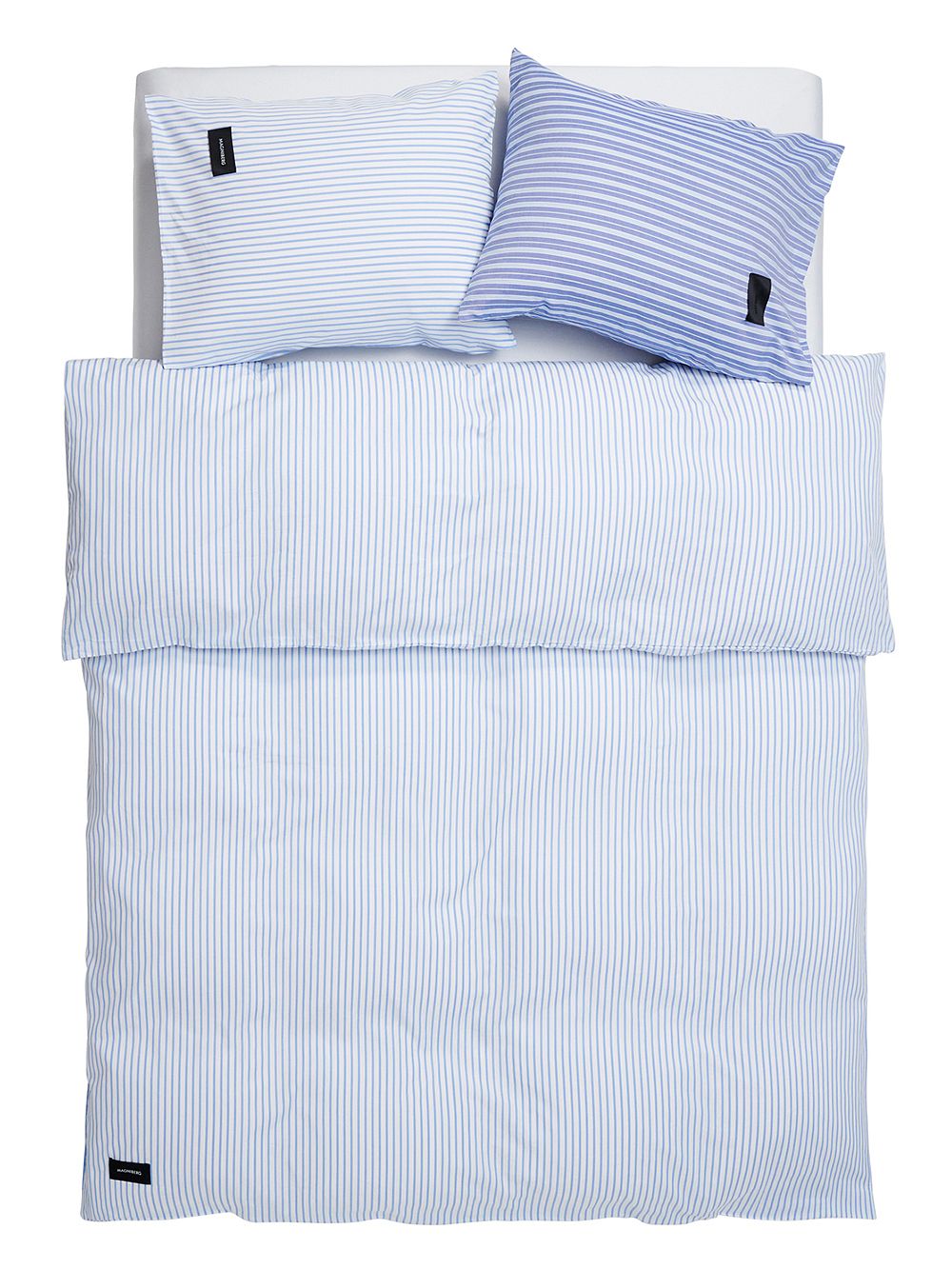 Blue dreams
Wall Street Oxford duvet covers by Magniberg add a bit of class in your bedroom with their elegant stripes. The Swedish brand's patterns stem from the world of fashion, and the Oxford bed linen was inspired by the classic dress shirts from the 1980s banking world. Winner of the Wallpaper Design Award 2021, the Oxford collection is made of durable, luxuriously soft and Oeko-Tex certified Egyptian cotton, which only becomes better and softer with use.
• Magniberg's Wall Street Oxford duvet covers >
• All duvet covers >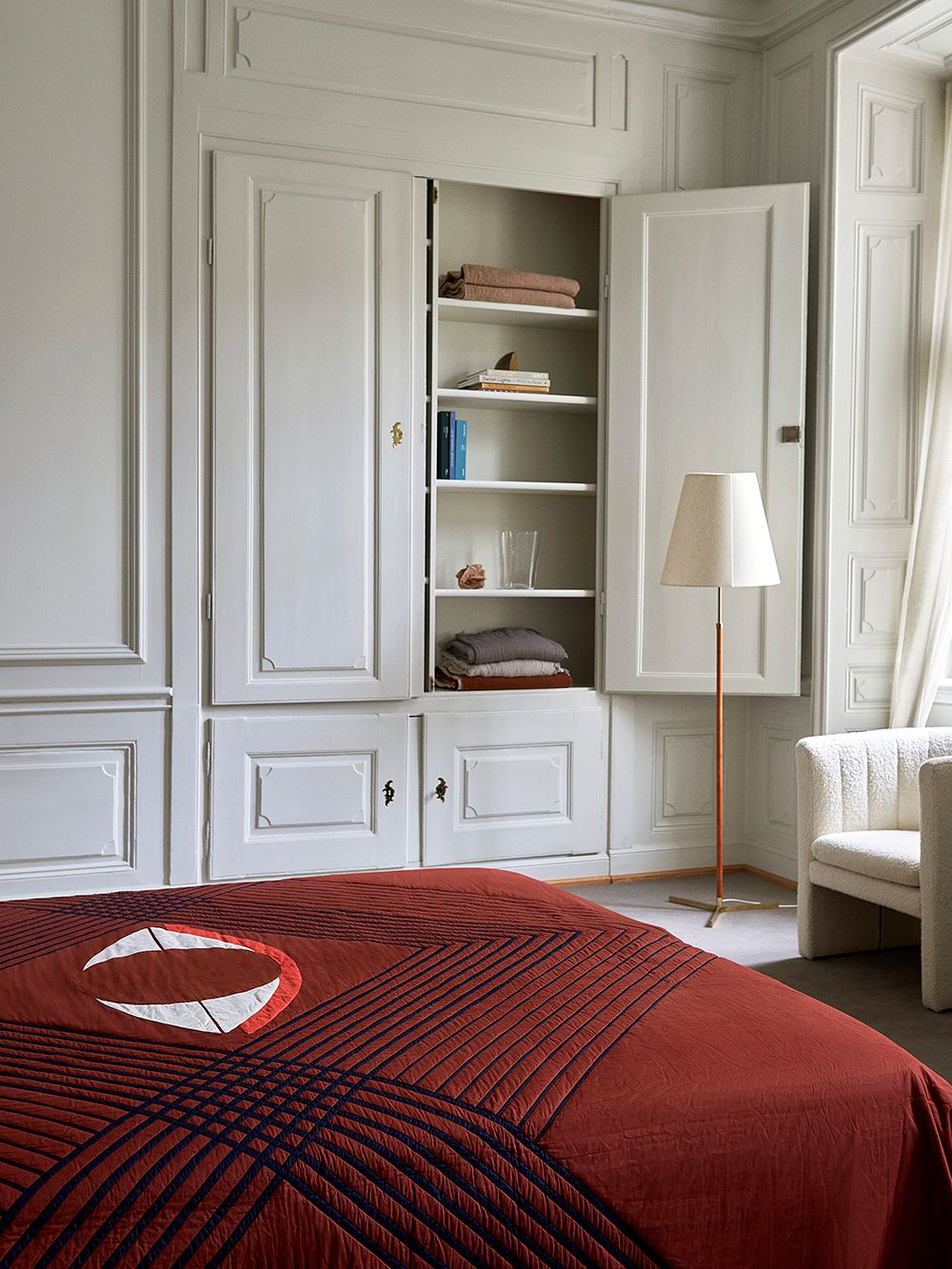 Aesthetics for the daytime
To make it even nicer to get into clean sheets in the evening, cover your bed with The Eye AP9 bedspread by &Tradition during the day. The middle of this organic cotton bedspread, designed by All the Way to Paris is adorned with large hand-stitched eye pattern surrounded by geometric lines. This eye-catching bedspread is available in brown and dark blue, like midnight.
• &Tradition's The Eye AP9 bedspread >
• All bedspreads >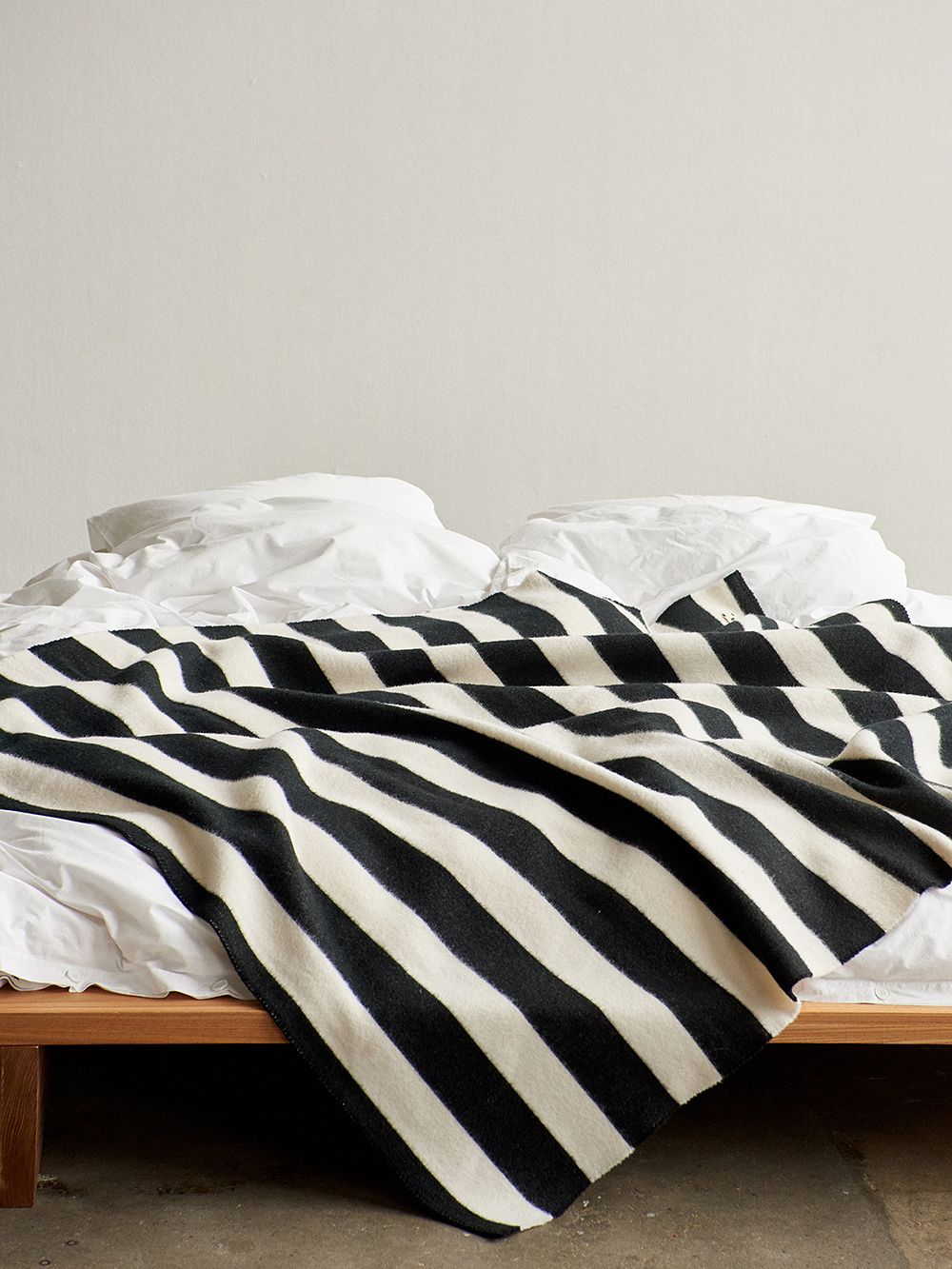 Natural added warmth
On a cold winter's night, you might need a wool blanket in addition to your down duvet. Tekla's Pure New Wool blanket is made in Europe from pure, new Oeko-Tex certified lamb's wool. The durable and tightly woven blanket naturally resists stains and does not wrinkle easily. You can choose between several earthy colors.
• Tekla's Pure New Wool blanket >
• All blankets >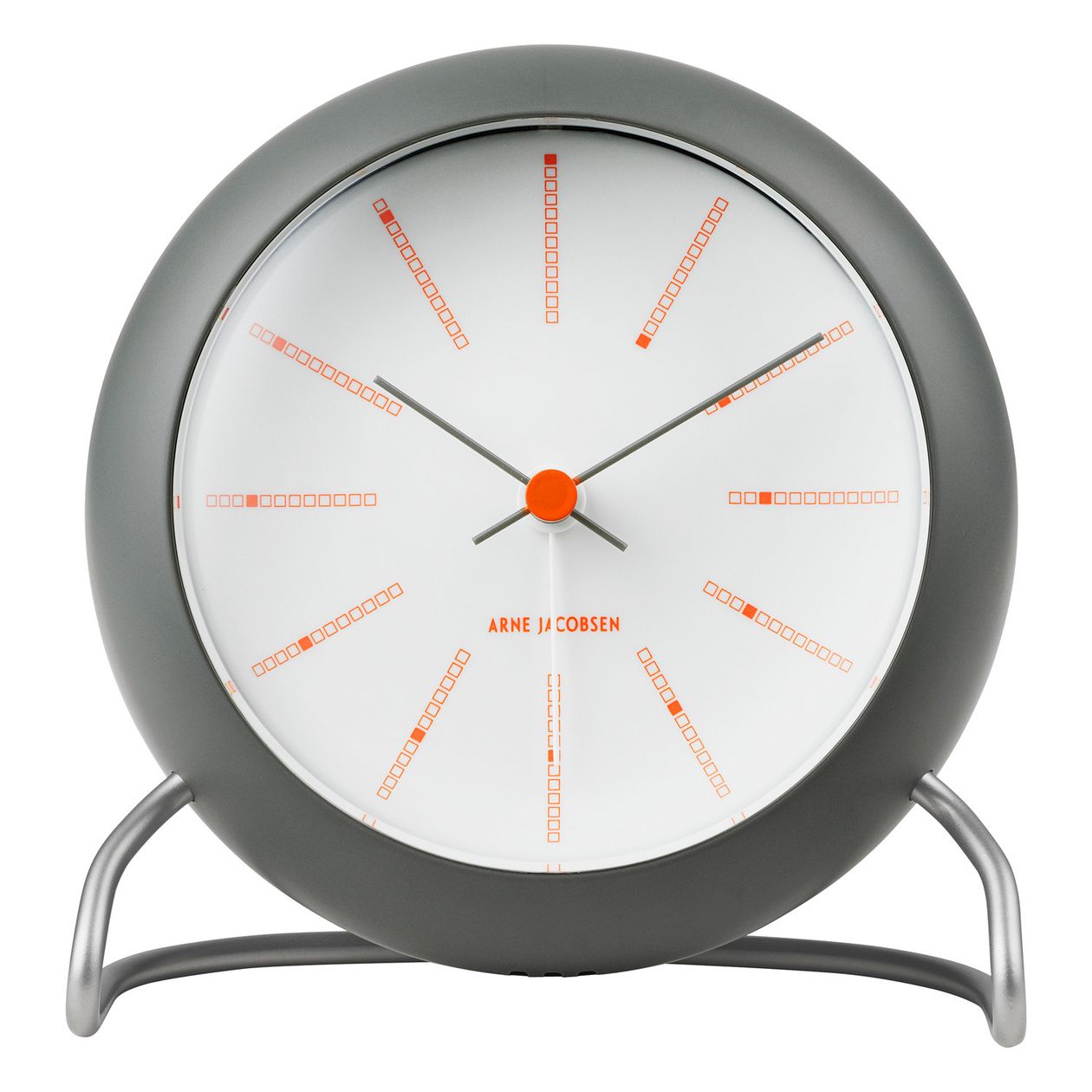 The most stylish functional item on a bedside table
If you want to declare your bedroom a technology-free zone, but your daily duties require you to wake up before you'd get up naturally, you might want to get a classic AJ Bankers alarm clock by Arne Jacobsen.
The metal base of the round table clock repeats the shapes of the Danish architect's iconic chairs, and the graphic clock face supplemented with a light sensor is borrowed from the clock he drew for the National Bank of Denmark in 1971. AJ Bankers is also equipped with the crucial snooze function in case you want to turn to your other side and linger on for just a few more minutes.
• Arne Jacobsen's AJ Bankers alarm clock >
• All table clocks >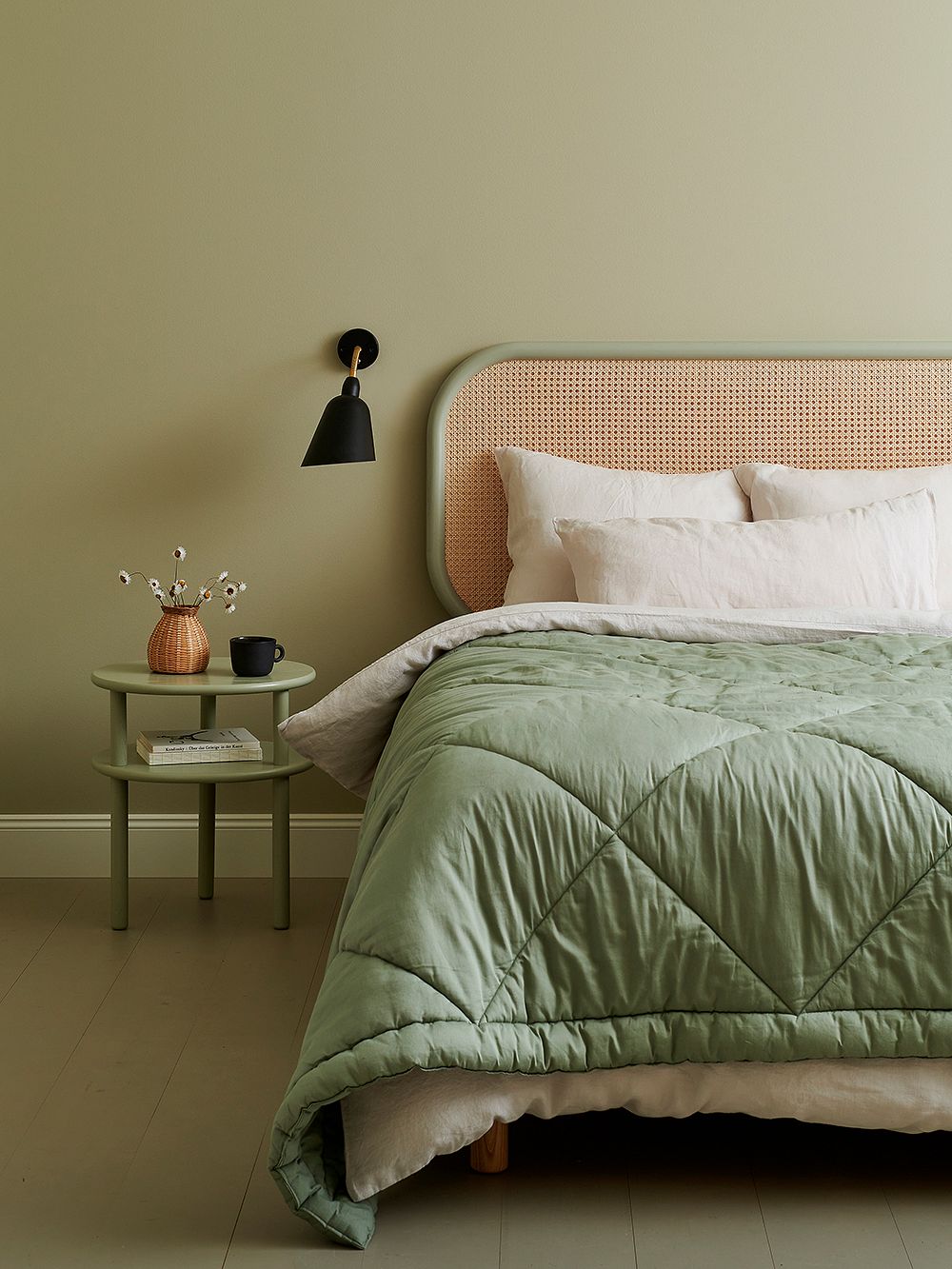 Jewel in the crown in the bedroom
A headboard that fits in with the rest of the decor completes your bedroom and makes the bed even more enticing. For example, the Lempi headboard by Finnish bed manufacturer Matri is a good choice if you are looking for calm colors and soft lines. Attached to the wall, the headboard is made of trendy rattan with a rounded solid ash frame.
• Matri's Lempi headboard >
• All headboards >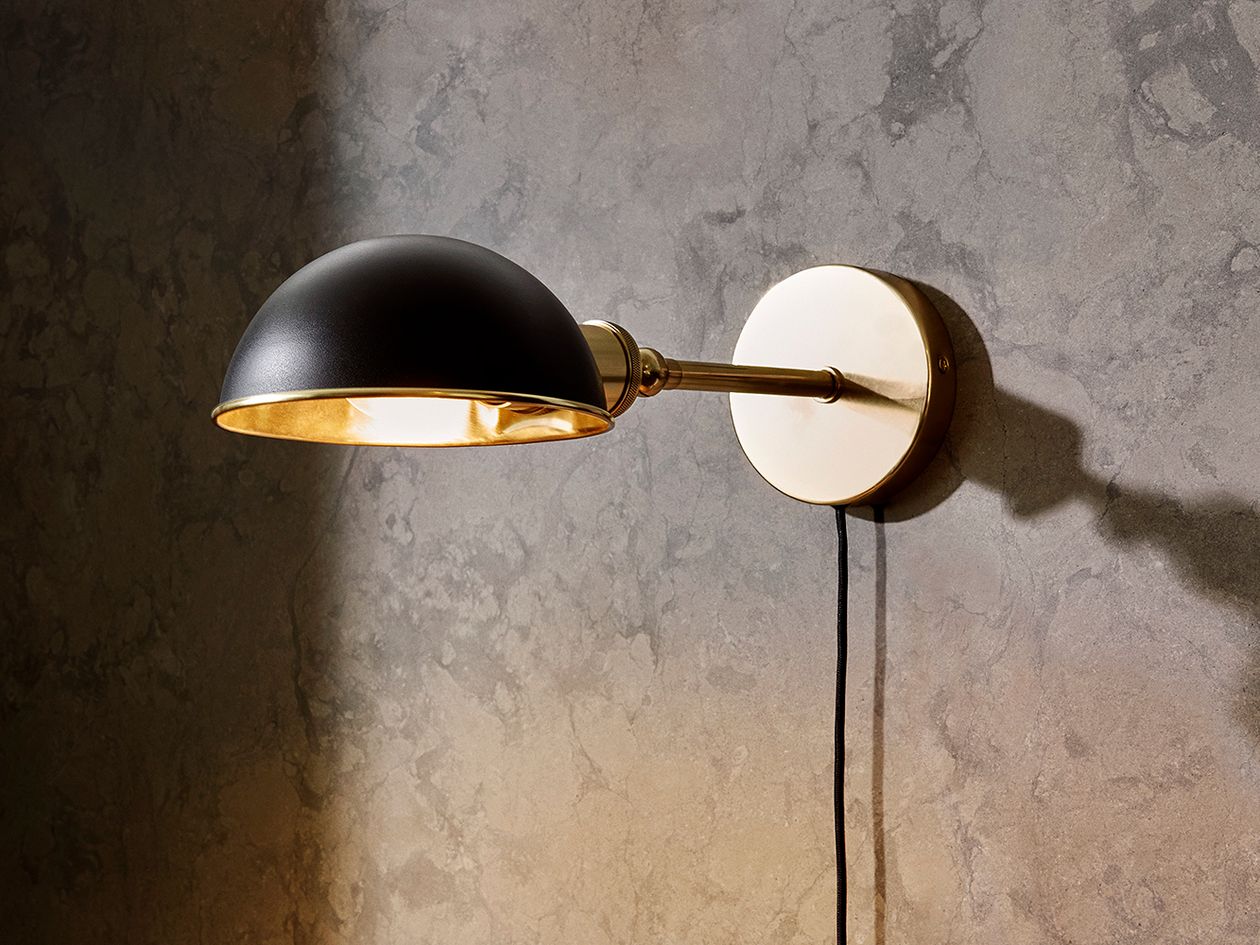 Gentle reading light
The Walker wall lamp in the Tribeca collection by Menu radiates soft a warm tone of brass. The hemisphere-shaped lamp can be used as a wall or ceiling lamp, and its shade can be adjusted to light a certain area: turn it down for a reading lamp or towards the wall to create an atmospheric ambient lighting that will not disturb the person sleeping next to you.
Danish designer Søren Rose created the Tribeca collection when he took apart and reassembled lamps inspired by the glamor of the 1930s that he had collected in New York. The lamps are therefore named after streets in the Tribeca area on Manhattan.
• Menu's Walker wall lamp >
• All wall lamps >
Helpful companion
A bedside table is a humble piece of furniture, but more than valuable as it takes care of whatever you need last thing before falling asleep and first thing when you wake up. For example, the classic Fuuga nightstand by Lundia, thanks to its minimalism, will suit a variety of decors, and its large drawers can be used to keep a number of important daily items.
• Lundia's Fuuga nightstand >
• All nightstands >
See also:
• All bed linen >
• All nightstands >
Text: Kaisa Mikkola Images: Manufacturers