A warm rug feels heavenly when getting out of bed on a nippy autumn morning, but a luxuriously comfy rug can work other wonders as well: a thick rug improves the acoustics, making the space feel more inviting. We chose nine warm and fuzzy rugs for an ultimate fall feel – pick your favorite and give your home a cozy finish!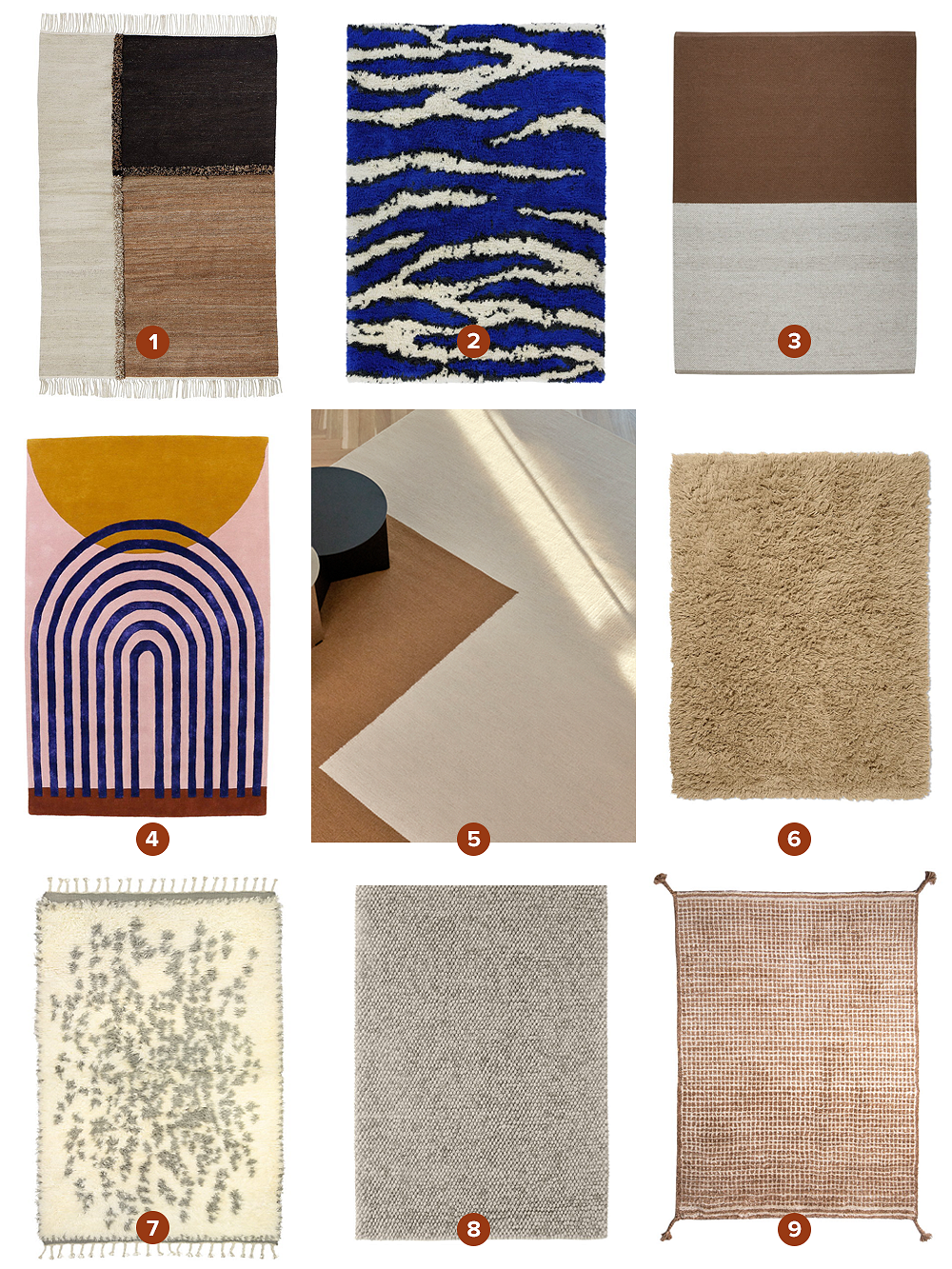 1. The E-1027 wool rug by Samu-Jussi Koski and its minimalist look draws inspiration from modernist architecture, and its name might ring a bell for fans of architect Eileen Gray: it refers to the architect's perhaps most famous work, the E-1027 villa in France. 2. Hem's playful Monster rug is reminiscent of a monster's fluffy coat, decorated with a stripe pattern designed by Swedish illustrator Siri Carlén. 3. Interface's Split rug charms with its earthy mood and high-quality, sustainable materials. The timelessly beautiful rug, created by textile designer Elina Helenius, is made of certified wool and European linen.
4. Made of tufted wool and viscose, the tactile Atrium rug by Marianne Huotari has a luxurious feel under your feet. 5. The collaboration between New York artist Ethan Cook and HAY, Flat Works, transforms Cook's paintings into beautiful, hand-woven wool blend rugs featuring surprising combinations of colour. 6. ferm LIVING's incredibly soft Meadow rug boasts an inviting design that nods to the classic shaggy rugs of the 1970s.
7. Finarte's Suovilla rug is hand-knotted from fluffy, semi-worsted New Zealand wool and it also has a touch of Moroccan Berber style. Suovilla is a Finnish word for cottongrass, which covers the vast bog lands of the Finnish Lapland. 8. HAY's Peas rug is made of small wool felt spheres that all have a slightly different shade, thus making each rug have unique look and texture. 9. The Grid rug by Woodnotes has an asymmetrical pattern and braided wool fringes on each corner. The soft rug is perfect for the living room or lounge area and is available in several different colours and sizes.
See also:
• All rugs and carpets at Finnish Design Shop >
• All products at Finnish Design Shop >
Text: Design Stories Images: Manufacturers