Any rug has quite the impact on the ambiance, but a rug can also be the focal point of the room: mix bold colors, vibrant patterns and tactile texture, and reinvigorate your space with a delightfully eclectic mood. Design Stories chose nine patterned rugs with a big personality – find inspiration in our favorites!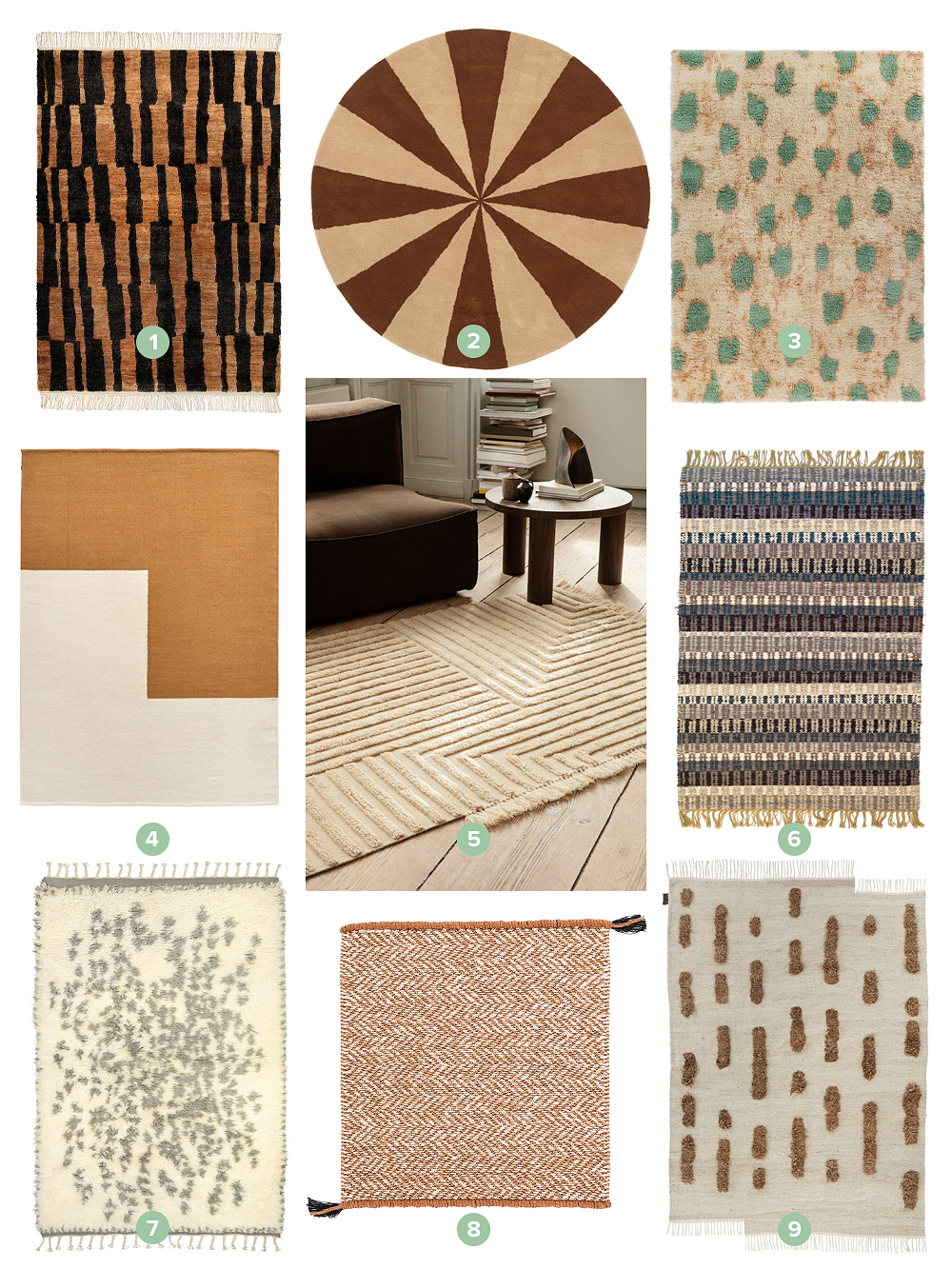 1. Designed by Ulla Koskinen, the graphic, asymmetrical pattern of the Pilari rug is based on her hand-drawn sketches, and it is accentuated by the alternating heights of the pile. 2. Ferm LIVING's round, hand-tufted Arch rug is made of soft New Zealand wool and finished with cotton backing that helps keep the rug from bunching up. 3. The playful Monster rug is reminiscent of a monster's fluffy coat, decorated with a dot pattern designed by Swedish illustrator Siri Carlén.
4. The Flat Works collection, a collaboration between artist Ethan Cook and HAY, transforms Cook's paintings into beautiful, hand-woven wool blend rugs featuring surprising combinations of colour. 5. If pattern and bold colors are not your thing, go for texture! Ferm LIVING's Crease wool rug has a soft, simplistic appearance and it draws inspiration from the clean lines of modern architecture. 6. Finarte's hand-woven Huvila rug exudes the laid-back, natural charm of Nordic vacation homes – all year round!
7. Suovilla is a Finnish word for cottongrass, which covers the vast bog lands of the Finnish Lapland. Designed by Marianne Huotari, the Suovilla rug also has a touch of Moroccan Berber style. 8. Woven of tweed yarn, the Rae rug by Elina Helenius is perfect for families with kids or pets, as the textured, multicoloured surface easily hides small stains and dirt. 9. The Laine rug by Sera Helsinki is part of Anna Pirkola's Saaristo collection. Saaristo was inspired by the sea – ever-moving, ever-changing, yet always calming and comforting. 
See also:
• All rugs & carpets at Finnish Design Shop >
• All products at Finnish Design Shop >
Text: Design Stories Images: Manufacturers