Jenna Kiuru is a visual storyteller who, when buying an object, carefully considers both the necessity for and care required by it. Jenna and her spouse live in downtown Helsinki, leading a wonderful life in their compact home.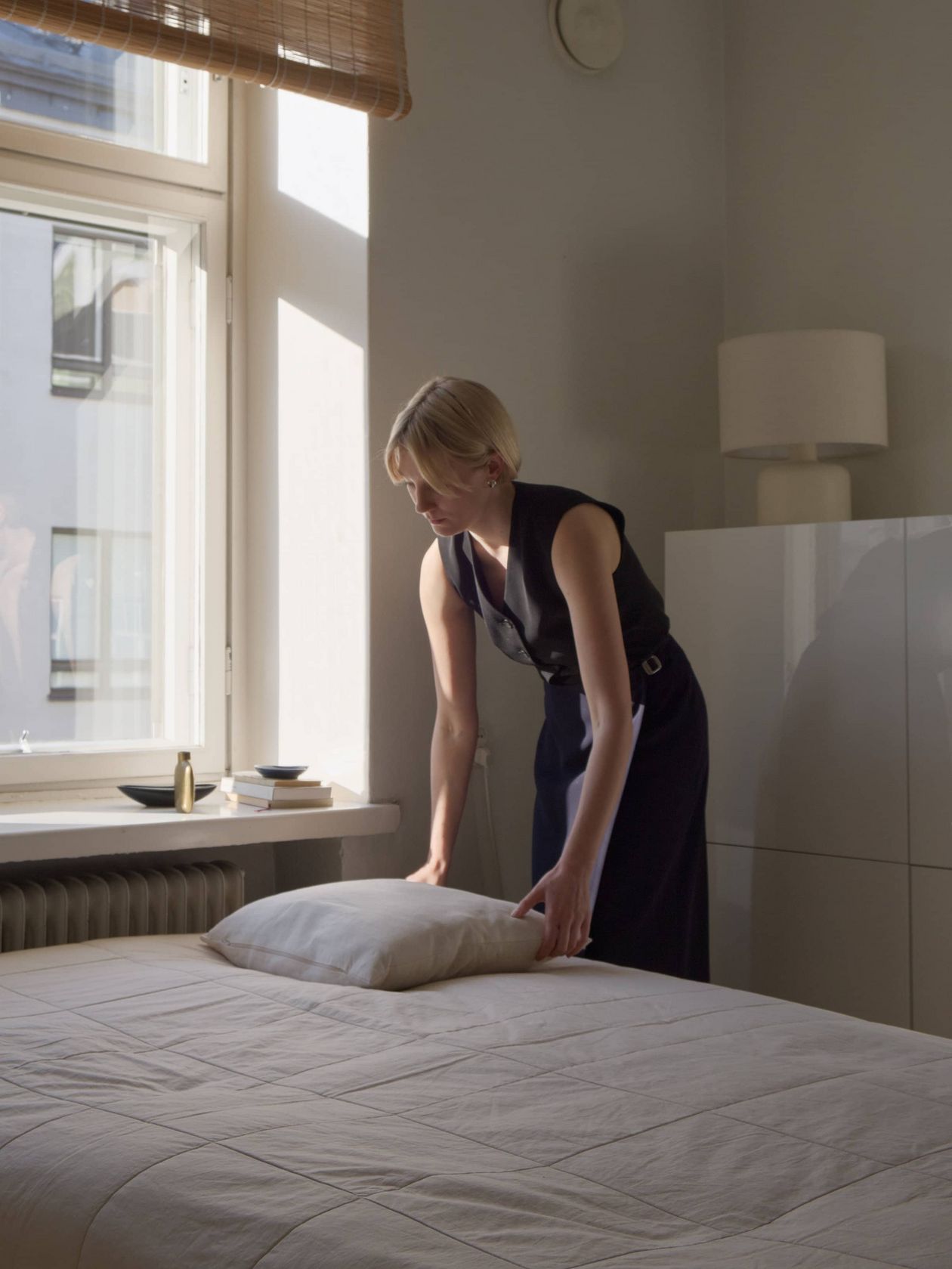 Hi, Jenna! Many people may be familiar with your name particularly because of your work in the field of clothing care. Could you tell us what you do for a living?
"In my work, I think about experiences – spatial or virtual – from various perspectives, contemplating impressions, smells, sensations and human encounters. I've acted in various positions in the clothing industry; I've worked as a visual stylist and developed and implemented store concepts.
Lately, I've been working in brand building and broadly in visual storytelling. Basically, I work with various companies, utilizing everything I have gained experience in. My strengths lie in the ability to see the bigger picture, and I may bring my concepts to life through activities such as photography and writing. My clients and I think along the same lines and share a similar set of values, which makes collaboration much easier. I feel that I can fully stand behind the work. In fact, I don't think I could do it any other way. For me, the most important thing is that I work on something that I'm passionate about and genuinely interested in."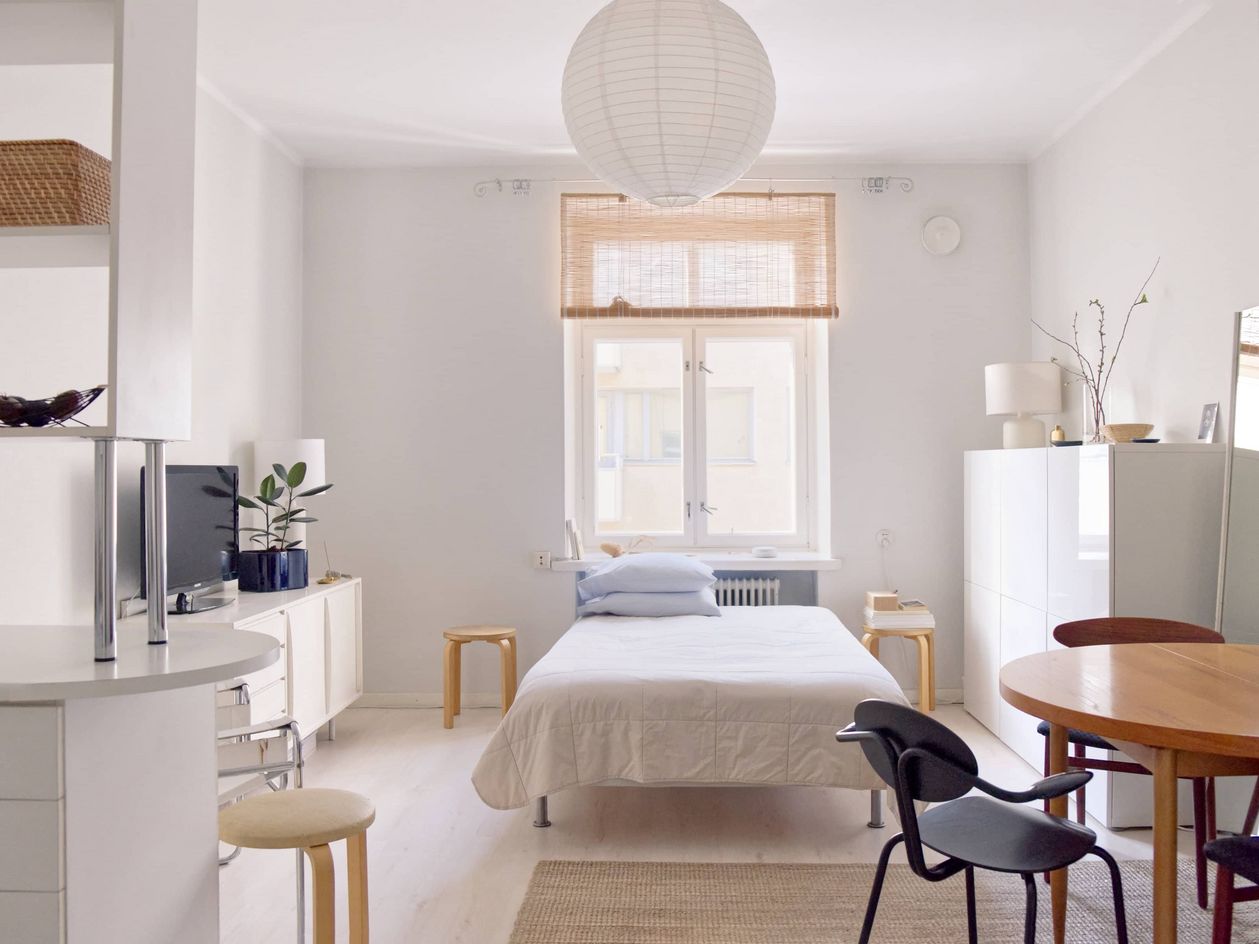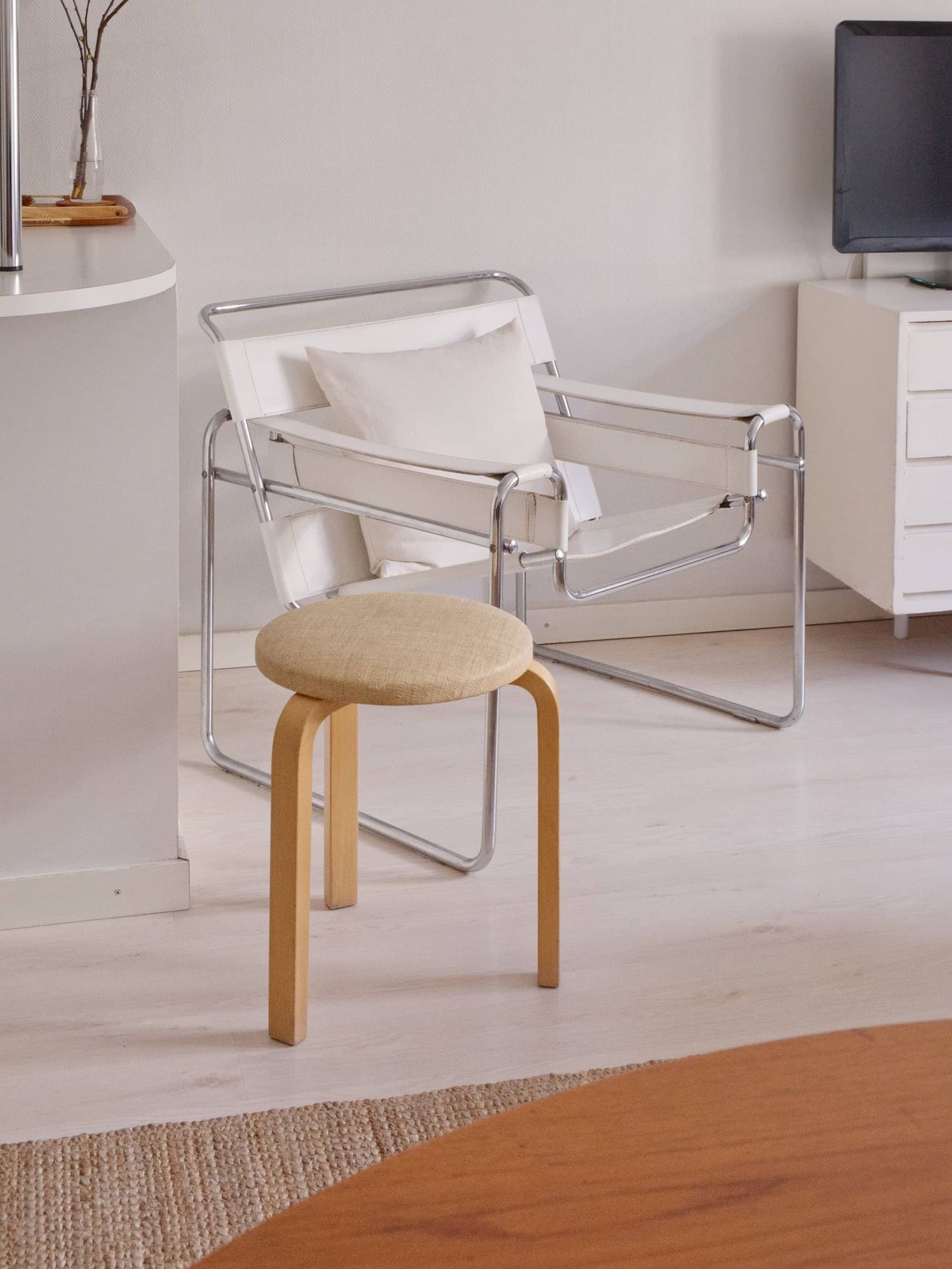 Thanks for having us at your place! How did you end up in this particular home, and what is it like to live here?
"I found this home by chance through a friend and moved here alone. In these past twelve years, this home has changed and developed with me in a fun, natural way and even through coincidence. When I moved here, it was important to me that the location is central and the transport connections are good. Now that I've started to spend more time here, comfort has gradually become increasingly important to me. For example, I did not use to have a dining table, but my lifestyle has changed. I realized that I wanted to eat at a sturdy table that would also make it possible to invite friends over for a meal.
"In these past twelve years, this home has changed and developed with me in a fun, natural way."
Living in a rented apartment is both challenging and inspiring, because there are decisions you cannot make and because many decisions have been made for you. It's interesting to think about what we could bring to the whole, so that the decisions once made by another person would blend in with those made by us and result in a home that reflects our style. It's also interesting to test different solutions to see what works in a small rental home, to make the home cozy and functional within the given limits, even if the setting is not, in a way, perfect and our own."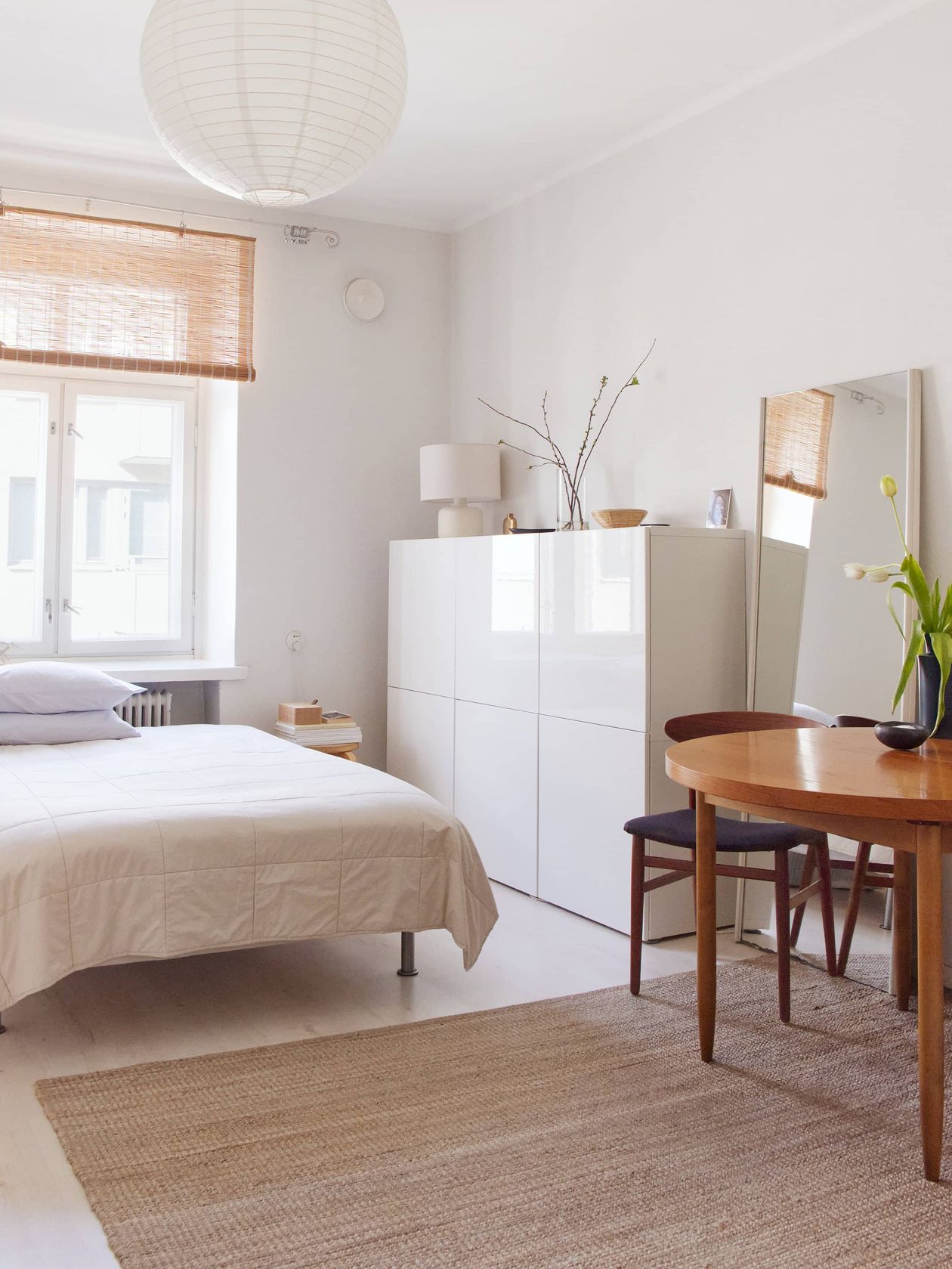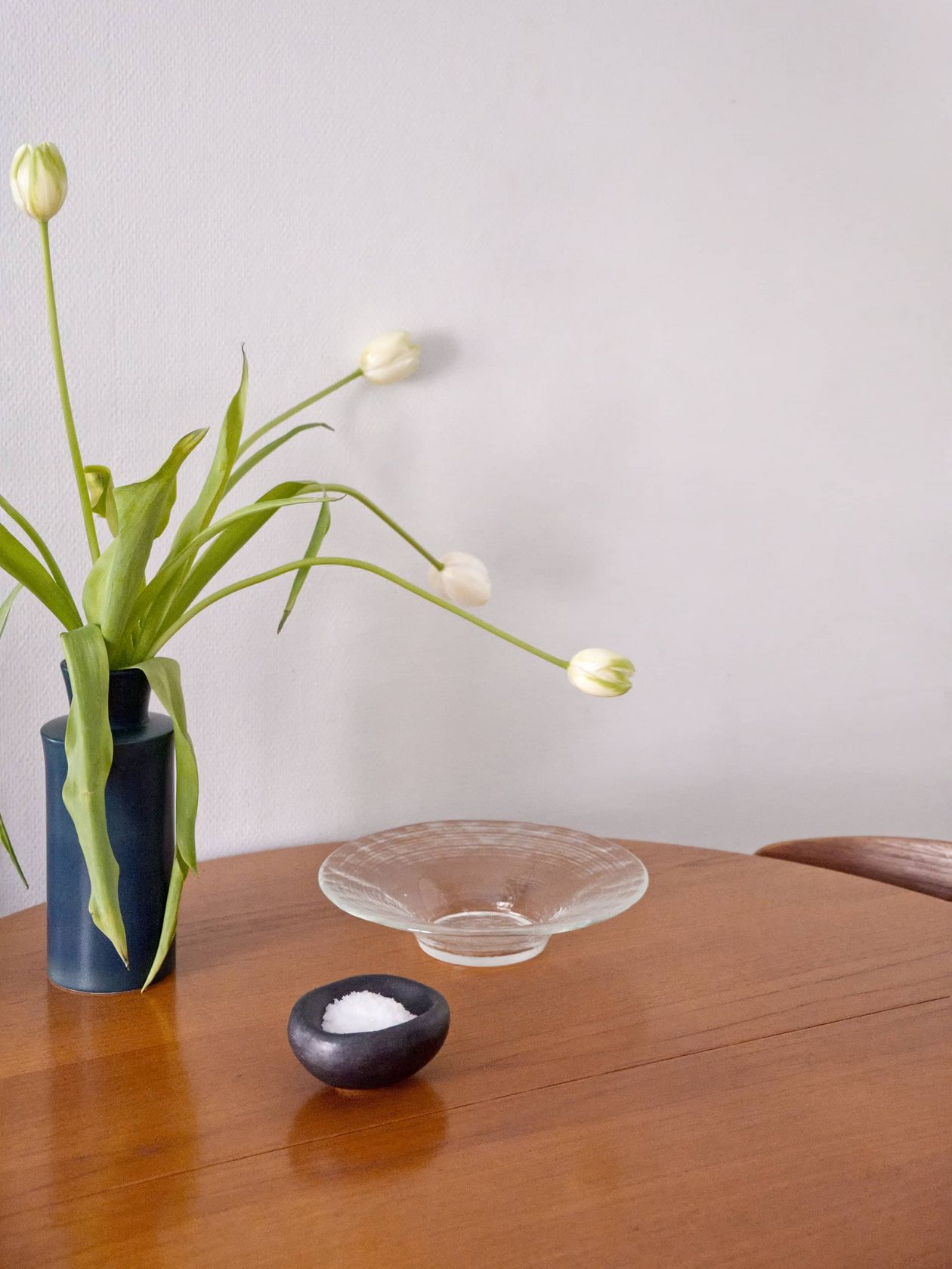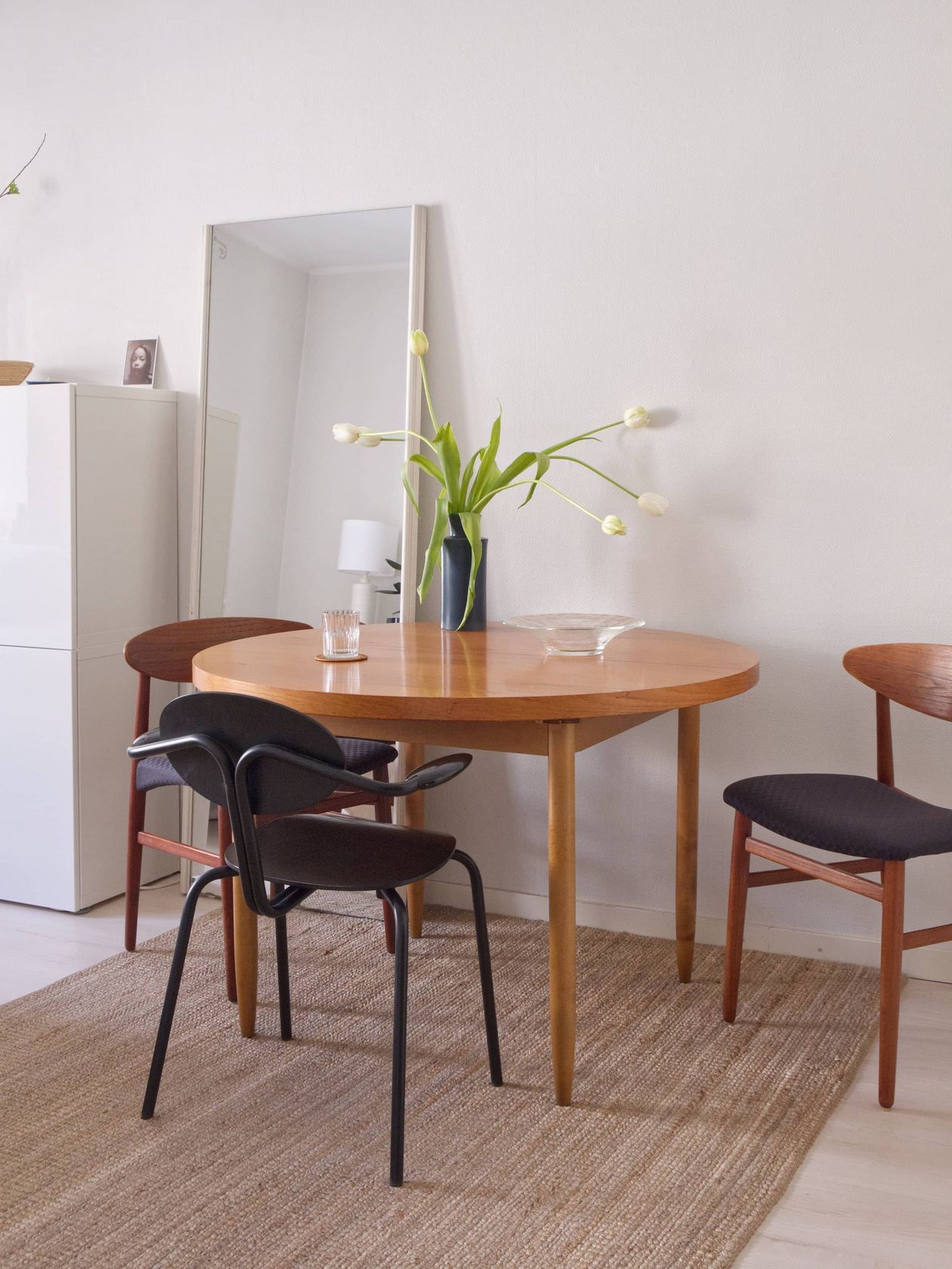 You moved here alone, but now there are two of you. How has that affected your home?
"When my spouse moved in with me, we had to pay even more attention to functionality and creating different spaces in the apartment. Contrary to the common way of thinking, I feel that different physical and mental spaces can also be created with more than just doors and walls.
When we started rearranging our small home, we first needed to decide where to place the bed. The bed is a dominant element that is often placed in some confined corner if the apartment is small. We decided to do the opposite and give our bed a central place under the window. This gave our home a hotel-like feel and made us realize that perhaps the generic look familiar from hotel rooms is precisely what works when there's only little space. Hotel rooms are, after all, designed to meet various needs. We, too, have changing and varying needs that our home currently meets in a way that maximizes functionality and comfort.
Here we can do all the same things as in a larger apartment, and we don't feel that we've had to compromise on anything – we hold big birthday and dinner parties and use our home for exercising. This place is great for us two, for both everyday life and more festive occasions."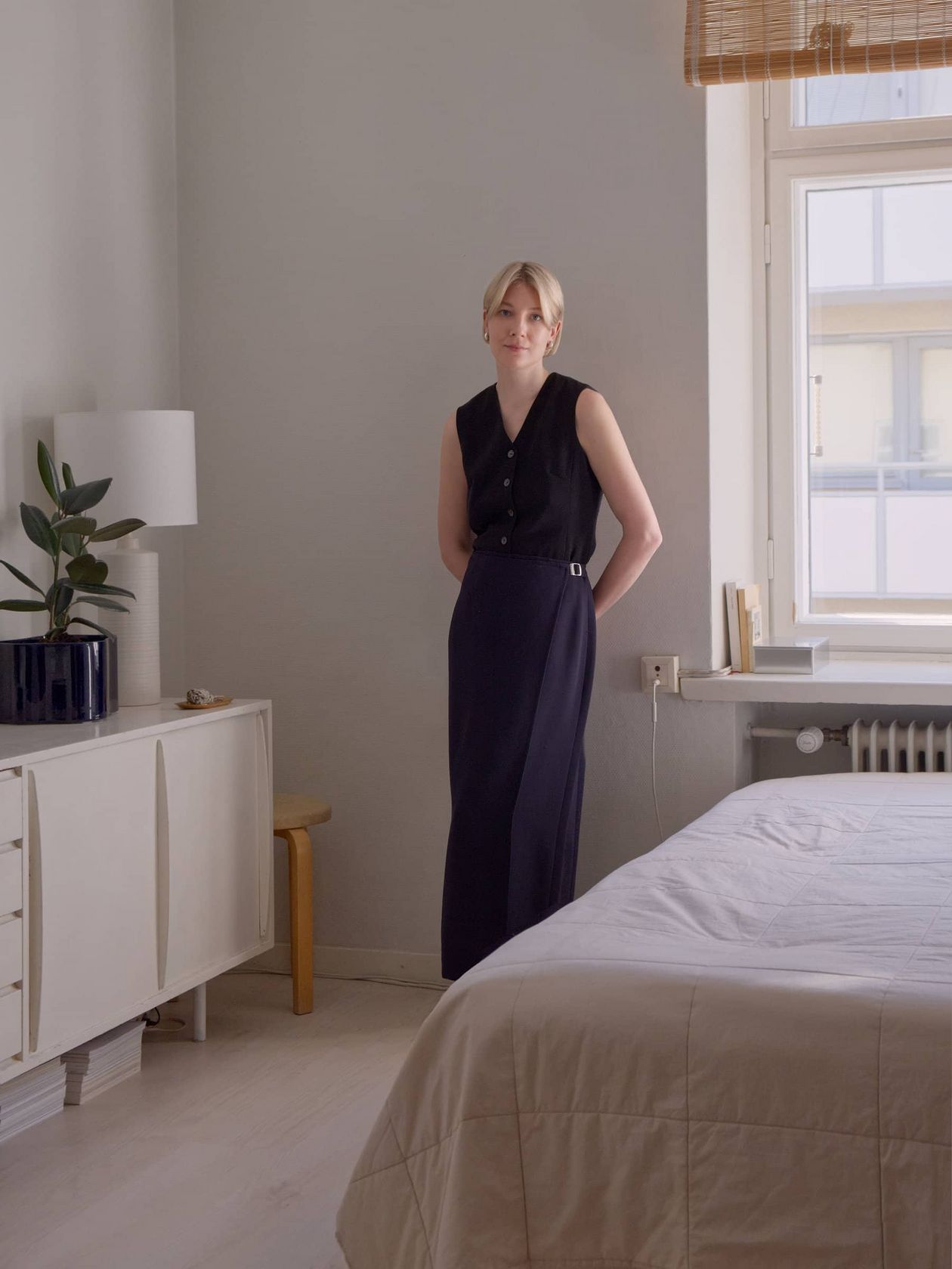 What is your favorite thing about this home?
"I love the location. Our home is located centrally, but there's nothing special in the vicinity, so the atmosphere is really peaceful. I like that in the summer, we can open our windows into the street and check out the queue to the restaurant downstairs or see if anyone we know is there. I'm particularly fond of living in an apartment building and being part of this community where other people are close by. It feels safe and brings me a great sense of peace."
It is easy to see that this is the home of two people who appreciate aesthetics. Could you tell us which interior design style you like the most?
"I love movies, and they have also inspired me greatly when decorating this home. A skillfully and successfully created film set looks carefully designed yet authentic and does not draw too much attention or take too much space from the content. In the case of movies, the content is, of course, the script and the story, whereas in real life, the content is the life that is lived in the space, making it a real home. I'm interested in this kind of anonymity in both objects and clothes."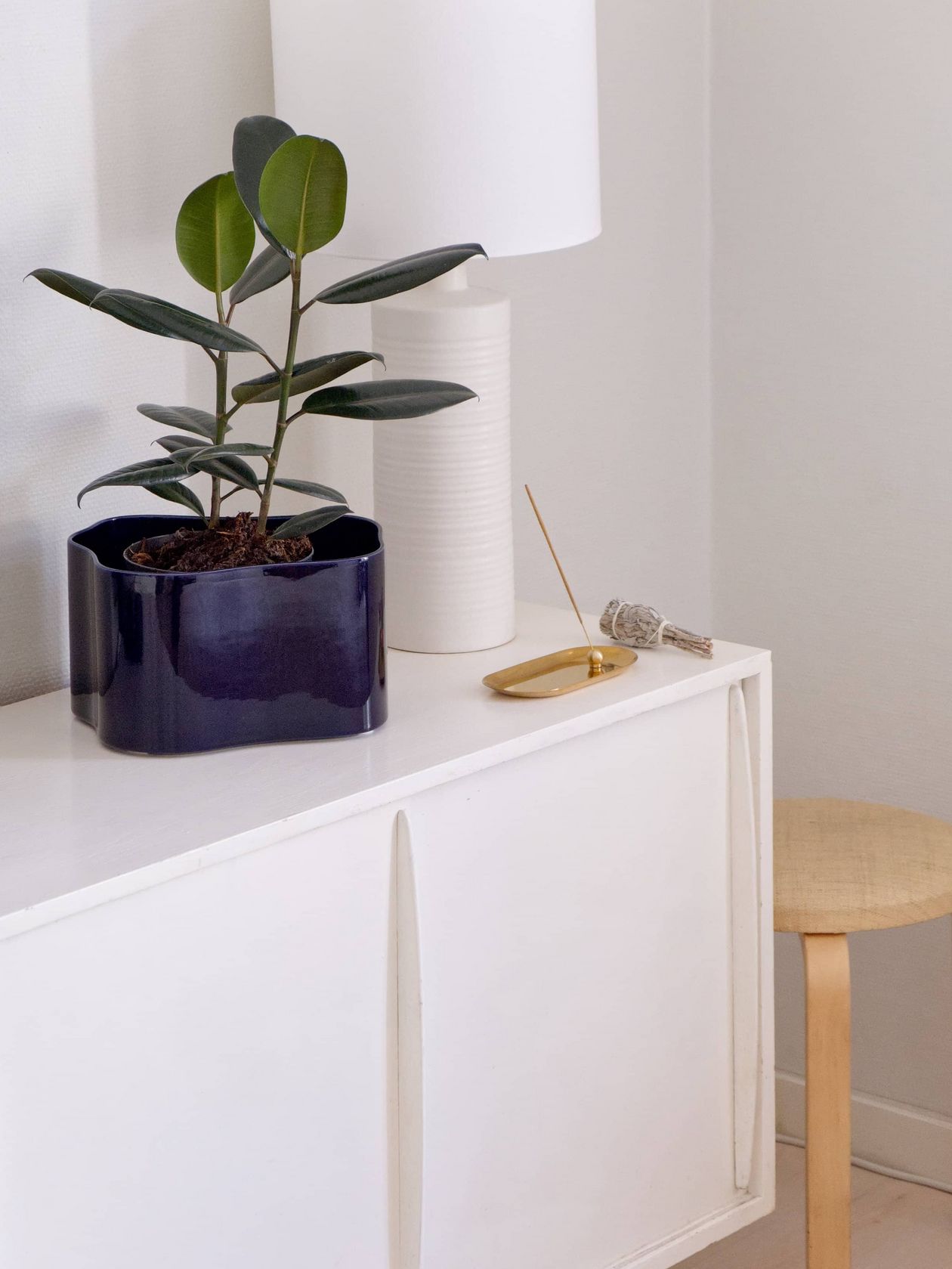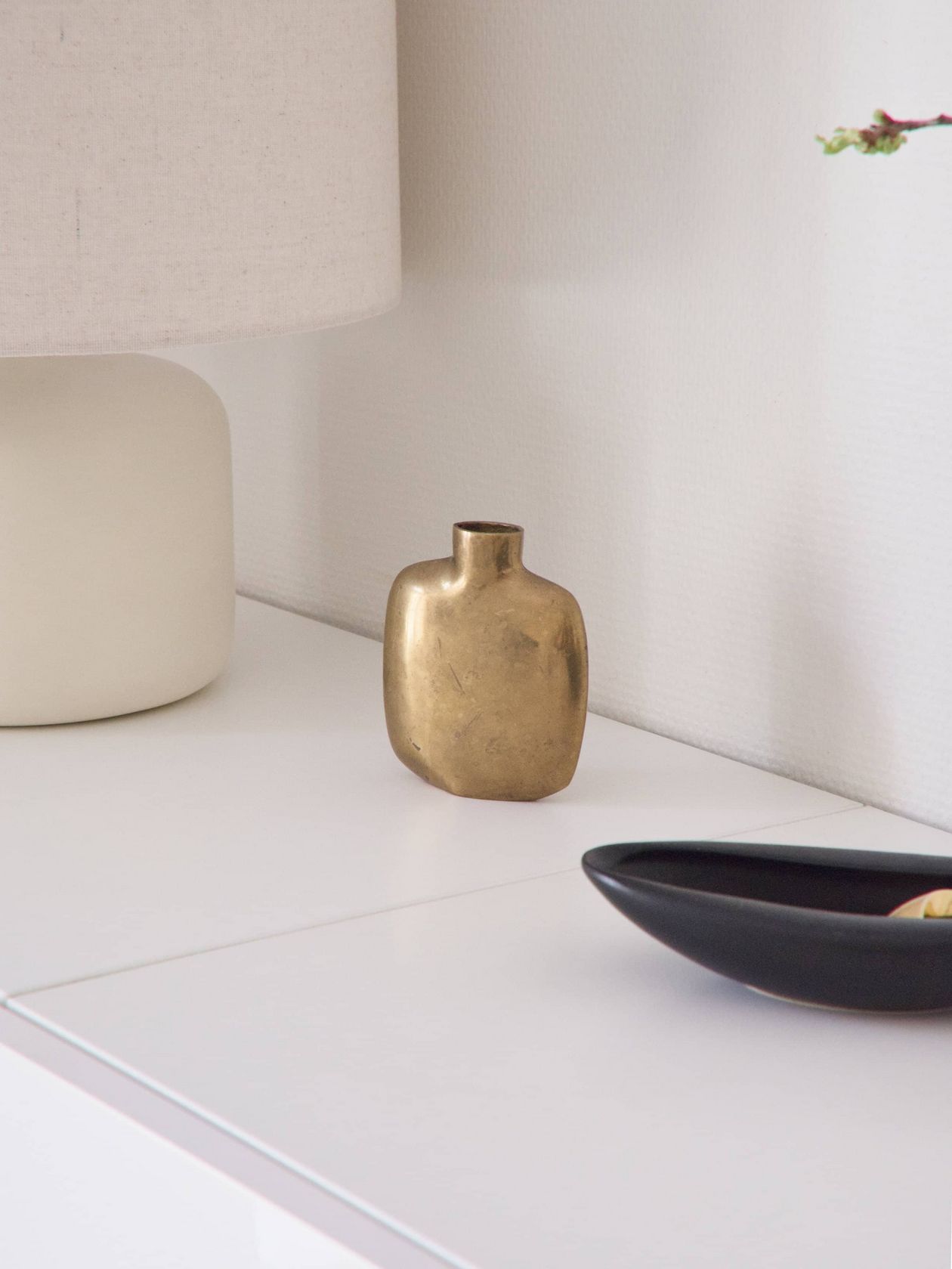 It could be said that already because of your work, you specialize in care. Is that reflected in your home?
"Yes, it is, starting with the materials. If we're about to get something new for our home, I first want to think about maintenance; whether the object is durable or repairable, to what extent our skills or resources suffice for the maintenance, or whether the material gains a beautiful patina and can be allowed to age naturally.
For example, when I got us a bedspread made of cotton, I thought immediately about the fact that any dust on the material becomes easily visible in natural light. I did, however, decide to buy the bedspread anyway and shake it daily on the airing balcony, if need be. When you check the maintenance requirements of materials and objects before buying, they won't come as a surprise later.
"When you check the maintenance requirements of materials and objects before buying, they won't come as a surprise later."
I enjoy doing small chores around the apartment, maintaining, repairing and cleaning. When I've only acquired objects after careful consideration, I'm happy to put a little effort into keeping them in good condition. It's not only useful but also relaxing, and it makes me feel good. I get a kick out of beautiful, well-designed maintenance tools, as they bring me joy – particularly because I use them so much. It's not, however, enough for them to be beautiful, they also need to be genuinely functional."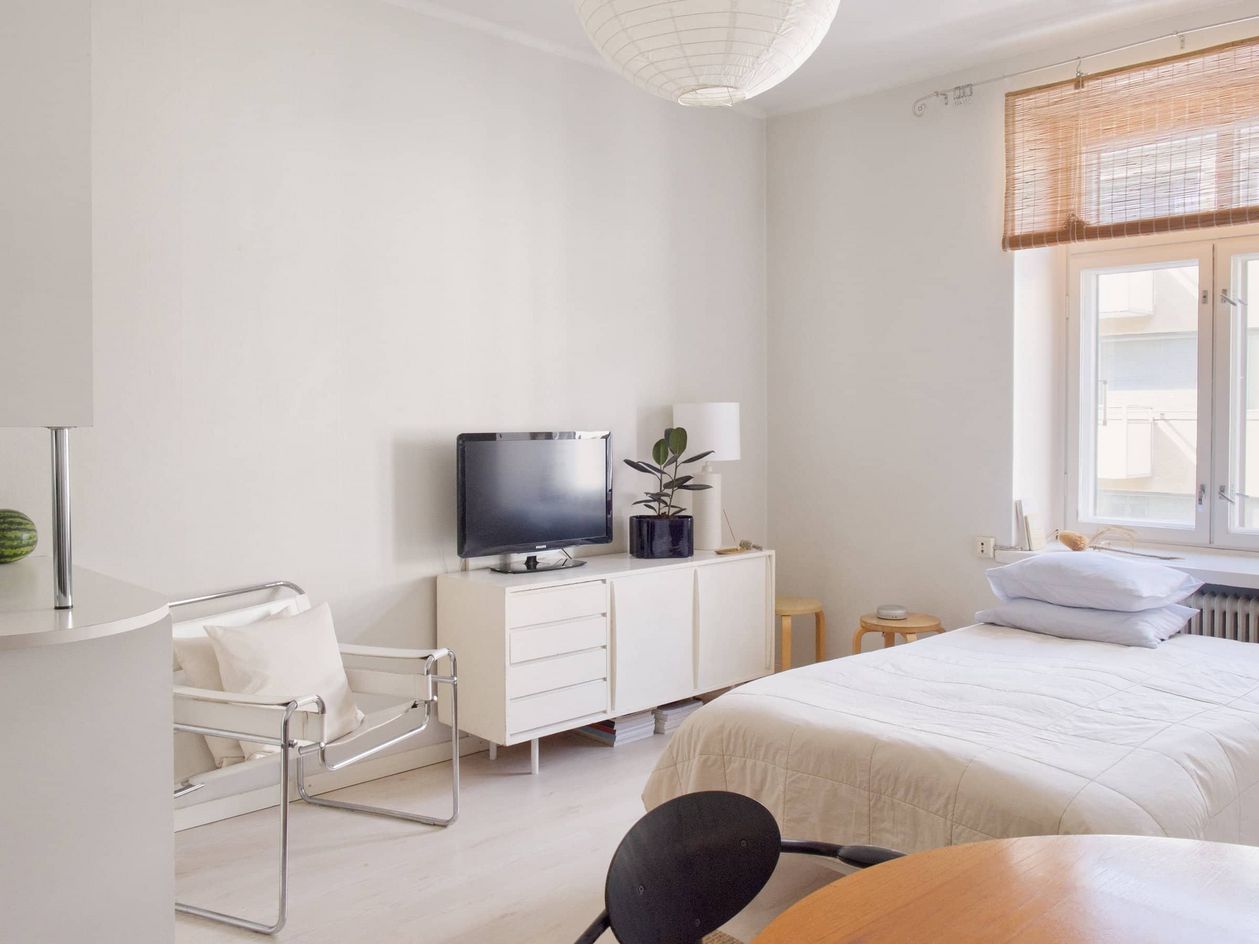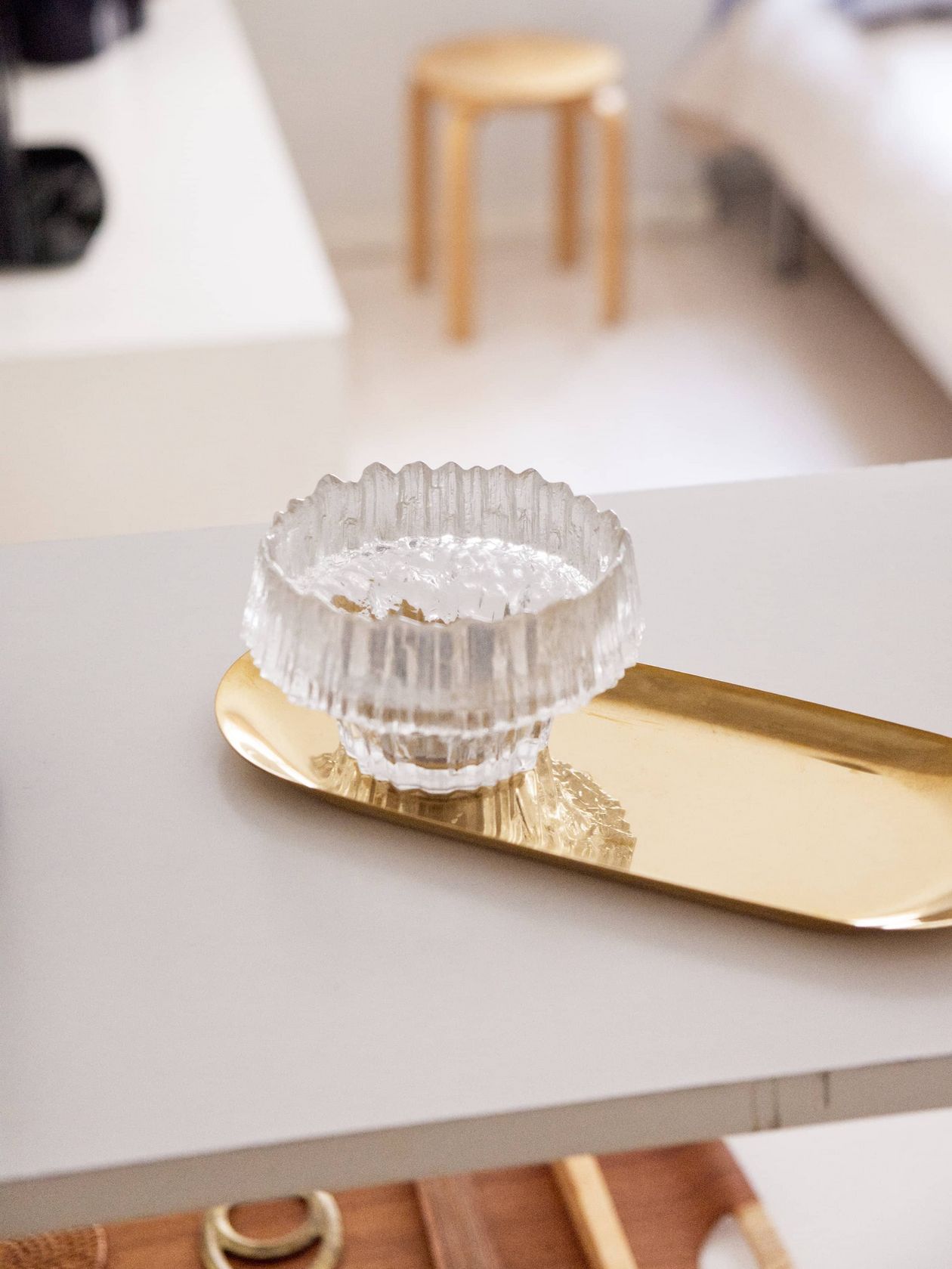 It seems that every object in your home has a purpose. Could you tell us about your relationship with matter?
"I like the idea of living my life with as few possessions as possible. The idea that my possessions do not prevent me from, say, packing it all in a van and driving away, as well as the mental aspect of it. I know what I have, where and why and, above all, what owning it requires.
My memories are not tied to objects, so I don't really feel emotionally attached to the things I own. Instead, I highly value holistic design in a product that gives joy and improves the quality of life. That's something I like to hold on to for a long time.
Every time I'm about to get a new object, I think carefully about why I should own it. About whether I could, after all, enjoy it somewhere else. In my life, the free space and empty spots in our home balance out the hustle and bustle and create coziness – free space gives our home the ability to transform."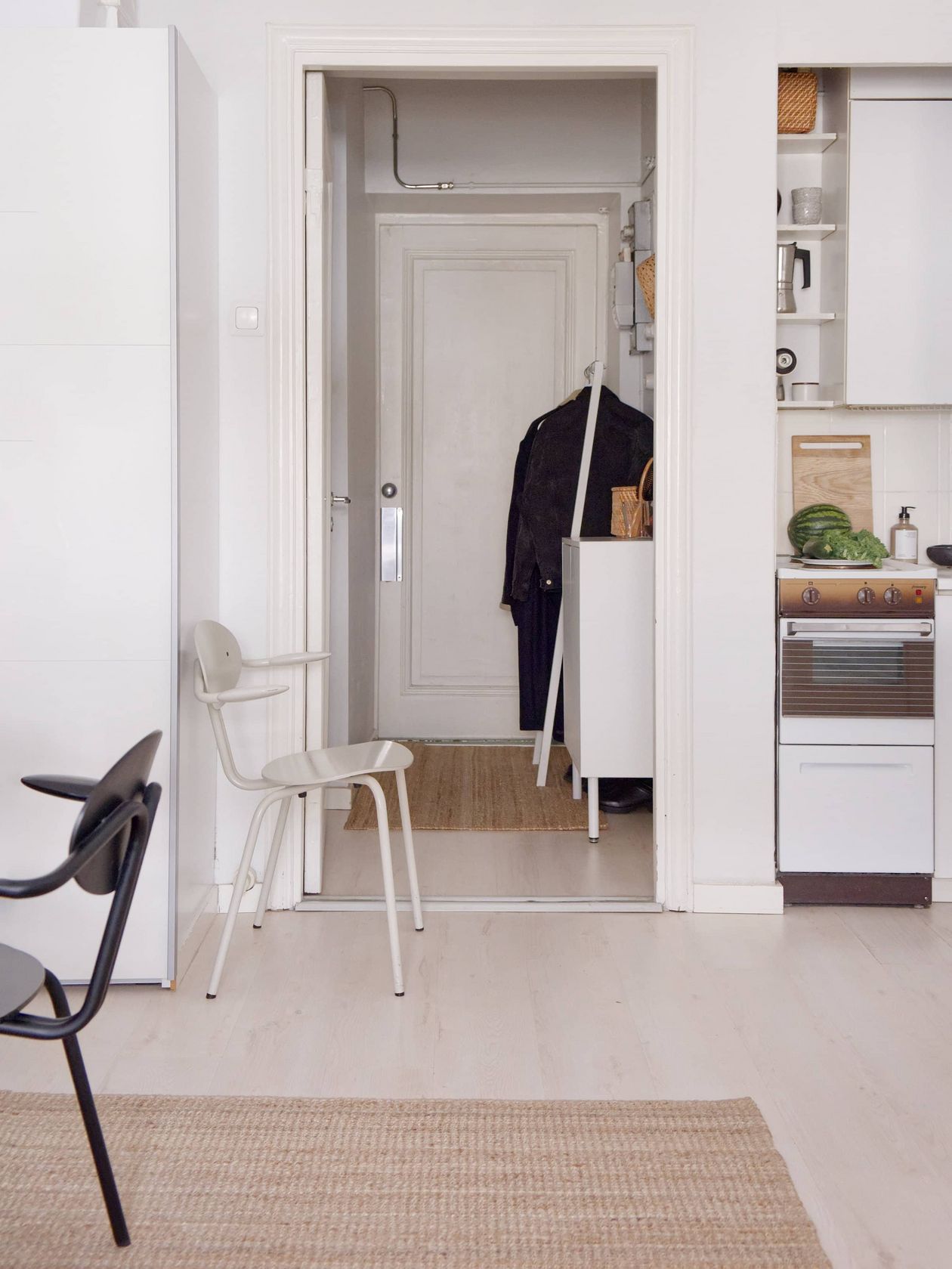 So, you only buy new things rarely and after careful consideration. Are you currently dreaming of a particular object?
"At the moment, I'm looking for functional kitchen equipment, such as a high-quality frying pan and good knives that are durable and can, if necessary, be maintained or taken to a professional for maintenance. We love dining together, and cooking has given us a great deal of joy. So, since we already have good everyday recipes, all we need now are functional, high-quality tools for cooking them."
See also:
• More pre-loved design treasures at Franckly >
Text: Hanna-Katariina Mononen Images: Jenna Kiuru and Tuomas Pajuniemi