The easiest way to improve a bathroom is to use eye-catchers that take the attention away from the old furniture and battered surfaces. See six tips for fresher washing facilities!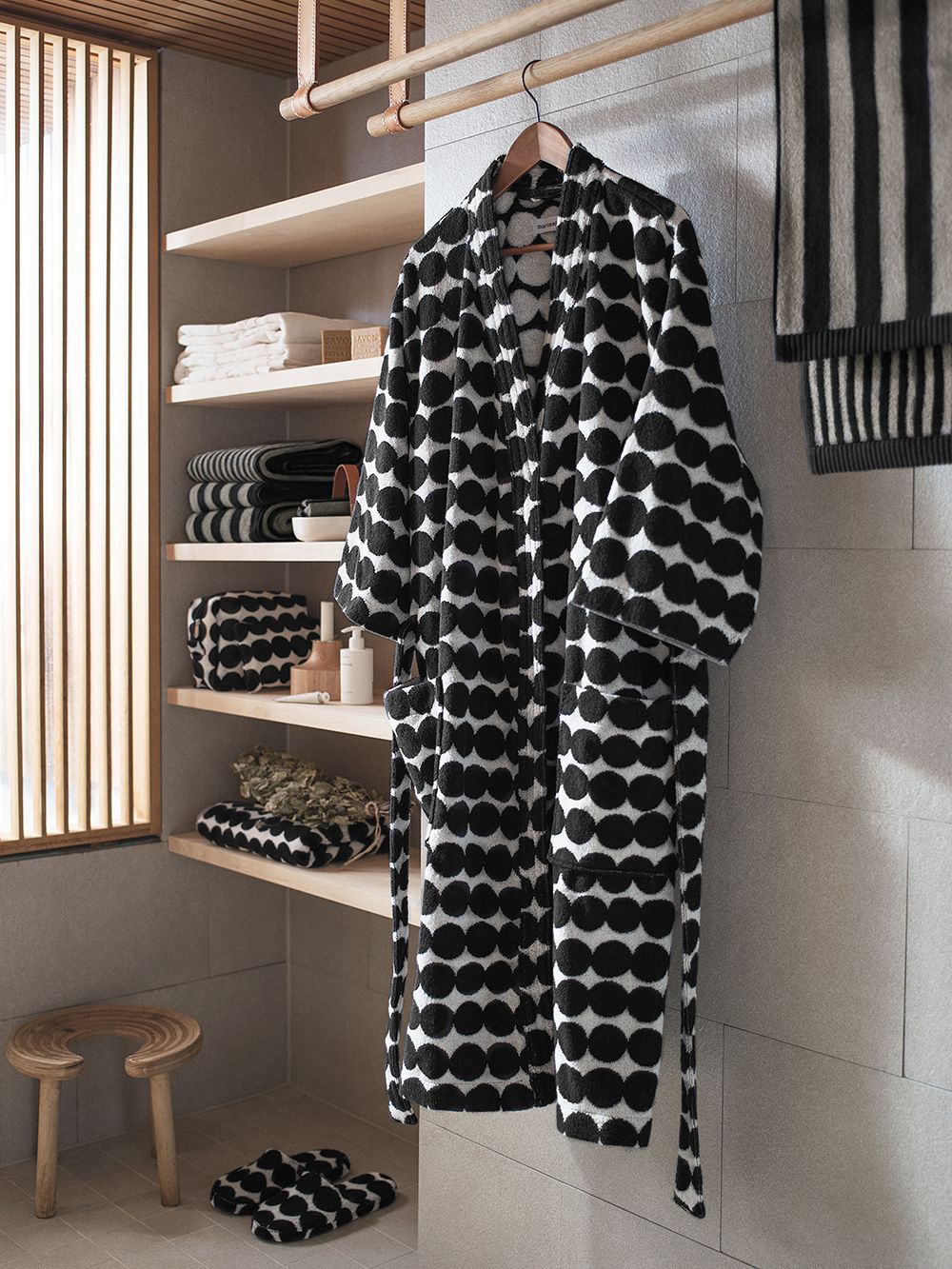 Räsymatto bathrobe and towels by Marimekko will add a graphic touch to any bathroom.
A soft line
1. Streamline the coloring and materials of textiles from towels to rugs and bathrobes. You can look for shades repeated on the surfaces of the fixed furniture or introduce a completely new color to the space. It pleases the eye to see the textiles as part of a whole instead of as individual pieces or just bright splashes of color.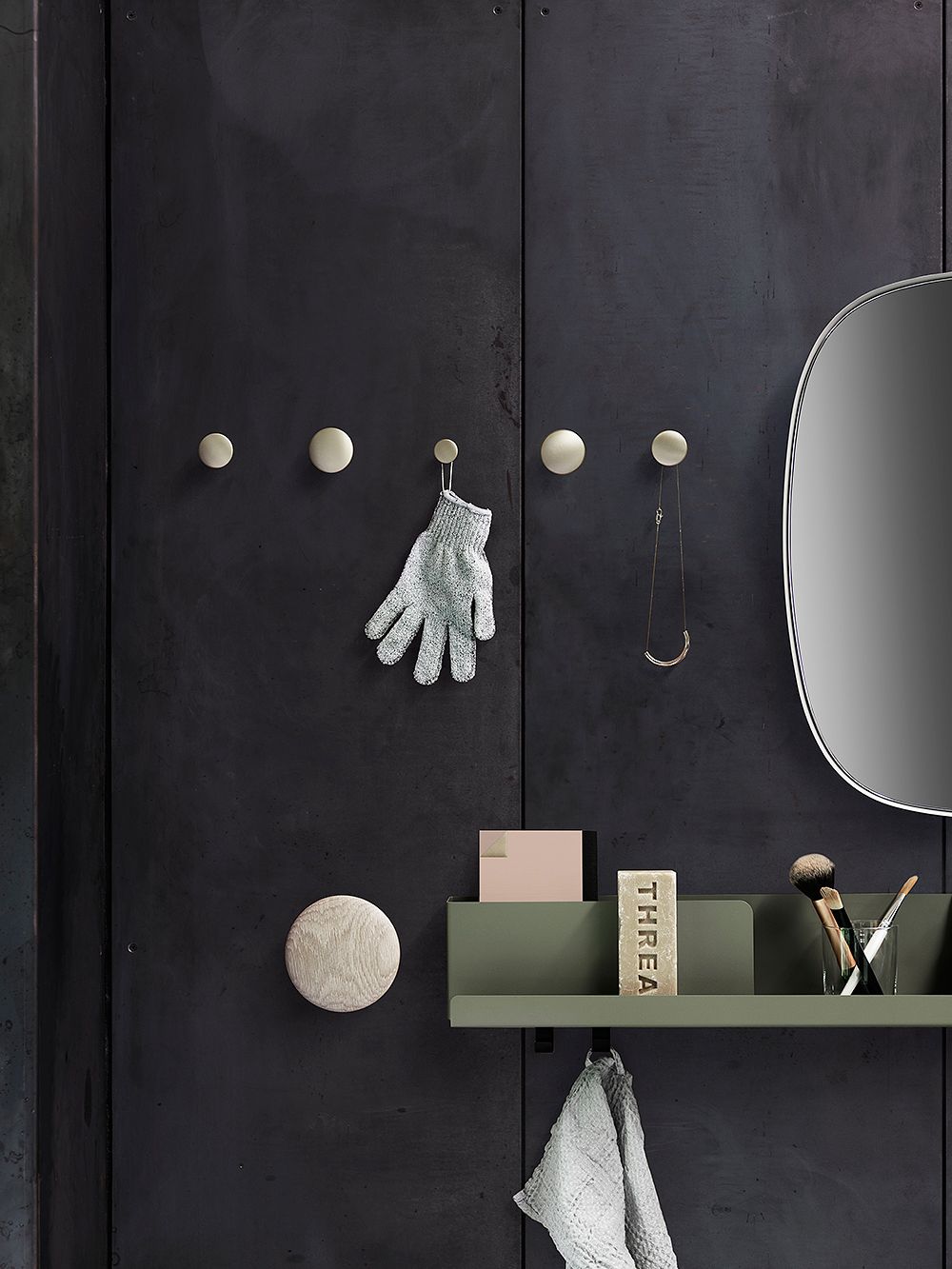 Muuto's versatile The Dots wall hooks are also available in metal. The olive green Folded shelf can be installed in wet environments.
Sparkle for days
2. In addition to faucets, brass, copper and rose gold details have been introduced to handles and wall knobs. Replace your old hooks with new, sparkling ones! Even the toilet paper holder and trash can may glow in warm shades of metal. However, avoid mixing multiple metal colors in the same space as it can easily lead to an incoherent look.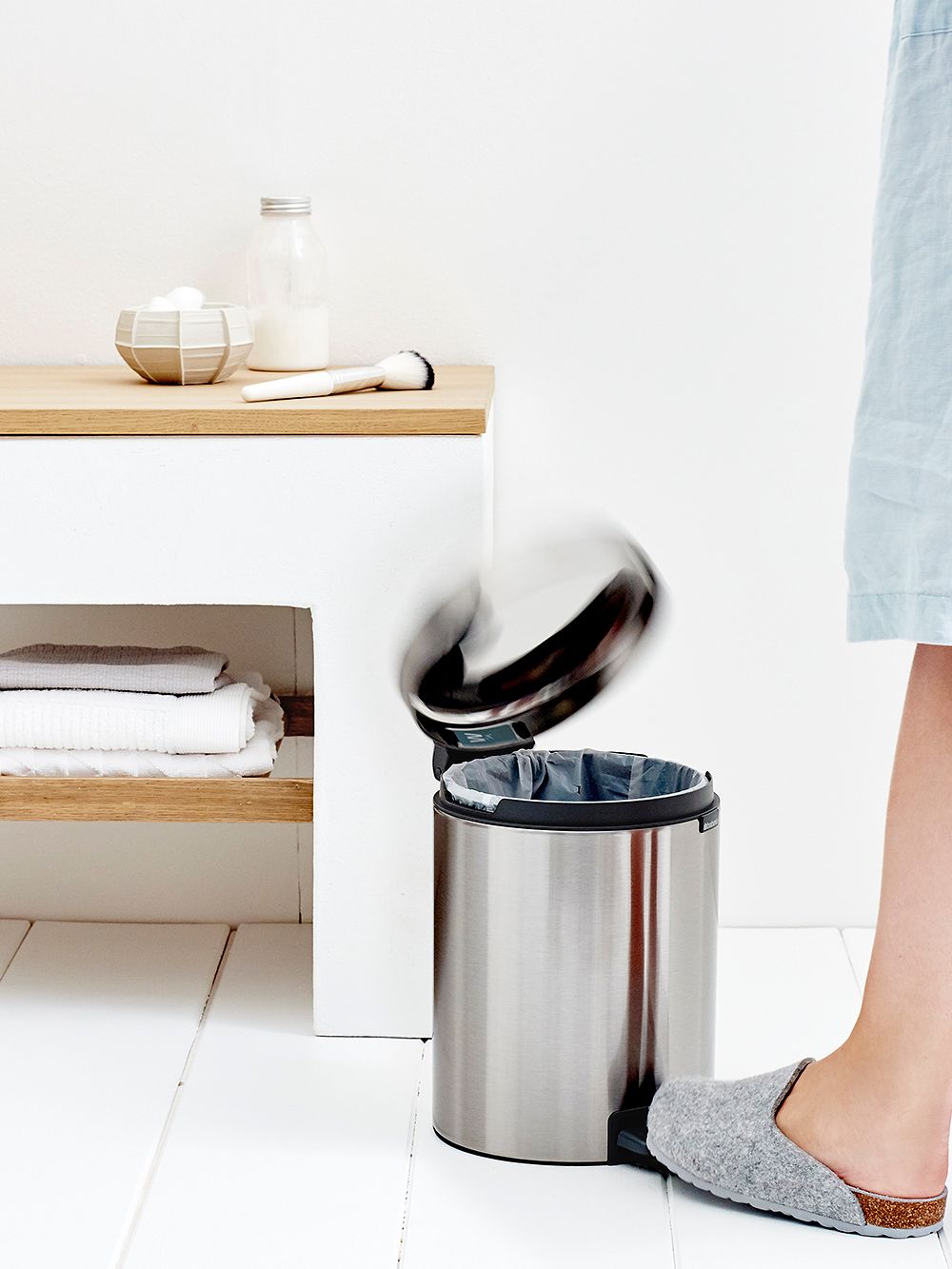 Brabantia's newIcon pedal bin helps to keep the bathroom clean and organized.
No drilling for the best results
3. If you shy away from drilling and making holes in the tiling, it is easy to find fittings or items that can be attached to the wall without drilling. These include wall-leaning towel racks or mirrors, shelves hung from the glass shower wall, stick-on racks and baskets with suction cups.
You will succeed by avoiding impulse purchases and considering in advance what kind of style and coloring fits the bathroom.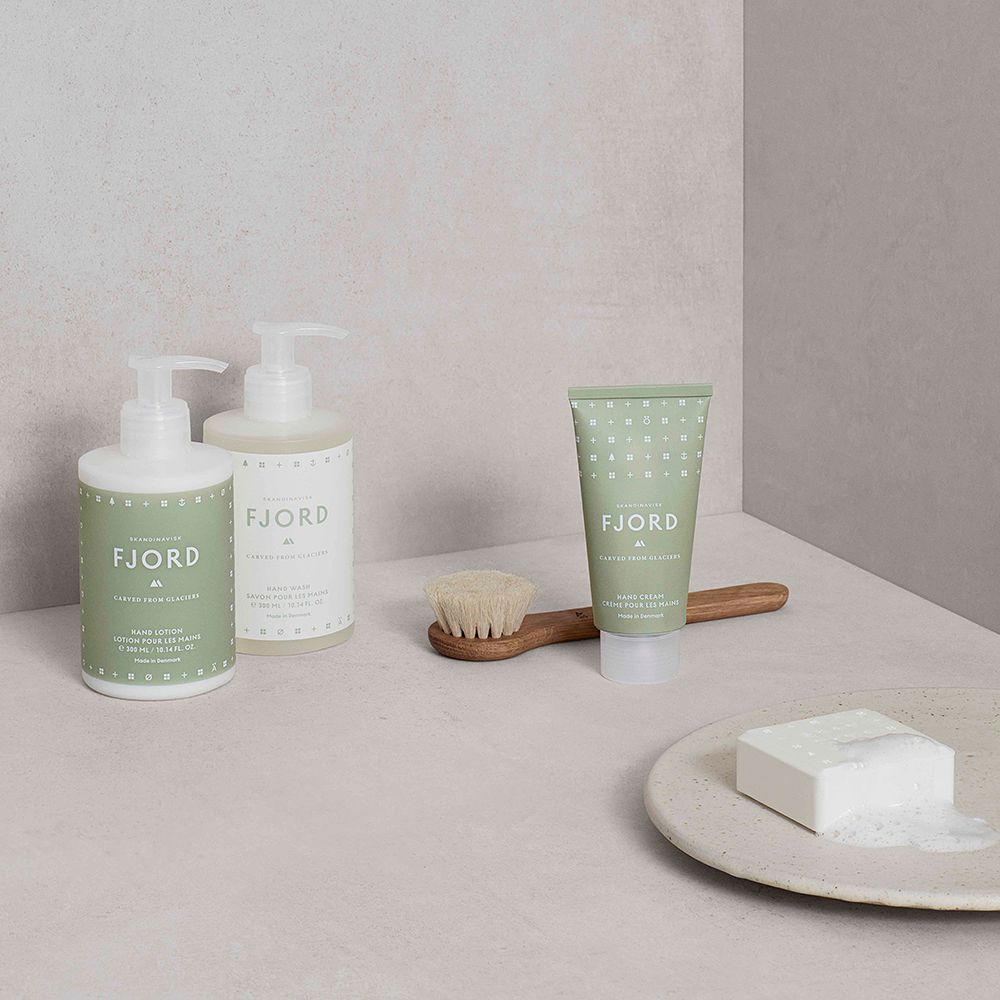 Besides scented candles, Skandinavisk also produces soaps and hand lotions. Fjord hand cream has notes of Nordic forests and wild berries.
Unleashing the senses
4. If you do not suffer from scent sensitivity, you can modify the fragrance theme with stylish and sophisticated diffusers. Hand soap or a cut flower in a vase add a further delicate aroma and also visual joy.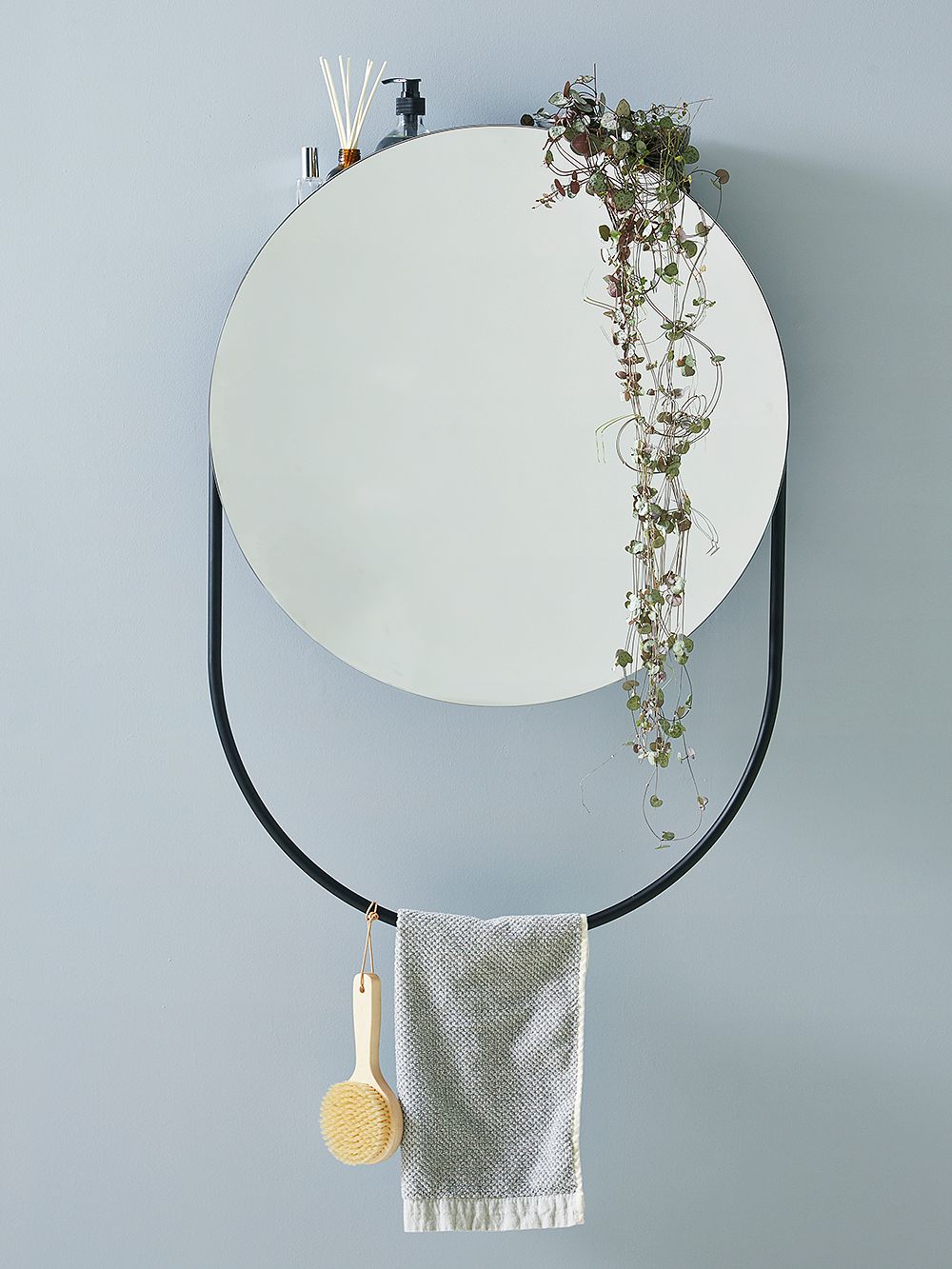 The round Verde mirror was designed by Rikke Frost for Would. A small shelf behind the mirror provides a space for cosmetics, houseplants and small items.​​​​​​​
A place for reflection
5. Replace the traditional mirror cabinet with a light on top with a round mirror. You may lose a little storage space, but gain a lighter, fresher and trendier look. If you install a wall lamp over the mirror, the model must be suitable for wet spaces.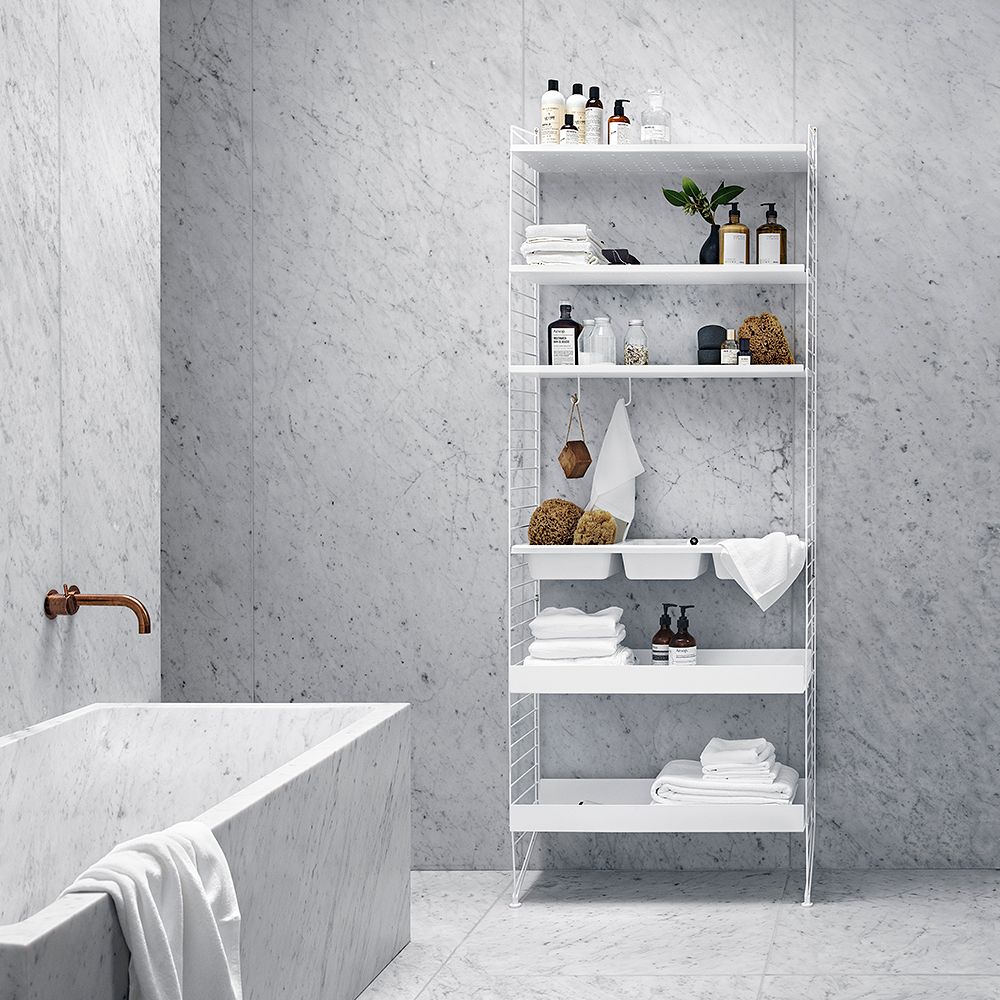 The metallic String System shelves​​​​​​​ can also be used in the bathroom. Available in a range of sizes and colors.​​​​​​​
Nature lover
6. Favor genuine and ecologically sustainable natural materials. Muted, natural tones and surfaces that invite touching are soothing and make washing a relaxing experience. Complete the look with plants if the space has enough natural light.
See also:
Text: Laura Brotherus, Interior Architect, Interior Journalist / Avotakka Photos: Manufacturers