As the darker autumn evenings draw in, the importance of good light sources increases. Take a look at our favorite luminaries and bring effective, cozy, and functional lighting solutions for both indoor and outdoor spaces!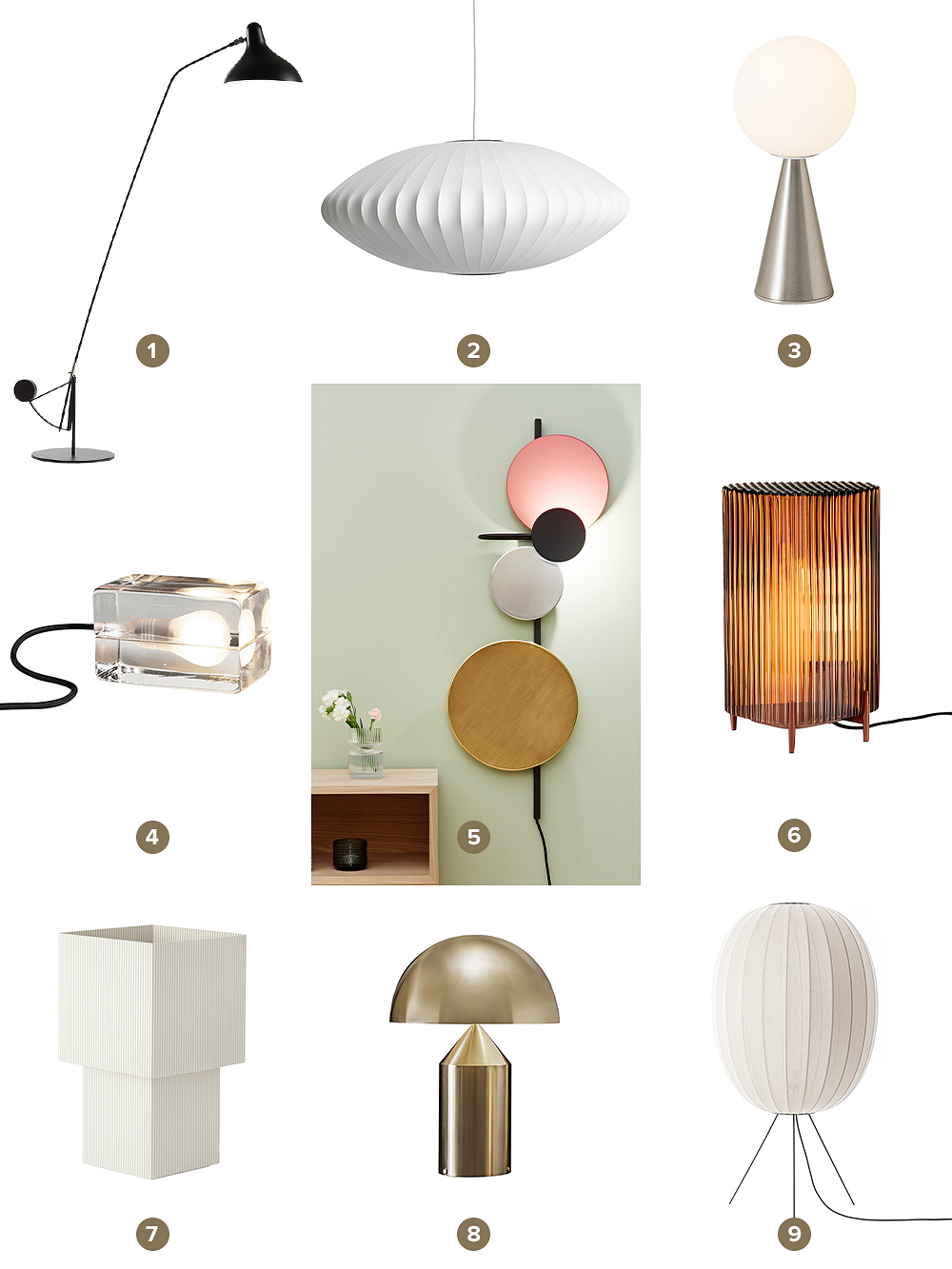 1. Mantis BS1-B floor lamp comprises a thin, counterweighted metal leg that rotates 360 degrees and can be conveniently tilted into four different angles. 2. The Nelson Saucer Bubble pendant's rounded silhouette is created by spraying a translucent plastic polymer over a steel-wire frame, allowing it to emit the soft light. 3. An Italian design classic designed by Gio Ponti, the Bilia Mini table lamp, combines two essential geometric shapes, a sphere, and a cone, skillfully and playfully.
4. Designed by Finnish Harri Koskinen, the Block Lamp is enclosed by two glass blocks that feature a matt, sandblasted bulb shape. 5. The fascinating Planet lamp can be easily altered and you may create your own domestic solar systems with orbits and eclipses. 6. The elegant and atmospheric Putki table lamp by Iittala was designed by Matti Klenell in 2018 for Sweden's Nationalmuseum in Stockholm.
7. The Romb table lamp is much more detailed than it might look at first glance: its surface is adorned with a delicate, undulating texture that creates a contrast to the preciseness of the lamp's shape. 8. Combining geometrical shapes of cylinder, cone, and hemisphere, Atollo is refined and bold at the same time and has become an icon of modern Italian design. 9. The Knit-Wit floor lamp features slender metal legs and a 3D-knitted shade that filters the light through beautifully.
See also:
• All ceiling lamps >
• All table lamps >
• All outdoor lamps >
Text: Design Stories Images: Otto Virtanen, Valtteri Hirvonen and manufacturers