Decorating a small living room might seem like a daunting task, but with the help of considered furniture design, distinctive detailing and a bit of illusion a tight space can be easily turned into the grand heart of a home.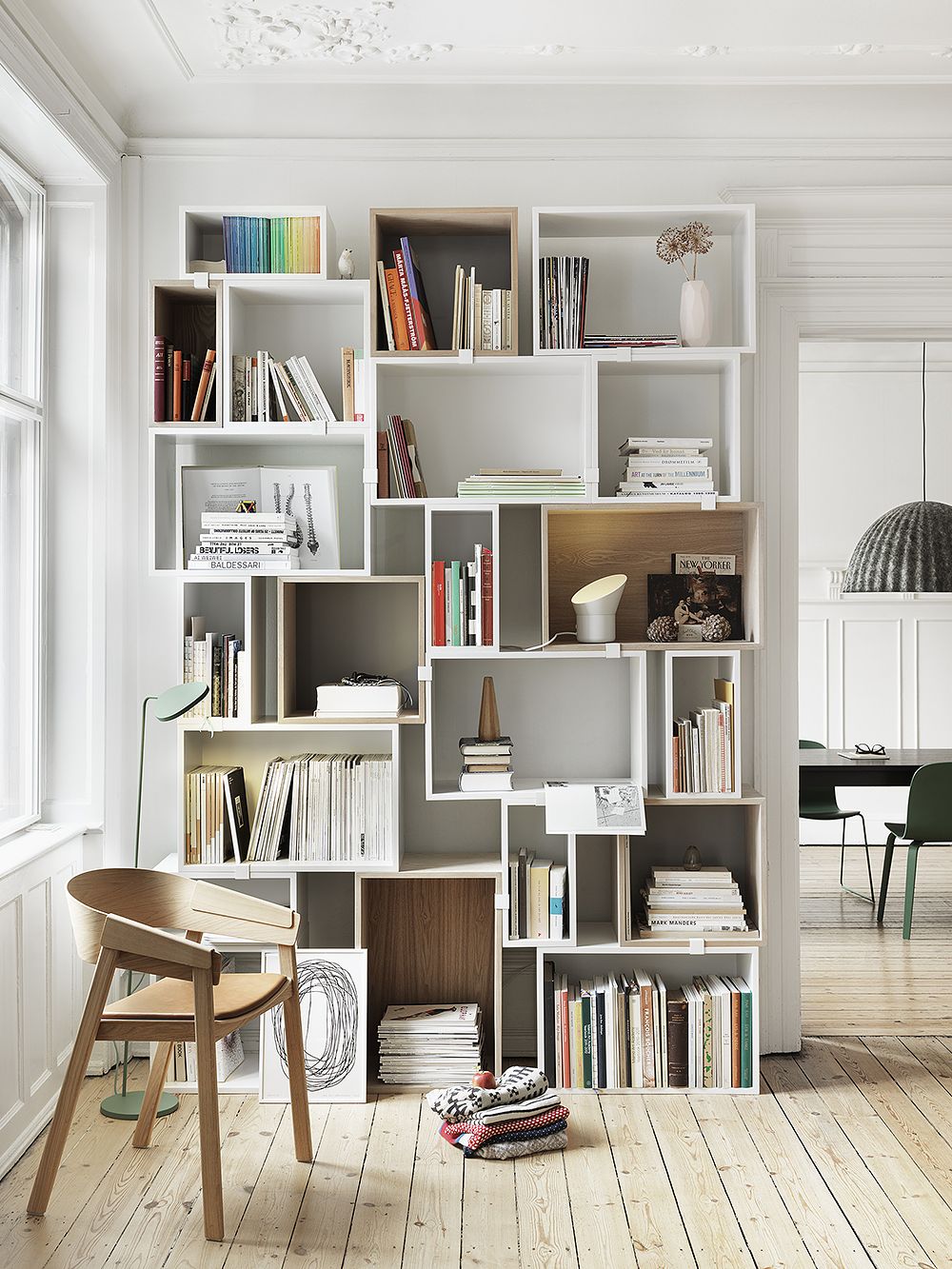 Take storage on a new level
Clever and creative storage solutions are key in keeping any room well-organized and creating a feeling of added space and tranquility. When there's not too much floor space to spare, take your shelving units and sideboards off the ground!
Created by Julien De Smedt Architects, Muuto's popular Stacked shelving modules can be adjusted perfectly to any space: pile them on the floor or a podium, or affix them directly to the walls. Create a strict formation or stack freely for a more eclectic feel. The modules are available in multiple compatible colors and sizes, and they are customizable with doors, podiums and connecting clips.
• Muuto Stacked shelving modules >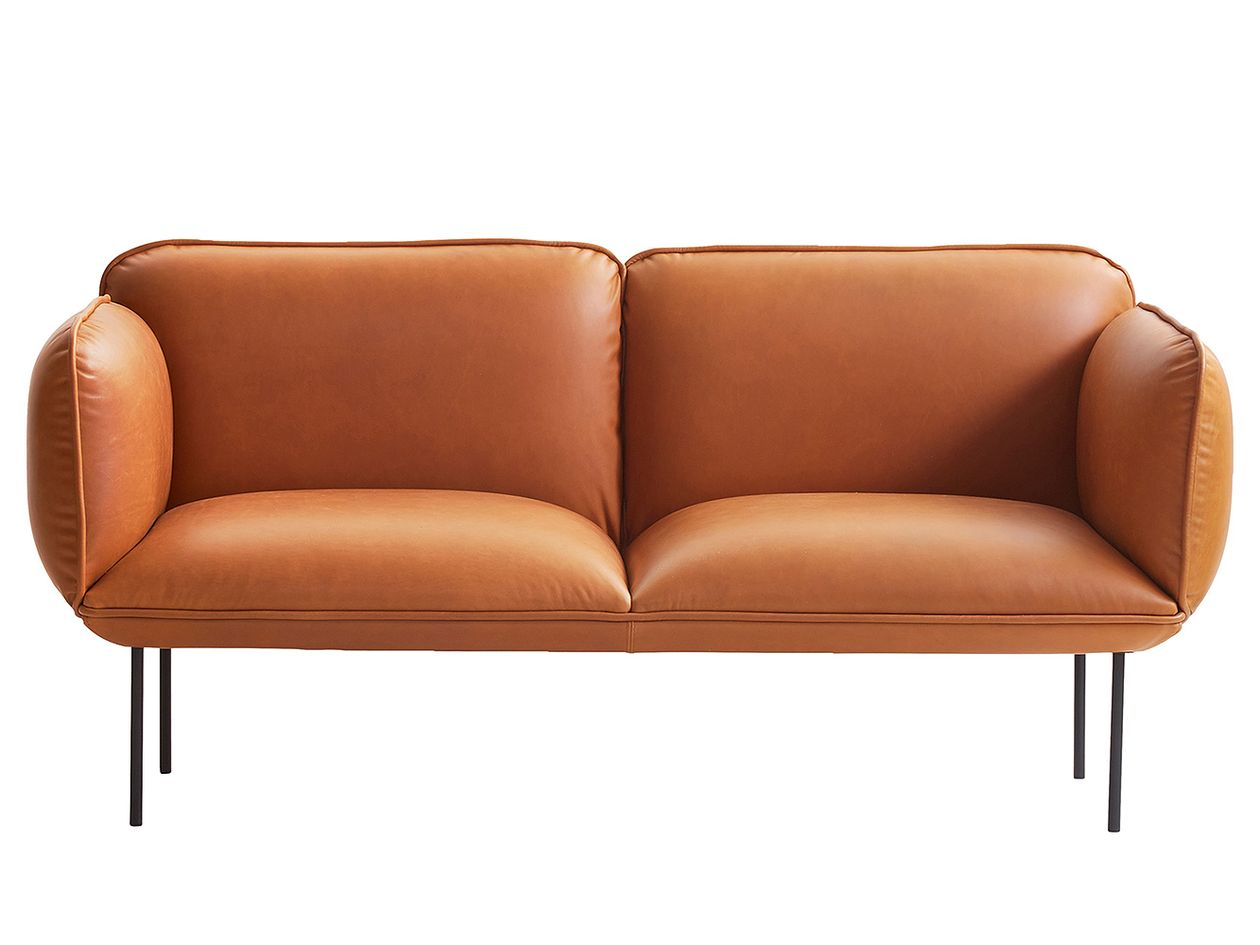 Opt for a petite love seat
Bulky furniture such as couches can be quite invasive when there's not too much room to spare. By choosing a smaller, more slender sofa you'll be able to save precious space without any compromises in comfort.
The lovable Nakki love seat by Woud instantly invites relaxation and prolonged naps. Even though comfort and coziness come first in the design of this 2-seater, it is equally comfortably proportioned making it an easy fit for stingier spaces as well. The Nakki couch features deliciously voluminous padding combined with slender metal legs, giving the ensemble a breath of air. Nakki is also available upholstered in a high-quality wool fabric by Kvadrat in rose pink and light grey, and in a generous velvet upholstery in dark blue.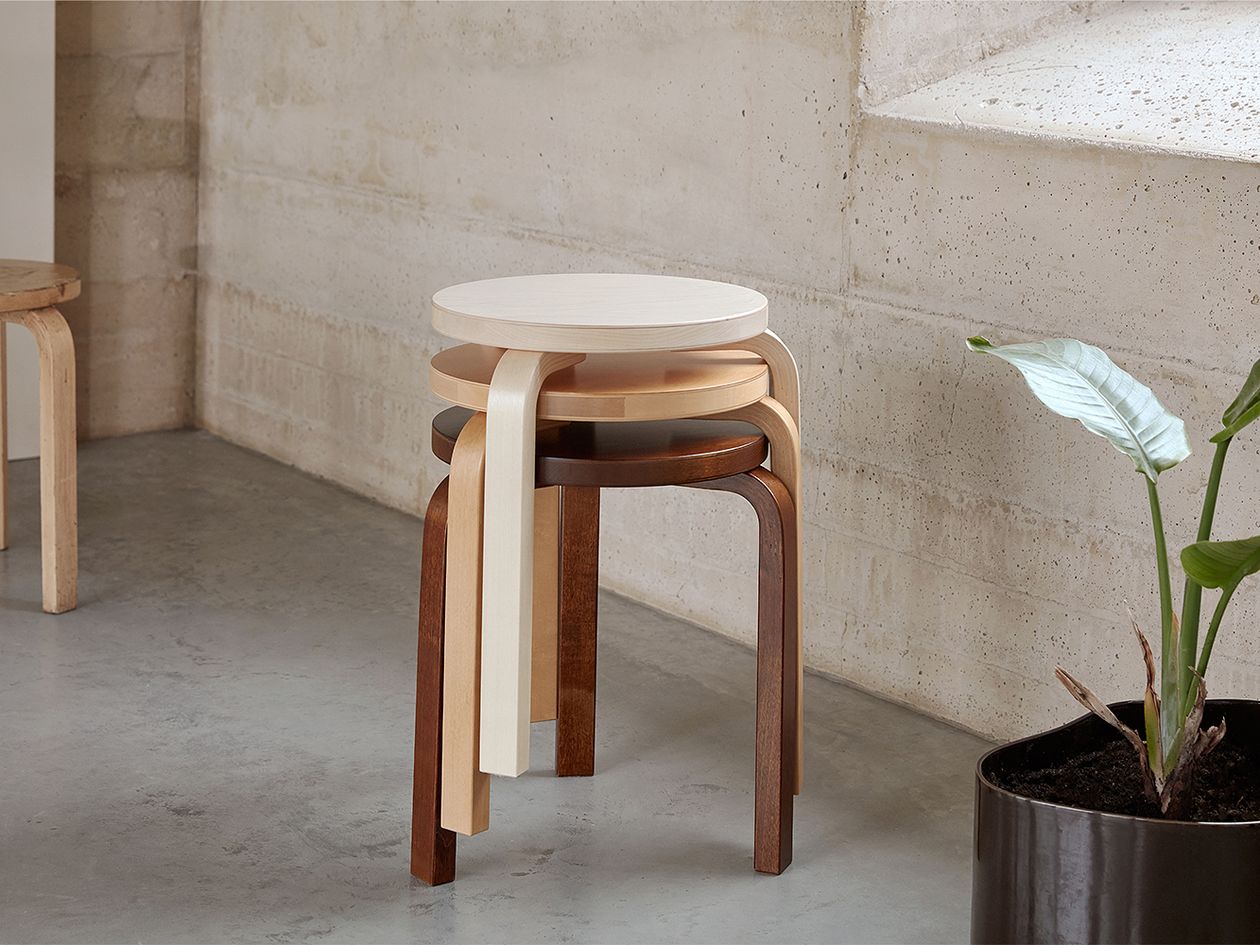 Furniture multi-tasking
Versatility is a virtue for other furniture as well when it comes to a smaller space. Stackable furniture, nesting items and pieces that can carry multiple roles are clever space savers as one piece of furniture can compensate for several. The classic three-legged stool is a true multi-tasker: besides providing easily movable seating, it can also be used as a tiny side table.
When choosing a stool you just can't go wrong with the brilliant Aalto stool, designed by Alvar Aalto for Artek. The design of the iconic three-legged stool is timeless and diverse, making it the perfect match for any space and style. Even when it's stacked aside it still catches the eye! The Aalto stool is available in a multitude of colors and finishes.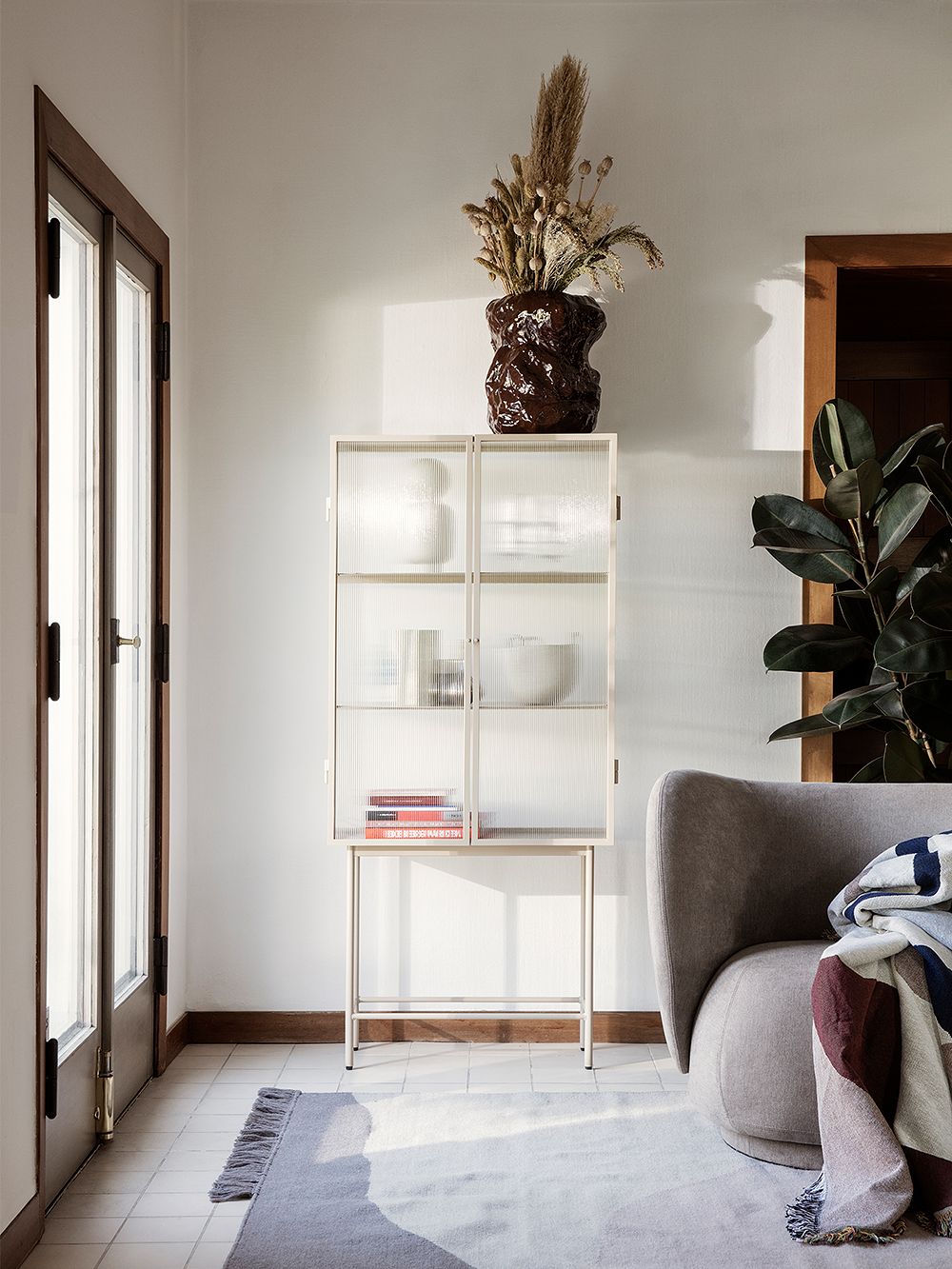 Skimp on size, not on detail
A tight space can quite easily be expanded by choosing versatile furniture, decluttering and by selecting light, airy shades. Still, even the smallest living room needn't be bland or lacking in personality, on the contrary!
The ambiance of the room is a mixture of clever details, charming imperfections and delightful pieces of decor that carry special meaning.
Choose furnishings and colors that bring you joy, and items that are as insightful as they are versatile. Ferm Living's hand made Earth rug features a beautiful, abstract pattern depicting the view of Earth viewed from space and fun asymmetrical fringes add to its silly and laid back attitude.
• Ferm Living Kelim Earth rug >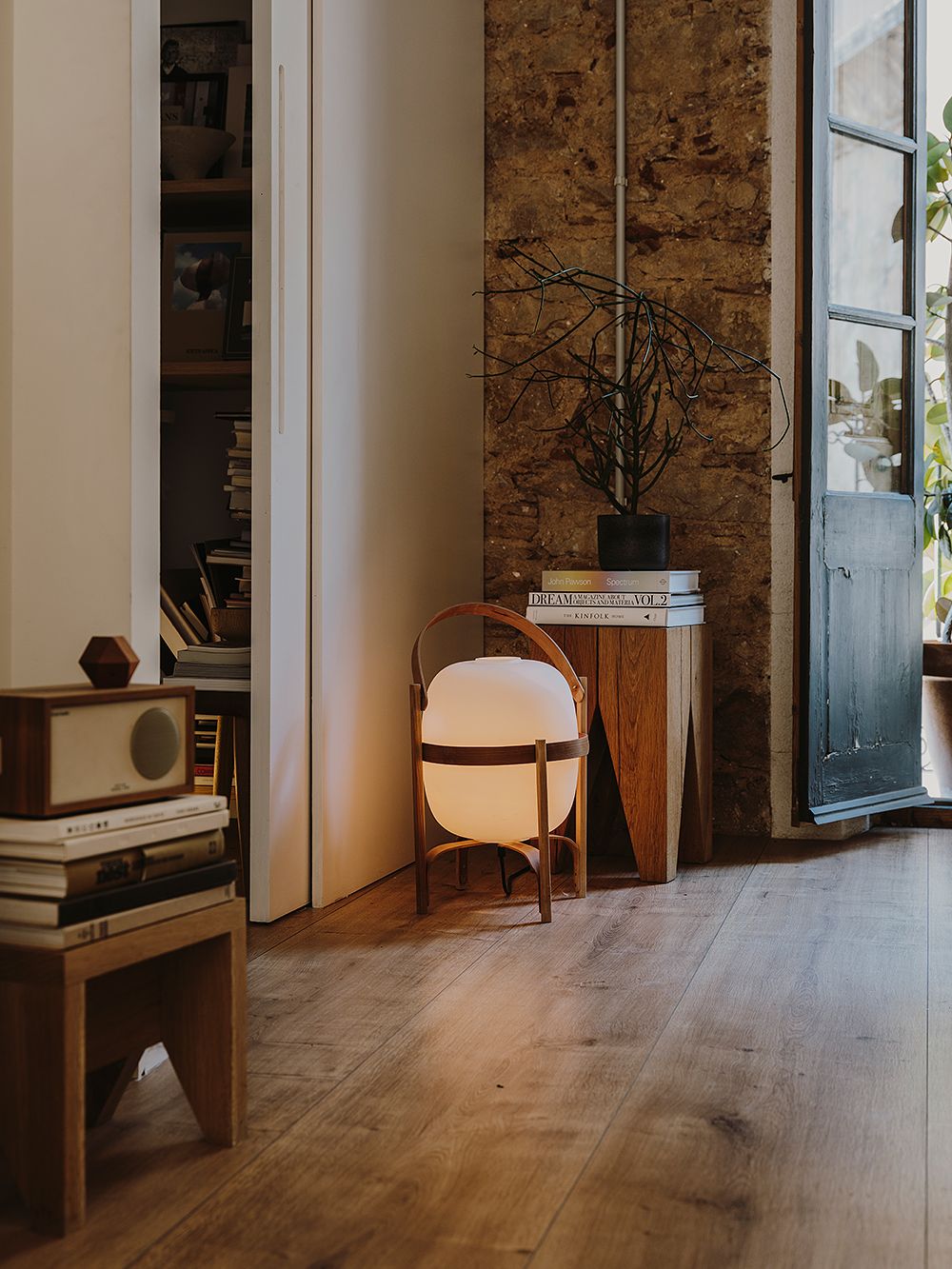 Add ambiance with lighting
Lighting is a powerful way to define a space. Even when decorating a smaller space it's a good idea to invest in an easily movable, versatile table lamp that serves multiple purposes from working to setting the mood.
Designed by Miguel Milá the Cesta table lamp is an iconic classic from 1962. The warm cherry frame and the gorgeous opal glass shade give Cesta a charming appearance, while it's wooden handles and dimmable light add functionality.
• Santa & Cole Cesta table lamp >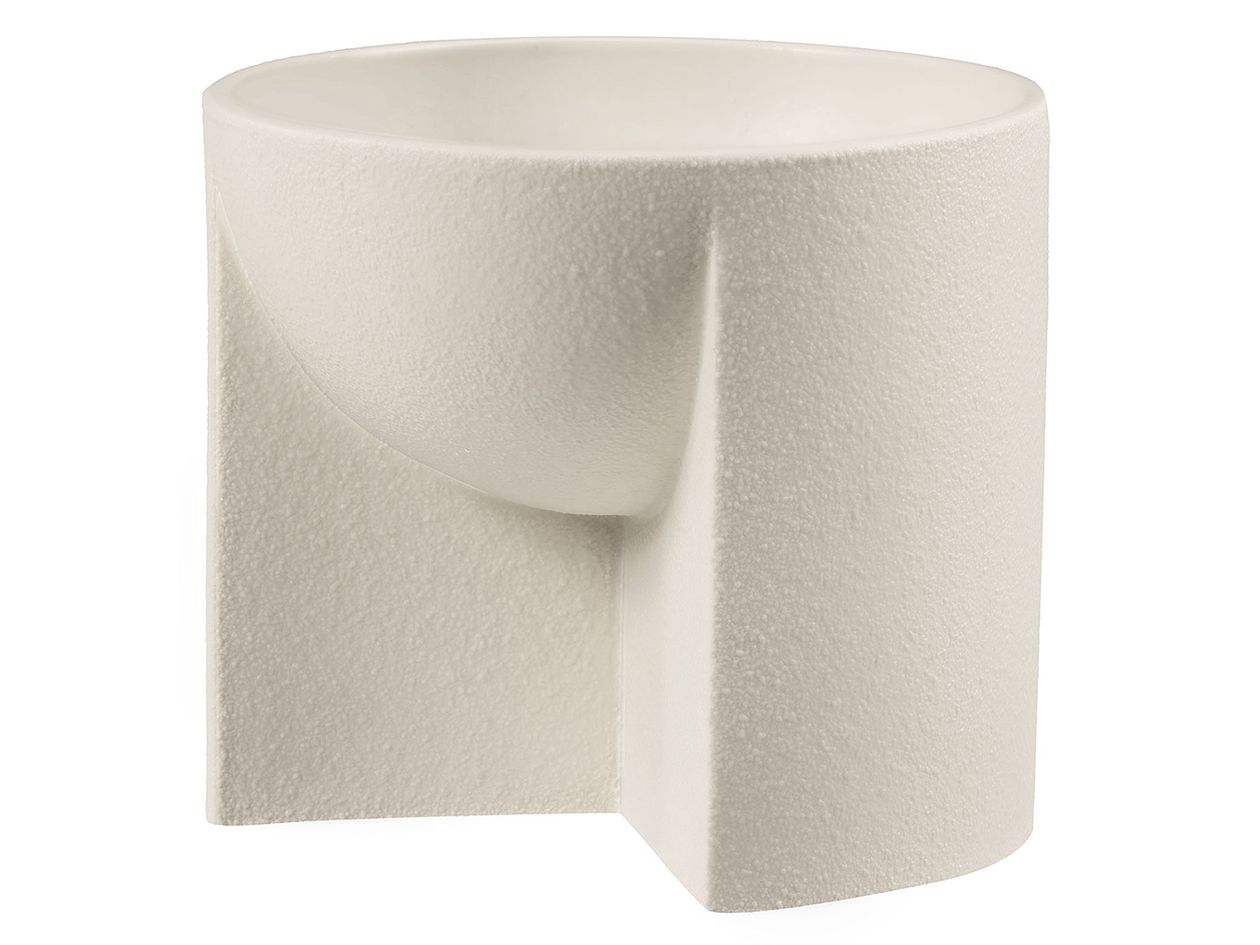 Declutter in style
In a compact space, even the slightest disarray can make it feel unnecessary uninviting. There can never be too much space for storage: keeping all the precious knick-knacks neatly arranged instantly invites a feeling of calmness and spaciousness to the room.
Designed by Philippe Malouin for Iittala the geometric Kuru bowls are ideal for hiding (or displaying!) all the precious little objects and memories. The modern, minimalistic design of Kuru brings serenity and tranquility to the room and gives the bowl a sculptural stance, making it the perfect fit for any style.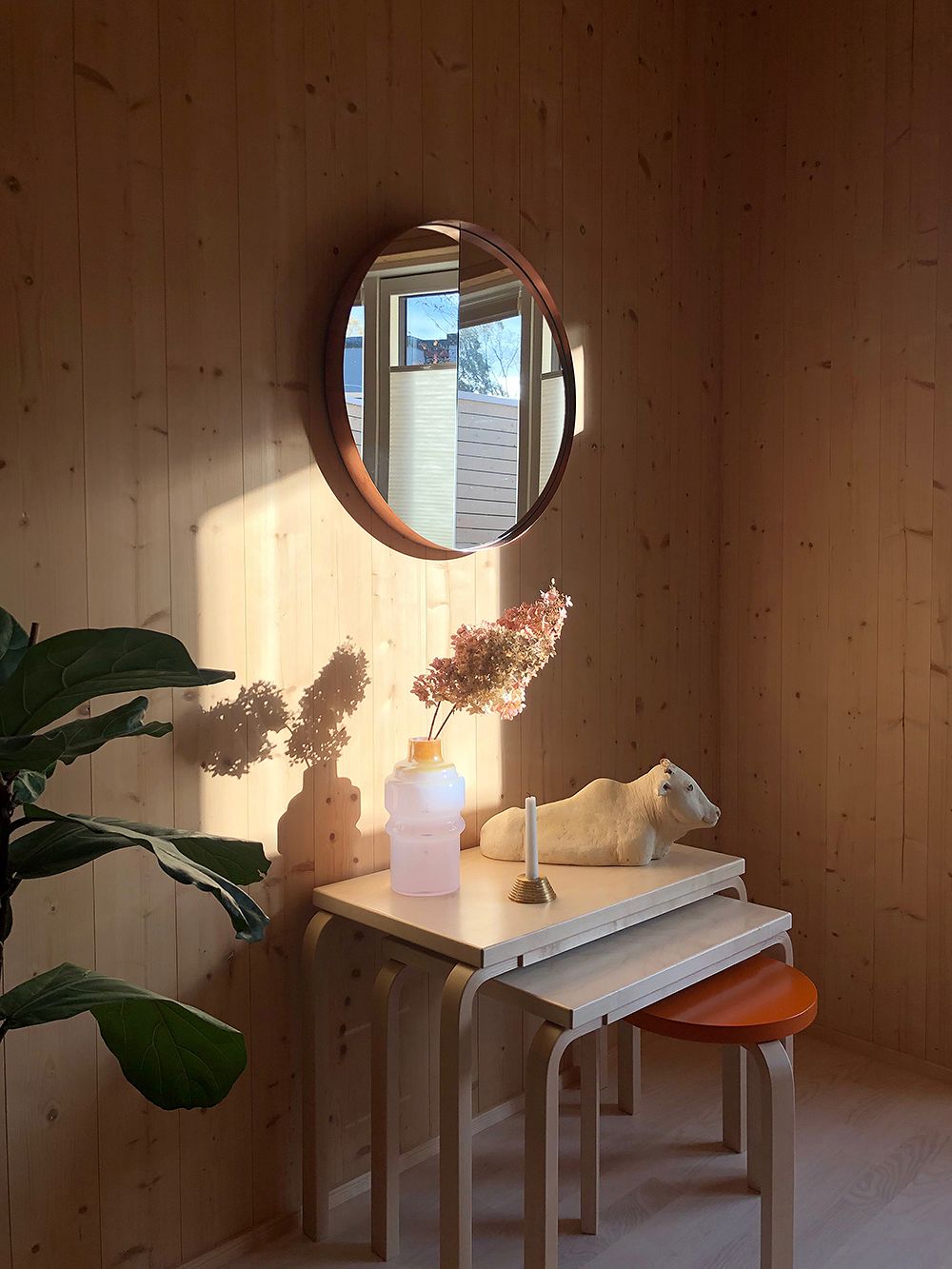 A mirror does the trick
Mirrors are an ingenious way of making a space feel ampler. Strategically placed mirrors break through the boundaries of walls creating an illusion of continued space. At best, mirrors work as extra windows!
Iina Vuorivirta is the designer of the ingenious Vino mirror (Finnish for "slanted" or "crooked"), that has promptly become a coveted modern classic. The Vino mirror is crafted of two separate pieces, folded either inwards or outwards depending on the model.
Due to their creative placement, the two halves do not show a consistent reflection of the mirror's surroundings but create a more unique, surprising reflection. The Vino mirror is a part of the FDS x LOKAL collection and is available in copper and brass in two sizes, either folded inwards or outwards.
Added inspiration:
• More living room decor at Finnish Design Shop > 
Text: Mira Ahola Photos: Manufacturers