If you run short of seats on the patio, have a look indoors. Many dining chairs are suitable for outdoor as well as indoor use, allowing the same seats to be used in a wide range of spaces. Here are a few examples of chairs that you can grab from the kitchen and place on the patio.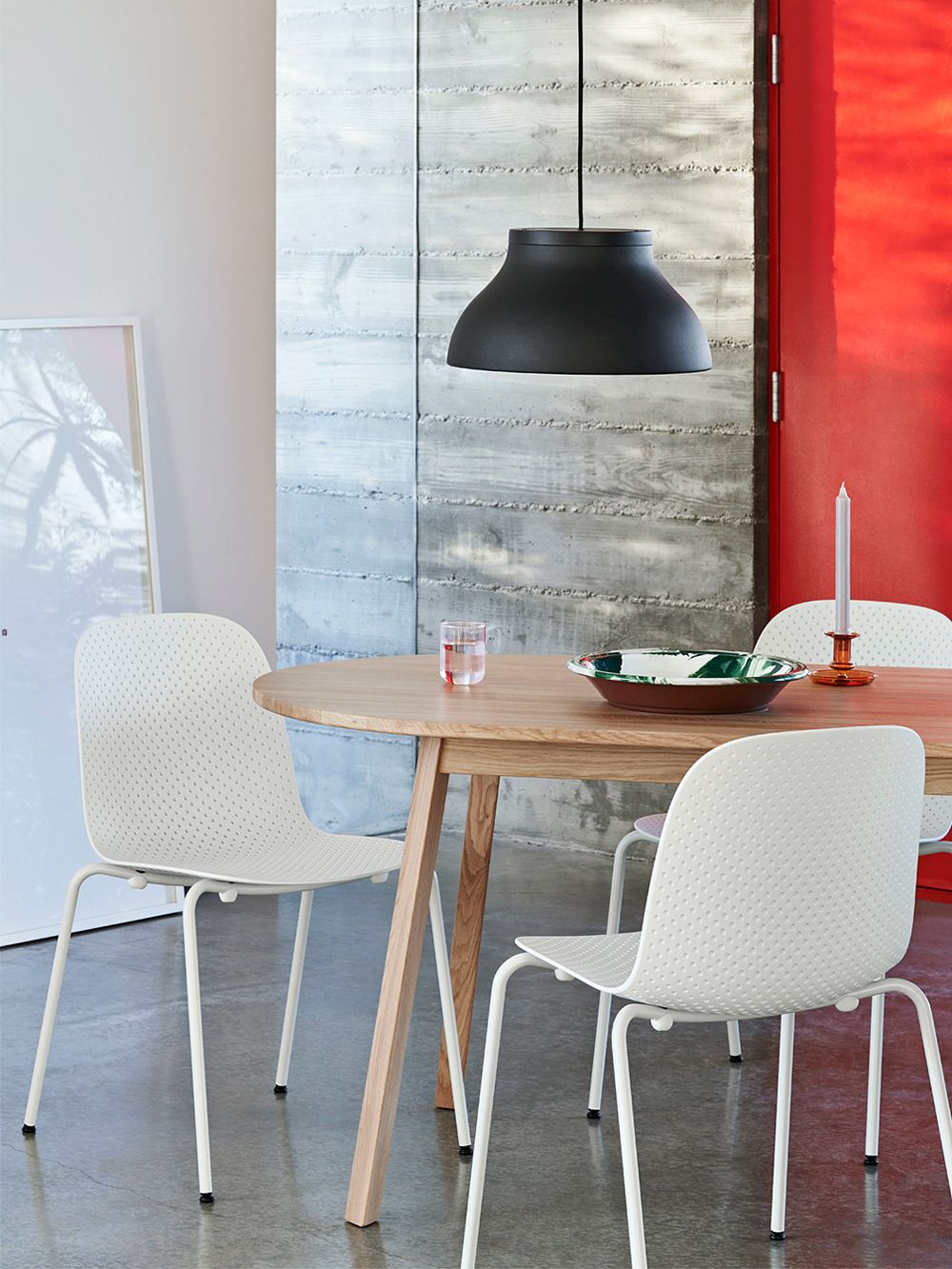 Relaxed and perforated
The 13Eighty chair by Hay is a true all-rounder: primarily designed for outdoor use, it is also ideal indoors, where it provides a relaxed and carefree modern ambiance. The perforated polypropylene seat is practical for a range of purposes: when the chair is outdoors, rainwater drains through its holes, and indoors, the holes enhance the chair's breathability and feel. The collection includes chairs with and without armrests, in black, grey-white, and blue – which of the soft shades is your favorite?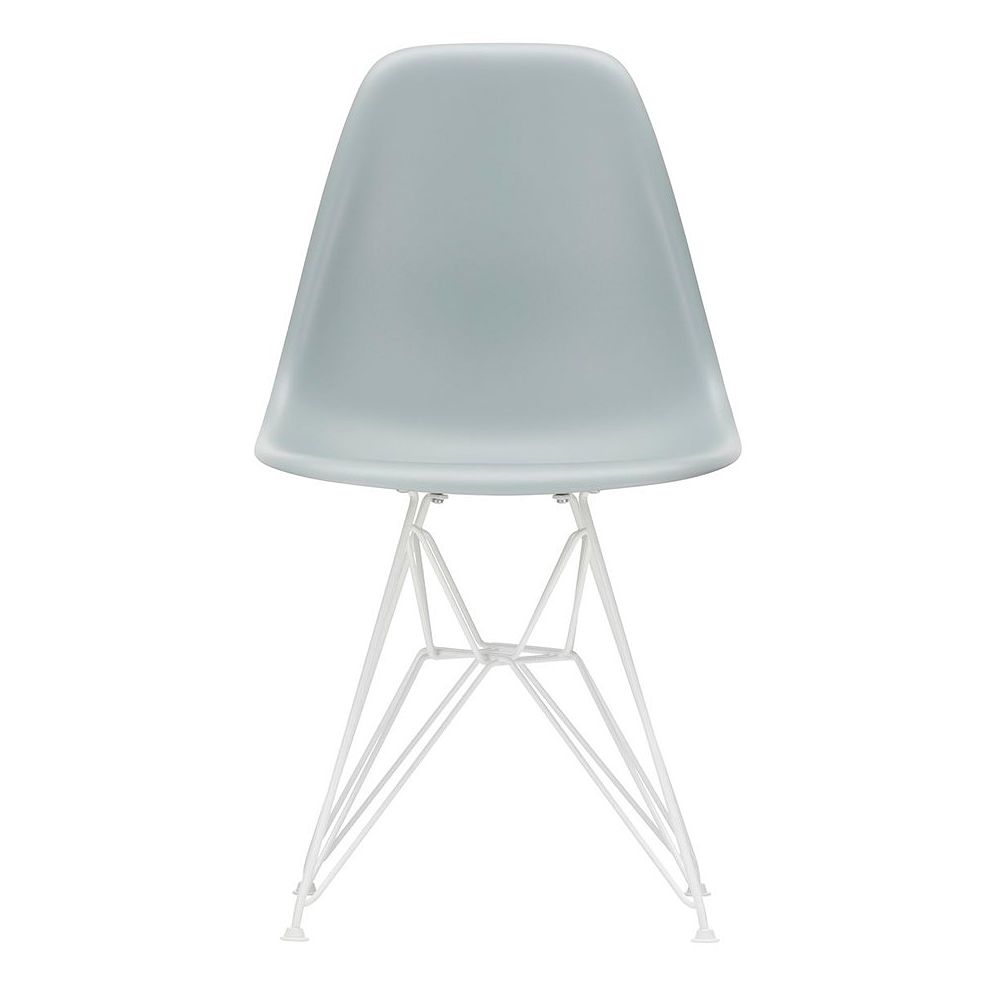 Chair icons
Designed for Vitra by Charles and Ray Eames in the 1950s, the DSR chairs are already an interior design icon. Also known as Eiffel chairs, these plastic beauties are often seen grouped around impressive table settings indoors, but can also be carried outdoors. The powder-coated leg will withstand outdoor use, but the chrome-leg version should be protected from moisture. Numerous colorways make it easy to find an option that suits your taste and space: in addition to classic black and white, the chairs come in vibrant shades and delicate pastels.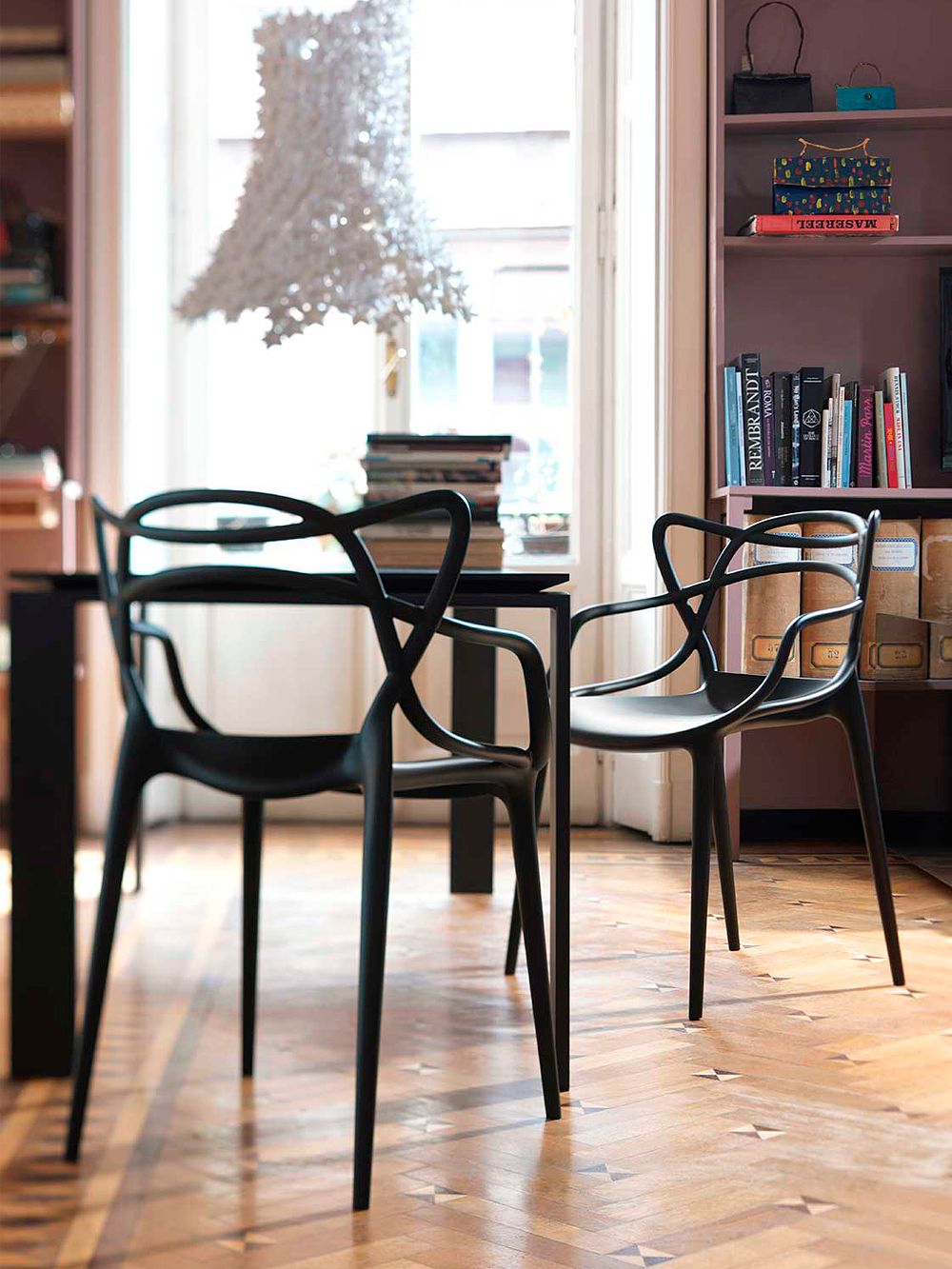 Masters together
The shape of the Masters chair by Kartell is inspired by three classics: the Series 7 chair by Arne Jacobsen, Tulip by Finnish Eero Saarinen, and the DSR chair by the Eames. This polypropylene chair is often seen both indoors and outdoors and adapts equally well to both environments. With its light and graceful form and stackable design, the chair finds a beautiful counterpart in bulkier dining tables in particular.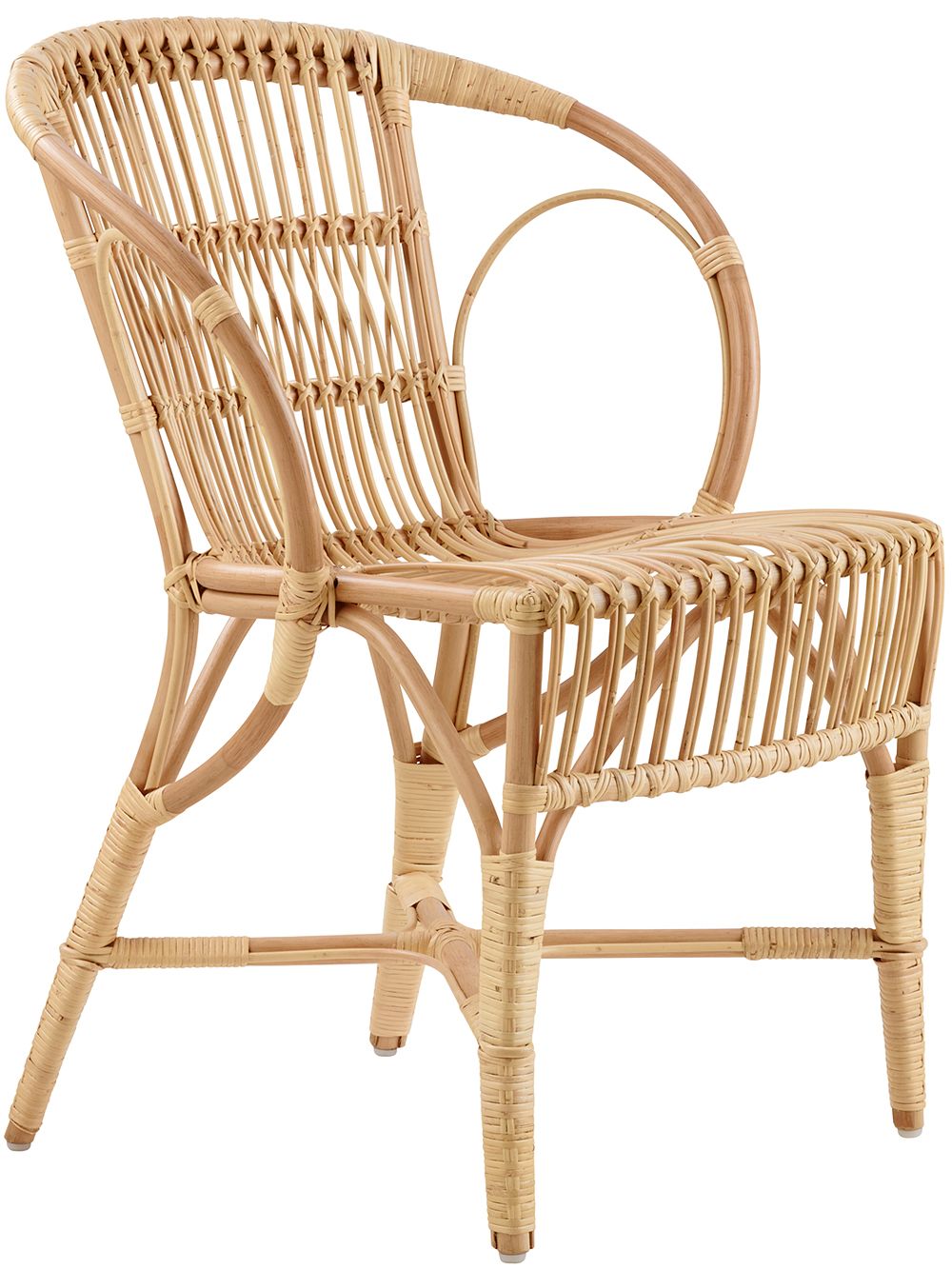 Fresh rattan
Rattan has made a real breakthrough in recent years, and this trendy material now features in interior and exterior decor. The Wengler chair, which is part of the Icons collection by the Danish Sika Design, may have been created in 1902, but its classic look makes it perfect also for the modern day. The lightweight chair is suitable for dining sets and as an individual easy chair. However, you should protect rattan — which is sensitive to humidity — from direct rainfall.
• Sika Design's Wengler chair >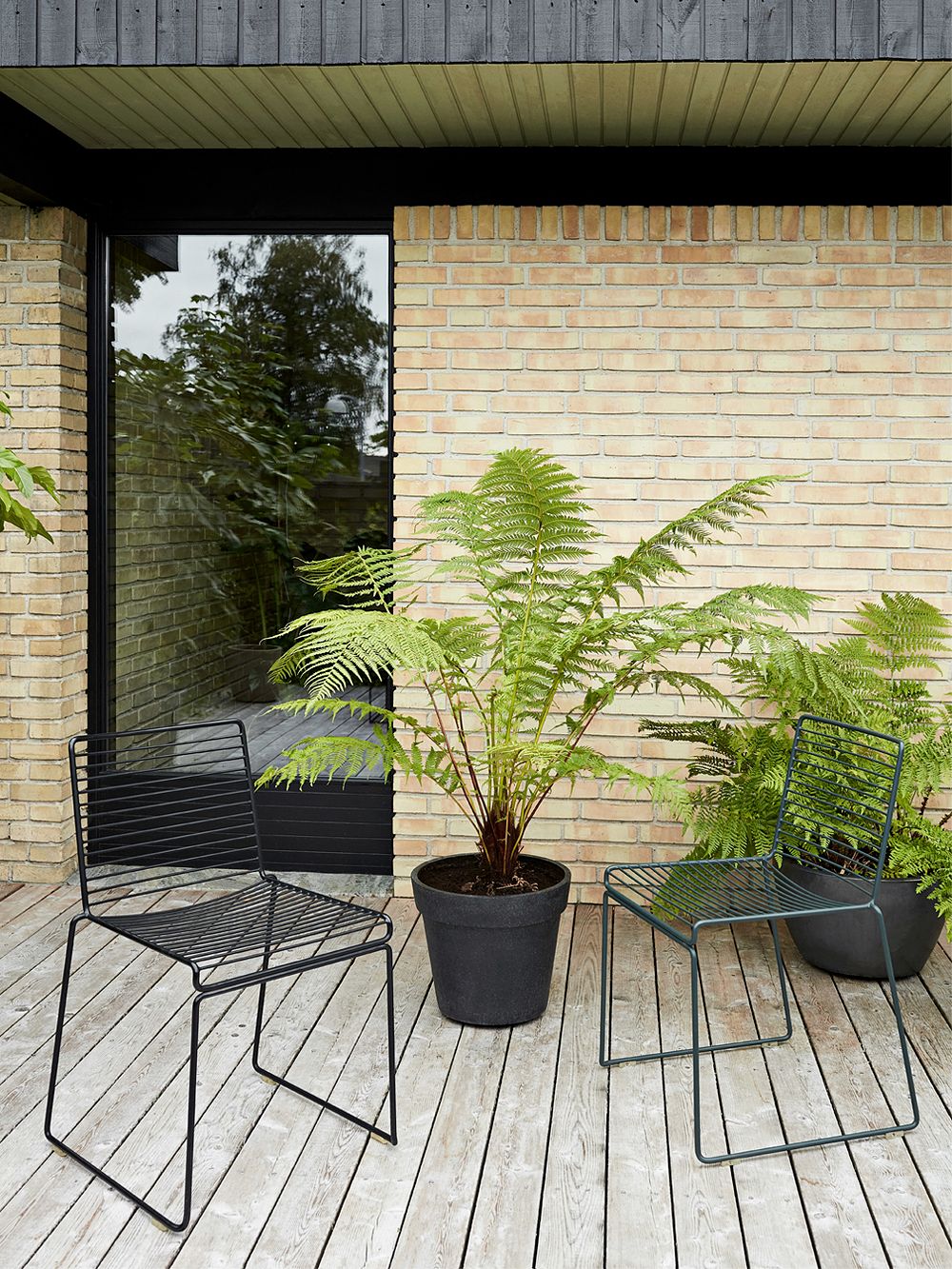 Metal surface
The Hee chair from Hay has been a clear favorite over the last decade, and with good cause. This versatile chair can be used as a dining chair, individual seat, and on the patio. Made of galvanized and powder-coated steel, the sturdy chairs have a minimalist design that fits nicely with modern environments in particular. The Hee collection was created by Danish designer, Hee Welling.
• Hay's Hee chair >
See also:
• Patio chairs at Finnish Design Shop >
Text: Maija Rasila Images: Manufacturers