Go for a bold but relaxed setting. A creative way of decorating is more important than identical glassware and plates.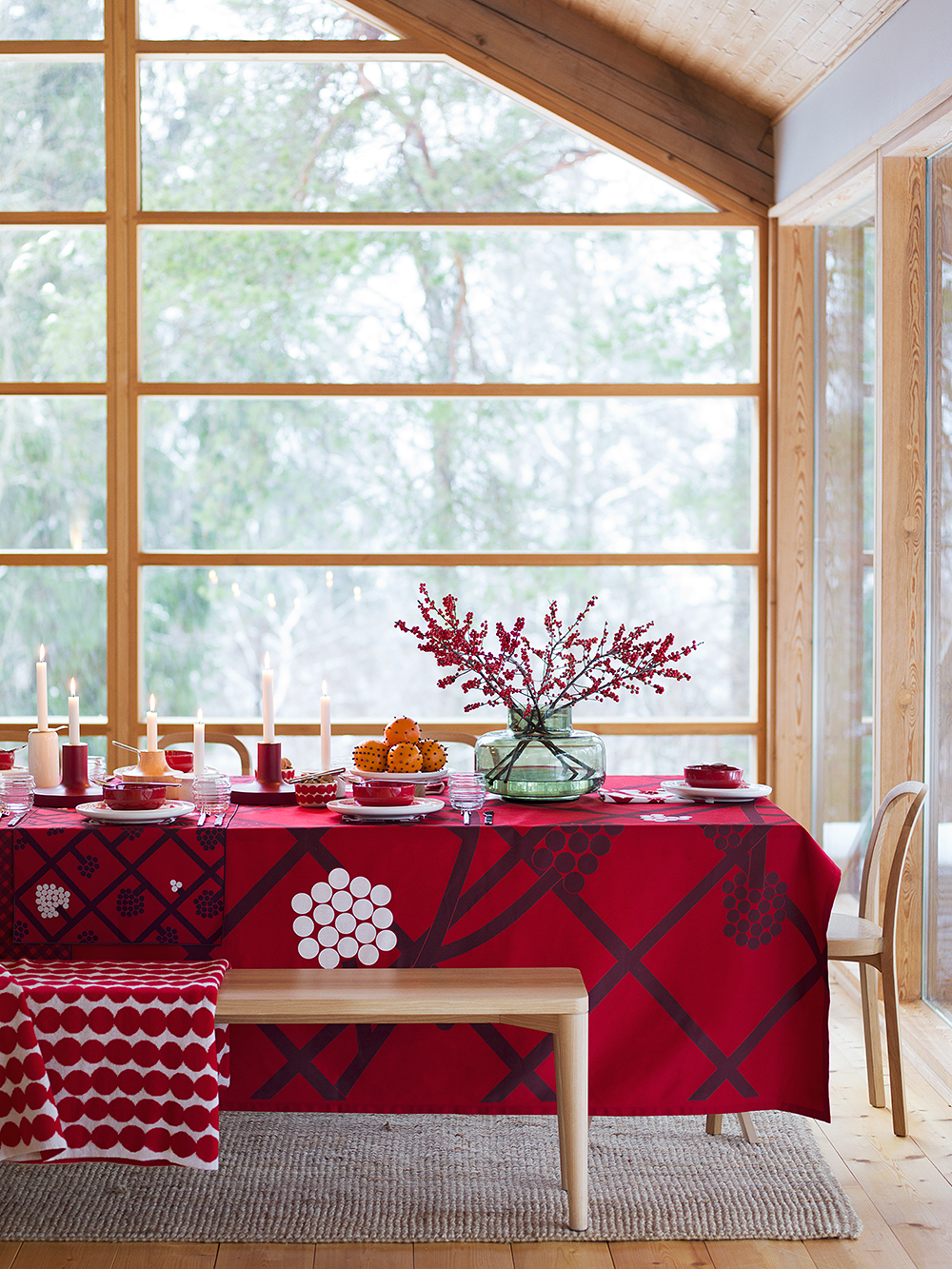 Marimekko's Urna vase serves as an eye-catching centerpiece, and Hortensie fabric makes a beautiful tablecloth. The tableware is from the Oiva collection.
1. Dress the table in linen
The use of a tablecloth will differentiate the table setting from an everyday setting. Linen is a down to earth material but at the same time an elegant choice, where the creases are part of the charm. Favor a single color tablecloth, especially if the tableware is multicolored. Guests enjoy themselves more, if they don't have to apologize for each little food stain, so choose the color of your tablecloth with this in mind.
The elegant Linnea cutlery and serving utensils by Jens Fager for Hackman.
2. Make use of all types of plates
If your kitchen cabinets don't hold complete sets of tableware, there is no need to worry. The best combinations are created with different types of plates if they are monochrome or have small decorations, and when you don't place the same set of dishes next to each other but on different sides of the table. You can then visually tie them together with the help of uniform napkins.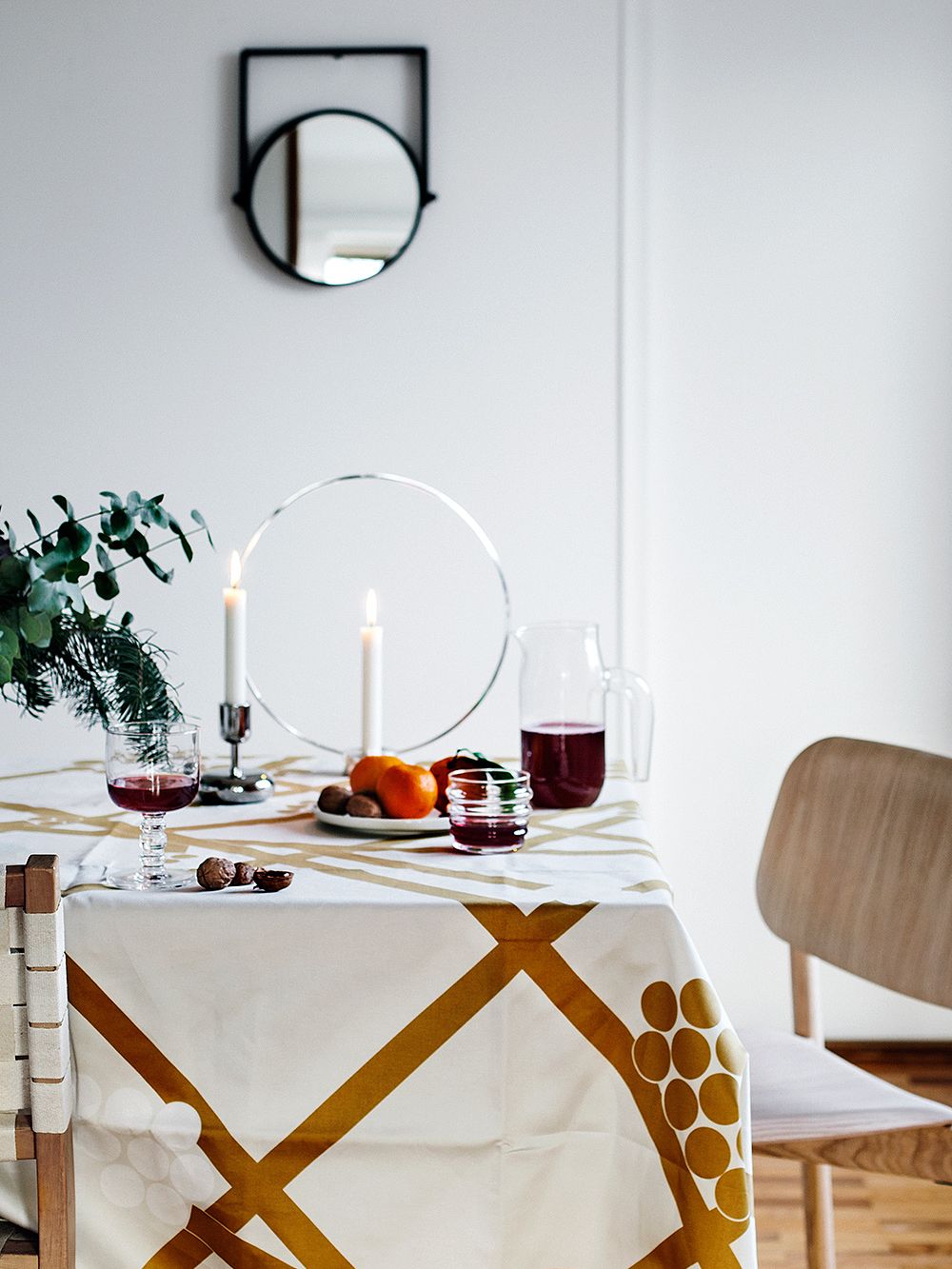 Candles elevate any table setting. From right: Socks rolled down glasses by Marimekko, Nappula candleholder by Iittala, Gloria candleholder by Klong, glass jug by Hay and Lampi mirror by Hakola.
3. Select glassware of identical color
The same applies to glassware. It's not so important to set the table with exactly the same types of glasses for each of the drinks to be served. In order to avoid a visually confusing end result, you should favor single colored glasses.
It's not so important to set the table with exactly the same types of glasses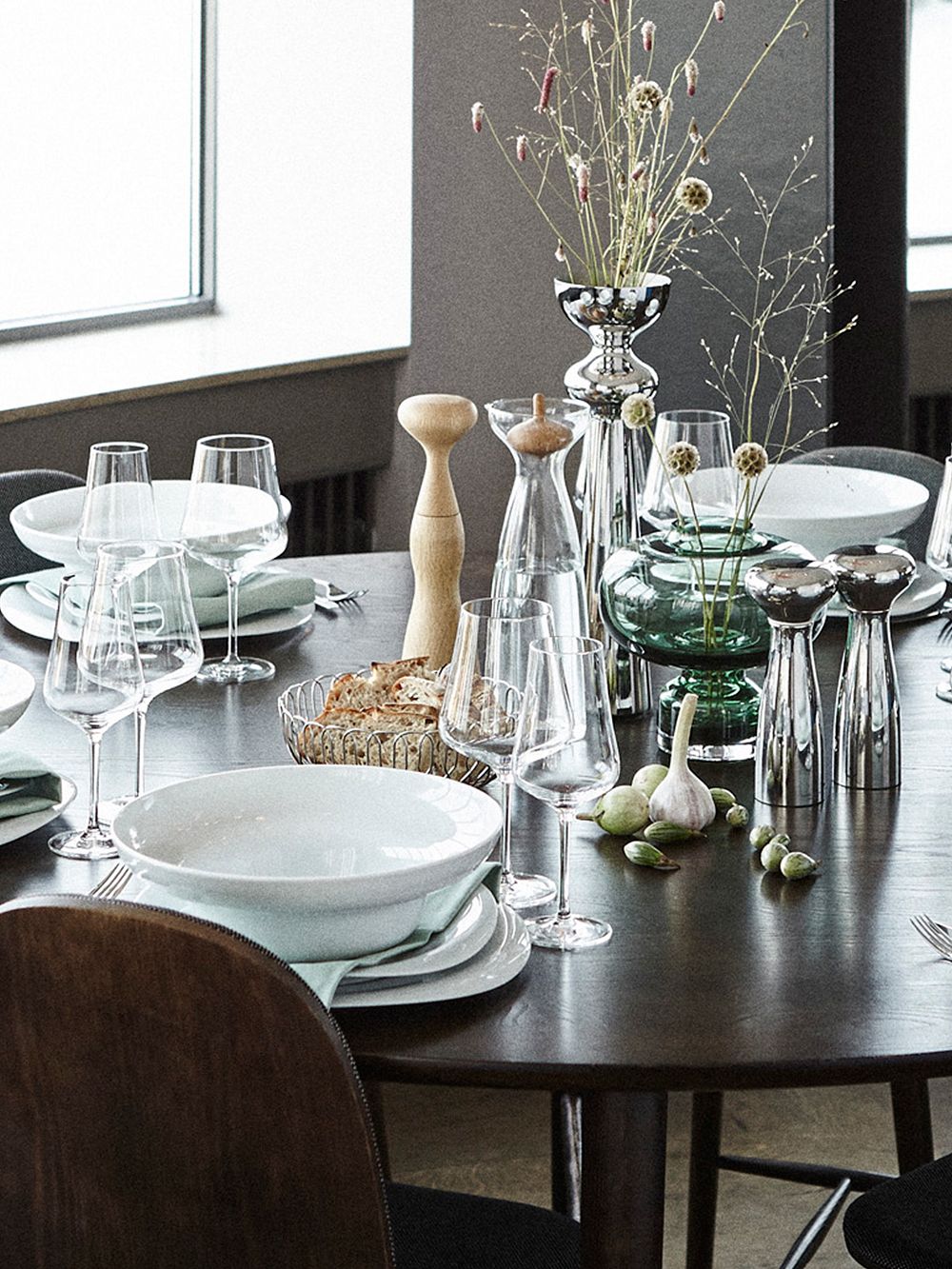 The vases, carafe and mills are from the Alfredo collection, designed by Alfredo Häberli for Georg Jensen.
4. Apply bold decorations
A festive setting always needs a centerpiece, for example, a spectacular candelabra or a high flower arrangement. The festivity of the setting is emphasized by lower and smaller sized decorations placed on other parts of the table. Branches, cones and rocks found in nature always look fantastic. Keep in mind that an odd number tends to work better than an even one.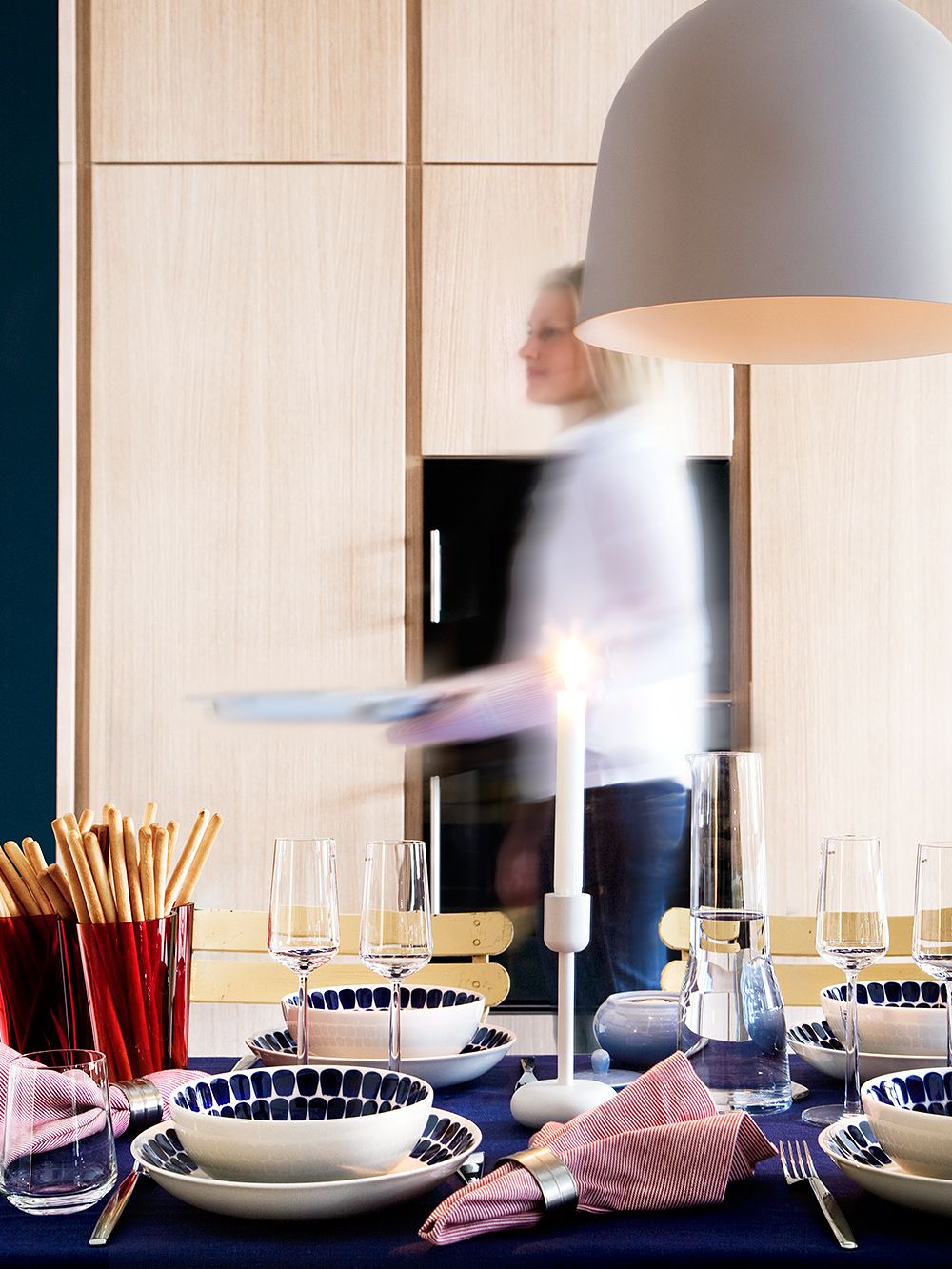 Arabia's 24h Tuokio bowls and plates are perfect for both everyday and festive table settings. The glasses and carafe are from Iittala's Essence collection.
5. Write the place cards by hand
Cloth napkins are essential for the festive table setting. Instead of applying traditional folding, wrap a velvet or other type of ribbon around the cloth and add a handwritten place card. An unforgettable gesture is adding a personal note to the card.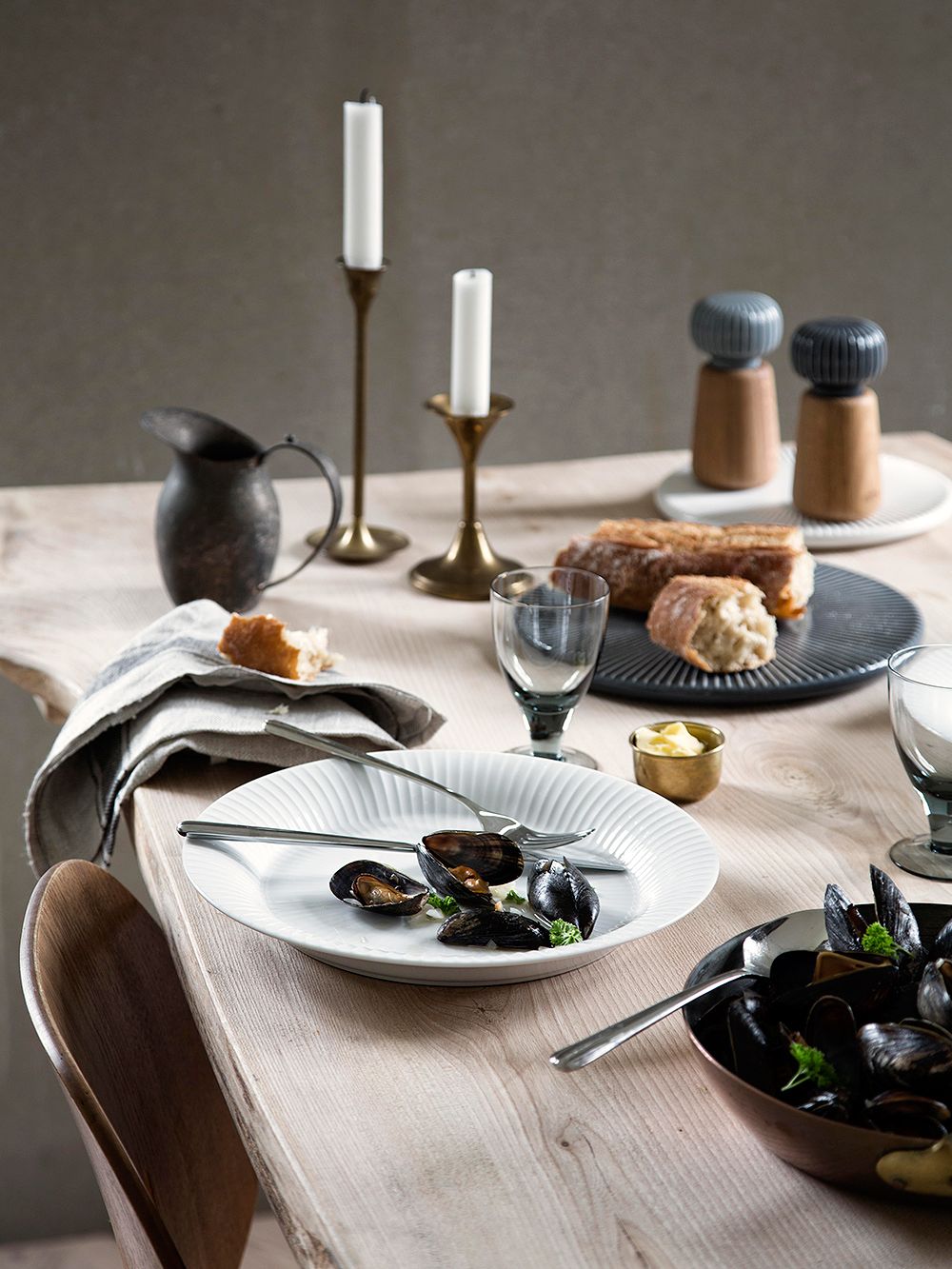 Kähler's Hammershøi collection, designed by Hans-Christian Bauer, features tableware, grinders and cutlery.
Also remember:
• Forget about table runners and place mats. Their time will come.
• A thin, monochrome throw can easily replace a rectangular tablecloth.
• Gold-colored cutlery is on trend and will add warmth and sparkle to the setting.
• Go for a rough and rustic setting if you like. You create the atmosphere.
• Finish the setting by decorating the food and drink. Add some mint leaves to the water jug; grind rosé pepper onto the butter and sprinkle herbs onto the rims of the plates.
View more tableware >
Text: Laura Brotherus Images: Manufacturers and Finnish Design Shop
The article was originally published in Avotakka.