In Paris, walking around the city is a great experience in itself. Mondo selected three streets that everyone should see at some point in time. They feature memorable sights, attractions and authentic discoveries, loved by the locals. Rue du Faubourg-Saint-Denis, also known as Little Turkey, offers multicultural culinary experiences and rugged but fashionable bars.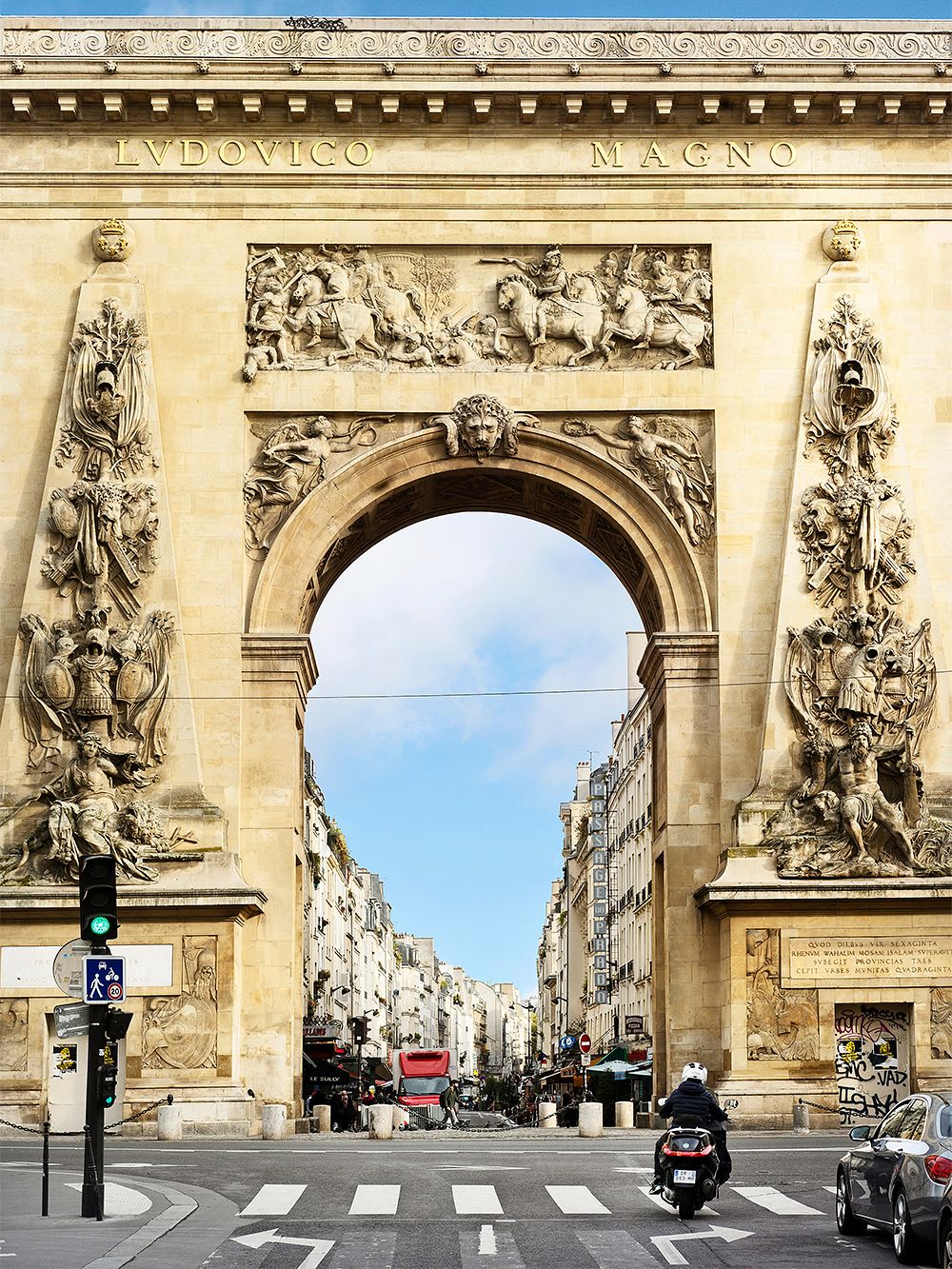 WASN'T THE ARC DE TRIOMPHE on the Champs-Élysées? We're standing at the top of rue de Faubourg-Saint-Denis, under the first Arc de Triomphe, built in the 17th century. Dozens of pigeons fly up from the ground.
You can smell fragrances of cinnamon, cumin, and ginger from the neighborhood. The quarter clearly represents what Paris really is: a cultural melting pot. The fragrances become more and more intense as you walk along the street towards the north. We pass by an Indian bazaar, then Mauritanian beauty salons.
The densely built rue du Faubourg-Saint-Denis in the 10th arrondissement of Paris is bustling with life. Along the almost mile-long street, there is not only a wide selection of restaurants but also two busy railway stations, Gare de l'Est and Gare du Nord. In the north, the street extends all the way to the La Chapelle subway station, and beyond it begins the African quarter La Goutte d'Or.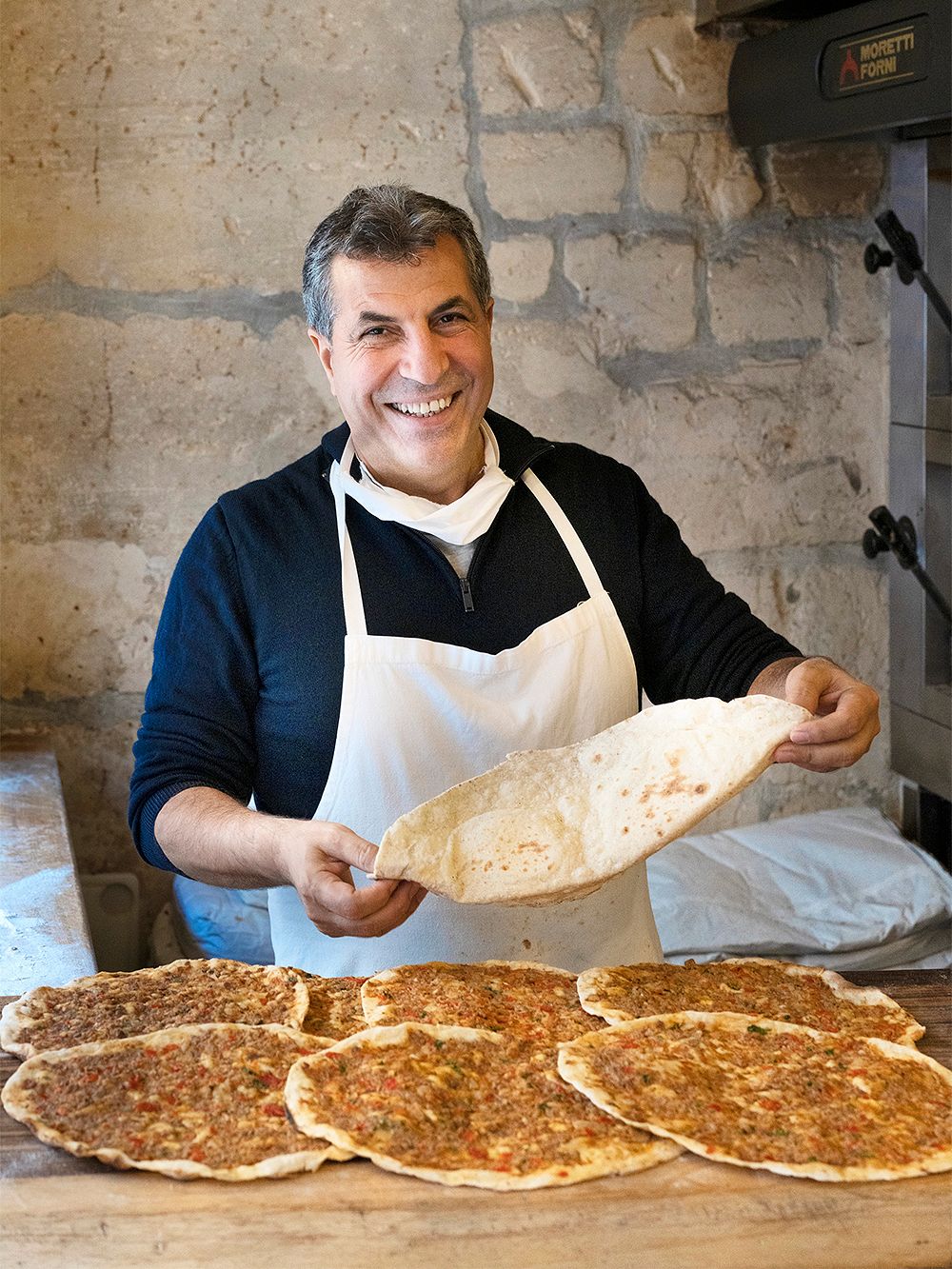 The restaurants at the beginning of rue du Faubourg-Saint-Denis explain why the street is called the Little Turkey of Paris. One of the best Turkish restaurants is Urfa Dürum, which operates in two locations. The first kiosk was opened in 2007, while the other, where you can also sit down for your meal, was opened just a month before the Covid restrictions began in spring 2020.
You can see through the window as the bakers are toiling away around the burning-hot oven. There's a cloud of flour and a strong waft of spices at the door. Inside, cooks make dürüm, or Turkish kebabs, with the fillings wrapped inside flatbread. Orders, costing around ten euros, are made to order, with the meat fried separately for each customer. For three euros, you can have a lahmacun, or Kurdish pizza, a thin piece of dough topped with minced meat and fresh herbs.
"When I moved to Paris in 1993, I didn't know what I was doing here," says Pierre Oguz, who founded Urfa Dürum, and continues "but it's like home to me now. This street is like a mini planet in which everyone are together nationalists even though they represent a number of nationalities."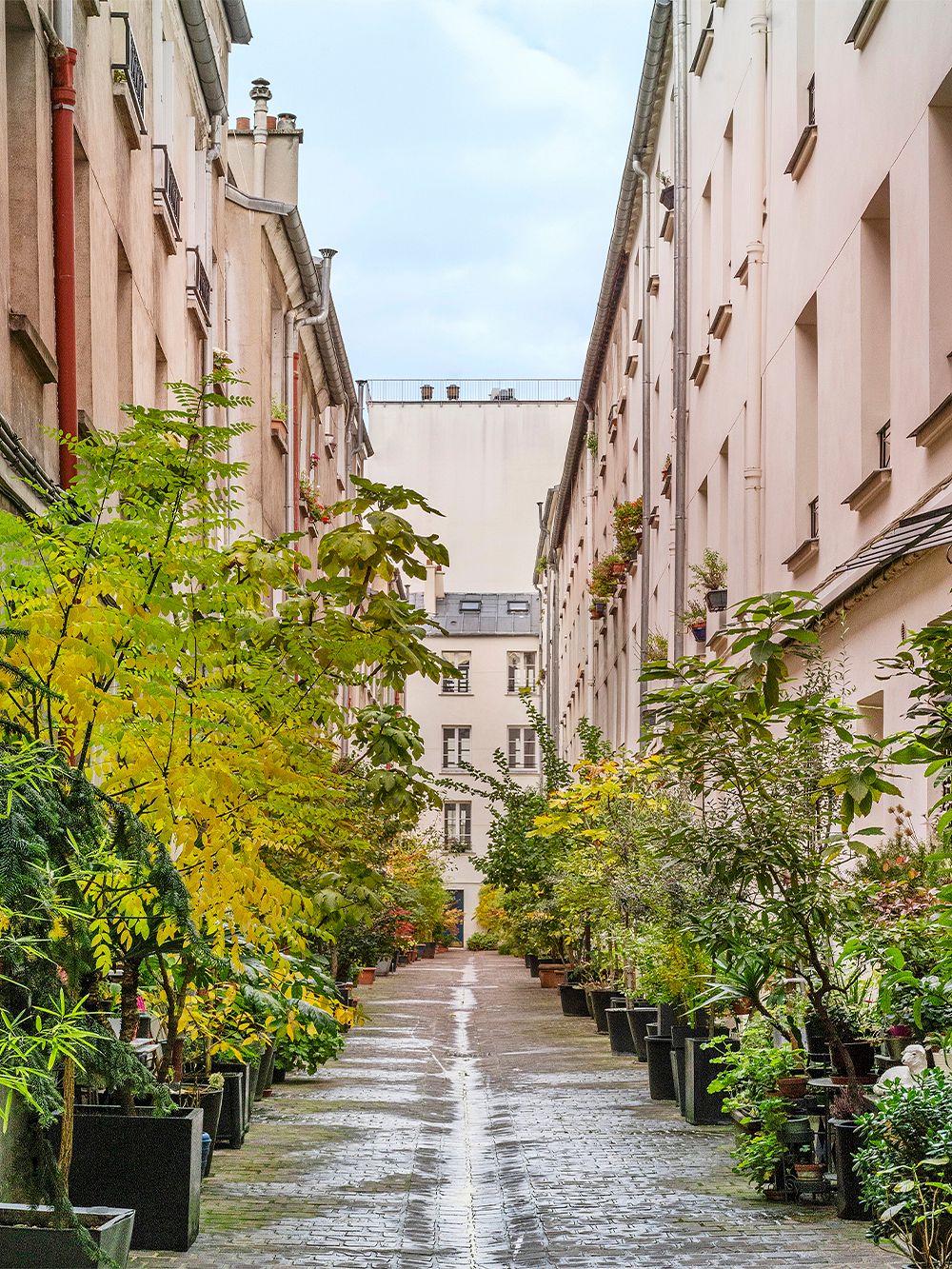 When you continue on your expedition, you can see that Oguz is right. Many cultures co-exist peacefully on rue de Faubourd-Saint-Denis.
Julien, a traditional bouillon restaurant famous for its Art Nouveau interior, is next to a kebab shop, and the Faubourg 52 neobistro is next to PNY hamburger restaurant, opposite a Syrian kiosk.
The street is sometimes called the Little Turkey of Paris. In the evening, its southern end becomes a trendy bar quarter.
In between traditional foot shops you can find stalls selling lesser-known vegetables, fruits and spices. As you walk along Passage Brady side street, you can imagine being in India, because the place is filled with Indian restaurants, food shops and beauty salons.
Near rue du Château d'Eau, there are African wig shops and hair salons from which hair is swept onto the street in the evening, with customers hanging around.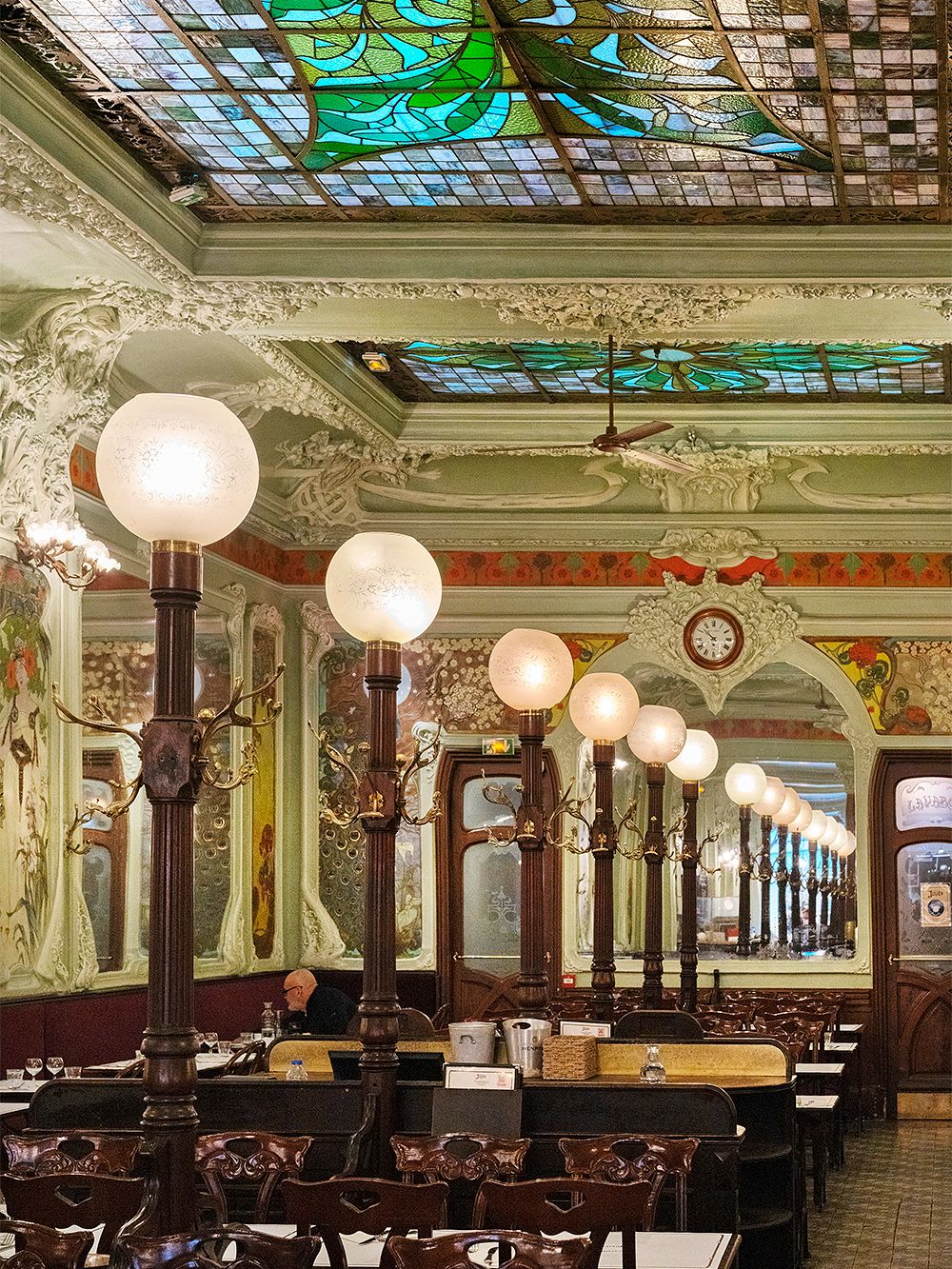 Rue du Faubourg-Saint-Denis changes character after boulevard de Magenta. The street runs between two railway stations and continues north to the La Chapelle subway station. So far no trendy cafés have sprung up along it, but it's full on Indian, Sri Lankan, Pakistani and Bangladeshi restaurants. The best are Indian Khrisna Bhavan and Sangeetha, but good vegetarian food is also found at the southern end of rue du Faubourg-Saint-Denis. That's why it's a good idea to walk back there in the evening to dine and drink.
For some divine Jamaican food, go to Jah Jah by le Tricycle vegan restaurant on a side street called rue des Petites Écuries. Or maybe you fancy Le Daily Syrien for Syrian meze plates and filled sandwiches.
You can also get a take-away from a kiosk by the same name at no. 55, next to the theater school École Jacques Lecoq. You cannot see the school from the street, but the story goes that it used to house a famous boxing ring, where Marcel Cerdan used to fight. The man's tragic love affair with Edith Piaf began here.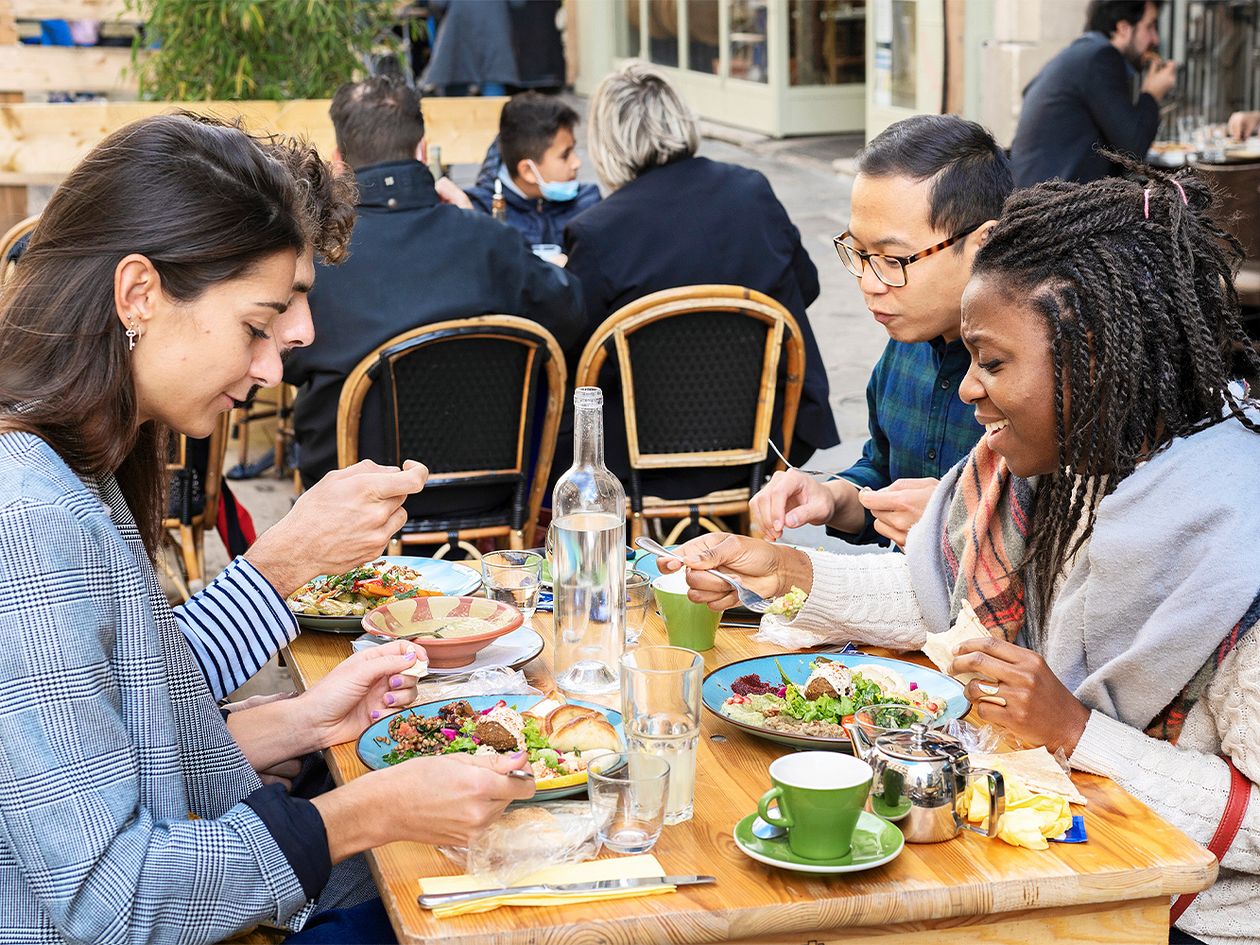 If you visit rue du Fabourg-Saint-Denis in the morning or day, you mainly see locals. Towards the evening, the southern part changes to become rue de la soif, street of the thirsty.
During aperitif time, the young adults of the bourgeouis-bohémes begin arriving from various parts of Paris. That's when you want to be sitting in the Chez Jeannette bar. It attracted the trendiest people to this street already over a decade ago. The bartenders make cocktails, they play indie rock, and people who know they're stylish sit on red sofas. Soon Chez Jeannette will fill up, so you may want to do what the rest are doing, that is, change to some other bar. Such as Le Mauri 7, which is opposite, or Le Napoléon, a bit further north.
Rue du Faubourg-Saint-Denis is becoming more bourgeoisie, as witnessed by the numerous pop-up bars and restaurants. They open once the streetlights come on. The most interesting ones are found on the side streets, such as Passage des Petites Écuries.
The tiny Cinco Bodega heats up a proper pizza oven in the evening, they serve draught beer, and the bartenders are prepared to mix you a mean drink. When looking for the bathroom, you are in for a surprise. You see a lit skateboard ramp that one cannot see or hear outdoors. The bathroom is at the bottom of the ramp.
All this goes to show that this is the trendiest place in Paris, we're at the core of nighttime fun.
See also:
• Paris on foot: Avenue des Champs-Élysées >
• Paris on foot: Rue des Martyrs >
Text: Pihla Hintikka Photos: Heli Sorjonen
The story was originally published in Mondo's issue 1/21.