The Bird Silo, designed by Studio Tolvanen for their new brand Pidät, got its distinctive conical shape from an old grain silo. In Design Stories' interview, designers and keen bird watchers Julie and Mika Tolvanen share their story about the new bird feeder and the Pidät brand.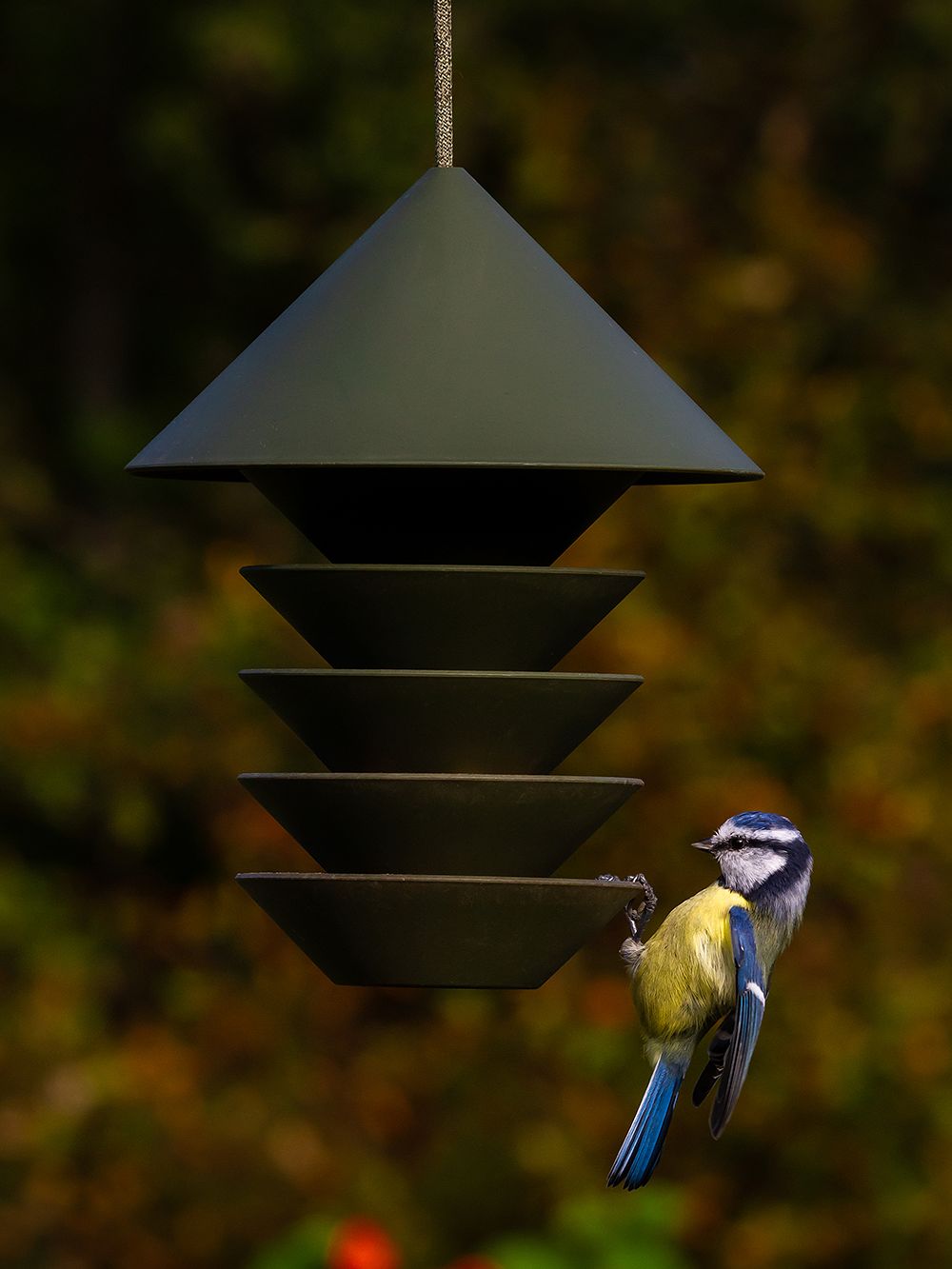 ONE OF THE FIRST SIGNS OF THE WINTER is when bird feeders and oat sheaves start appearing in gardens and yards. Bird feeding is an old and cherished Nordic winter tradition, and a great help for many small birds wintering in the cold climate. 
Designers and bird watchers Julie and Mika Tolvanen from Studio Tolvanen decided to contribute to the tradition by designing a contemporary bird feeder made from fully recycled materials. The Bird Silo is also a debut product for their new brand Pidät. Design Stories got a chance to interview the designer couple about the new release.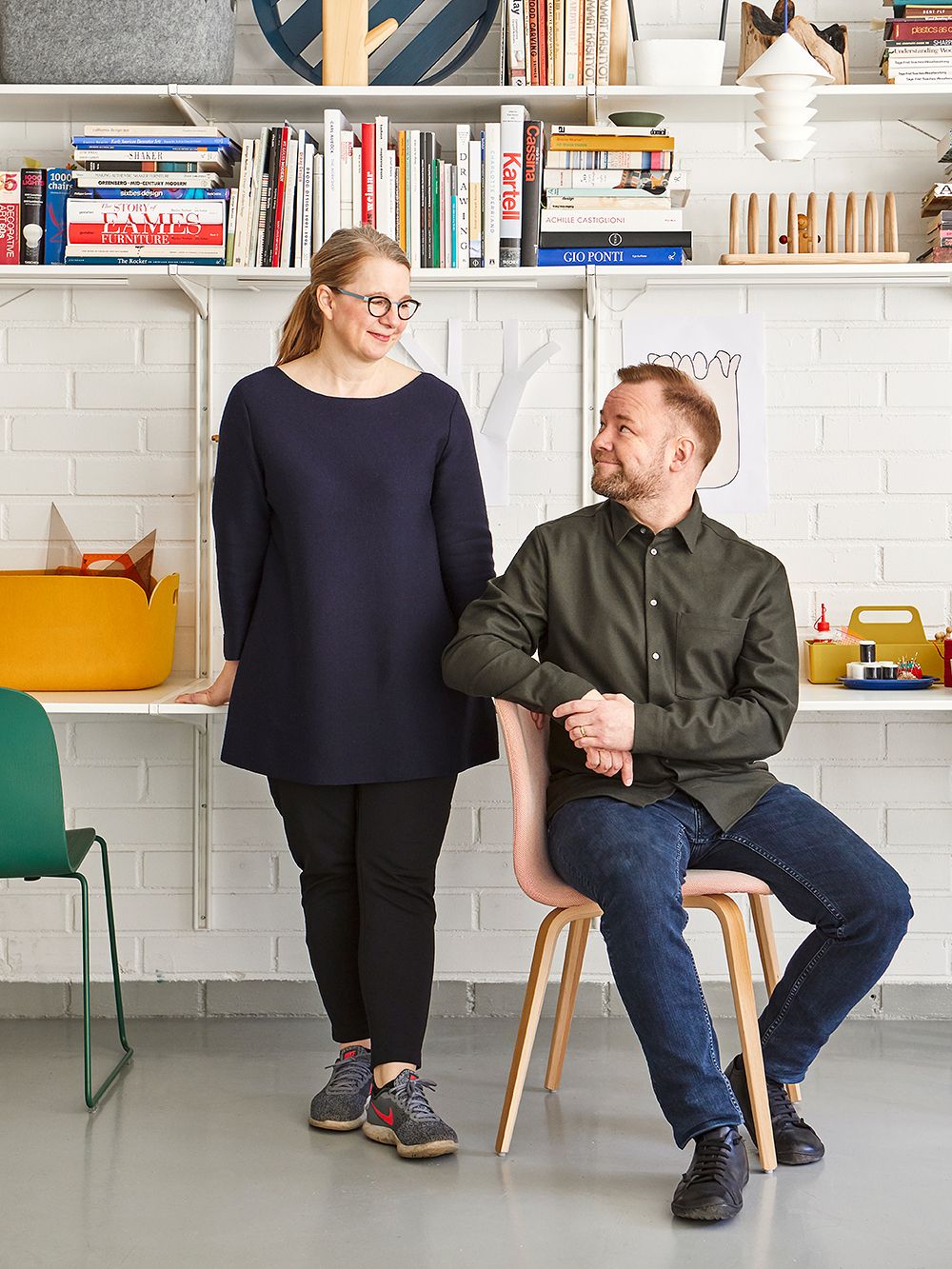 Hi Julie and hi Mika! How have you been doing recently?
"Hi! Our life has been surprisingly normal in these challenging times. We have managed to keep busy enough. From our home, it's just a short walk through some woods to our studio, so our work life didn't have to change that much this year."
What were your starting points when designing the Bird Silo?
"The idea for Bird Silo came from a grain silo we saw in the USA. We were there as part of a project called Furnishing Utopia, in which a group of designers was invited to spend a week at a Shaker village and then design products inspired by the experience. We fell in love with a grain silo on the farm, and the conical shape of the silo roof stuck to our mind. Then one day we thought – that could be a bird feeder.
"The idea for Bird Silo came from a grain silo we saw in the USA."
We are bird watchers, and since we were designing a bird feeder for ourselves at the beginning, the design process was natural and unhurried. We tried different shapes and structures by 3D printing them and hanging the models outside our dining room window. Then we watched how the birds reacted while we had breakfast. Now they come every morning, looking in the window and chirping if we are late feeding them."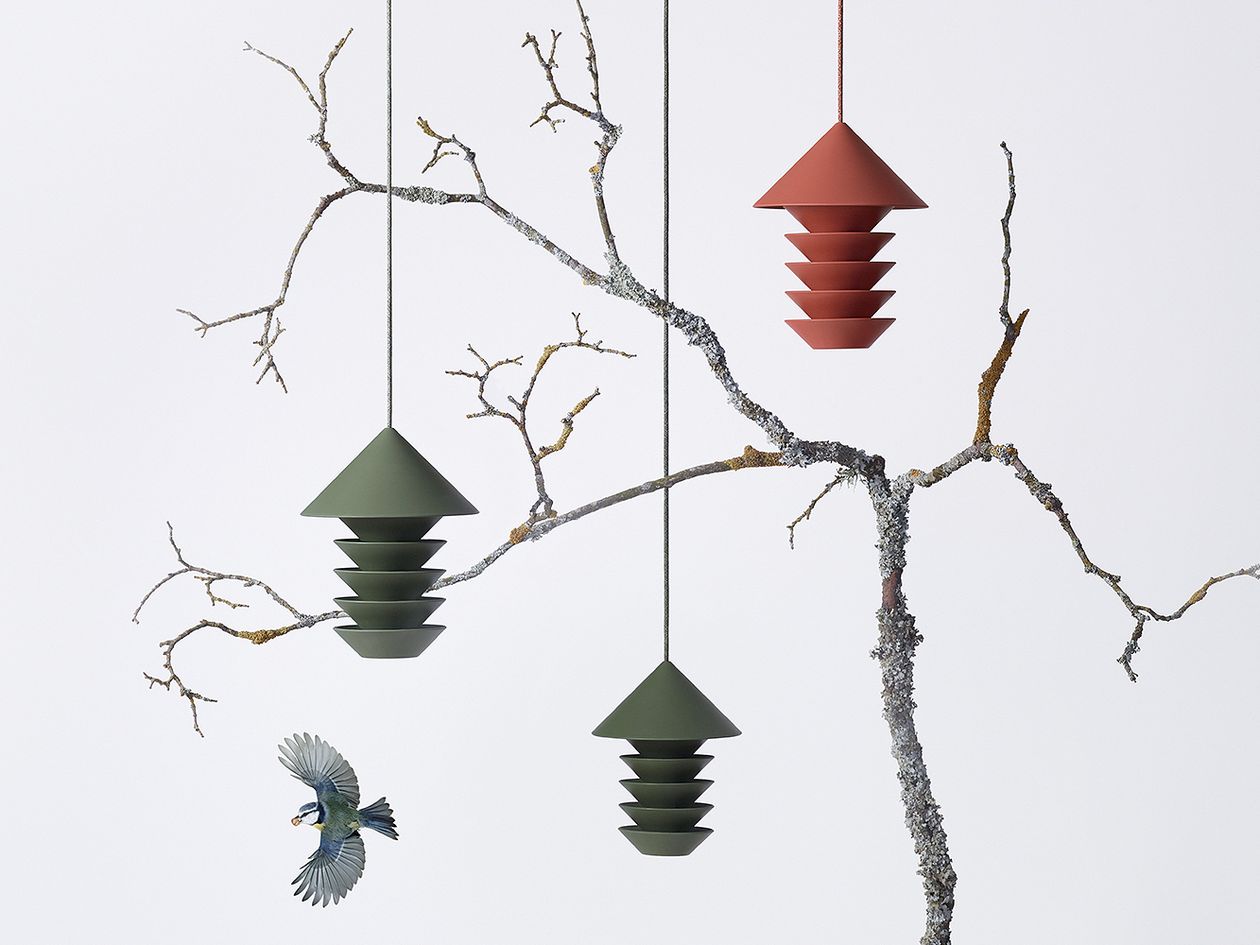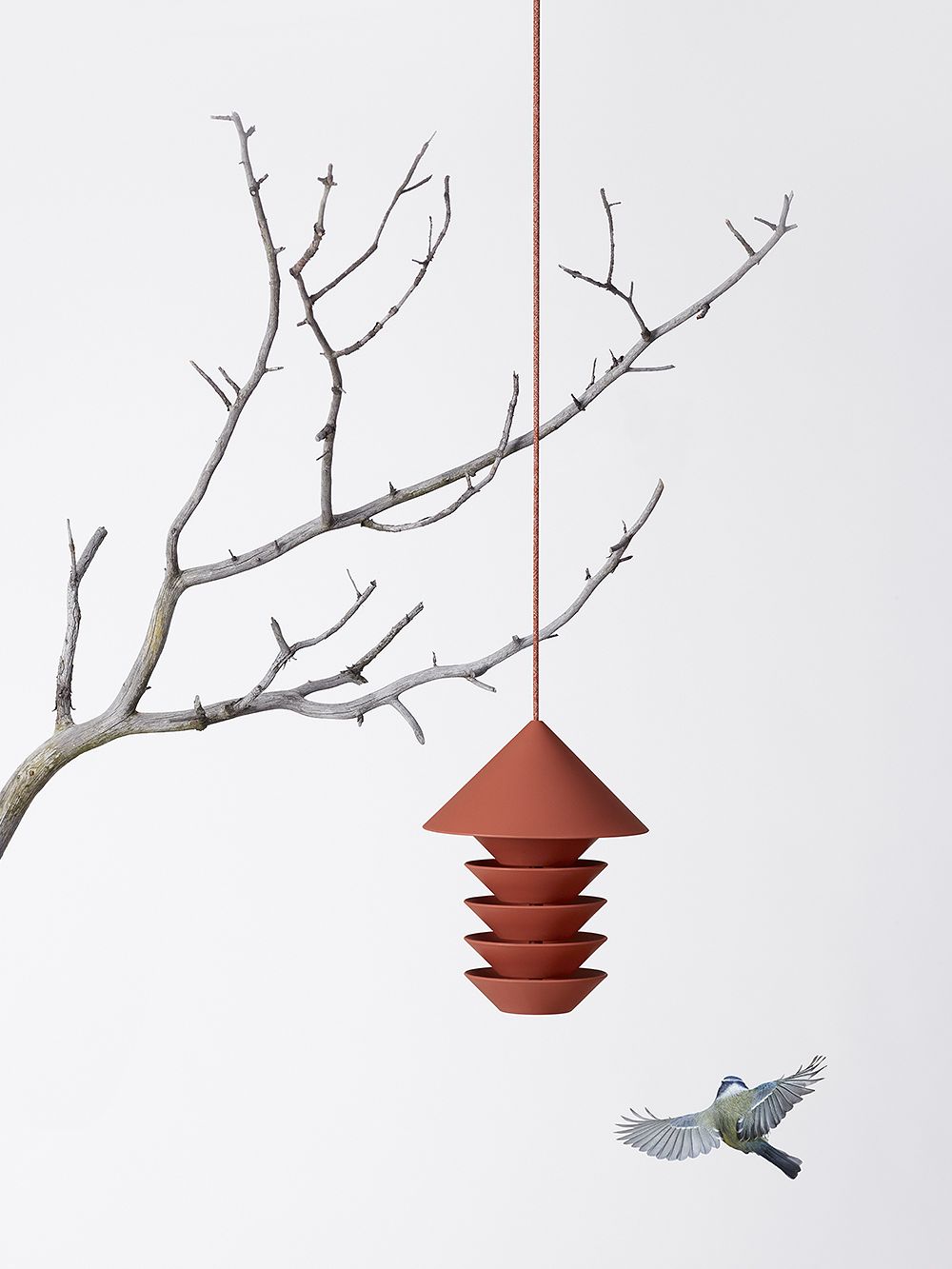 Which birds have the most frequent visitors at your window and have you spotted any rare ones?
"Bird Silo is a specialty feeder designed to feed birds who like to cling vertically while eating. Our daily diners recently include chickadees, blue tits, and also the great spotted woodpecker.
Rarest for us was last Christmas up north when a very cute willow tit hung around for a couple of days enjoying the feeder, and once a crested tit came for a snack. Other reported sightings are from friends who have been using it in other places: nuthatch and American goldfinch."
The Bird Silo is made from recycled plastic. How did you come up with the material?
"As designers, we love the sculptural possibilities of molded plastic, but it was also important to us for the bird feeder to be environmentally responsible and not add new plastic to the ecosystem. We decided from the beginning that we would try to make the bird feeder from 100% recycled plastic.
Since recycled materials are relatively new to the manufacturing world, we did need to go through a couple of different types of recycled plastics and a few suppliers before deciding on this particular polypropylene. Our bird feeders are made from upcycled household plastic containers and washing machine parts. We like the subtle flakes in the plastic that tell a story about its recycled beginning. It was a happy surprise when we learned you can also get recycled polyester rope, and that it was possible to design our own pixelated pattern in the rope."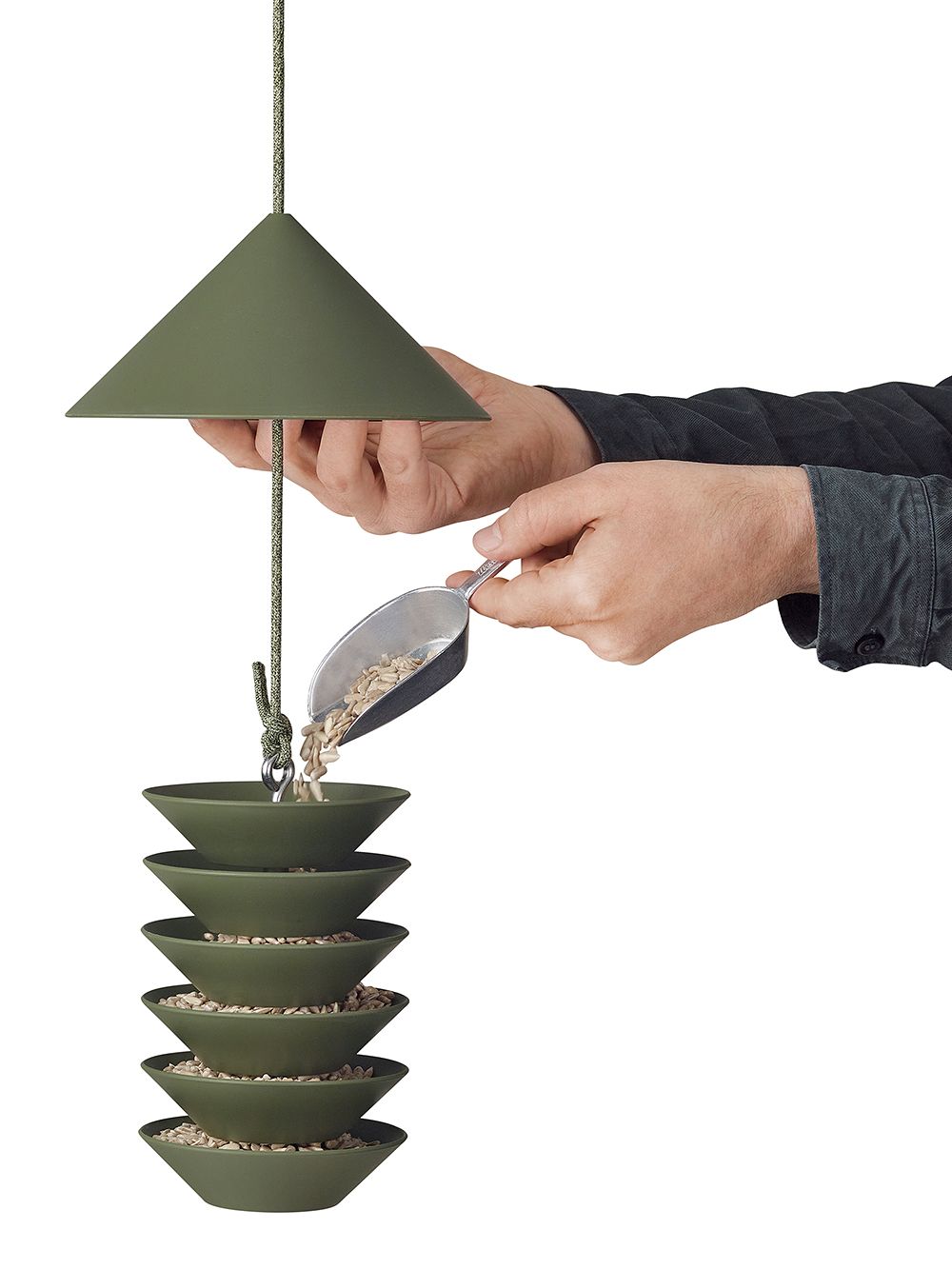 What was the most challenging part of the design process?
"Bird Silo is the debut product for our new brand Pidät, so the most challenging parts have actually been outside the product design process itself, and more to do with manufacturing and logistics. For example, we spent six months going back and forth with engineers on the package design! For us, it was important that it would be both beautiful and also produced without the need for single-use plastic or glue. We'd send an idea and the engineers would put the package in their 'shaking machine' to see if it would actually protect the feeder. It took a few tries, but in the end, the whole package is made from cardboard that can be folded flat and easily recycled.
"It was important to us for the bird feeder to be environmentally responsible and not add new plastic to the ecosystem."
Another challenge that was new to us with this project was certifications. In other words, we want proof that everything in the product and packaging is safe – and if it says 100% recycled, that it actually is. We were lucky to work with a product developer at the other end who was thorough about vetting suppliers and getting these certifications.
We've had to get creative since Pidät is a small brand. Our approach has been to apply the design process to the business part, too. It's a work in progress, but we've managed to find some alternative ways to manage the shipping efficiently and get the word out about Pidät, one Instagram follower at a time. It wouldn't be possible without the internet."
And last, in addition to the Bird Silo, what else have you been working on lately?
"At the moment, Studio Tolvanen is working on a few different furniture projects that are in various stages of development – mostly sofas, tables, and chairs. Also, we're designing some new accessories for the Pidät catalogue."
See also:
• Bird Silo bird feeder by Pidät >
• Products by Julie Tolvanen >
• Products by Mika Tolvanen >
Text: Nora Uotila Images: Suvi Ruotsi, Katri Kapanen and Juha Törmälä