Stylish does not necessarily mean expensive, says Elina Henttonen, art director of Avotakka interior decoration magazine, whose home and Christmas are a combination of American influences and 1950s esthetics.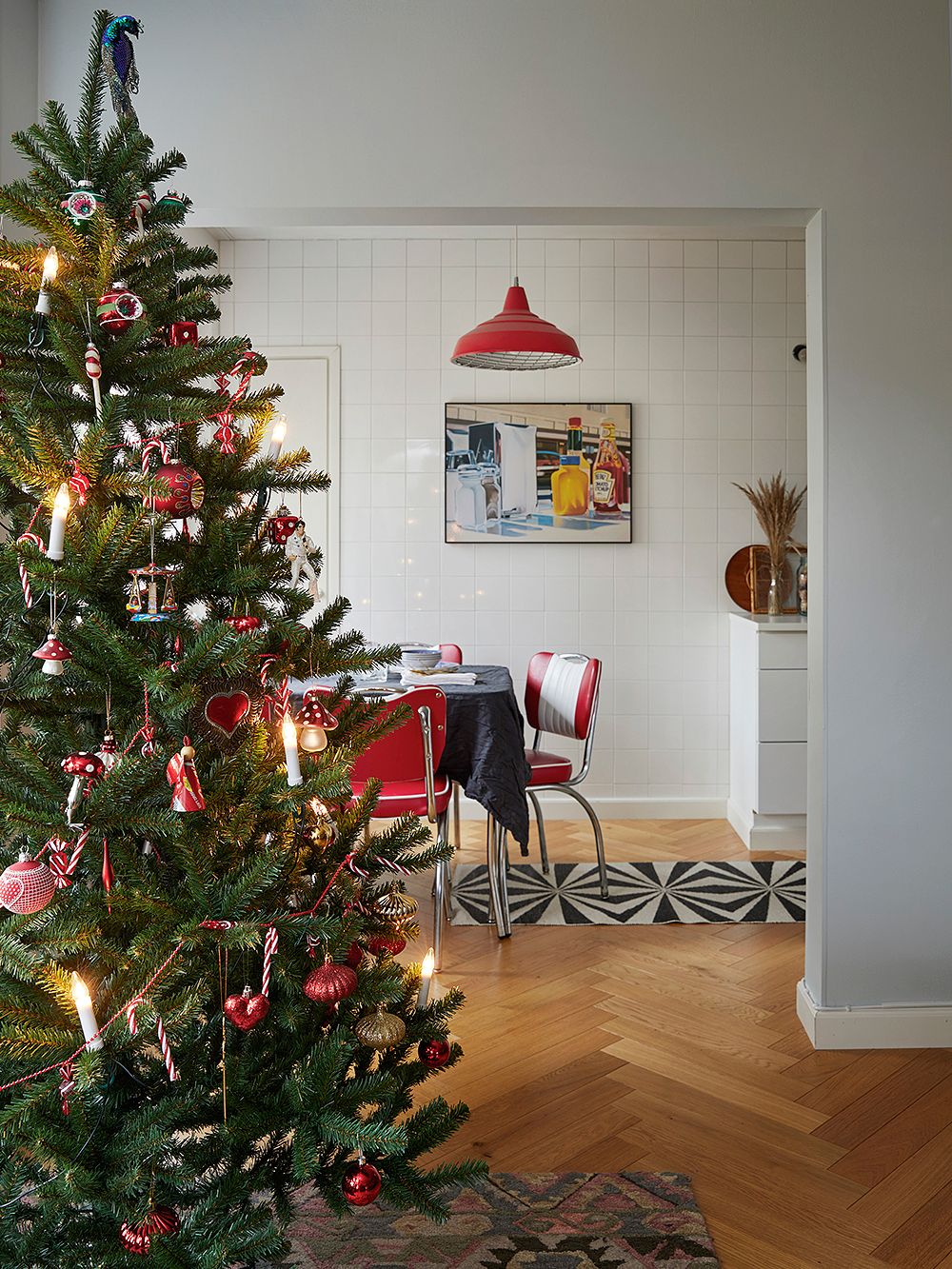 Residents:
Avotakka's art director Elina Henttonen, 39, digital service designer Pasi, 40, and daughter Matilda, 2. Their home, a red-brick apartment building in Kulosaari, Helsinki was built in 1960. Their home is 85 square meters in size.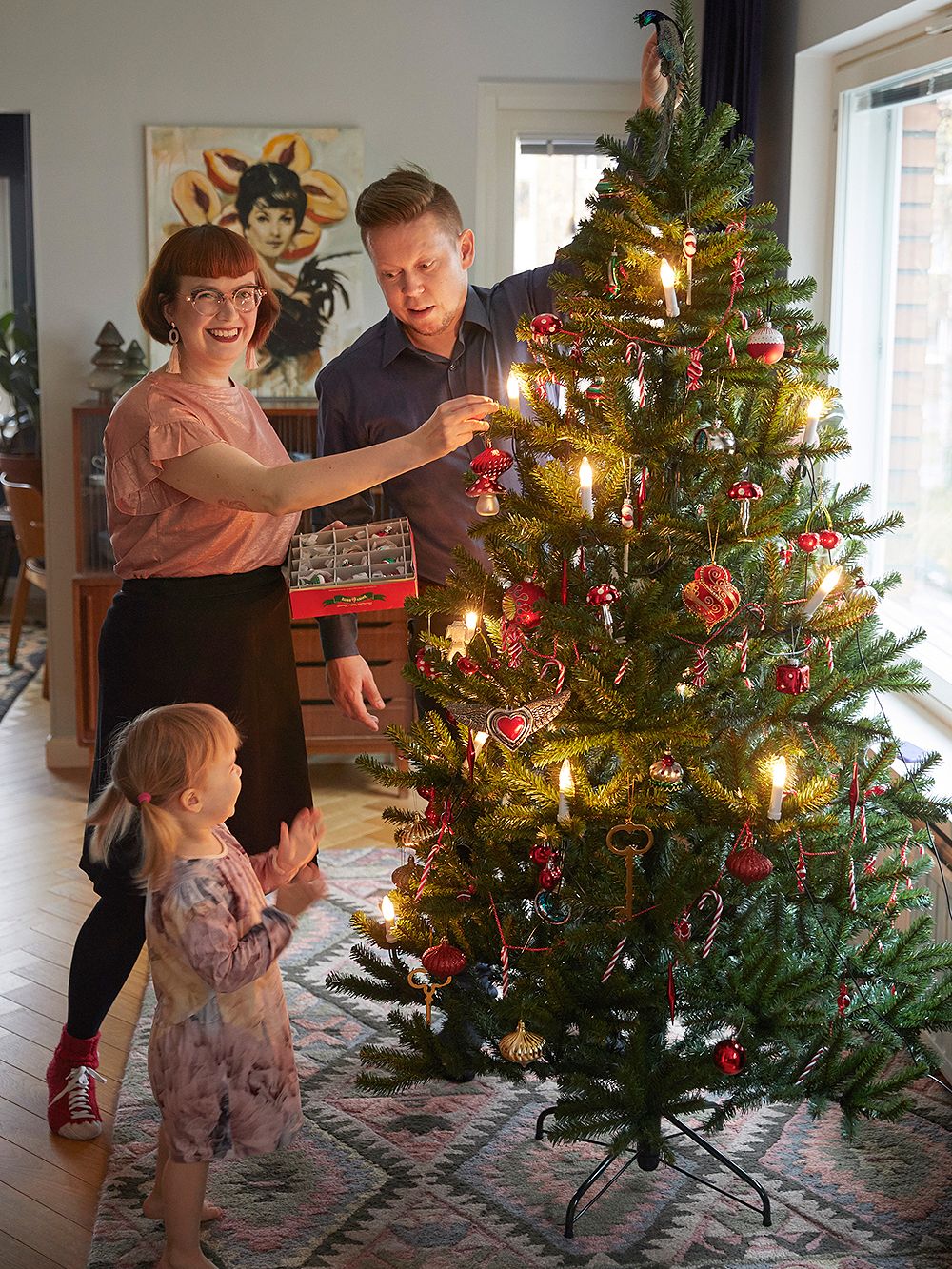 IT WAS OBVIOUS that their new home would have the 1950s spirit. Avotakka's art director Elina Henttonen and her husband Pasi have been into vintage for a long time. It probably started with a love for old rock 'n' roll, and gradually the couple's taste in music, style of clothing and interior decoration took them hand in hand to the 1950s.
Elina and Pasi found what they were looking for in Helsinki's Kulosaari neighborhood. The apartment was built in 1960 and clearly had a 1950s feel about it. Original elements had been preserved, such as the cold cupboard and the cabinets with classic Leea latches.
In winter, they can see a glimpse of the sea through the kitchen and living room windows. The area with the surrounding parks and good transport connections was the perfect choice for a family with a child but no car.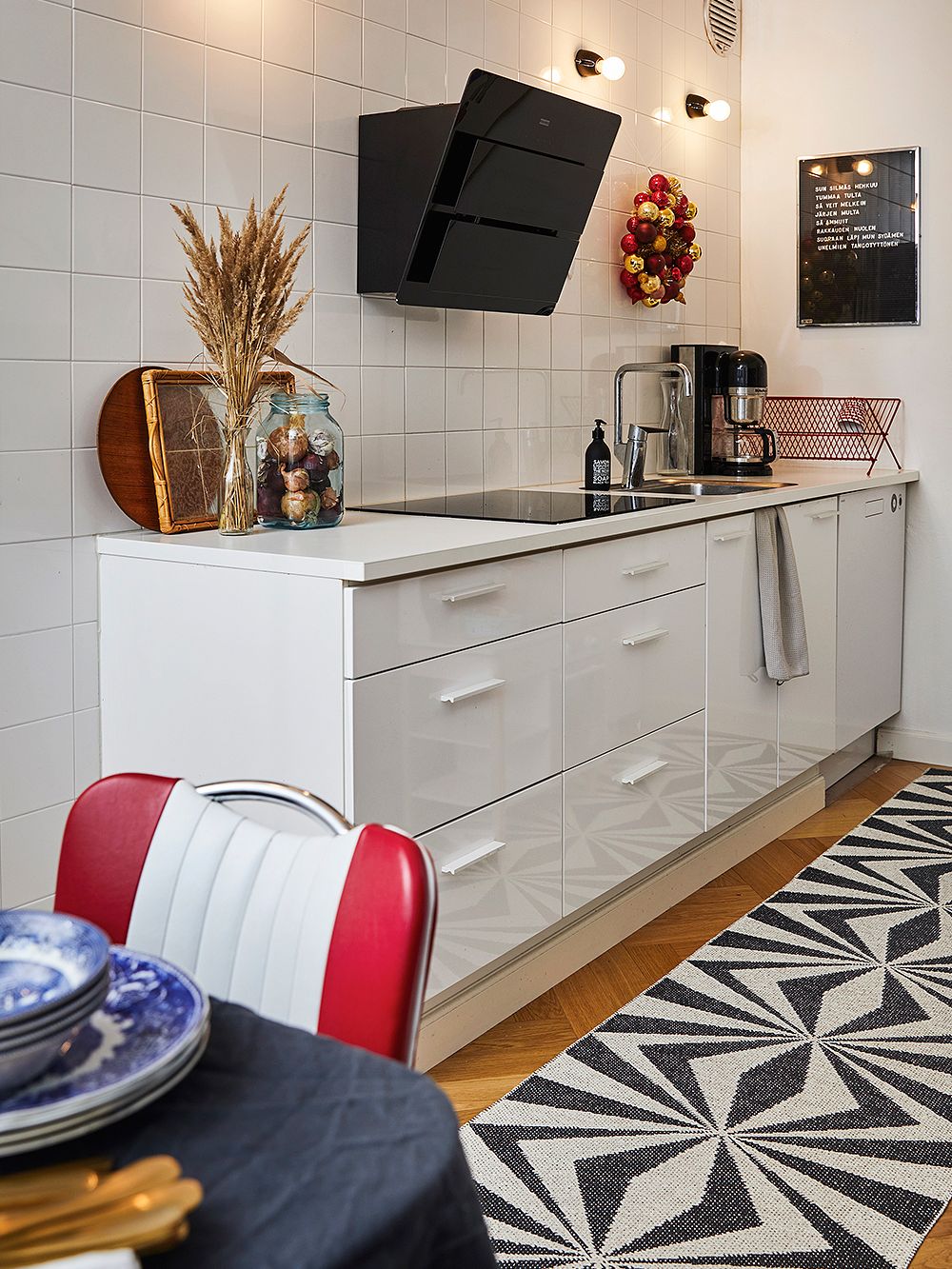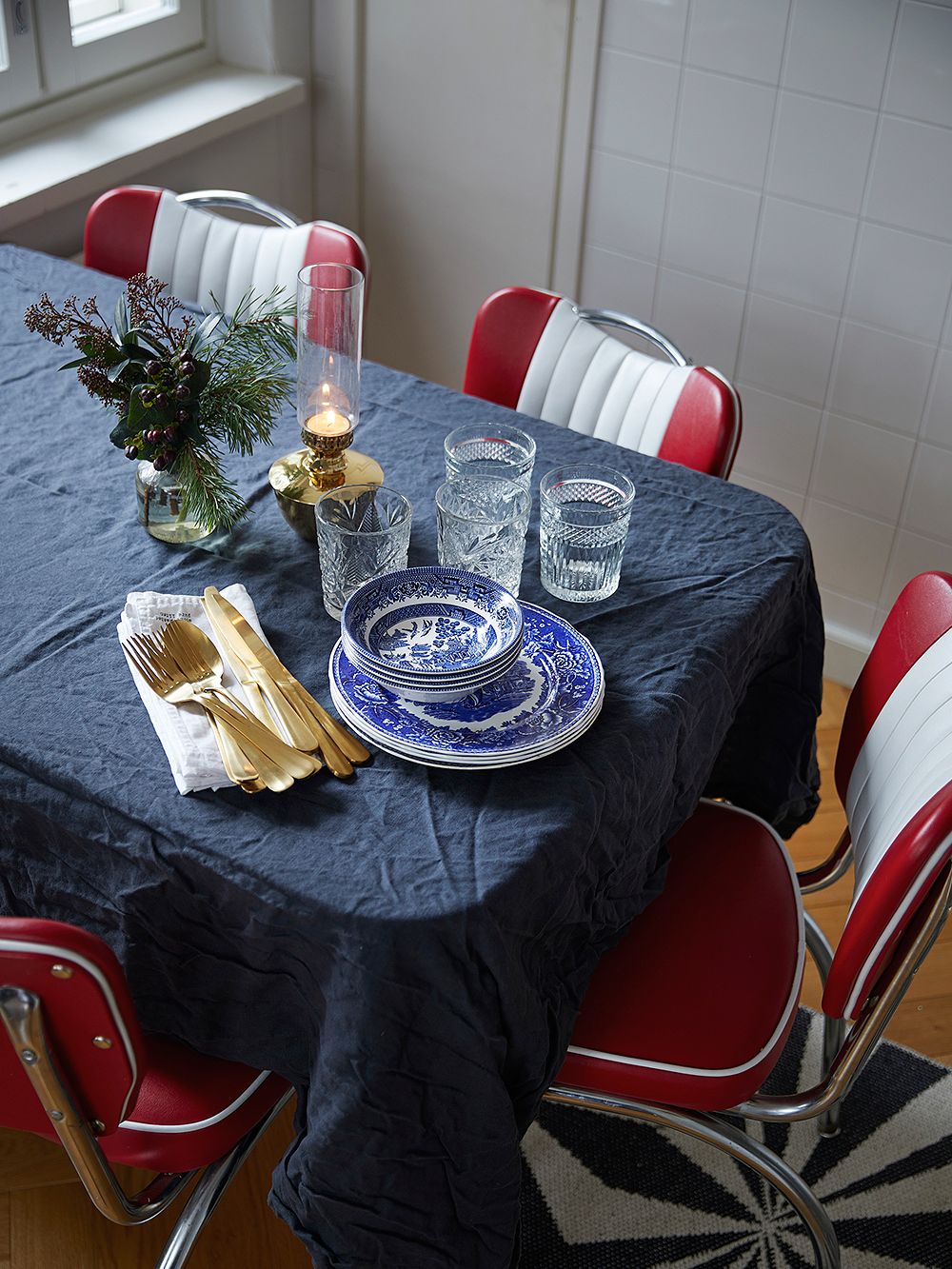 Elina Henttonen, what impressed you at the showing?
"The excellent floor plan and the new oak herringbone parquet. The fireplace was a nice bonus. The doorways had been enlarged, which opens the view from one space to the next. The study/guest room next to the living room gives the room more space. The hall is so spacious that we can fit the pram there — and a laundry rack."
How would you describe your interior decoration style?
"It's mid-century modern, that is, post-functional combined with an American diner style. My latest source of inspiration is the American boho style, which you can see in the living room rug, tasseled decorative cushions and plants. I would like to have more rattan, but I haven't quite figured out where I could fit my 1950s rattan serving trolley from the balcony.
Whenever I find a new piece of vintage furniture, I have to get rid of something else. So, gradually and inevitably the interior decoration changes according to our tastes. However, it's all related to the 1950s. We also have some odd objects, such as loose heads: you don't have to take everything so seriously in interior decoration."
"My style is mid-century modern, that is, post-functional combined with an American diner style."
How did you come to love vintage?
"I have found nice pieces of furniture at flea markets and discovered that old items are of higher quality, cheaper, more personal and ecological than new ones. Of course, you have to go through more trouble to find them. You feel great once you've found a gem after a long search."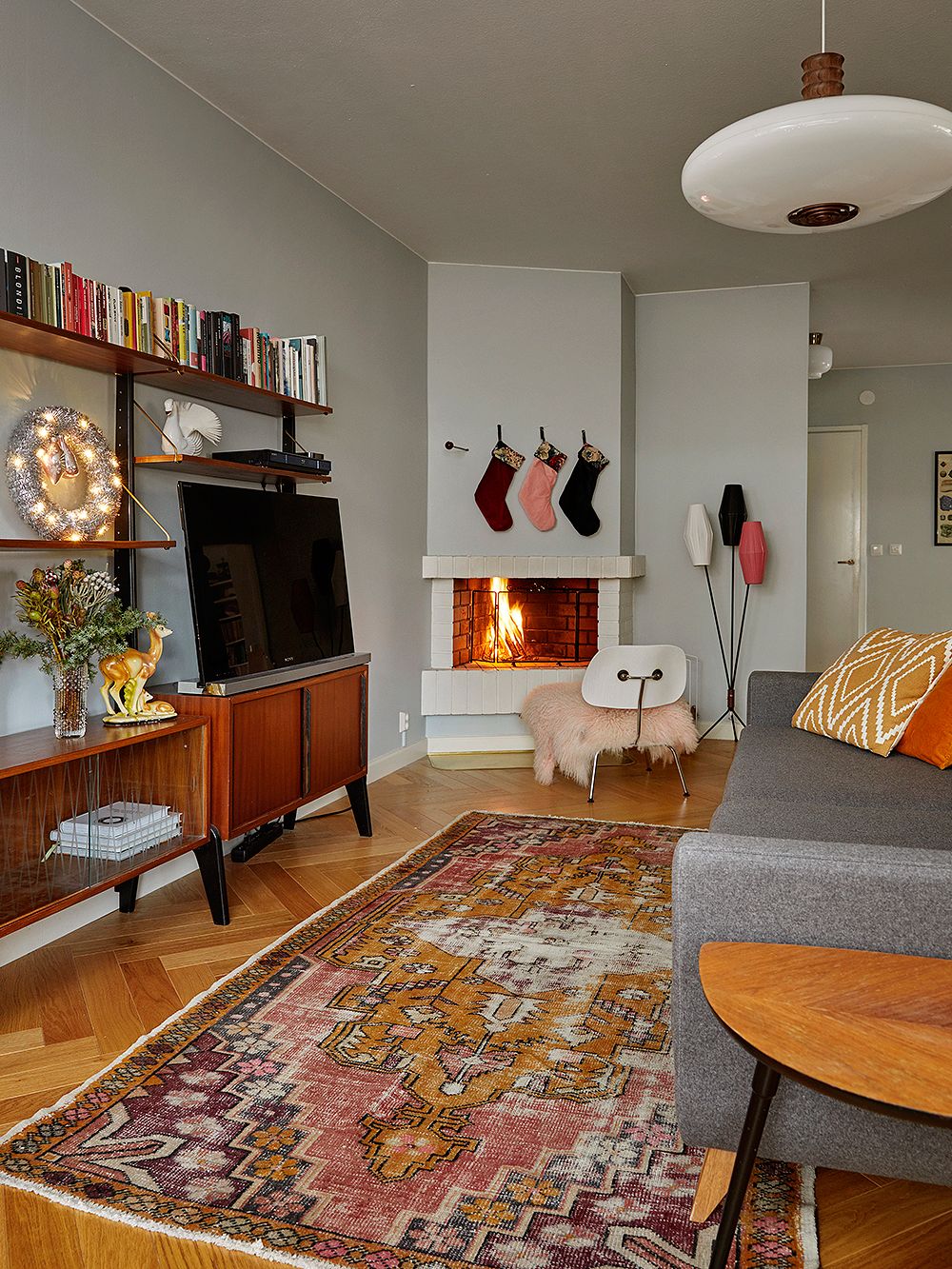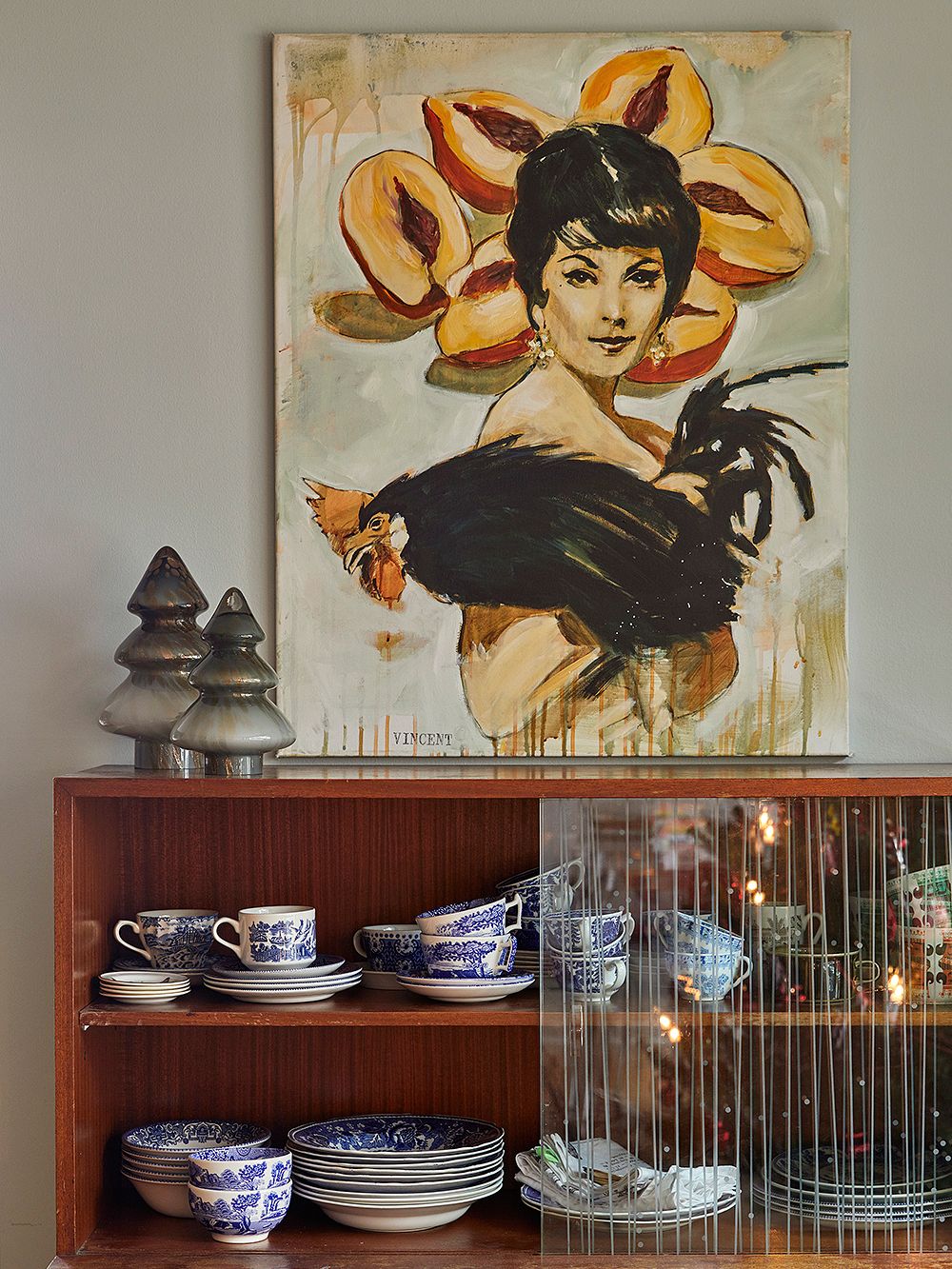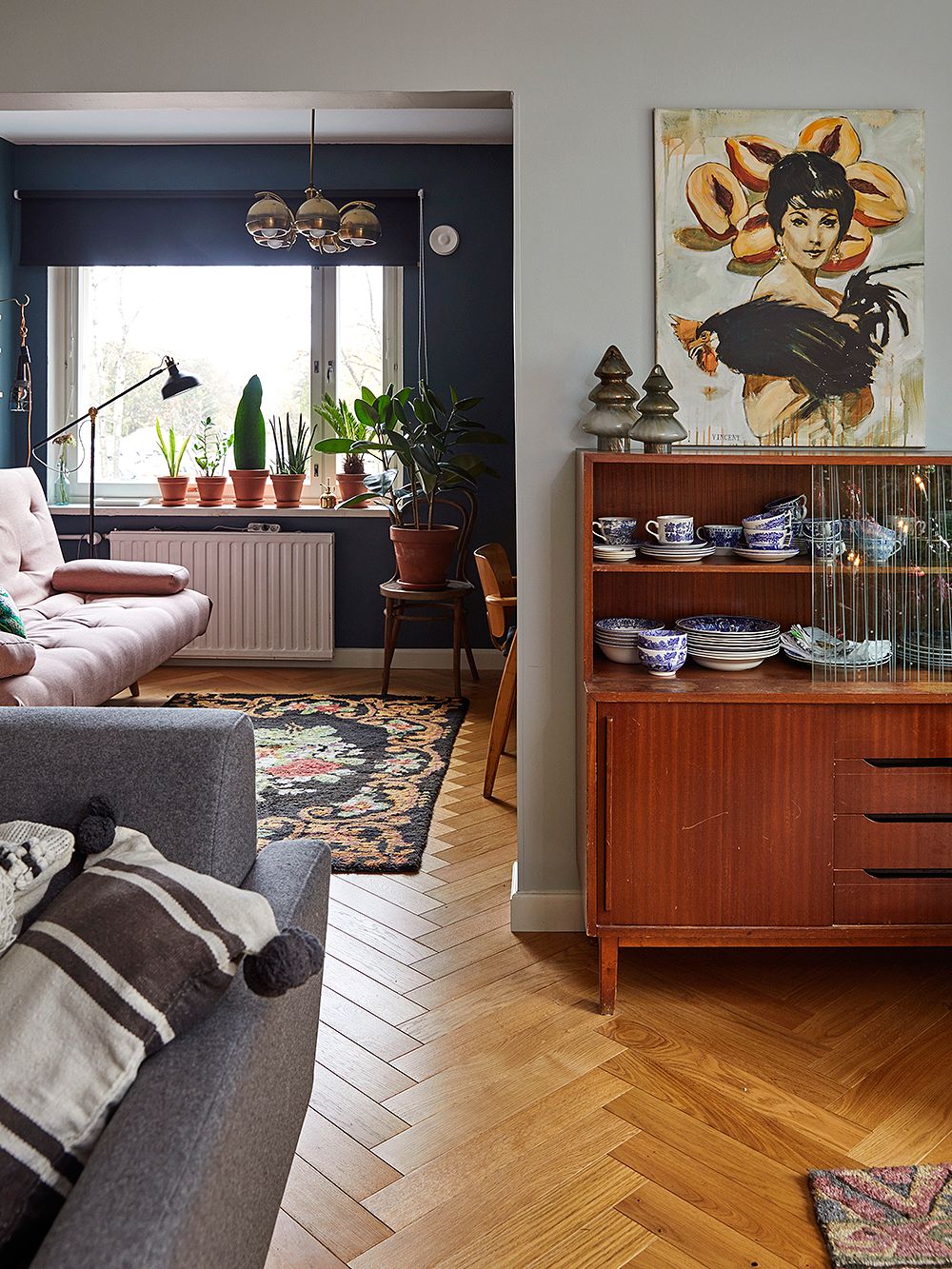 How do you manage to find such great vintage items?
"Because of my work, I follow trends carefully. I bought teak and rattan furniture before the demand and prices skyrocketed. I have bought lots of furniture online and the Bukowskis Market online auction. But I've made by best finds in a Facebook recycling group. You can't ponder on things for too long; you have to make up your mind quickly, usually in seconds. So, you have to know right away what you want. You should take a screenshot of any sales ad on Facebook in order to offer wrong purchases to the next one in line."
Mention a few of your best finds.
"I went without a ceiling lamp in my study for a long time. When I saw the lamp I now have, I knew right away that it was what I had been looking for. I clicked on it immediately and closed the deal at EUR 25. I bought my glass vitrine for EUR 35 and only then started thinking about how to get it home. It has scratches, but if they are small, it doesn't matter, because it's alright for history to show. An old piece of furniture is not supposed to be perfect."
"Scratches are alright — an old piece of furniture is not supposed to be perfect."
How has your work at an interior decoration magazine affected your style?
"I see a lot of nice stuff in my work — but when the same fashion elements are repeated, I tend to want to avoid them and look for some personal solutions. Sometimes when we have photo shoots, I fall for something and buy it for myself. You create and become sure of your taste in this line of work."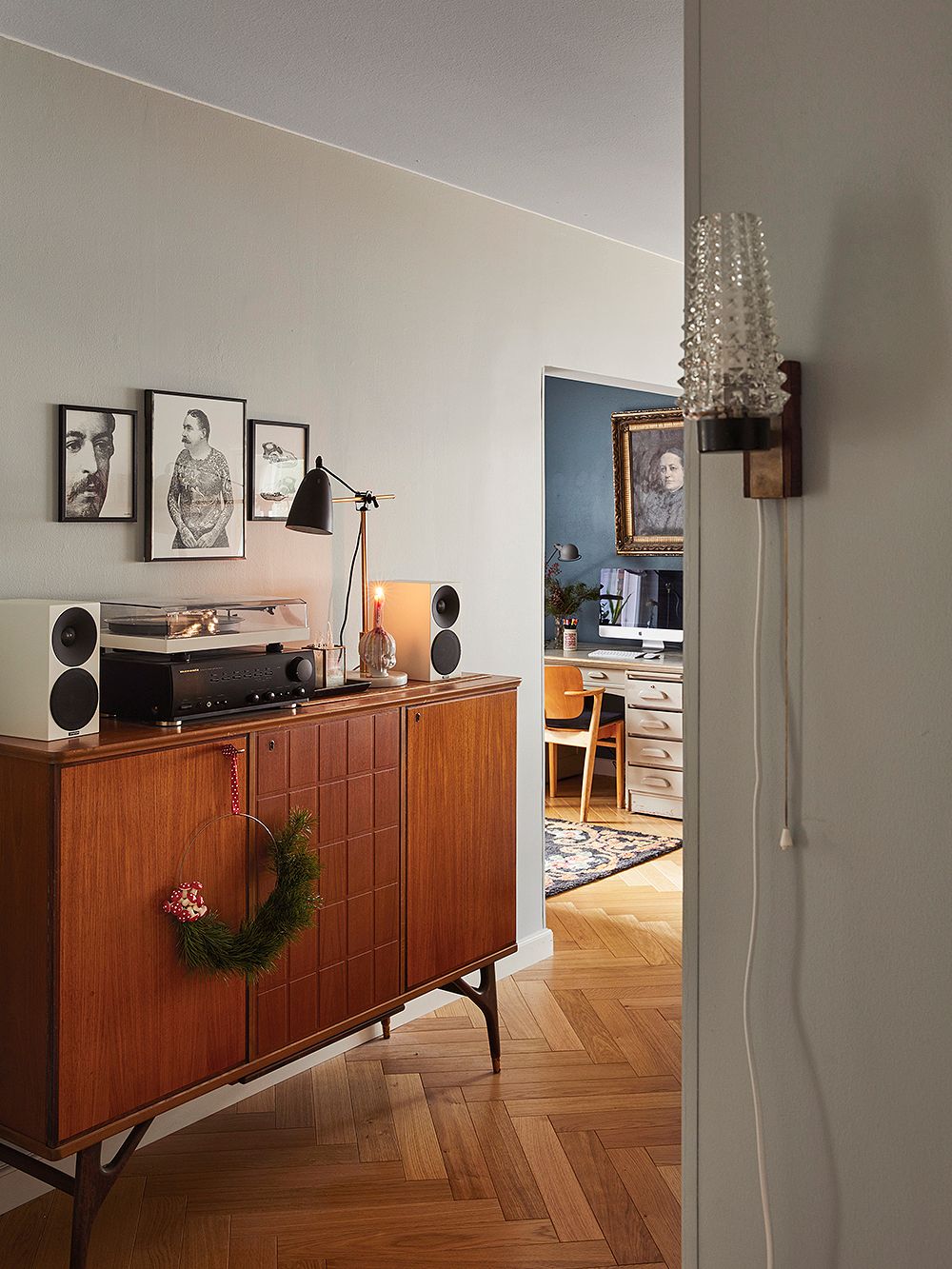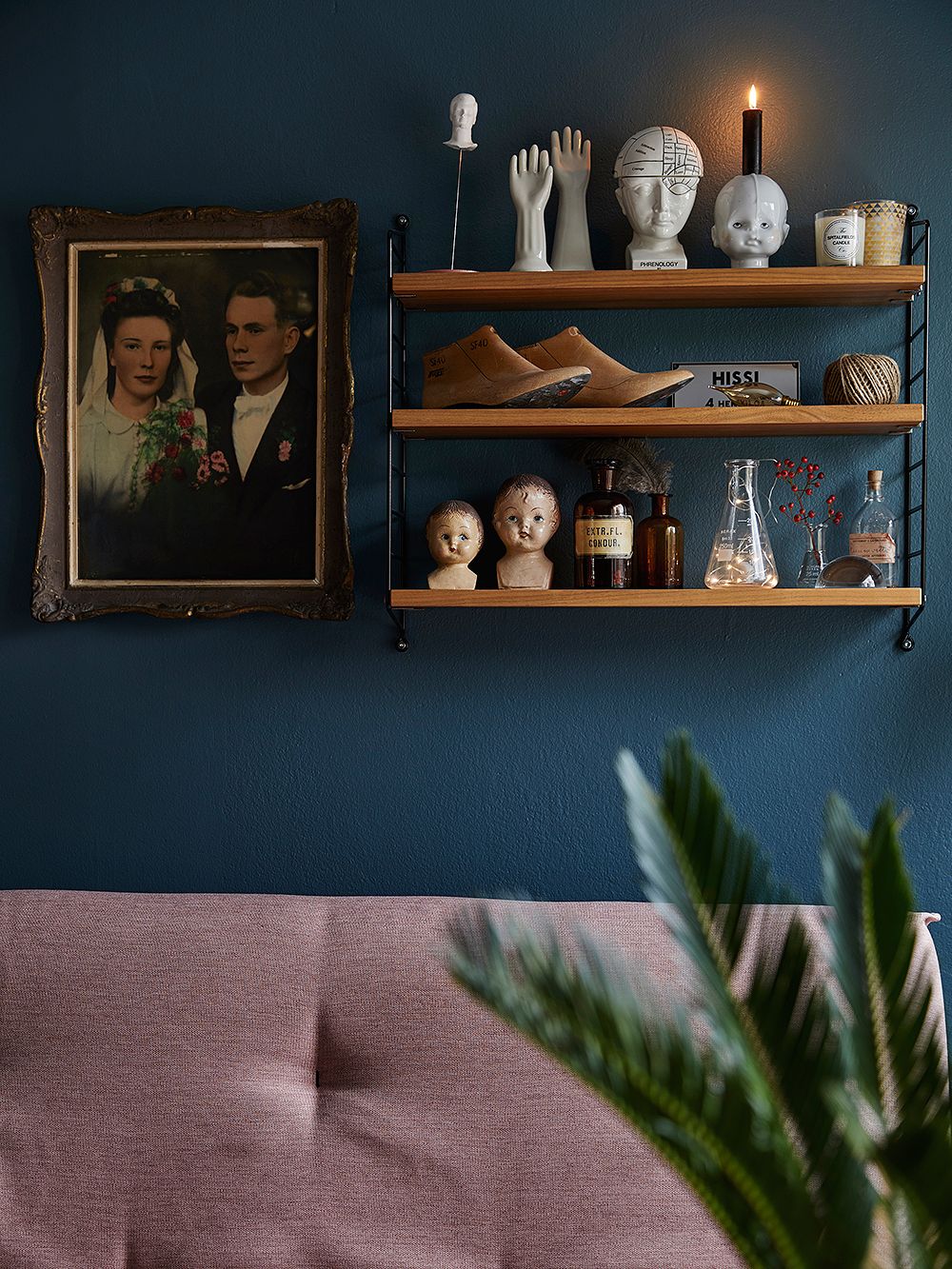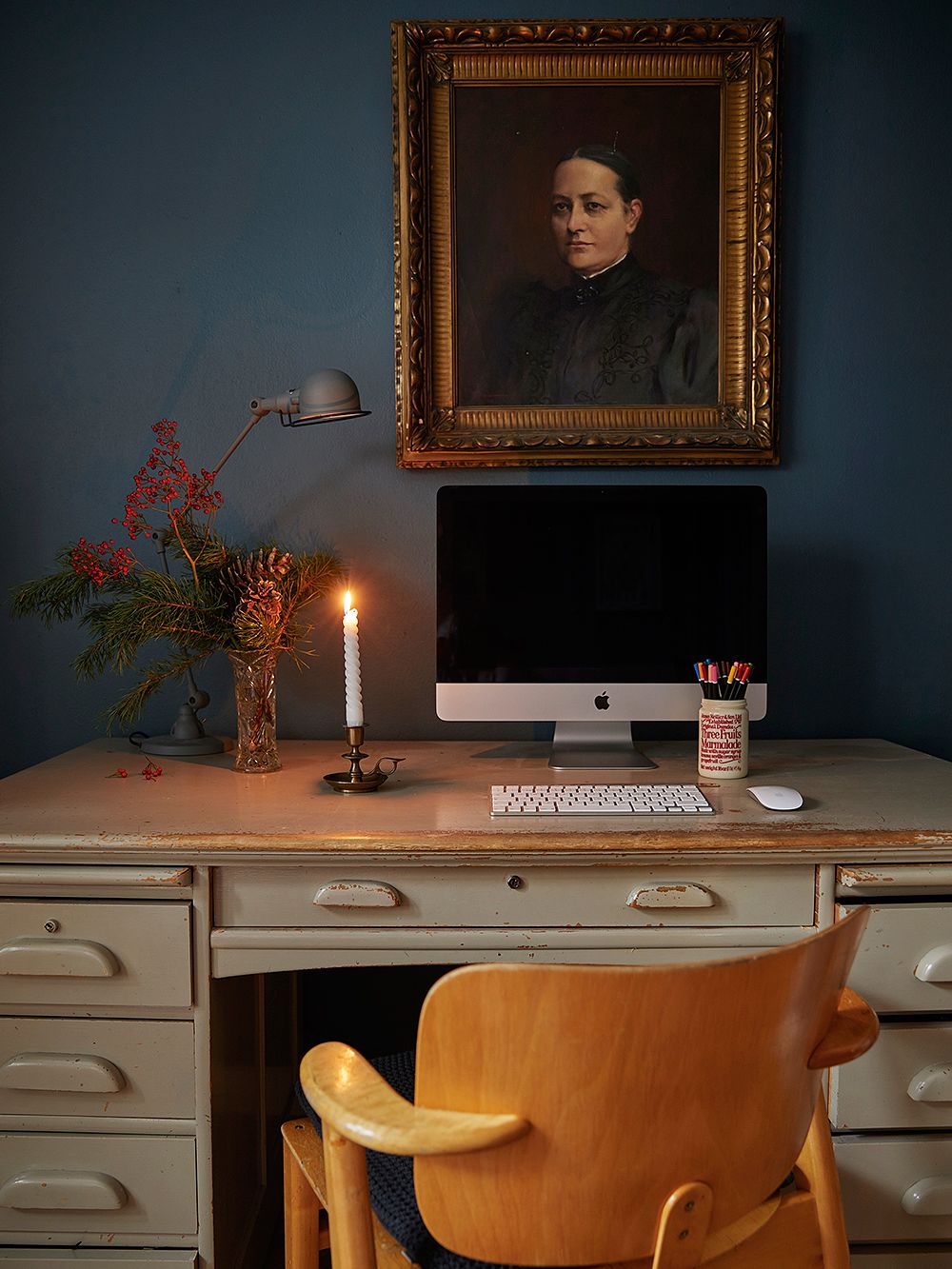 Has your child forced you to make stylistic compromises?
"There are toys all over the place. You can't have anything breakable at a height of less than a meter. A tall sideboard that can be locked has been excellent. We can put things inside and on top of it out of our daughter's reach. In Matilda's room, I wanted to avoid children's furniture and patterns in favor of something that lasts a bit longer. It's alright to have vintage also in the nursery!"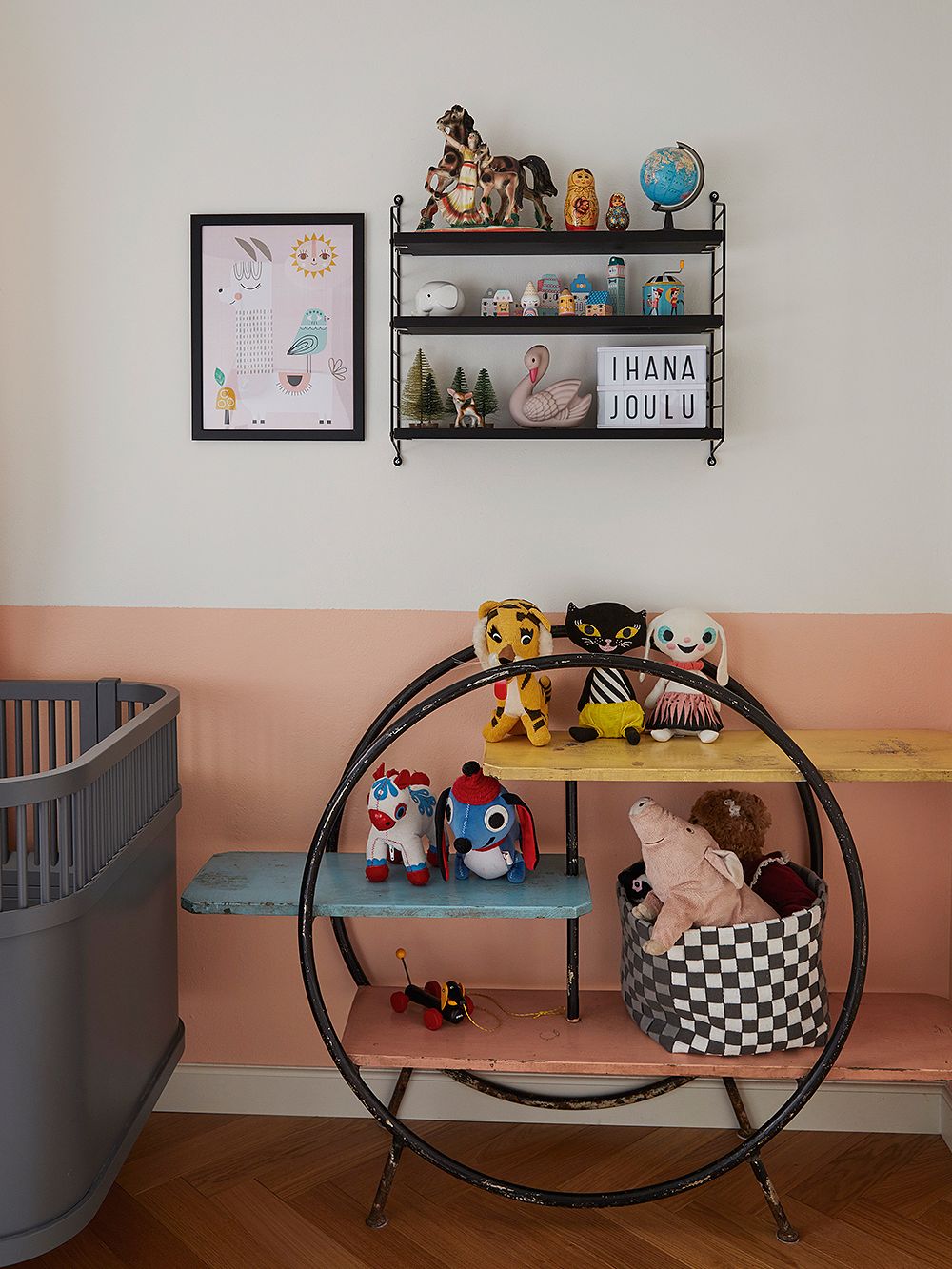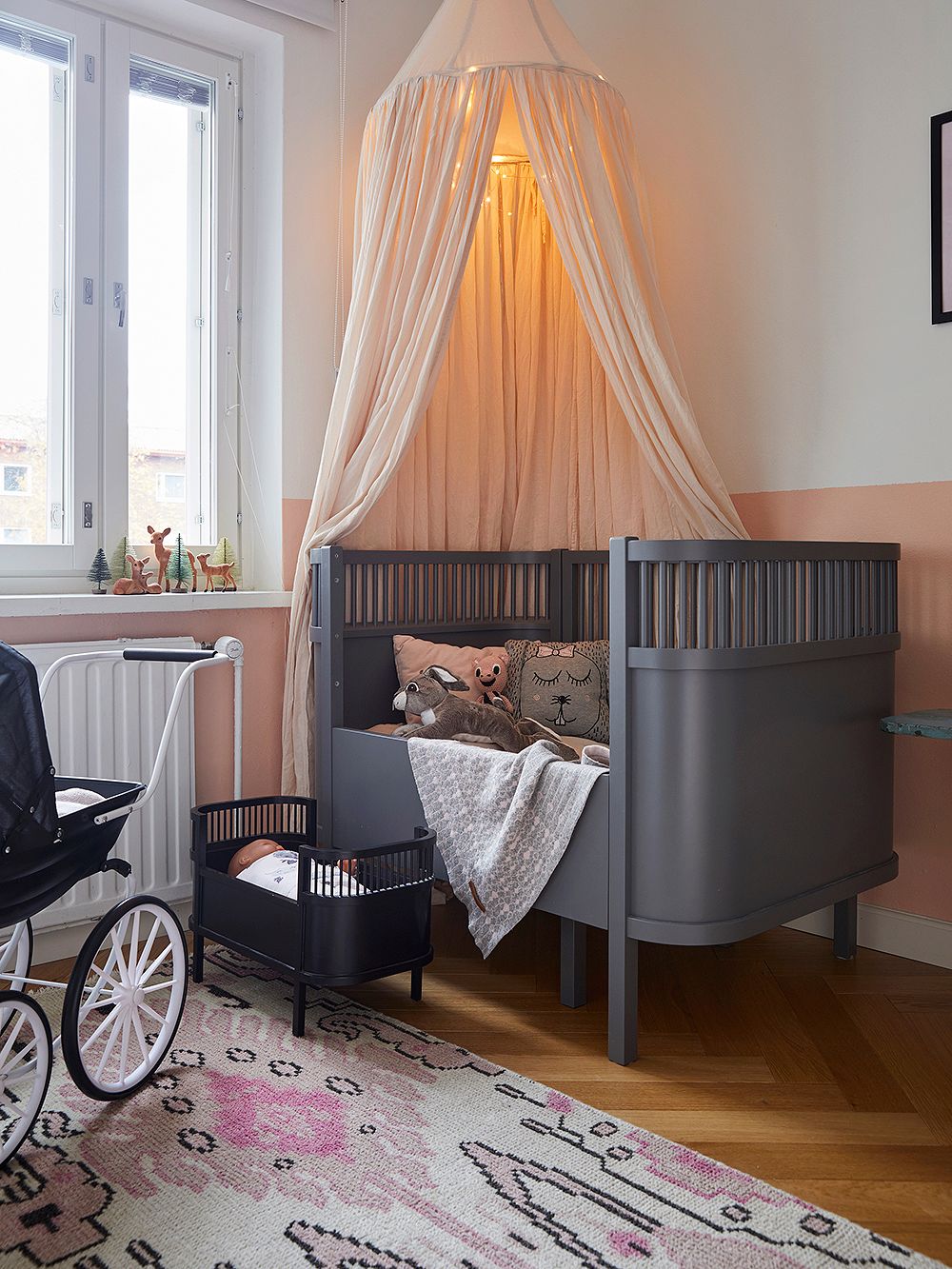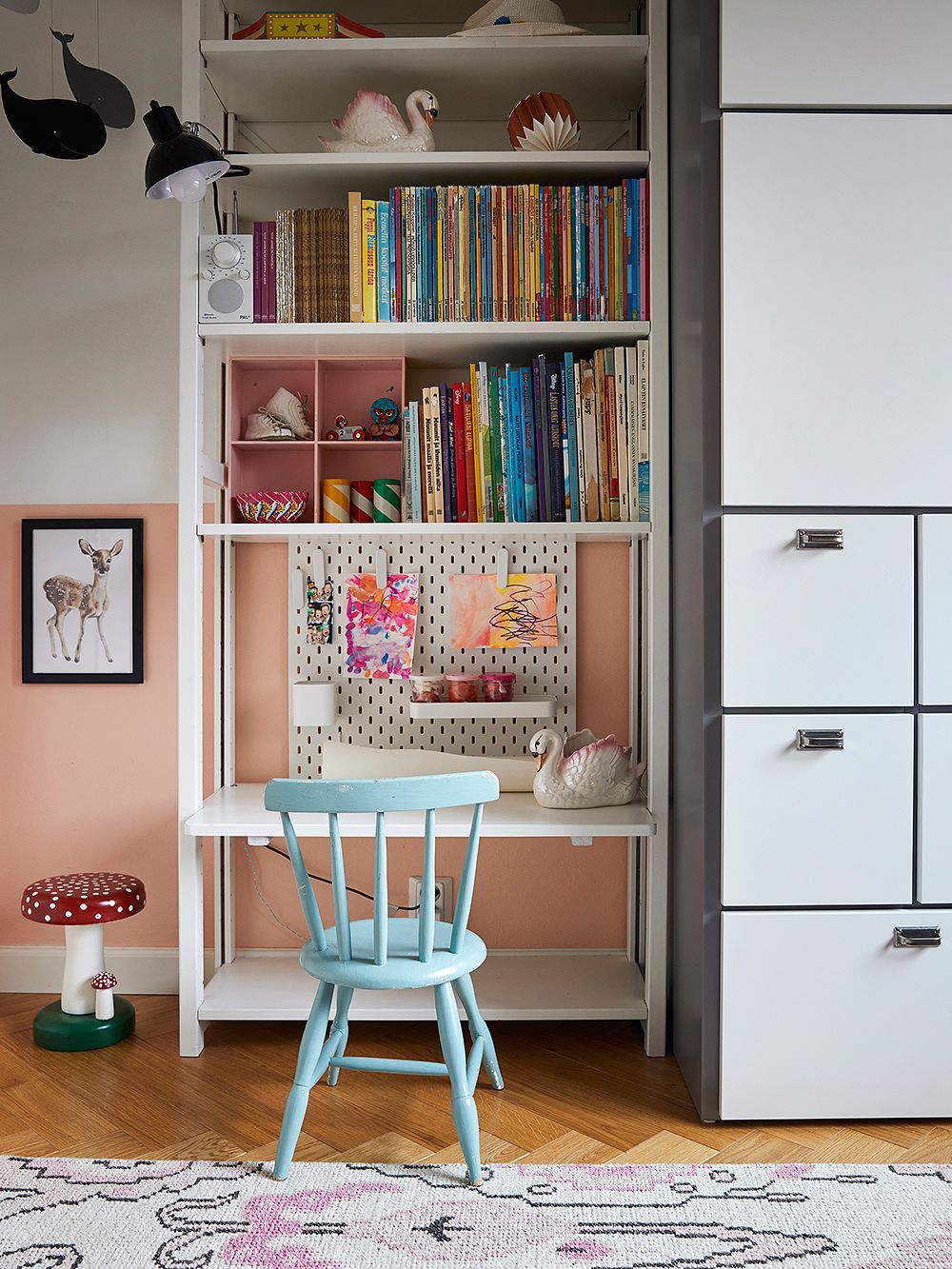 Choice of paints is not easy. How did that go?
"Before we moved in, everything was pure white, but that simply wasn't our style. The dark grey for the bedroom was a poor choice on my part. I felt that something was missing. The color for the nursery didn't go right the first time either: the pink I chose was too cold. I spotted a nice apricot color from a KappAhl plastic bag that went well with the gray and is not too much of a princess color.
I was looking for a greenish gray for the living room, but it appears light blue in the sunshine. The cold light on the north side makes the colors cooler. Fortunately, my Vincent Bakkum painting goes beautifully with the light blue, which makes the color choice seem carefully selected. White walls are typical for the American boho style. And the living room is rather dark. Maybe we'll return to white some day!"
"Before we moved in, everything was pure white, but that simply wasn't our style."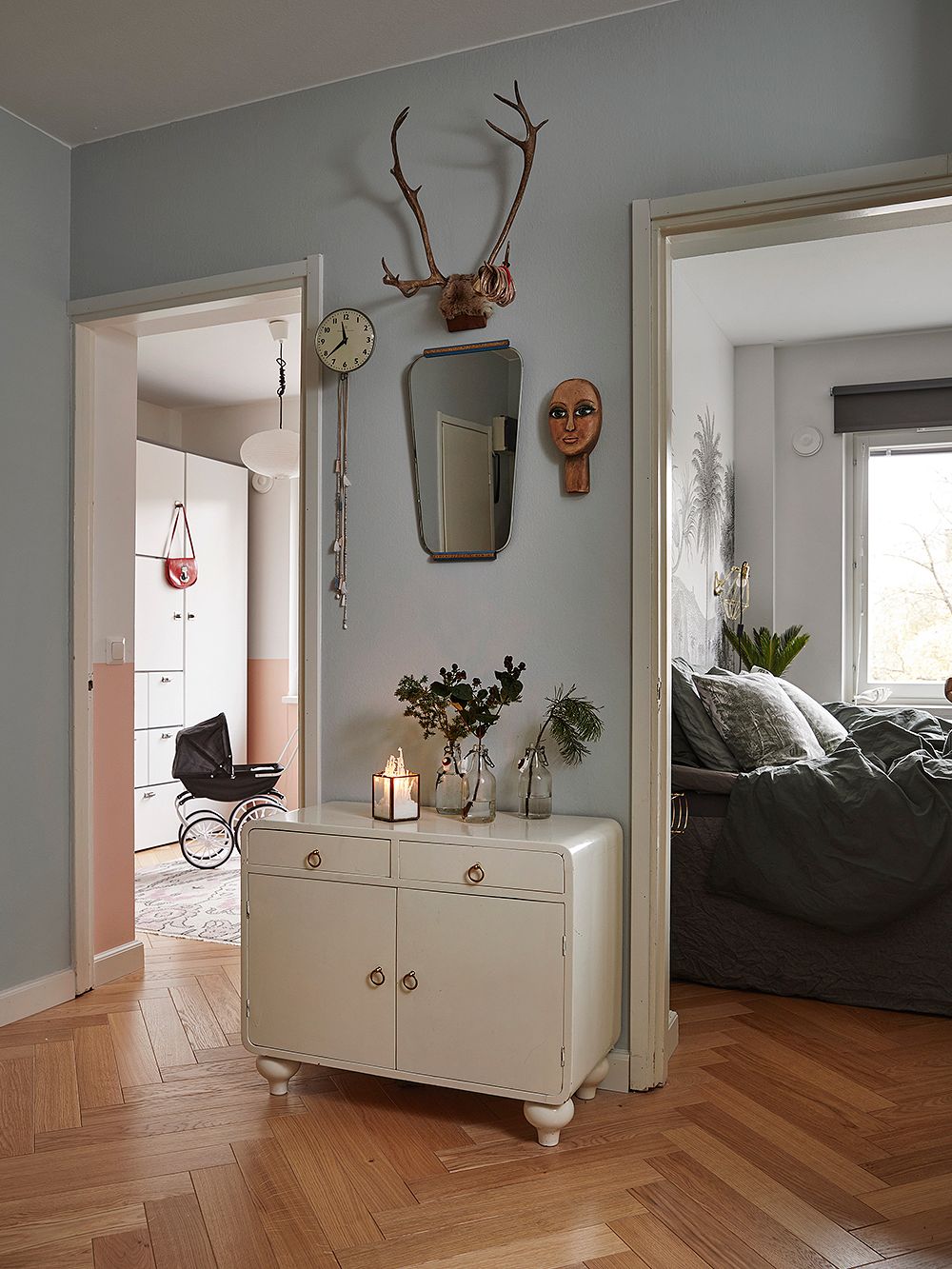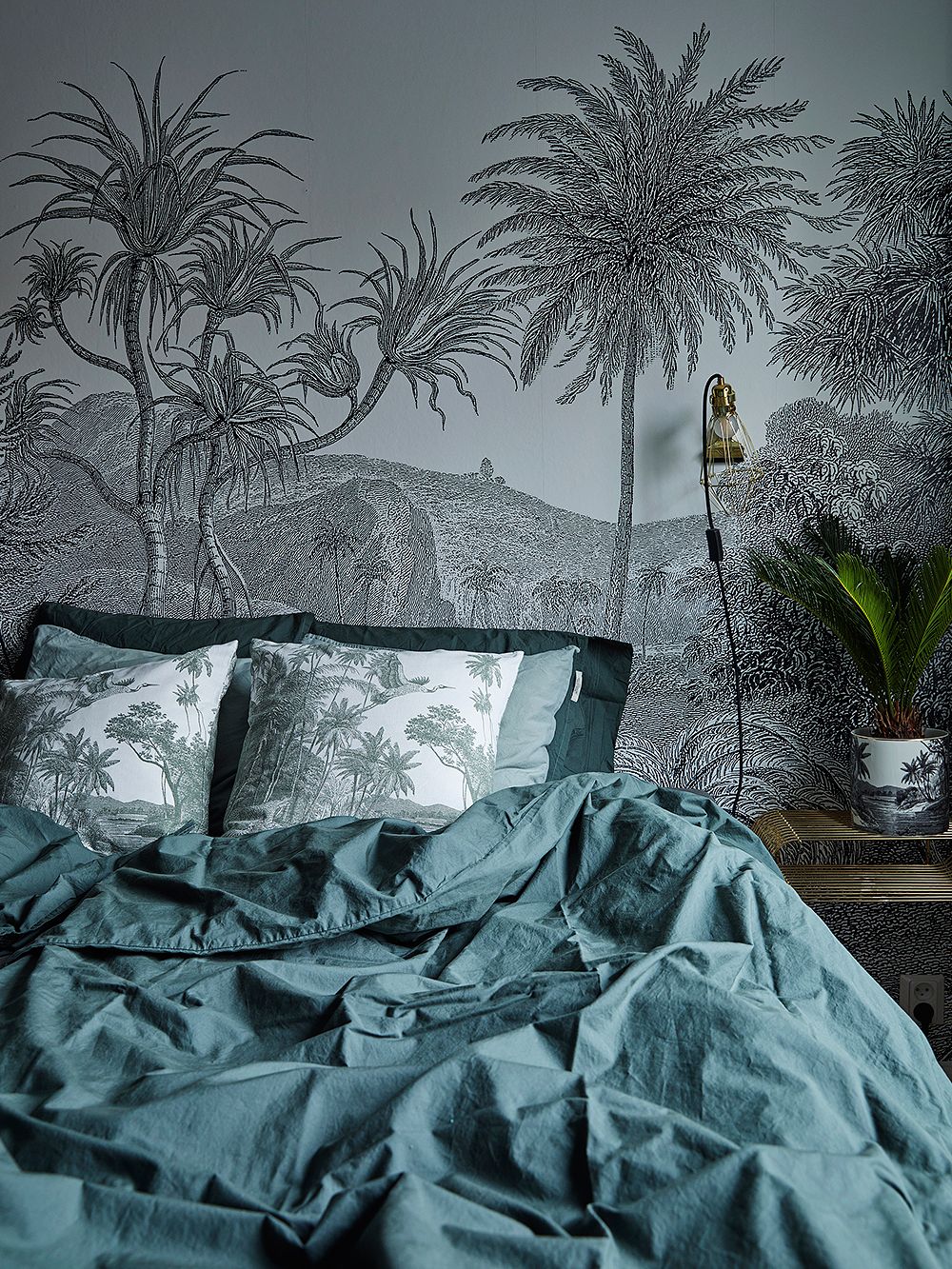 How do you feel about Christmas?
"It's part of my work to plan Christmas already in May, but I'm still enthusiastic about it. Making wreaths is good fun. My card workshop and an evening of gift-wrapping are important Christmas preparation rituals."
Do you remain faithful to your style also during Christmas?
"We have plenty of American-style decorations, such as over-the-top wreaths and Christmas stockings. We brought our old-fashioned glass baubles from the States. The glittering Elvis from Key West always gets the best spot on the tree. When we start playing Elvis's Blue Christmas on the LP, the first notes transport us to a Christmas feeling. We have a plastic Christmas tree, because we are never home for Christmas."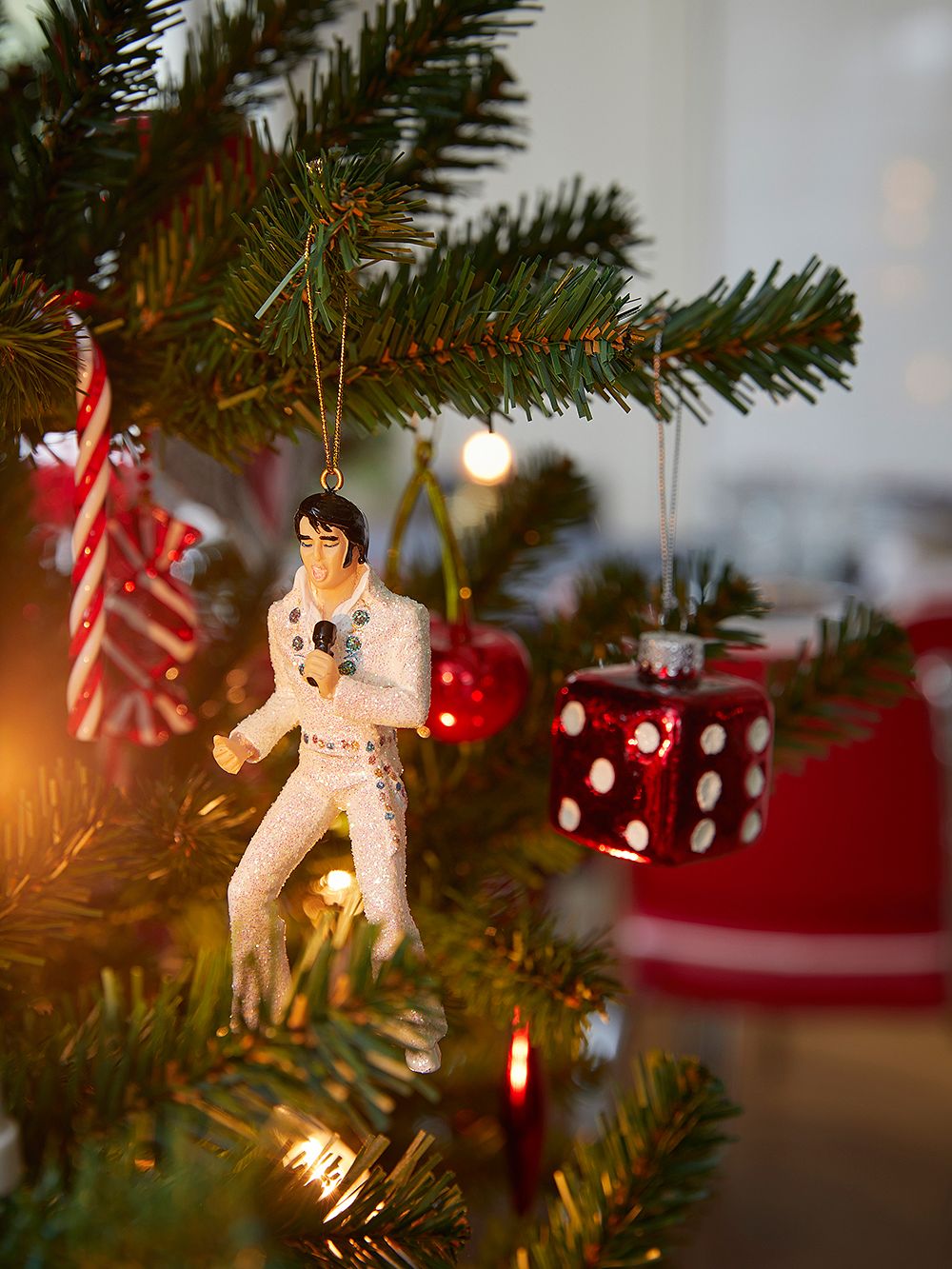 Is your home ready now?
"Having a child, decorating our home has been slow. It's only now, after two years of living here, that we seem to be ready, with the fengshui in balance — until the next vintage discovery will force us to change things."
Text: Miia Kauhanen and Elina Henttonen Images: Johanna Myllymäki
This article was originally published in Avotakka 12/2018.