Susanne and Mika's nature-loving family lives in a semi-detached house decorated in earthy tones, where the children have their own mini-kingdom. The rural landscape changes color with the seasons.
Residents:
PR and Marketing Manager Susanne Palmu and Country Retail Manager Mika Puolimatka and their children Peik, 6, and Knut, 3. The home is a semi-detached house built in Kirkkonummi in 2014 with 95m² of floorspace.
FIREPLACE, FUR AND FEELING. This hillside home on the edge of an open field looks like something from a hygge book, with its warm presence, varied decor, floral arrangements, candles, and buys from the nearby farm shop. Susanne Palmu, whose work involves following trends, loves colors but has opted for sedate tones at home.
She and Mika Puolimatka moved to Kirkkonummi when their first-born son was six months old. Another son and almost six years later, they are still in the same house. The couple swapped the urban environment of their 1920s home in the Ullanlinna district of Helsinki for the magnificent nature trails and shorelines of Kirkkonummi. The scale of the change initially worried them. Concerns about the long commute, urban living and losing touch with friends proved unfounded for the pair, who were surprised by their new home's practicality and proximity to mushrooming, fishing and nature. Their beautiful home is ideal for spending family time and hosting dinner parties for friends.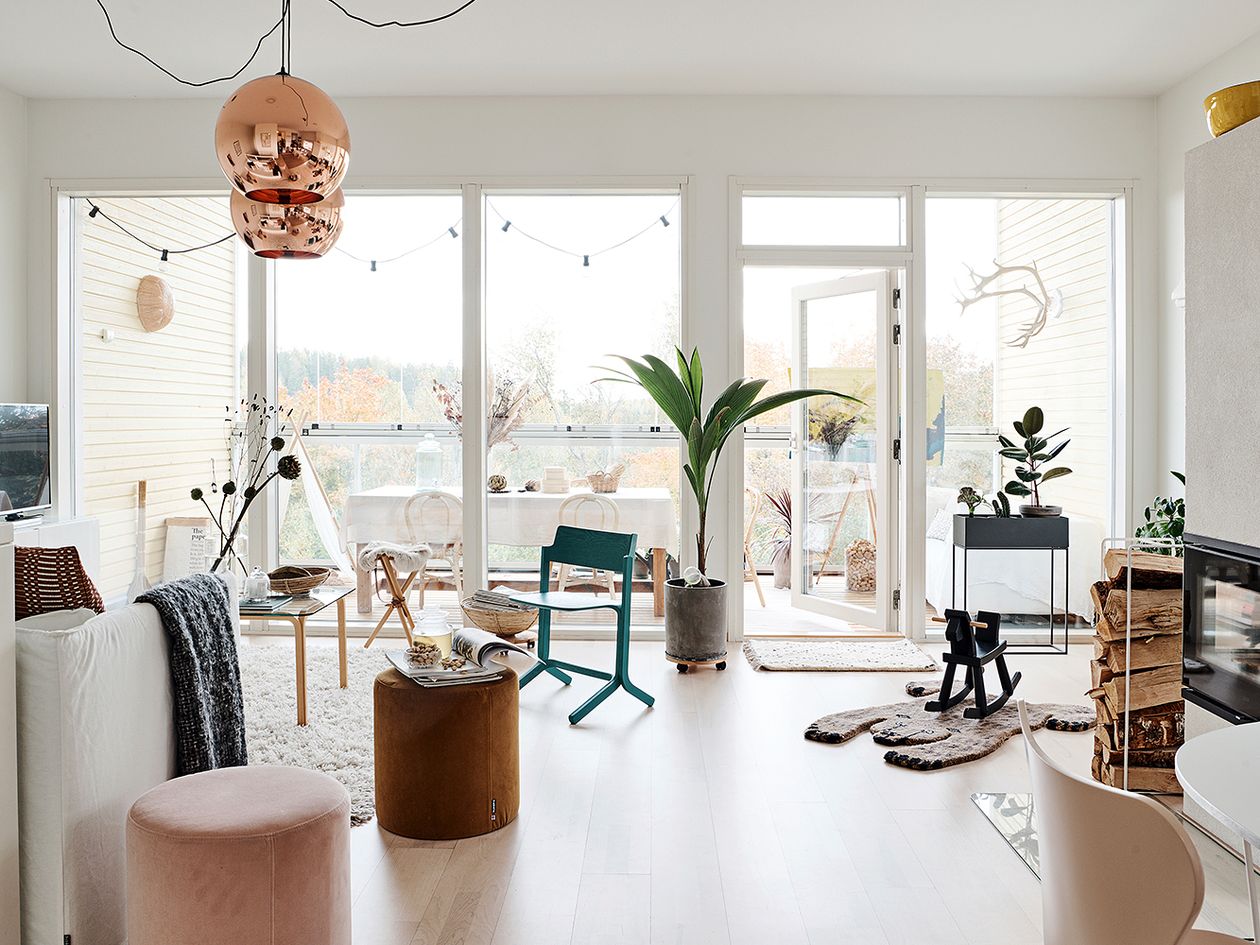 In a farm setting
Susanne and Mika's bright home is decorated in rich textures and earthy tones. Views of natural landscapes, a fireplace and buys from a local farm shop are savored. Splashes of color are created upstairs by Moon poufs by Hakola, a turquoise chair by Hay, the Bear rug designed by Teresa Moorhouse for MUM's, and Copper pendants by Tom Dixon.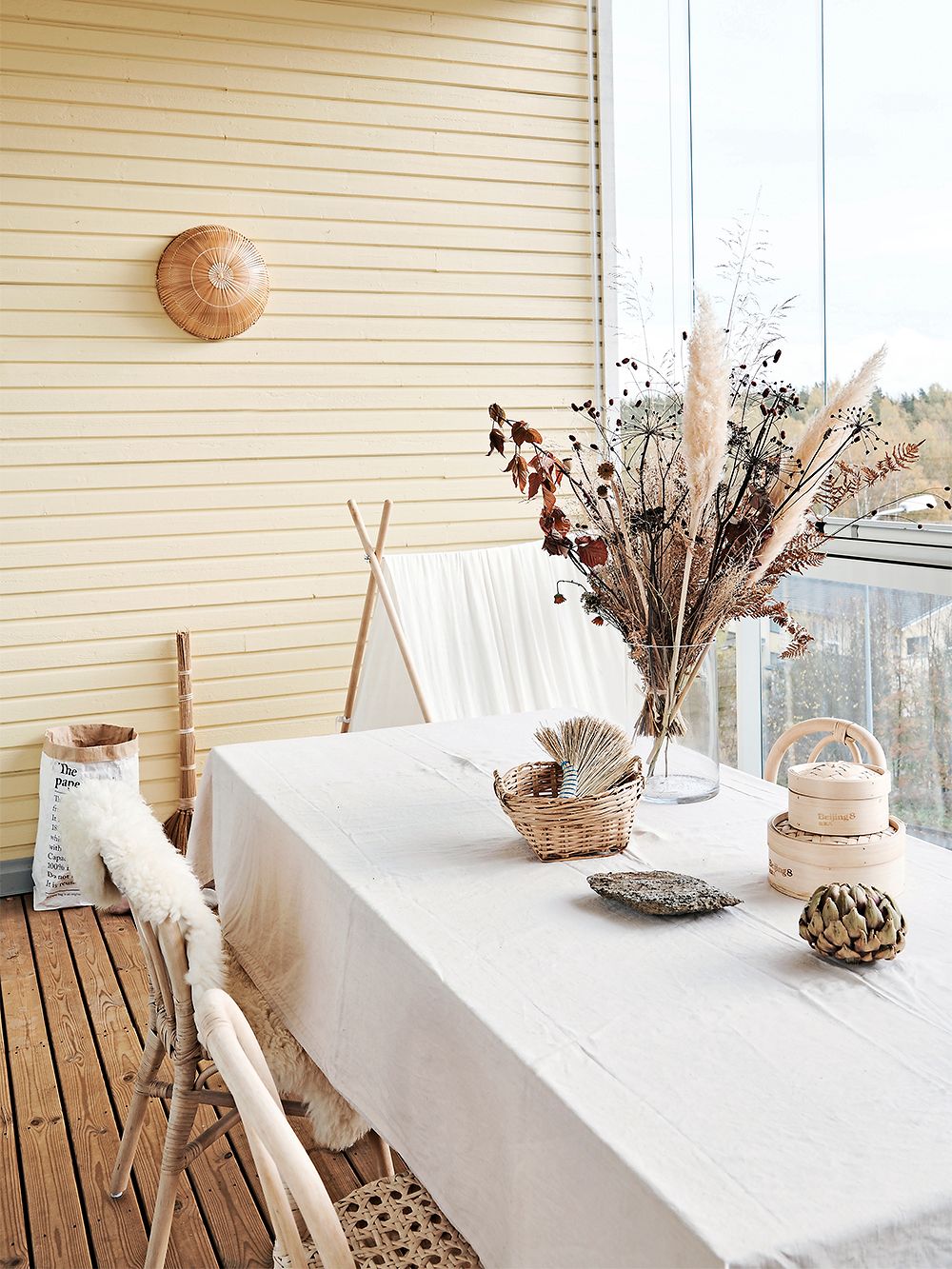 Inspired by nature
A natural milieu attracted Susanne and Mika to move from downtown Helsinki to Kirkkonummi, located at the western side of the Helsinki Metropolitan Area. This outdoors family spends its free time in a natural setting. Favorite destinations include Norway, Finnish Lapland and Åland. Susanne has sewed and built a 'hut' for the boys.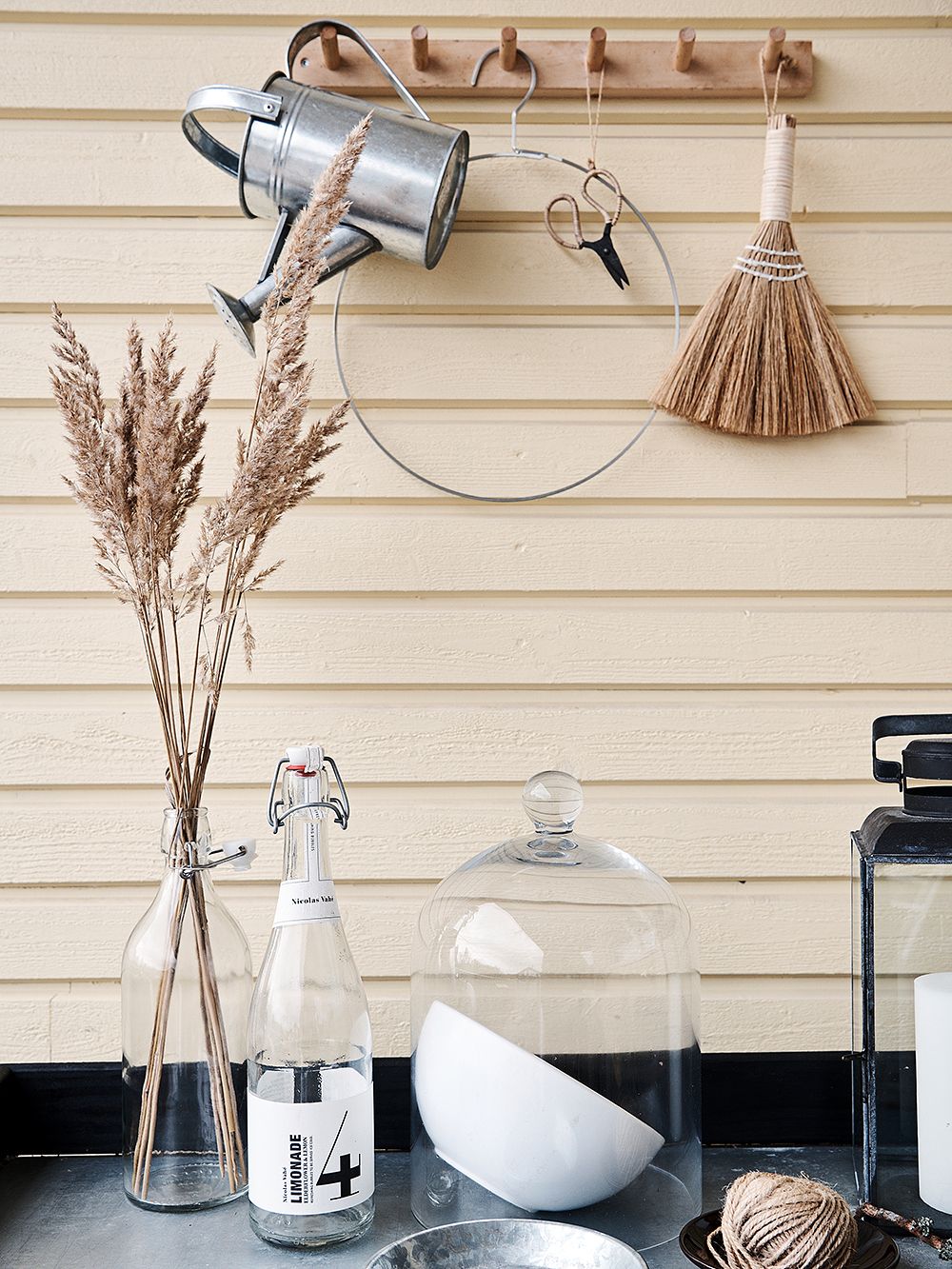 Style continues outdoors
Susanne has a knack for making her surroundings beautiful. The patio of the outside sauna and decor of the outdoor kitchen match the black, steel, natural tones and glass used elsewhere in the residence. The yard, forest and nearby shoreline are sources of free decor.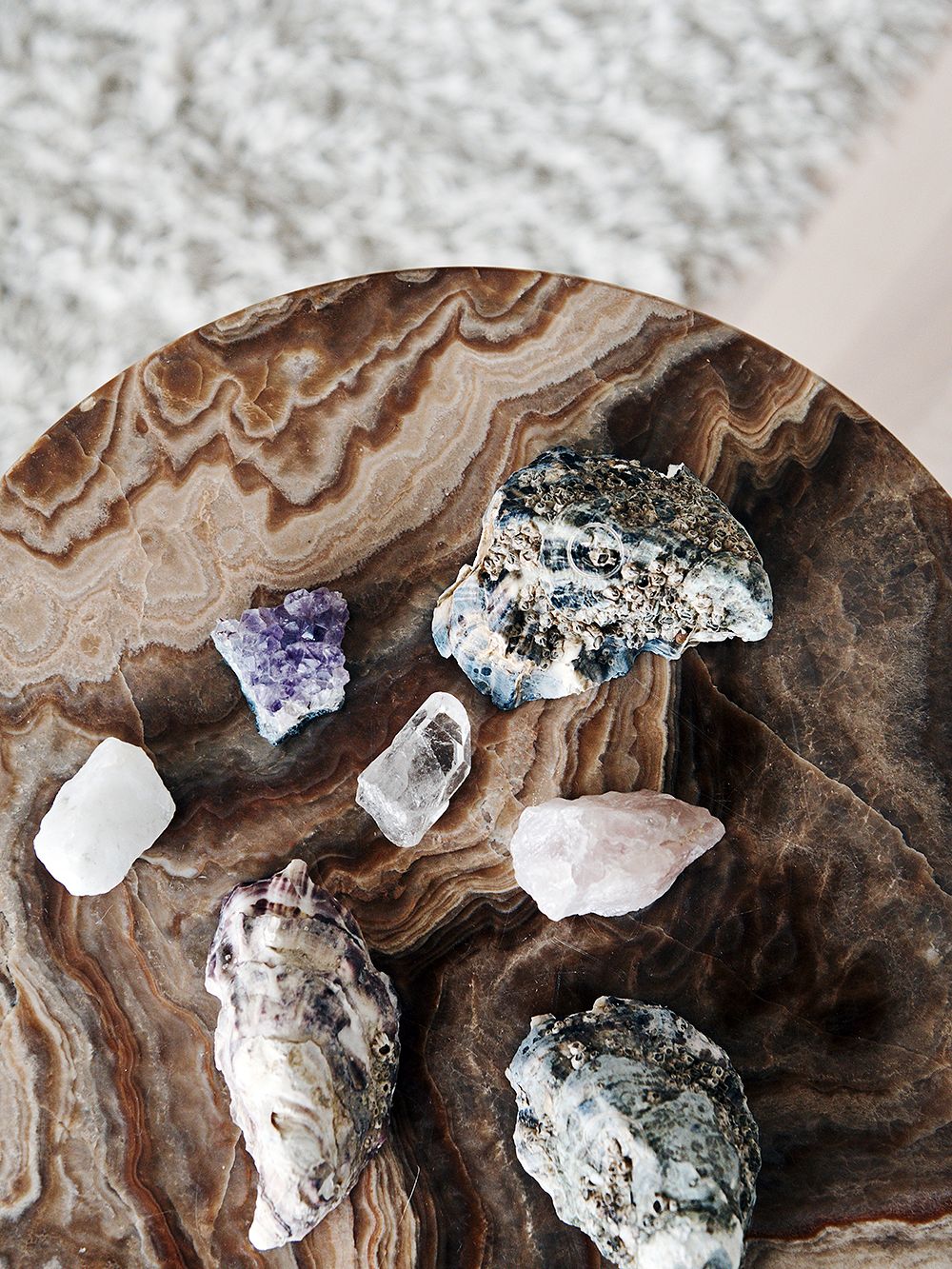 Amazing finds
The couple's boys, Peik and Knut, collect natural treasures, mainly shells and rocks, as well as driftwood from shoreline trips. Some oyster shells, kept by Susanne on the living room table, are a memento from a special evening.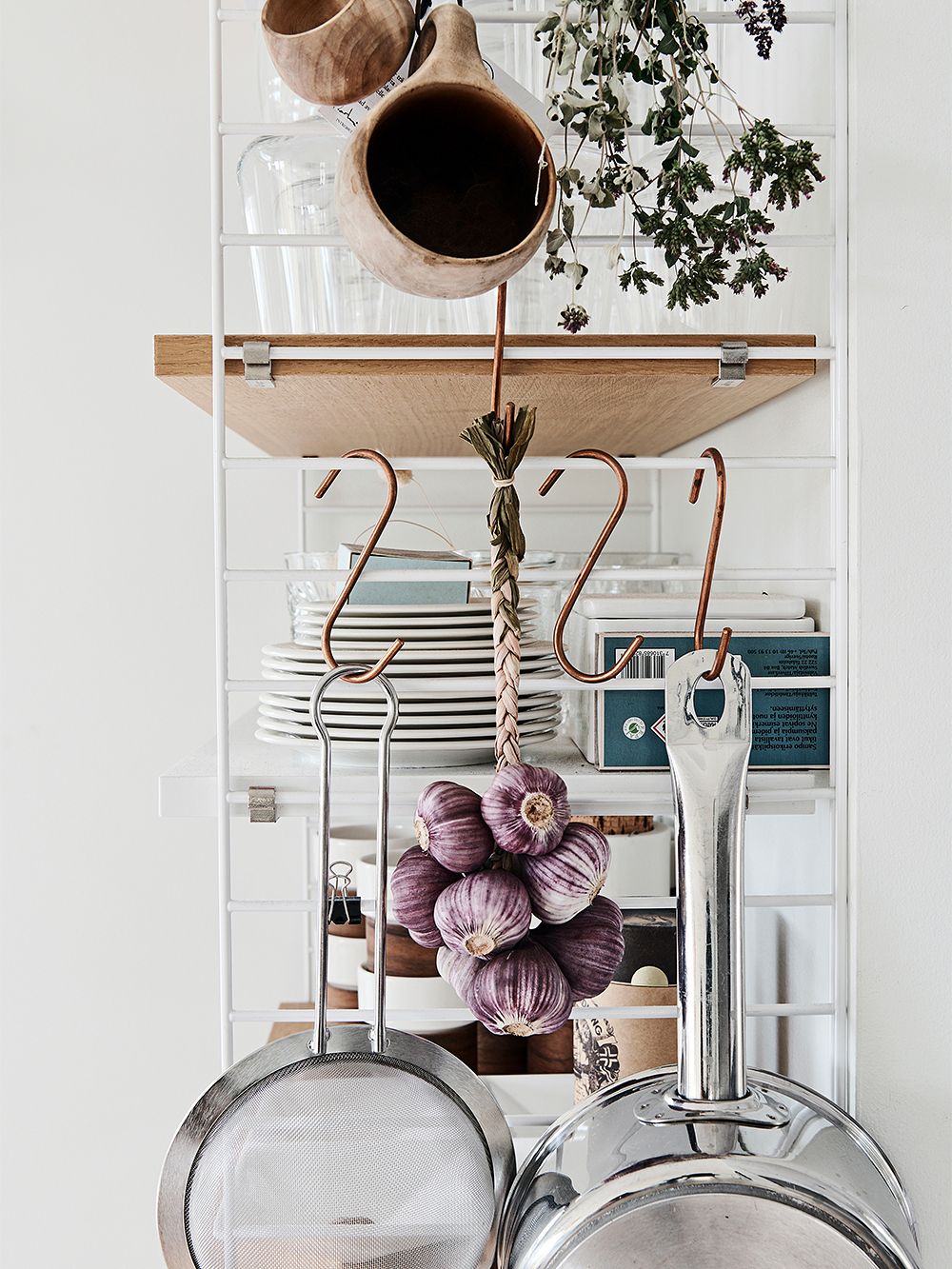 At your fingertips
Beautiful items and cookbooks are displayed on a classic String shelf. The bunch of garlic is from a nearby farm shop, where the family buys ecologically produced local food several times a week.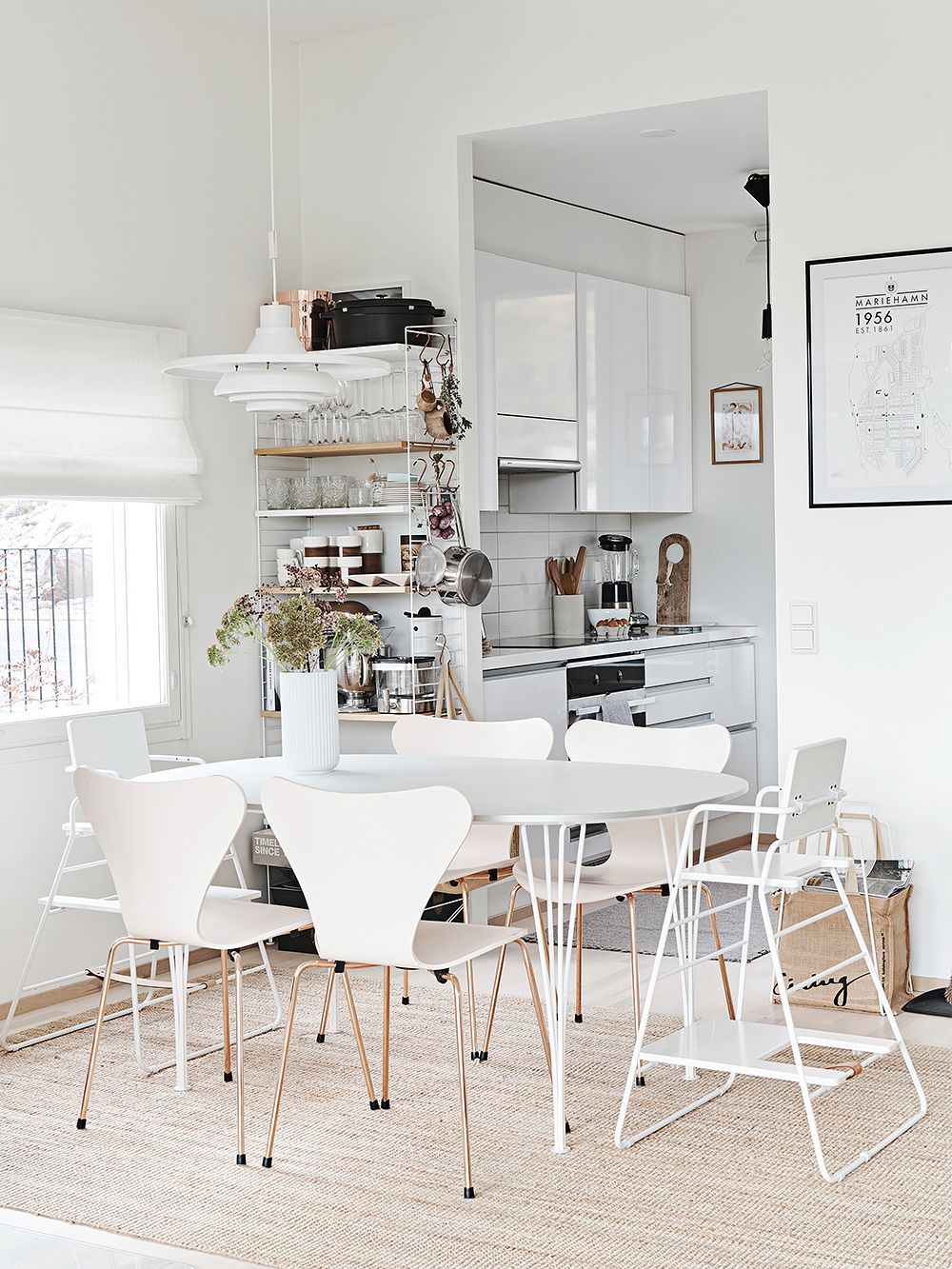 Sustainable values
Susanne and Mika had to wait ten months for the completion of their home. For the surfaces, they chose classic and timeless materials from the Scandinavian color palette. The dining table and Series 7 chairs are by Fritz Hansen. The A337 pendant by Alvar Aalto has long accompanied the pair. The Tower baby chairs by BudtzBendix can be adjusted as a child grows.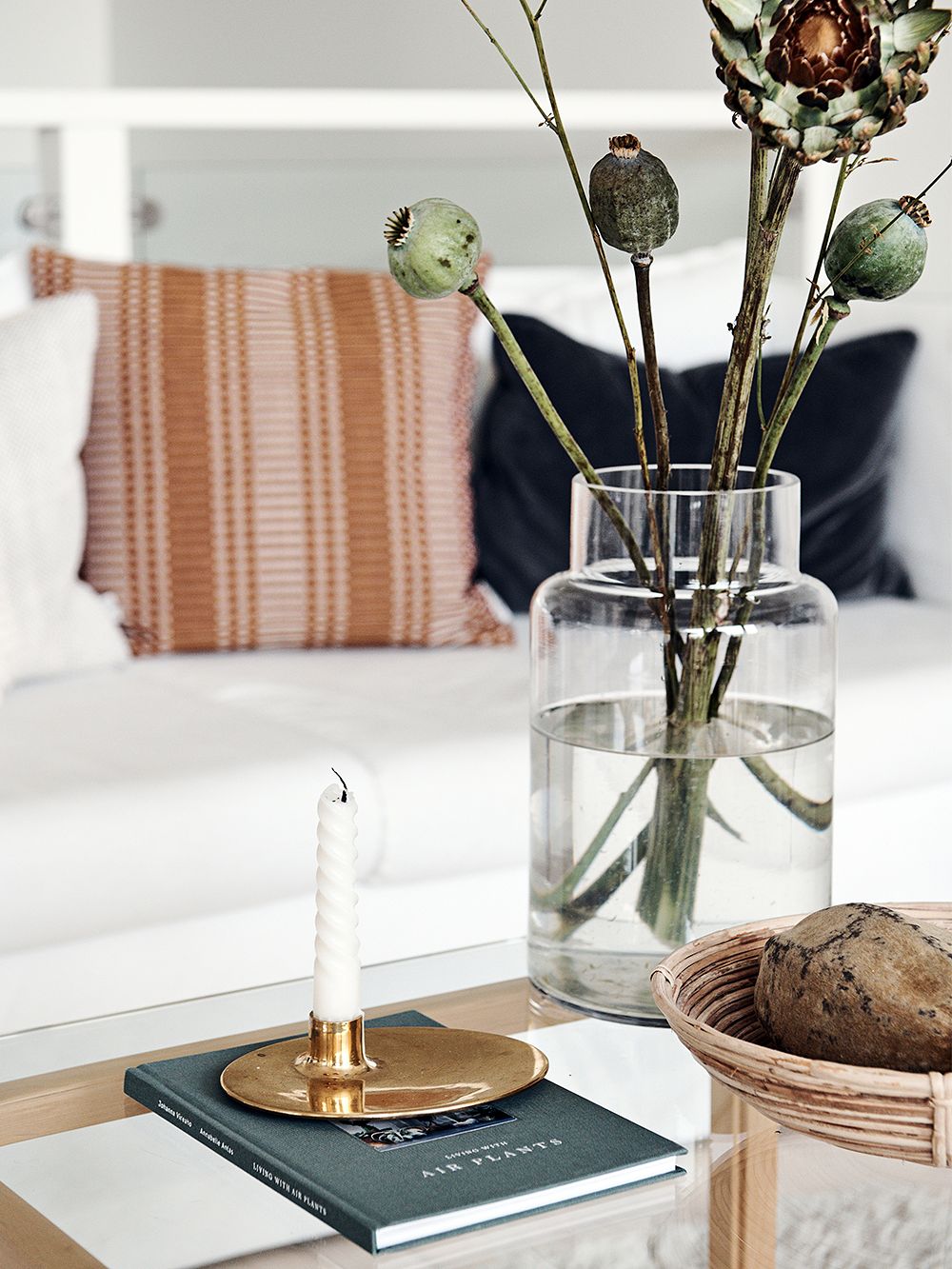 Tranquil living
Light-toned furniture, such as a Filippa sofa by Hakola and an Aalto coffee table, are gathered around a light-colored rug by VM-Carpet. The marble table was a gift from Susanne's grandmother. The terracotta cushion is from Johanna Gullichsen's Nereus collection.
Something black
The sturdy chest of drawers looks magnificent in the corner of the bedroom. Susanne refurbished this recycled item and used wood lacquer to color it black. She made the handles of leather. Susanne aims to do handicrafts with her sons, and engage in her own small projects, as a counterbalance to work.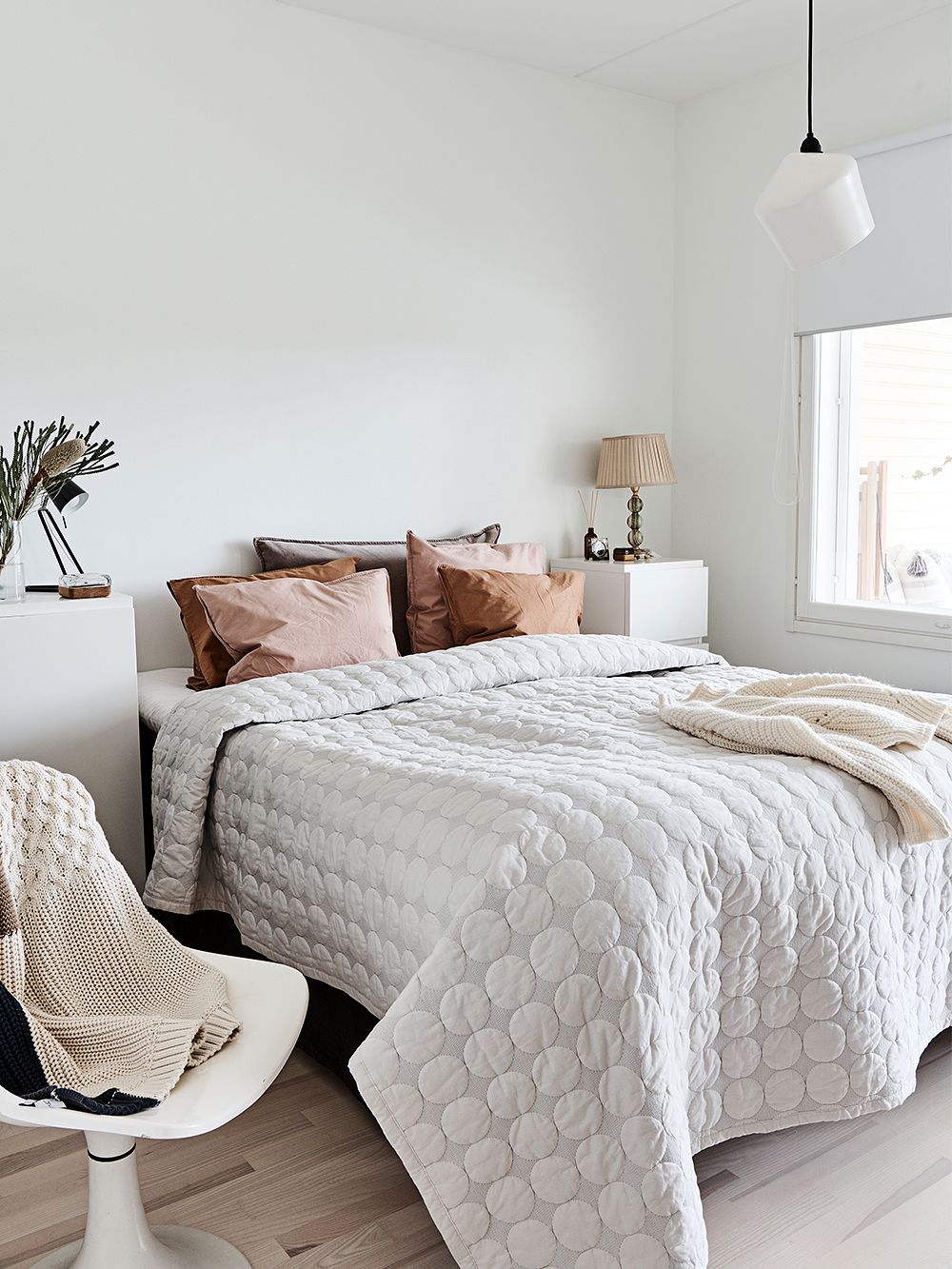 Naps in pastel shades
Hay's Mega Dot bedspread and matching bedsheets bring harmony to the bedroom. Susanne's cup chair has adorned several homes. Mika's mother gave Susanne the lamp with a marble base. The bedroom provides direct access to the back patio.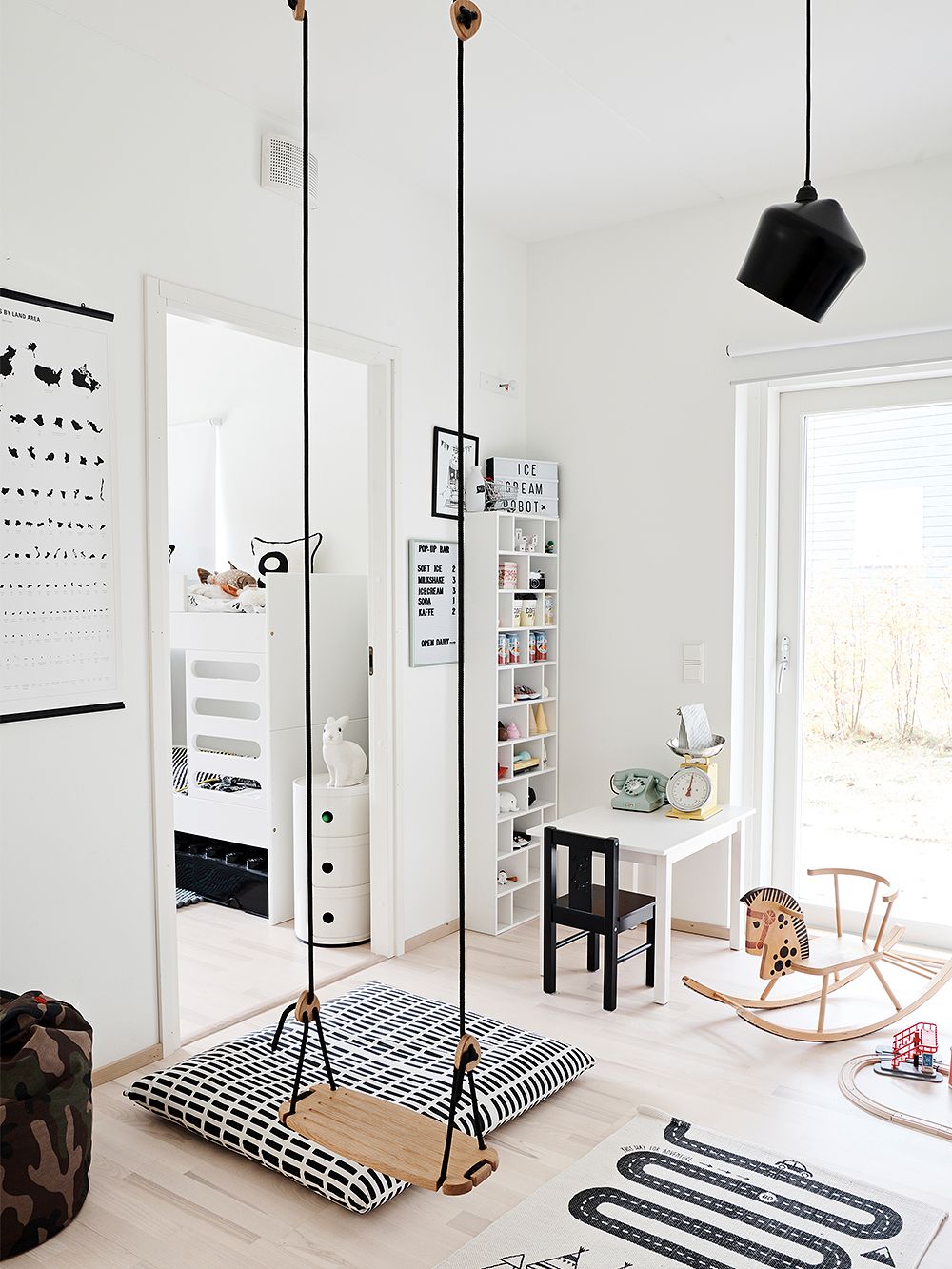 Division
The kid's kingdom in the downstairs hall is divided into a playroom and sleeping room. The Lillagunga swing adds a nice functional and visual touch. Everything needed for a play shop can be found on the high shelf. Susanne created a floor cushion from Siena fabric by Artek. The classic hobby horse dates back to Mika's childhood.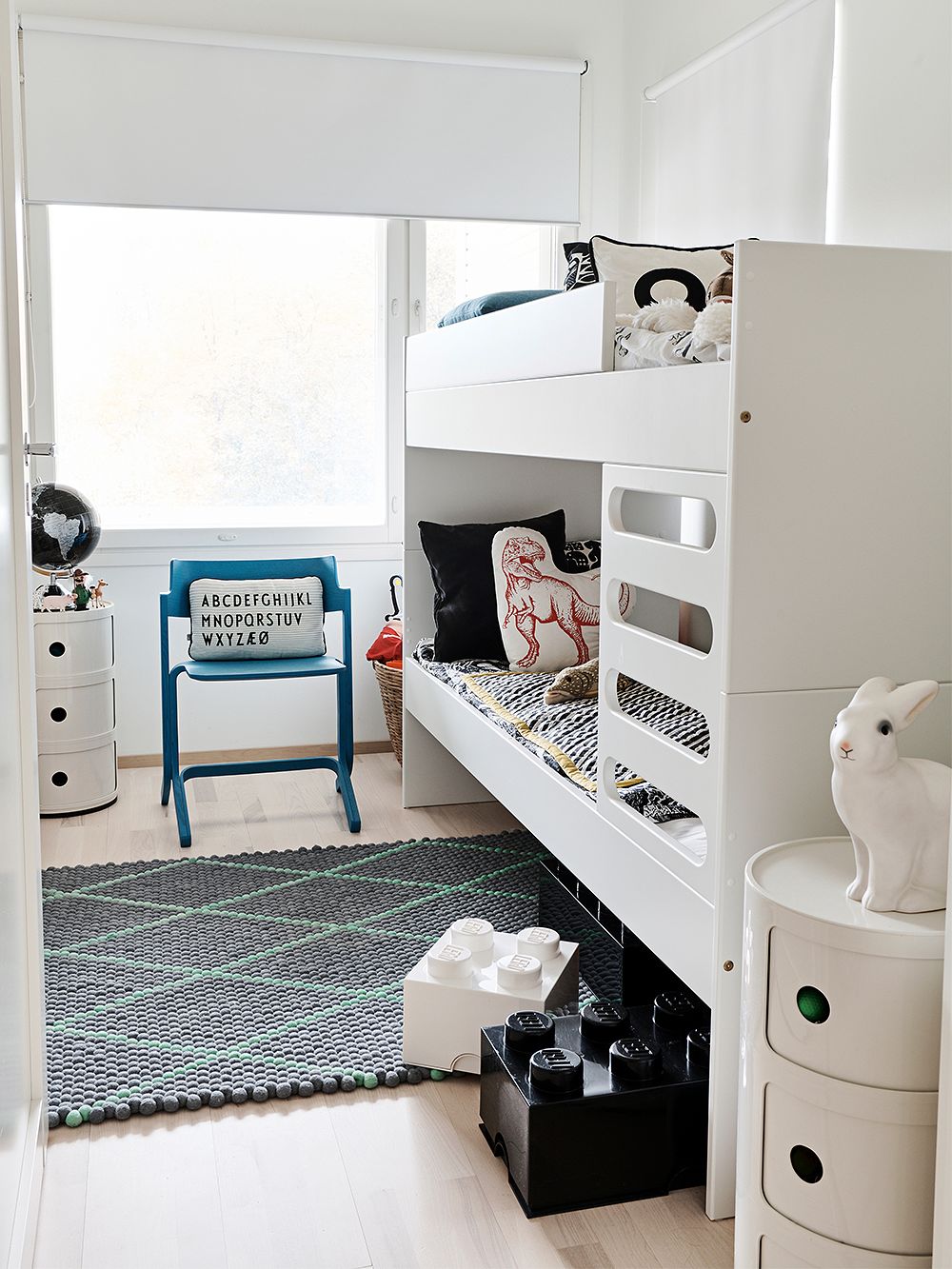 Graphical selections
AVA Room's AVA Kids bunk bed is shared by six-year-old Peik and three-year-old Knut. The carpet and chair are by Hay, the Componibili storage unit is by Kartell, and the Rabbit lamp is by Heico. Giant Lego storage boxes provide extra storage units under the kids' beds.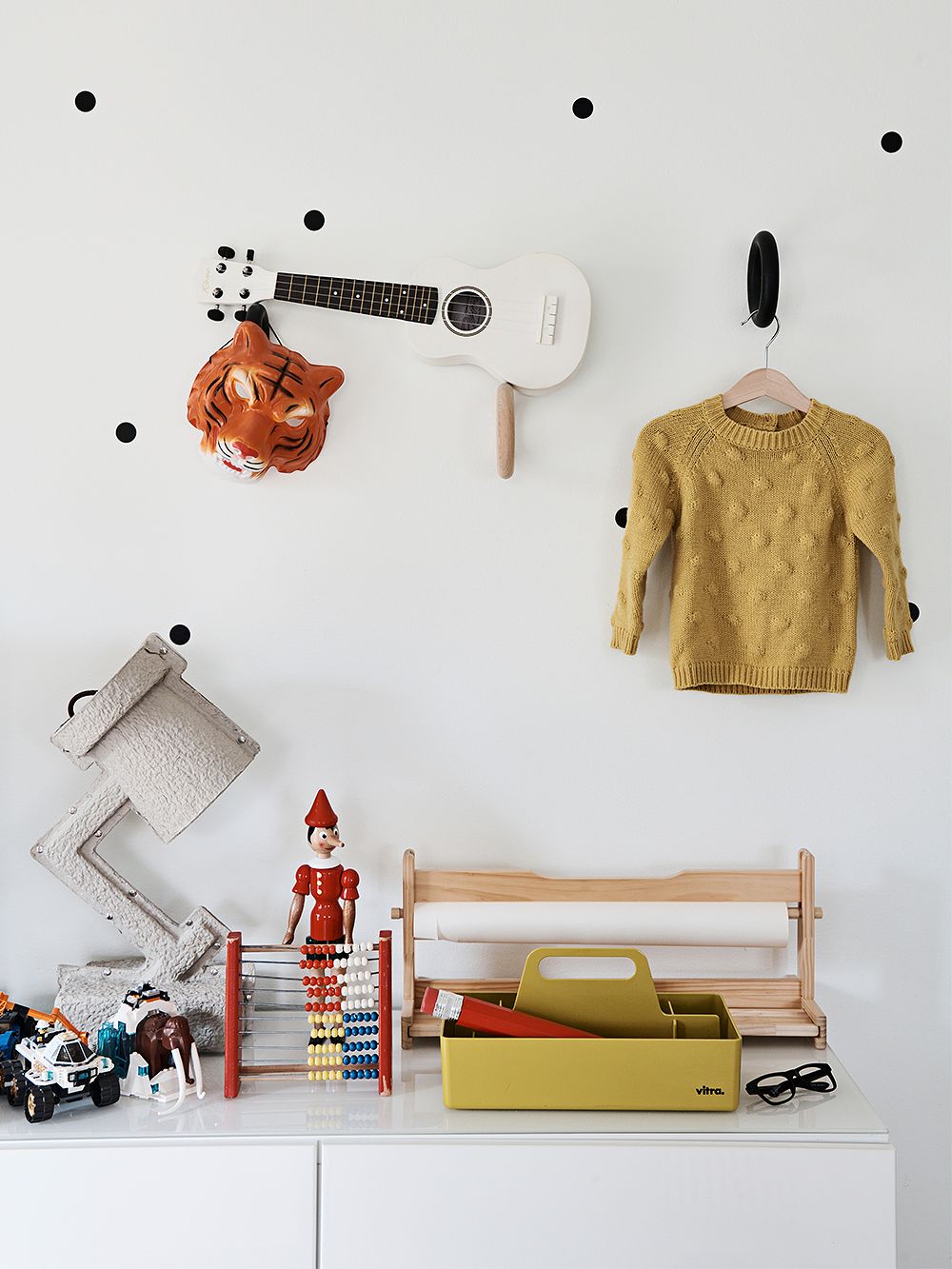 Wallpapered with stickers
Susanne decorated the playroom with black stickers by Ferm Living. The Tiger Mask is a souvenir brought by Susanne's sister, the painted wooden hooks are by Hay and the lamp made of recycled paper is by &Tradition. Vitra's Toolbox can be used for storing spices in the kitchen, keys in the hallway, or crayons in the children's room.
Text: Riikka Siusluoto Images: Vuokko Salo
This story was originally published in Avotakka.