Interior designer Linda Baki's bright rented home in Kalasatama, Helsinki looks out onto urban scenery. Discover how she created a relaxing and cozy loft interior.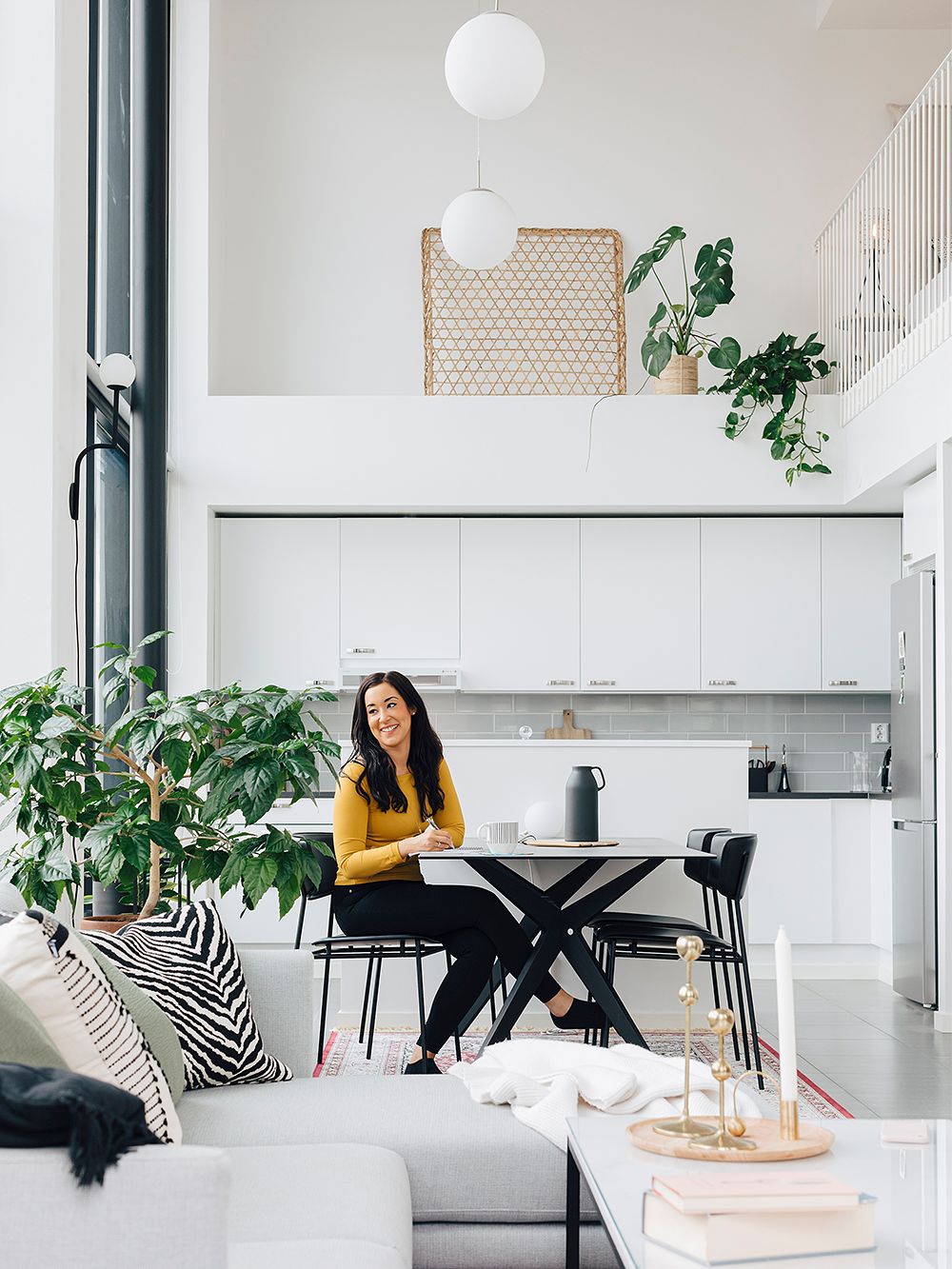 Resident:
Interior designer Linda Baki, 29, who works for her own company, the Linda Baki Design agency. Her home is a loft apartment in a building completed in 2018 in Kalasatama, Helsinki. It has 51 square meters plus a 15.5 square-meter open loft area.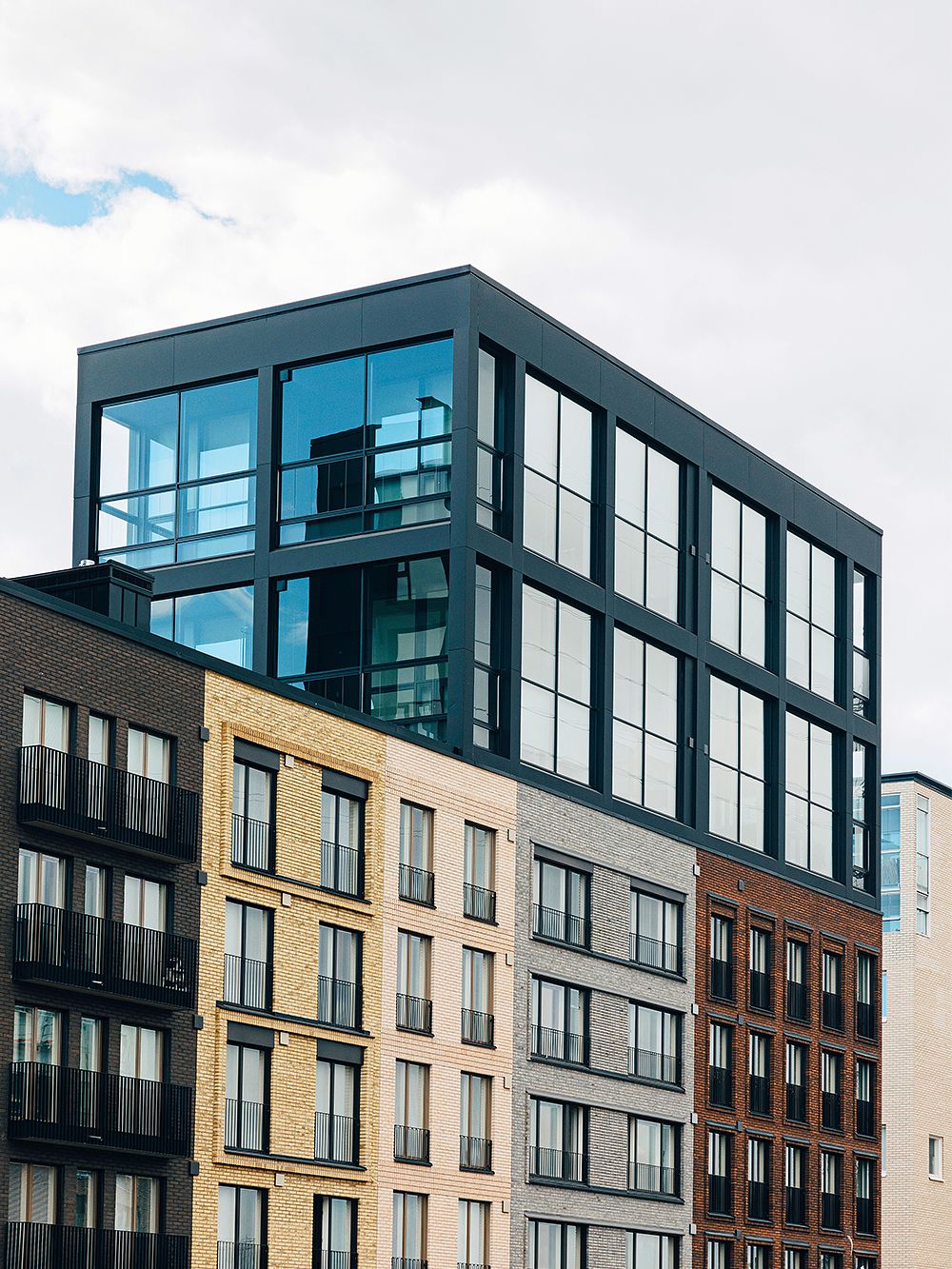 FROM OUTSIDE, the residence resembles a black-framed glass container dropped onto an apartment building's roof. Its mind-blowing five-meter-high windows look out onto multicolored box-like apartment buildings and cranes at work. The Kalasatama residential area is under intense construction.
Linda's airy apartment has a minimalist white kitchen and modern dining area, and a cozy sofa set bounded by a large oriental rug. Stairs at the side lead to the open loft area above. At first, Linda was scared of falling from the sleeping area, because the bed was right next to the railing. But sleeping in a high place no longer bothers her.
The balcony is one of Linda's favorite places. From there, you can see the Kellohalli cultural venue in Suvilahti, which is a landmark of the Flow Festival. The interior designer is excited about the opportunity to listen to concerts from her own balcony. Linda is relaxed about noise from summer concerts, which are part of life in an urban residential area. On the other hand, her triple glazing shuts out the din created by construction work.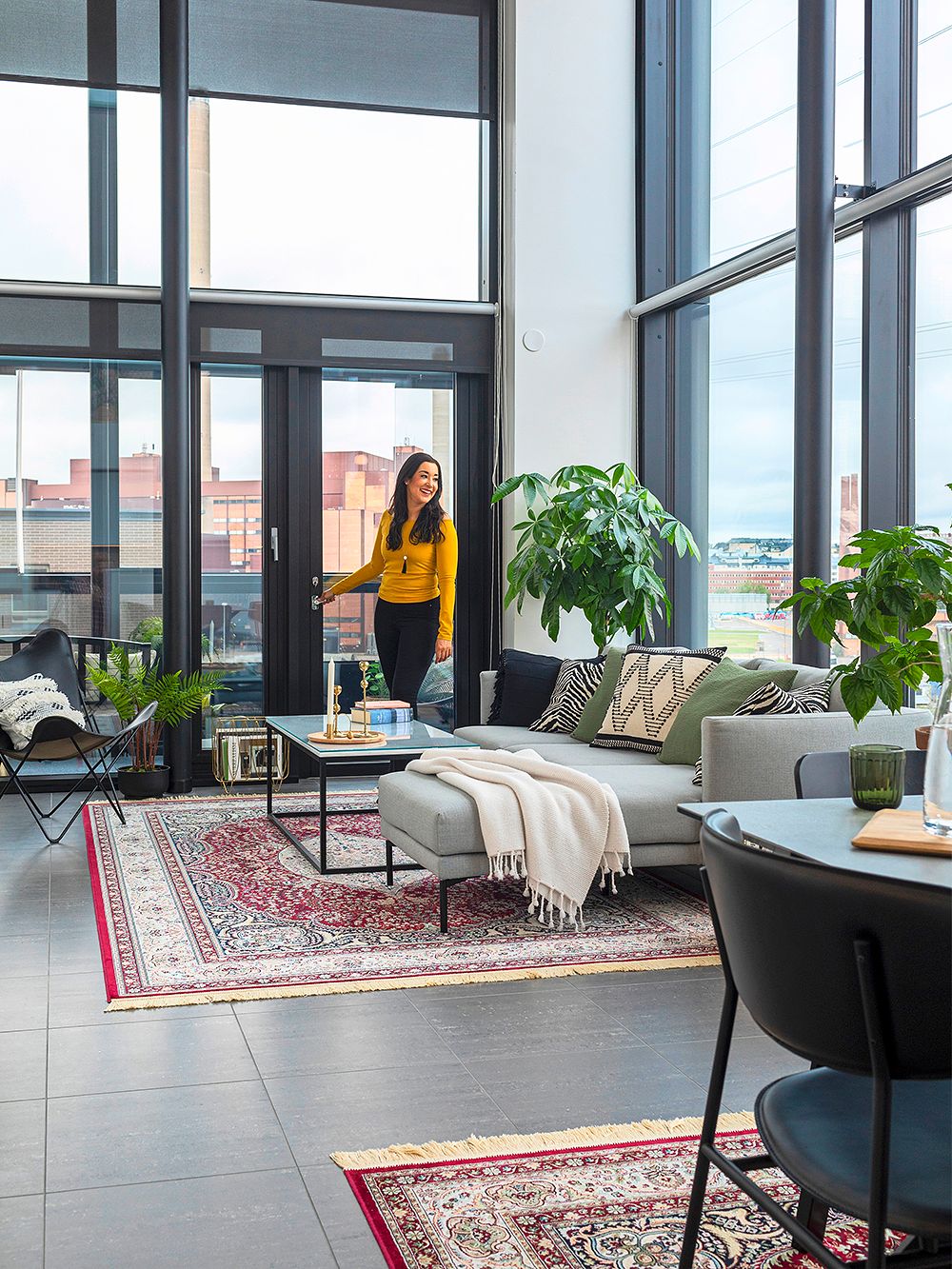 Why did you choose to live in the Kalasatama district?
"I used to live in Kulosaari, a very quiet part of Helsinki. Kalasatama is a lively, constantly developing urban residential area close to the sea and good jogging trails. I go running in the Mustikkamaa outdoor recreation area."
What are the pros and cons of rental housing?
"It gives me a certain amount of freedom. I moved from Kotka to Helsinki two years ago. I'm not yet sure of exactly where I want to settle. For an interior designer, renting a home can be tricky because you can't make it completely your own."
"I will rather have shelves on the wall than sideboards on the floor, to take advantage of the wall surfaces in a high room."
You used to live in a 60s apartment block. How did you go about decorating your high-ceilinged loft apartment?
"The apartment has a very clear layout, which I divided into a dining and living area. High windows are quite challenging, because they leave only a small continuous wall area. I had to place the sofa in front of the window, as there was only one possible wall space for the flat-screen TV. On the other hand, I can admire the view from the divan. I plan to install open shelves above the TV. I will rather have shelves on the wall than sideboards on the floor, to take advantage of the wall surfaces in a high room."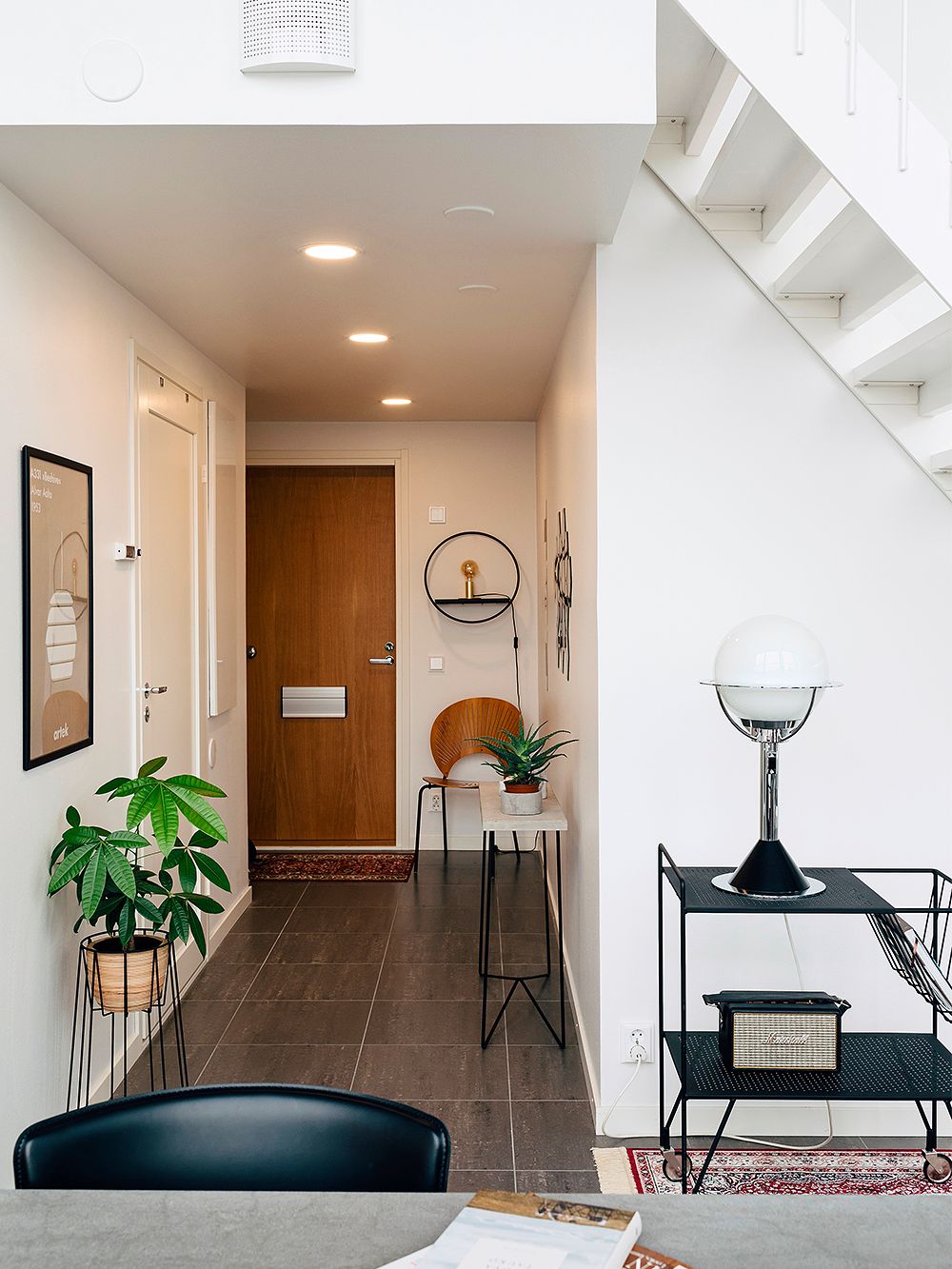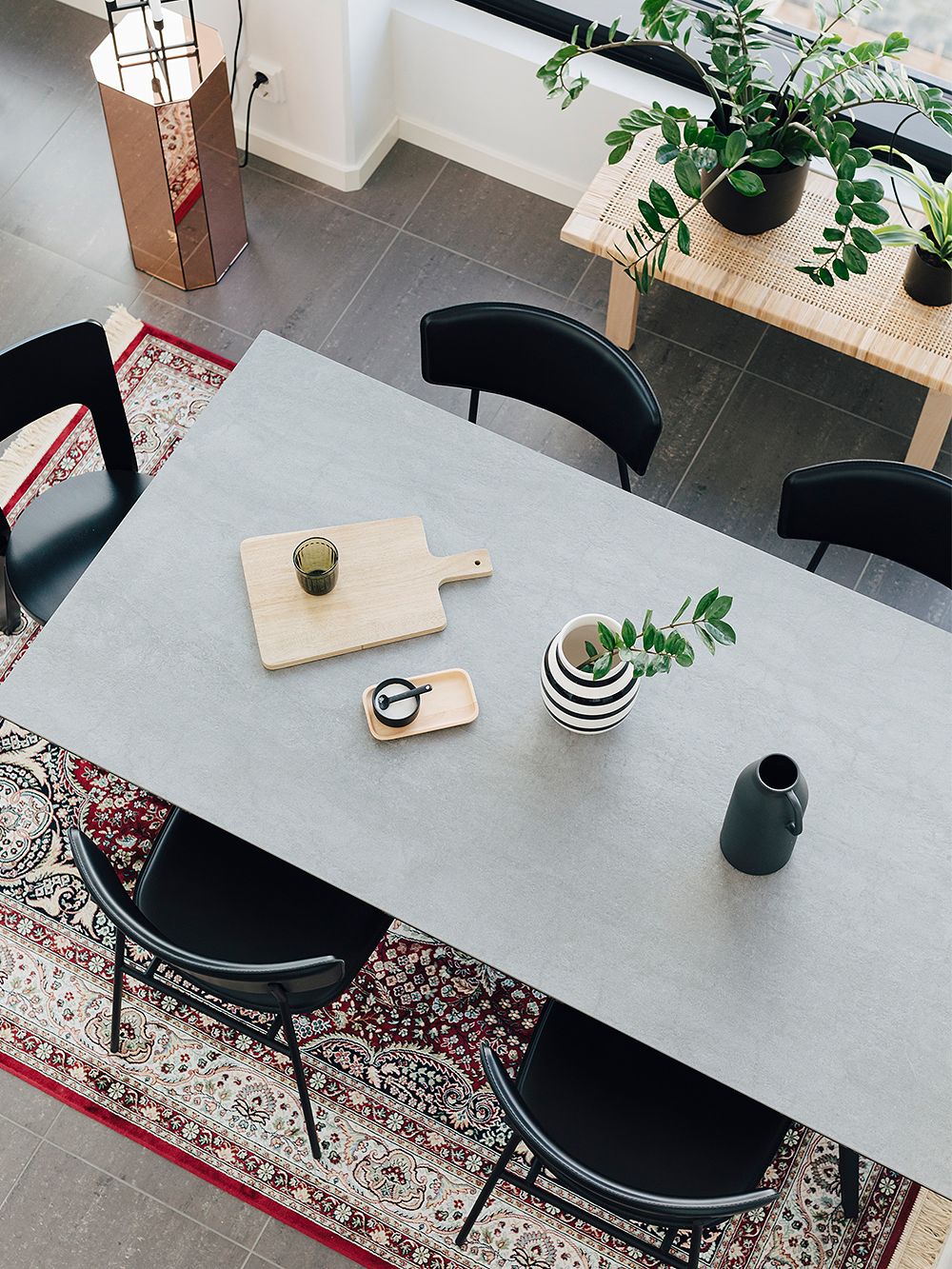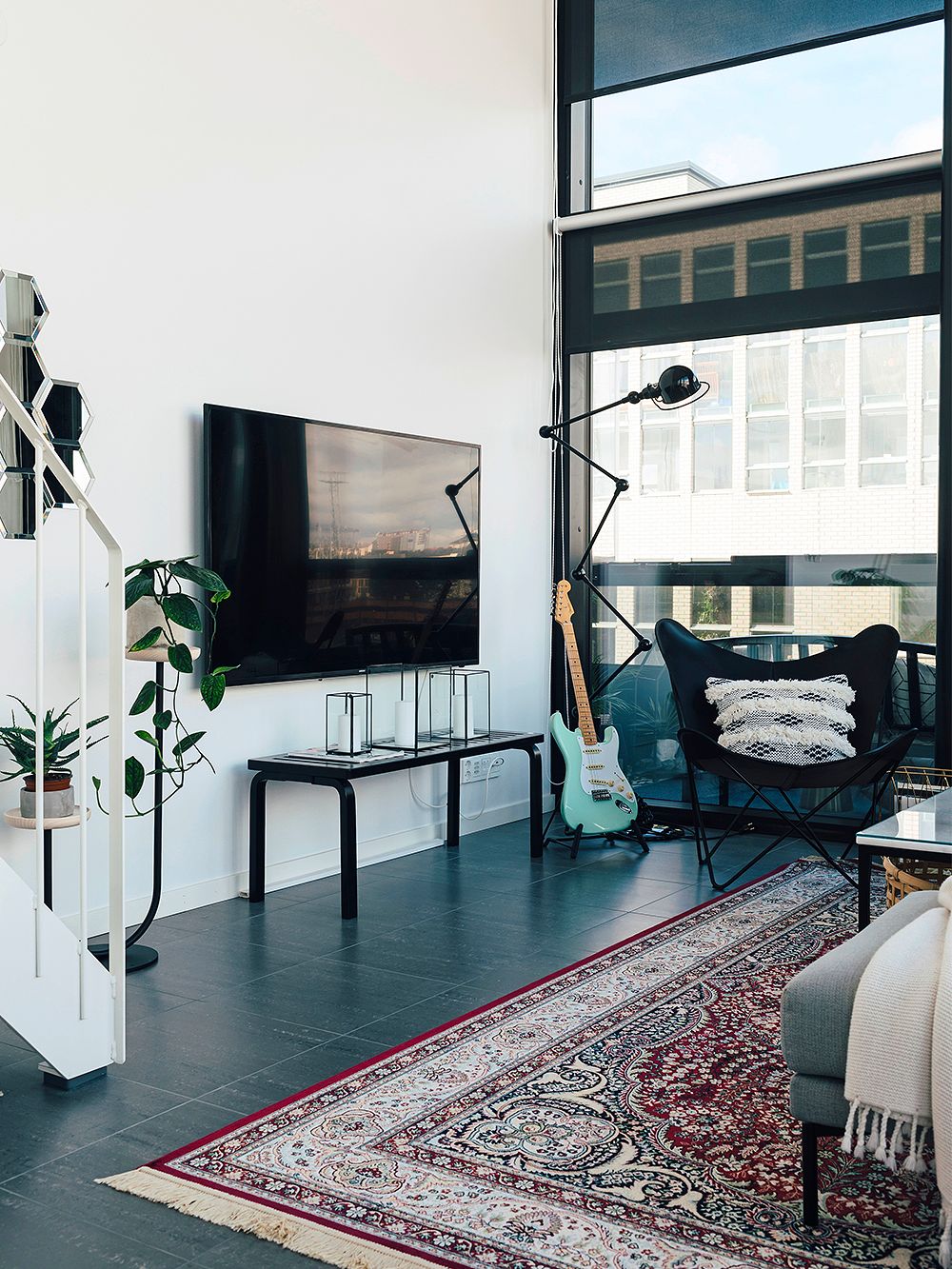 How are design trends affecting your interior design?
"I don't worry about trends or follow many interior design blogs. The key issue for me is a home that feels and looks like it's mine. If I'm excited by a trend, such as mirror tiles, I go ahead and purchase an item. As a child, I hated my mother's beloved eighties-style mirror column. But when I moved here, I started pleading for it. Now that it's here, I get to listen to my mother's affectionate 'I told you so' comments. I like a relaxed style, oriental rugs, patterned textiles and pattern combinations. This must be a legacy from my Algerian father. My mother decorated my childhood home with strong colors and oriental patterns. When the interior is ready, I won't move things around much."
"I like a relaxed style, oriental rugs, patterned textiles and pattern combinations."
What colors would you choose if you were free to do so?
"I would at least paint the kitchen's end wall and the sleeping area walls in light brown or gray tones. It would add warmth to the interior. I like broken colors. Bright primary colors are not my thing — they remind me of children's rooms. I would paint the white metallic staircase black to stand out better in the white space. I'm going to suggest the idea to my landlady."
How will you manage to clean the huge windows?
"I won't. Fortunately, the housing company will do that. Otherwise, I'd need my own crane."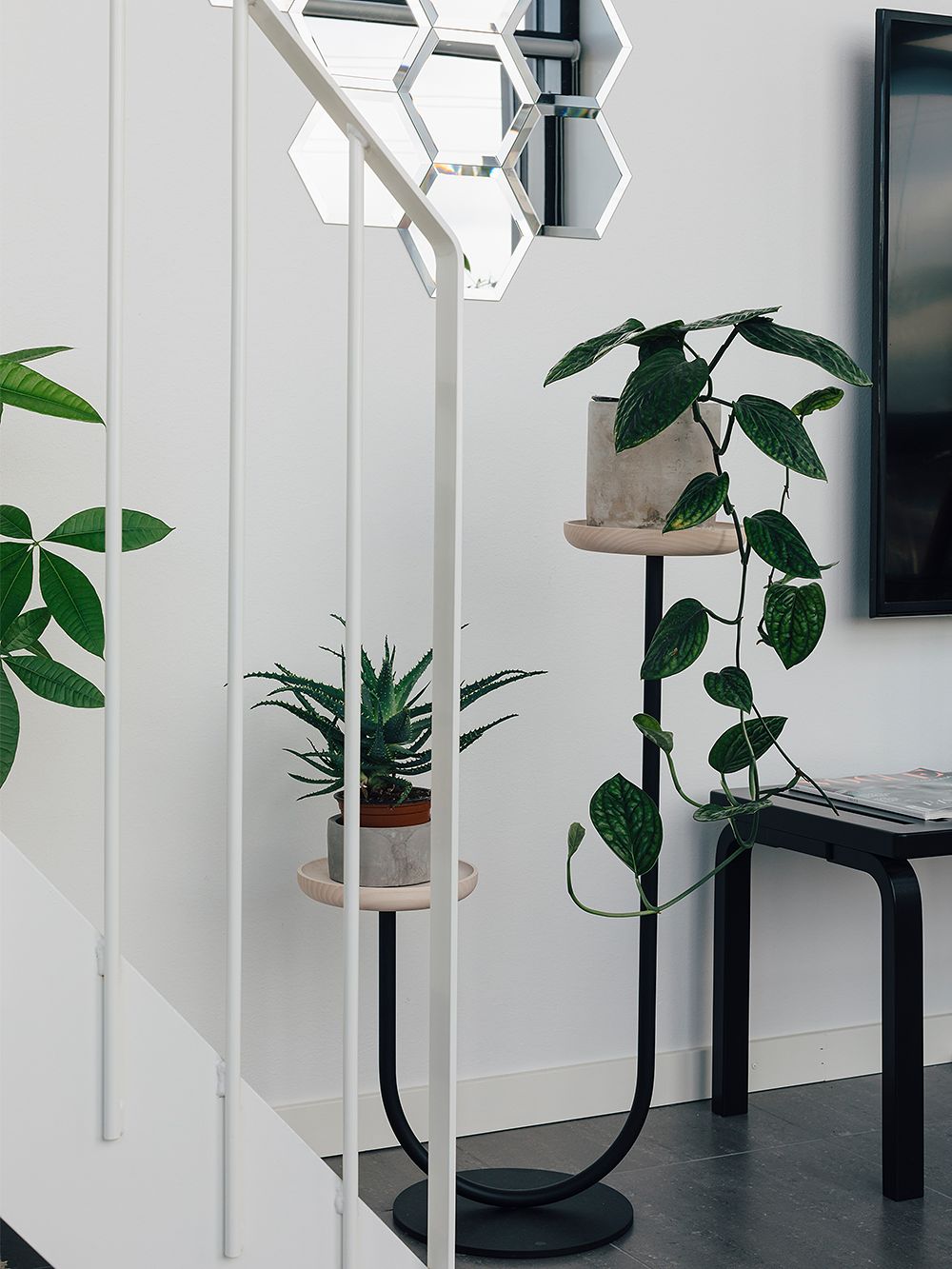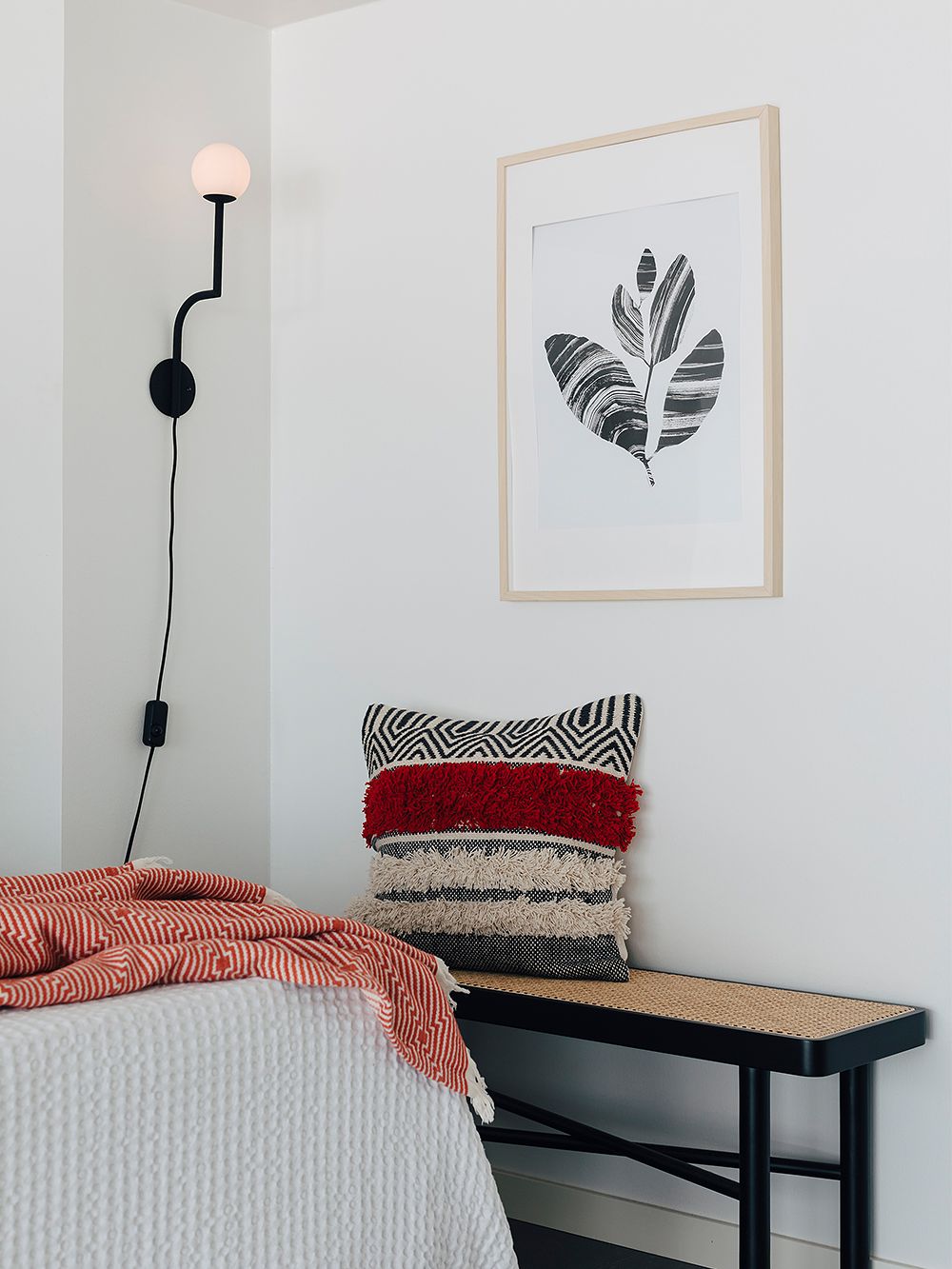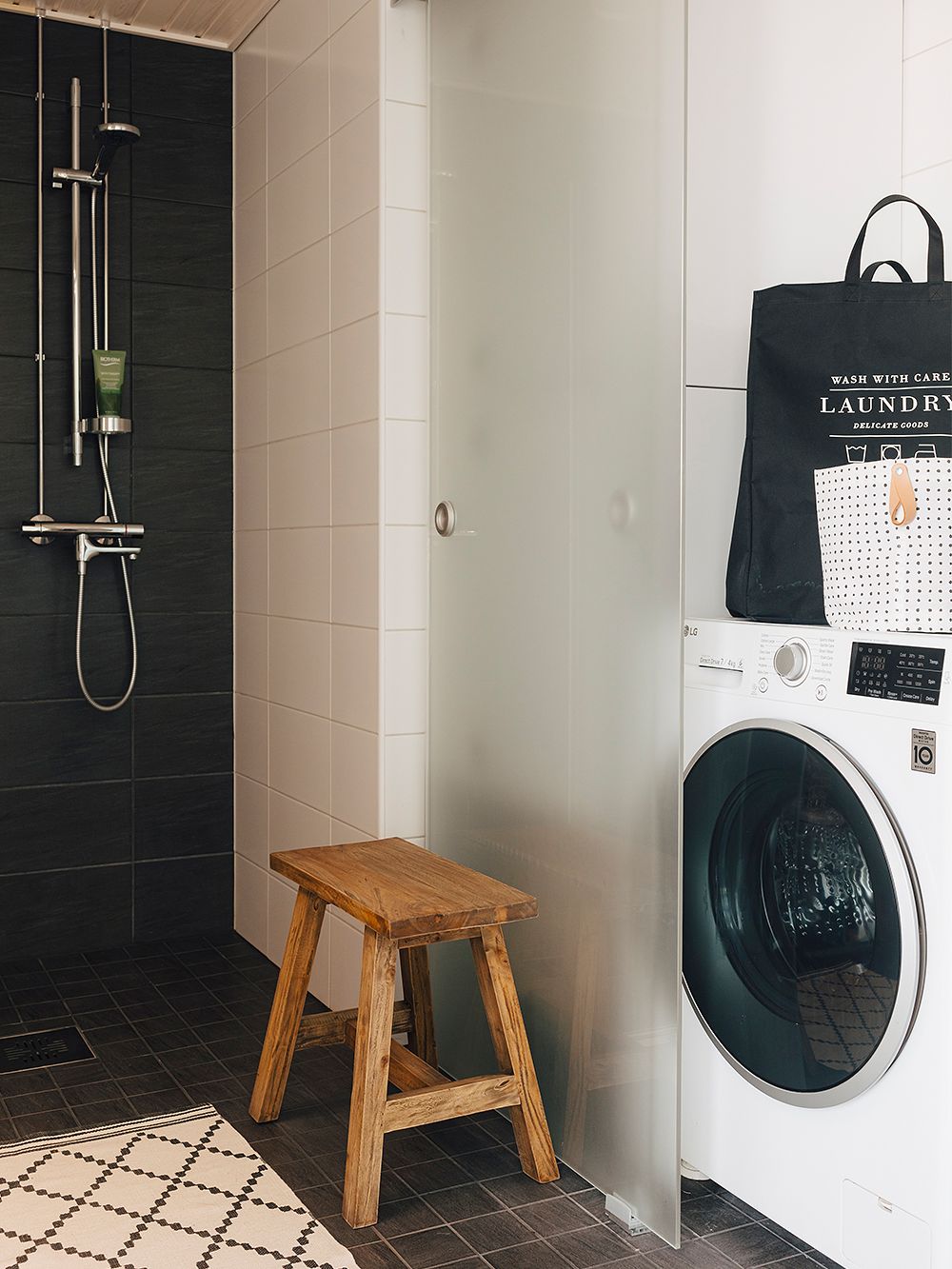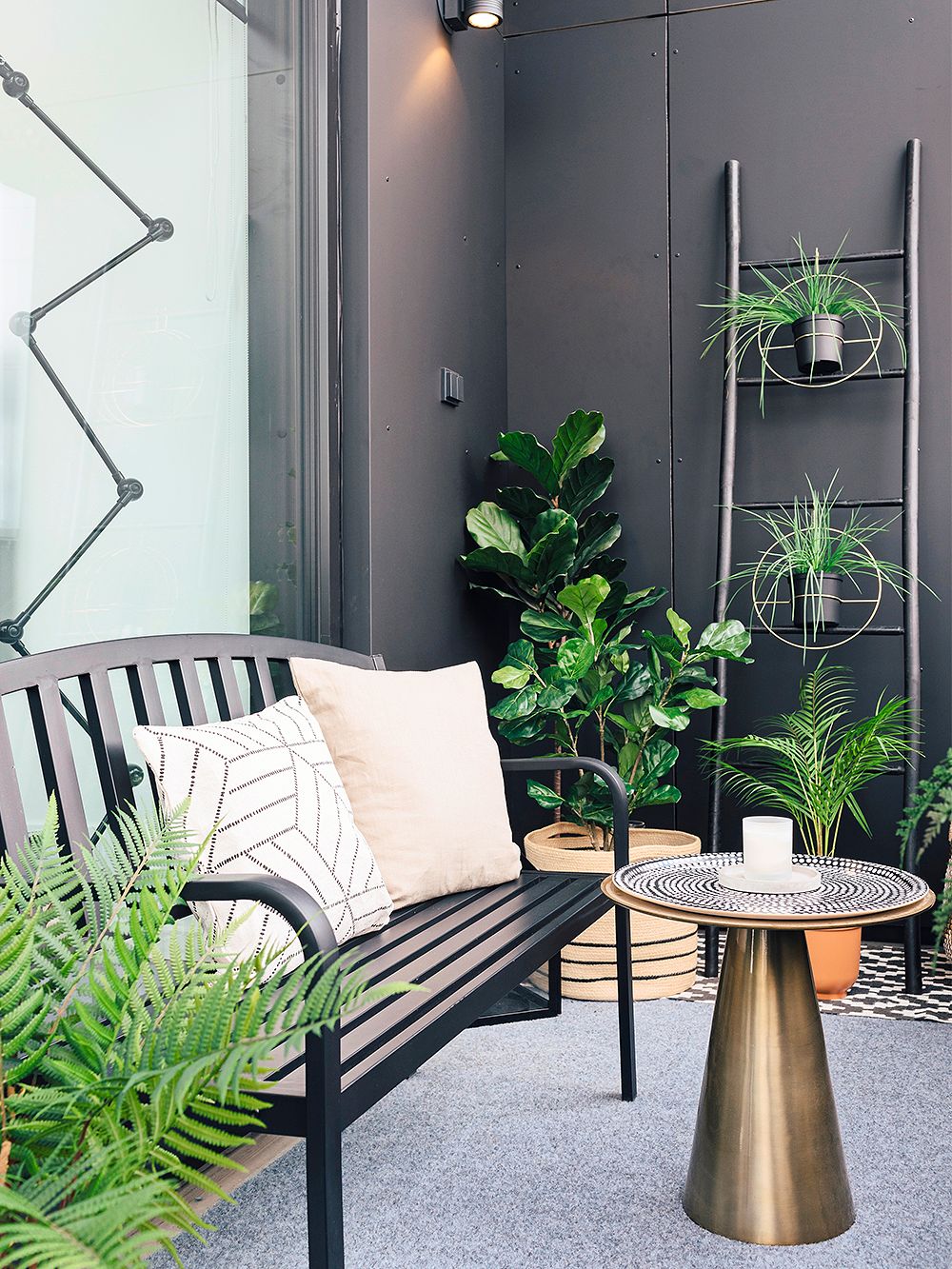 Do you mind residents in the opposite building being able to see into your lit apartment in the evenings?
"I don't really think about it. The windows have black translucent roller blinds, but I keep them up until I go to bed. I didn't even lower the blinds during the summer, because the sun doesn't shine directly into the apartment. When I choose color tones for my clients, I sometimes make the choice at home due to the wonderful light here. On the other hand, I always check them at the client's premises, where the actual light can affect how colors look. Colors should always be chosen in natural light."
Does the furniture from your previous home fit in here?
"I bought a bigger sofa because my old one was too small for here. In a sense, the corner sofa defines the living area. A big dining table was also a must. I bought a black dining table and chairs to match the black frames on the windows. I often invite friends over, and it's great that everyone can fit around the same table. I also use it as a desk, despite having an office space in Punavuori."
Lighting is also very important in high spaces. How did you resolve this issue?
"I installed three pendant lamps in the dining area, with 'dome' shades made of opal glass. Opal glass sheds light softly into an interior. I also chose dimmable wall and floor lamps. These can be adjusted to create various types of mood lighting."
Text: Anna Aromaa Photos: Antti Vettenranta
This story was published originally in the Avotakka magazine.