Photographer Laura Riihelä's home in Maunula, one of Helsinki's trending areas, spreads out on five levels. The cozy interior is created by the esthete naturally, one bit at a time.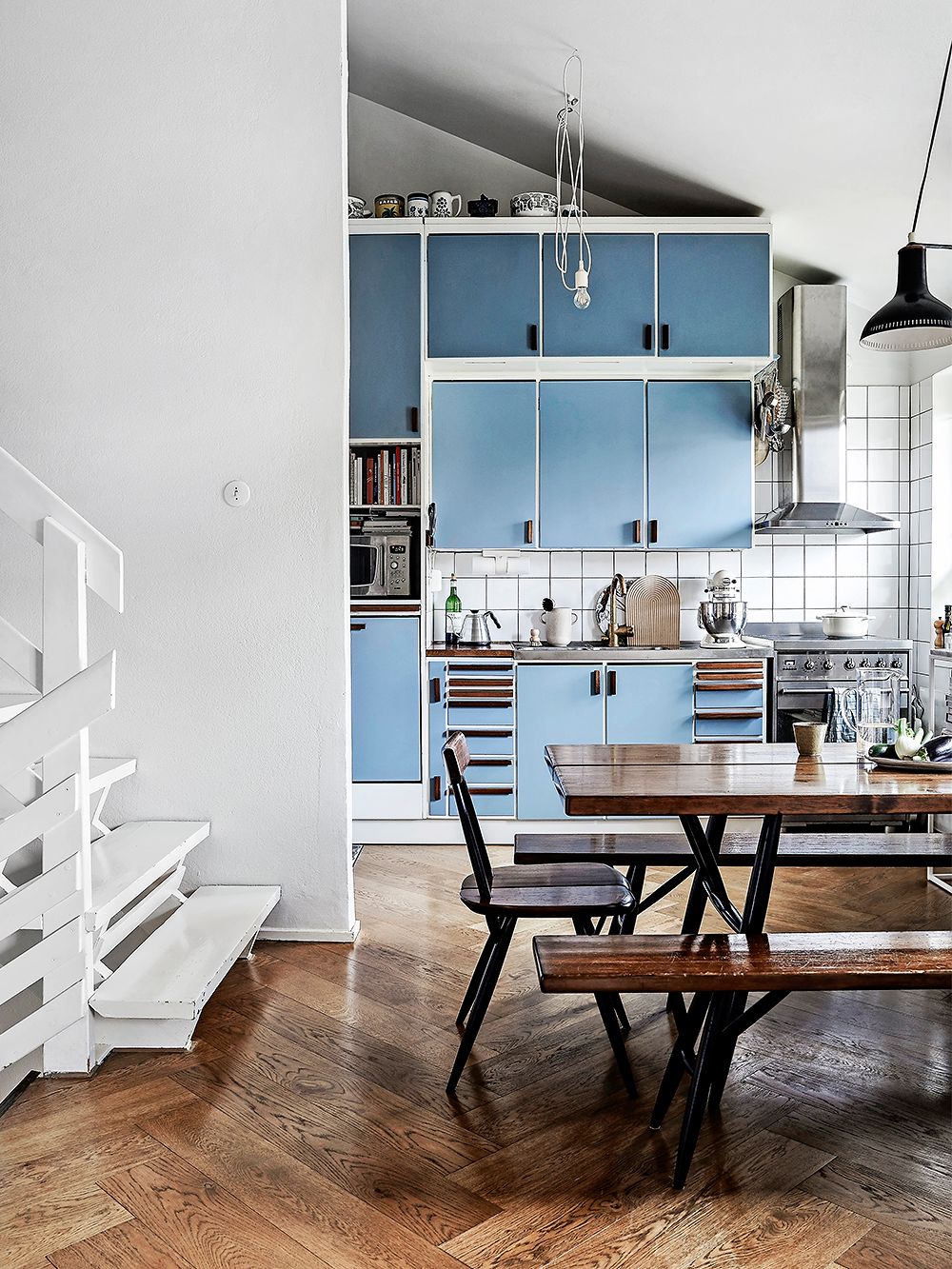 Residents:
Photographer Laura Riihelä, 44, art director Timo, 47, son Aatos, 11, and four cats. They also have an elder son who has already moved from home. Their home is a terraced house designed by Hilding Ekelund in 1952 in Maunula, Helsinki. The six rooms and kitchen are spread out on five levels. The home consists of 90 m². They also have a 40-m² cellar with a fireplace and bathing facilities.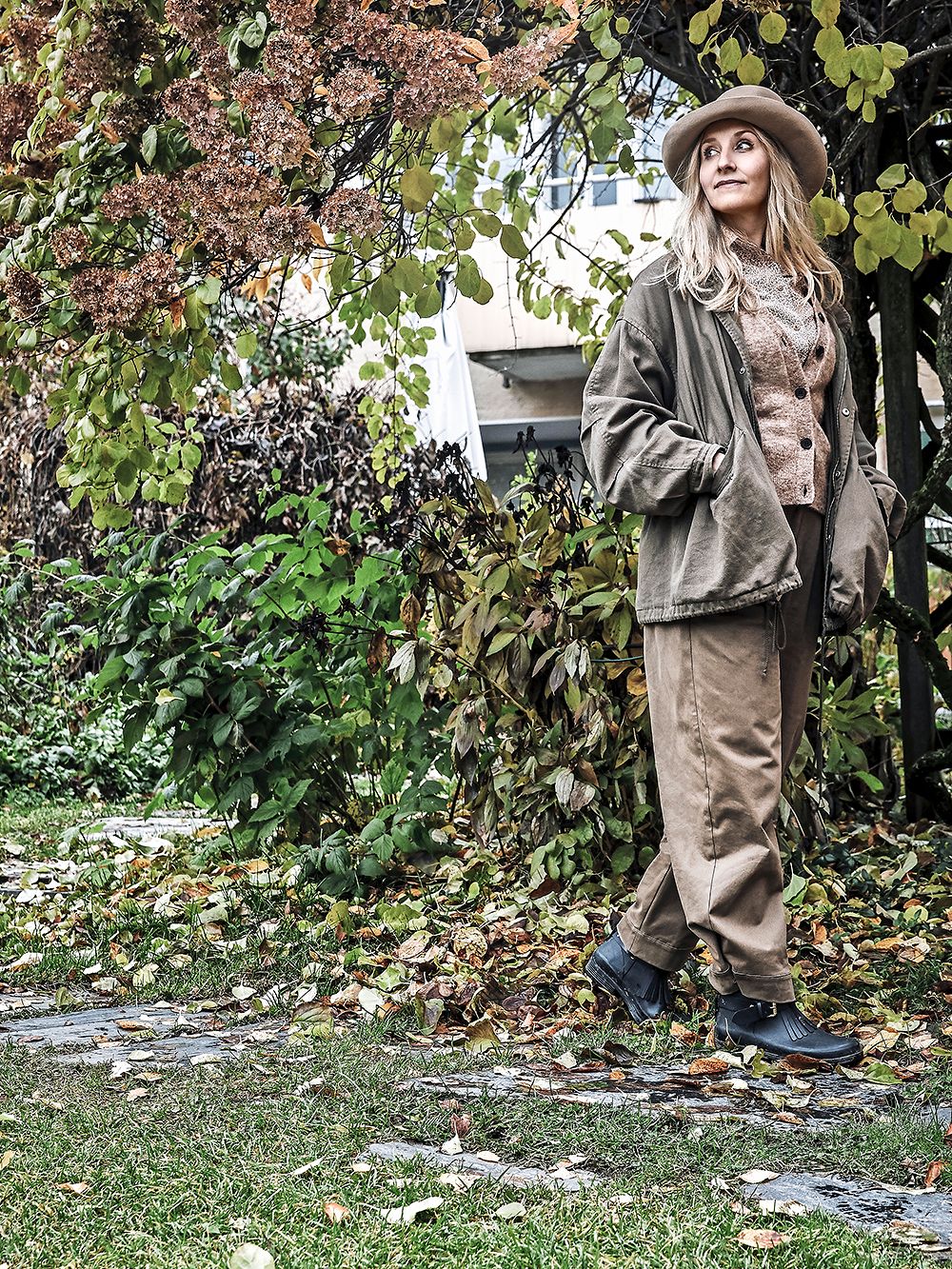 PITCHED-ROOF TERRACED houses fit nicely on a gently sloping plot amid tall pines, birches and bird cherries. The 110 homes and the beautiful gardens create a peaceful haven, a mini village to live in.
The green neighborhood in Maunula, Helsinki, was created in 1952 to meet housing needs after the Second World War. It was designed by architect and housing design professor Hilding Ekelund. This was the first area of terraced housing in Helsinki that received low-interest-rate loans subsidized by the state.
Photographer Laura Riihelä and her husband Timo, an art director, bought a home here 11 years ago for their family of four. The home is cozy, beautiful and full of warmth, with each square of floor space put into maximum use. The living area is divided on five levels: downstairs, there is the fireplace and bathing area; at front door level there is the hall; the middle level consists of bedrooms; while higher up is the kitchen and living room with balcony. The loft above the living room has room for a study.
The couple has been renovating their home gradually, respecting the 1950s spirit, one room and one thing at a time. Occasionally visual aspects have actually overridden practical issues, admits Laura. The latest addition was completed in 2017, an atmospheric area with a fireplace, sauna and bathing facilities.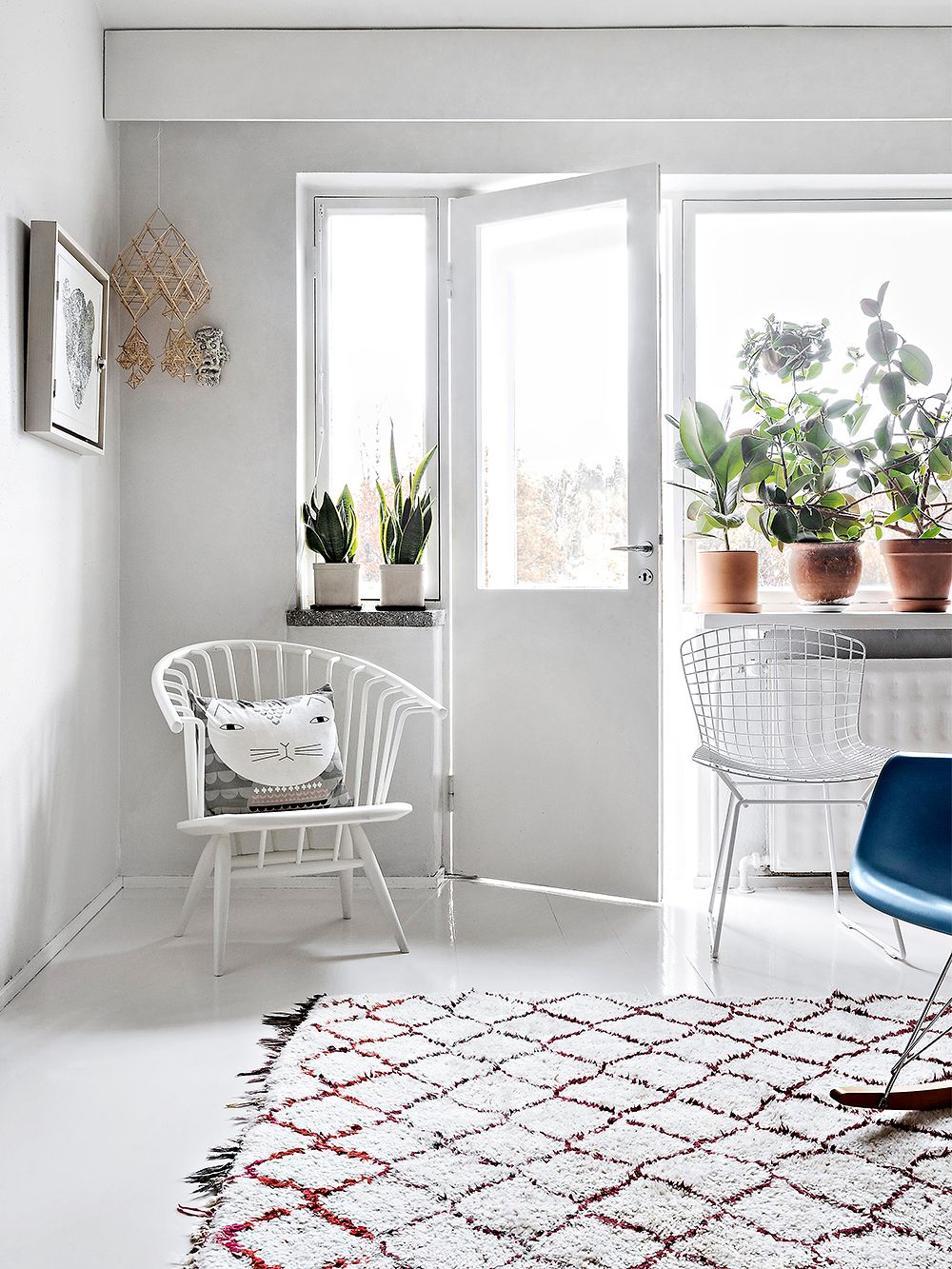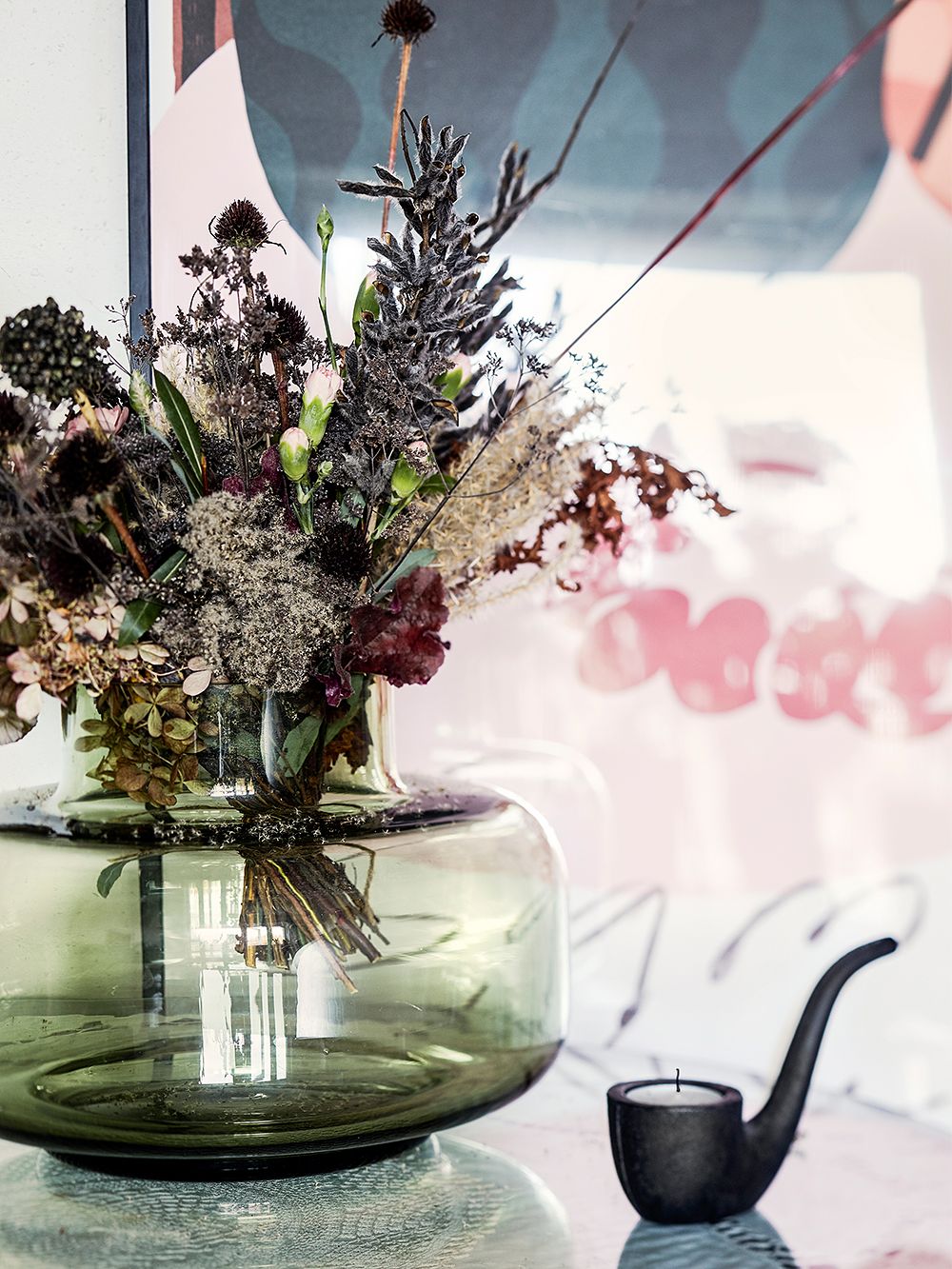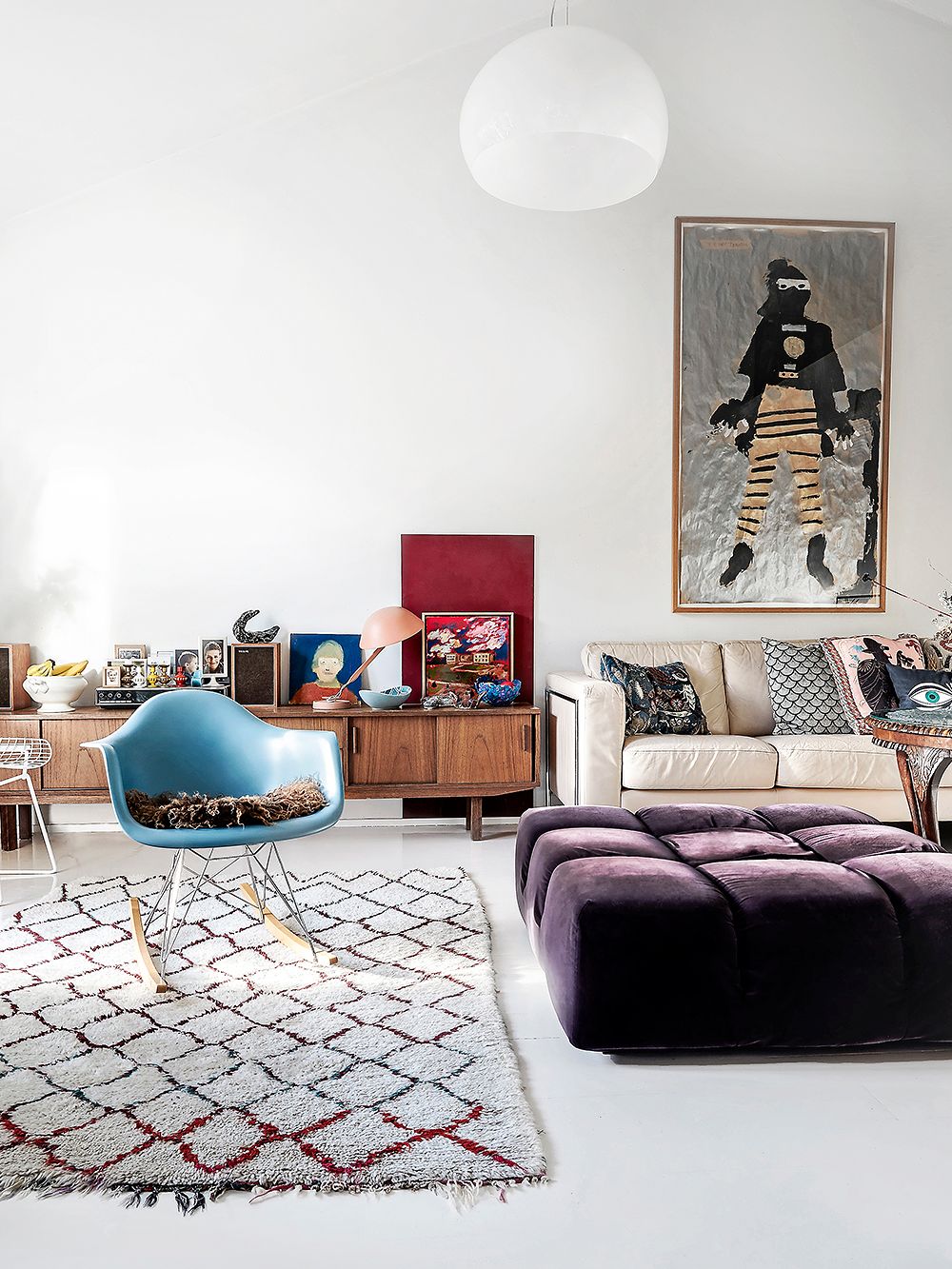 Laura, what is it like to renovate a home in a listed area?
"This residential area is protected in many ways and there are even guidelines on what to plant in the yard. It is important for the area that the old, traditional plants and green living environment is preserved. Our yard still has many trees and bushes from the 1950s and also some perennial plants.
Officially, protected aspects in the city plan only concern the building exteriors that require a building permit and major modifications to exterior parts, but we didn't mind doing all renovation in the spirit and mood of the era. Whenever the housing company is renovating, we try to maintain and fix any existing structures."
What is it like to live in the "New Berlin of Helsinki"?
"Maunula is undergoing a revival, and it is a very popular area to live in these days. The area is sometimes even called the New Berlin. There is plenty happening in the yards, and families with children abound. The housing company organizes garden parties and gardening bees in the autumn and spring. The club room is used for piano, drum and arts classes, and women's and men's saunas on Wednesdays are very popular. The area has a group consisting of mothers to share, for example, strawberry plants or to pass on ice skates that no longer fit their own children. We also have group gymnastic in the yard and make trips to the theatre. This is very much a close-knit community."
"This particular area is considered a uniform 1950s urban area thanks to its green environs and secluded location."
How did you end up living here?
"This particular area is considered a uniform 1950s urban area thanks to its green environs and secluded location. When our youngest child was still pushed around in the pram, I just loved to come here for walks. Very few homes were available for sale in the area, but in 2009, we were lucky to get our place."
What made you love the place?
"The cozy atmosphere and the beautiful small yards. When we bought the place, the garden was covered by ground elder, but eventually we managed to find – underneath all the growth – the jasmine bushes, hydrangeas, peonies and the beautiful original slate stones. We liked the idea of a house with several floors, because it all seemed to be practical in addition to being cozy and full of atmosphere."
Are you fans of 1950s architecture?
"I like 1950s design. We have gradually accumulated vintage furniture. We have retained a strong 1950s feeling in the kitchen. We bought the kitchen furniture in Tampere from a home before it underwent a pipe renovation, and fixed it up. A touch of the 1960s and '70s brings just the right amount of interesting detail into the picture, and so our home didn't become a fully 1950s creation."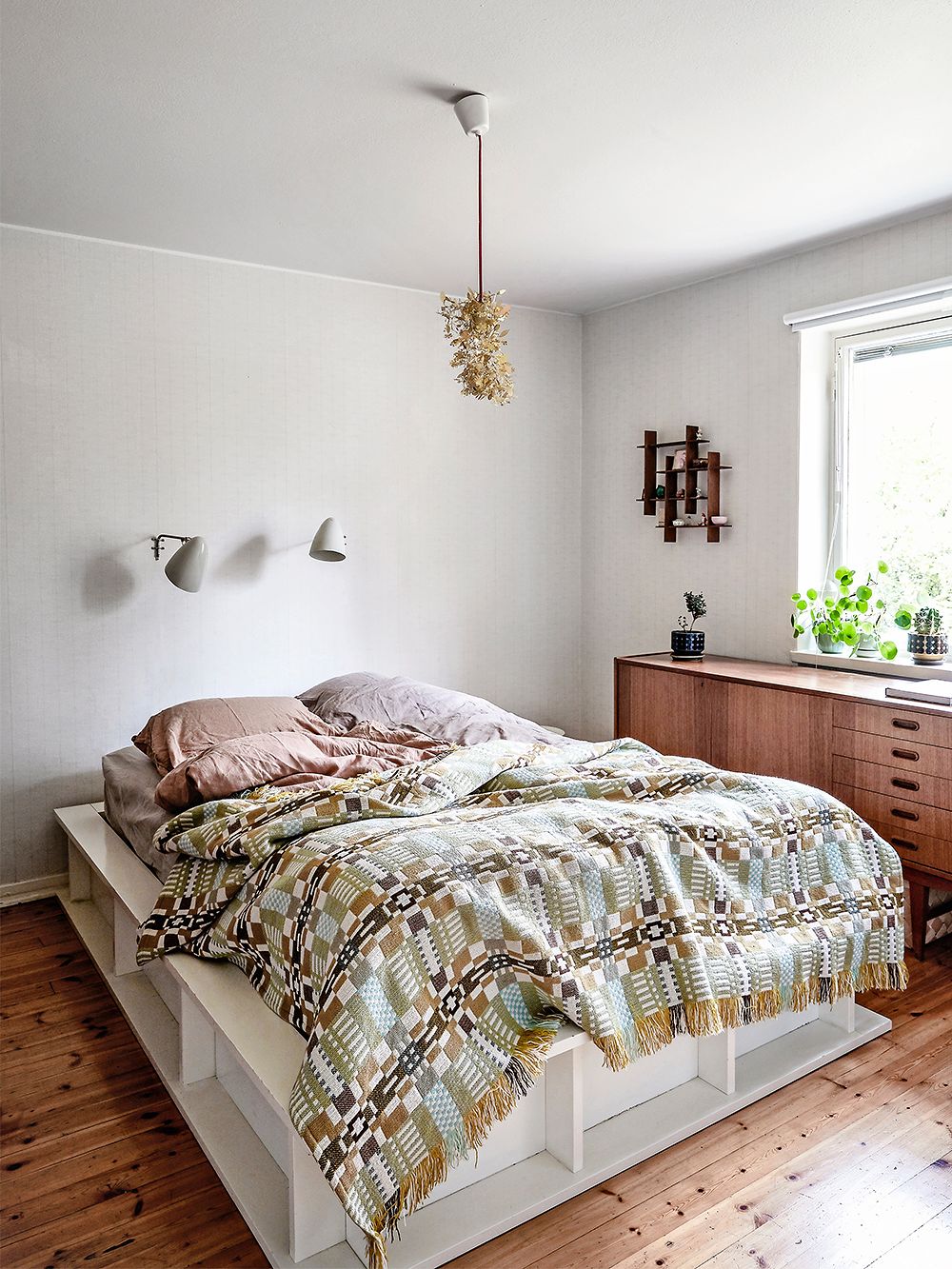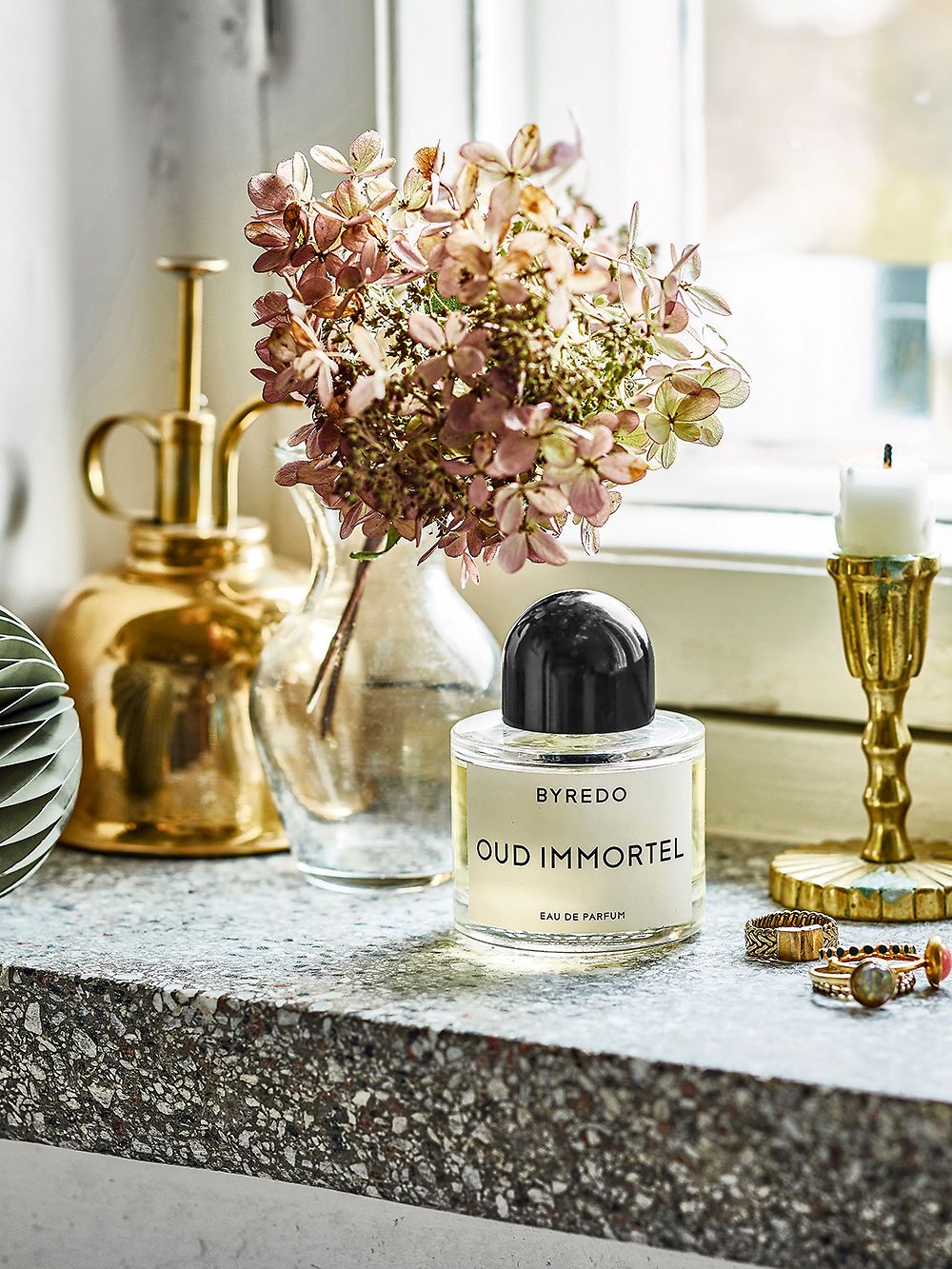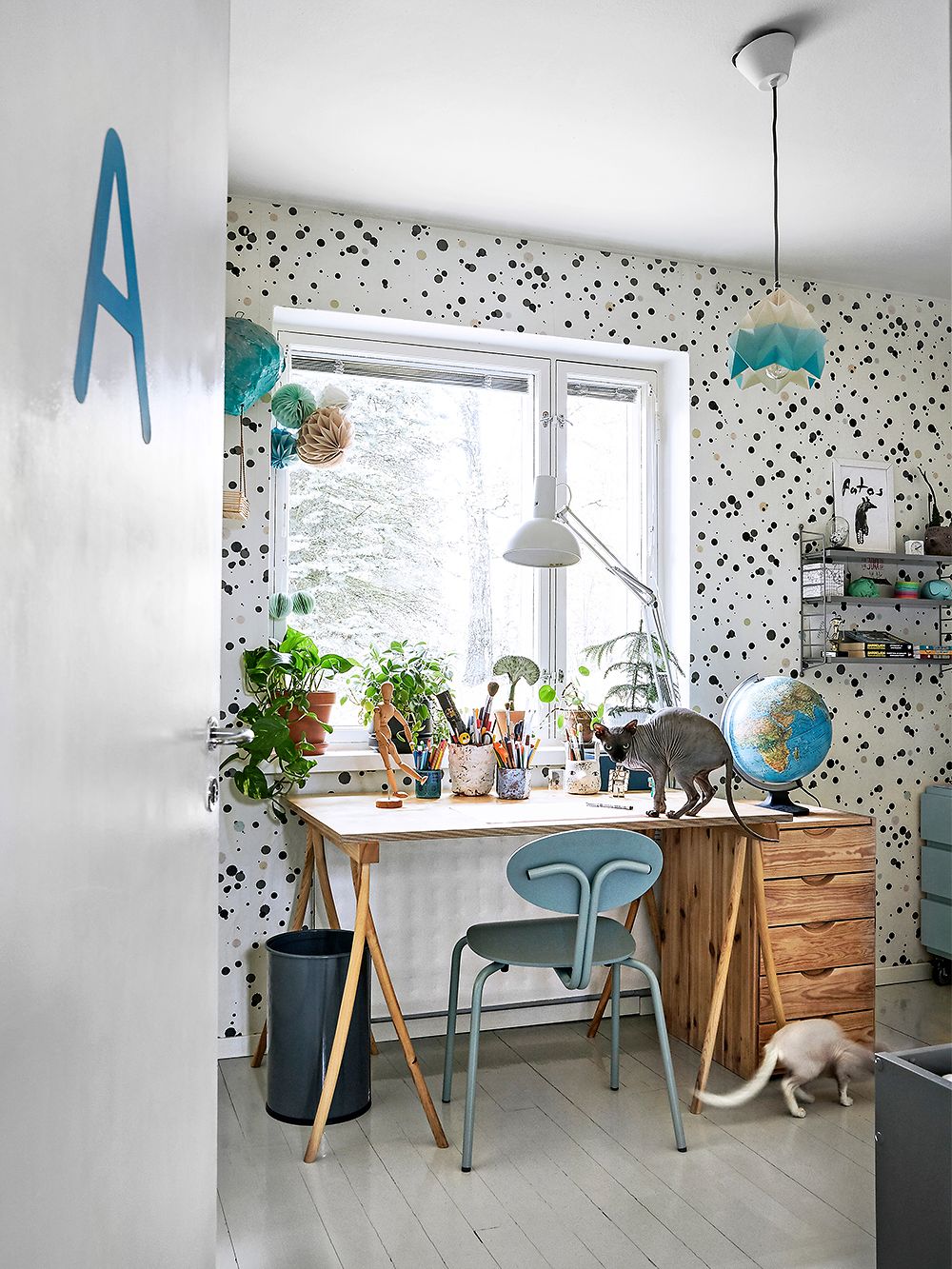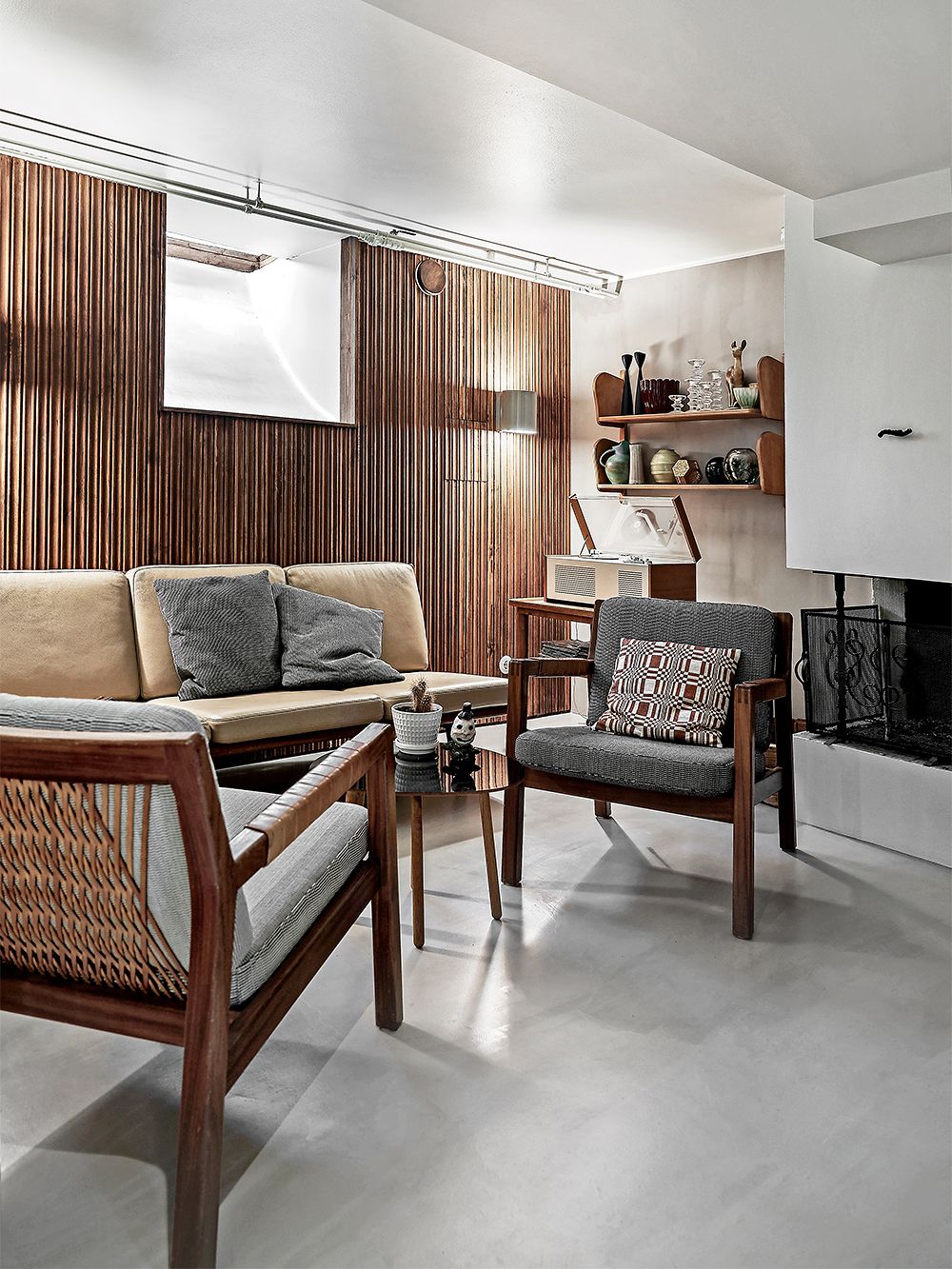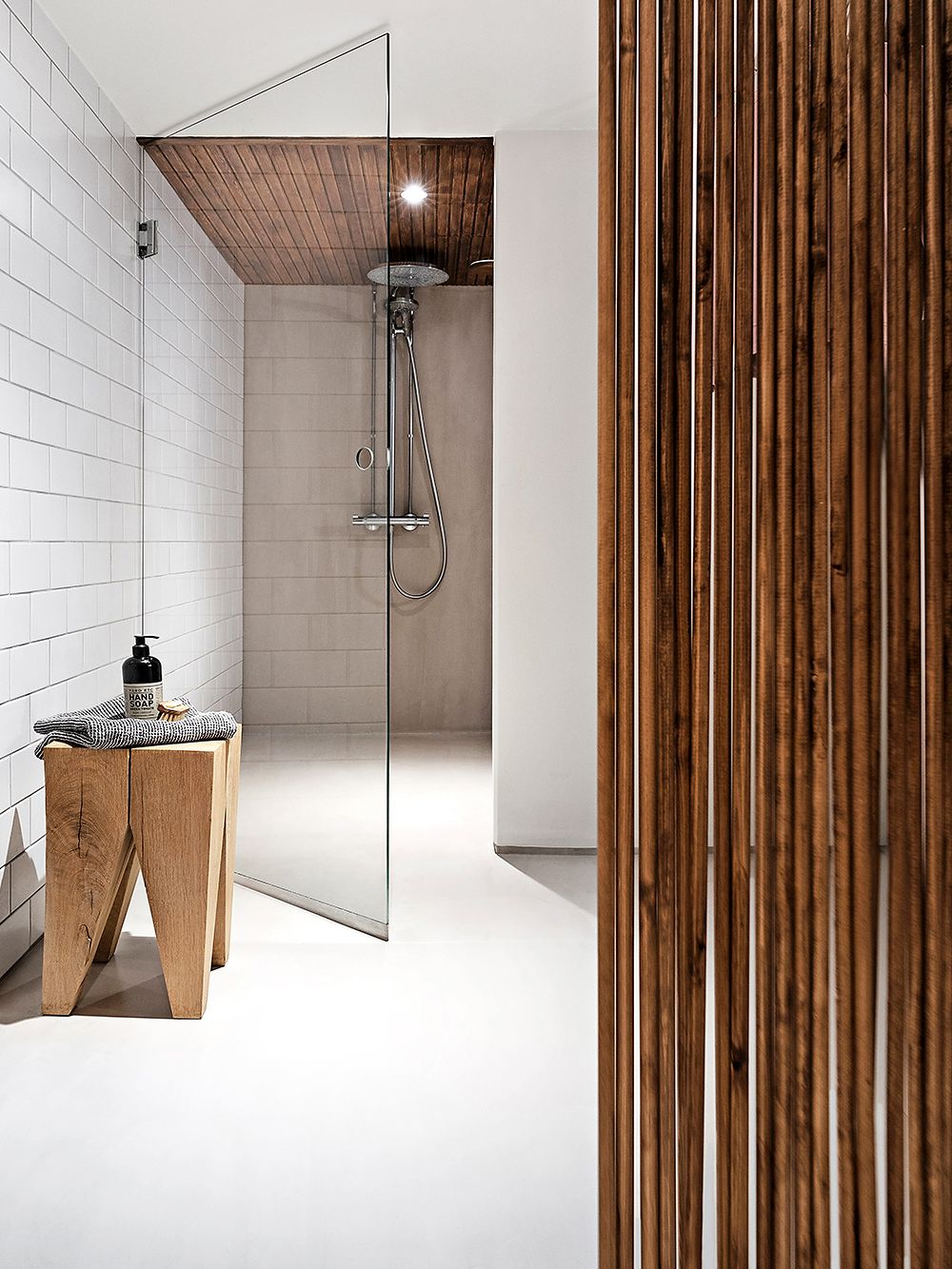 Home on five levels. How does this affect the spirit of the home and life of a family with children?
"Especially the children and the cats think it's great. There is a peaceful place for everyone. During the summer, we have an added dimension as we spend almost half of the time out in the yard, pottering around."
Has your work as a photographer affected how you go about interior decoration?
"I admit to being an esthete that enjoys beauty and I like to get things around me that are intuitively beautiful. Our home interior has been created naturally, layer by layer. There is nothing minimalistic in our house."
"Our home interior has been created naturally, layer by layer. There is nothing minimalistic in our house."
How do you feel about colors?
"I'm very much into colors. I find that colors and color combinations are one of the key expressions we have in life. Colors are a source of energy and I am attracted to them. I am not comfortable in puritan, black-and-white spaces or clothes. Small amounts of black or white bring structure but, used in excess, fail to inspire or bring any joy."
What styles and things give you pleasure?
"I live along with the seasons and I could describe myself as something of a chameleon that changes color by the season and also when traveling from one country to another. Films, art and nature invoke in me strong feelings of identification and inspiration. Flower arrangements, a pottery course, photography retreat, workshops – these are all sources for my creative work."
Text: Riikka Siusluoto Photos: Laura Riihelä
This story was originally published in Avotakka.