Tanja Nikunen has a knack for spotting true design gems among numerous flea-market items. The home in a semi-detached house built in the late 1970s gets a unique look from the fixtures built by Tanja's husband, who is a carpenter. Take a peek at this lovely home with Design Stories!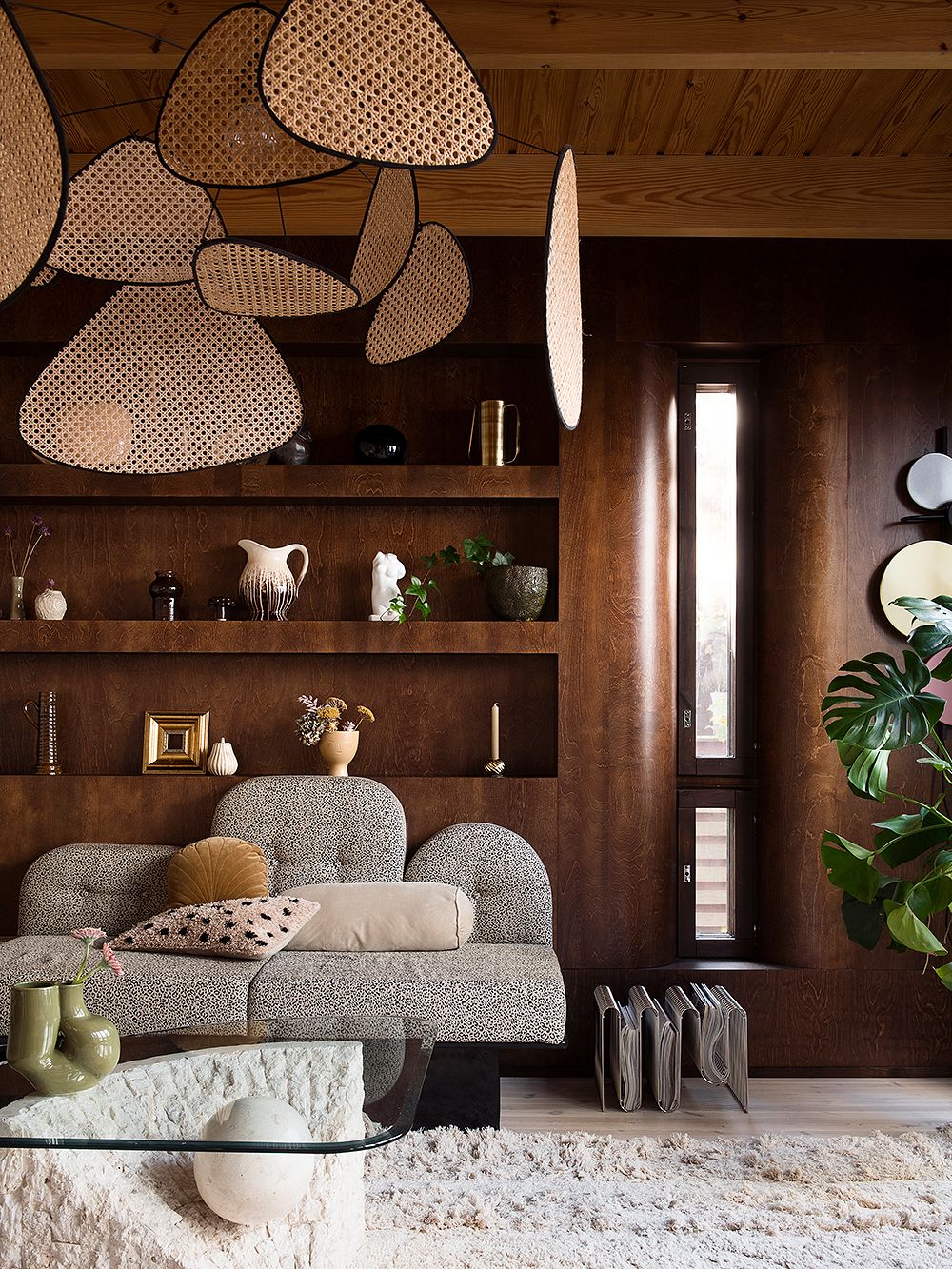 Residents:
Tanja and Jussi Nikunen as well as their children, aged 5, 8 and 15. The home is a 134-square-meter apartment in a semi-detached house in Espoo, Finland.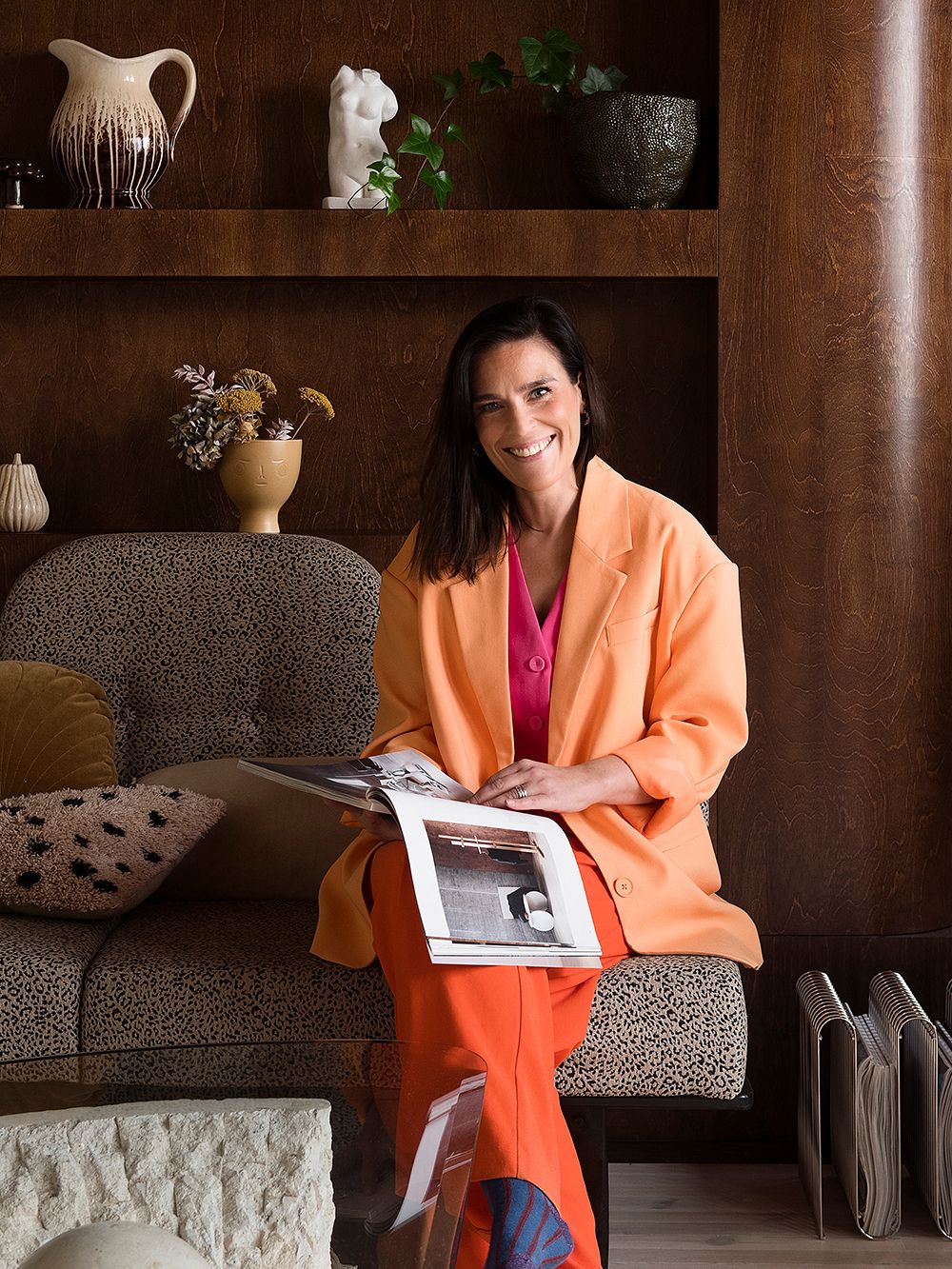 AT FIRST GLANCE, the interior of the 1970s semi-detached home in Espoo looks rather luxurious. The rooms feature sleek, dark wood surfaces and furniture made of natural materials, such as Italian natural stone, all exuding elegance. This home is definitely decorated with the really expensive collection of an avid collector. Or is it?
"All the items in our home are second-hand finds, except for the beds and some rugs and lamps. We haven't purchased anything really expensive. Instead, the items are mainly affordable flea-market finds," says Tanja Nikunen.
First impressions can indeed be deceiving! The home is clearly a true cornucopia of flea-market finds. The gorgeous octagonal stone table in the dining room cost 50 euros at an online flea market, the living-room sofa cost the same, the shade of the floor lamp was found among free items in local Reuse Centre and the patio chair changed owners for 5 euros.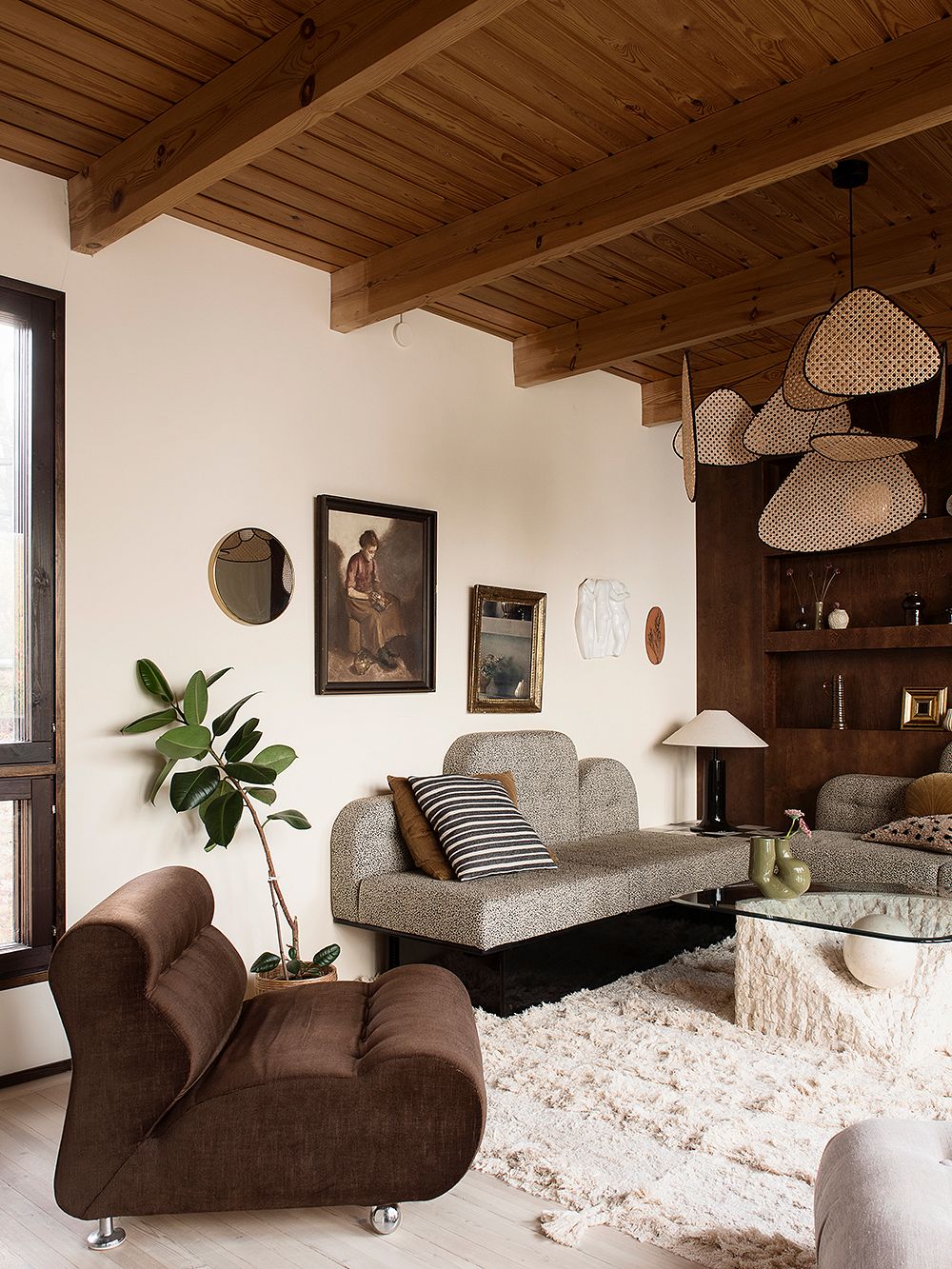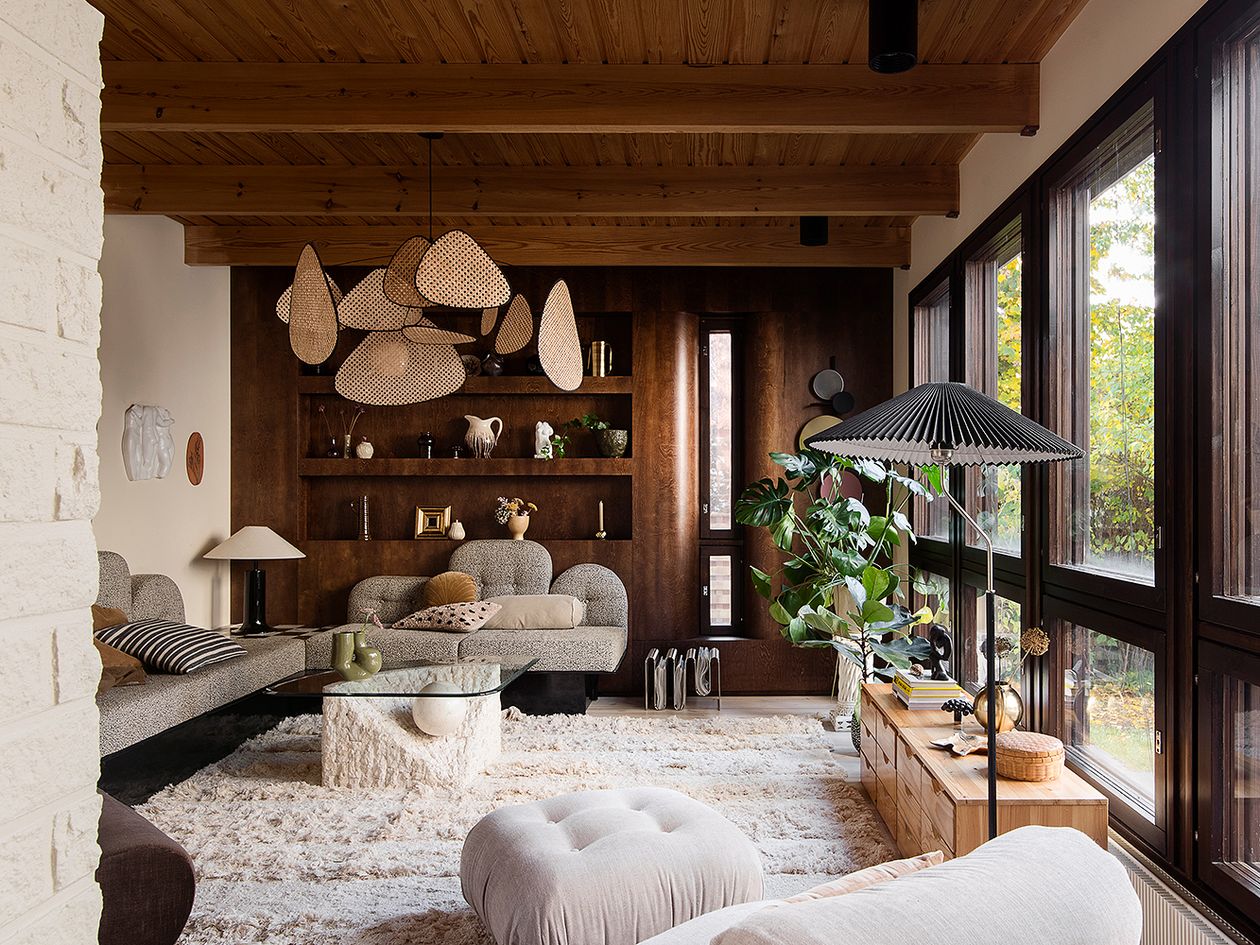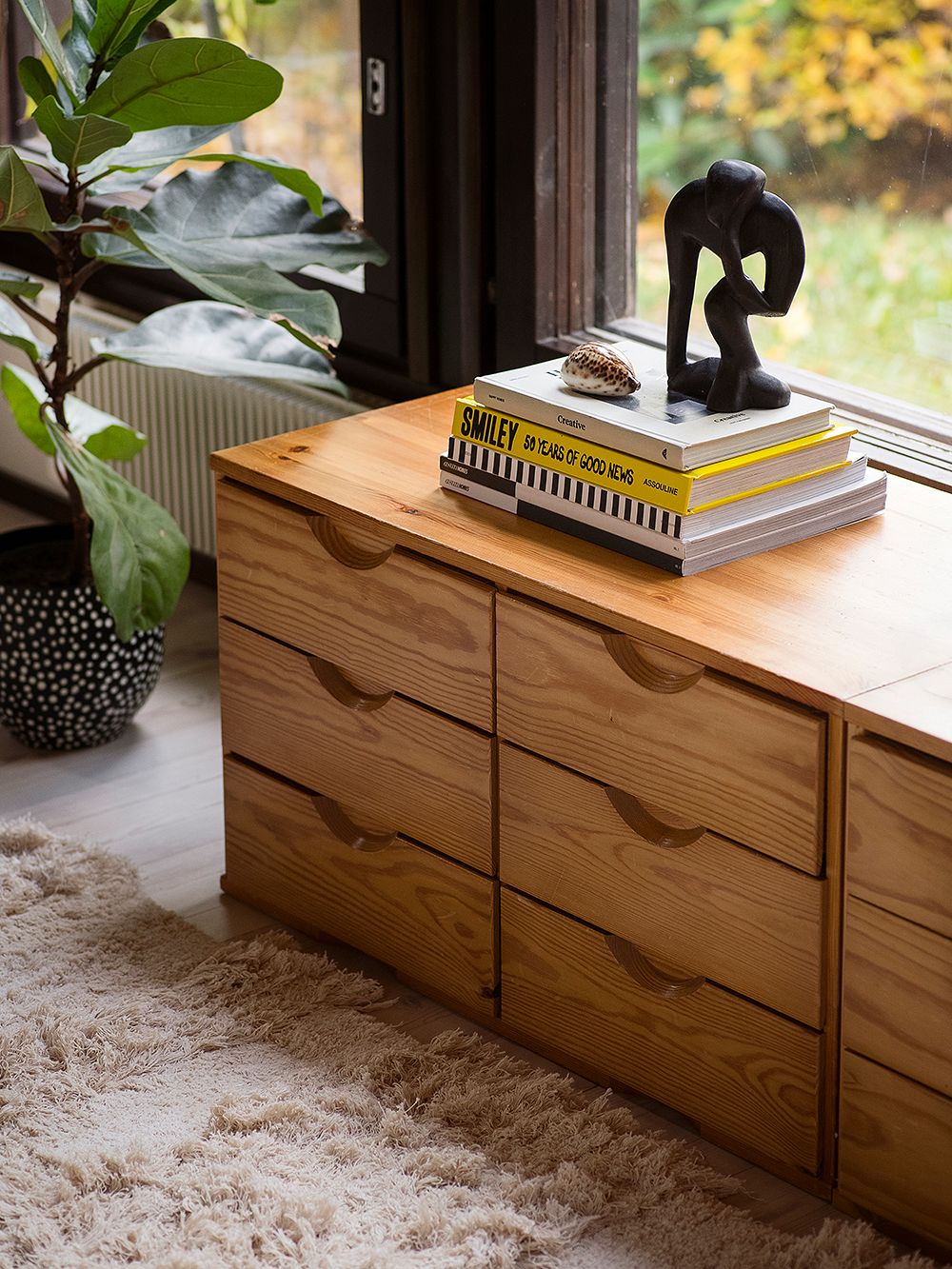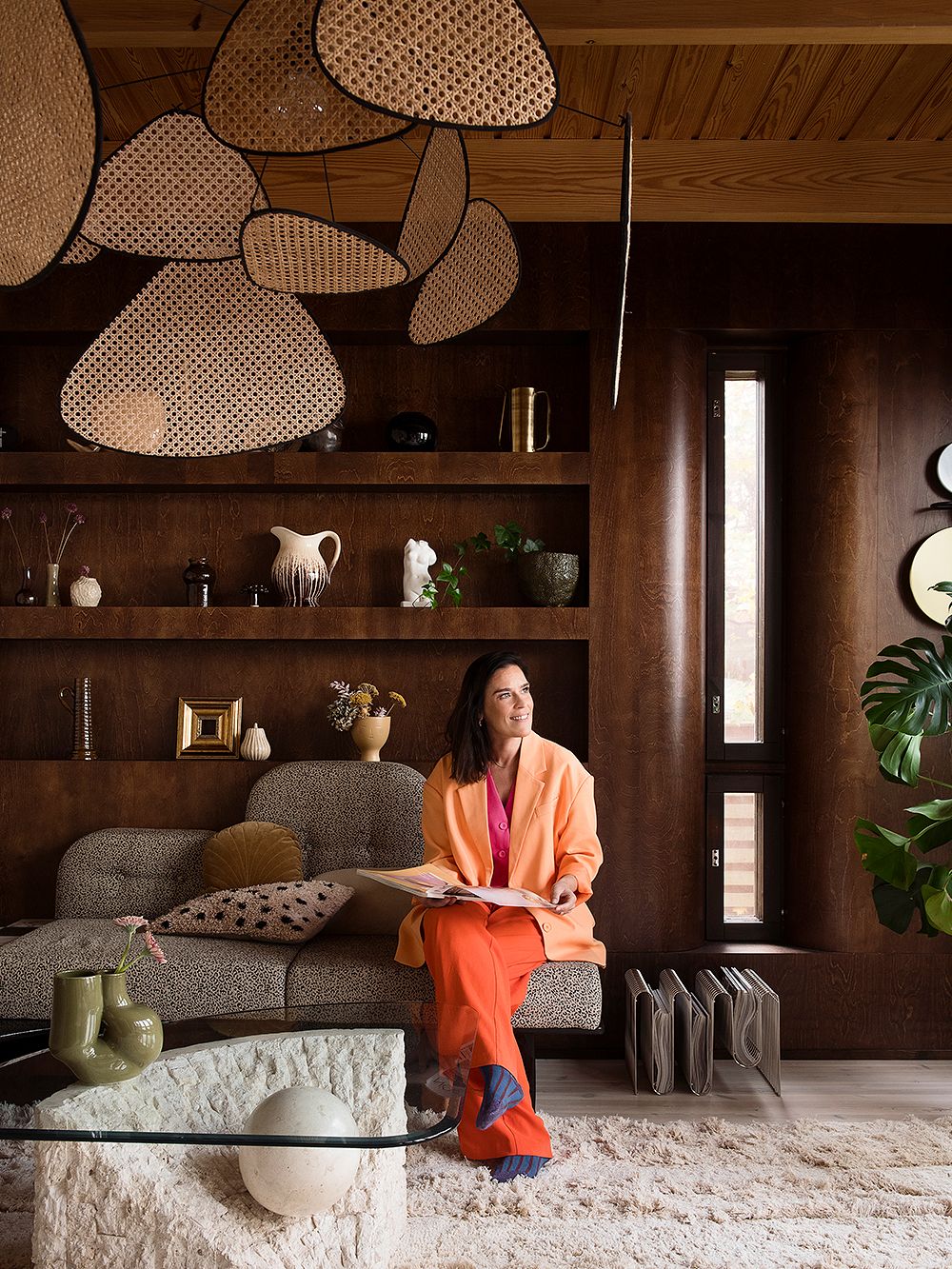 What guides your interior design choices?
"The starting point for everything is this house, which dates back to the late 1970s and reflects the style of the era. The building is angular, and the apartment features pine surfaces, a split-block fireplace and dark window frames, which give it a sharp look. You can't just throw anything in an environment like this. Even though I like colors, I got the feeling that the natural tones of materials go better with this place. That's why there are only a select few colors."
Do you have an interior design philosophy that you follow?
"For each space, I always select a strong element that brings the room together – for example, in the living room, there are dark wood surfaces, whereas in the children's rooms, the walls are colorful. When the rooms only have a single strong element, the interior withstands wear and tear better. We have three children, so our home is not a stage that needs to remain perfectly arranged. Instead, it's decorated to withstand everyday life."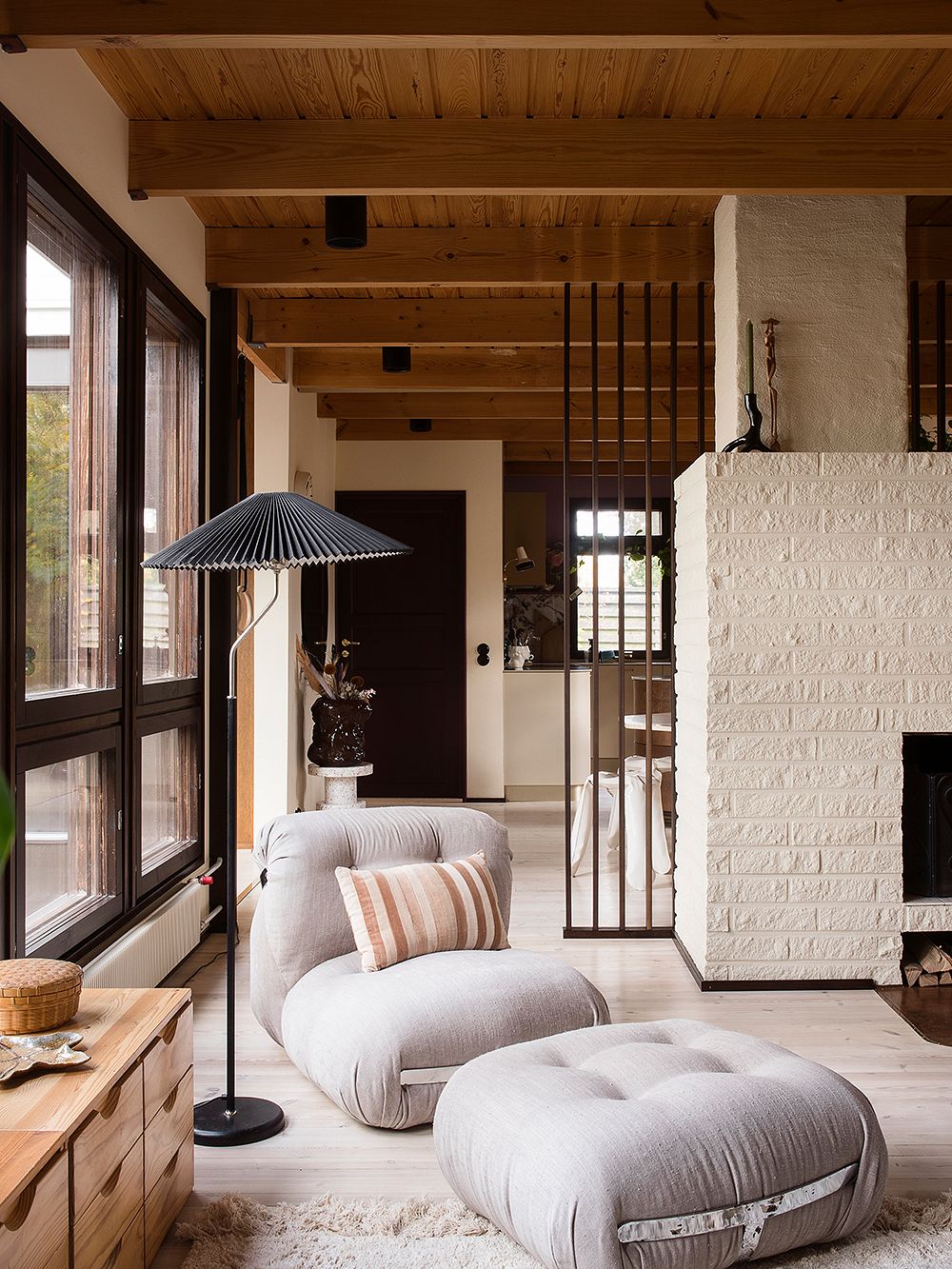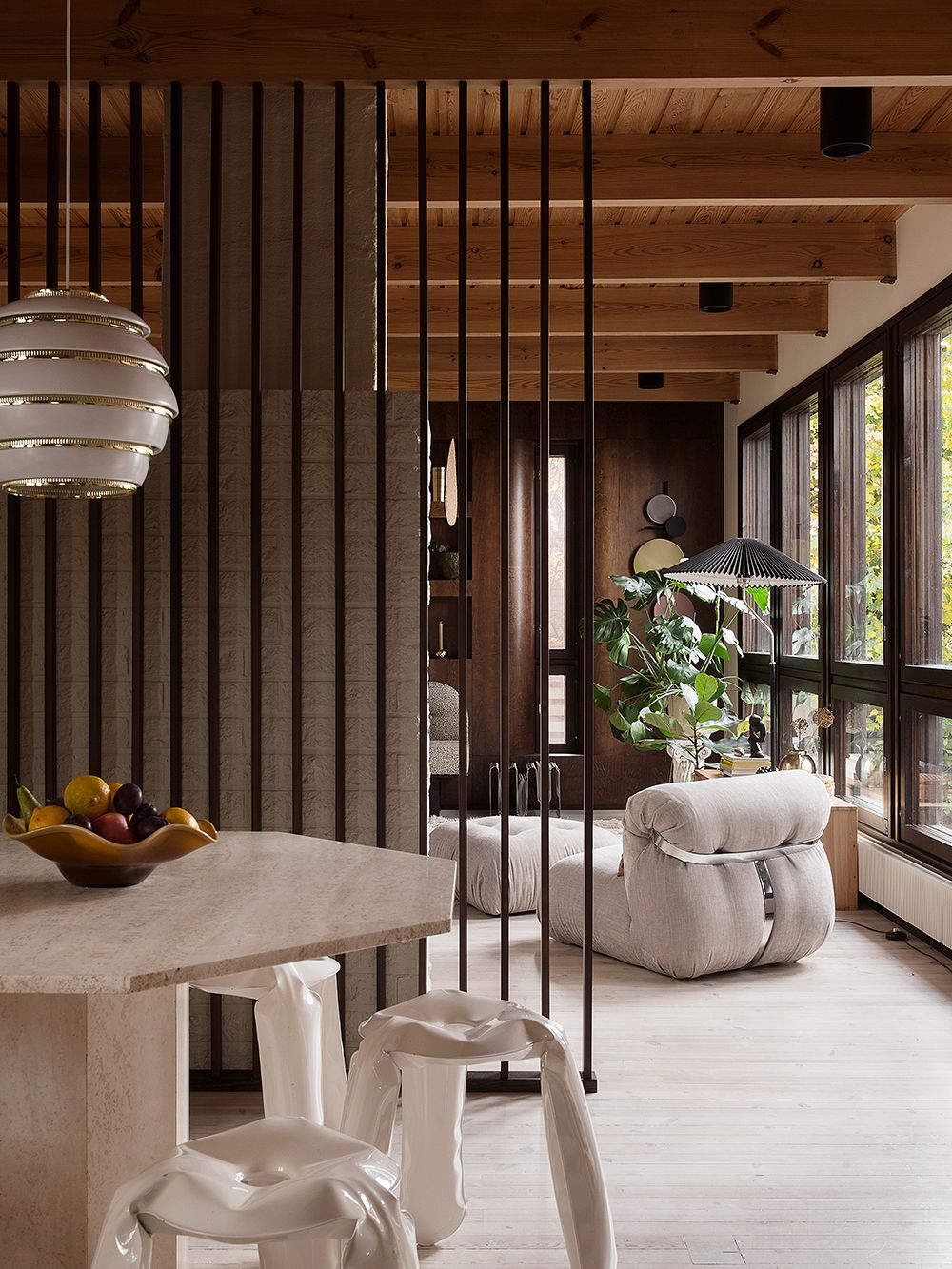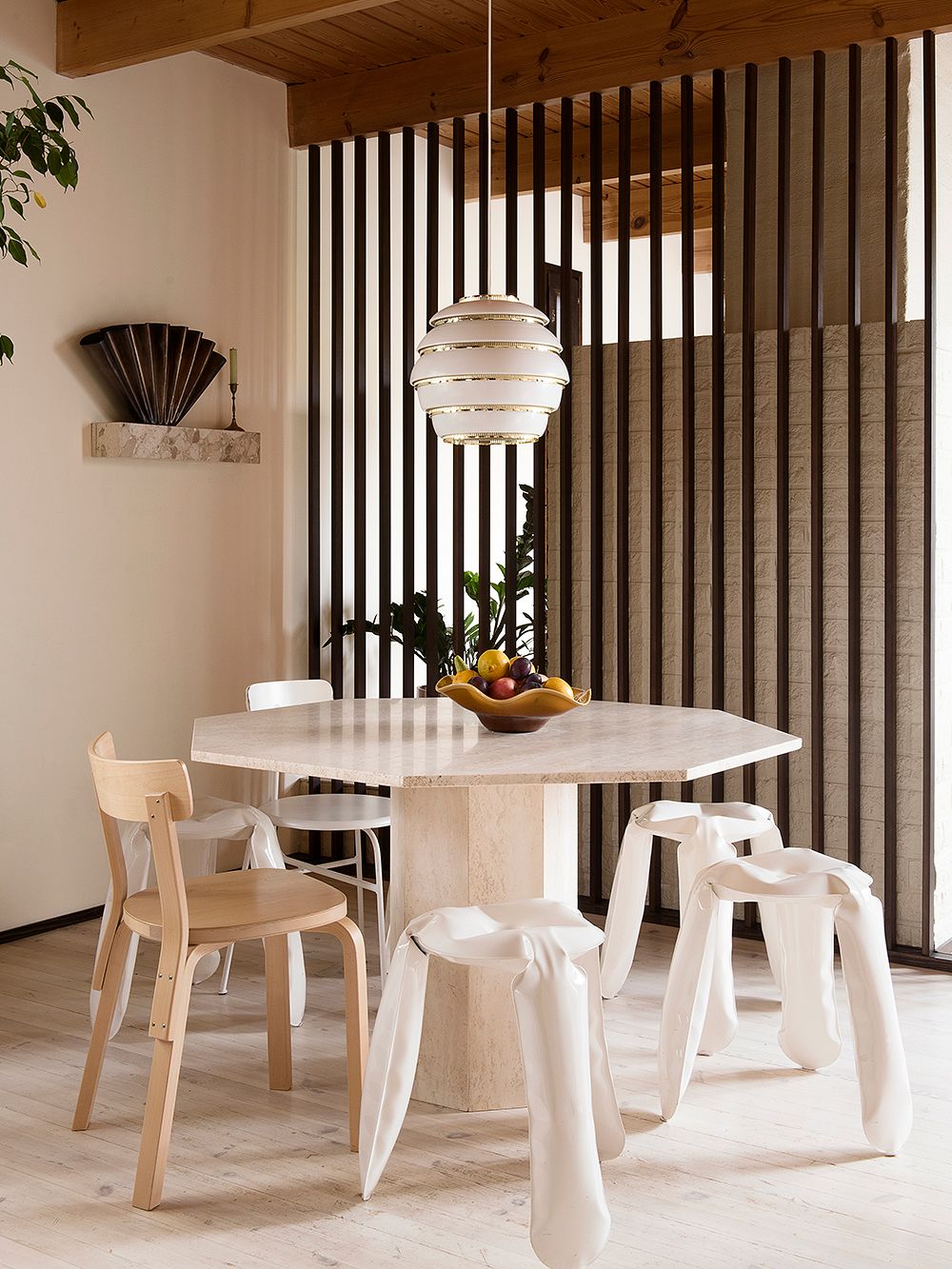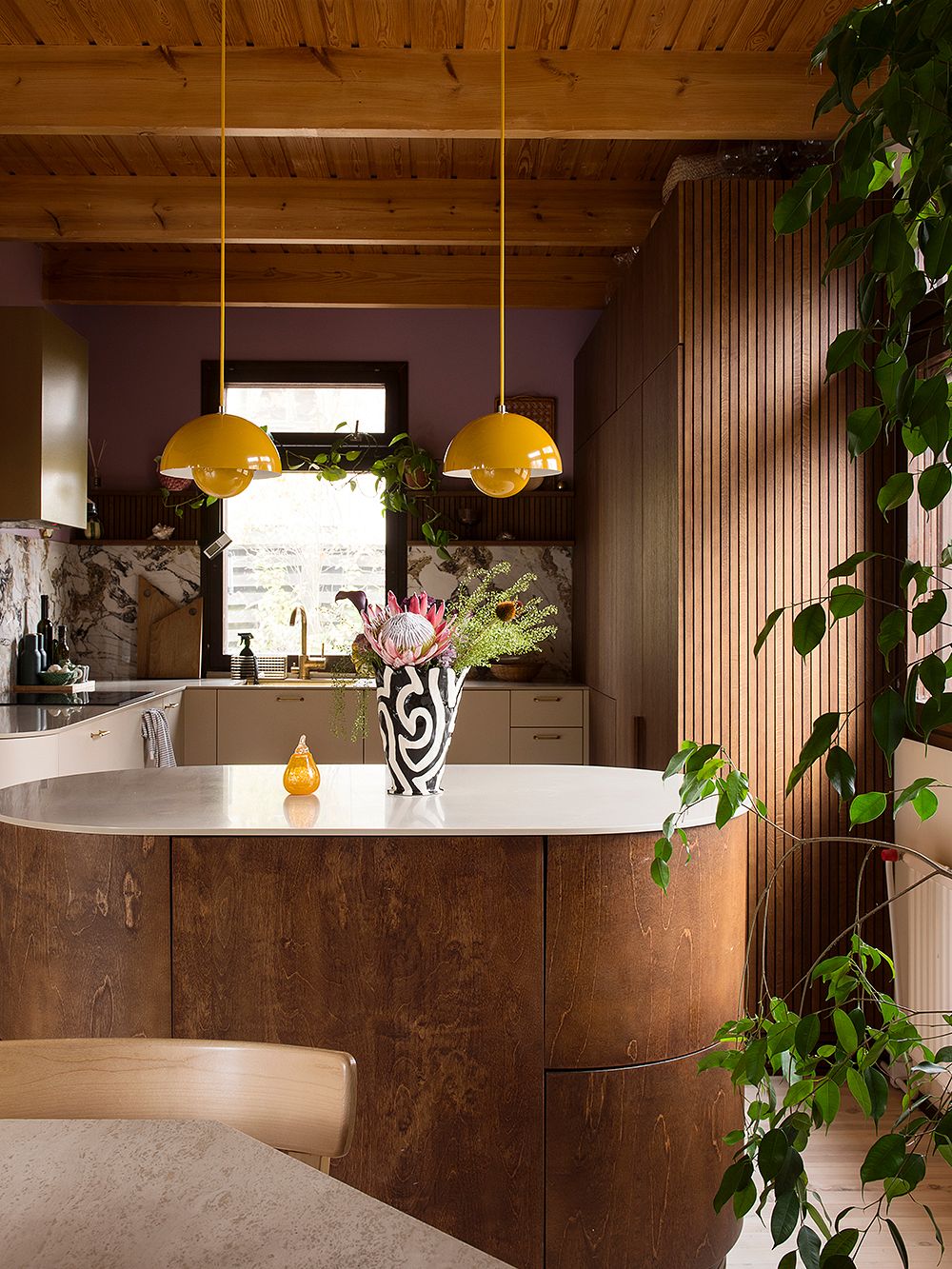 You clearly have an eye for design finds. How do you manage to pick just the right items for your home?
"Even if you decorate with recycled items, you can still pick and choose and decorate in your own style. When you have a clear vision of what kind of an interior you want to create, you can search for suitable items in various sales channels. You just have to accept the fact that you can't always find what you're looking for right away.
But, then again, decorating with recycled items has an exciting element of surprise to it. I'm also fascinated by the opportunity to suddenly come across some amazing find. When I make one, I don't hesitate to make a move – even if I don't know yet where to put the item.
"Even if you decorate with recycled items, you can still pick and choose and decorate in your own style."
Then, sometimes the situation escalates, and a find creates the need for new purchases. For example, our living room got a whole new look when I saw a gorgeous stone coffee table in an interior design magazine. I just couldn't take my eyes off it. A little while later, I spotted the same table at an auction, and I just had to have it.
To accompany it, I found a 1970s sofa at an online flea market, and the shape of the sofa went perfectly with the stone table. We just had new padding made for the sofa."
What inspired you to decorate your home with recycled items?
"I've been decorating with recycled items all my life, so this isn't anything new for me. I'm originally from Old Rauma, and my childhood home was decorated with antiques and items bought at auctions and second-hand stores. When I moved on my own, it was clear that I would decorate my home with recycled furniture. I've had the habit ever since. I don't actually even quite understand why things should be bought new."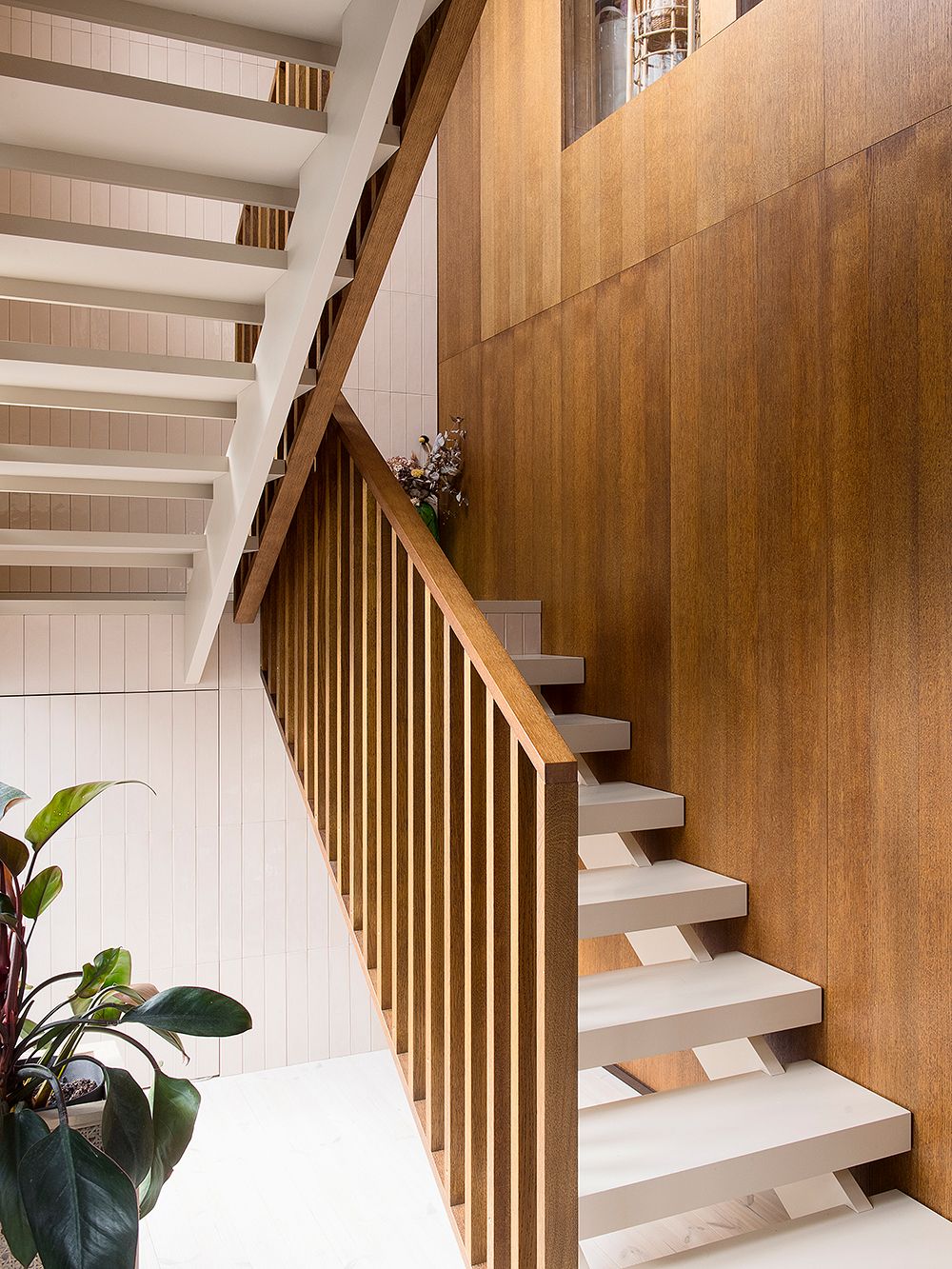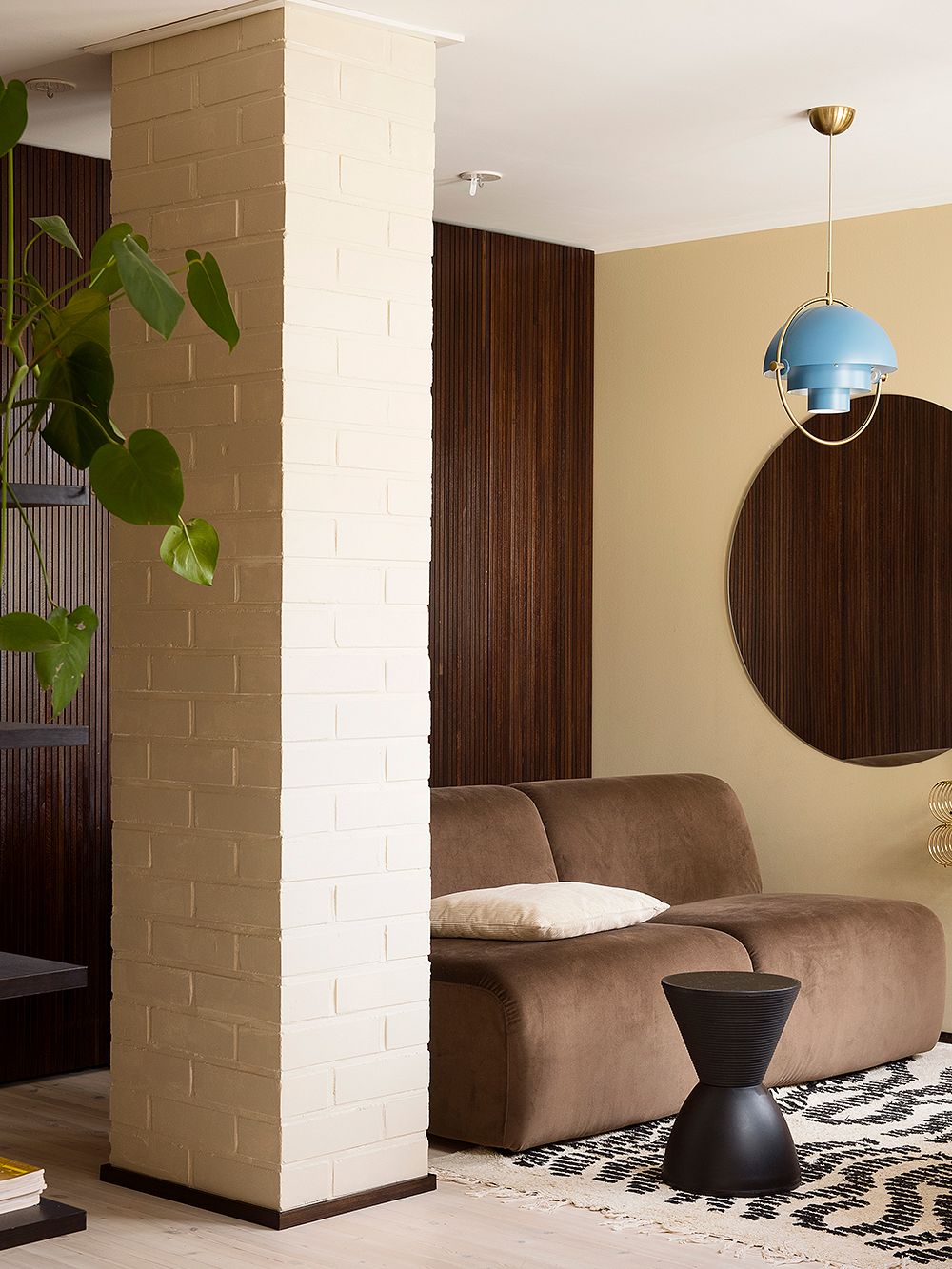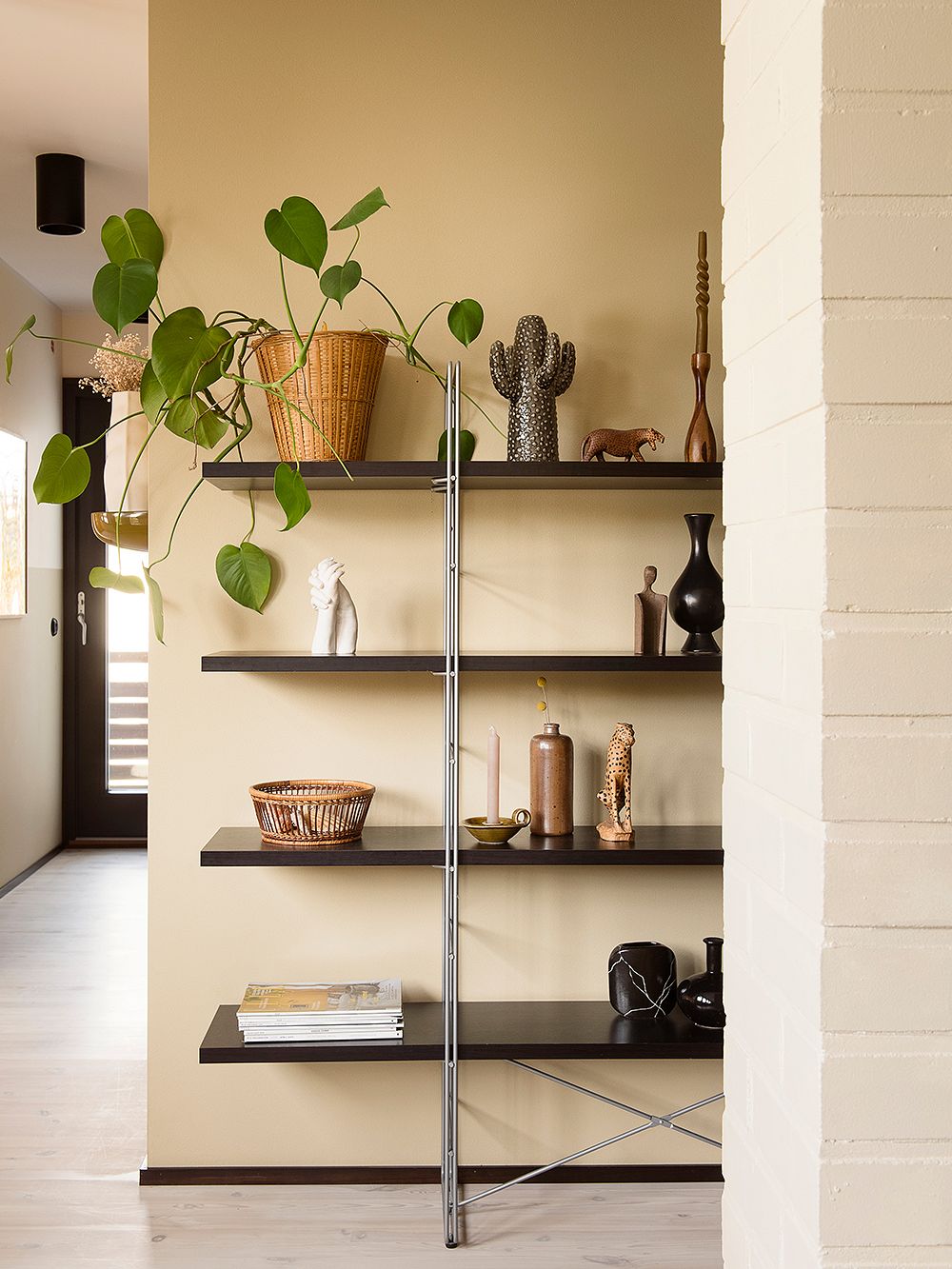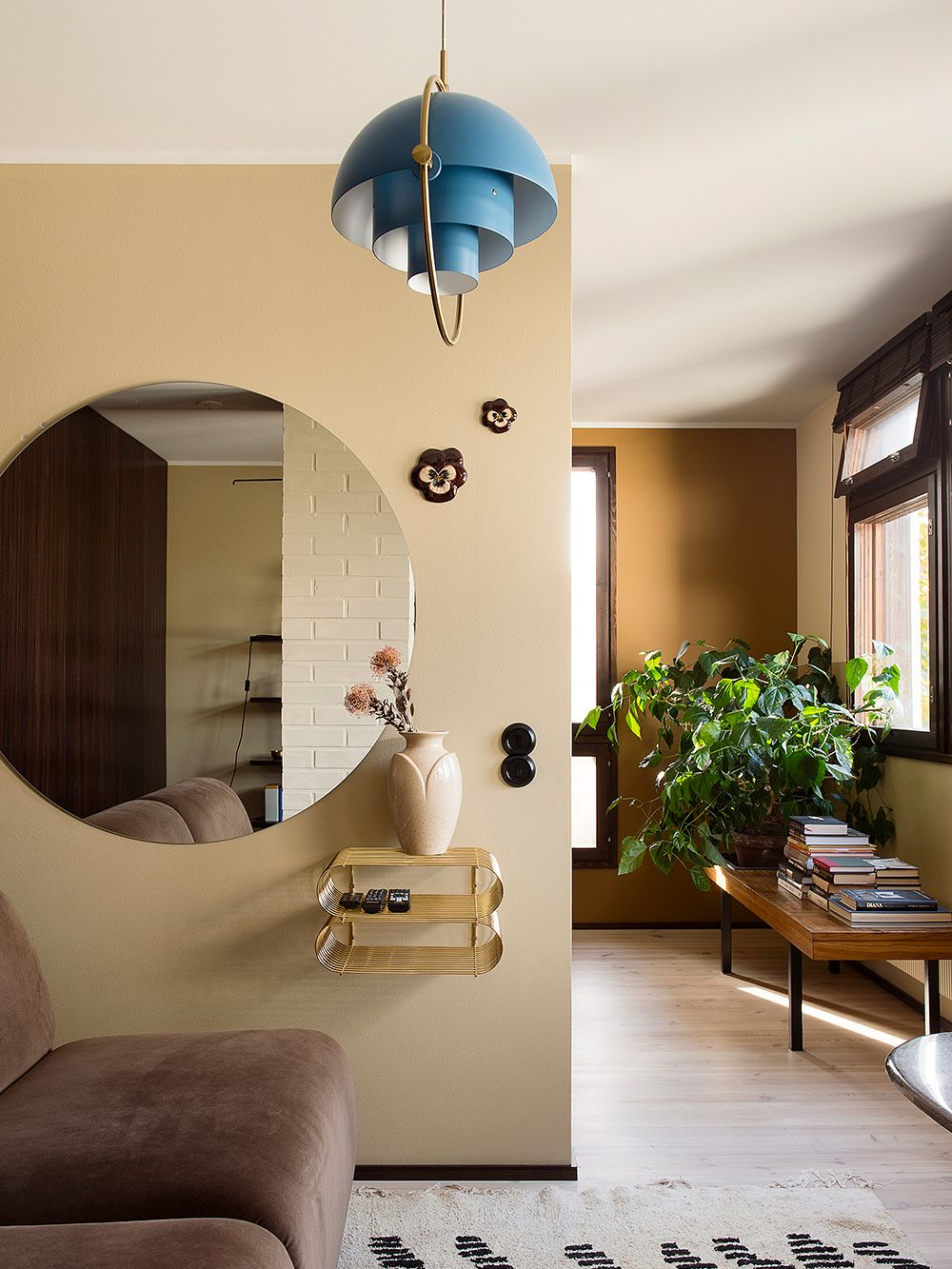 Where do you make your best discoveries?
"Via various channels, such as online flea markets, social-media recycling groups as well as self-service and charity flea markets. I've even made some amazing finds among items available free of charge at flea markets!
Sometimes I've also made great finds based on the tiniest clues. For example, I found the stone dining table at an online flea market under the name 'garden table'. All that the sales ad showed of the table was a small section of the tabletop, covered by a tablecloth, and a sturdy stone leg that convinced me immediately. I was really nervous when my husband drove off to Tampere to get the table. Luckily for me, he came back with a gorgeous, angular 1980s travertine table, the likes of which cost thousands of euros when bought new."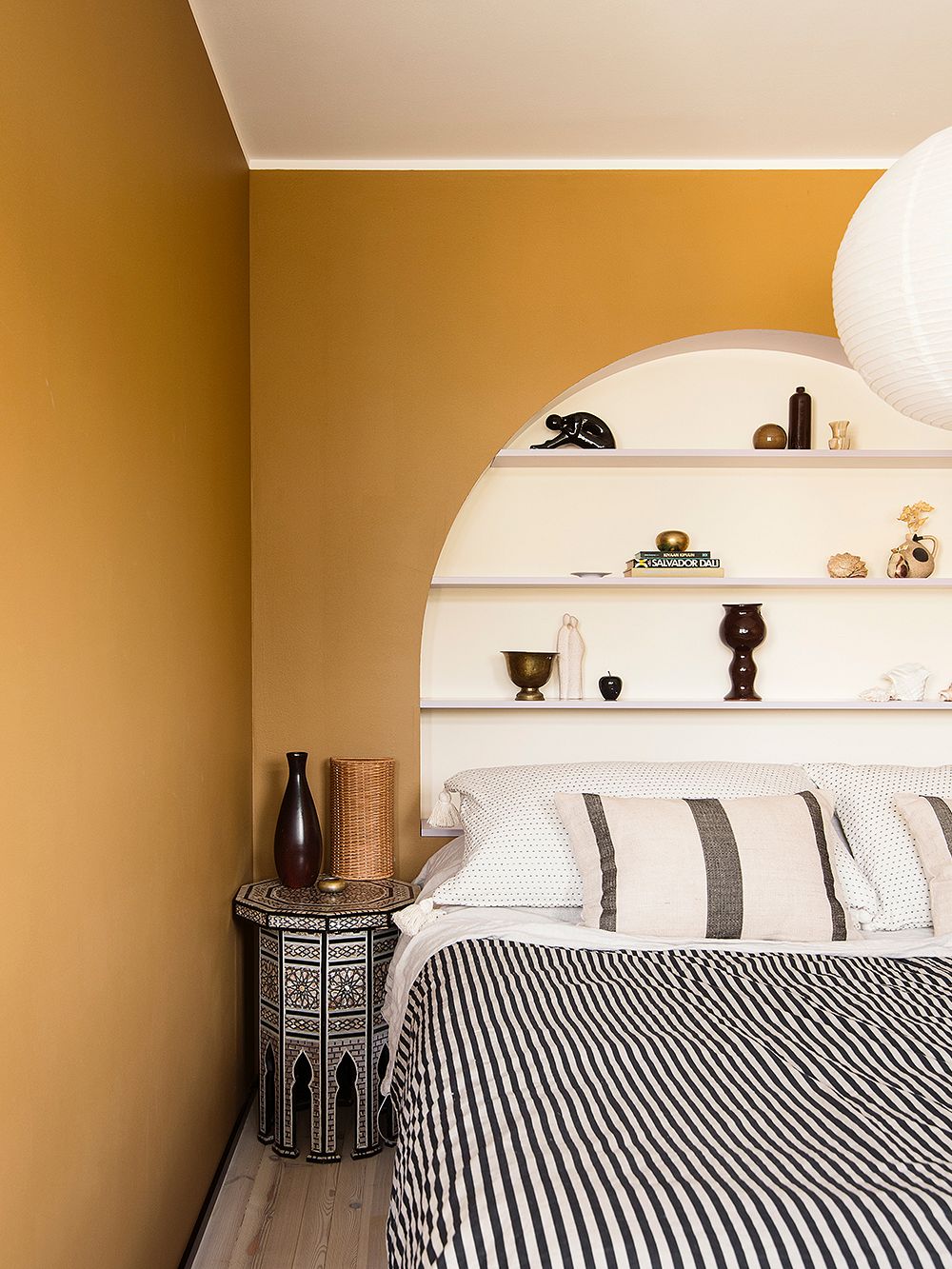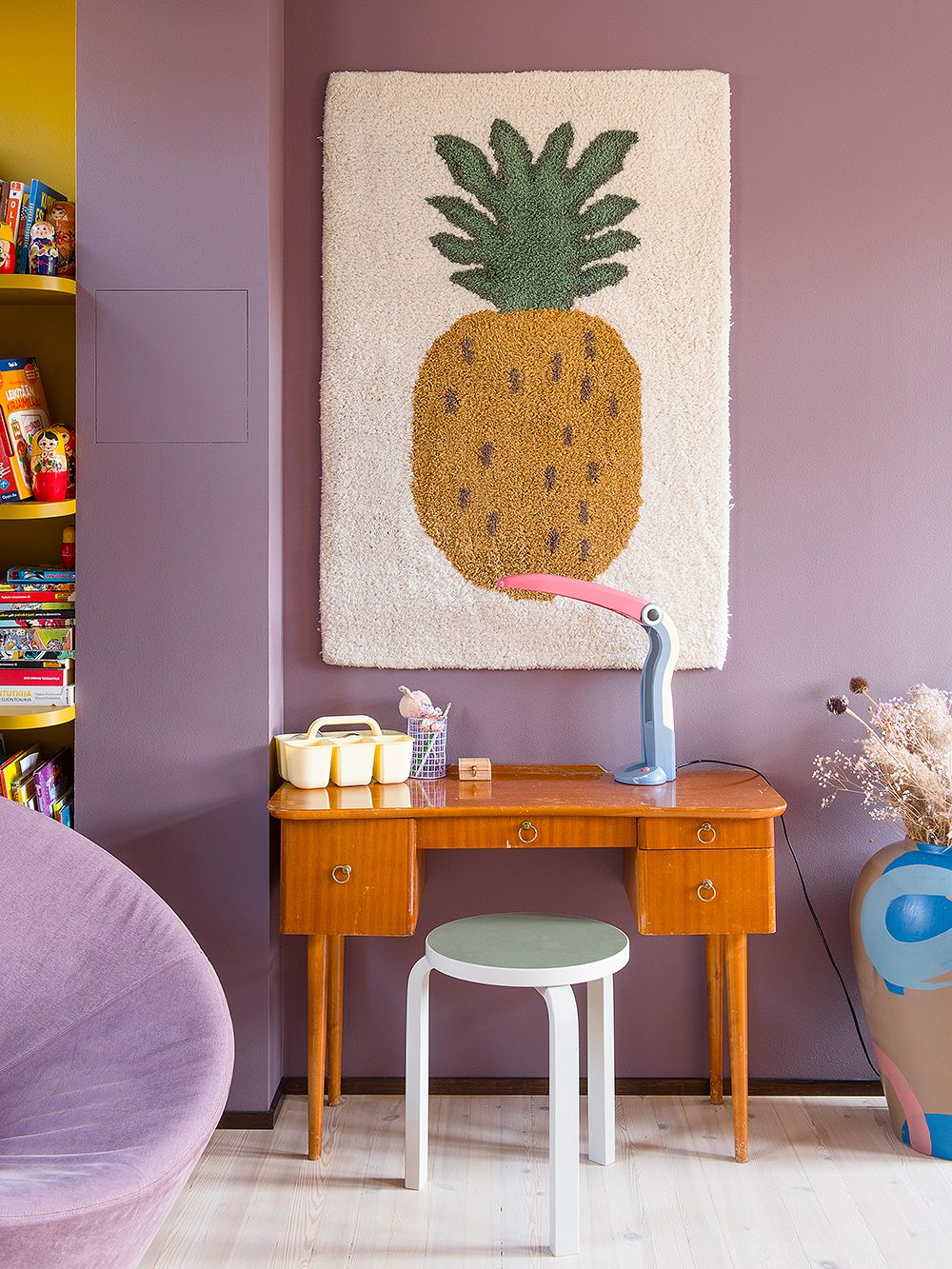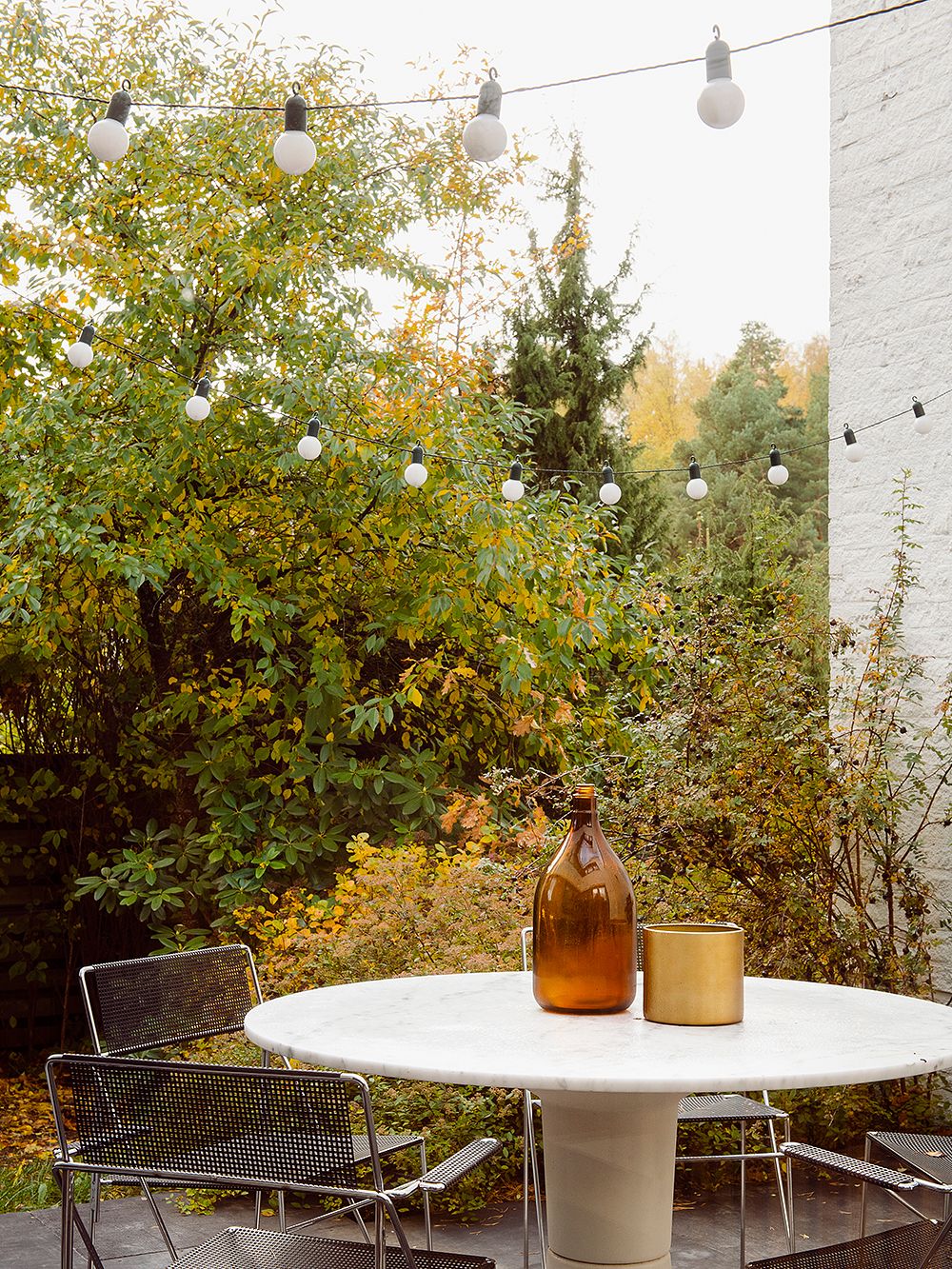 Your home is full of impressive fixtures that give the place a unique atmosphere. Who comes up with the ideas and who implements them?
"For the past three years, we've been renovating our home and rebuilt all the fixtures. I innovate and my husband, who is a professional carpenter, comes up with the concrete solutions and implements them really carefully. He's built all the cabinets and fixtures in our home.
I wanted to decorate the angular apartment with soft, round shapes. Such shapes are featured, for example, in the kitchen island, bedroom wall shelves, living-room window recess and numerous other details. It's really great to have fixtures that are tailor-made for this home."
See also:
• More pre-loved design treasures at Franckly >
Text: Anna-Kaisa Huusko Images: Niclas Mäkelä Video: Joni Tuominen