A couple who work with wood live with their children in the Maununneva district of Helsinki. At first glance, you wouldn't guess from the art gallery-like space that many of the items in the home are pre-owned – and that it's a place for spontaneous ball games.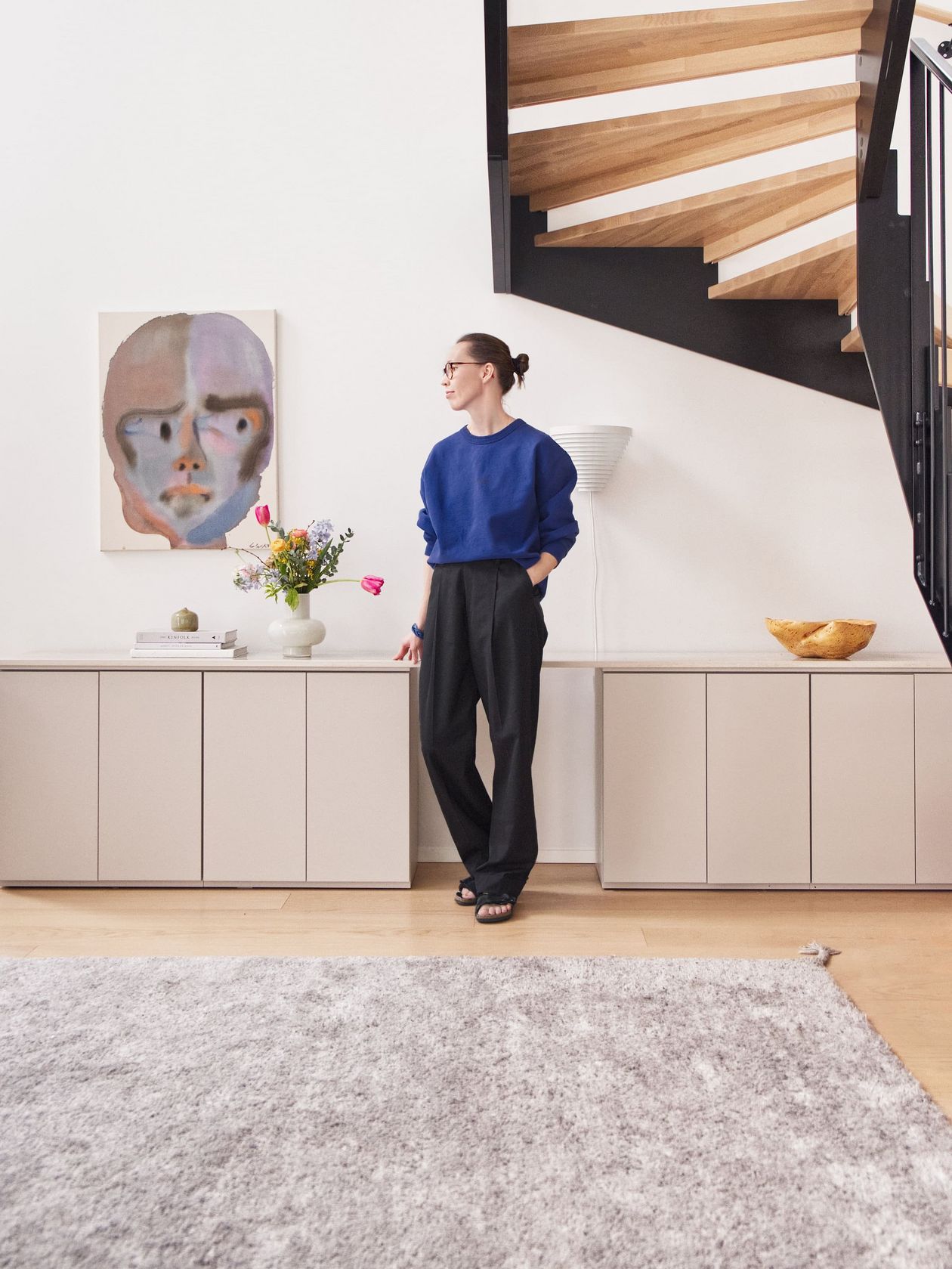 Hi, Pirkko! When you walk in, you immediately notice that wood has been used with great skill in your home. Could you tell us about it?
"Wood is one of our favorite materials. My husband is a carpenter by second trade, and we both work in the carpentry industry. Wood provides a gentle contrast to white walls and also improves the acoustics. I don't think I'll ever get tired of our oak flooring, which is not only durable but also adds a great deal of coziness. This is the third house we have built for ourselves, and we have had a wooden floor in all our homes.
My husband also designed and built the oak batten partition and dining table top downstairs. We like the nature, durability and versatility of wood: the top of a worn-looking dining table can be sanded if necessary."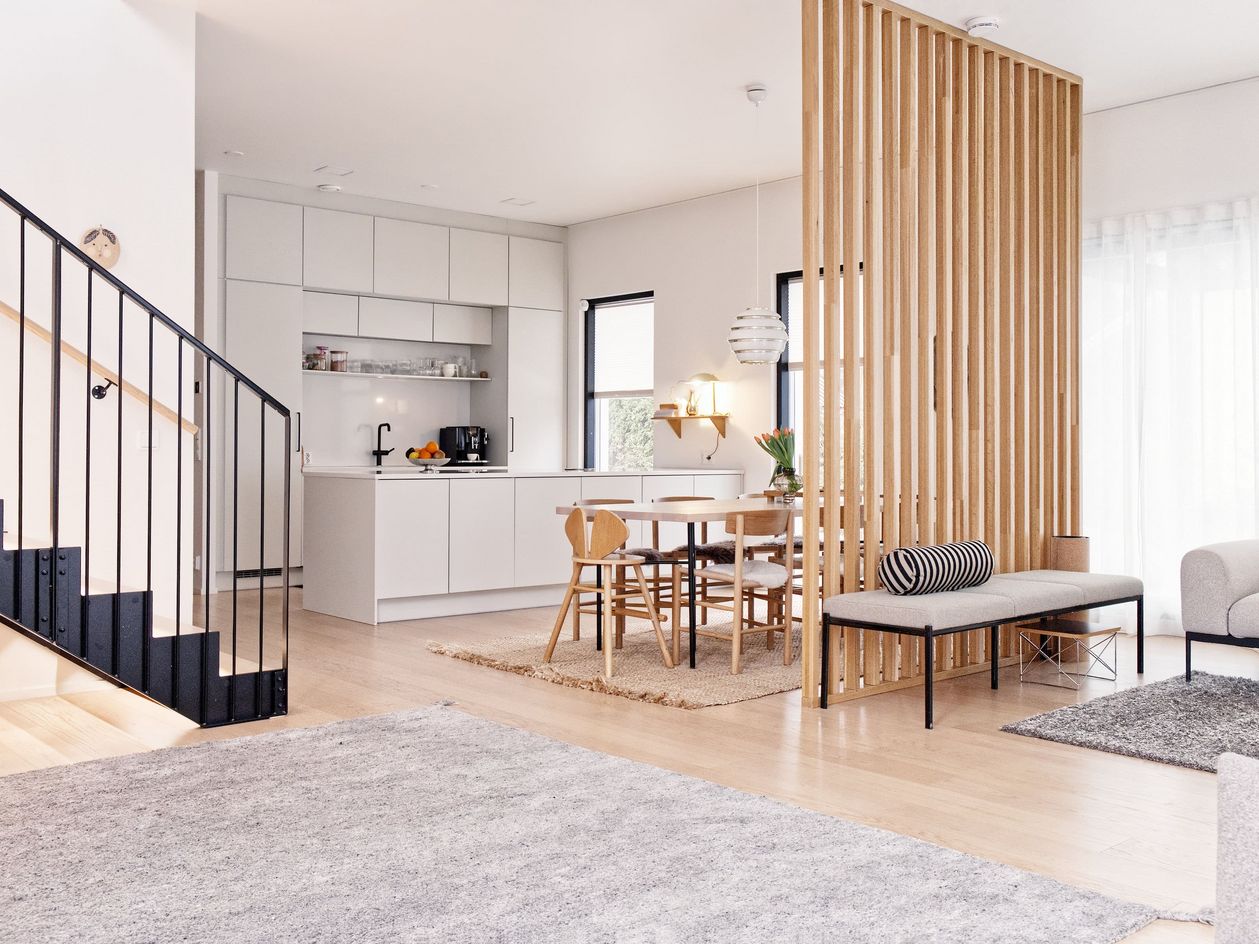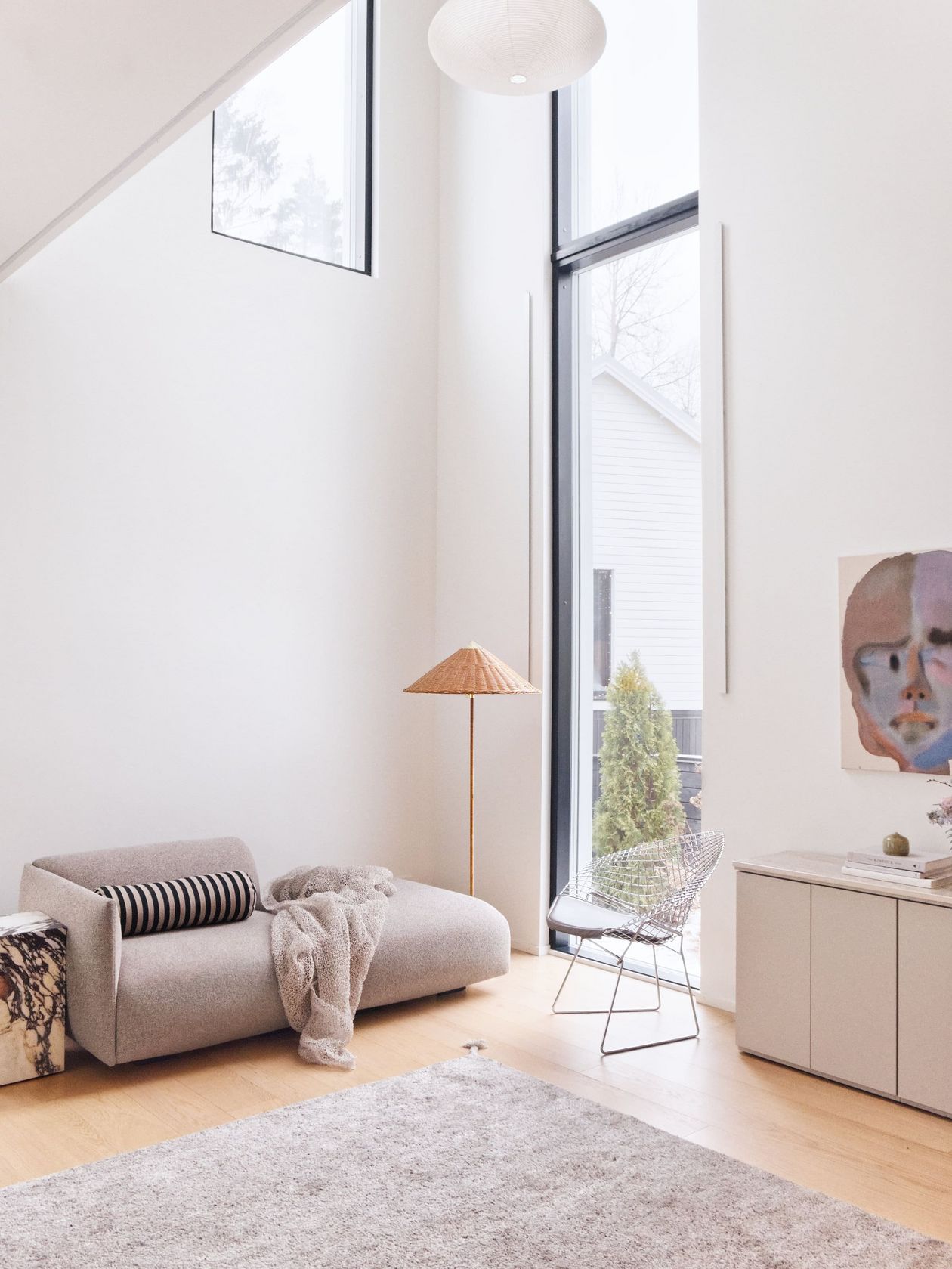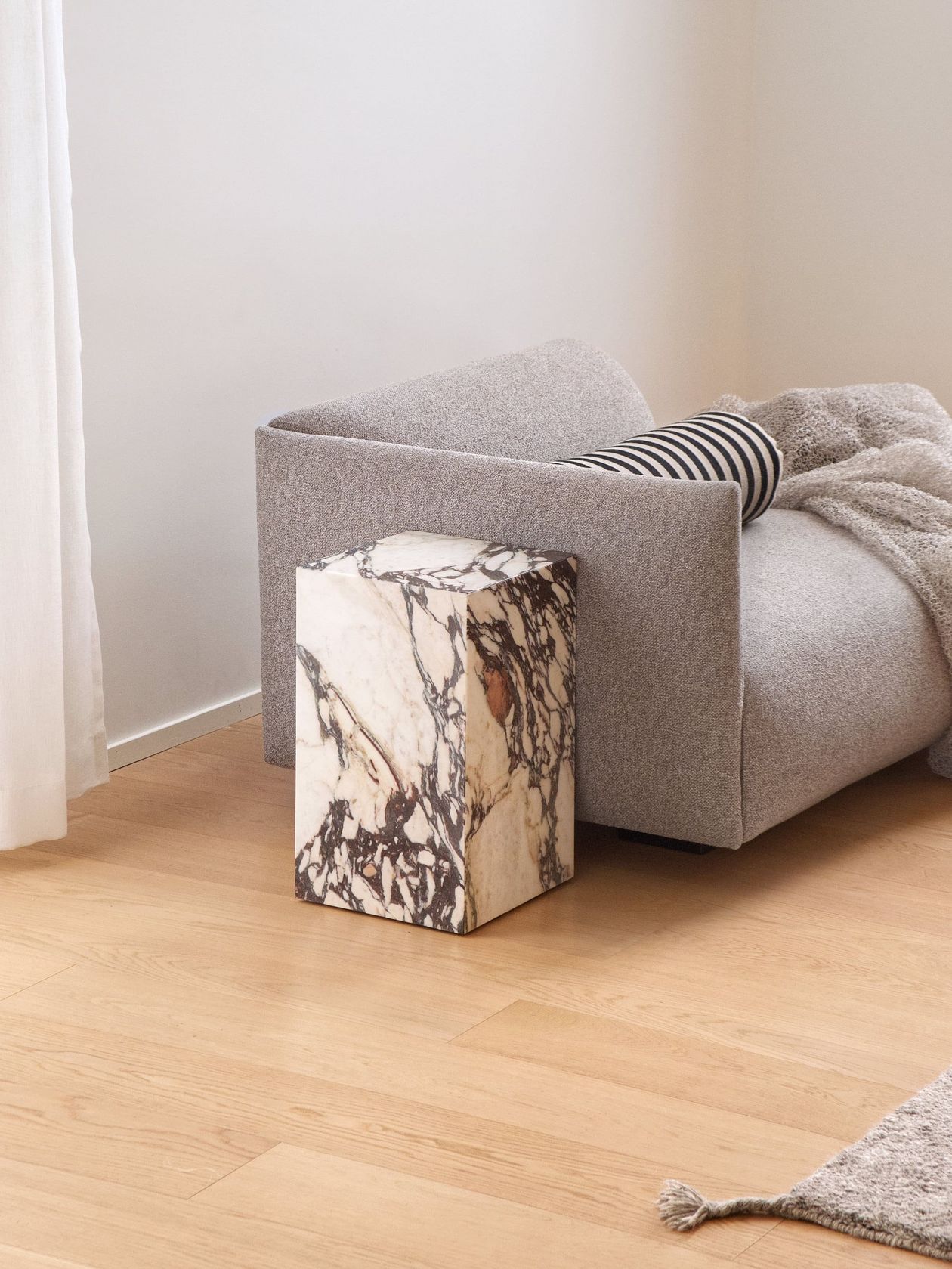 They say that the bigger the bag, the more you put in it. This may often be the case with homes too. However, you have a lot of empty space in your home – how have you managed it?
"As an esthetician, I definitely recognize this problem. I'm really careful about what I accept into our home. I don't usually go around inventing needs, and for new purchases I always sleep on it and think about whether the item would be a long-lasting investment. When designing larger interior elements, such as surface material solutions, I collect clippings to help work out my own preferences. After a while I'll then go back to the clippings and see if I still like the same ideas.
"A well-functioning order can change constantly. I can change the position of objects and furniture very frequently."
I enjoy the gallery-like spaciousness and empty space, which allows for a wide range of interior designs. I might even change the location of furniture or a single item every week. This is also a great way to change the atmosphere of your home without having to buy anything new. We have three boys, and we wanted this home to have enough space for footballs and toys to whizz around freely."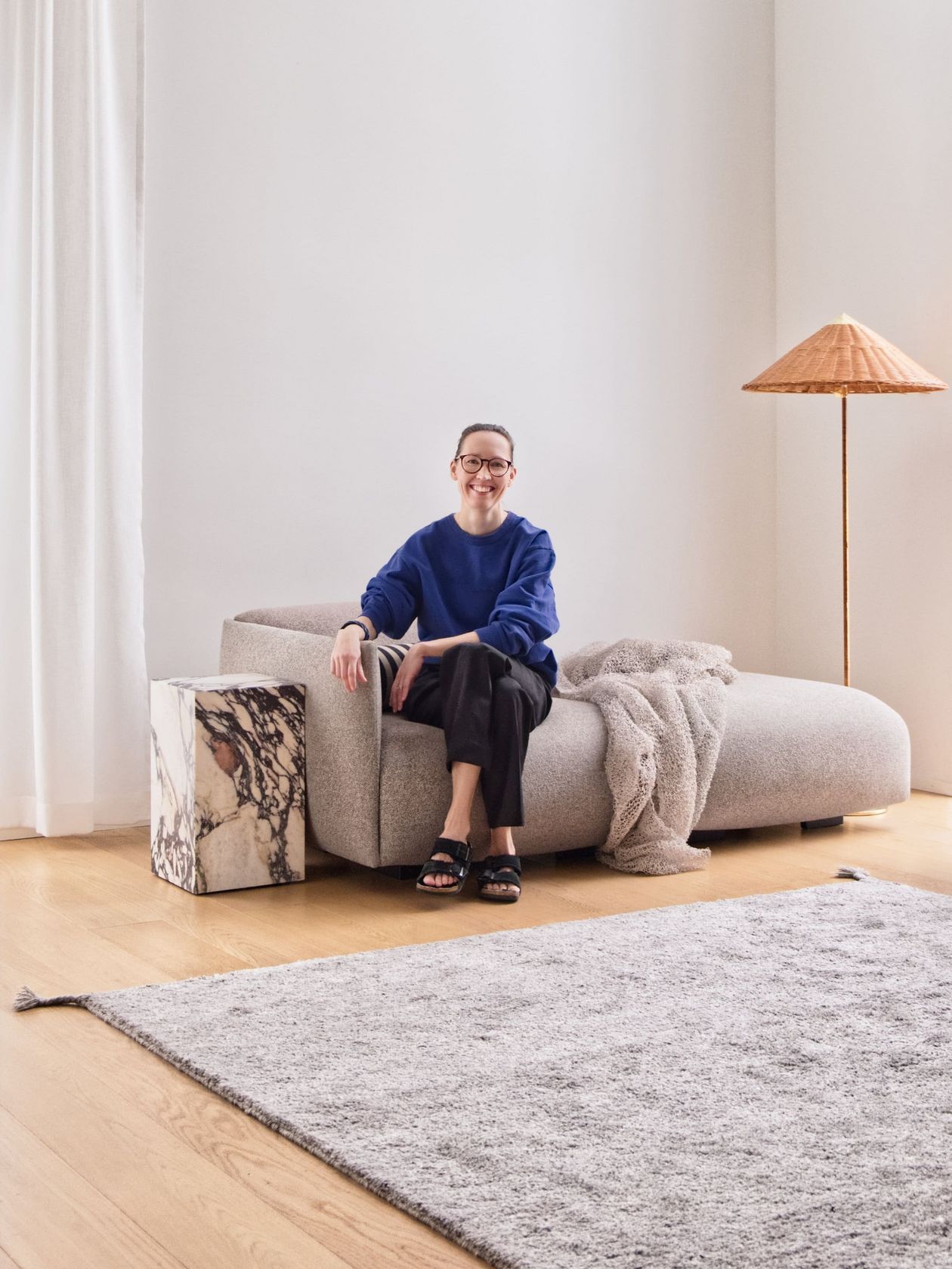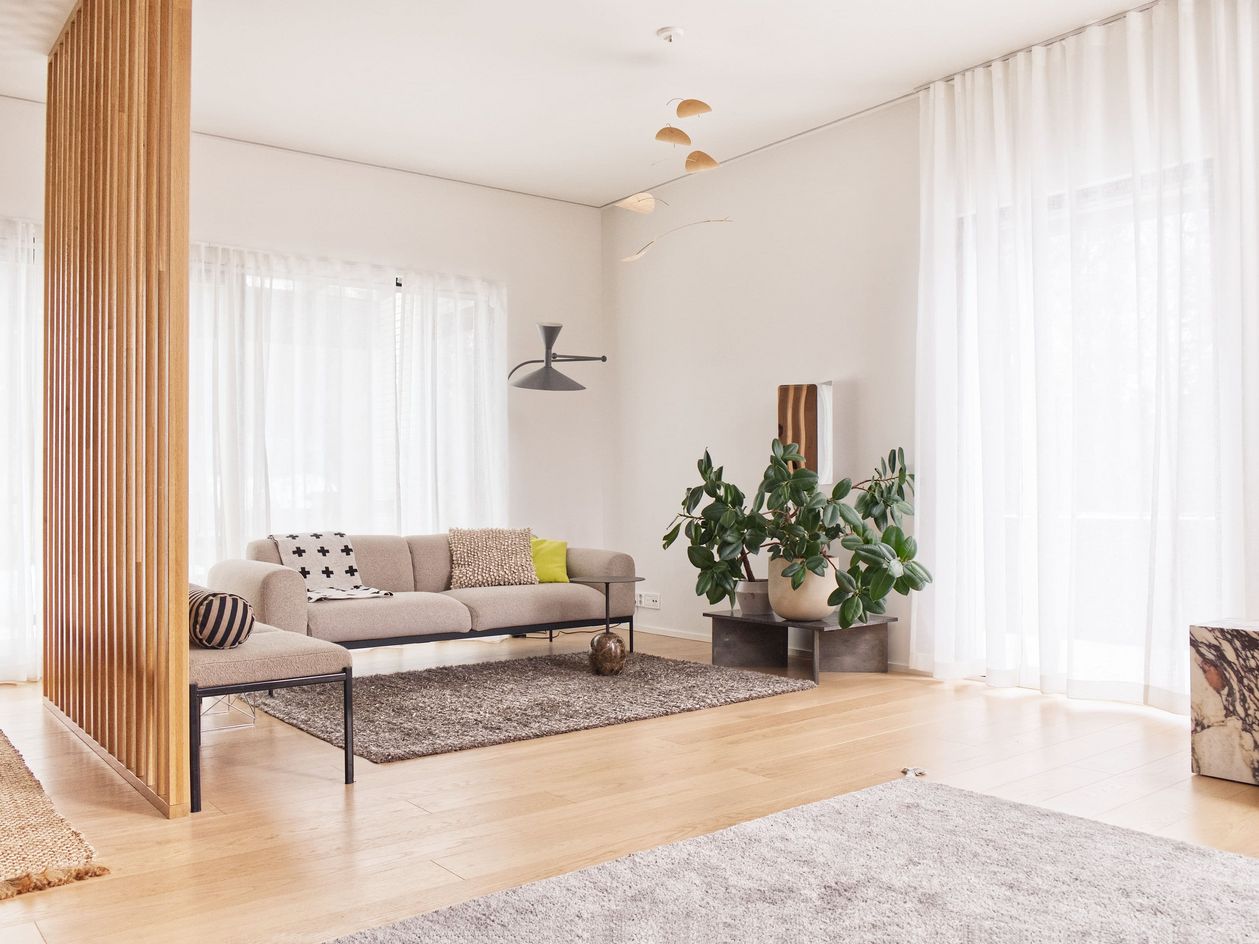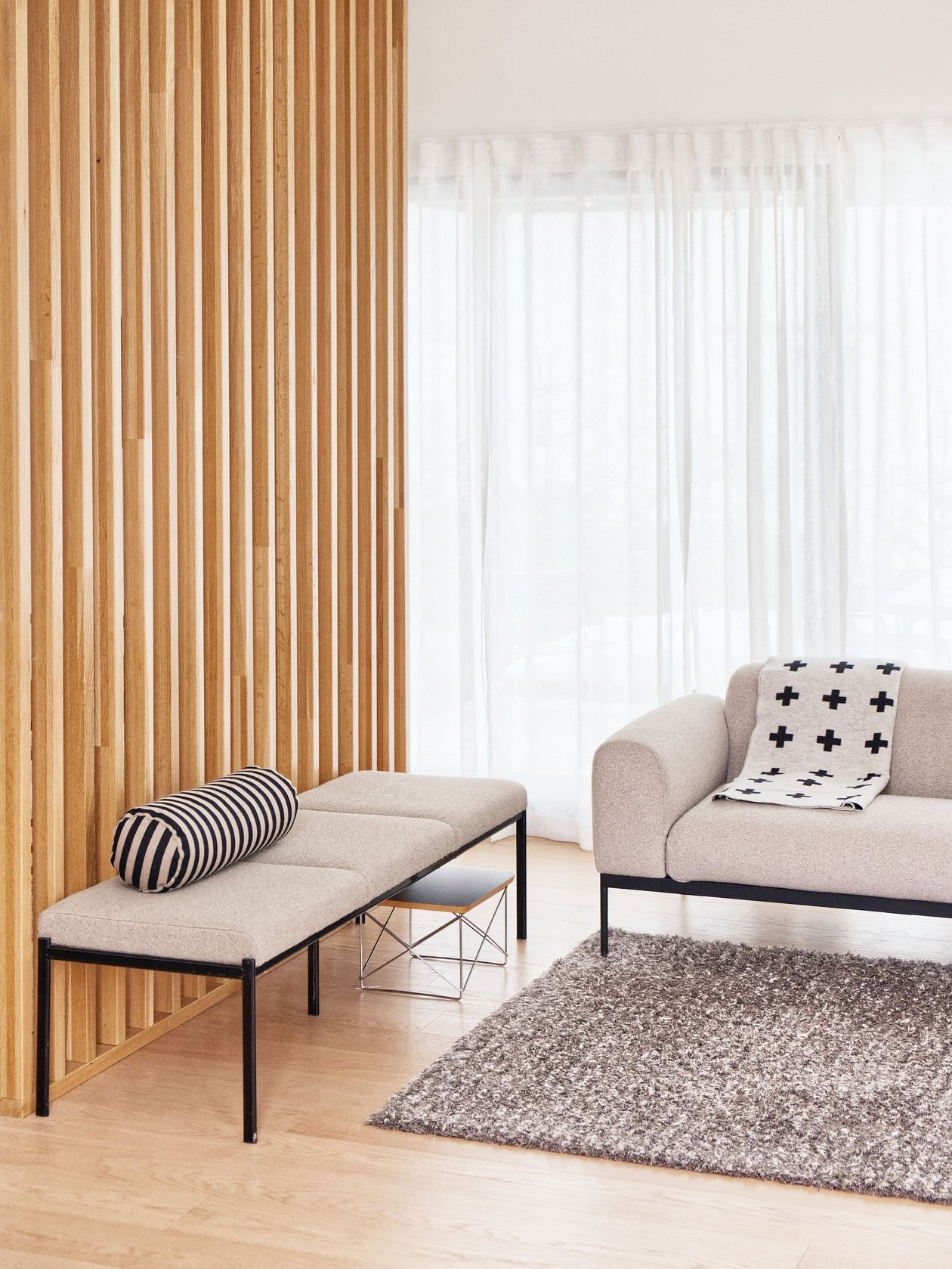 Rather than having things brimming over, I like the idea that homeliness can emerge from empty space and allow you to indulge in something spontaneous, like ball games. Do you feel that family life has also inspired other interior design decisions in your home?
"Having children, we appreciate quality even more. We buy items that we can repair, service or resell if they no longer work for us. That's why we have a lot of natural materials in our homes.
We have always liked white walls, but they are also practical as they can easily be repainted. We want to keep the downstairs space open for esthetic reasons, but also to provide space for the children to play. Once the toys are tucked away, the downstairs is a place for us to enjoy the calm.
Upstairs, the children's rooms are their own space, which they can decorate as they like and put posters on the walls. Children should have a say in their own home. They are usually the first to notice if we have something new in the home!"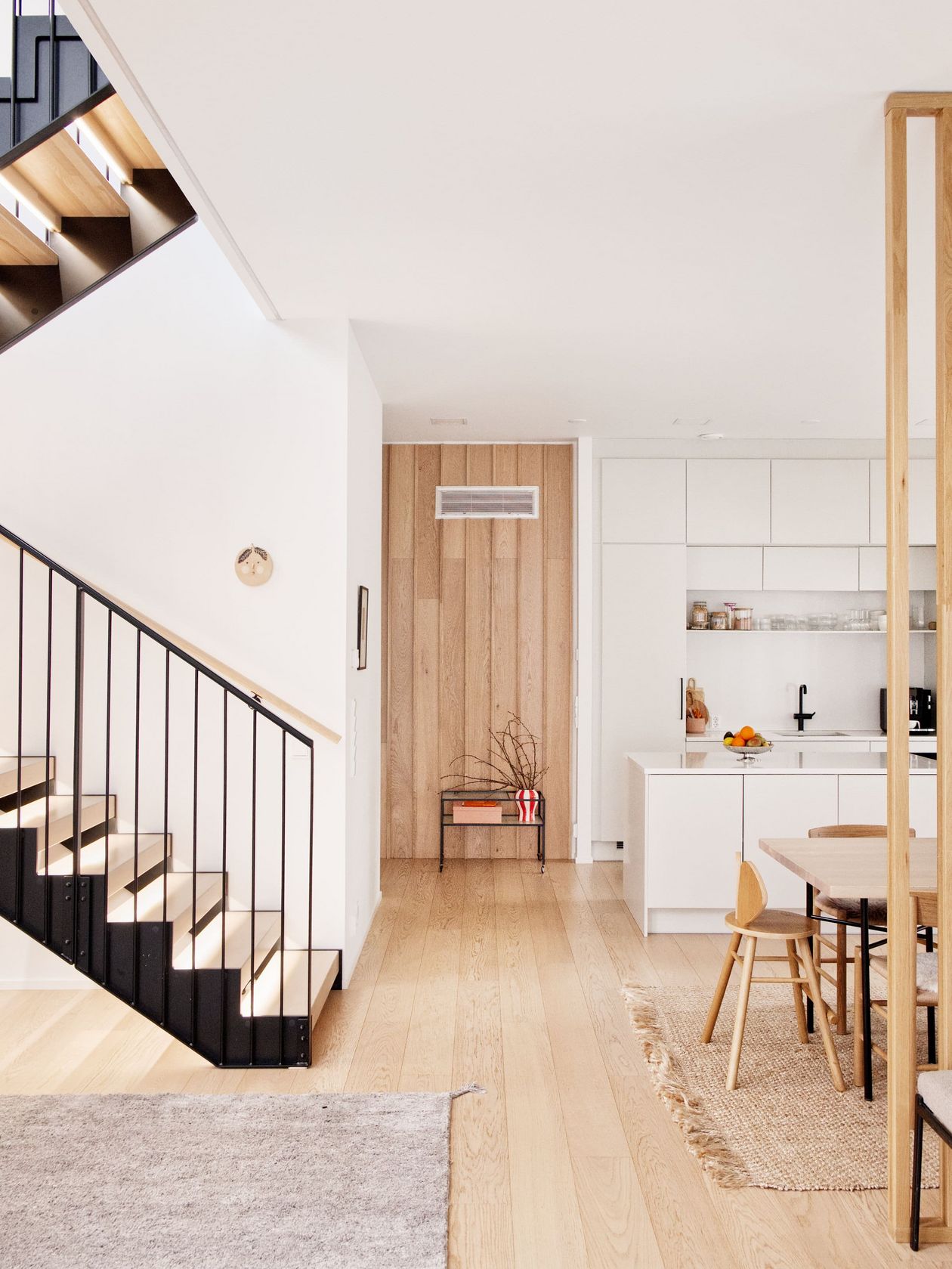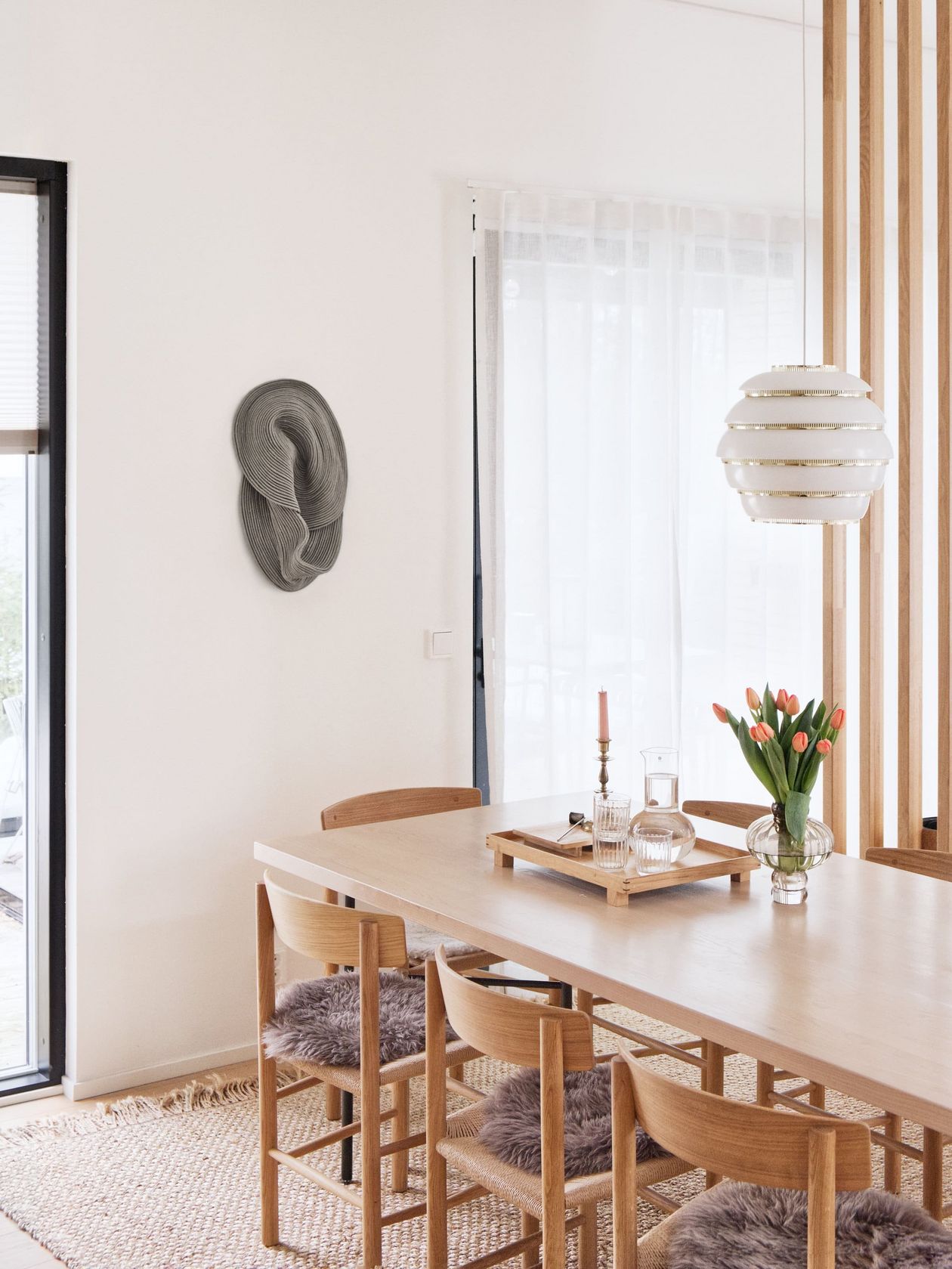 Speaking of new purchases – if one didn't know, you probably wouldn't guess that much of your furniture is pre-owned. Can you tell us about your best finds and how you went about making them?
"In our home you can find pre-owned chairs, lamps, blankets, decor items and even potted plants! My favorite finds are Santa & Cole's Cesta table lamp in our bedroom and Paavo Tynell's rattan 9602 floor lamp, which is now being manufactured by the Danish company GUBI.
I recommend curated, professional online platforms where the curation is done on behalf of the customer and the condition and authenticity of the items is guaranteed. These are good places to start looking, and you'll find plenty of good-as-new items. A good tip is to browse only one category at a time, or even just the latest items.
"When I'm looking for something for our home, I usually wait to see if I can find it pre-owned."
However, there is a lot to choose from, so before you start browsing it's a good idea to be clear on your preferences and use them as search terms. A simple search for "ceiling light" can result in thousands of hits. Personally, I search by item name or set up a continuous search to avoid constant searching for the same thing. My dream is to find a bright green Flos Snoopy lamp that would also be a work of art in our home."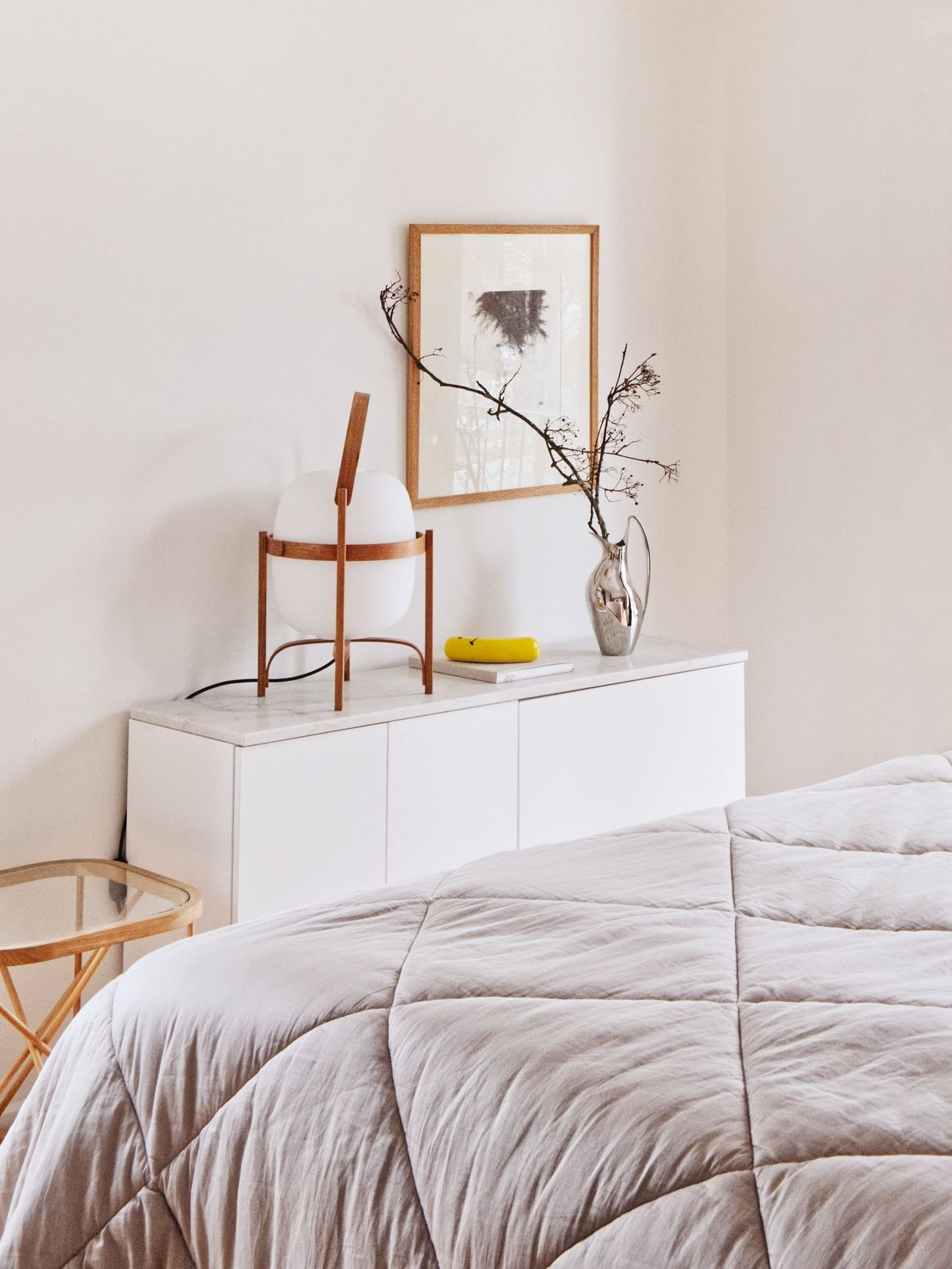 What other criteria are important when buying things for your home?
"There must be room for carefree living and the traces it leaves. So the usability of items is really important. Our sofa has removable covering materials and many of our furniture components can be washed, replaced or exchanged.
We bought the red-upholstered chairs for our dining table with a little risk considering our current life situation, but the beautiful separate seat cushions will protect the seat parts for the time being. I think a lot about the resale value of items, and that's usually a good reason to invest in a timeless design classic."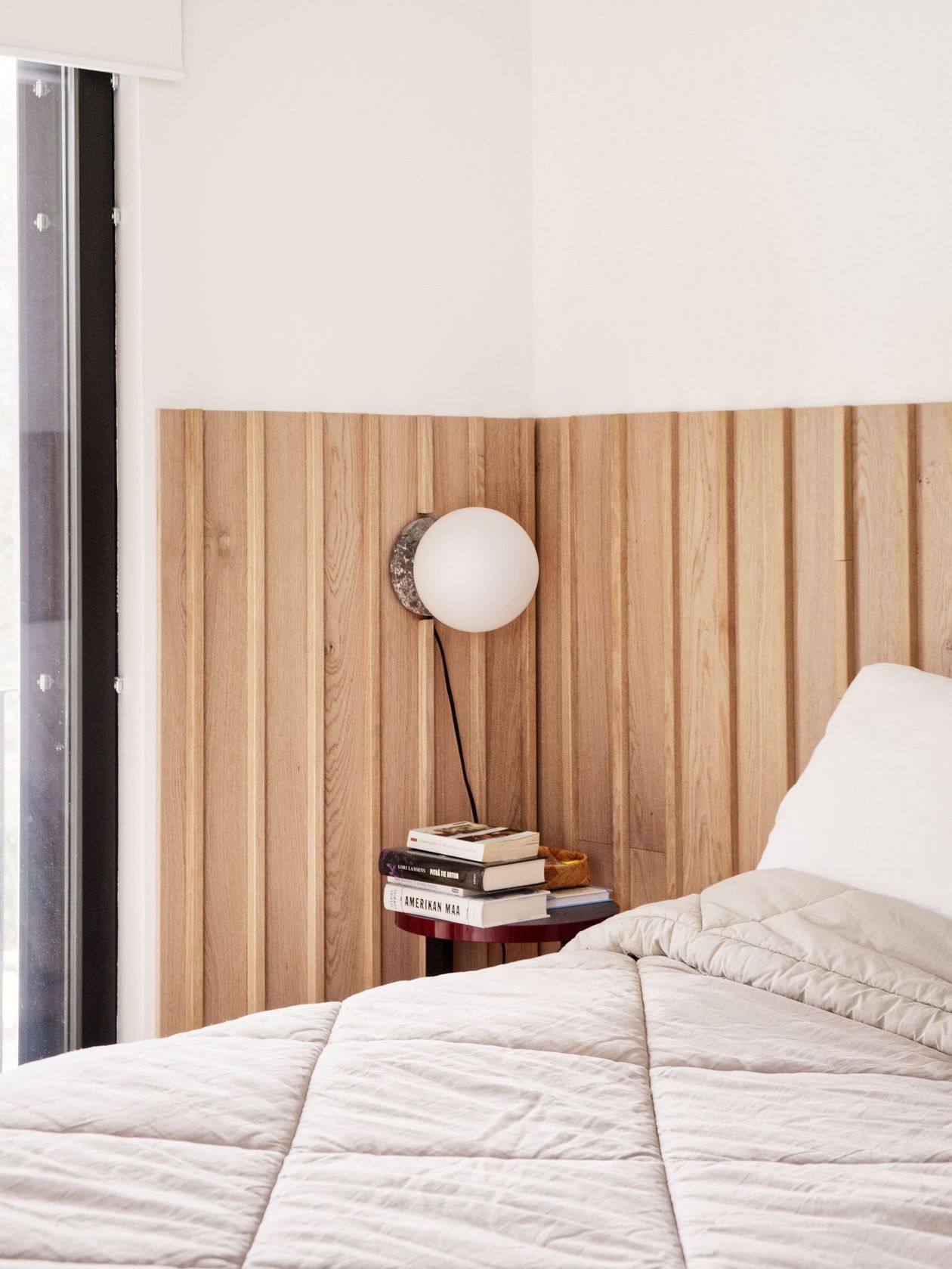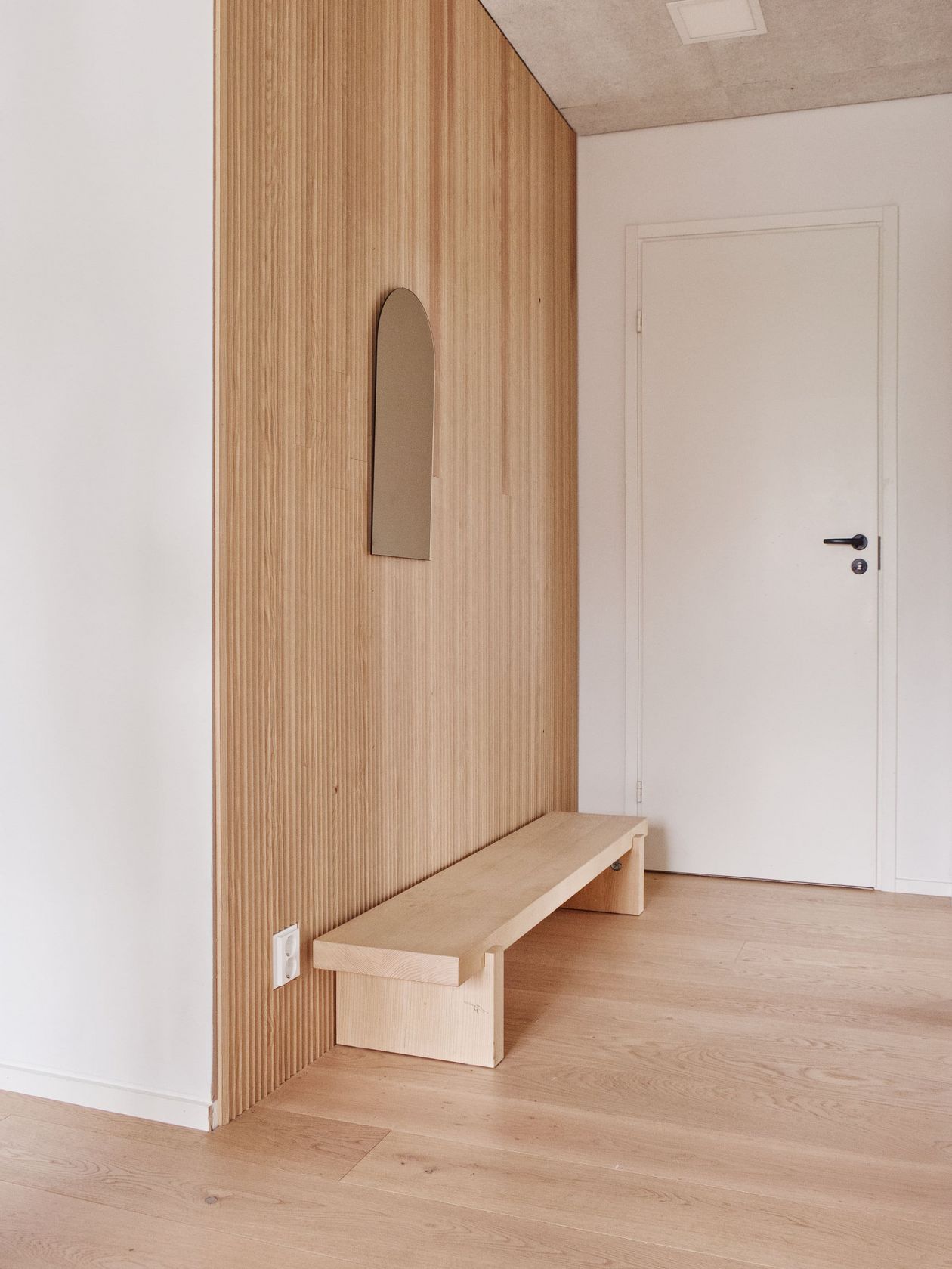 You have a delightful wealth of art in your home, which stands out when they are sparsely arranged. Unlike many other purchases, when it comes to art, decisions are primarily driven by emotion. Would you say so?
"Yes, absolutely! We have not planned our art purchases or searched for them – the works have found us. For example, I fell in love with Armi Teva's ceramic face by chance while walking around the city, before I even knew who the artist was.
Sometimes I have gone to the studio of an artist I admire, planning to buy a piece in the neutral palette of our home, but ended up leaving with a bright red piece. That shows how emotional purchases are. For example, the bold use of color or texture often enthralls me. Linda Linko's painting and Sini Villi's textile artwork are good examples of this.
I want the artworks to be surrounded by the space they deserve. In this way, you can make even a small artwork play a really big role."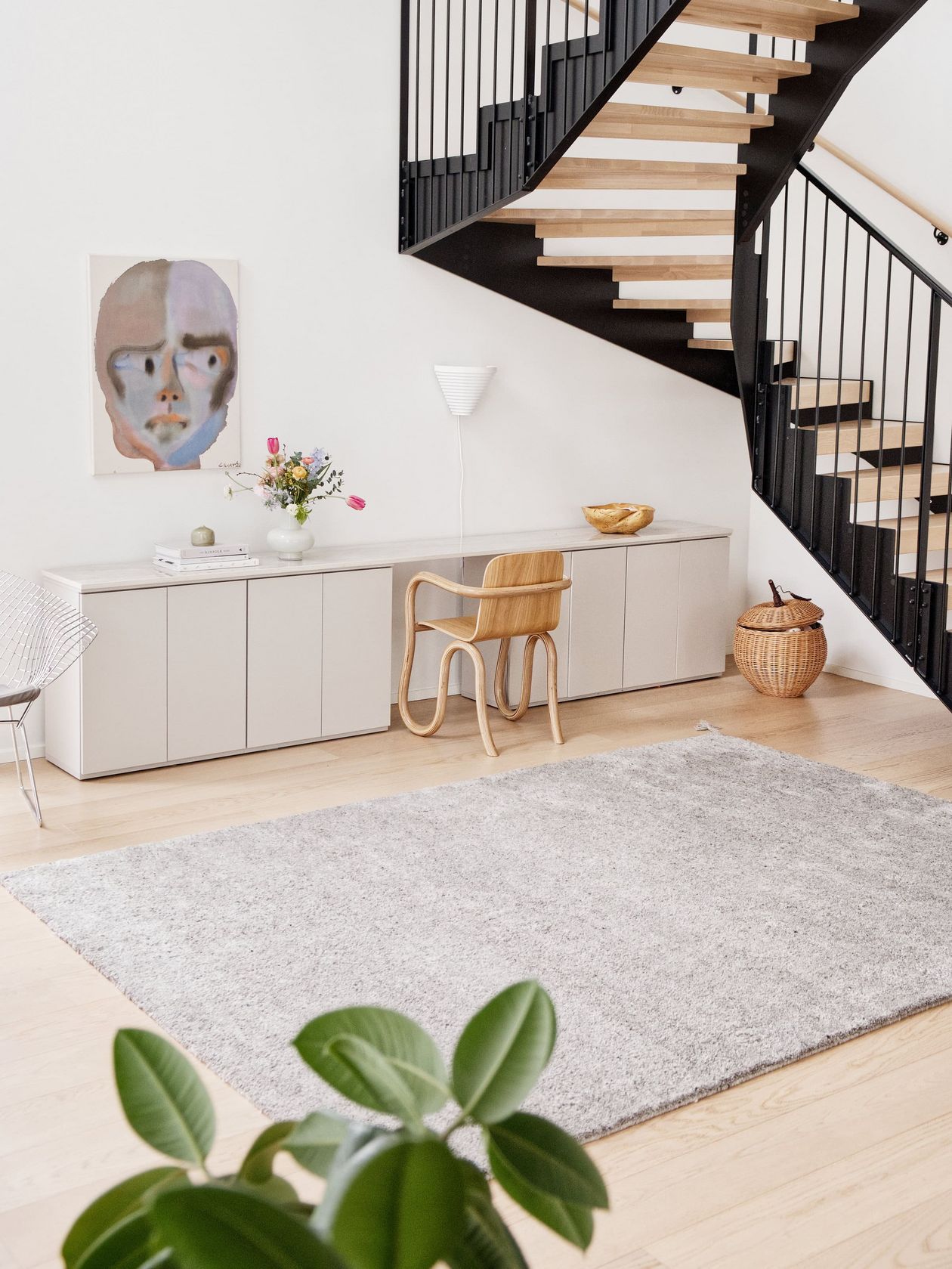 What ways do you have to reinvigorate your mind and your living environment?
"I find myself picking up moods from the nature around our home. In our home, winter nature is reflected in calmer colors, while in spring, when the tulips come out in the garden, I long for colorful details indoors too, for instance in the form of artworks, textiles and rich bouquets of cut flowers.
Many things in our interior design are in a constant state of flux. As the seasons change, I go back to my cupboards and dig out the things that suit the mood of the moment. After having had a short break, they feel like new again. You achieve the same objectivity when you have been away from home for a while. Randomness can often lead to something new and interesting – that's why it's a good idea to move things to new places with an open mind, even if you don't yet know what the end result will be."
See also:
• More pre-loved design treasures at Franckly >
• Follow Pirkko on Instagram >
Text: Jenna Kiuru Images: Jenna Kiuru and Tuomas Pajuniemi