Concrete floors and a black-and-white bathroom were at the top of their wish list, when the family in Rovaniemi, in Finnish Lapland, started building their house on the Kemijoki river. But an interior designer overturned their ideas right away.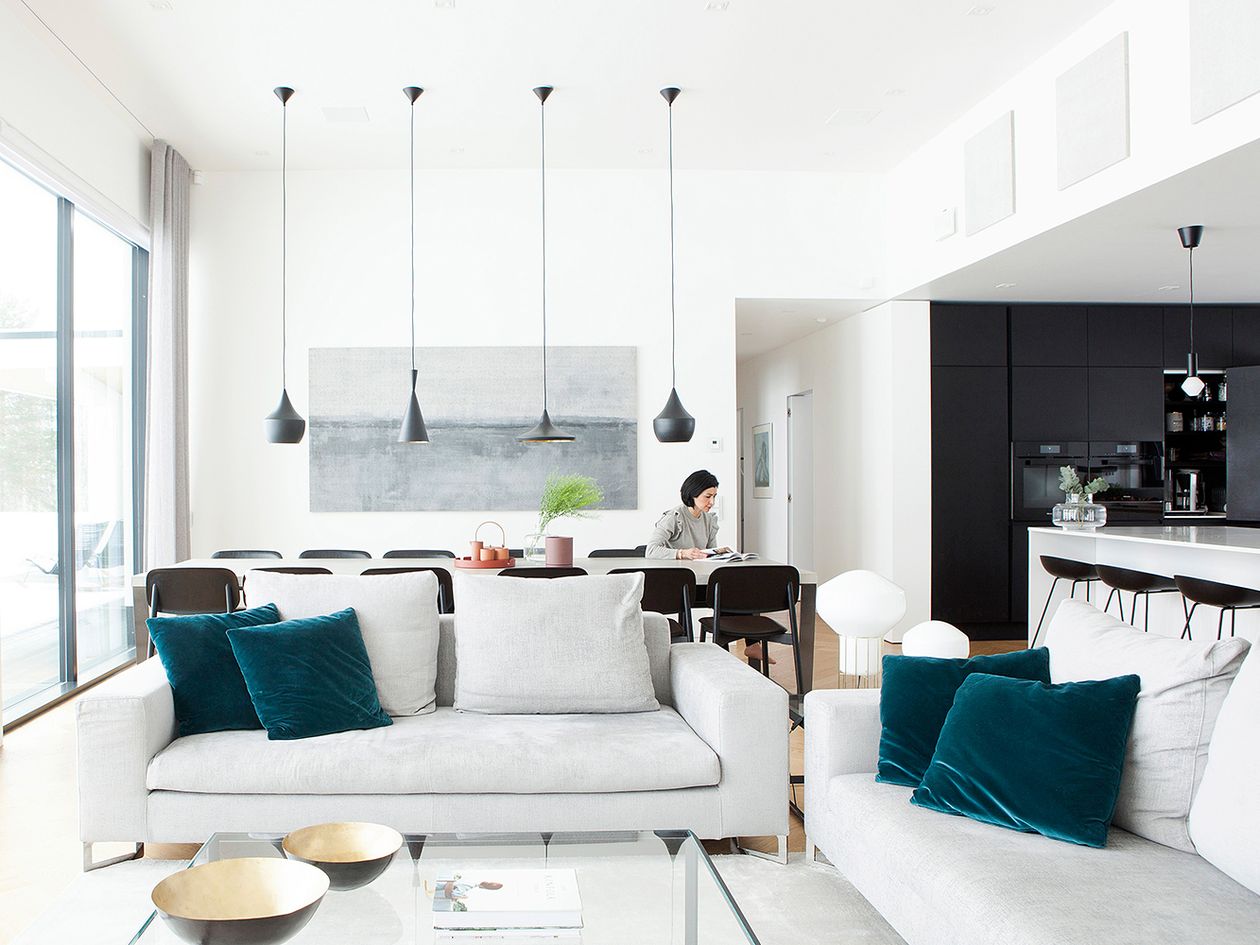 Residents:
Entrepreneur couple Kristiina and Janne and their boys, aged 9, 15 and 16. Their home, completed in 2017 in Rovaniemi, is a prefabricated concrete bungalow. The house, with a floor area of 289 square meters, was designed by architect Pertti Lehtinen.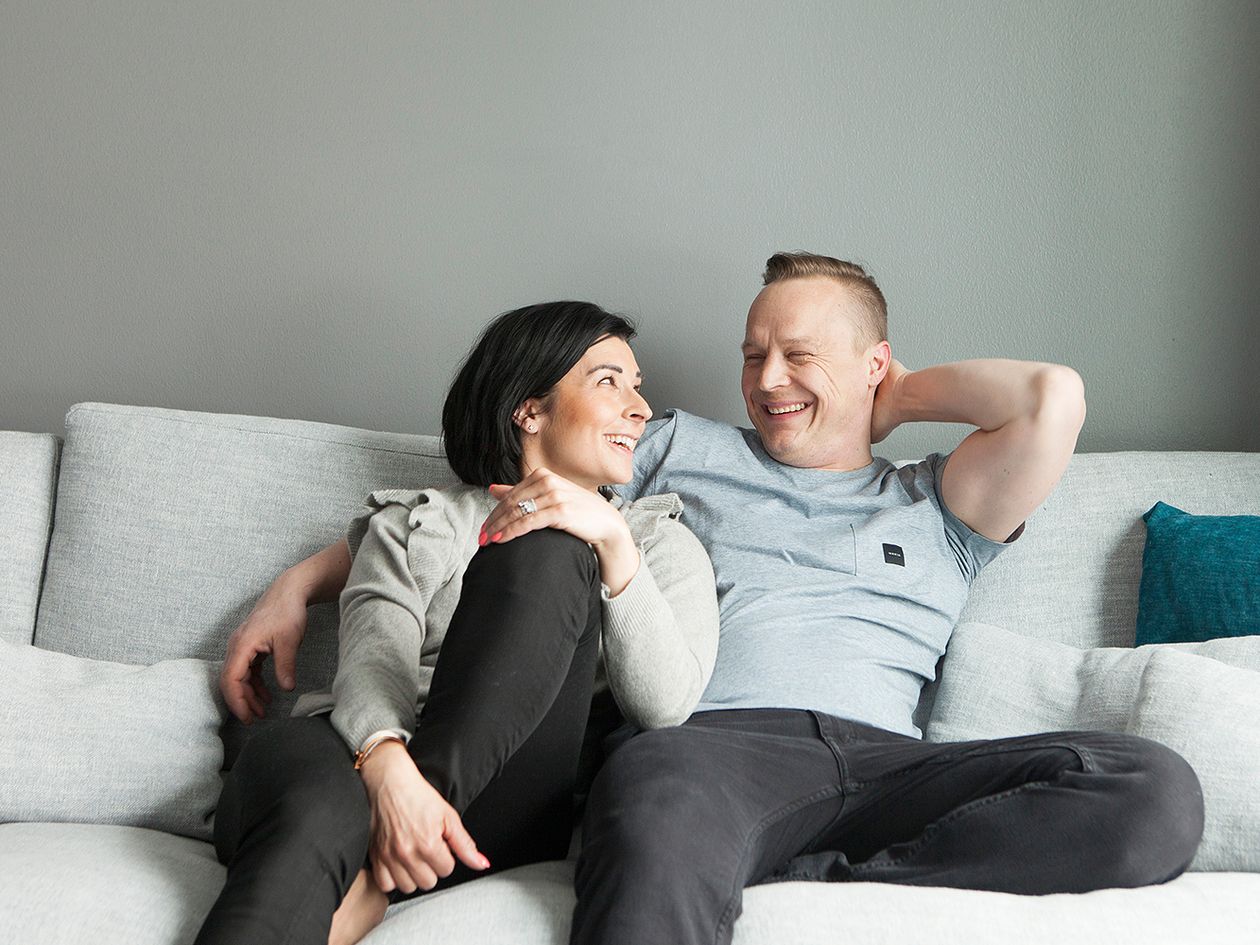 KRISTIINA AND JANNE'S new home in Rovaniemi lies next to the Kemijoki river bank. Each room has a view of the river, and in the evening they can see the lights from Ounasvaara ski resort.
"The side facing the river is made of glass only. This view is the reason why we wanted to build a house in this spot," says Kristiina.
Construction was preceded by a decade-long battle for a building permit. However, it was not Kristiina and Janne who fought the legal battle but the previous owner, who sold the land once the permit was finally granted. Kristiina and Janne had been renovating their previous house during that decade, but they were convinced that the piece of land along the Kemijoki had great potential.
Kristina and Janne were convinced that the piece of land along the Kemijoki had great potential.
"To begin with, it was just an overgrown field. Once we cleared it, we got a view of the river. The river view is beautiful every day. It's always different, and the morning and evening have their own kind of charm," says Kristiina.
Pertti Lehtinen, an architect from Rovaniemi, visited the place; started drawing and already the next day had pretty much drawn the house as it now stands there.
"The planning stage was very short, and then 
we started digging," says Kristiina.
Kristiina and Janne brought along, at an early stage, interior decorator Seija Killström, who is also from the north. She was still able to affect the floor plan, changing the position of the sauna and bathroom. She designed the entire home's surface materials and interior, and also the fireplace and sauna.
"I can warmly recommend using an interior decorator. If we ever built another house, I would hire Seija without hesitation."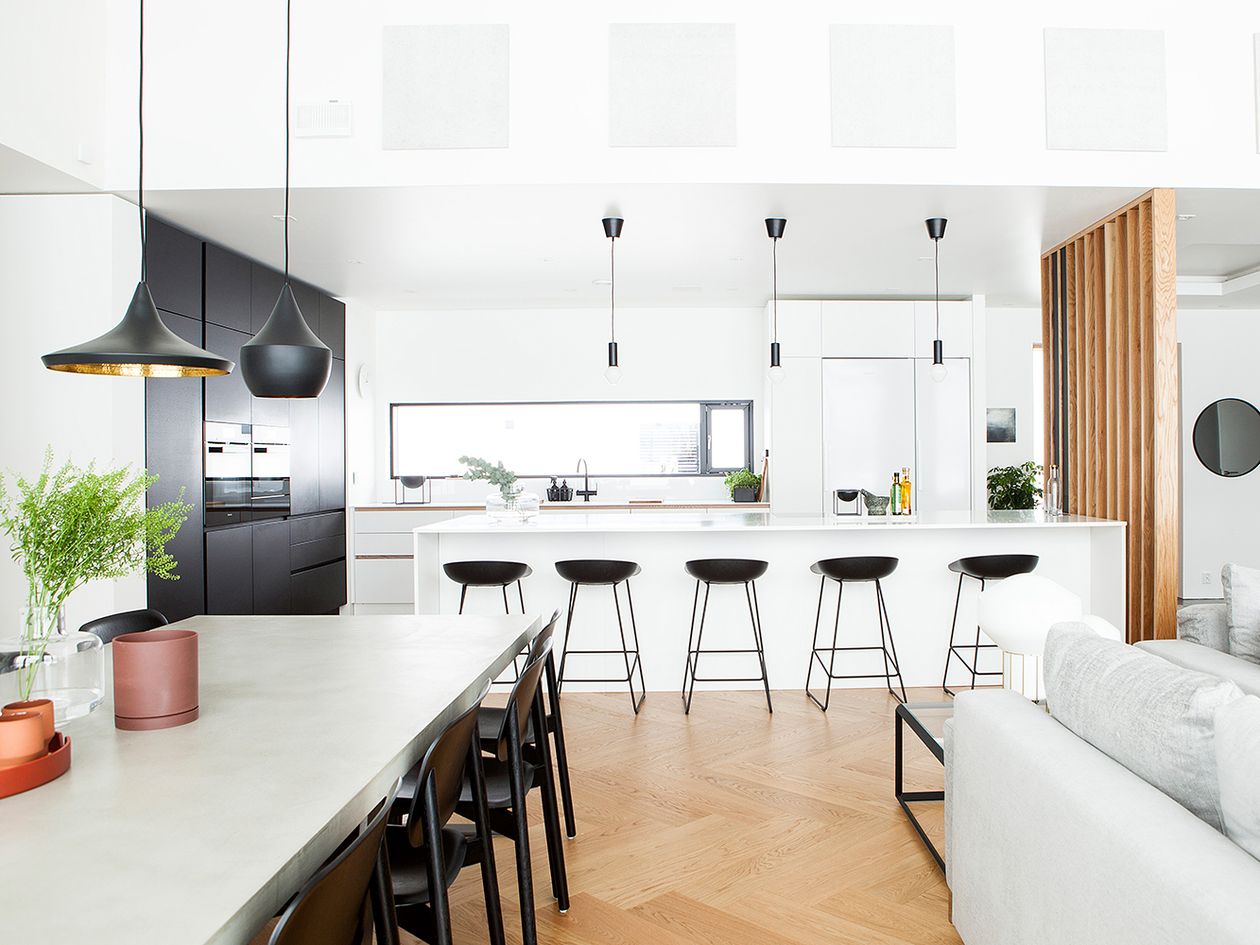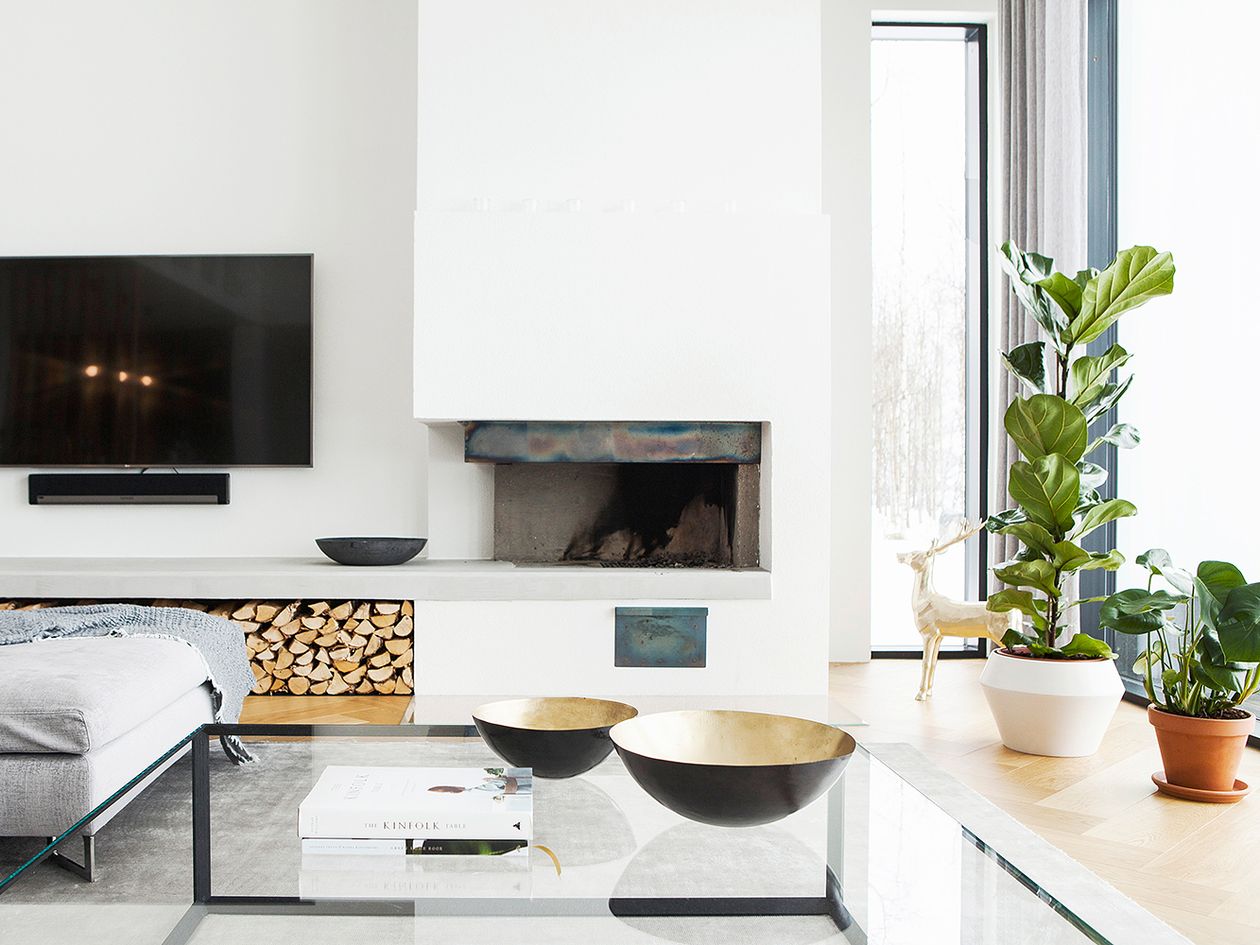 What kind of dreams did you have, and how were they realised?
We cook a lot at home. We wanted the kitchen and living room complex to be large and functional, and that's how it turned out. We all have our own places in the house, be we spend a lot of time together in the common spaces. Our lives revolve around the kitchen island. It all starts at 5.30 am and ends who knows when in the evening. We gather around the island including our own and our children's friends, and we discuss everything there.
What kind of interior decorators are you?
I am a black-and-white interior decorator – maybe sometimes gone a bit crazy with gray. I can't stand any finery, that's just not us. I'd rather choose furniture made from high-quality materials than something that happened to be the latest craze in 2019.
"The interior designer found a common theme for the interior, thanks to which we now have a soft and pleasant house."
What kind of ideas did the interior designer introduce?
We were considering a concrete floor and graphic colors for the tiles. At our first meeting, however, Seija showed us some green marble tiles, which I thought we absolutely terrible. She persisted and asked us to think about it. I had a few of them as a sample on the bathroom floor, and little by little they were beginning to look great. As they get wet, they become deep green. Now the green bathroom tiles are my favourite things in the entire house. She found a common theme for the interior, thanks to which we now have a soft and pleasant house, not a cold black-and-white one.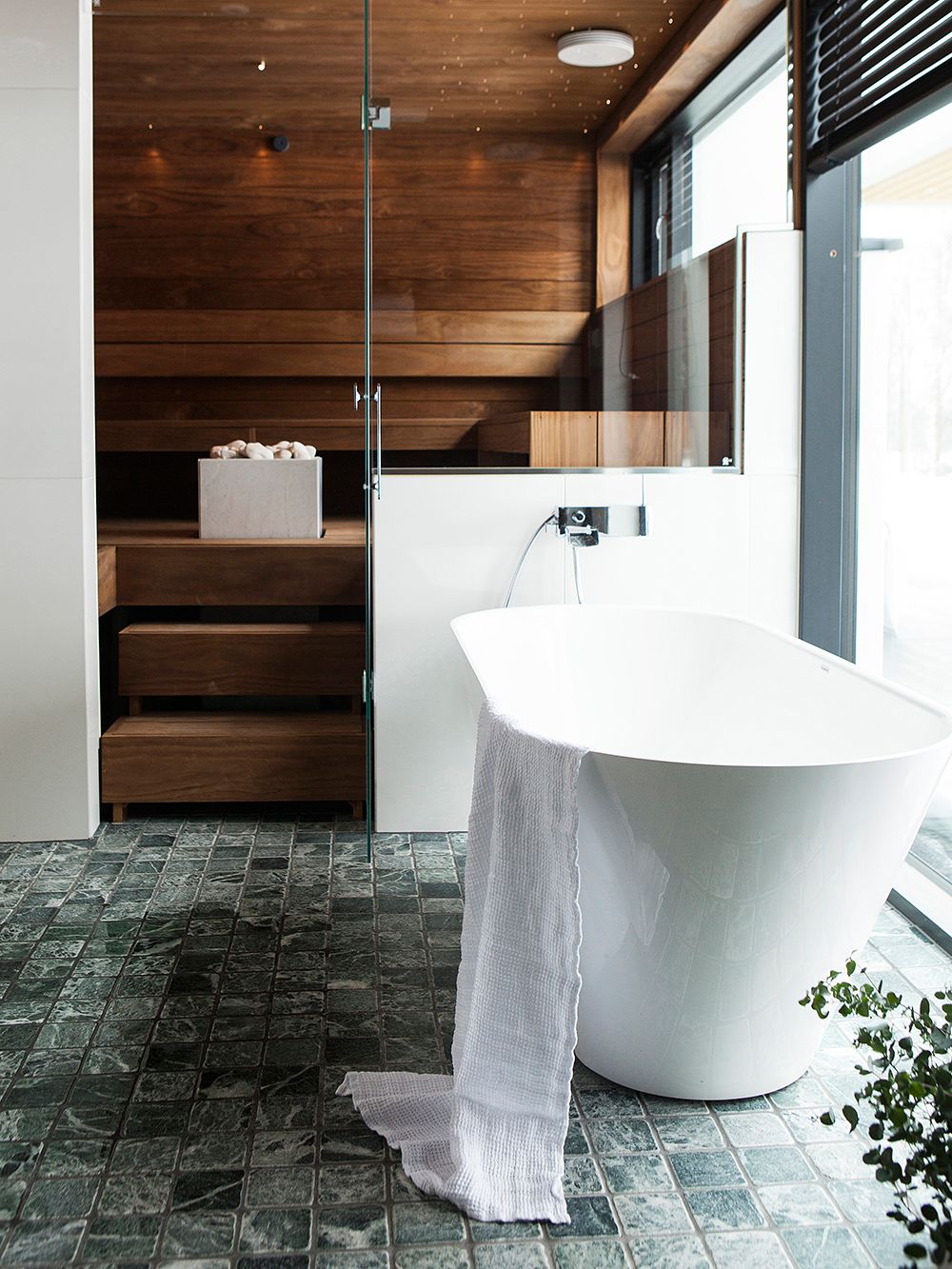 What was it like to work with Seija?
It was excellent. This is our first house we built – and the last one. If Seija hadn't helped us, the result would not have been this successful, and the stress would probably have killed us. Occasionally Seija had to do a bit of marriage counselling, too.
What did you buy for the house?
We embarked on this project with a 'home for life' attitude. All furniture has been bought or specially made for this home. We took along nothing from our old home. The long concrete table, for example, has been made for this house only, and it's so heavy that you cannot take it anywhere else.
What do you consider is the most successful part of your house?
The living room fireplace and the bathroom are my favourites. The floor plan is also extremely functional. The kitchen-cum-livingroom is perfect, I wouldn't change a thing in it.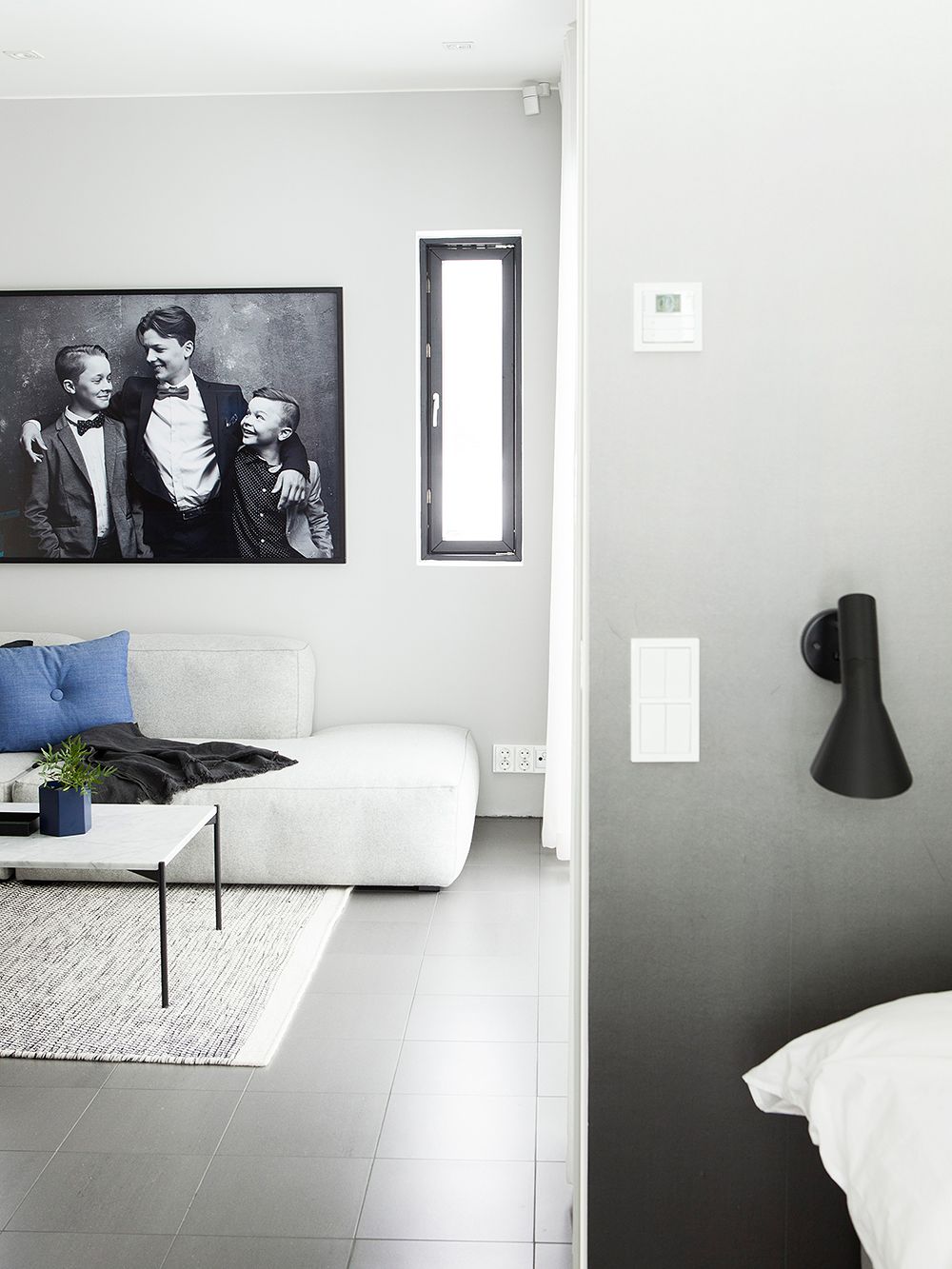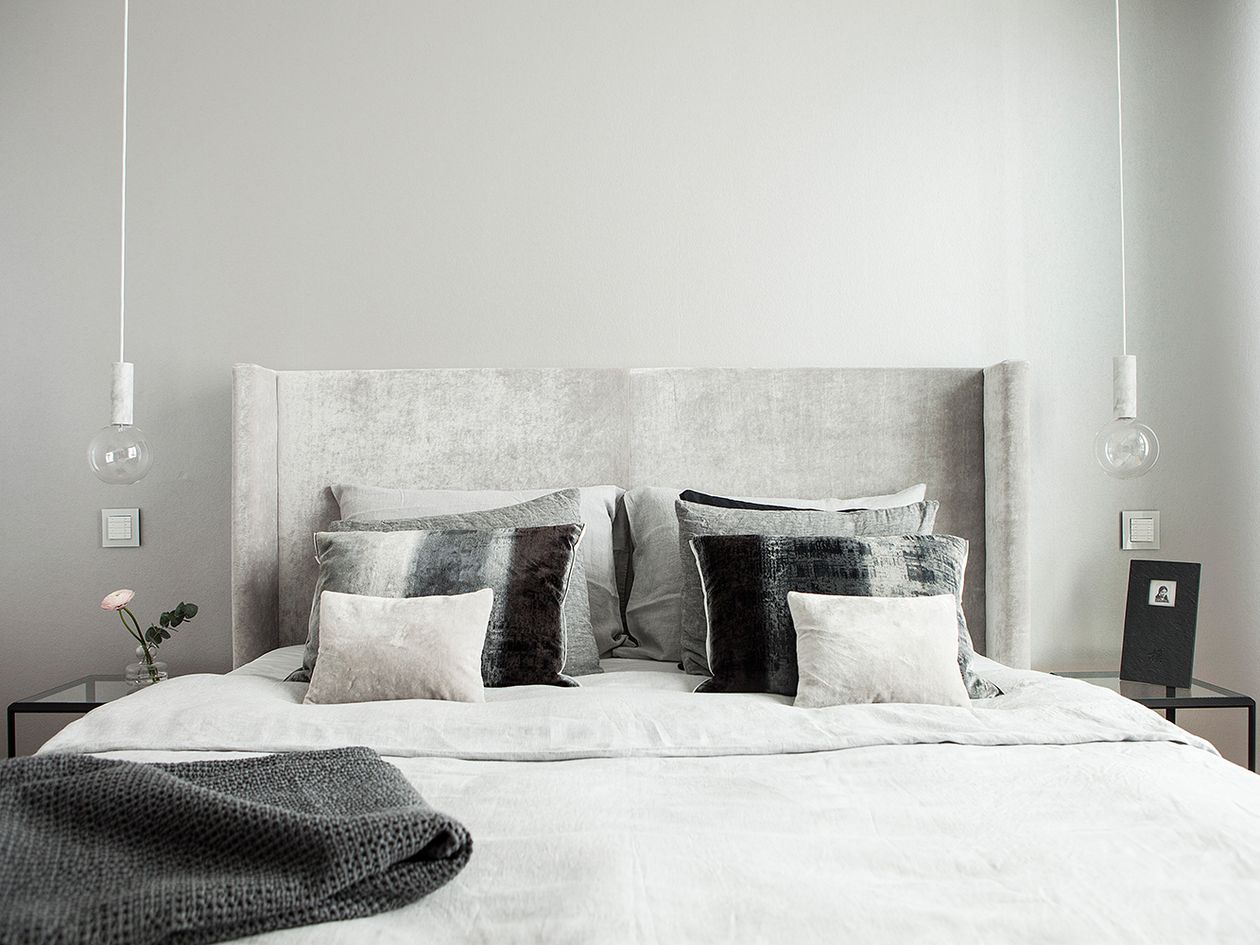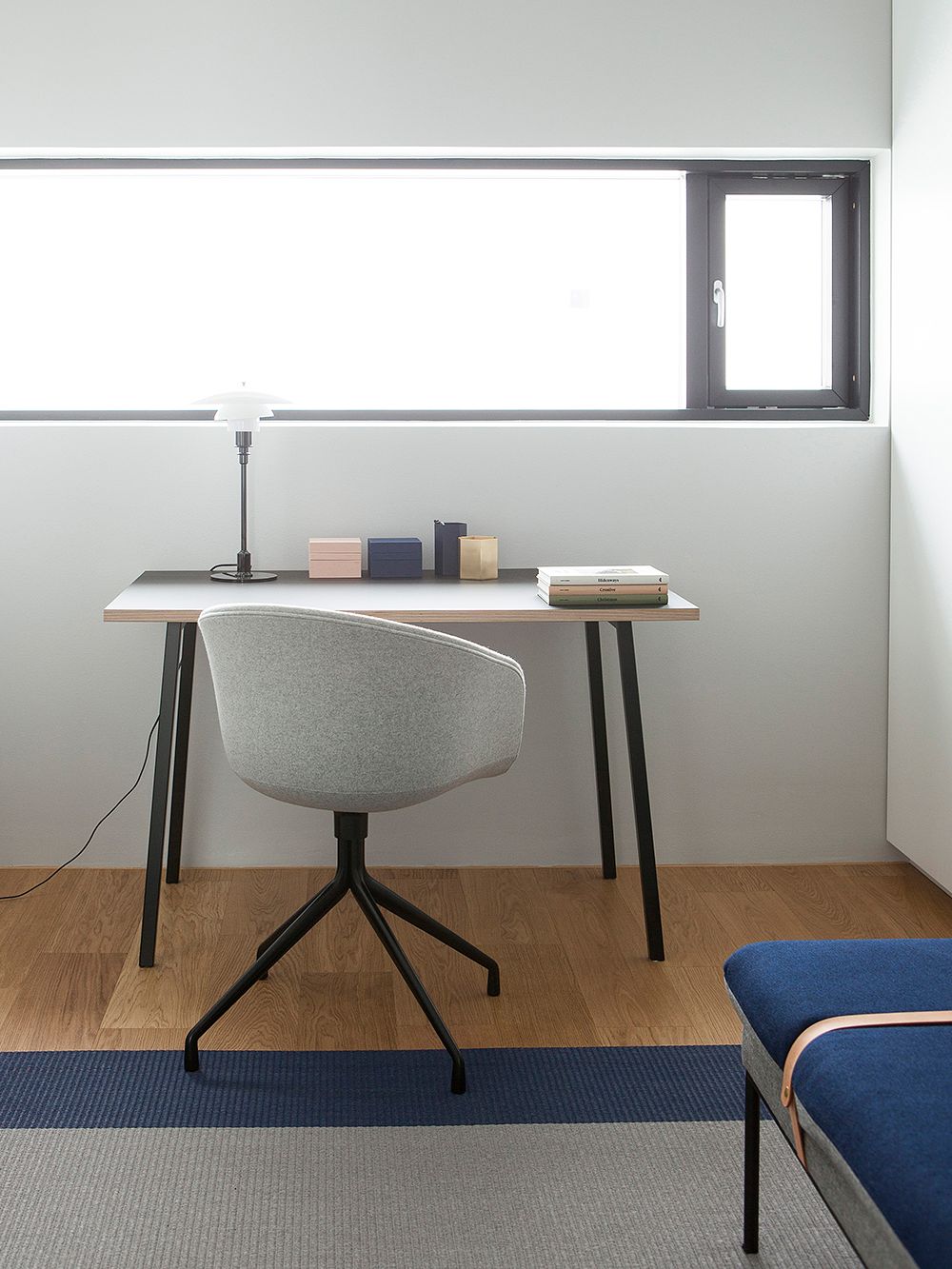 And what would you do differently if you could still change it?
We would have stuck to the original floor area size. 90 square metres kind of slipped in. But perhaps the boys will come here with their families one day.
What does the home tell about you?
We live a really hectic life, with work and hobby schedules. We don't have time to work on or fine-tune the interior. Our home is our safe haven. In the middle of all the hustle and bustle, it's nice to come to a home where we all feel good.
"In the middle of all the hustle and bustle, it's nice to come to a home where we all feel good."
What solutions do you have that help everyday life?
We have three active boys, and solutions have been made based on their hobbies. We have a separate room for their hockey gear and other hobby stuff. It's a comfort to a mother when you can just close the door to them. Next to it is the utility room. The ski boots and skates are there all the time, and you don't have to take them anywhere at the end of the season. Two washing machines make life a lot easier, too. Janne likes to cook, and he wanted to have high-quality home appliances and two dishwashers to help daily life.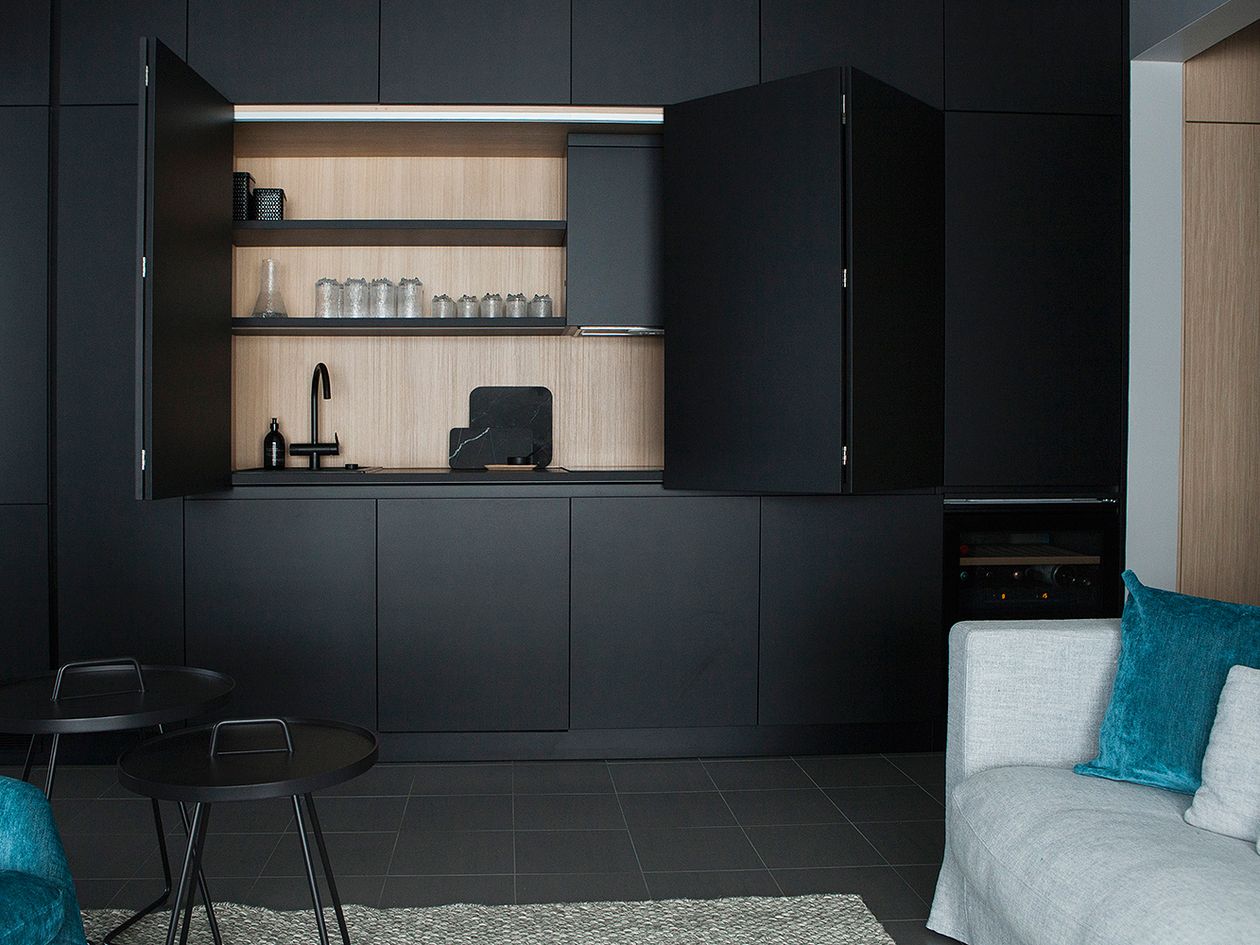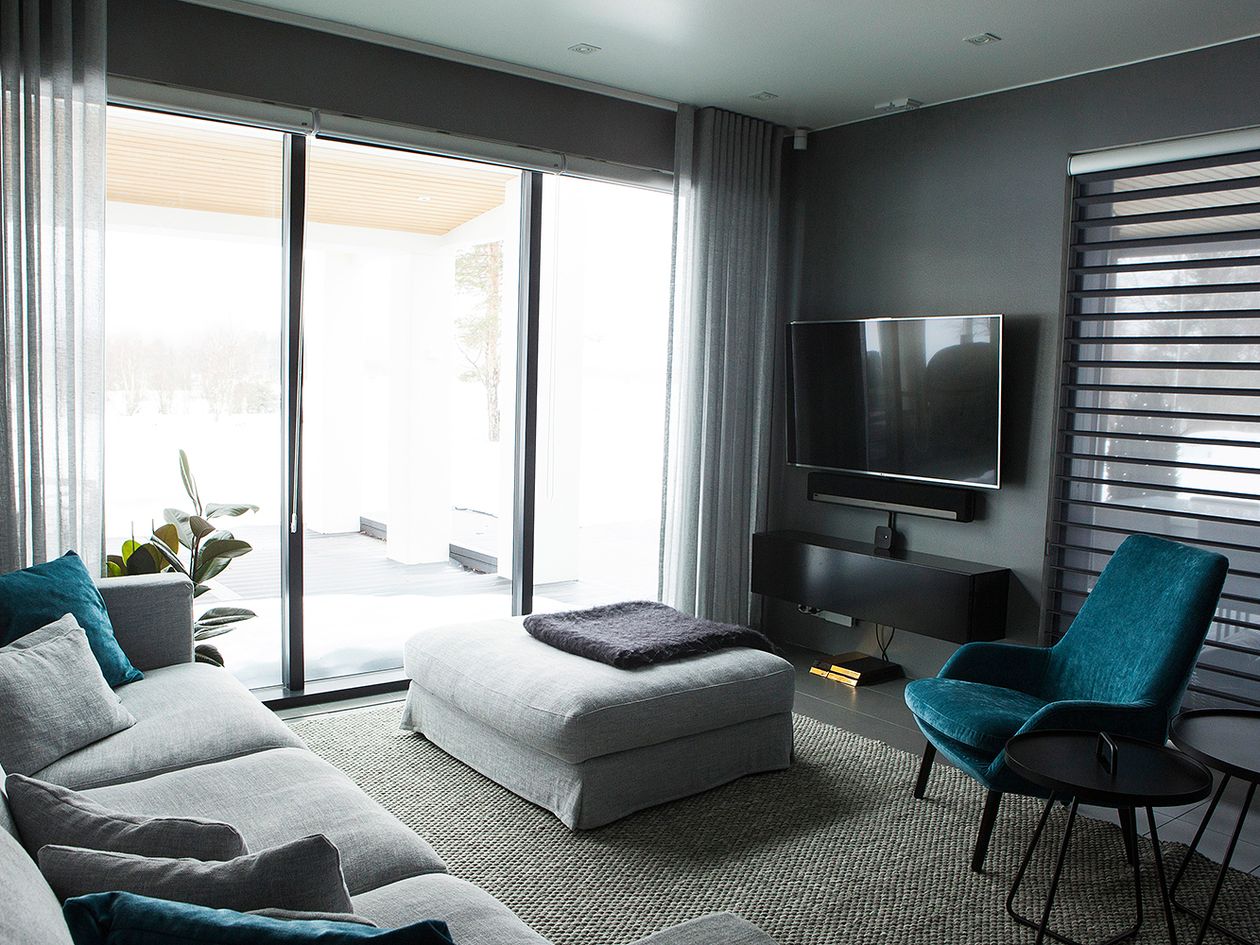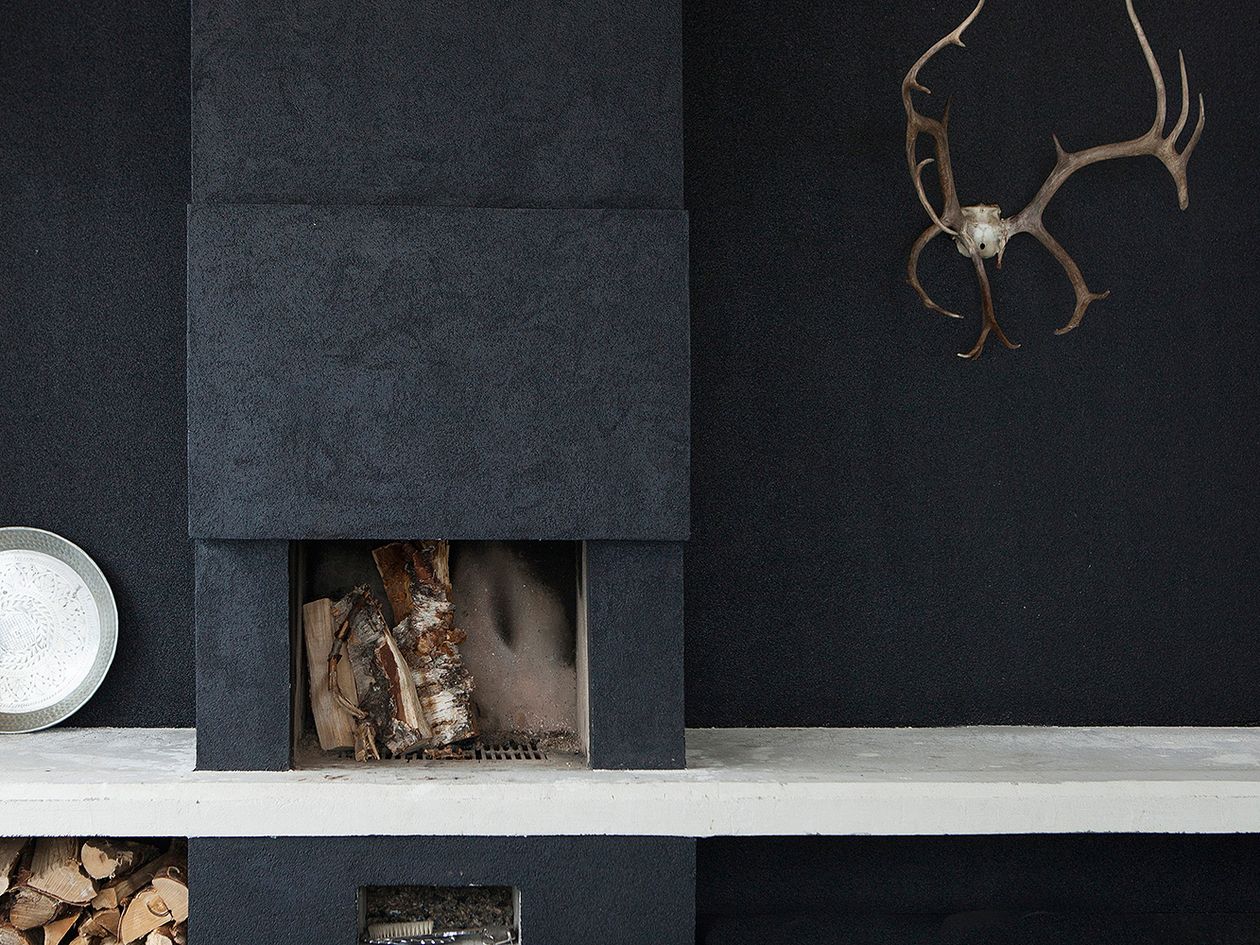 What other kind of dreams do you still have about your home?
The summer kitchen project is still ongoing: the idea is to embed all my husband's barbecues neatly into a brick structure. He has barbecues for different purposes: one for steaks, another for fish and the third for pizza. We are also dreaming of a sauna close to the river, but this is not permitted. Maybe one day that may be possible, too.
Text: Anu Karttunen Photos: Emilia Ikäheimo
This story was published originally in the Avotakka issue 2/2019.