Visualist Vesa Kemppainen's two-room apartment in a block of old wooden houses in Helsinki is a charming mix of colorful bird arrangements, evocative art and vintage furniture.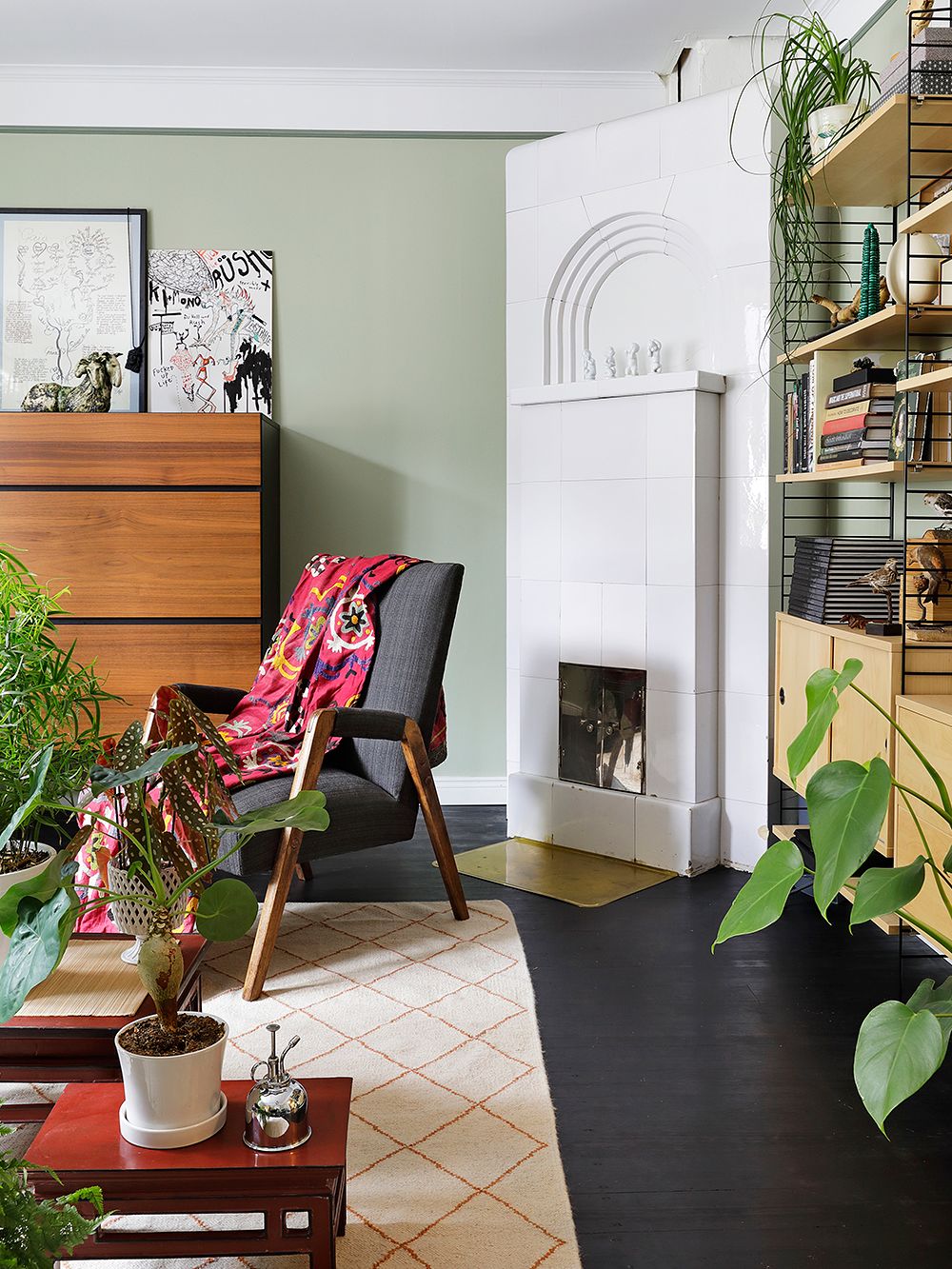 The resident:
Vesa Kemppainen works as a marketing content expert for Fiskars. He lives in a small wooden apartment building constructed in 1928 in Vallila, Helsinki. The size of the two-room apartment is 41 square meters.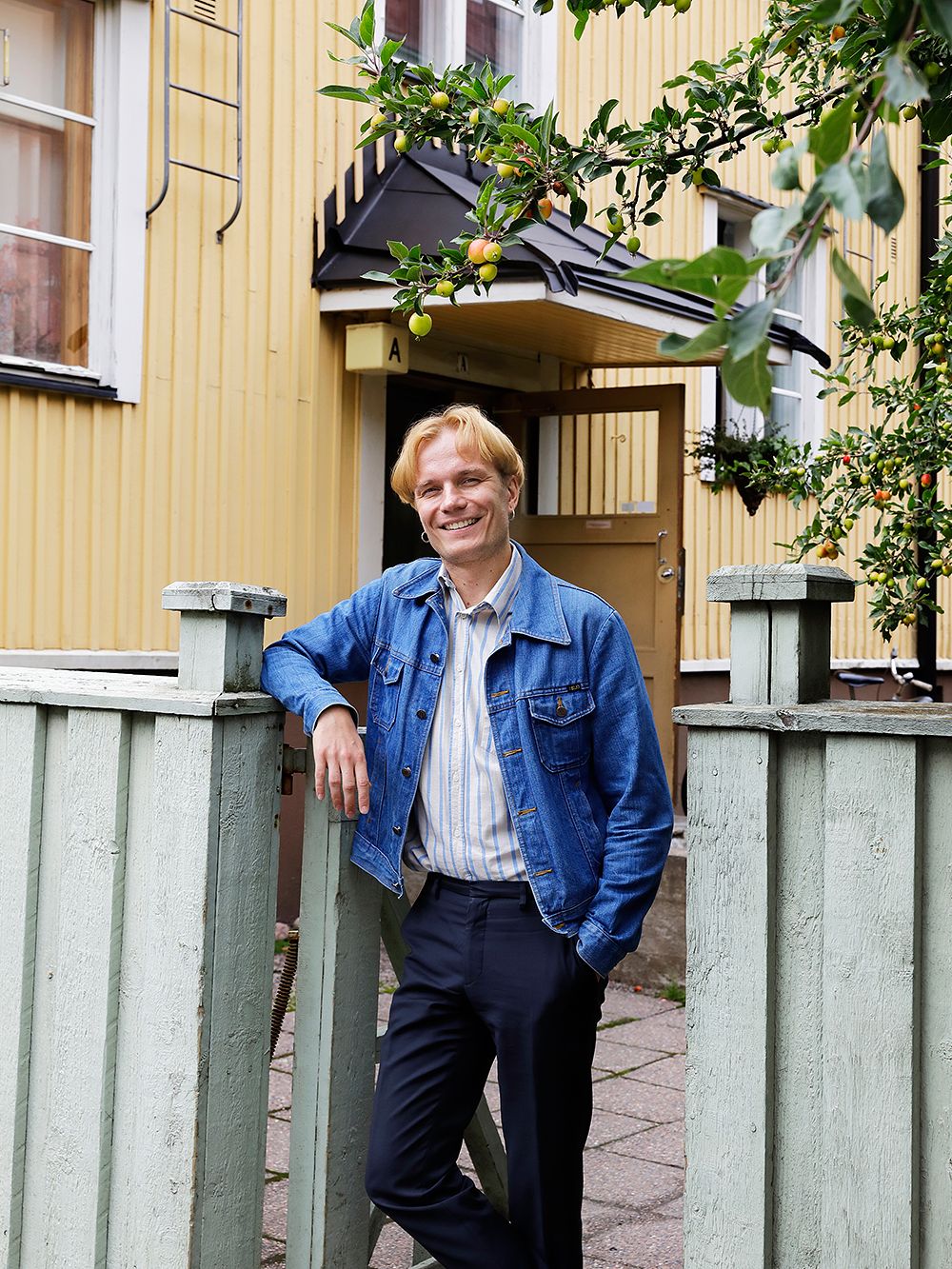 THE DOOR OF THE HOUSE doesn't even need to be locked; the residents of the two-story building know each other so well that Vesa Kemppainen can tell by the creaking of the wooden stairs who's coming or going.
"We have a good, communal spirit in this house. If I run out of milk for coffee in the morning, I can borrow some from my neighbor," says Vesa.
He works as a marketing specialist at Fiskars Group, and his ability to create inspiring spaces is evident as soon as you step inside the entrance hall. On top of the shoe cabinet, Vesa has built a delicious arrangement of stuffed birds, ceramics and glassware. Vesa hails from Suomussalmi, and he developed a strong fondness for unique objects already as a youth.
"I've been doing ceramics all my life. When I visit my hometown, we do ceramics together with my old arts and crafts teacher," Vesa explains.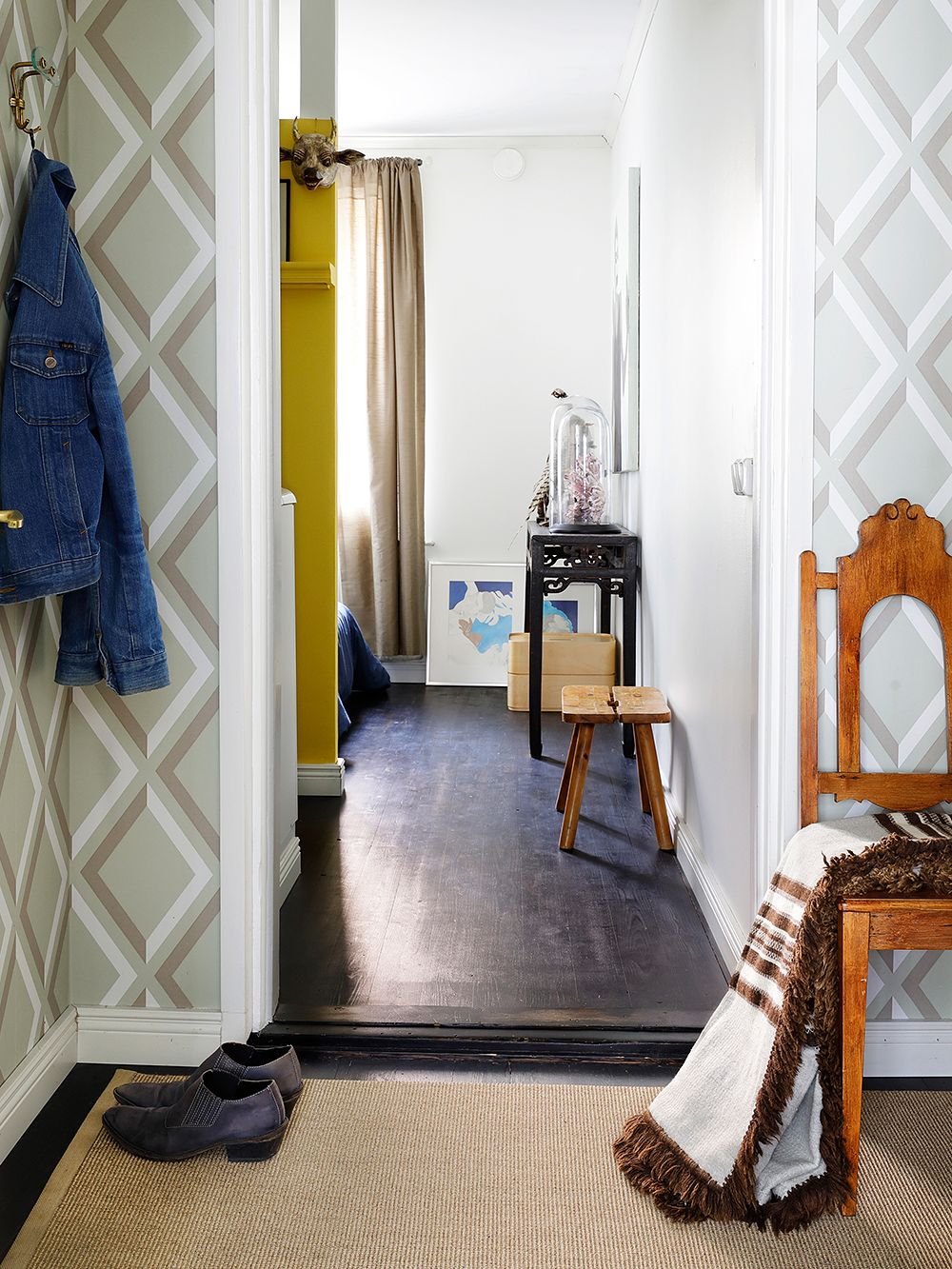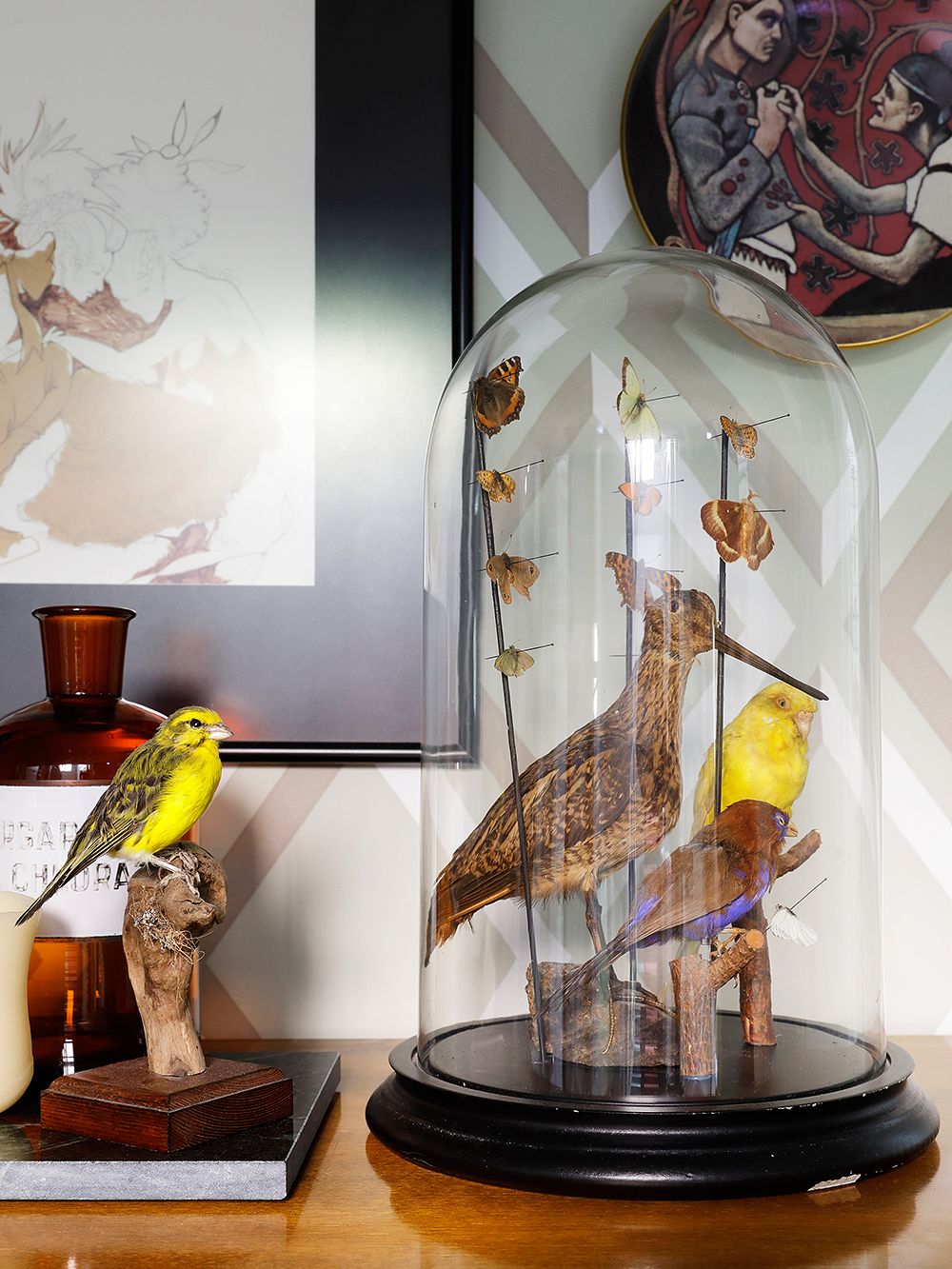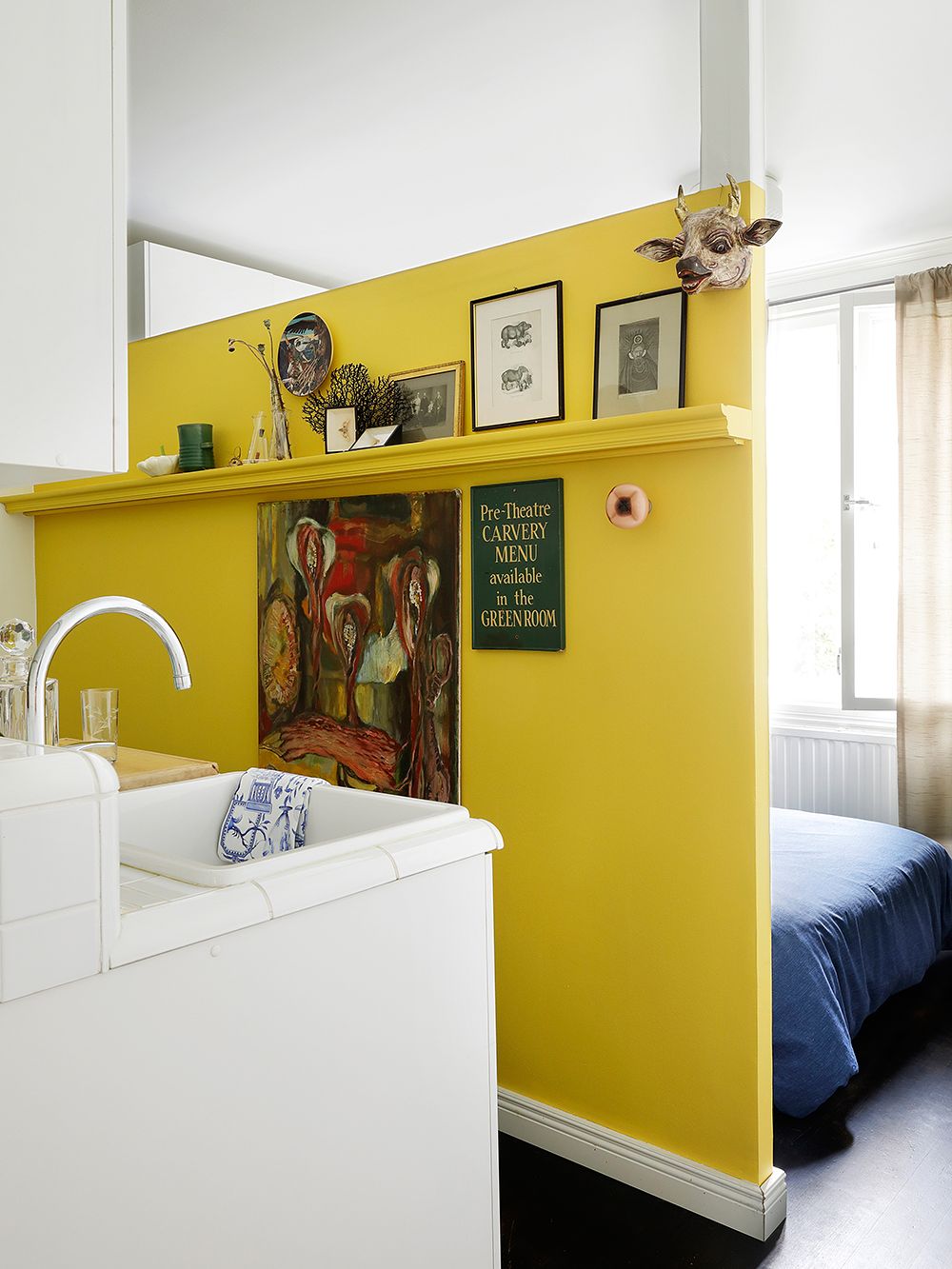 "Any colors can be made to fit each other in the right proportions."
When Vesa moved to the wooden house in Vallila four years ago, the idyllic two-room apartment with a tilestove had already been renovated. Only the colors of the walls needed changing. For Vesa, white walls are an abomination: they make interior design lack-luster.
"Colorful walls provide a background for all objects," Vesa remarks.
For the living room walls, he chose muted green, which quite naturally fits the spirit of a house built in the 1920's and creates a fresh pairing with the white tilestove.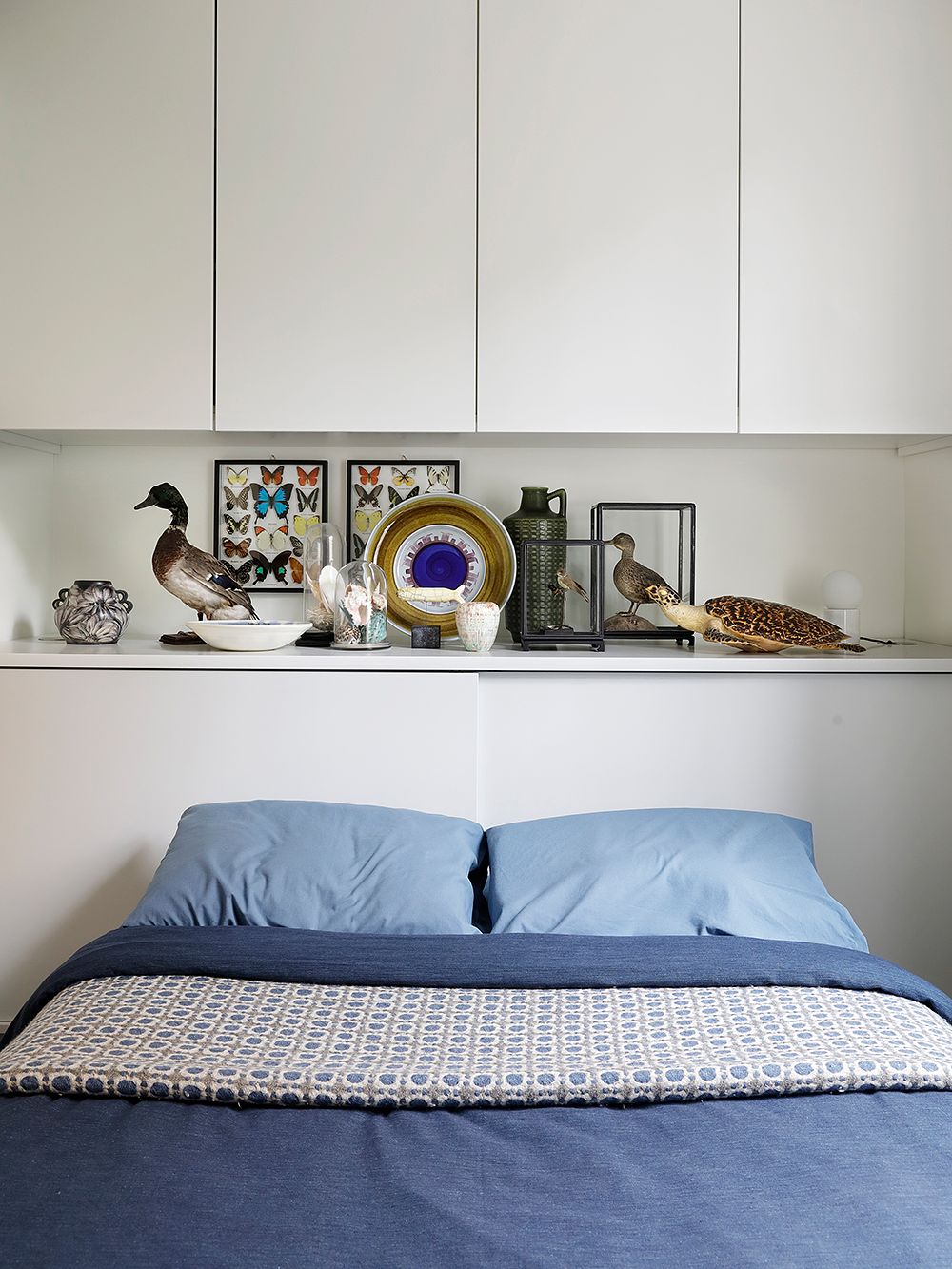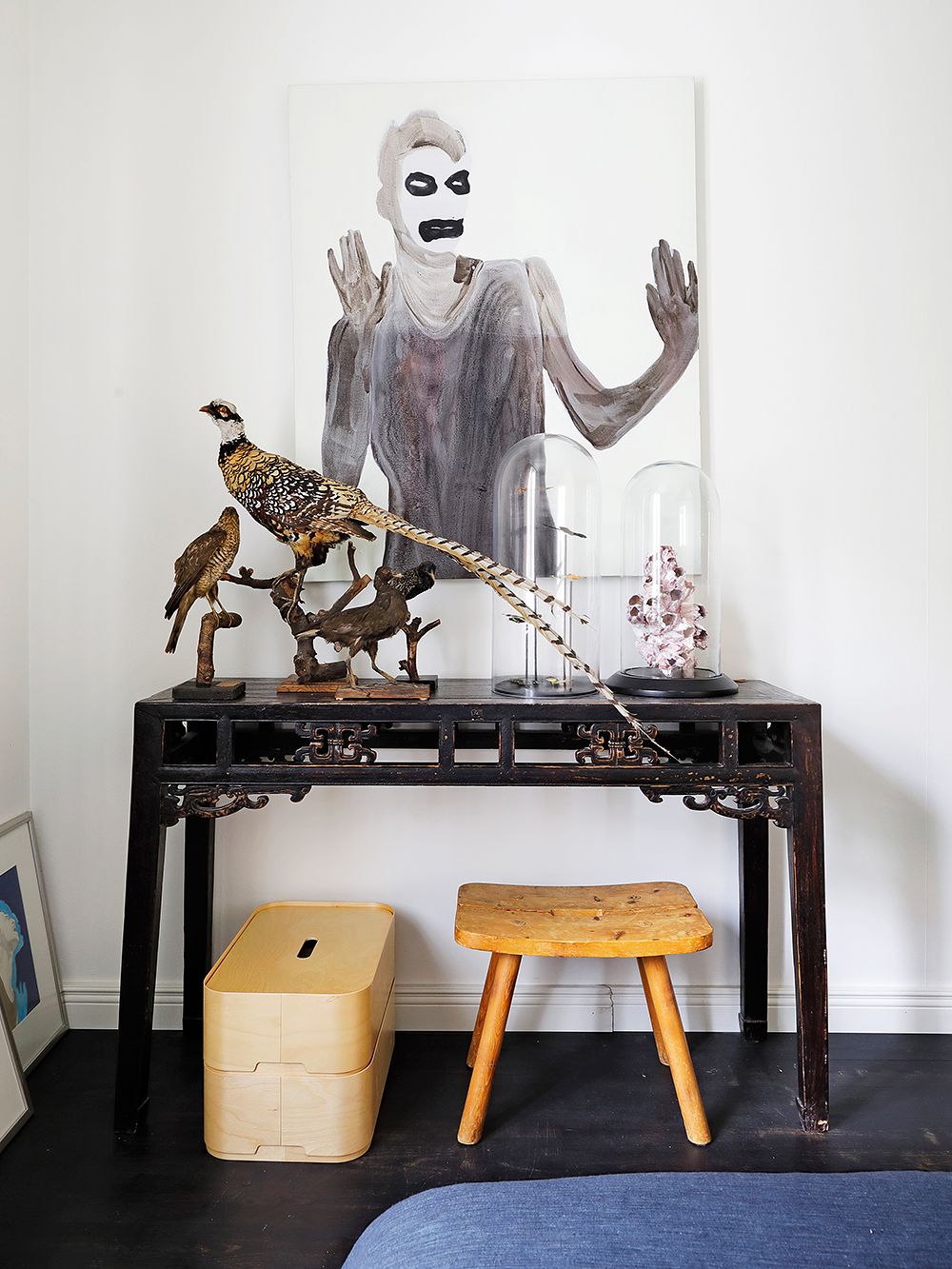 The entrance hall with its diamond-patterned wallpaper is a great example of the effects of colors on the atmosphere of the room. Thanks to the wallpaper, the small hallway looks just like the entrance of a manor house.
The hallway leads to the kitchen with an excellent space solution: the room has been divided in two using a yellow, semi-high screen. On its front side is a narrow kitchen, and behind it, a sleeping area large enough for a twin bed. At the foot of the bed is a set of wall cabinets with a counter. It looks like it was made to be a stage for an inspiring arrangement dominated by a duck and a tortoise.
Each arrangement features at least one stuffed bird either out in the open or under a glass dome. A magpie stares down from the top of the shelf and a pheasant struts on the bedroom counter. Vesa's fascination with animals stems from his childhood.
"I'm a nature person. My grandfather was a reindeer herder, and when I was a kid, I had my own reindeer and dogs. We used to fish and hunt a lot," Vesa explains.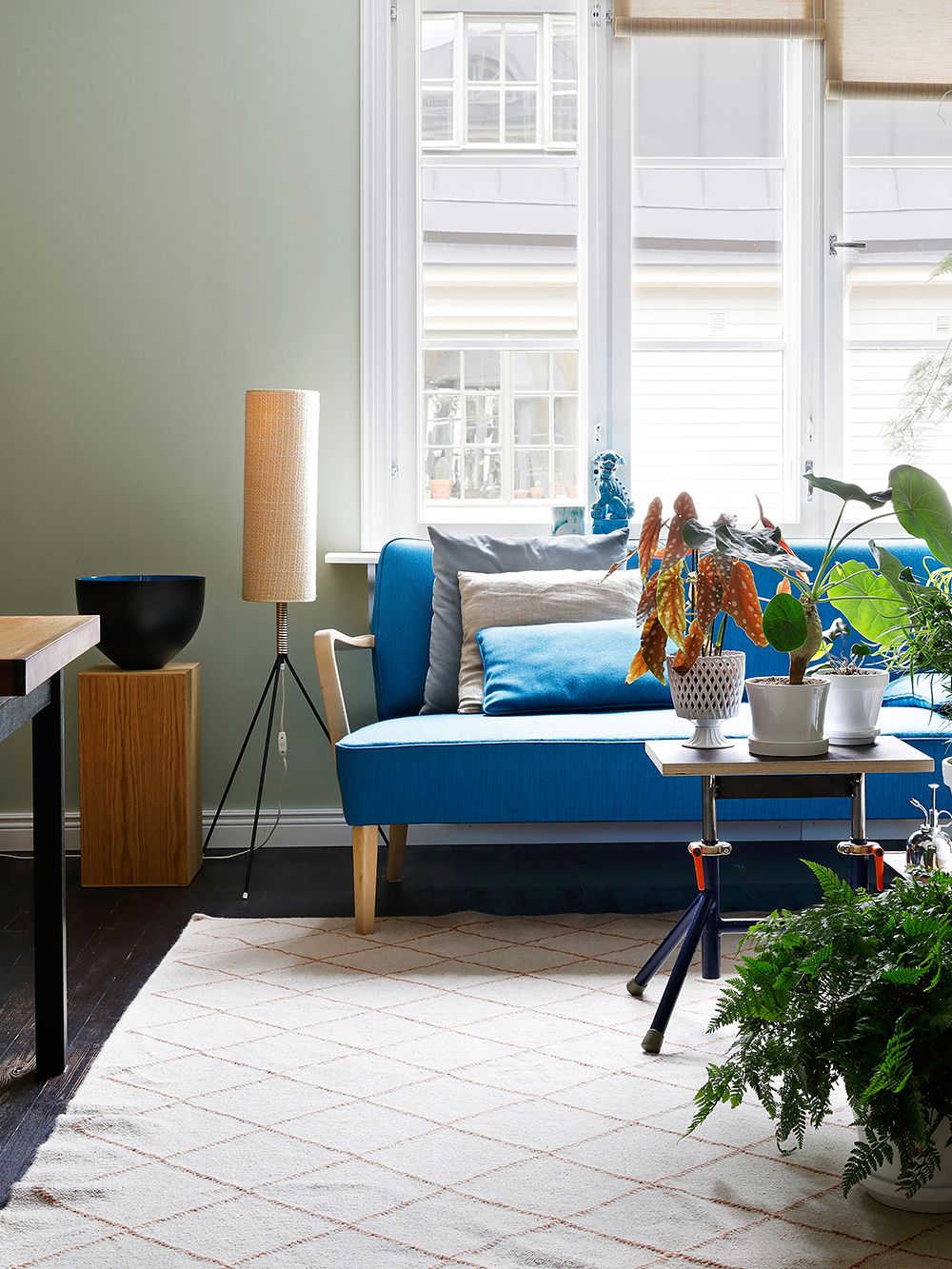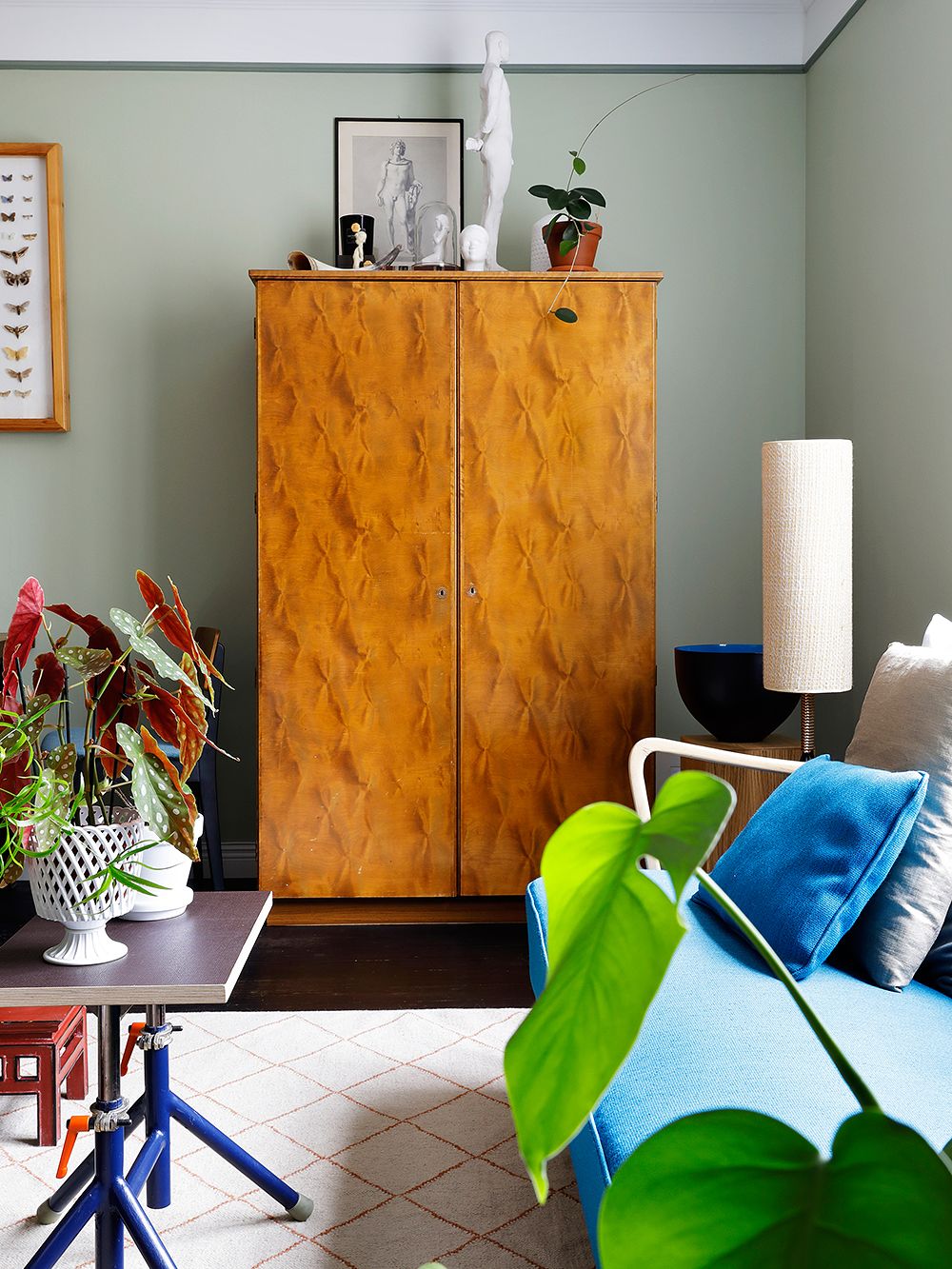 He didn't hunt the stuffed animals at his house himself, however; they were discovered at various flea markets around Finland. Vesa thinks the birds are really funny characters.
He alters the arrangements several times a year. A visualist's cabinet contains an endless supply of old items and art. He reckons that his desire for change is related to his previous job in the clothing business. Vesa's previous places of employment include Diesel's Nordic visualist team where he designed and implemented the visual appearances and window dressings of shops.
The company set no limits for creativity. It left Vesa with a seasonal way of thinking; altering the arrangements is an easy way to change the atmosphere of the interior design. Furniture, on the other hand, stays put. Once furniture has found its place, Vesa sees no reason to move it.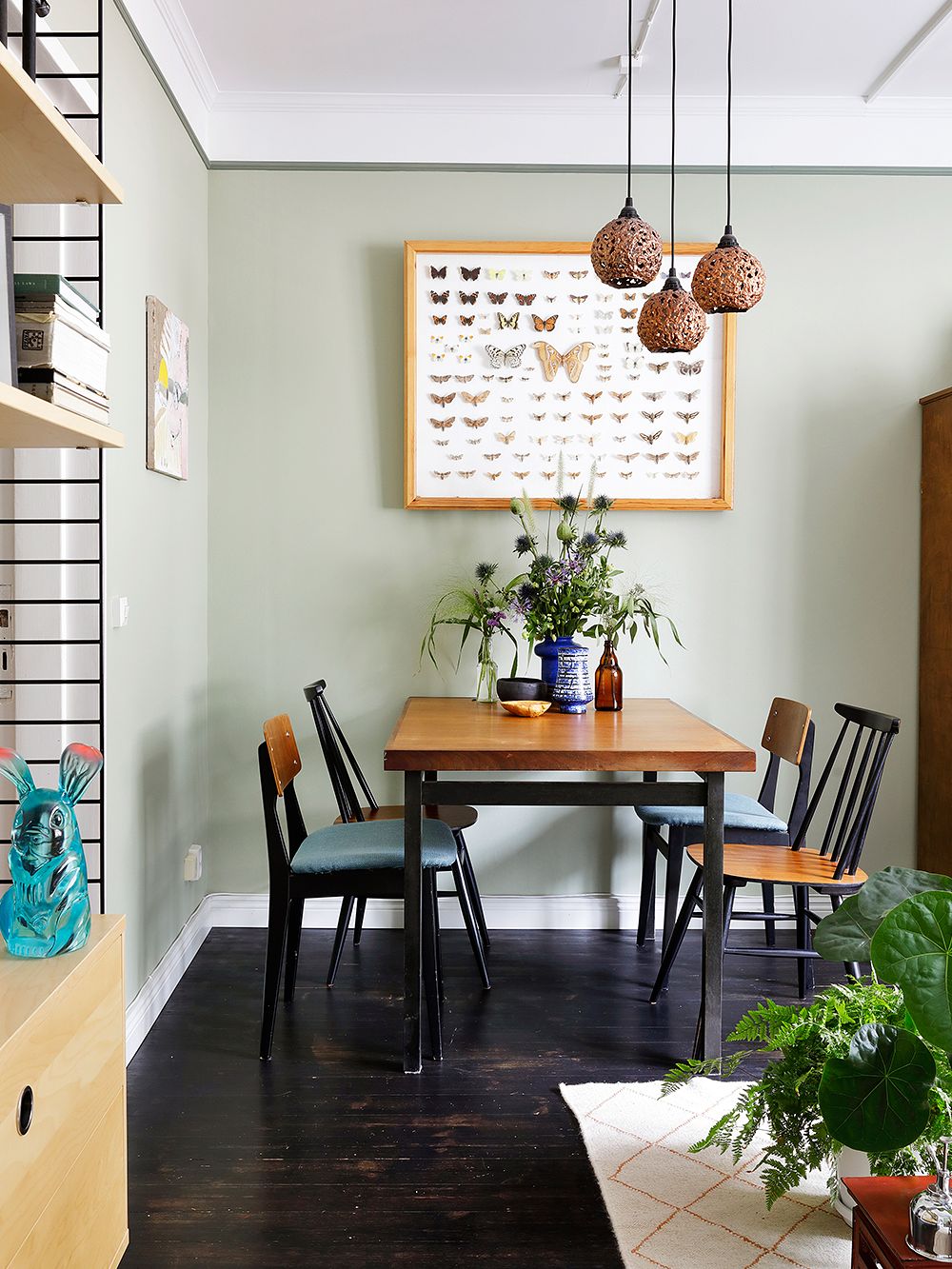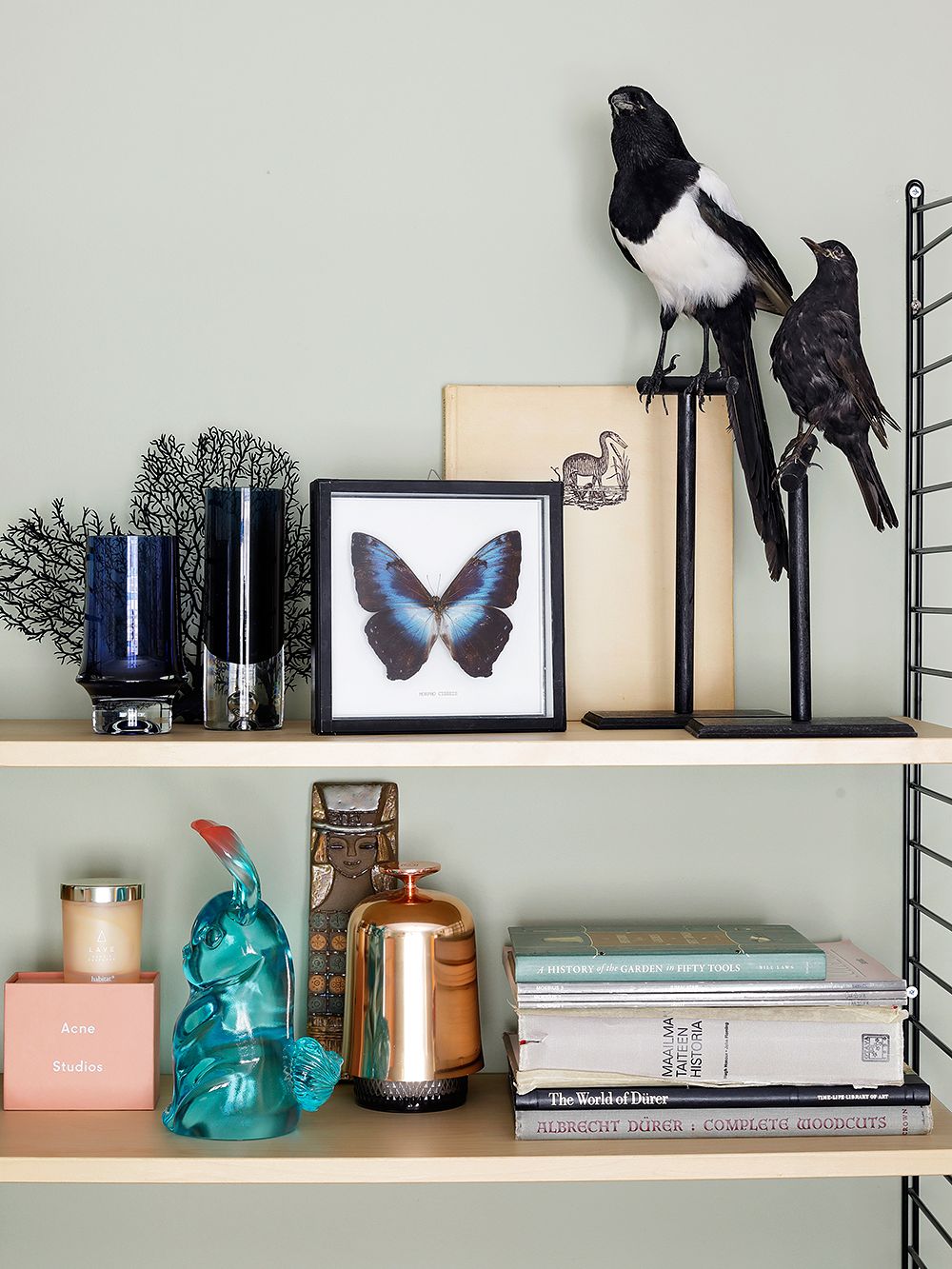 The home is decorated mostly with vintage furniture, which fits the style of an old apartment better than new furniture. When Vesa moved to his current home, he lived for a year without a couch, because he couldn't find the right candidate. "You can't bring a modern couch in here. It would be like a bull in a china shop", says Vesa.
"A modern sofa would be here like a bull in a china shop."
He found the right one at a second-hand shop in Suomussalmi. Vesa's mother Anja Kemppainen upholstered a 1940's couch with turquoise cloth that looks quite bright in a green living room. Vesa has a good tip for using colors: "Any colors can be made to fit each other in the right proportions."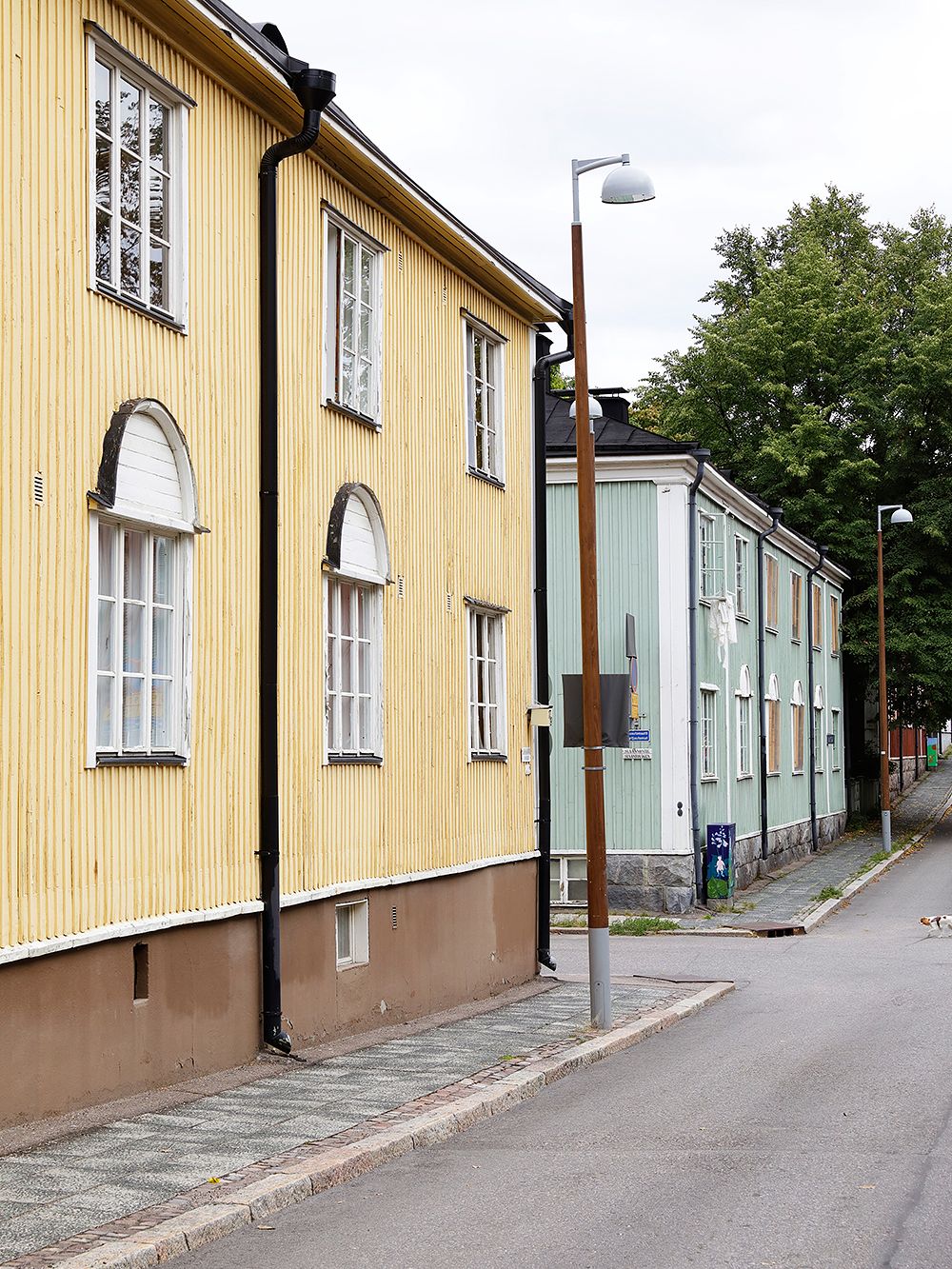 In the middle of the living room, a lush green oasis rises up where according to traditional interior design there should be a coffee table.
"Plants don't fit on the narrow windowsills. In front of the window, they get enough light."
Vesa has arranged the healthy plants into a group on tables of different heights, but there's room for a couple of coffee cups between the plants, if need be.
This story was originally published in Avotakka's issue 3/2019.
See also:
• A wooden house in Kumpula was decorated with striking colors >
• The limitless joy of prints and colors >
Text: Anna Aromaa Photos: Jaanis Kerkis