Caesar dip with aperitifs, herb salmon as the main course, and almond and peach pie for dessert. How could you resist these tasty fall recipes?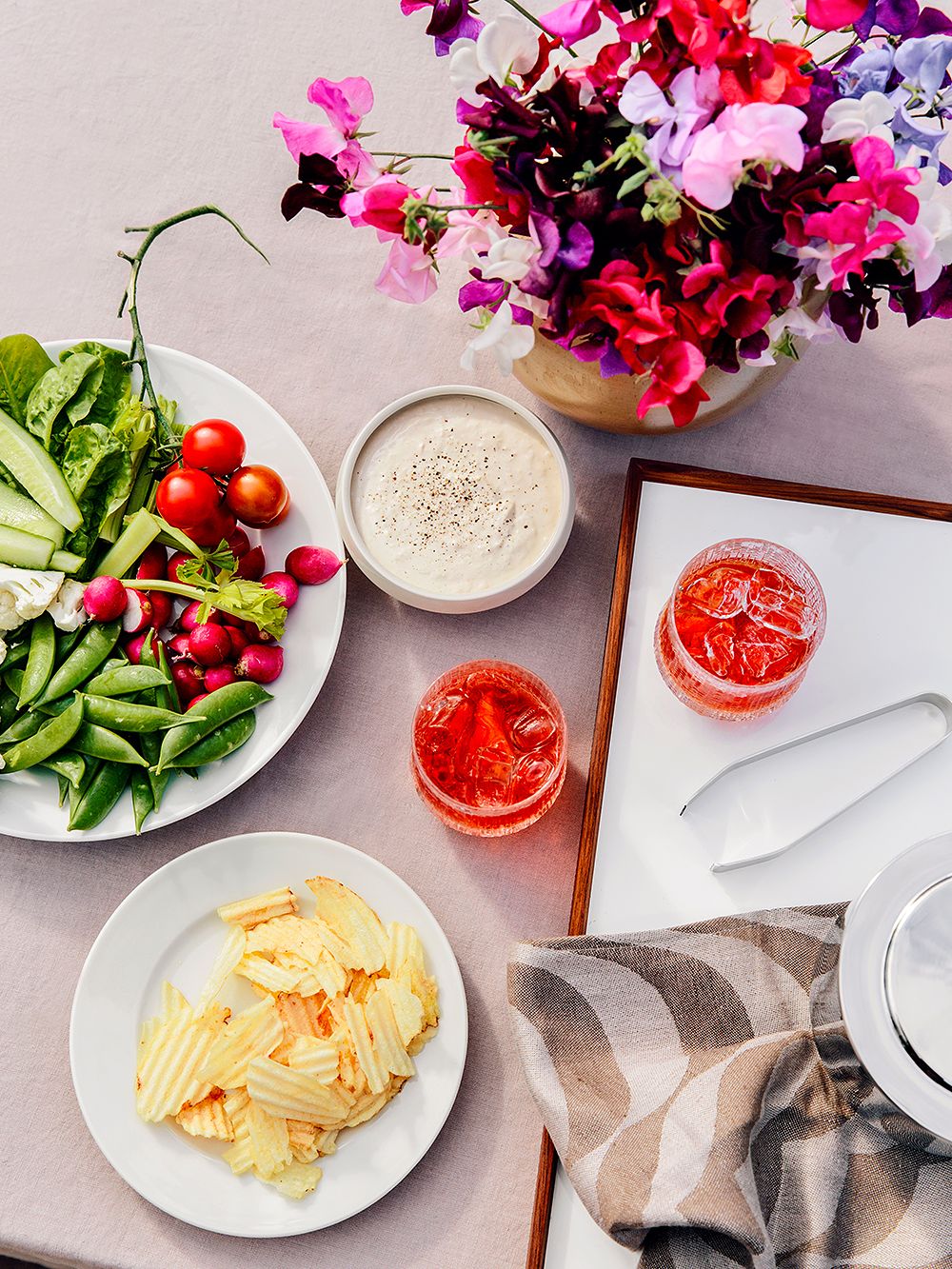 IN SEPTEMBER, we often wish for just one more long, warm weekend to protract the summer. However, the harvest season is upon us regardless of the month or weather: fruit and vegetables are at their best and crying out to be served. In this story, you'll find delicious recipes for a Caesar dip, herb salmon and fruity almond galette, among others.
Caesar dip is inspired by the famous salad: it is a dip for vegetables and chips, enjoyed with an aperitif in hand. This strongly flavored, creamy dip should be accompanied by a drink that can stand its ground. Americano is a classic mix of Campari, vermouth and soda, which goes back to 19th century Italy and has featured in the James Bond universe.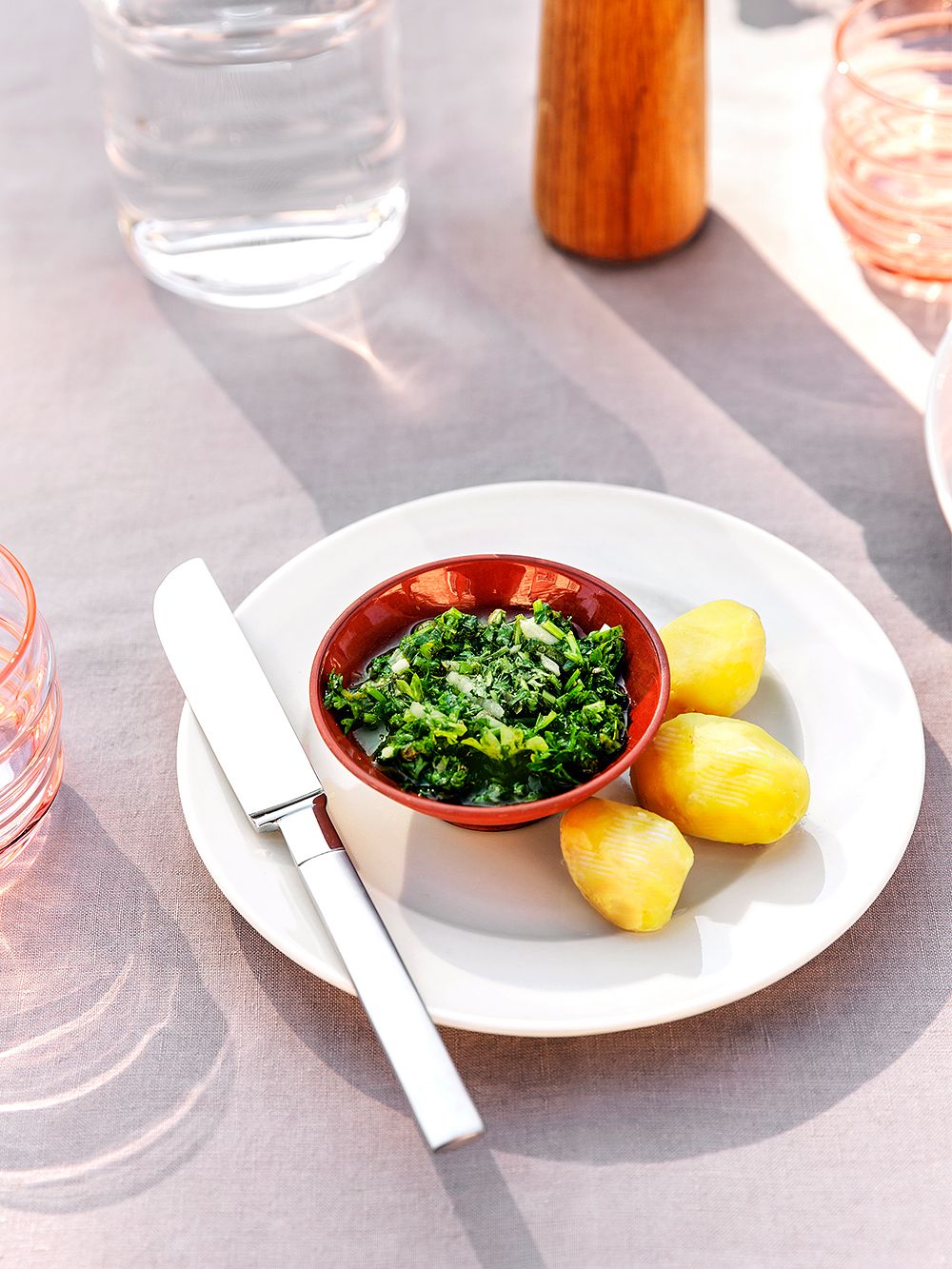 Salsa verde is a broad term for a green sauce. In Mexico, it is eaten with tacos, as a kind of puree containing tomatillos and chili. In Italy, parsley, anchovies, capers and garlic are mixed into a strongly flavored green sauce, which is often eaten with fish or meat.
Salsa verde is served with salmon, which can be seasoned with different herbs to suit your taste.
Our recipe for salsa verde is a cross between the two: parsley meets fresh coriander and plenty of fresh citrus flavor. Just add herbs to achieve the flavor you want. If you can't stand coriander, try alternatives such as basil or chives instead.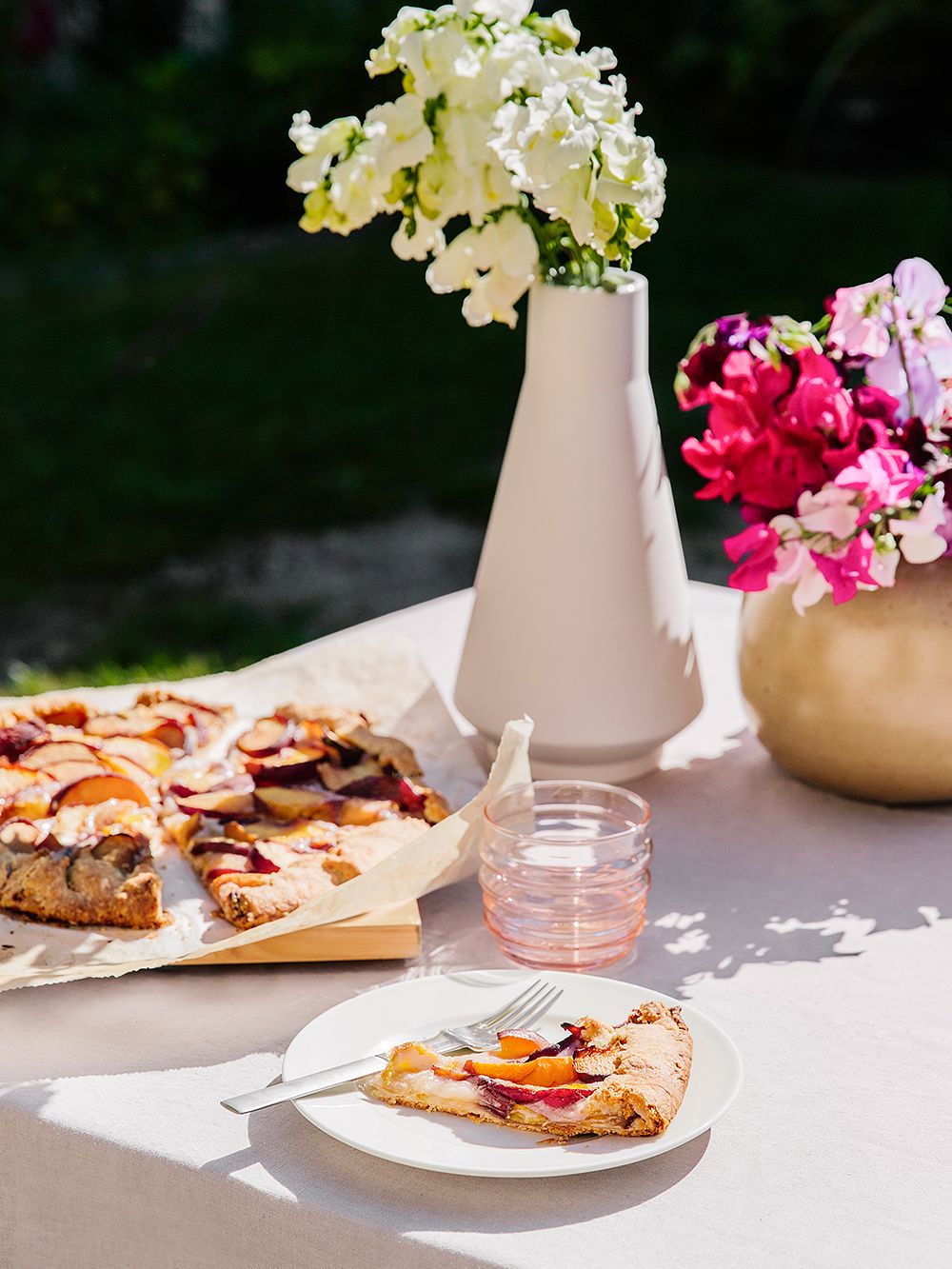 For dessert, take the easy option and prepare a galette, a French, free-form crusty cake or pastry made without a pie dish or cake tin. It is advisable to make the dough well in advance and let it sit at room temperature so it rolls out easily. A galette can be filled with fruit or berries of any kind, such as peaches, apples or blueberries.
See below for recipes for the Americano drink and foods: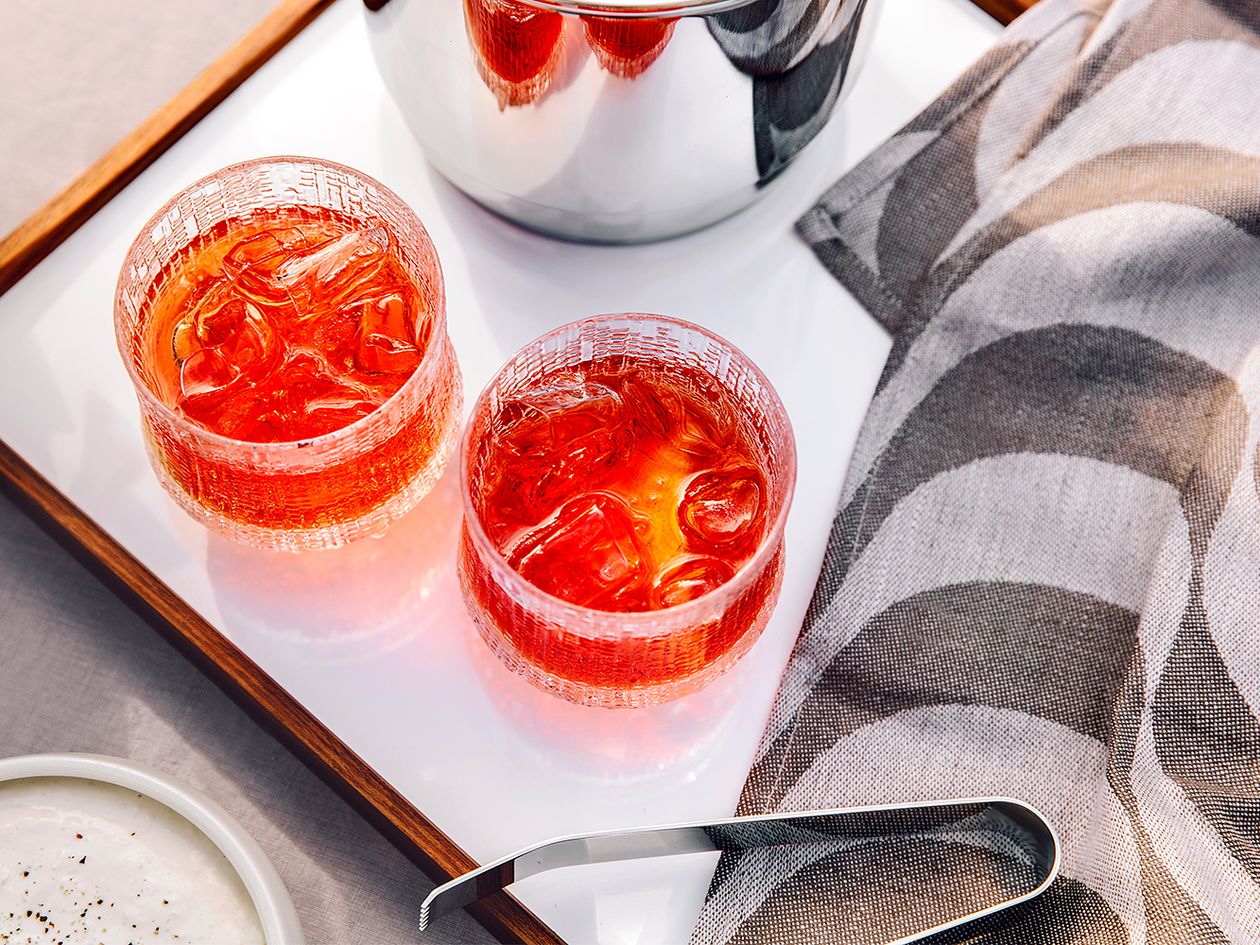 Americano (for one person)
Ingredients:
3 cl Campari
3 cl sweet red vermouth
ice
soda water
lemon slice
Directions:
Pour the Campari and vermouth into a shallow glass filled with ice. Add the soda water, and garnish with a slice of lemon. Mix and enjoy right away.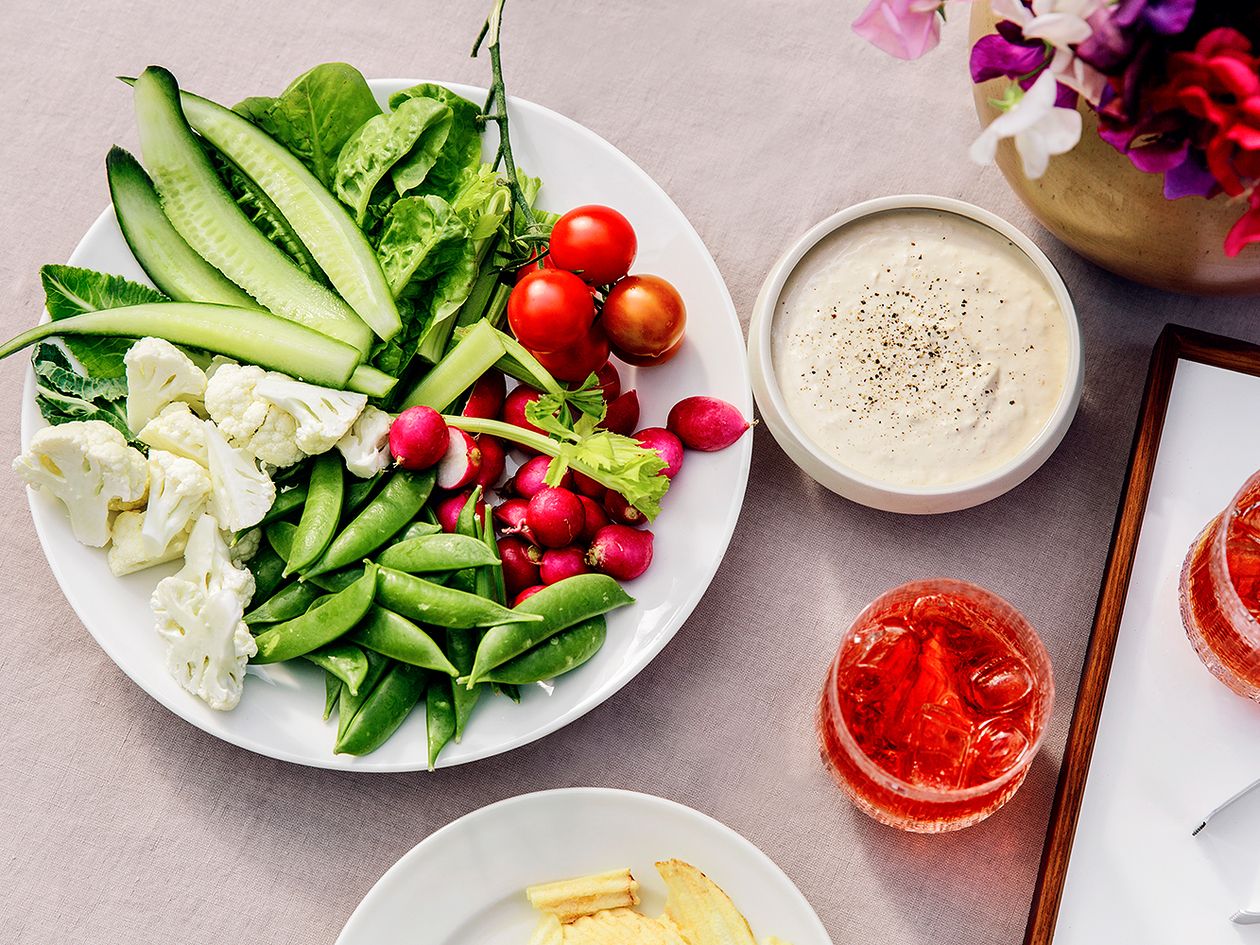 Caesar dip (for 4–6 people)
Ingredients:
2 dl mayonnaise
1 dl crème fraîche
1–2 cloves of grated garlic
1–2 anchovies, finely chopped, or 2 teaspoons of Miso paste
1 tsp mustard
juice of 1/2 lemon
1 dl grated Parmesan cheese
salt and black pepper
Directions:
Mix all the ingredients in a bowl, and add salt and black pepper to taste. You can add lemon to make it more tangy. Serve with fresh, sliced vegetables and potato chips.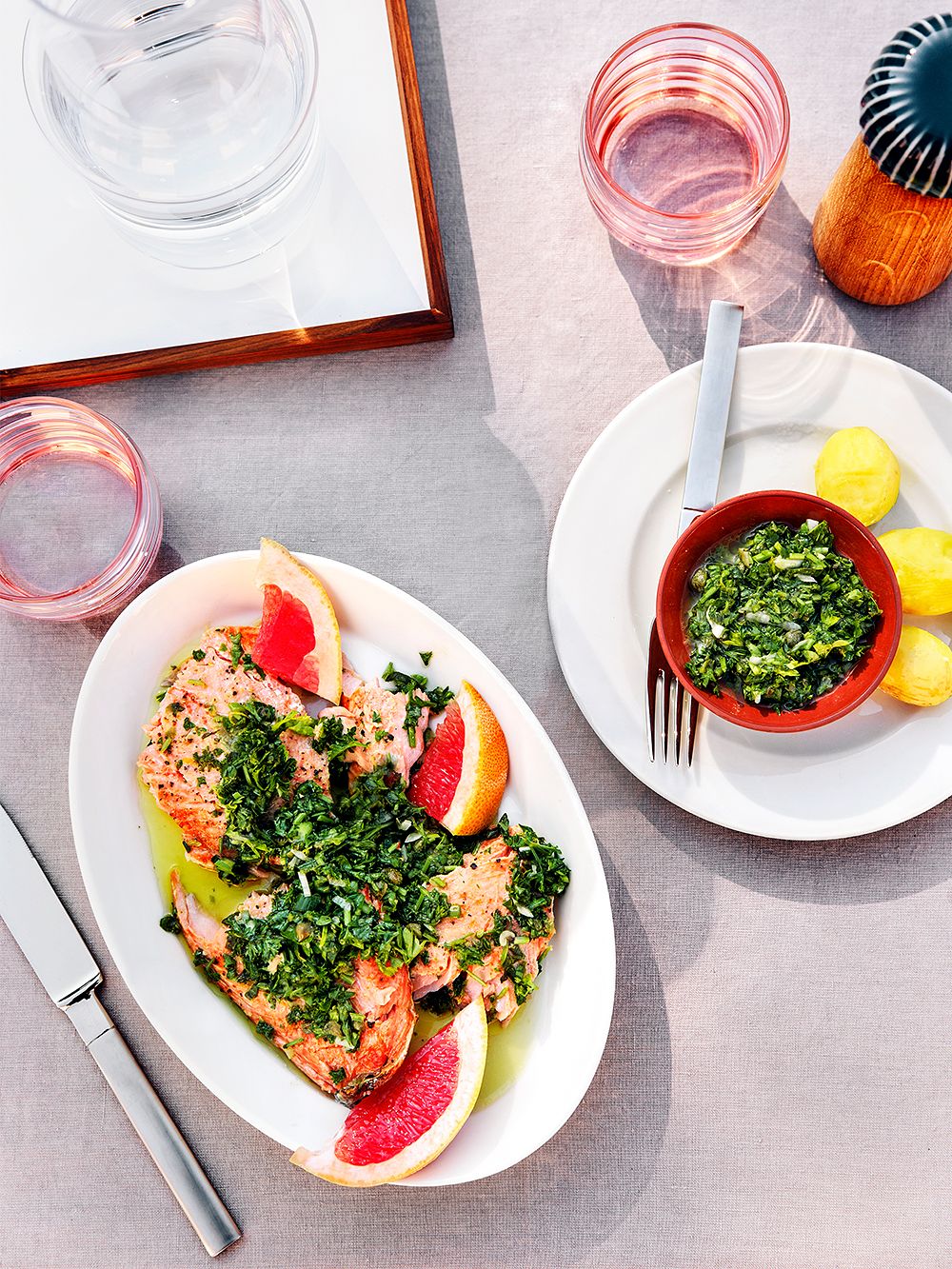 Salmon & salsa verde
Salmon:
1 salmon fillet, approx. 1kg
3 tbsp olive oil
salt and black pepper
Salsa verde:
1 lemon, grated zest and juice
1 red grapefruit, grated zest and juice
1 bunch of parsley, finely chopped
1 bunch of coriander, finely chopped
2 spring onions, finely chopped
1 clove of grated garlic
2 tbsp capers, finely chopped
1 tbsp olive oil
salt and black pepper
Directions:
Put the salmon in an oven dish lined with baking paper. Pour the oil onto the salmon and season with salt and black pepper. Roast the salmon for 15–20 minutes at 225°C, until the salmon is still slightly reddish and succulent inside.
Mix the salsa ingredients in a bowl and taste. As a shortcut, you can use a blender to chop the ingredients. Add salt and lemon juice if necessary, the sauce can be tangy if you like. Dribble some sauce over the hot salmon and serve the rest at the table. Salmon and salsa verde taste particularly good with new potatoes. The salsa will remain good for about a week if refrigerated in a cup or container with a lid.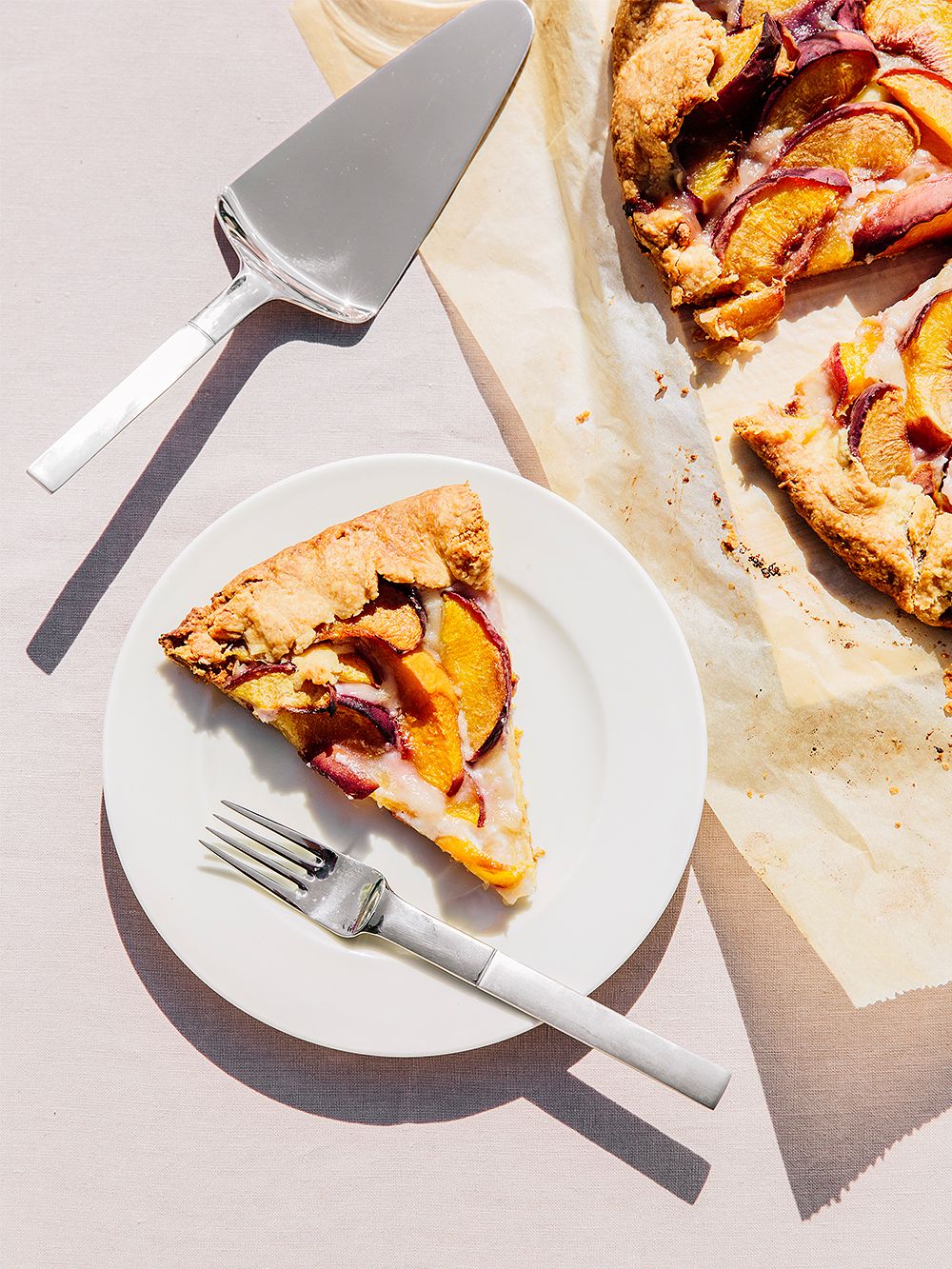 Fruit and almond galette (for 4–6 people)
Ingredients:
3,5 dl wheat flour
1 tbsp sugar
1/2 tsp salt
120 g butter
1–2 tbsp cold water
150 g ground almonds
1 liter of sliced peaches, nectarines or plums
Directions:
Mix the flour, sugar and salt in a bowl. Cut the butter into the mixture and use quick plucking movements to crumble the dough between your fingers. Add water and stir until the ingredients only just hold together. Pour the dough onto the film, roll the film closed and leave the dough to rest for an hour in the refrigerator.
Scrape the dough into a circular shape and transfer it to the baking paper. Sprinkle small clumps of ground almonds evenly over the dough. Spread the fruit on top of the clumps of crushed almonds, leaving around 5 cm of dough uncovered around the edges. Fold the edges over the fruit. Bake the pie for about 45 minutes at 175°C and serve when cooled. Use fruit that is slightly firm: if too ripe, the fruit may turn jam-like when baked.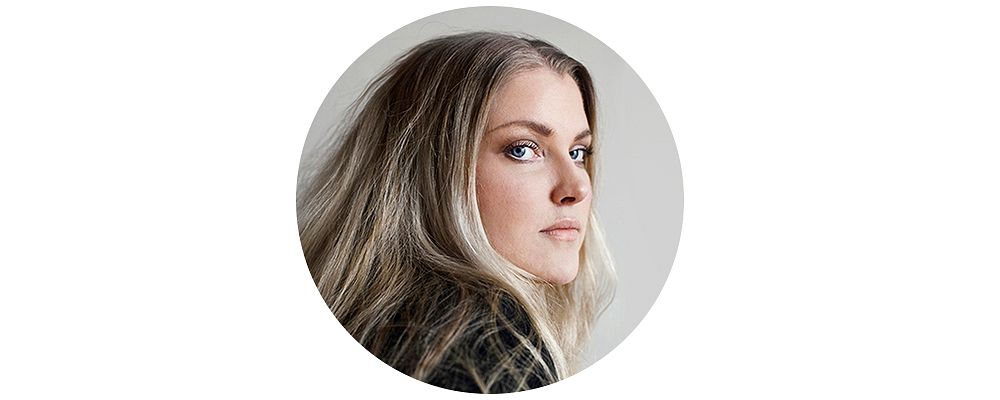 Design Stories contributor Suvi Kesäläinen is a photographer, who loves to create dishes that are not only delicious but also fast and easy to make. She's passionate about the best seasonal ingredients, local food and intriguing culinary trends.
See also:
• All tableware at Finnish Design Shop >
Text and photos: Suvi Kesäläinen