Enjoy a pumpkin curry with raita and plum chutney as the main course, and succulent, coconut-spiced banana bread for dessert. These recipes are ideal for making wonderful comfort food for those gray fall weekends.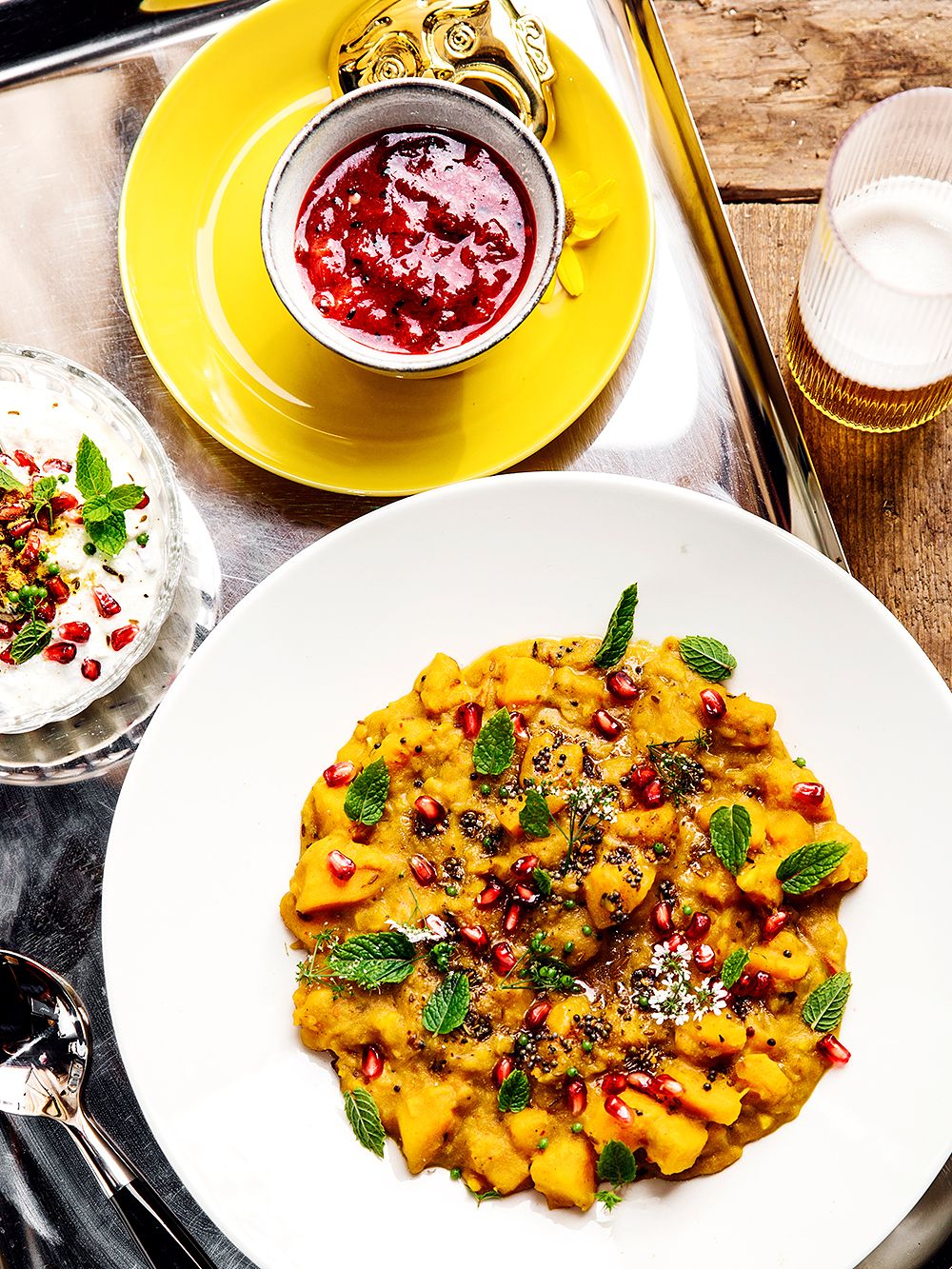 WHEN TEMPERATURES DROP, the evenings get darker and umbrellas come out once again, you definitely need something extra to brighten up the everyday life. Why not choose India when looking into your spice cupboard, use the best that the late fall harvest season has to offer, and light up some candles to create a cozy atmosphere.
The trick with Indian dishes is to layer the spices. They are often added both when you start cooking, and at the end. For this recipe, we wanted to make it easy, and used ground spices, but you can very well toast the coriander and jeera seeds whole and use a pestle and mortar to grind them in the authentic way. It's a good idea to toast the spices, because the heat wakes up those aromatic oils.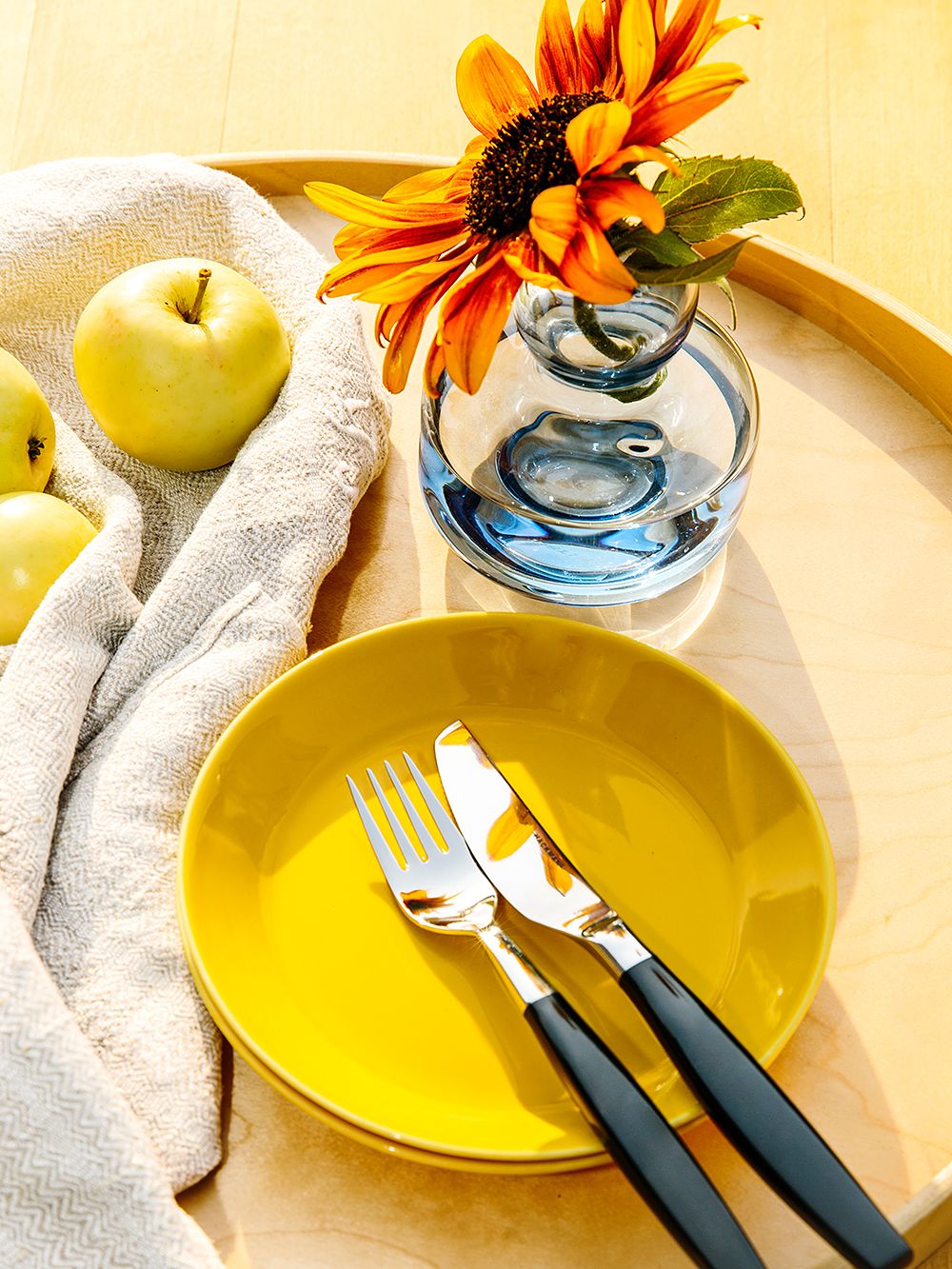 Tadka, the mixture of oil and spices added to the dish as a final touch, is an easy way to deepen and layer the spiciness and flavor of any curry. However, as the hot oil and spices reach a certain point, tread carefully, because popping mustard seeds can very well spill some hot oil on the eager chef.
These days, all large supermarkets sell Indian spices, but you can get for example asafoetida, nigella seeds and black mustard seeds from ethnic supermarkets.
The trick with Indian dishes is to layer the spices. They are often added both when you start cooking, and at the end.
The perfect accompaniments for curry include steaming basmati rice, some sweet and tangy chutney and cooling raita. You can buy chutney in a jar, but a homemade one is better by far, and plums, in season right now, are perfect for this. Curry is creamy and spicy, and needs something tangy to complement and balance the flavors.
Raita is a side dish, made from yogurt and spices, and its function is to cool and freshen the palate. You can add seasonal flavor to raita as well by using pomegranate in it.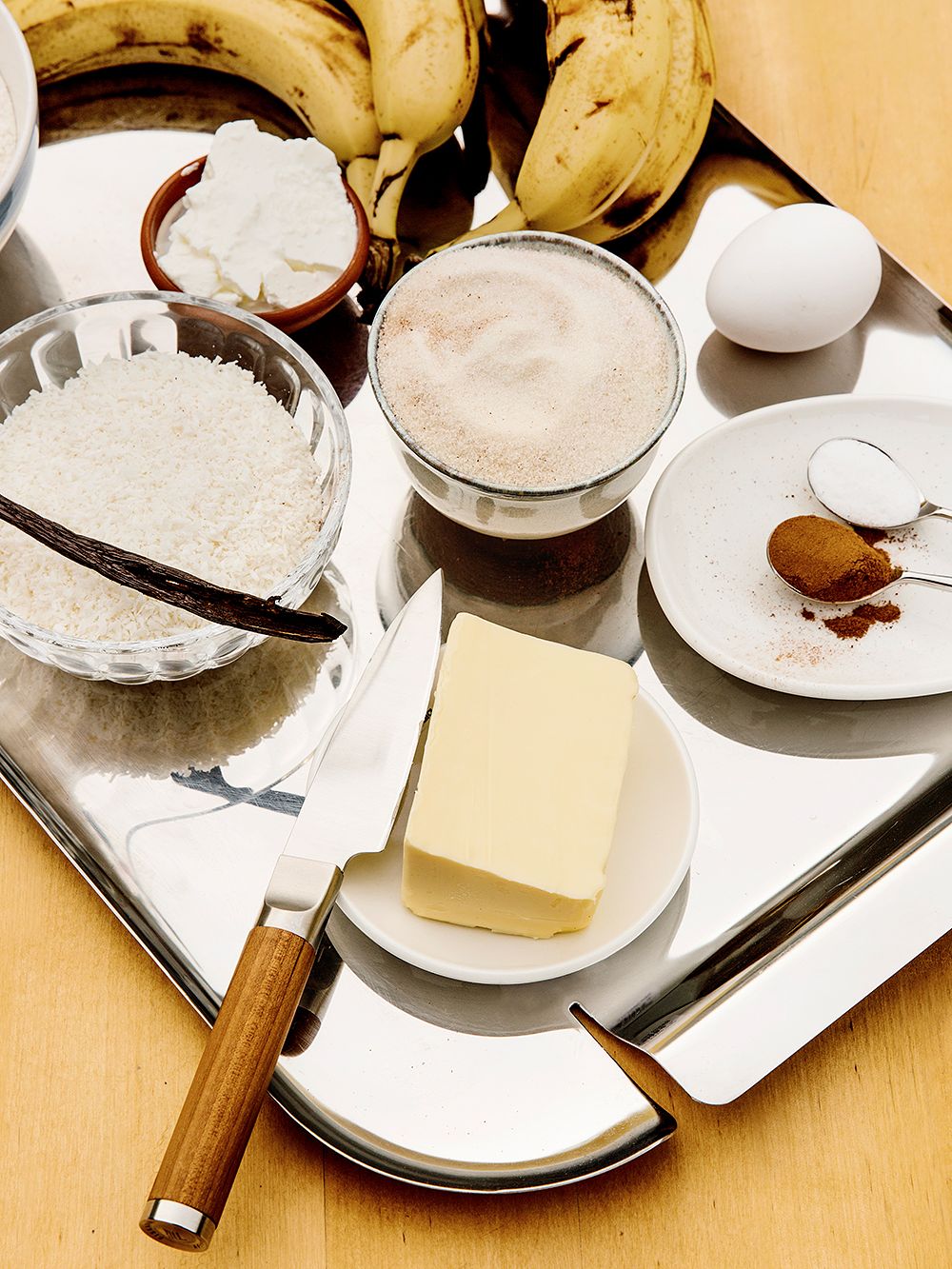 Banana bread is a classic American pastry. The name is a bit misleading, as it actually is a sweet cake. This recipe is a great way to use those overripe bananas, and for a little twist, add some cinnamon and coconut to the batter.
Banana bread is best when served, still slightly warm, with some mascarpone cheese. You can also toast slices of banana bread, made a couple of days ago, for a weekend breakfast treat or freeze the slices and let them melt in the toaster. A real multi-purpose pastry, this one.
Try the recipes: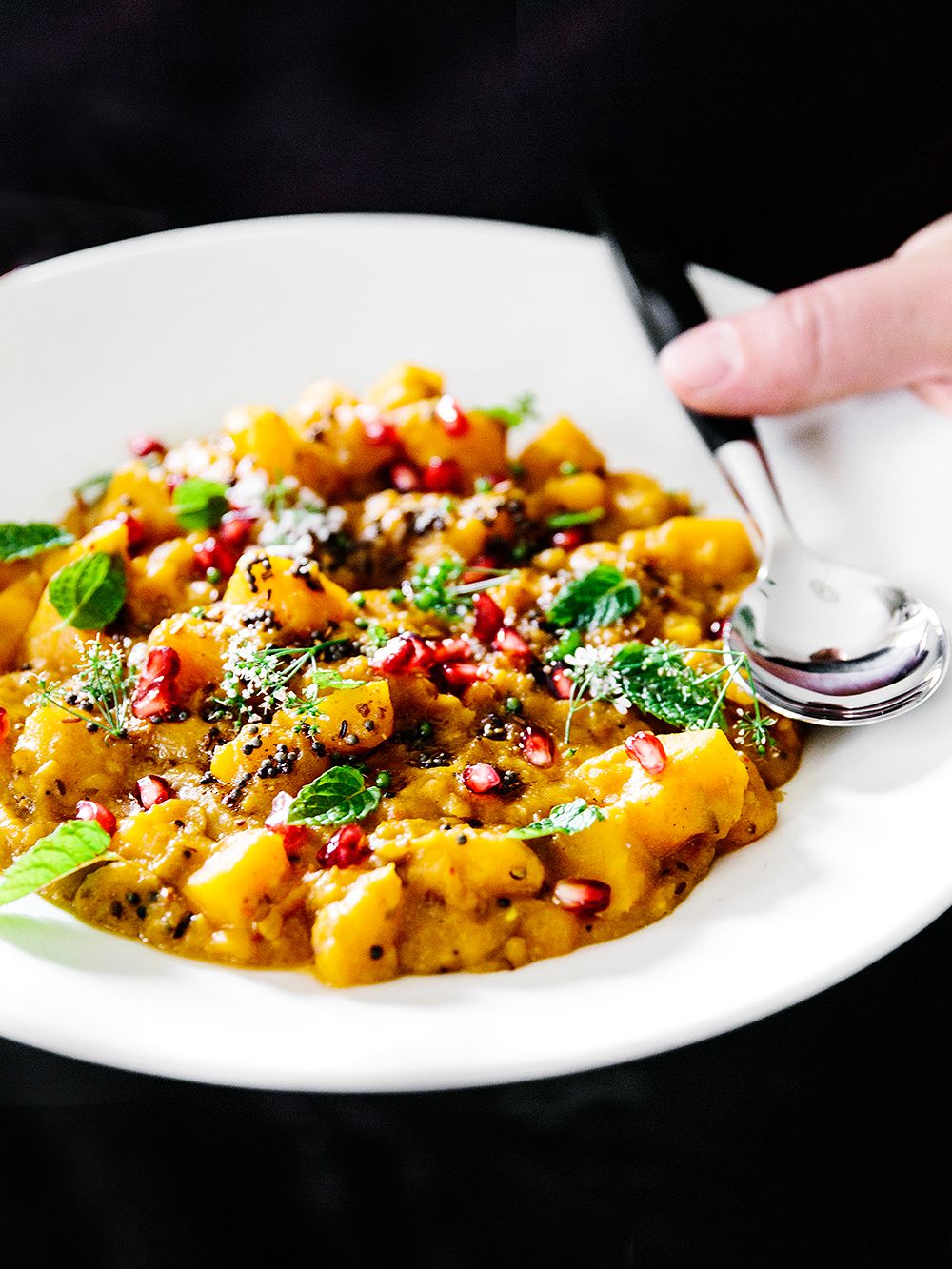 Butternut squash curry
Ingredients (for 4):
1 tbsp ground coriander
1 tsp ground jeera
1–2 tsp chili flakes or 1 fresh chili
1 tsp ground black pepper
1 cinnamon stick
1–2 tbsp rapeseed oil
1 onion
2 cloves of garlic
500 g diced butternut squash
1 large tomato
4 cups of water
1 tsp turmeric
160 g red lentils
1 can of coconut milk
salt
juice of half a lemon
Tadka (oil-spice mixture):
1 tbsp oil
1 tsp black mustard seeds
1 tsp jeera seeds
1 tsp chili flakes
a pinch of asafoetida (hing)
Directions:
Toast the coriander, jeera, chili, cinnamon and black pepper in a dry pan until they become fragrant. Take care not to burn the spices as you don't want them to get a bitter taste. Add the oil and chopped onion to the saucepan and sauté the onion until soft.
Add the garlic, squash and diced tomato. Fry for about five minutes, and measure in the turmeric, water and rinsed lentils. Leave to boil until the squash is soft and lentils ripe. Add water if needed. Finish by adding the coconut milk. Then let the mixture warm up. Season with salt and lemon juice.
Finally, heat the oil and spices in a frying pan. Take the pan off the heat when the mustard seeds start to pop, and quickly mix the tadka with the curry. Serve with basmati rice, raita and chutney.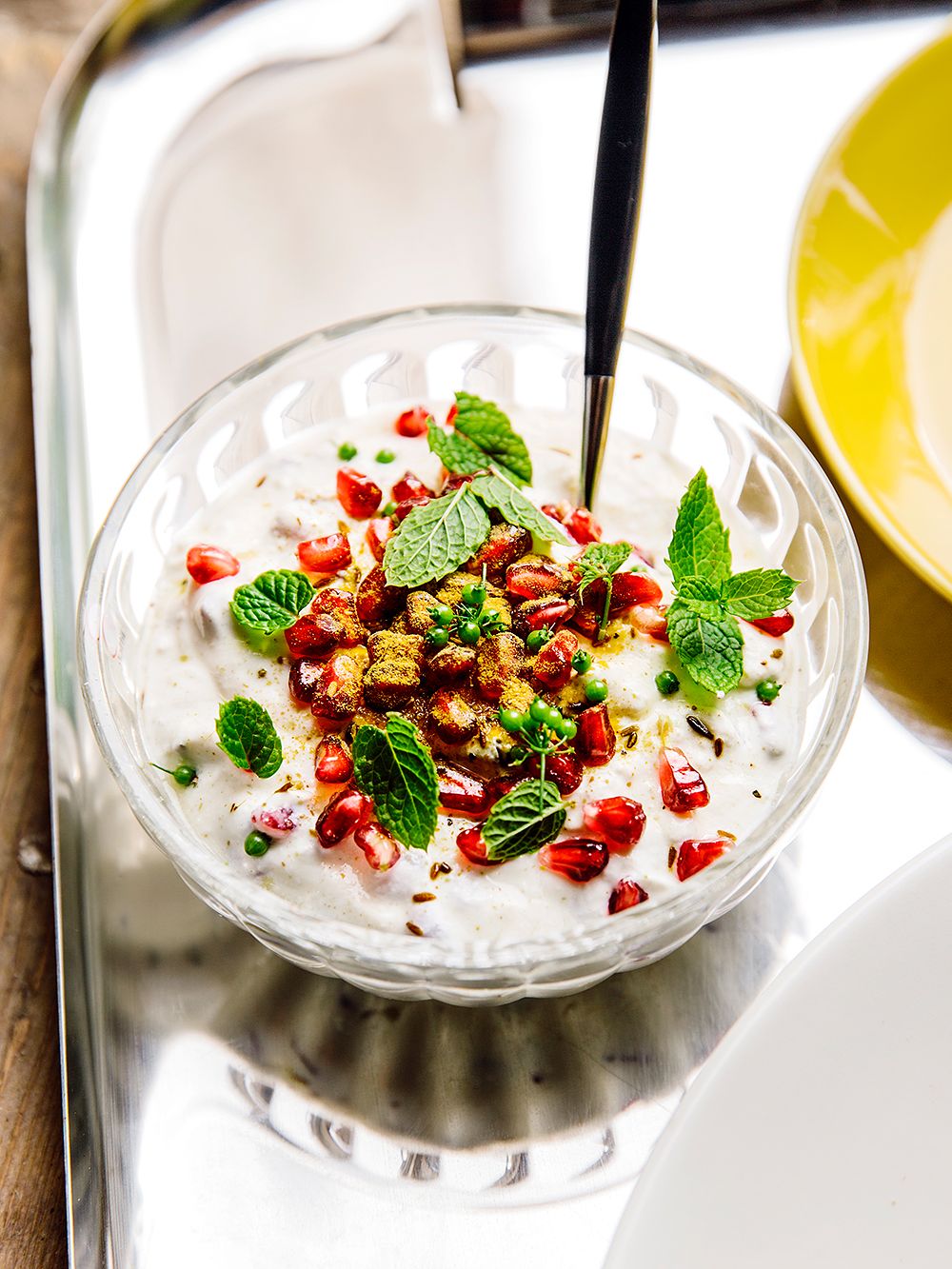 Pomegranate raita
Ingredients:
The seeds of 1 pomegranate
1 cup or 250 g thick plain yogurt
1 tsp ground jeera
1 tsp ground black pepper
1/2 tsp salt
fresh mint
Directions:
In a bowl, mix half the pomegranate seeds with the yogurt, black pepper, jeera and a pinch of salt. Garnish the raita with the rest of the pomegranate seeds and some fresh shredded mint.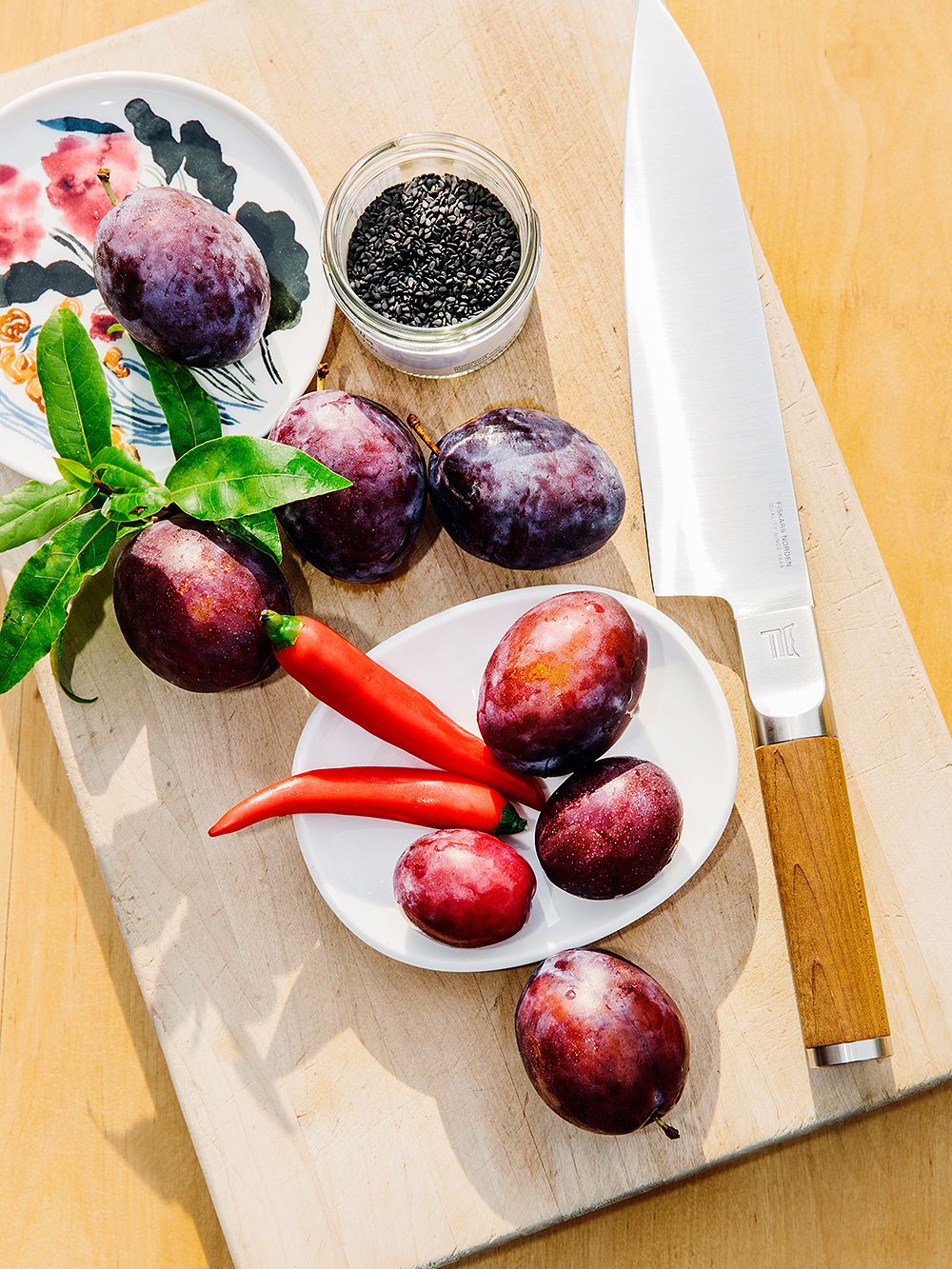 Plum chutney
Ingredients:
500 g fresh plums
1 tbsp rapeseed oil
1 tsp nigella seeds (kalonji)
1 red chili
1–2 bay leaves
3 tbsp water
5 cm piece of ginger
85 g sugar
3 tbsp vinegar
1 tsp salt
Directions:
Rinse, halve and stone the plums, then cut them into wedges. Add the rapeseed oil, nigella seeds, halved chili and bay leaf into a saucepan. Heat until the seeds start popping and then add the plum wedges. Add the water and chopped ginger and leave the mixture to simmer until the plums are tender. Then add the sugar, vinegar and salt and let cook for a while until the chutney thickens. Leave to cool and pot in jars. The chutney will keep for a week in the fridge.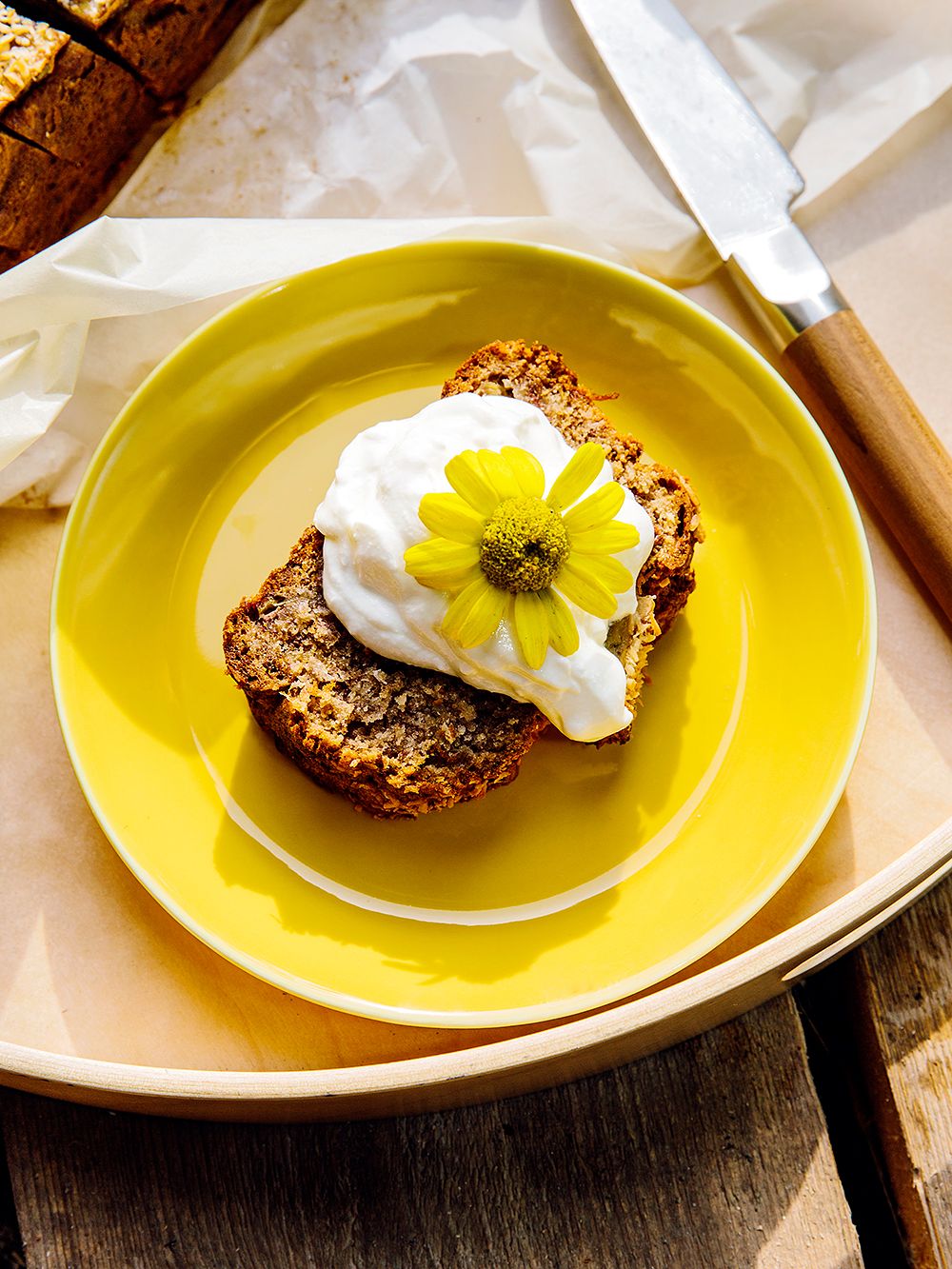 Coconut banana bread
Ingredients:
195 g wheat flour
100 g ground coconut
1 tsp baking soda
1 tsp cinnamon
1 vanilla stick or 1 teaspoon vanilla sugar
5 overripe bananas
100 g butter
210 g cane sugar
1 egg
100 g thick plain yogurt
Directions:
Preheat the oven to 180 °C and get a bread tin and some baking paper ready. Mix the flour, coconut, baking soda, cinnamon and vanilla together in a bowl. In another bowl, mash four bananas – save the fifth. Beat the soft butter and sugar in a third bowl until fluffy and light. Add the egg and mix well. Mix in the dry ingredients at low speed. Use a scraper to fold in the mashed bananas and yogurt in the batter, but do not mix too hard as you want keep the batter light.
Pour the batter into the bread tin, lined with baking paper, and cut the fifth banana in halves lengthwise and place it on top of the batter. If you wish, you can sprinkle the bananas with some cinnamon and coconut. Bake the banana bread in the oven for an hour and check to see when it is done. The cake should remain succulent in the middle, but when you press your finger on the surface, it should feel soft to the touch and bounce back when it is done.
Cool and serve, on its own or with lightly sweetened mascarpone cheese.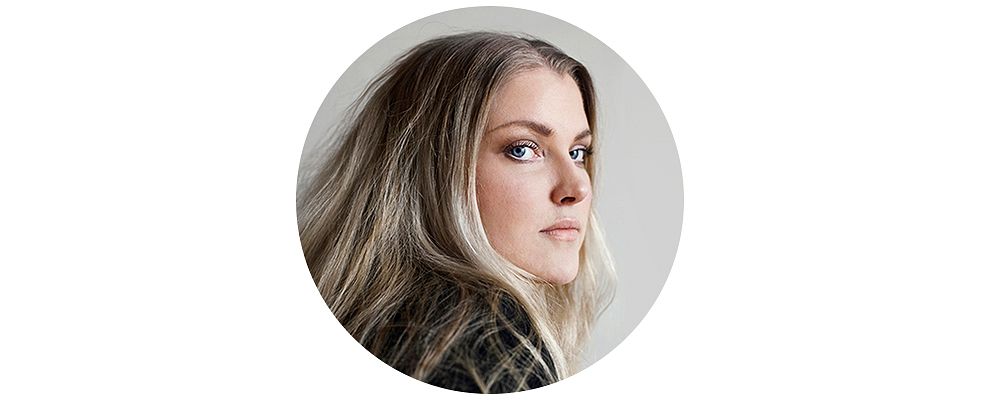 Design Stories contributor Suvi Kesäläinen is a photographer, who loves to create dishes that are not only delicious but also fast and easy to make. She's passionate about the best seasonal ingredients, local food and intriguing culinary trends.
See also:
• All tableware at Finnish Design Shop >
Text and photos: Suvi Kesäläinen