The Habitare fair in Helsinki showcased new design with skillful woodwork, rich textures, and dark tones. See the favorite products of the Finnish Design Shop team!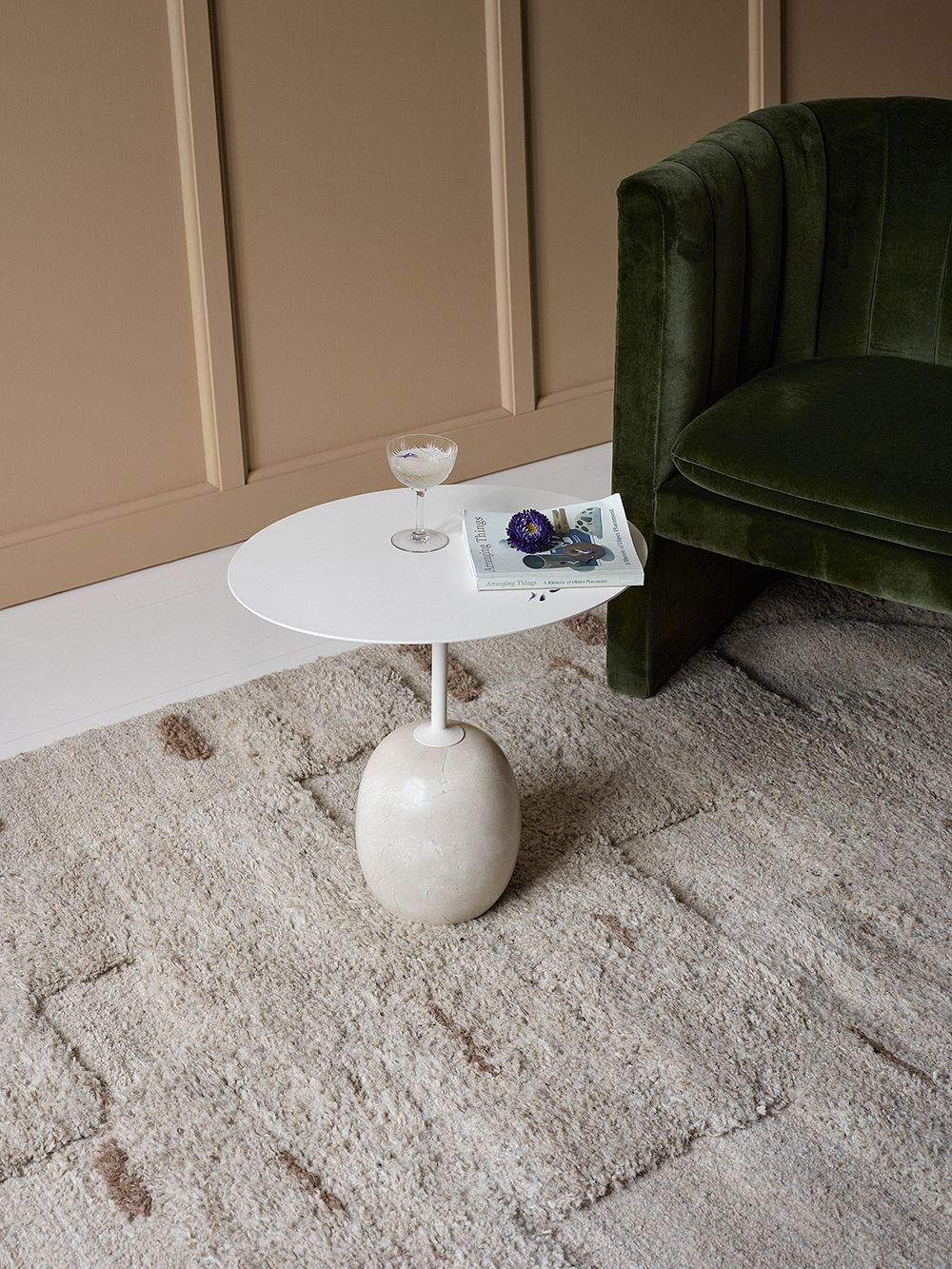 Sera Helsinki: Saaristo rug collection
Anna Pirkola has designed a collection of wool rugs for Sera Helsinki. Their misty tones, subdued patterns and softness charmed the entire team. As the name suggests (saaristo is Finnish for archipelago), the collection of four carpets was inspired by the sea and the archipelago. Sera Helsinki, founded by Anna Suoheimo and Hanna Puharinen, produces the rugs in Ethiopia using traditional methods. Their own weaving mill employs women who were trained through a local female organization. Most of the over 100 artisans are blind or single moms. "The products of our company are ethical. We want to ensure a good salary and an equal life for the carpet makers."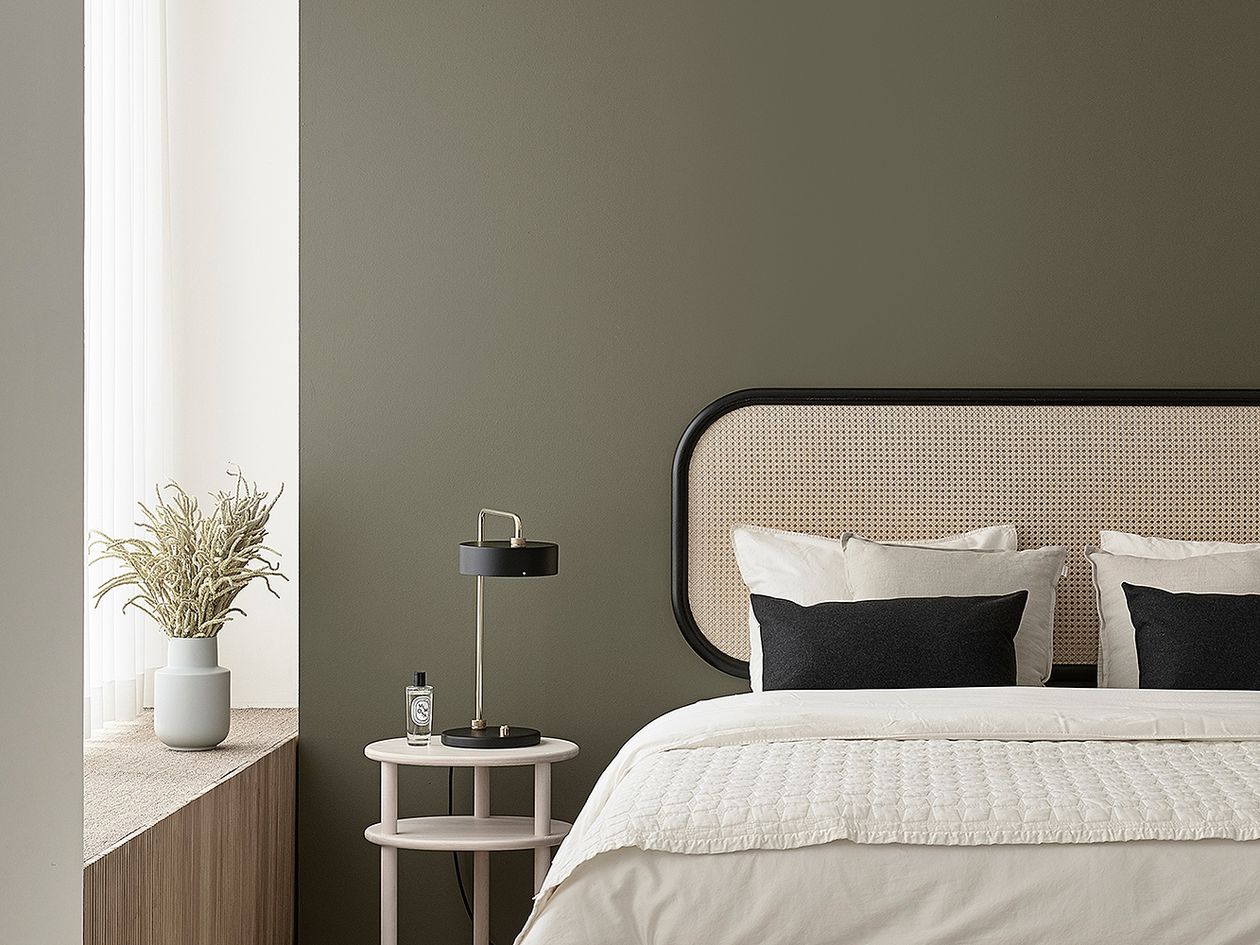 Matri: Lempi headboard
Family business Matri comes from Perniö, Finland. The company showcased a new headboard in the Lempi collection that was designed by KOKO3. The ash frame, painted black, and rattan make a perfect couple. The beautiful Lempi nightstand is a part of the same collection; the black Petite Machine table lamp comes from Danish brand Made by Hand.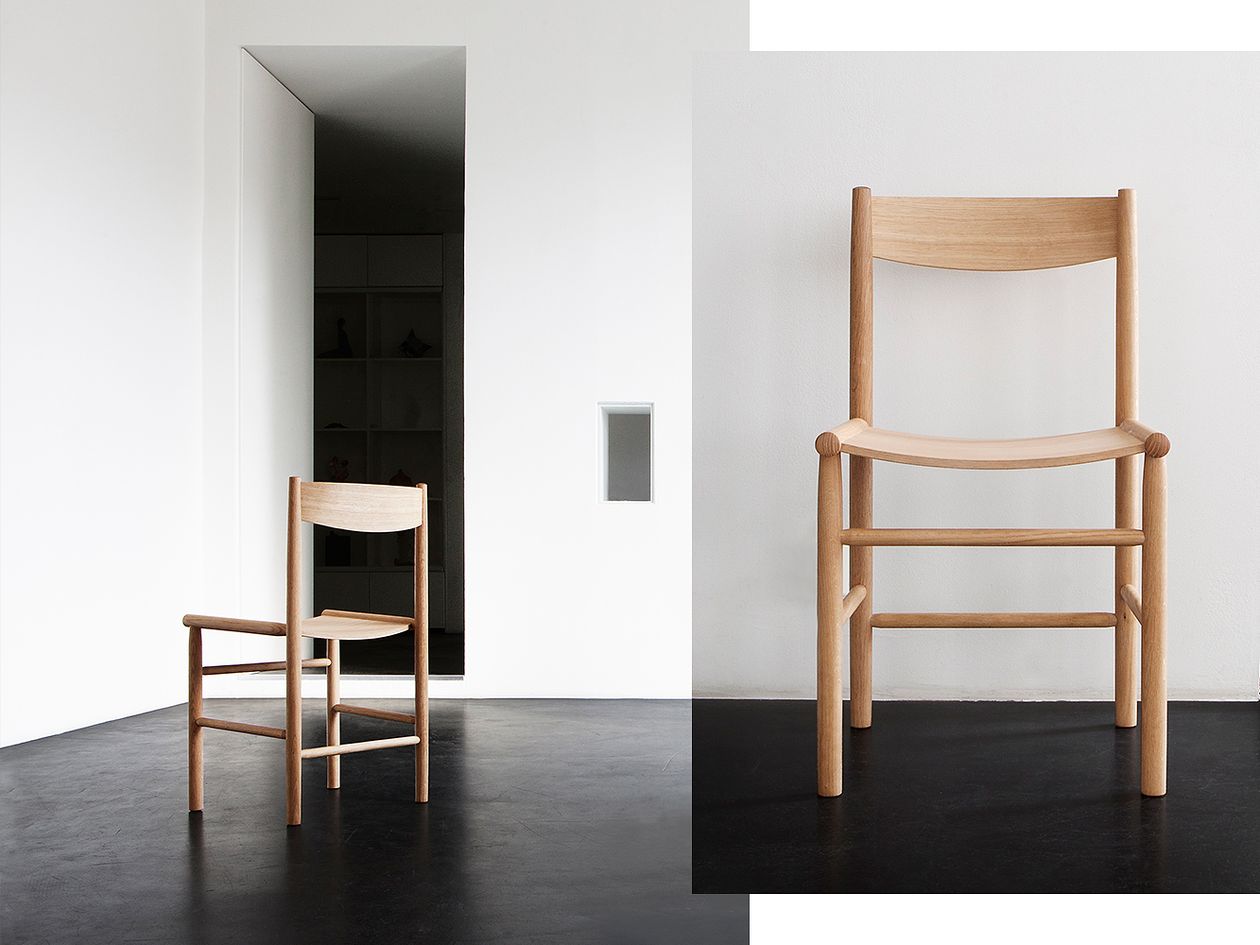 Nikari: Linea Akademia chair
The duo Wesley Walters and Salla Luhtasela, known as Kaksikko, designed the Akademia chair for Nikari, and it's also a part of Walters' master's degree at Aalto University. The oak chair combines American shaker style and Nordic design smoothly.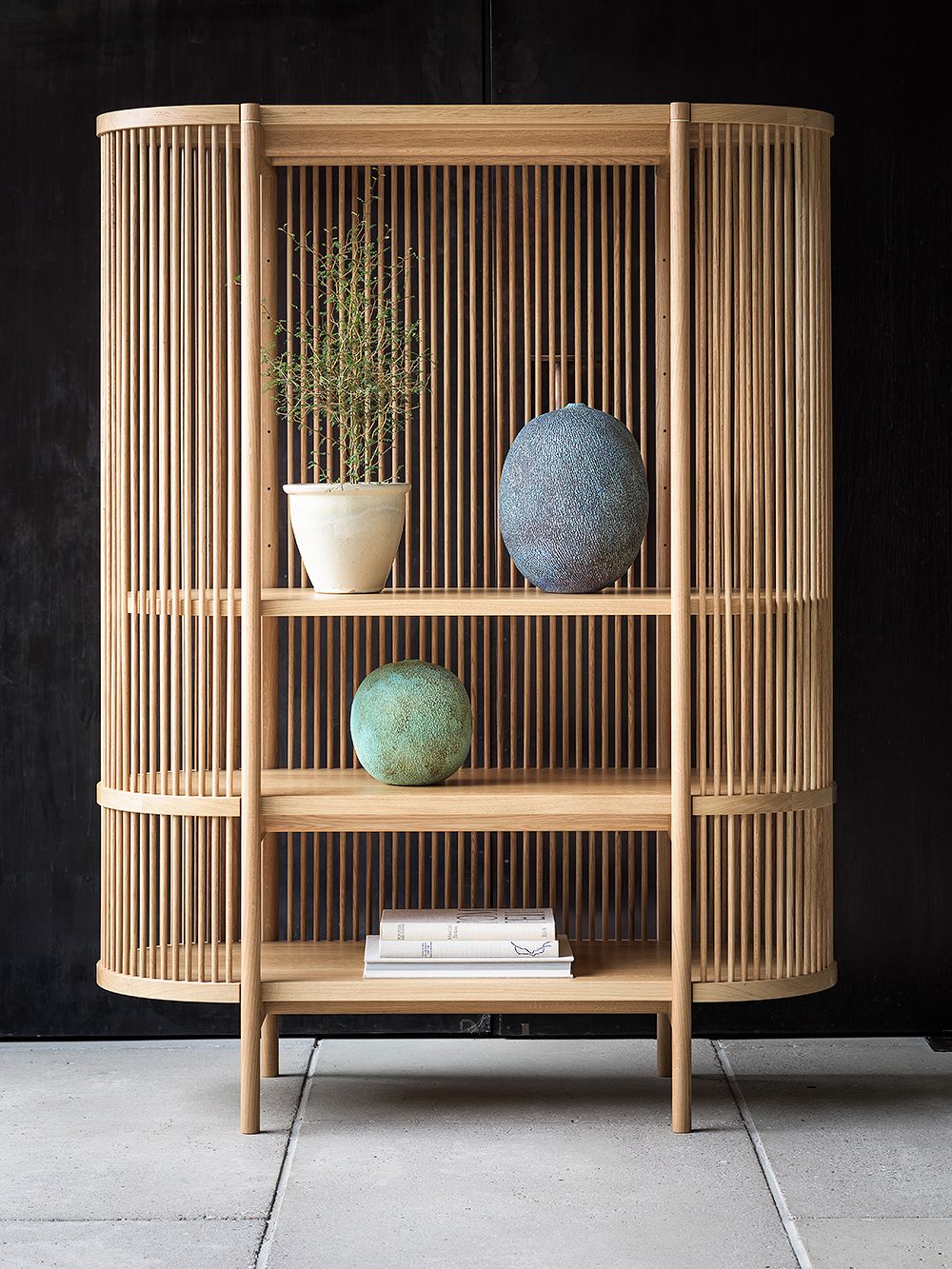 Antrei Hartikainen: Bastone cabinet
Master cabinetmaker Antrei Hartikainen showcased a prototype of his Bastone cabinet at Habitare's Young Designer of the Year 2018 exhibition. Poiat has taken the Bastone solid oak cabinet and sideboard to their collection. "When we saw the prototype for the cabinet collection that Antrei had designed, we immediately loved it. Antrei's idea to use wooden slats was genius. The details of the cabinets are so excellent and carefully considered that the end result is just stunning," explains Timo Mikkonen, one of Poiat Studio's founders.
Read also our interview with Antrei Hartikainen.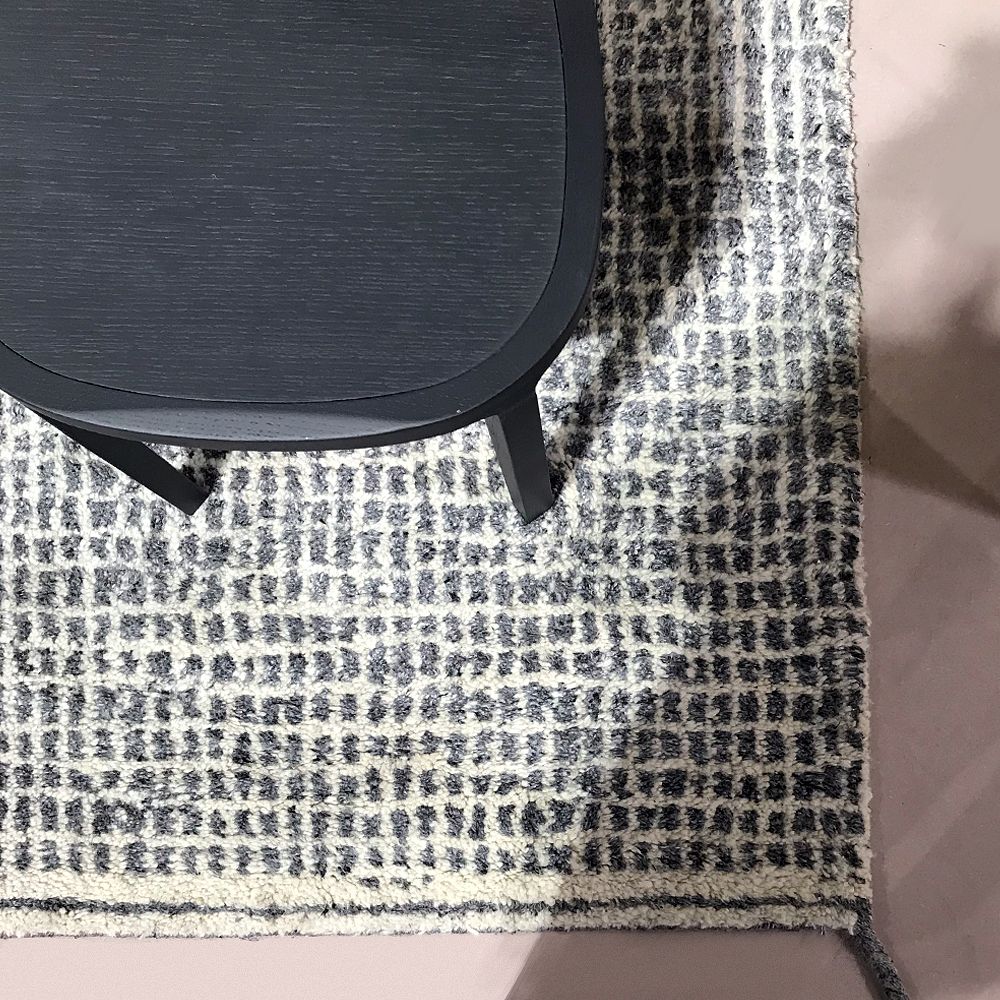 Woodnotes: Wool carpets
Woodnotes' soft woolen rugs are a fine addition to the brand's collection. The carpets that are yet to be named are hand-knotted and they come in several colors.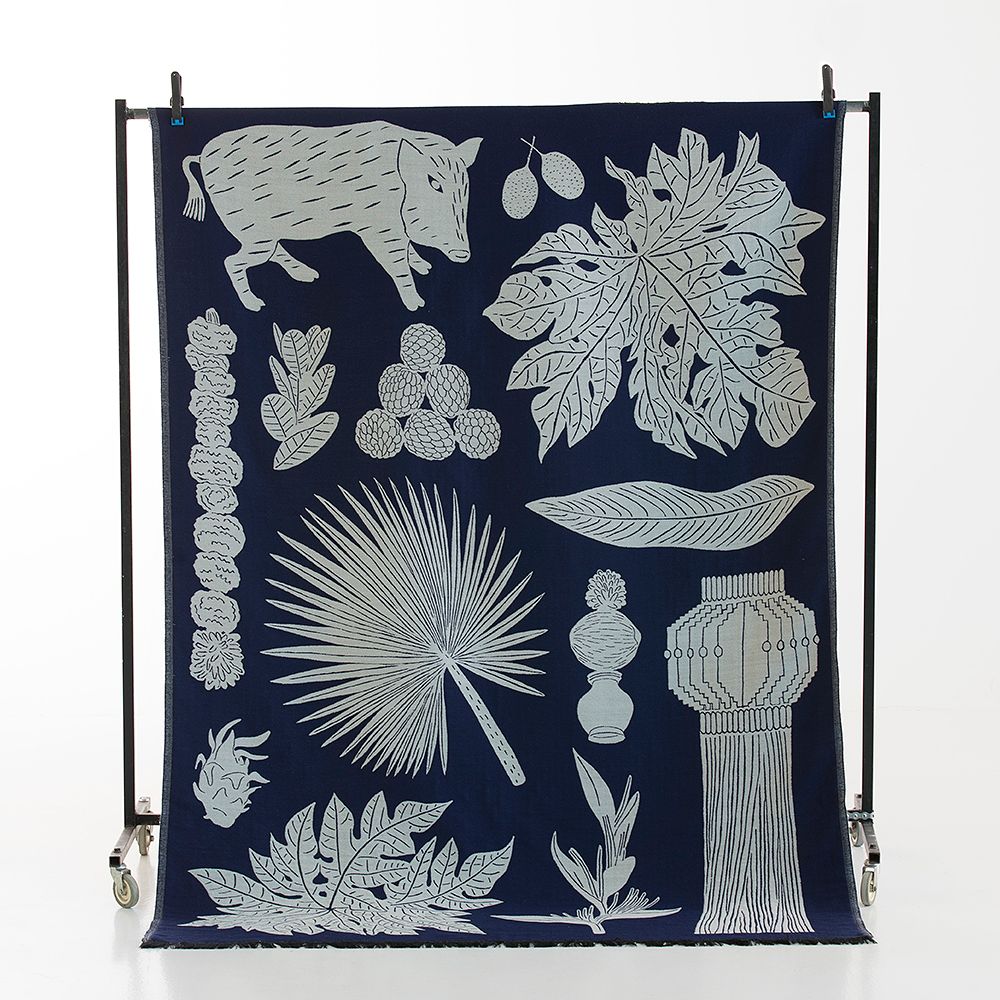 Tong Ren: Matka blanket
Habitare's Protoshop, curated by Imu Design, showcased prototypes from 11 designers. One product that stood out was Tong Ren's Matka wool blanket, inspired by the designer's trip to India as well as the country's beautiful nature and culture.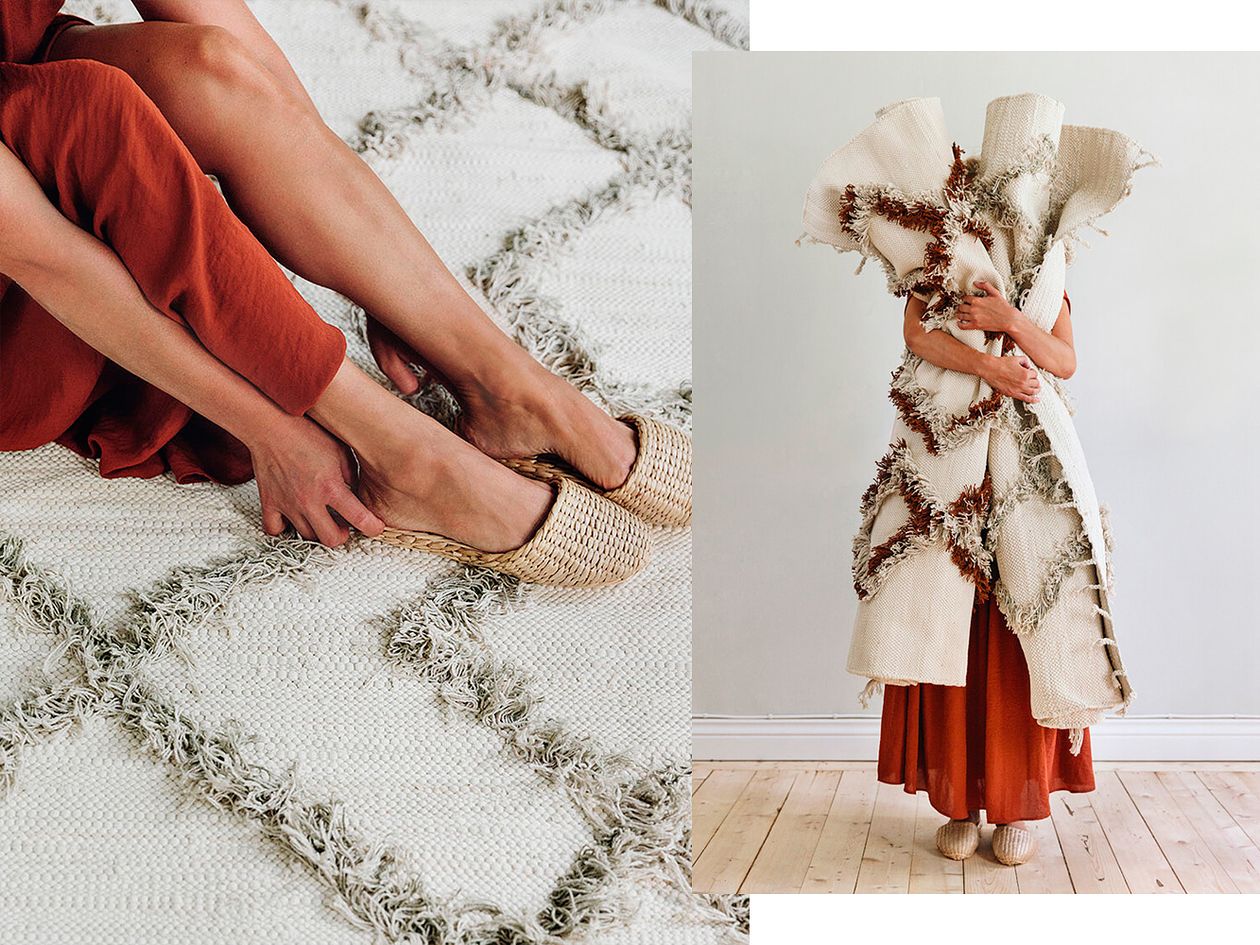 Finarte: Tie rug
Designed by Saana ja Olli for Finarte, the Tie rug is woven of recycled cotton and resembles a rya rug. The design was named after the cotton pile pattern that zigzags irregularly in grey or brown tones. "For us, the Tie rug symbolizes the randomness of life and the unpredictable paths it takes us to," the designer couple has said. Finarte also presented their popular Suovilla rug in grey at the fair.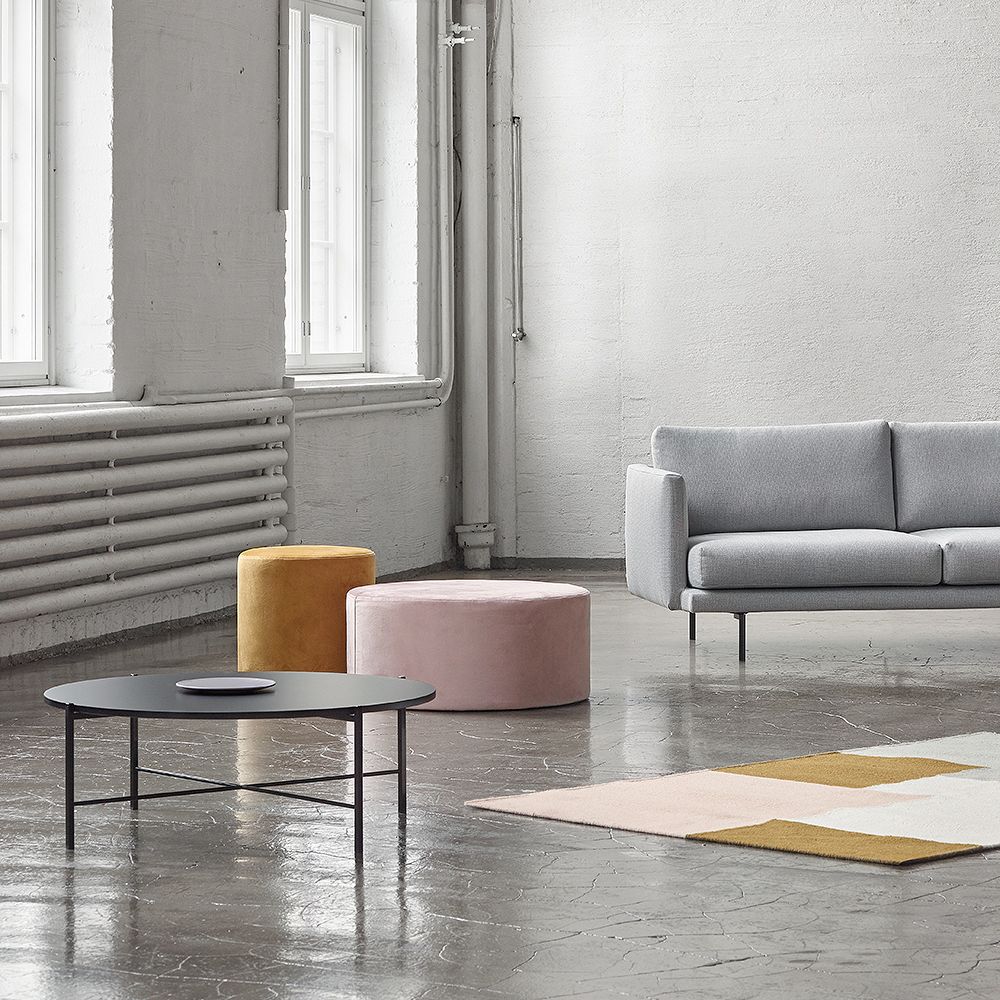 Hakola: Moon pouf
Hakola's stand was, yet again, one of the most popular ones at the fair. Besides the new Hakola x Kvadrat sofa collection, we fell in love with the luxurious Moon poufs, upholstered in velvet. Thanks to its soft surface and sturdy structure, Moon can be used as a footstool, seat or a relaxed coffee table.
Read more about Hakola's and Kvadrat's collaboration.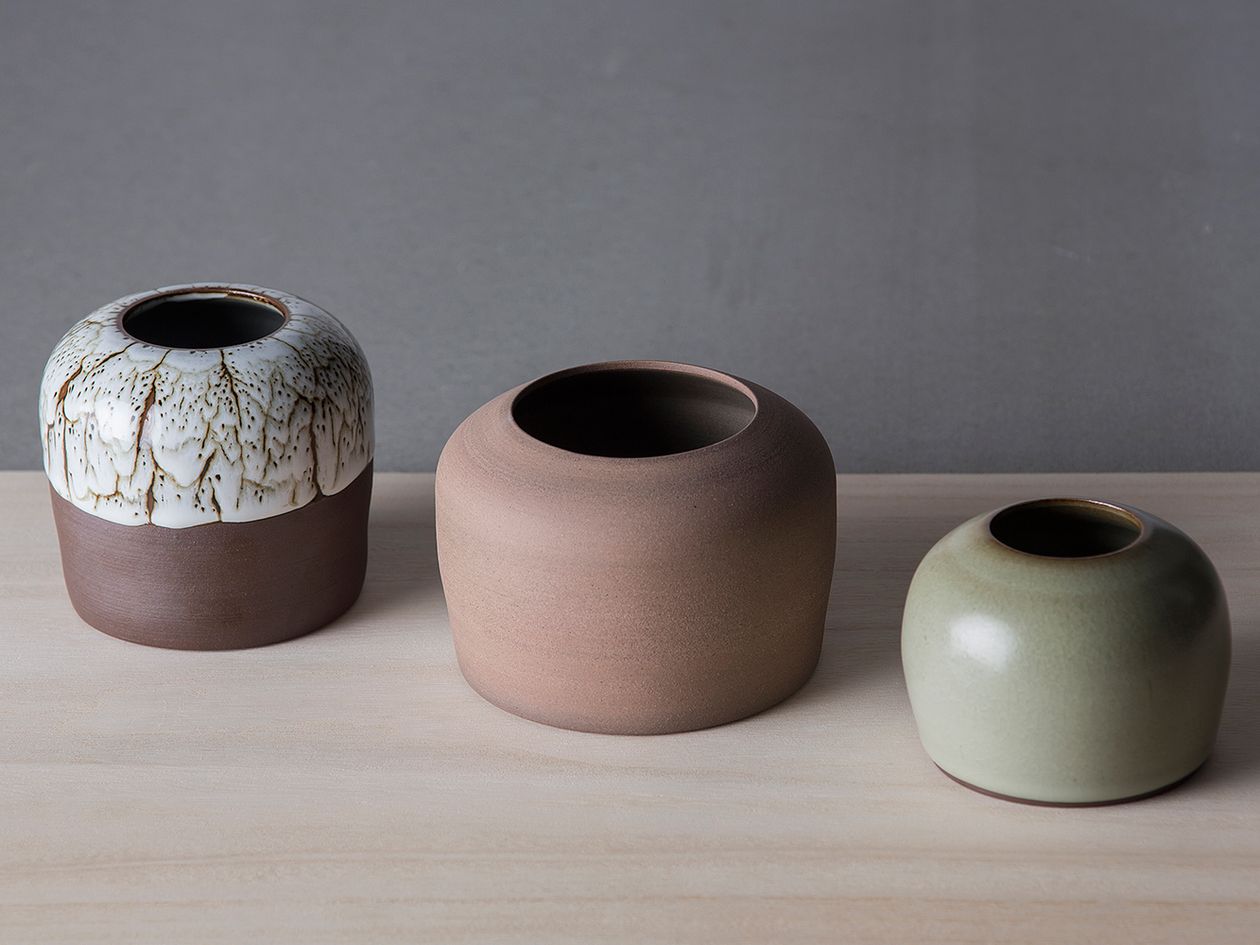 Saija Halko: Set of Three Vases
Saija Halko's ceramic pieces were available at Habitare's The Block. They were created during a residence period in Jingdezhen, China, which is the birthplace of porcelain. Halko's tender vases showcase the various tones of stoneware as well as the delicate and versatile surfaces of traditional glaze.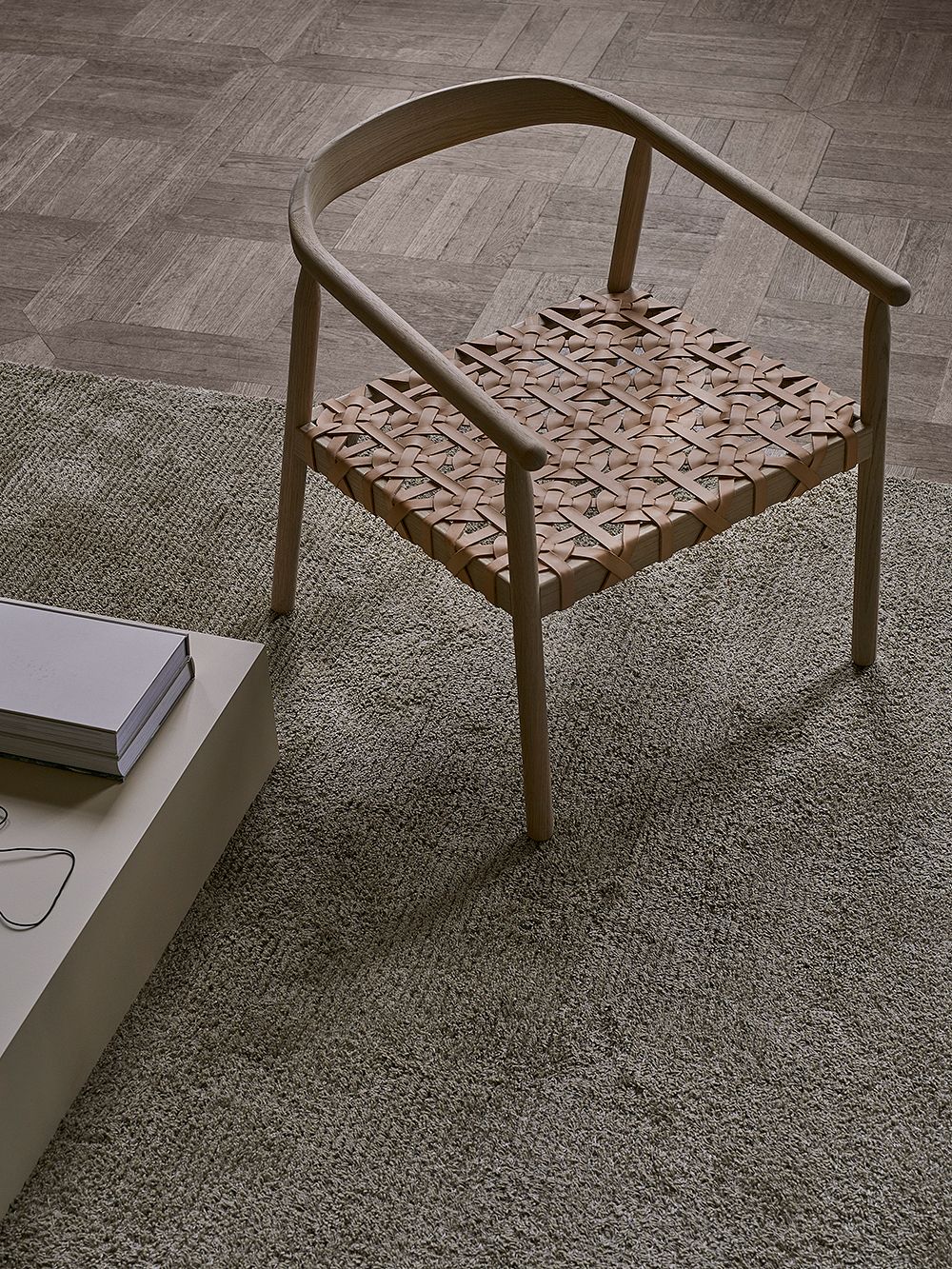 Adea: Fay armchair
Finnish Adea's elegant Fay armchair was featured at the Asun magazine's stand, which was one of the most inspiring ones at the fair. The armchair was introduced at Stockholm Furniture Fair in the spring, and it combines a decorative woven leather seat and a light wooden frame beautifully. Designer Mia Cullin drew the inspiration for the chair from 1970s' handbags and belts.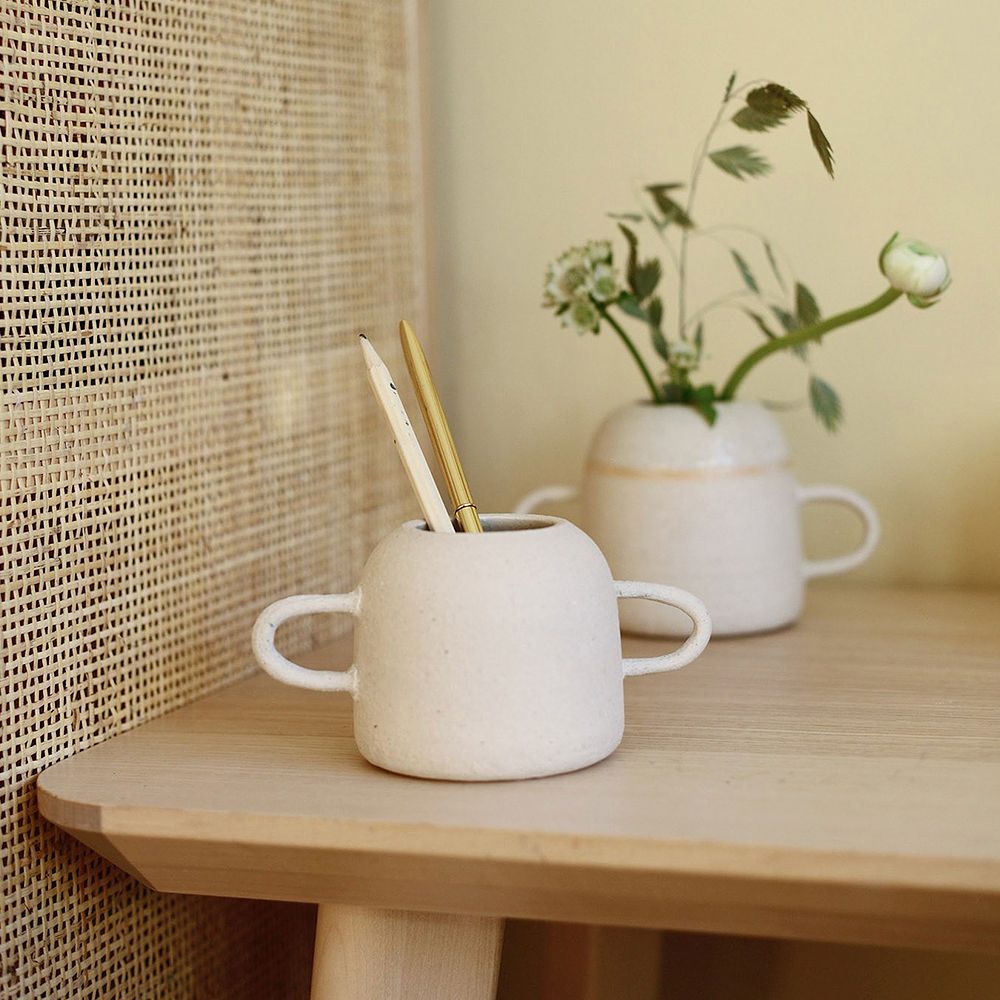 Aino Vaarno: Power Pose vase series
The pieces at Aalto University's students' Free Form exhibition were united by humor and humanity. Aino Vaarno's small ceramic vases are perfect for both flowers and storage. "I think the vases look like they are standing with their hands on their hips in a vigorous way. When I look at them, I feel like they are cheering me on," Vaarno has said.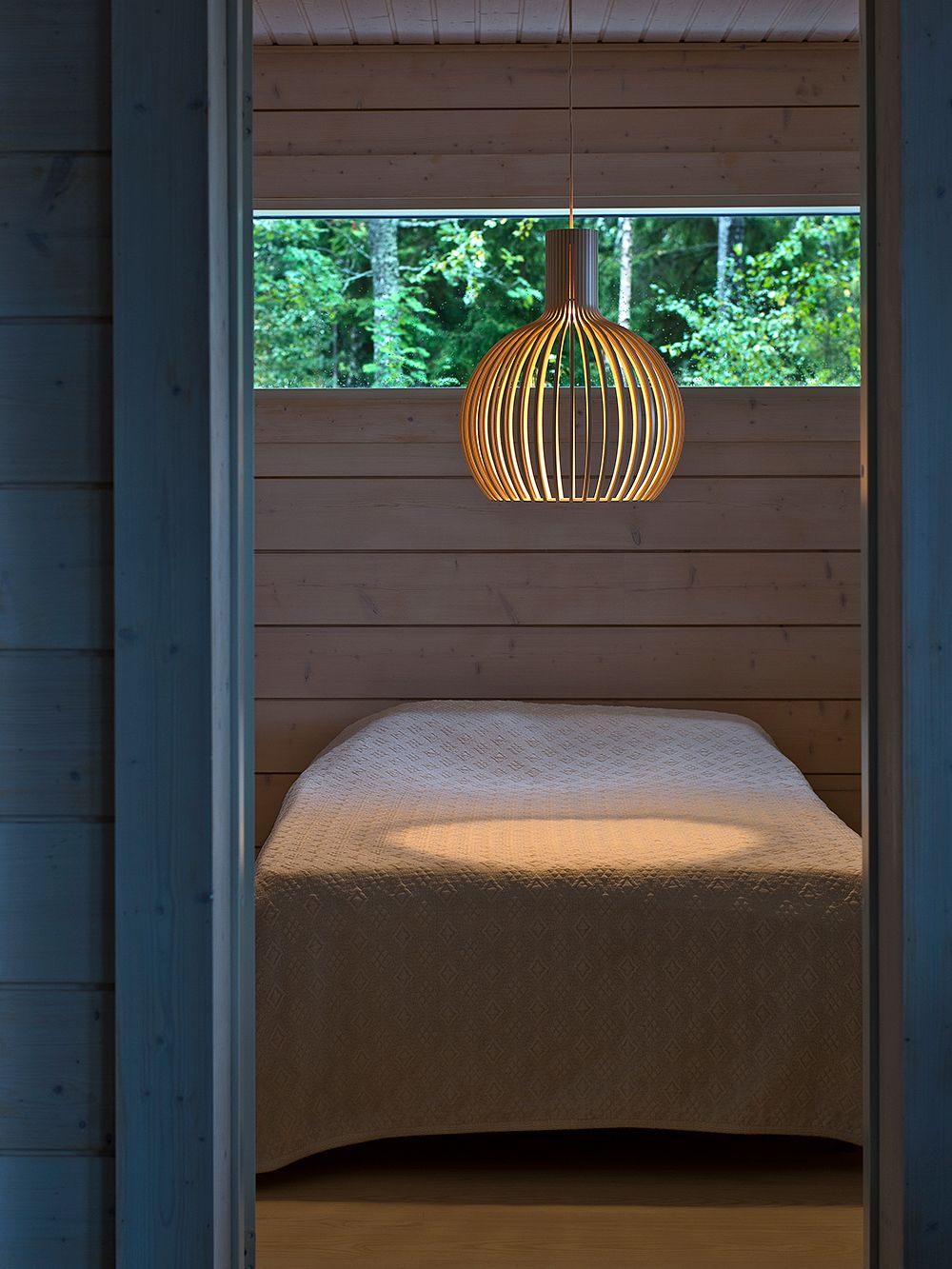 Secto Design: Octo Small 4241 pendant lamp
The small Octo lamp is an awaited new product from Secto Design and received a lot of attention at the joint exhibition by Meilläkotona.fi and Honkarakenne. The smaller Octo is 45 cm in diameter, so it's also suitable for compact homes. The novelty will be available at Finnish Design Shop in October in birch, white, black and walnut veneer.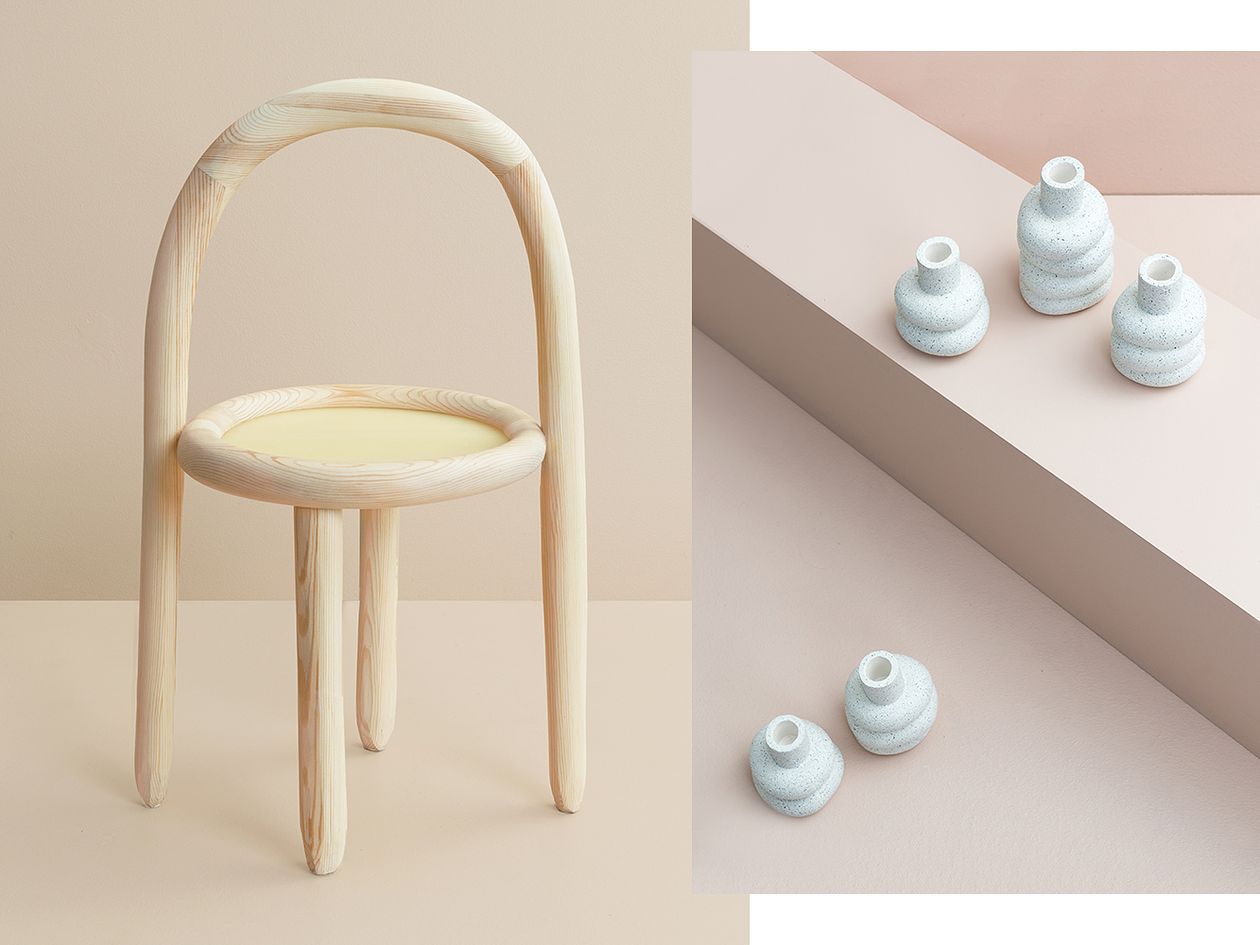 Talentshop: Teemu Perttunen
Habitare's Talentshop introduced four interesting designers. One of them was Teemu Perttunen, who is currently studying at Konstfack in Stockholm, Sweden. His exhibition included furniture and ceramics with an imperfect but controlled design that delighted us and brought a smile to our lips.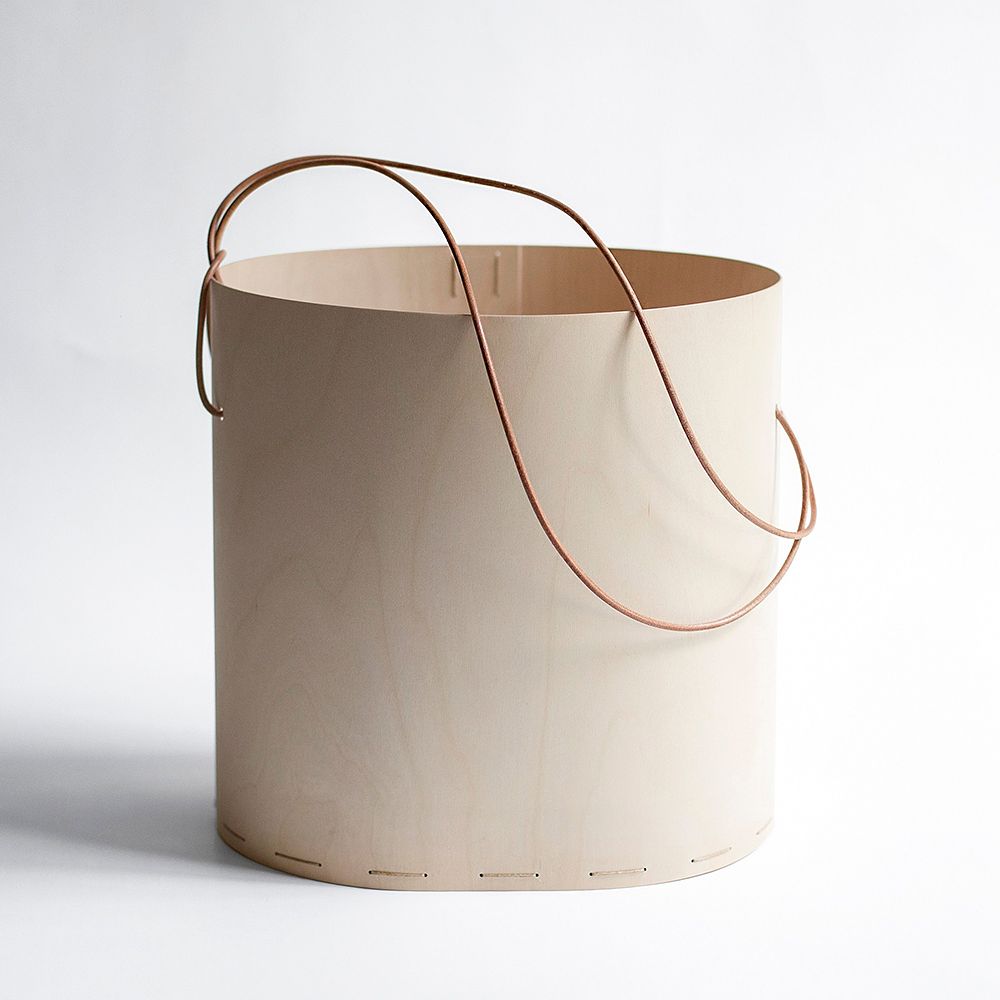 Tuulia Penttilä: Round basket
Cabinetmaker Tuulia Penttilä's light Round basket is a modern version of a chip basket. Its hand-sewn stitches create an enchanting structural detail. The combination of Finnish birch craft plywood and a leather strap is beautiful and warm.
Some of the new products will be available at Finnish Design Shop later this year.
Edited: Mikko Vaija Photos: Manufacturers