Iittala's first new arrivals of 2022 feature bold colors and playful patterns inspired by the brand's history – offering a nostalgic blast from the past, the new tones and prints come from the glass factory's extensive archives.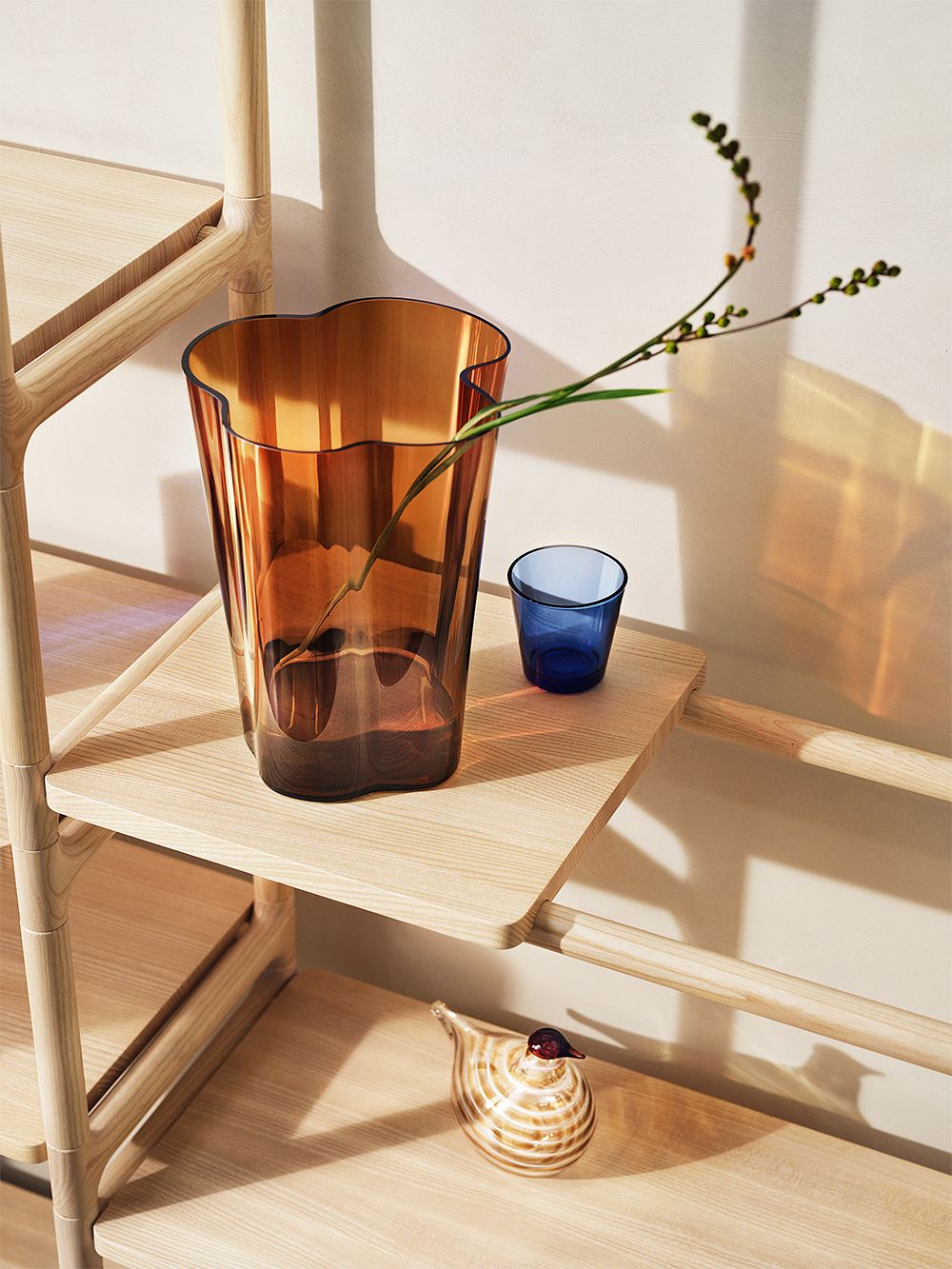 IITTALA'S NEW ARRIVALS are always among the most awaited design novelties of the new year, and 2022 makes no exception. The spring collection includes strong shades of blue and brown inspired by glass and glaze colors of years past as well as a new, nostalgic print in The Curious Mind of Oiva Toikka collection. The Design Stories team has also been anxiously waiting for the new additions to the legendary Teema series!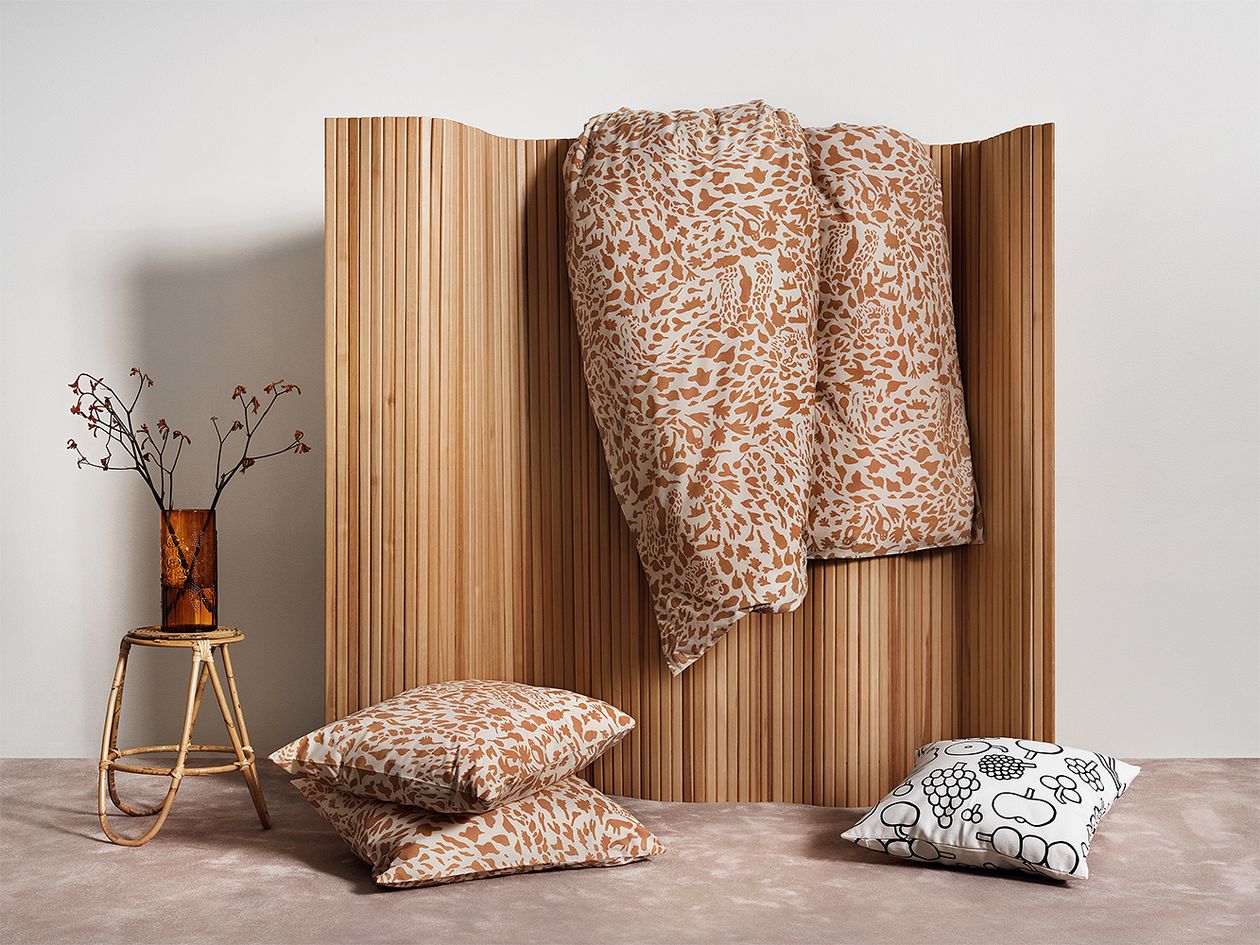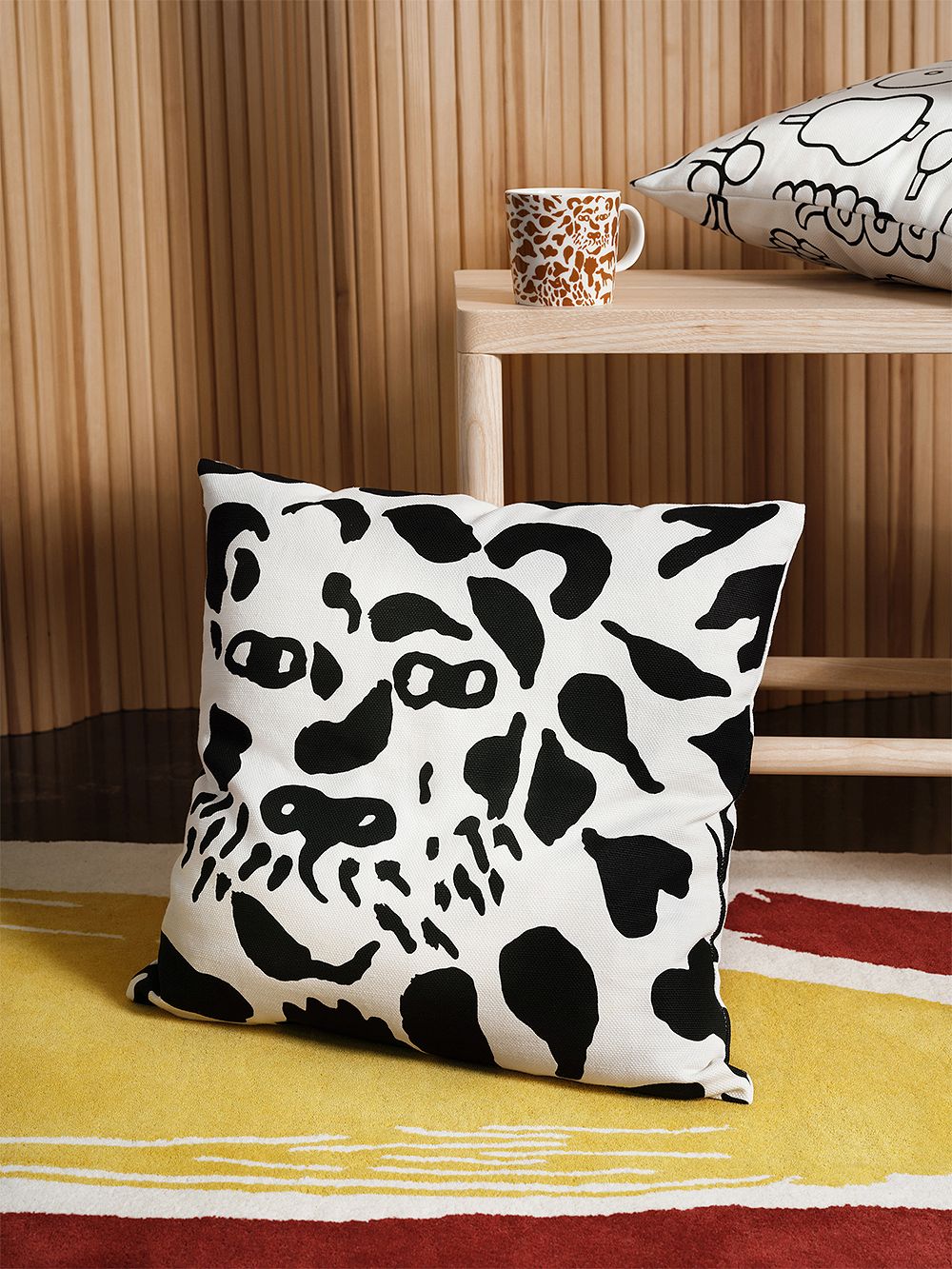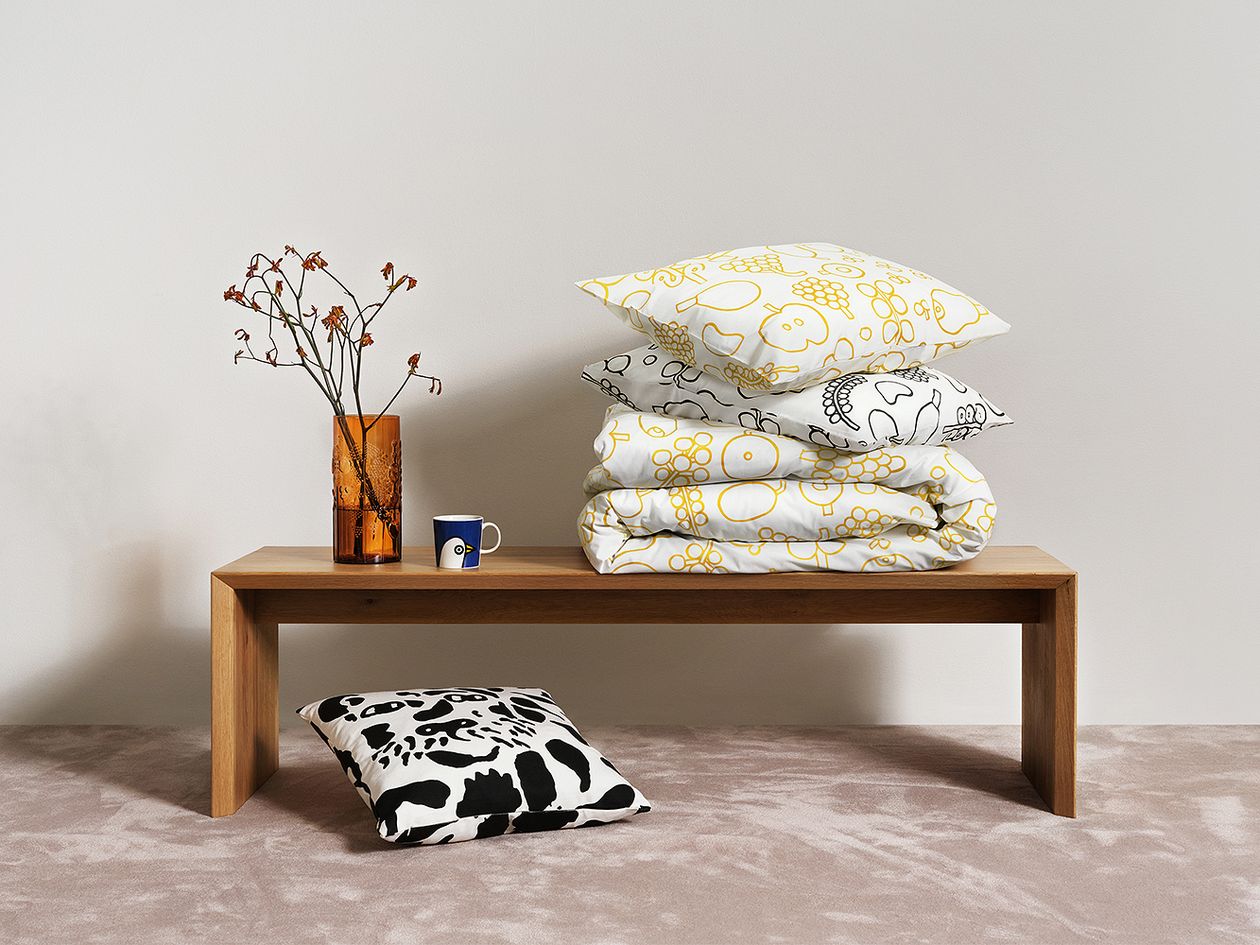 The playful prints of Oiva Toikka
Iittala's collection The Curious Mind of Oiva Toikka, launched in fall 2021, is expanding with new colorways and one entirely new pattern. The previously introduced Cheetah and Birdie prints will be available in new tones of blue and brown, and they will also adorn a new type of product: decorative cushion covers made of a linen and cotton blend.
The new pattern is called Frutta and, like many of Oiva Toikka's designs, its inspiration stems from nature. Depicting various fruits and berries, Frutta may be familiar to many from the glassware collection of the same name, but now the joyful pattern is also be featured on towels, bed linen and other textiles. Like the rest of the collection, Frutta is based on Toikka's original drawings – specifically, the sketches he made when creating his 1968 glassware series Frutta.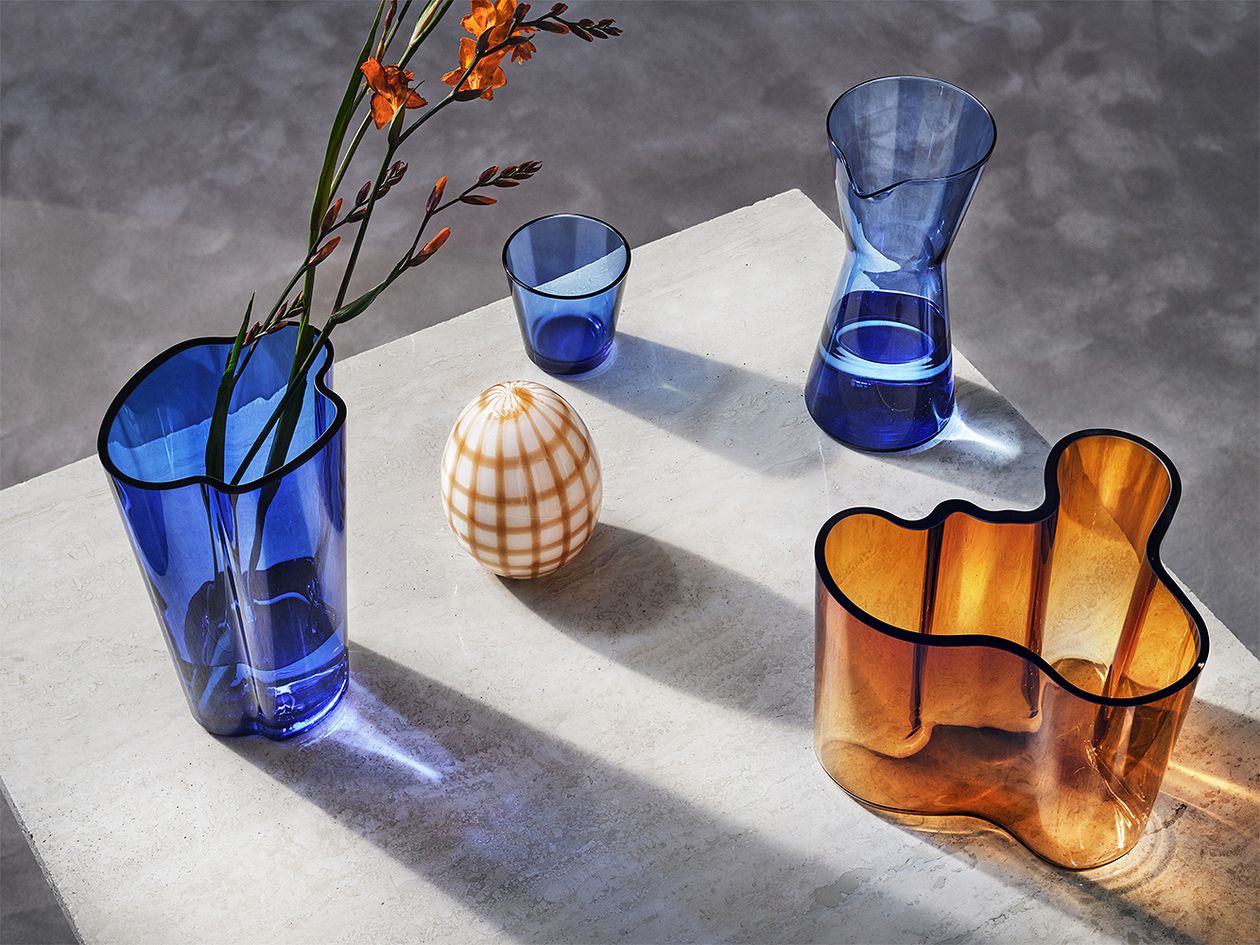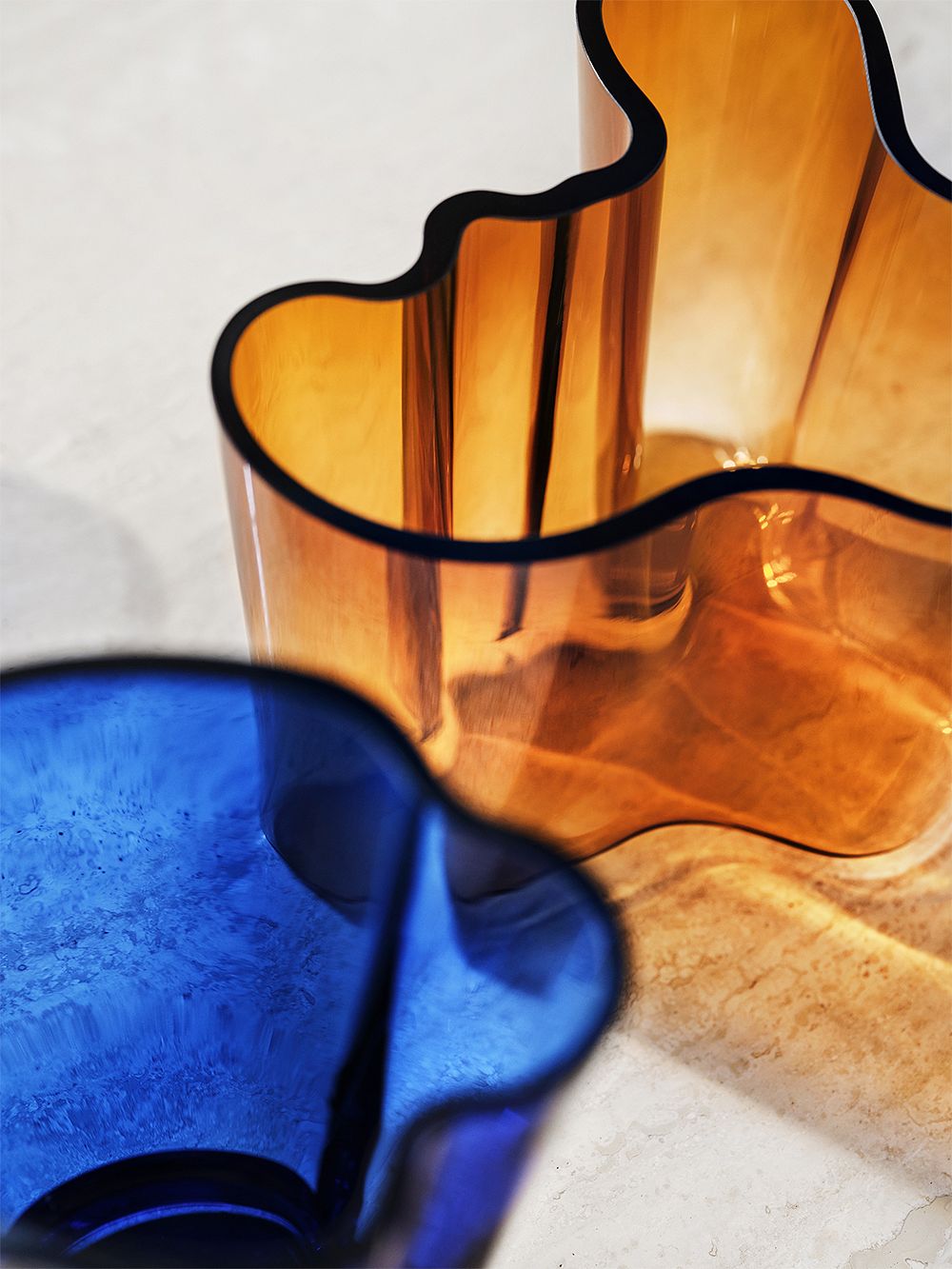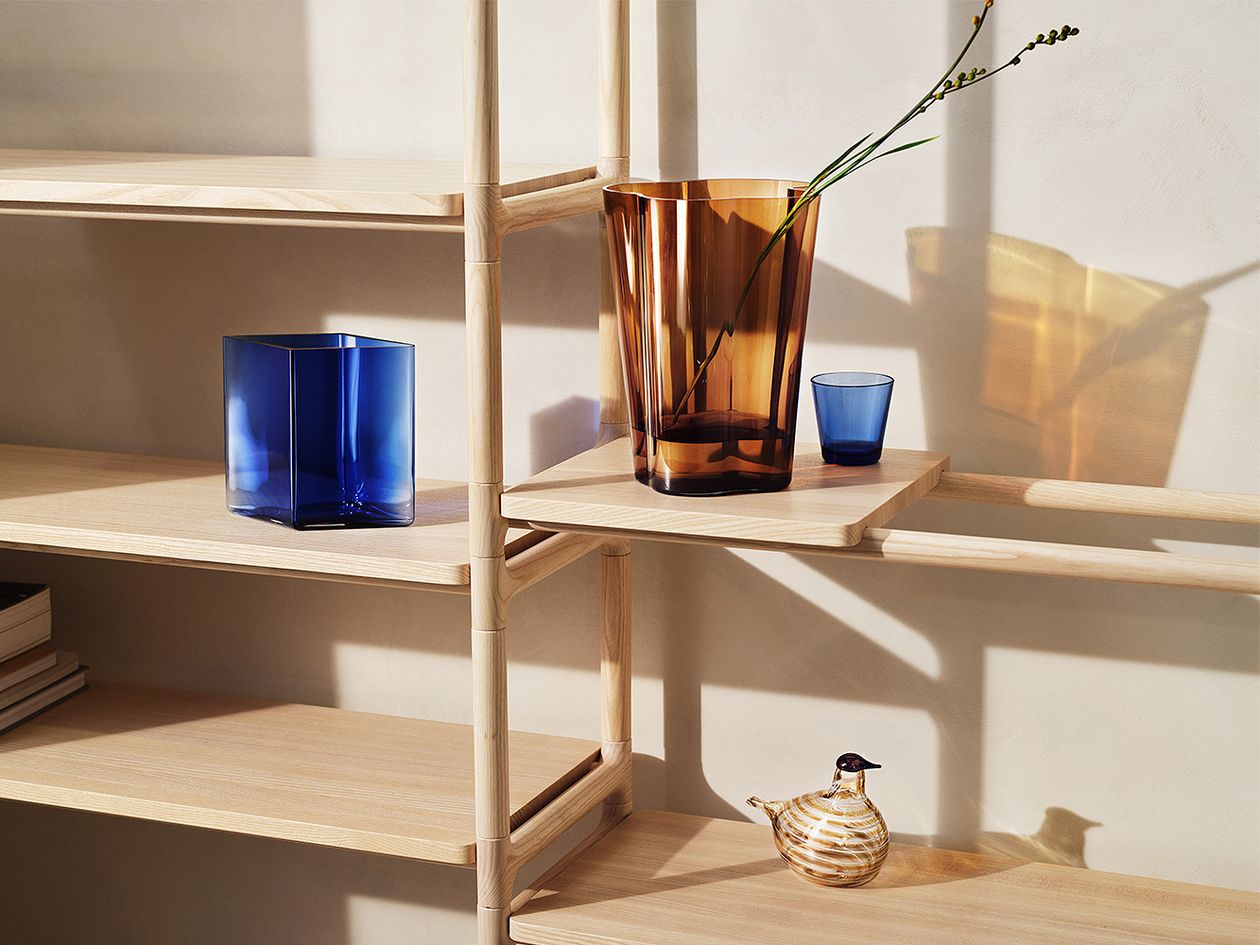 Annual colors ultramarine and copper
For a few years now, Iittala has yearly delved into its archives and chosen an annual color to celebrate the glass factory's expertise in colored glass. In 2022, there are two annual colors: deep ultramarine blue and warm, glowing copper.
Both ultramarine and copper are familiar from some of Iittala's previous collections; the blue shade, for example, was last in production in 2017 when Finland celebrated its centenary of independence. Perhaps that is one of the reasons that both shades evoke such a strong sense of nostalgia, but at the same time, the colors seem very trendy – a pop of cool ultramarine in the home looks bold and energetic while the warm copper tone has a calming effect. The annual colors are featured in Aalto and Ruutu vases as well as the annual bird 2022 which is called Crake.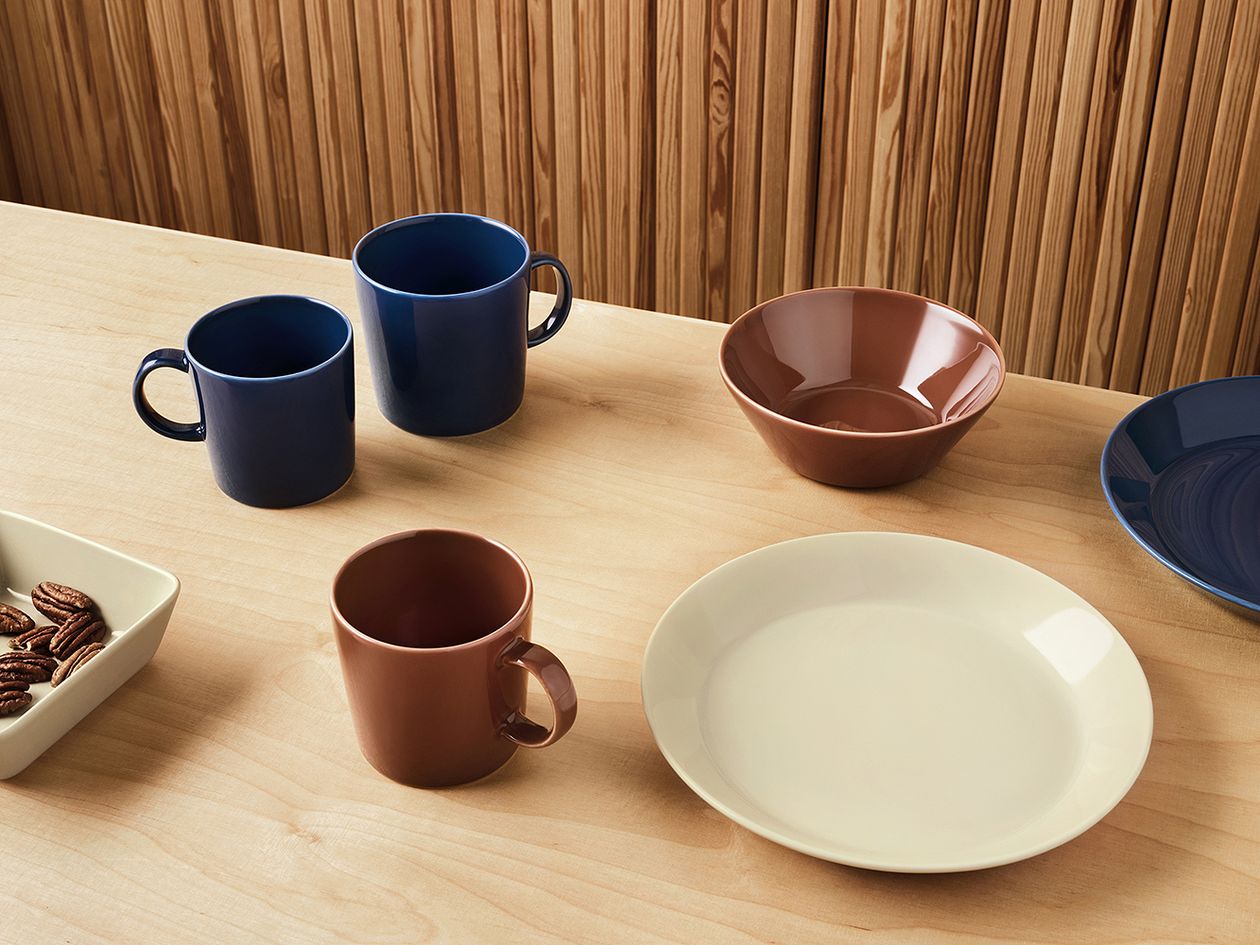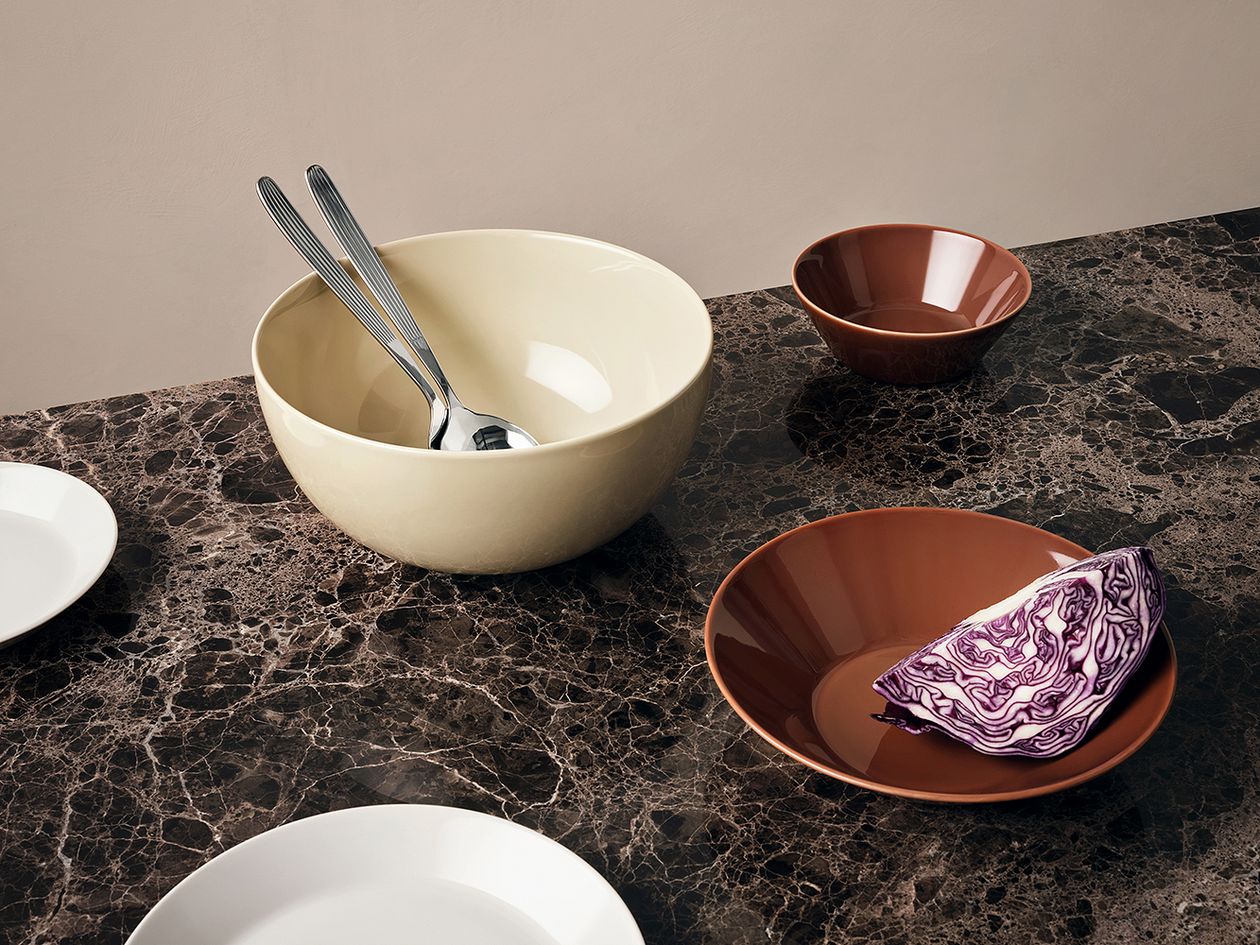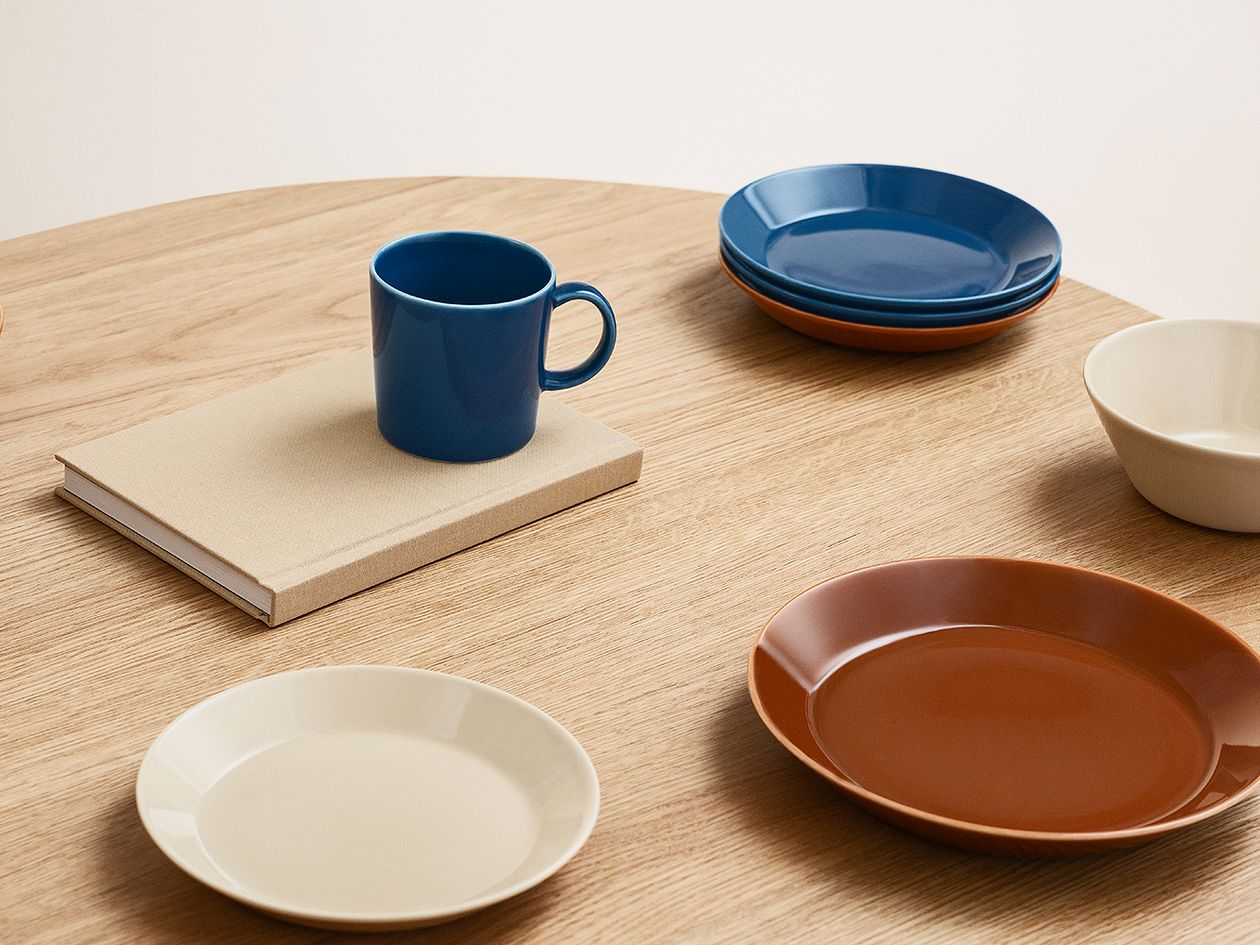 The classics' new colors
As a nice continuation to the annual colors, Kaj Franck's iconic Teema series is launched in new vintage-inspired shades, blue and brown. The new hues stem from the original color palette of the collection, which was first introduced in 1952 with the name Kilta, and they also feature a special, slightly transparent glaze that mimics that of the original tableware. This makes the edges of the Teema mug, for example, slightly lighter in shade.
• Read more: Iittala celebrates the 70-year-old Teema series with new vintage-inspired colors >
See also:
Edit: Emmi Ratilainen Images: Iittala