We use cookies to improve our site and your shopping experience. By continuing to browse our site you accept our cookie policy. More info
We ship worldwide to over 180 countries!
Iittala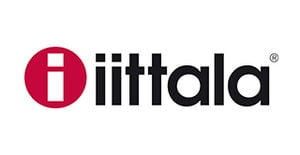 Iittala
Functionality and enduring design are in the core of the design philosophy of the Finnish glassware company Iiittala. Founded in 1881, Iittala started as a glass manufacturer, and today, glass and art glass are still an essential part of its heritage. Perhaps the most famous singular object of Finnish design, the Aalto vase, was designed for Iittala in 1936 by Alvar Aalto.
Iittala products are designed to be combined in countless ways, making our everyday life a bit lovelier with versatile tableware and décor objects. Classics designed by pioneers of Finnish design such as Kaj Franck, Alvar and Aino Aalto, Oiva Toikka, Tapio Wirkkala and Timo Sarpaneva, can very well be combined with the works of new and talented designers like Harri Koskinen ja Klaus Haapaniemi. Alongside with Iittala, the brands Arabia and Hackman are also part of the same company fighting against throwaway culture.
This brand has collaborated with: Heikki Orvola, Tove Slotte, Kaj Franck, Alfredo Häberli, Klaus Haapaniemi, Göran Hongell, Aino Aalto, Tapio Wirkkala, Björn Dahlström, Timo Sarpaneva, Renzo Piano, Alvar Aalto, Harri Koskinen, Oiva Toikka, Ilkka Suppanen, Matti Klenell, Klaus Aalto, Anu Penttinen, Laura Partanen, Arto Kankkunen, Antonio Citterio, Glen Oliver Löw, Toan Nguyen, Jasper Morrison, Magnus Pettersen, Elina Aalto, Ronan & Erwan Bouroullec, Issey Miyake Design Studio, Iittala Design Team, Philippe Malouin
---
Show filters
---
---
---