In his work, Kaj Franck sought the beauty underneath the surface. The unembellished Teema tableware and Kartio tumblers are the delight of table settings even today.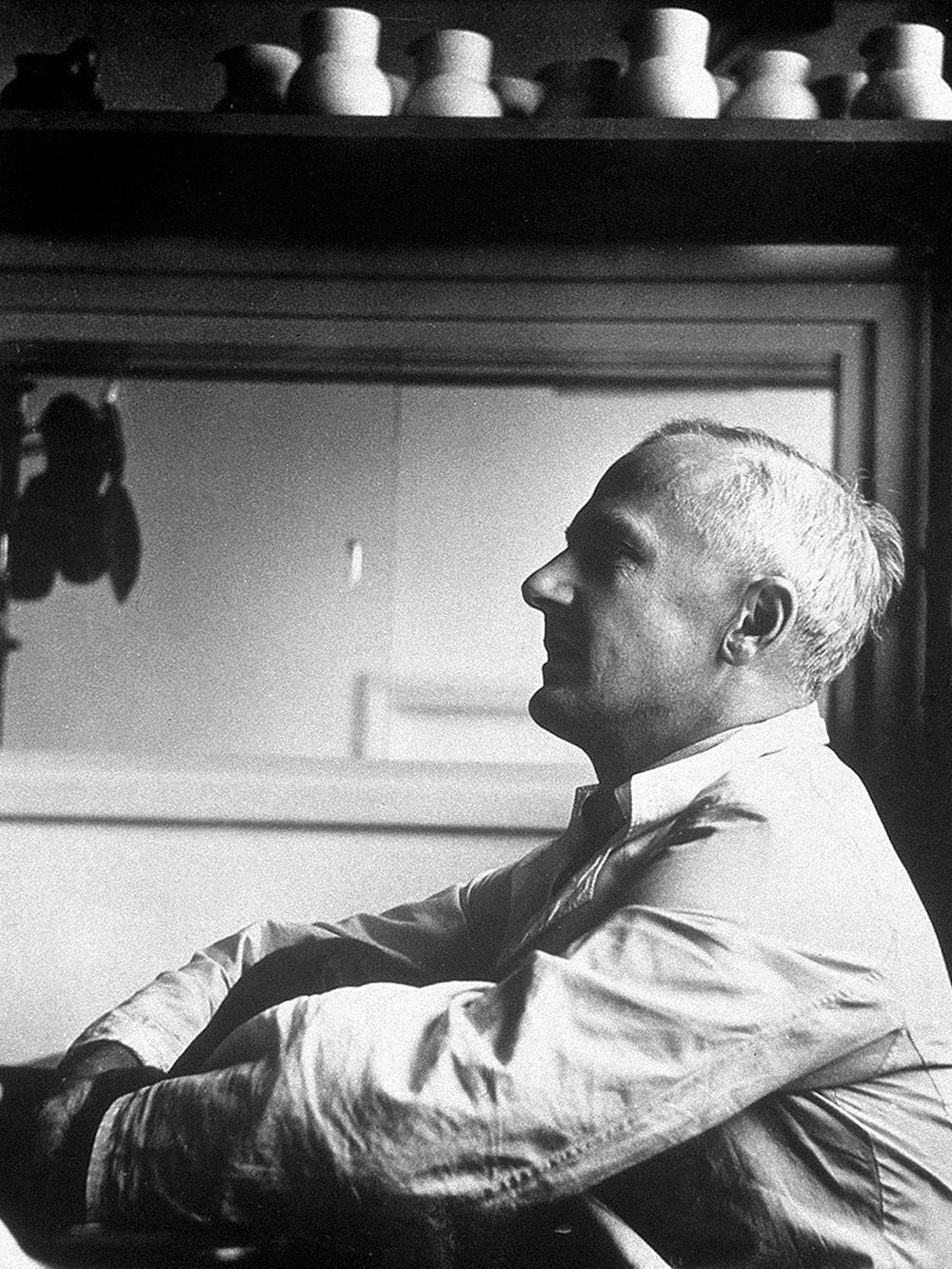 KAJ FRANCK built a respected reputation as the designer who made Finnish glass and ceramics fashionable. Everything Franck created stemmed from the goal of creating things that were practical and beautiful, or just beautiful.
Everyone has their own favorites: the multicolored goblets and cups, birds or other animals, cockerel bottles and carafes or drinking glasses, storage jars and serving trays, Teemas and Kartios, perhaps even the plastic Pitopöytä tableware and cutlery. Some products are still manufactured, but others have become part of the price roulette of quality auctions.
Franck's vast catalogue also includes some nearly forgotten furniture and prints. The Sitruuna pattern designed in the 1940s, for example, was still part of Artek's collection in the 1960s. It represents his most plain approach to prints, to some of which Franck still drew cute roes and hearts and the exoticism of Lapland. The interior architect who formed his objects out of mathematical basic shapes and is considered a functionalist later admitted he was embarrassed by the romanticism of the textiles.
So, let's get back to ceramics and glass. In December 1945, Kaj Franck started as a designer at the Arabia porcelain factory right after returning from the Continuation War, without any experience in ceramics. This weak starting point did not become a burden. Franck designed new types of clean-lined, monochrome dishes for everyday use for a rapidly growing market.
Kaj Franck designed new types of clean-lined and monochrome everyday dishes for a rapidly growing market.
Franck's idea of the social responsibility of industrial art and designers had a decisive impact on the shape of the objects. Multi-part tableware sets had to be replaced with affordable everyday ceramics that would easily suit different needs and fit into a small space, such as the Kilta series that become available in 1953. It was preceded in 1949 by a cream bottle that was slim enough to fit between two windowpanes; refrigerators were rare at the time.
The production of Kilta stopped in 1975, but since 1981, it has been manufactured with Franck's updates under the name Teema. For economic reasons, the faience of the early days has been replaced by stoneware.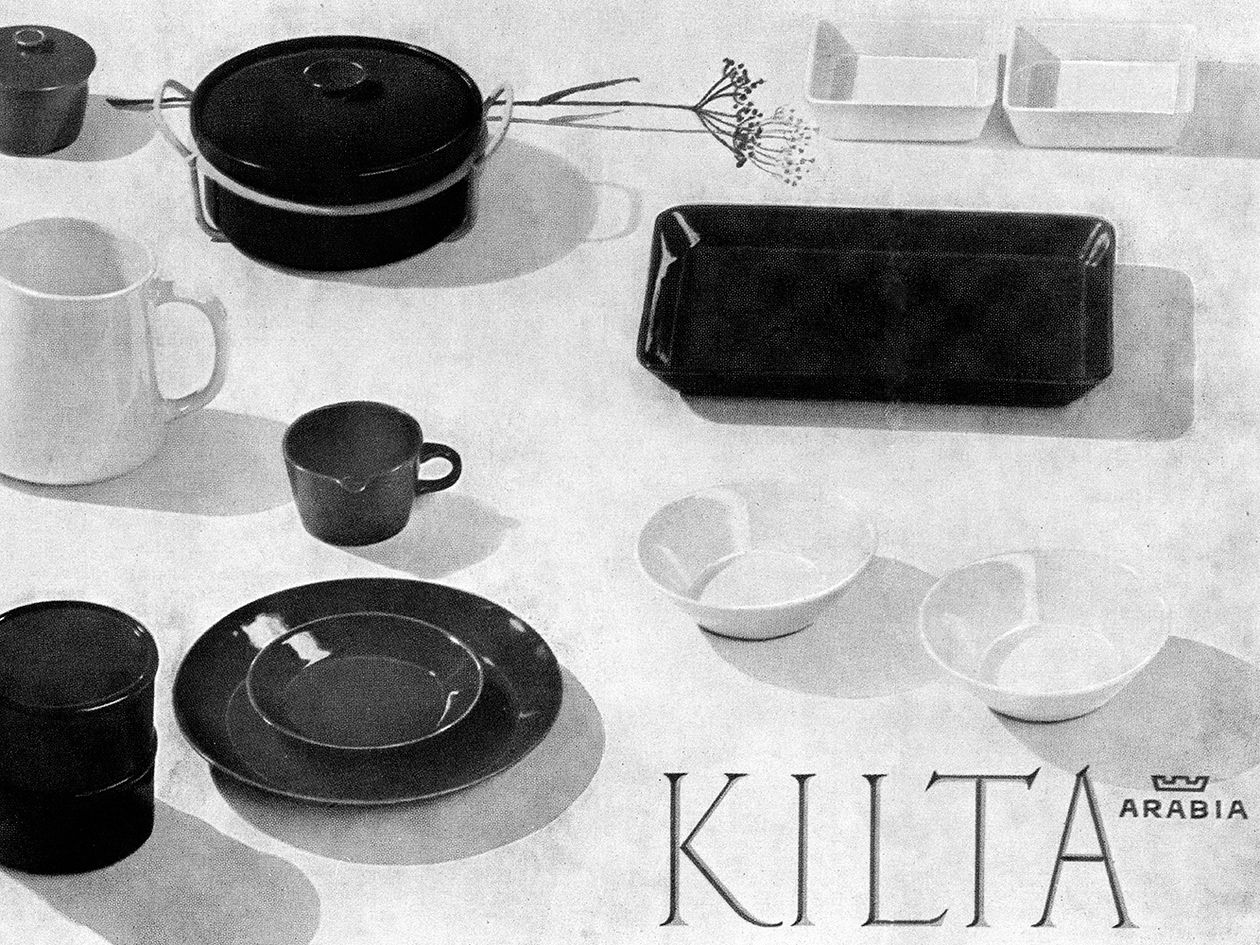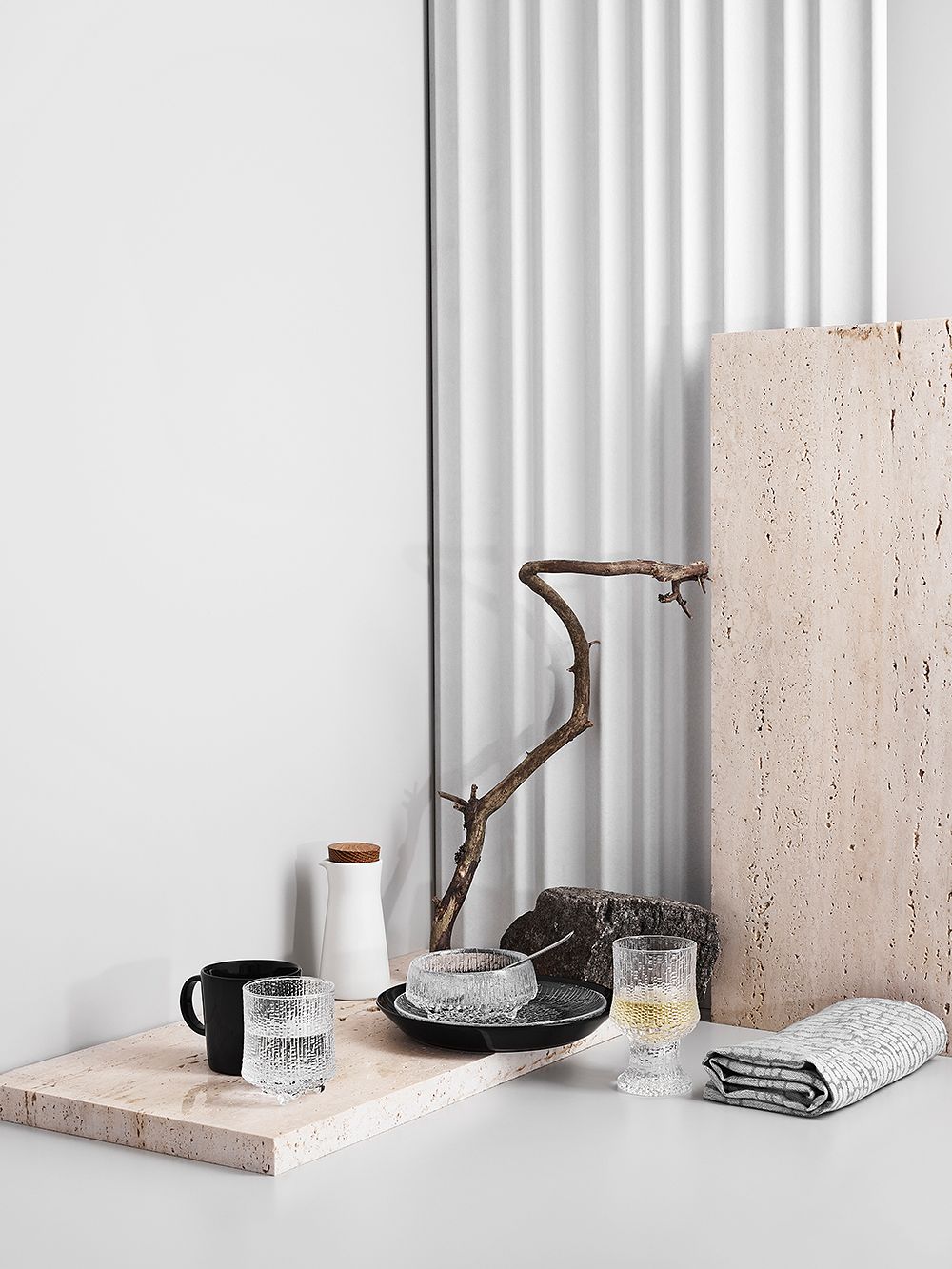 Kaj Franck got a grasp of glass after boldly participating in the decorative glass design contest organized by the Iittala glass factory in 1946. The winner of the contest was Tapio Wirkkala, but Franck took the second and third prizes. Soon after, Franck was hired by Iittala as a designer and began to familiarize himself with glass techniques and their implementation with the help of the factory workers. He repeatedly emphasized the importance of close collaboration between different types of professionals.
The decorative glass design contest organized by the Iittala glass factory sparked Franck's interest in glass.
His first series of everyday glass was Tupa, which hit the stores in 1948. The series was made of green glass blown by rotating, and the jug, drinking glass, carafe and shot glass were influenced by old Finnish glass.
In 1951, Franck moved from Iittala to the considerably smaller Nuutajärvi. As the factory's first chief product designer, he soon invited the young Saara Hopea to assist him.
During his Nuutajärvi years, Franck made many designs of pressed glass, but also of art glass, which has become almost a model for many designers who followed him. One of his greatest accomplishments was the revival of the production of filigree glass that was started in Nuutajärvi by the Frenchman Charles Bredgem in the 1850s.
Manufacturing techniques and colors that behave in different ways offered countless challenges for Franck. The shapes of the objects usually remained simple, but the glass surfaces were lively and even playful. Kaj Franck was known for being discreet and modest, but also demanding and uncompromising. There was a famous dispute in the 1960s that arose out of Franck's desire to leave the designer's name out of the marketing of industrial mass products.
With Franck, attention has often been drawn to Finnish and Nordic design ideals; he even decorated his home with old peasant furniture and the works of Alvar Aalto. Also, many solutions unavoidably bring in mind the aesthetic principles of Japanese ceramics. Franck travelled widely in Japan and designed Japanese gardens for himself; the last of them was at his detached house in Käpylä, Helsinki.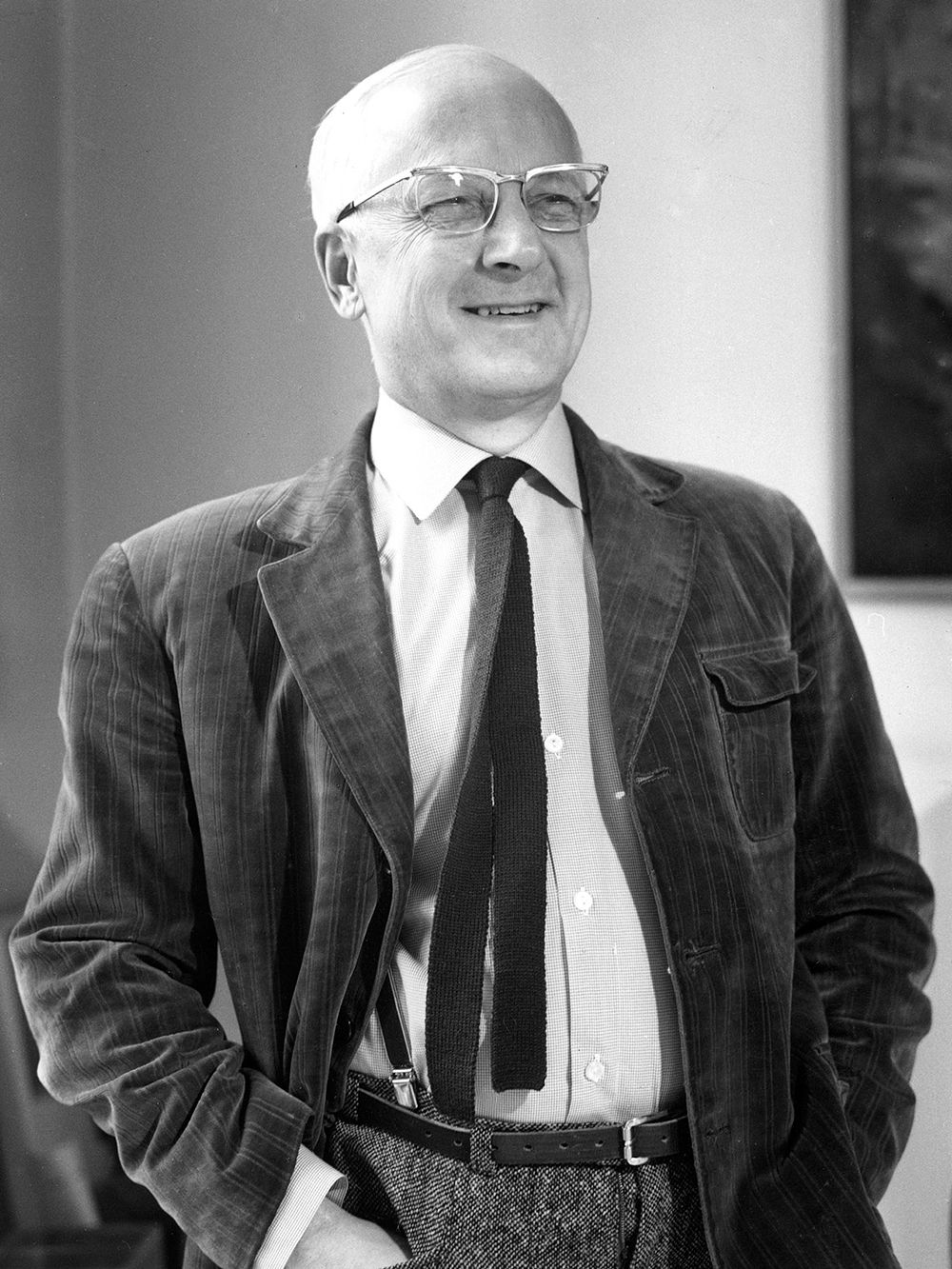 Who: Kaj Franck (1911–1989)
• Born on November 9, 1911 in Vyborg
• Graduated from the Helsinki Central School of Arts and Design department of furniture design in 1932
• Catalogue artist, Taito 1933 and Riihimäen lasi 1934
• Interior designer, Te-Ma 1934–38
• Print designer, Yhtyneet Villatehtaat 1938–39 and Helsingin Taidevärjäämö 1940–45
• Designer 1945–61 and head of the model design department, Arabia 1946–61
• Artistic director, Nuutajärven lasi 1951–73
• Part-time teacher 1945–60 and artistic director, School of Arts and Design 1960–68
• Lunning Prize 1955
• Milan triennale grand prix and the Compasso d ́Oro Prize 1957
• Pro Finlandia medal 1957
• Professor of Arts and Design 1973–78
• Doctor honoris causa, Royal College of Art, London 1983
• Died on September 26, 1989 in Helsinki
See also:
• Kaj Franck's designs >
• The perfectly timeless Kartio >
Text: Kari-Otso Nevaluoma Photos: Iittala
The story was first published in the Avotakka magazine as a part of the "Design Masters" series.