Frame 49 base, blackBY40700
Description
The Base for Frame 49 box by By Lassen is made of lacquered steel.
Frame 49 base, black
---
Material

Lacquered steel

Colour

Black

Length

49 cm

Depth

42 cm

Height

28 cm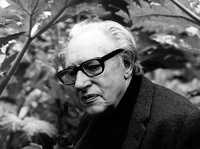 The Danish architect Mogens Lassen (1901-1987) was a pioneer of Danish functionalism. In 1927 he left to work for an engineering company, but he did not enjoy the work nor speak French. Paris however changed Lassen's view on architecture and when he returned to Denmark he established his own studio.
Along with working in architecture Lassen also designed furniture and other objects, and his Kubus candlestick has become an icon of Danish design. Lassen started designing the first Kubus long before it was first produced in 1962 - the Kubus candlesticks were not put on the market, and Lassen gave them to family members and friends. The grandchildren and grand-grandchildren of Lassen established the design company By Lassen in 2008 to honor the work of Mogens Lassen and his brother Flemming Lassen.
View all products
---