Finnish Design Shop's Showroom Manager Maija Rasila and her team pick the showroom's most interesting products and interior decoration trends every month. The April favorites feature vibrant sherbet colors, timeless natural materials and luxurious bathroom textiles.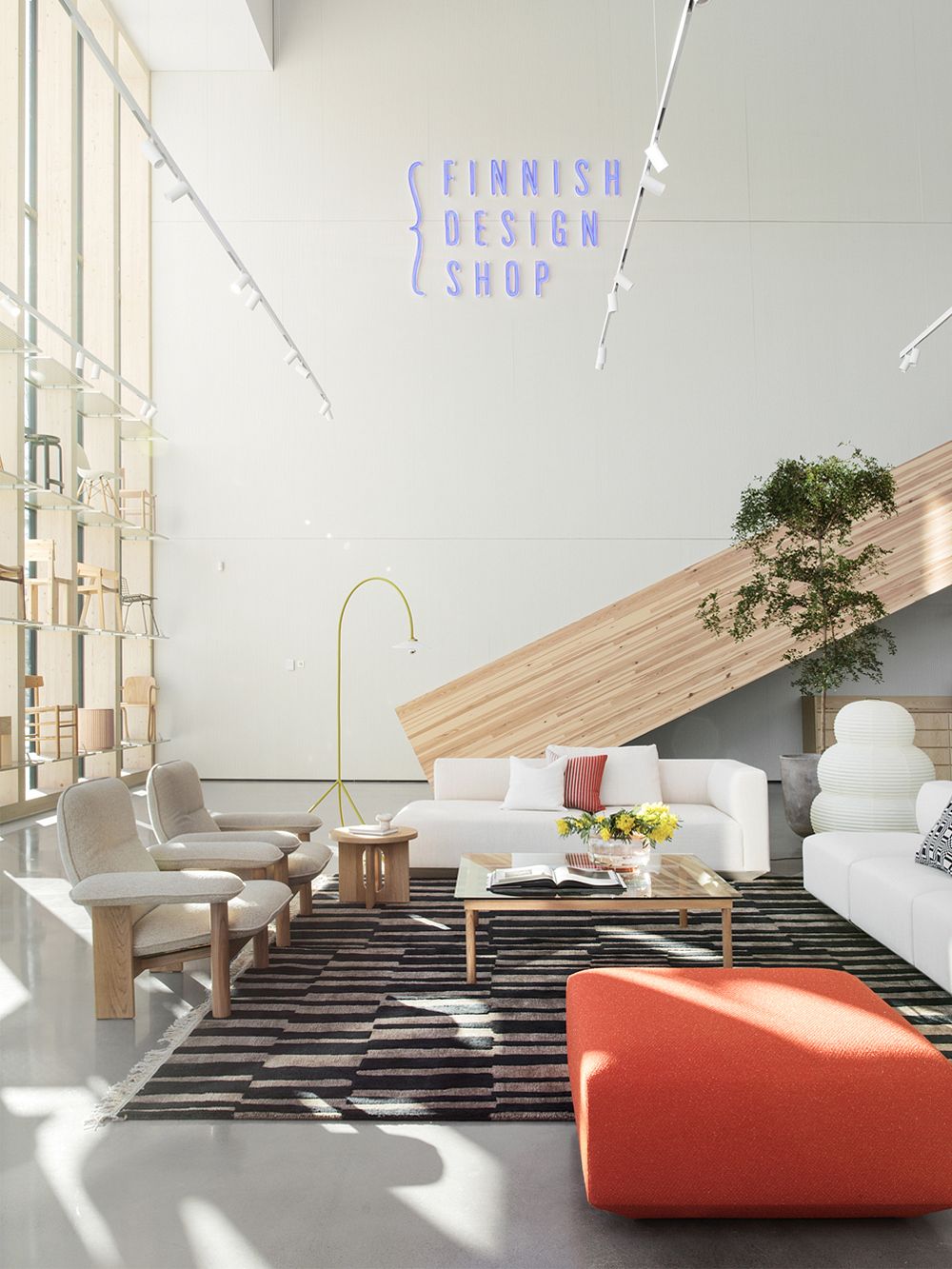 "AT OUR SHOWROOM, spring is the season of vibrant colors, lightweight materials, tidying up around the house and treating yourself. We have recently added some new flower pots and stylish watering cans to our collection – just in time for spring. They will help you to reawaken your inner gardener. While cleaning your home may not feel as inspiring at first, Kinfill's cleaning sprays and Kent's clothes brushes make it feel more than palatable, and with Danish Nuori's and Frama's bath products, Tekla's soft towels and our newly expanded book collection, small idle moments turn to oases of self care.
In addition to the people brought in by the new spring exhibition, the showroom is bustling with restaurant-goers visiting the Finnish Design Shop lunch restaurant, which has recently opened to the public. Run by chef Sami Tallberg, the ST x FDS restaurant offers both daily lunch options and an extensive à la carte menu. A high-quality lunch is one of the highlights of our working days!"
• Read also: Sami Tallberg opens a restaurant in Finnish Design Shop's logistics center >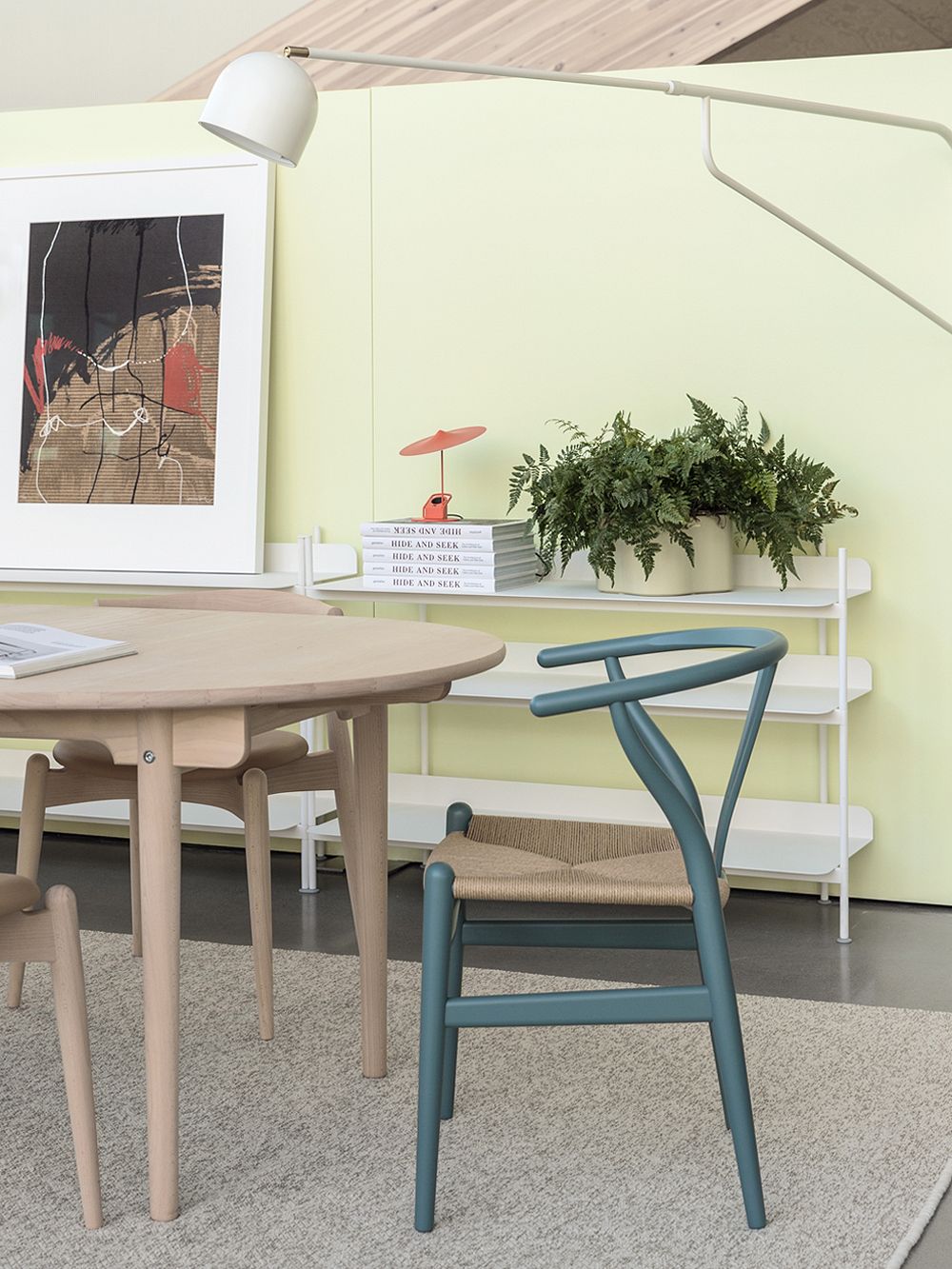 Candy shop
Right now, we are loving fresh tones that remind us of sherbets and ice creams. They are especially well-suited for livening up a lighter interior color scheme. With our newest exhibition, we painted our room dividers with Cover Story's tangy yellow-green Charles paint. The bright and energetic shade is the perfect choice for the ongoing exhibition. It highlights the space in an interesting way, but also acts as a background that is well-suited for both stronger colors and natural materials.
This years' Birthday Edition of Carl Hansen's famous CH24 chair is the perfect match for the candy-like colors. The greenish blue Soft Pewter shade beautifully highlights the curved lines of the chair. Designed by Ilse Crawford, the special collection celebrates the over 70-year-old-chair and is available for a limited time only. Hurry up and get yours now!
• Cover Story's 031 Charles interior paint >
• Carl Hansen & Søn's CH24 chair >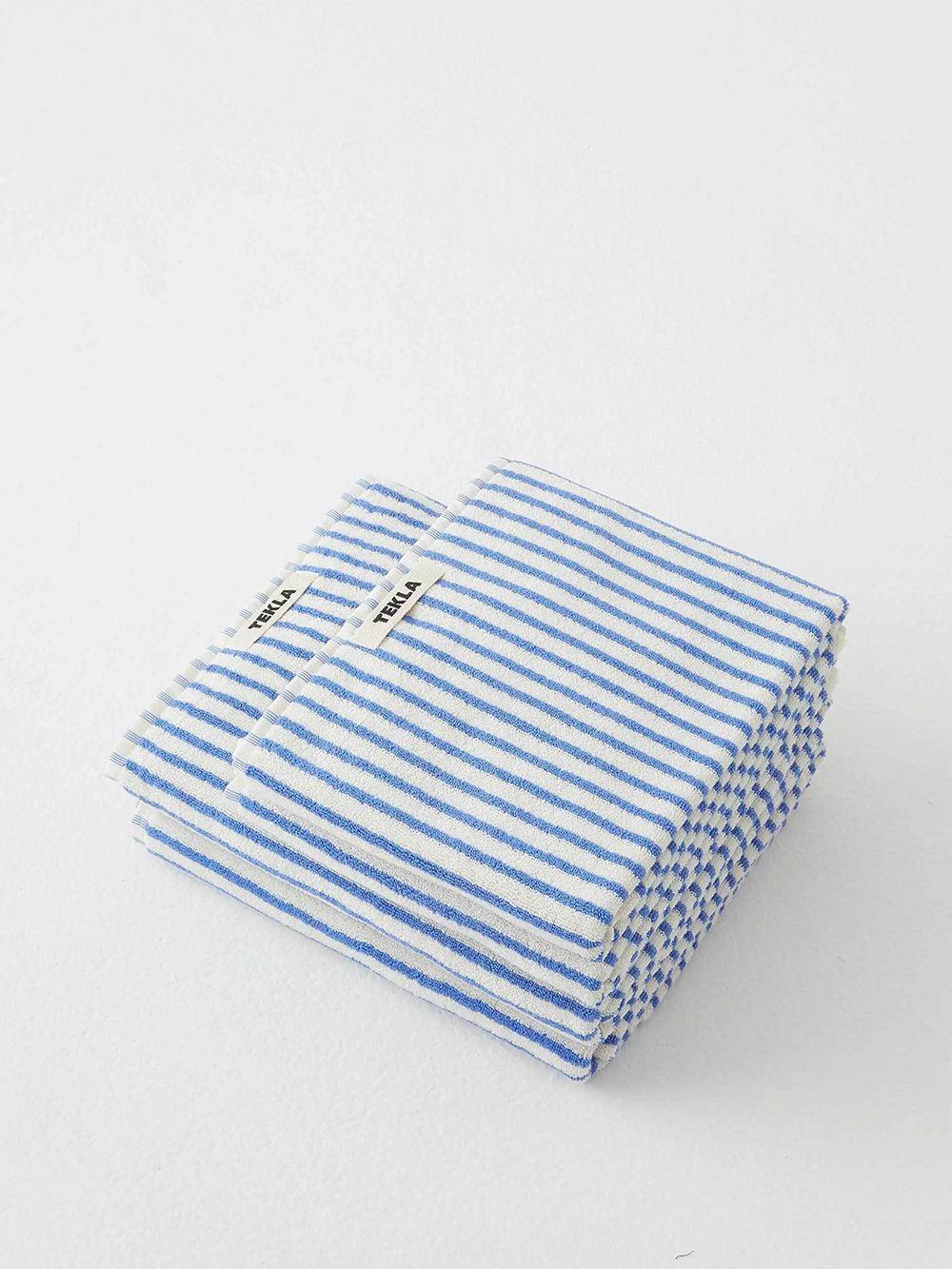 Parallel stripes
The easiest way to brighten up the bathroom for the spring is getting a couple of new towels and other small things, such as a beautiful hand soap dispenser bottle.
What could be a better fit for spring than stripes? Thanks to their high-quality materials, pleasant feel and trendy colors, the lovely textiles of the Danish company Tekla have become a tried and true showroom favorite. These brightly striped towels bring the holiday feel to your home.
• Tekla's Hand towel >
• All bathroom textiles >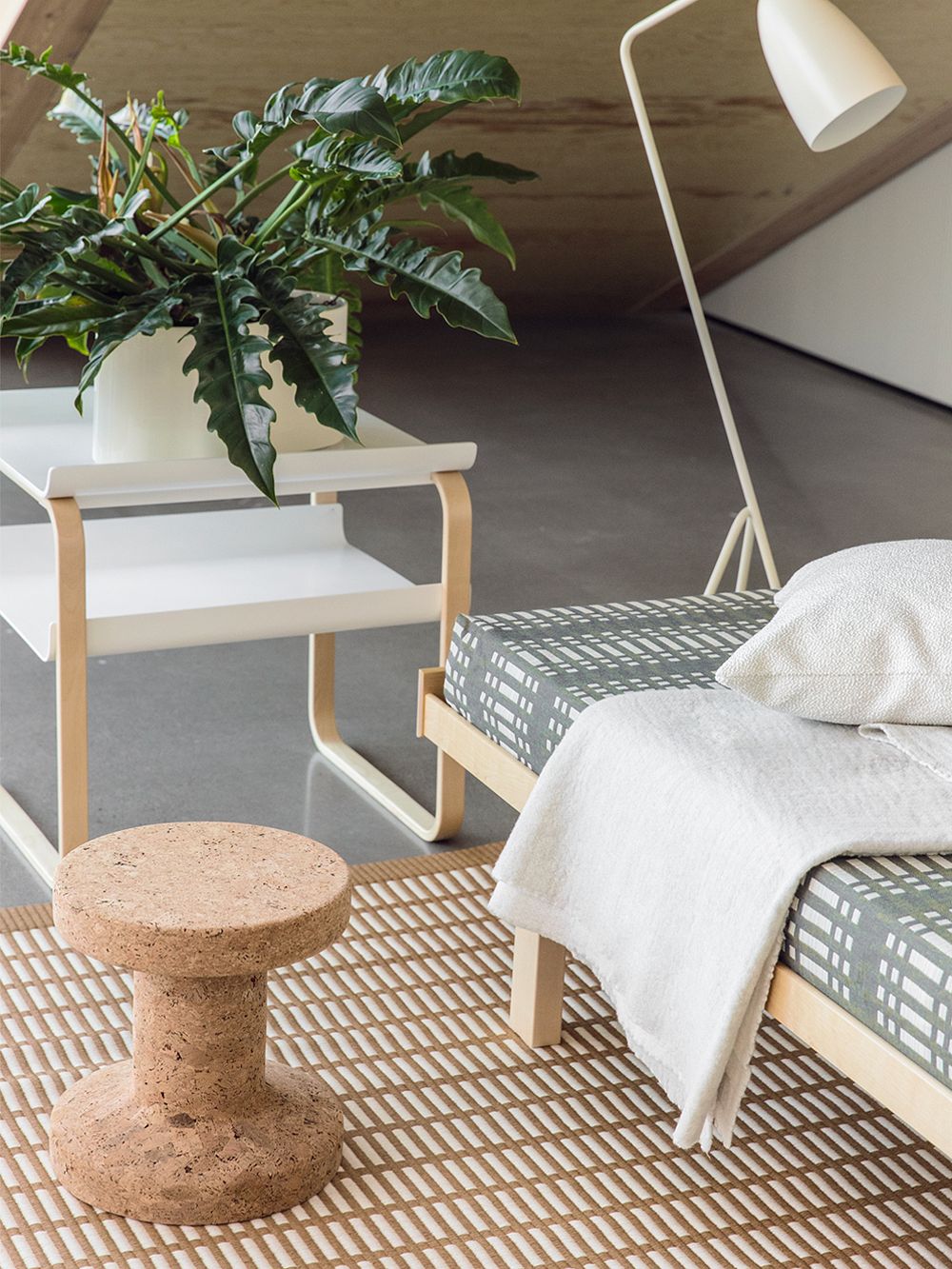 Wood, cork and paper yarn
Natural materials are a simple way to brighten up your home for the spring. Elegant, timeless Finnish classics continue to inspire us from year to year. Combining the items with newer pieces or each other gives them a completely new look. Inside our showroom, Woodnotes' New York paper yarn carpet, Johanna Gullichsen's classic fabrics and Artek's classic pieces all coexist in perfect harmony. The colors and plants give the space a fresh, current look, while the contrasting materials make it feel lighter.
"Elegant, timeless Finnish design classics continue to inspire us from year to year."
In the newly-trendy 70s spirit, cork seems like a particularly interesting material. In addition to seats, Vitra's small Cork stools can also be used as small side tables. Use a single stool as a bedside table, or, if you are looking for a real eye-catcher, place the whole Cork Family next to your sofa to serve as coffee tables. The column-like cork stools are also great for displaying plants.
• Woodnotes' New York paper yarn rug >
• Vitra's Cork Family side table >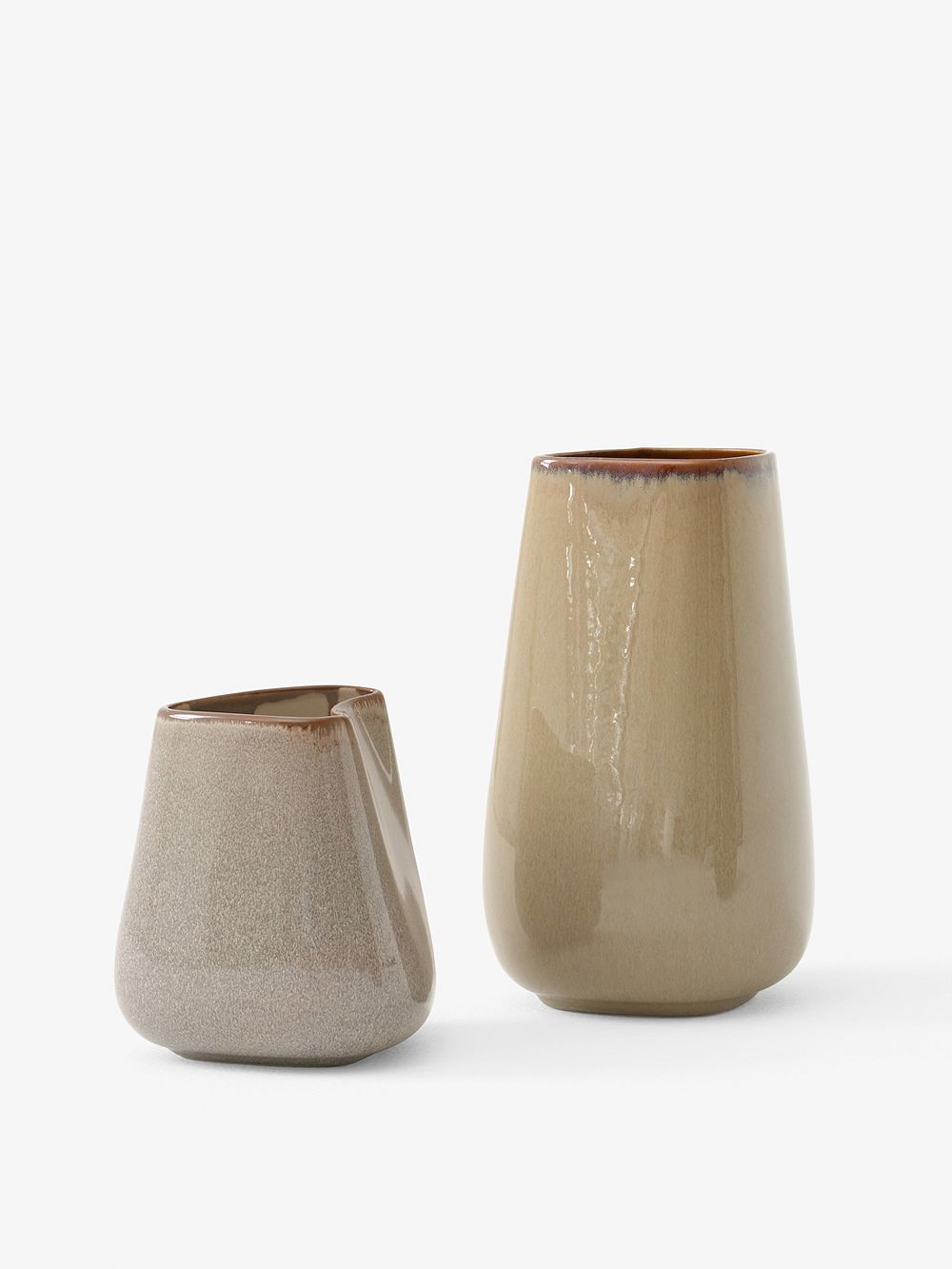 From one green thumb to another
At the showroom, greenery is in. In addition to real-life flowers and plants, this also applies to objects that feature different botanical themes. Our collection has recently grown with various beautiful flowerpots and vases. At the moment, ceramic and naturally shaped items are particularly trendy.
We have recently added some of the ceramic vases in &Tradition's in our small items collection. The vases of the Collect collection are equally well-suited for larger bouquets and elegant single flowers alike. The shallower vase can also be used for small green plants or lush herbs. Elegant plant care accessories, such as watering globes or stylish watering cans, offer plant parents additional eye candy.
• &Tradition's Collect SC66 ceramic vase >
• All vases >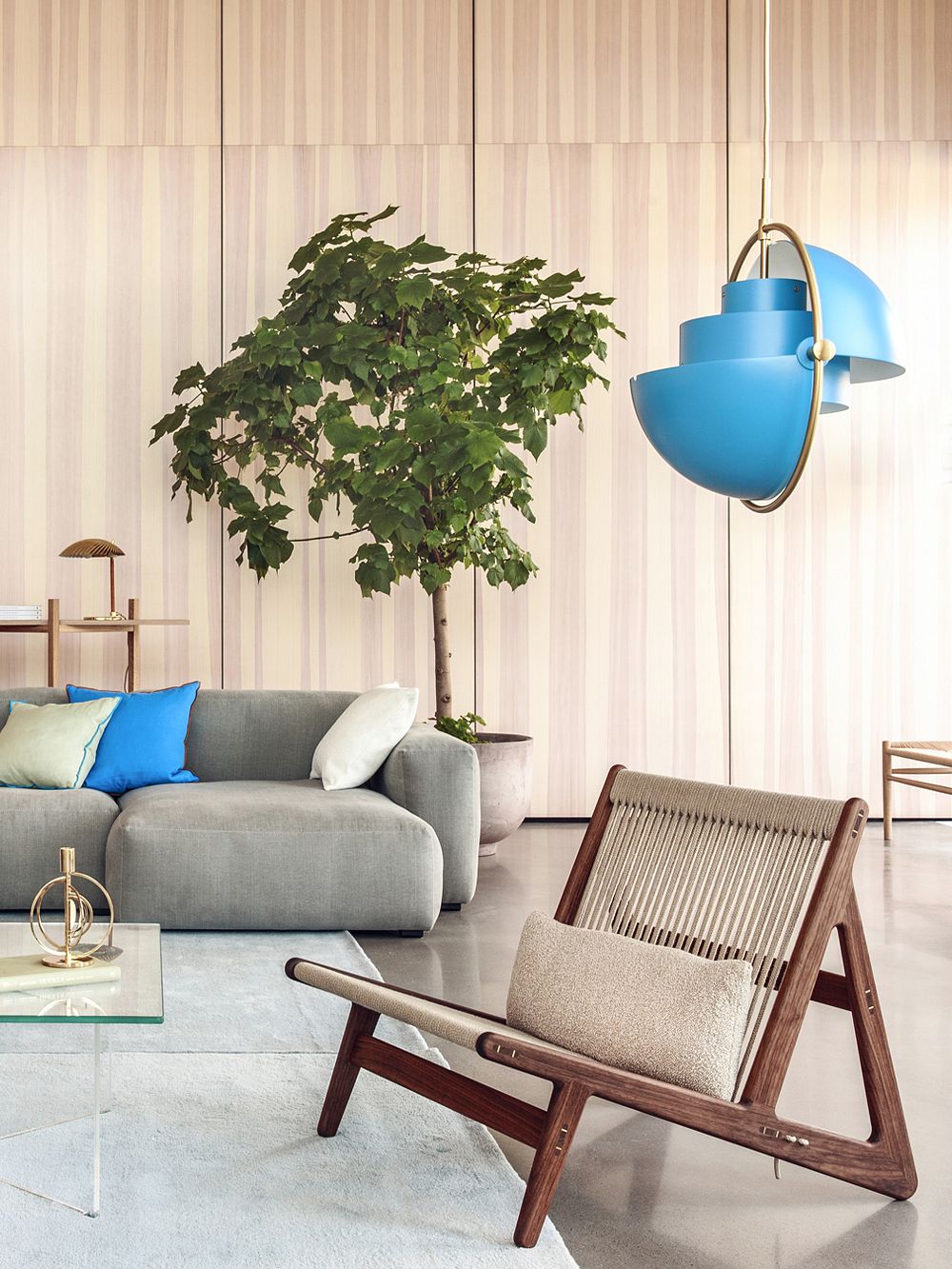 Plot twist
Every space needs an eye-catcher that makes it interesting. This may be even a small detail, such as an unusual material, contrasting shade or an interesting shape highlighted by the surrounding objects.
"MR01 Initial armchair resembles as much an objet d'art as an article of daily use."
One of the most interesting chairs of this spring's exhibition is GUBI's MR01 Initial armchair. The sculptural armchair consists of a solid wood frame combined with a seat and back woven of 90 meters of rope. This gives the piece an airy yet streamlined look that resembles as much an objet d'art as an article of daily use. We find that it could offer a good contrast for a chunky sofa, but would function just as well as an eye-catcher in an elegant lobby space. The armchair draws on traditional Danish design language. In addition to the pictured walnut frame, it is available in oak.
• GUBI's MR01 Initial armchair >
• All armchairs >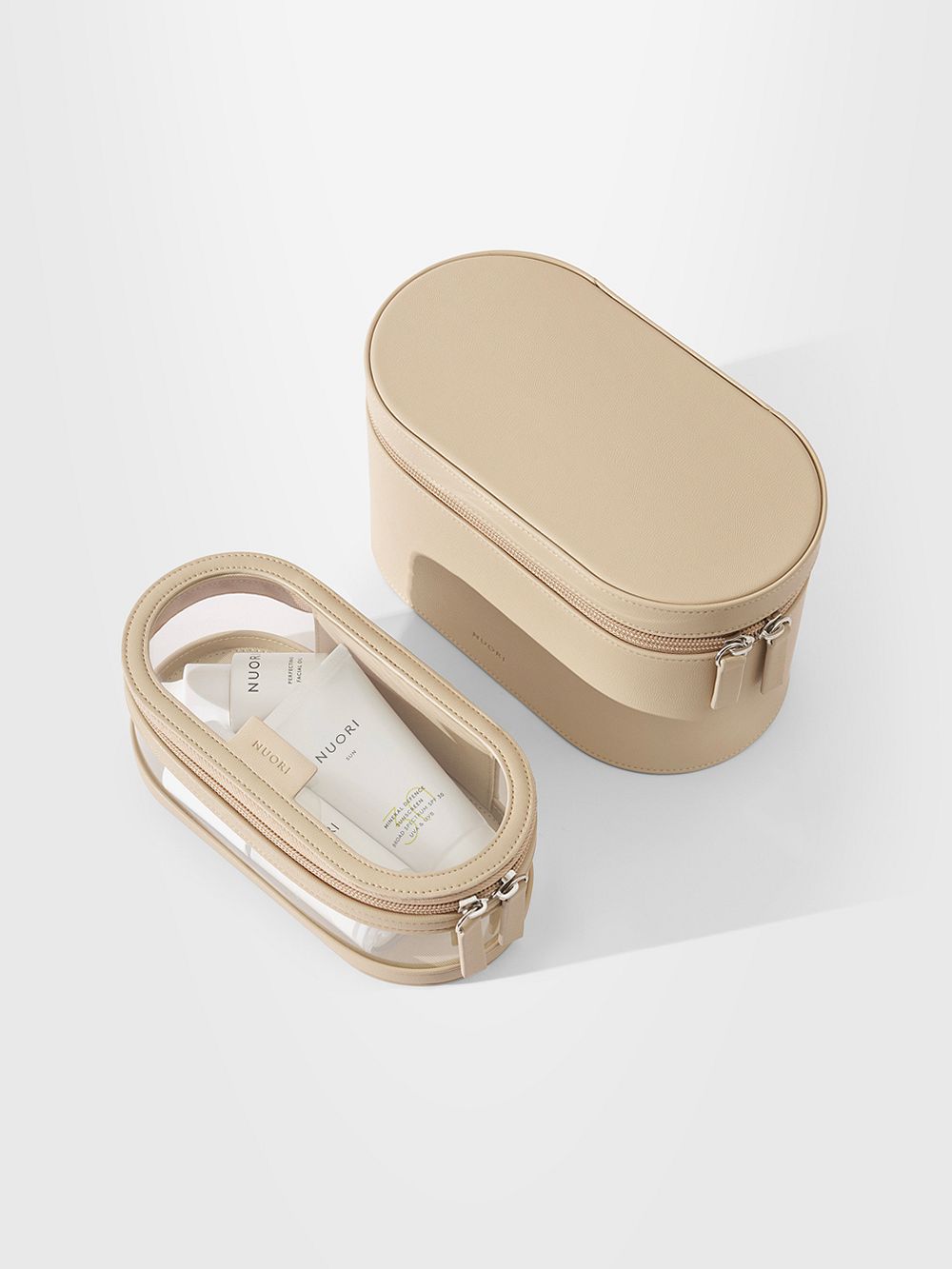 Jars in a row
Now is the time to arrange your home along with your bathroom cabinets. One of our best organizing tips is to recycle or give away everything you do not need anymore. And once you find beautiful, functional storage solutions for the remaining items, keeping things organized is suddenly much easier.
Nuori's beautiful cosmetics bags are perfect for storing everyday essentials. They are sold in sets that feature two bags of different sizes. The same manufacturer's combs and brushes continue the minimalist aesthetic – you do not need to hide these tools away in a drawer! The handy bags are also easy to grab with you for the different outings of the upcoming summer season.
• Nuori's Getaway travel case set >
• All toiletry and makeup bags >
---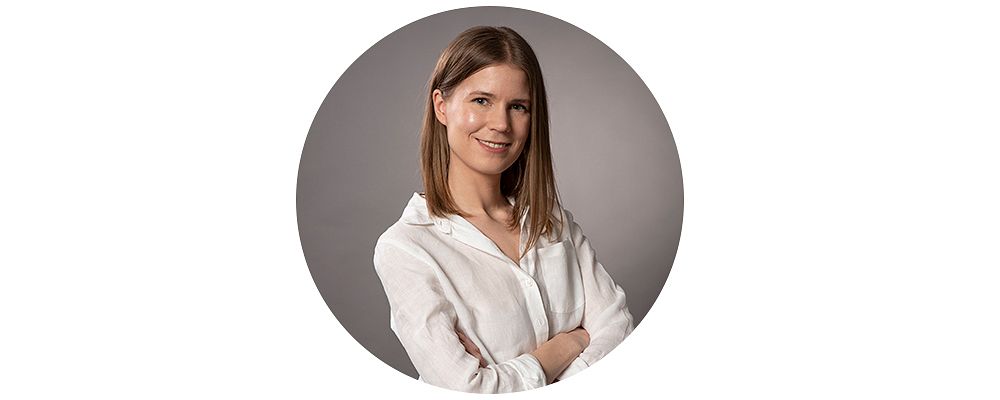 Interior architect Maija Rasila picks the most inspiring products, objects and issues of the month from novel and classic items. Modern Scandinavian style can be spiced up with plenty of details, surprising colors and personal touches.
---
See also:
• Finnish Design Shop's Showroom >
Text: Maija Rasila Photos: Suvi Kesäläinen and manufacturers