Beautiful marble is a popular and timeless material that brings a touch of luxury to any space. If the large surfaces feel too glorious, natural stone can be brought home with stunning details. Choose fresh white or bring contrast with rich, darker shades!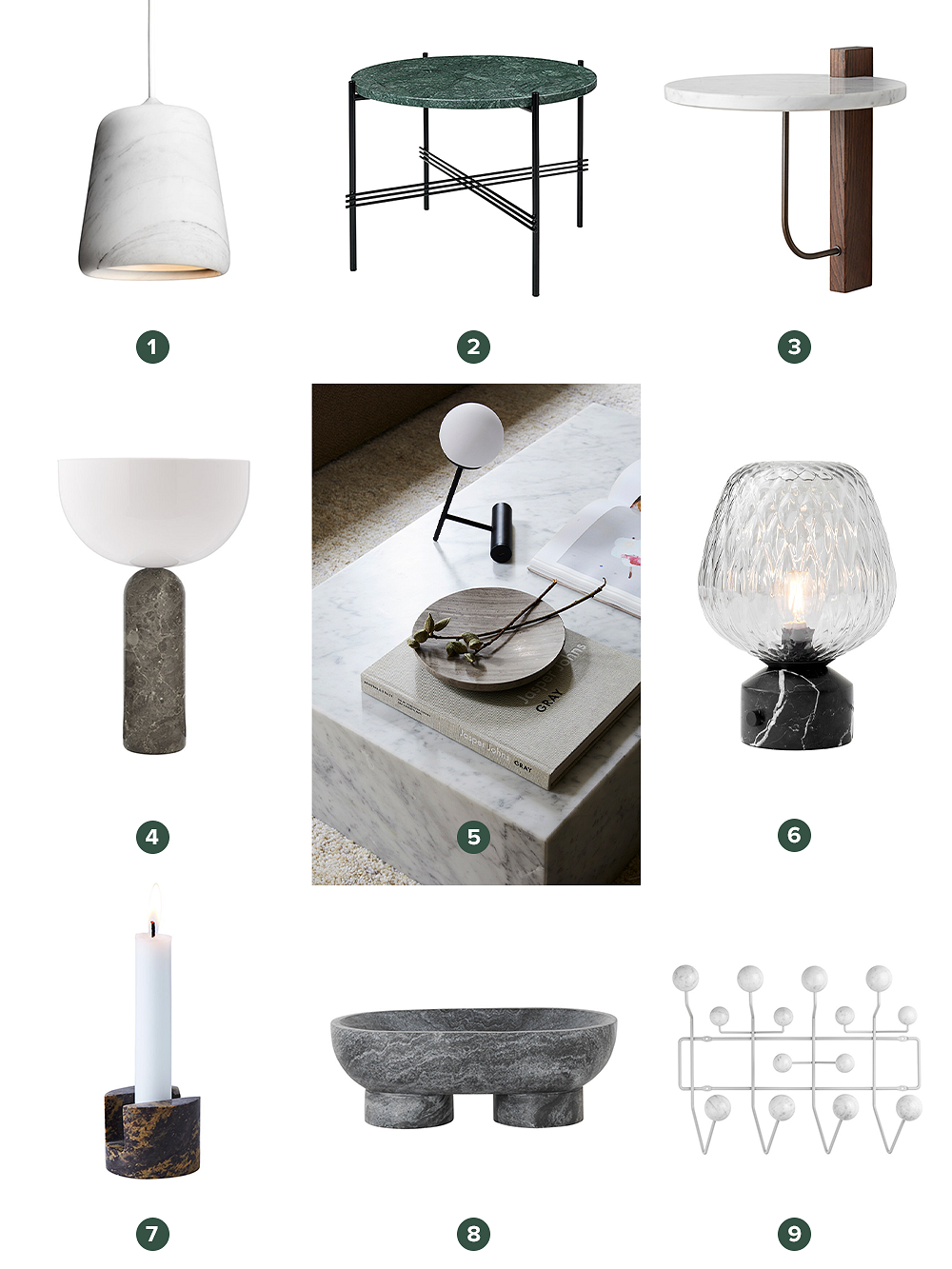 1. As its name suggests, the Material pendant by New Works plays with different materials. The white marble pendant lights up both the dining area and reading corner either individually or in a group. 2. TS from Gubi is a collection of elegant coffee tables, designed by design duo GamFratesi. Place the table in front of a sofa or next to a lounge chair. 3. Taking its design cues from the weight-bearing corbels in the buildings, Menu's Corbel shelf is a modern wall-mounted eye-catcher that combines white marble, dark-stained oak, and coated steel.
4. The charm of the Kizu table lamp, designed by Lars Tornøe, comes from the hemisphere-shaped diffuser that seems to be balancing upside down on a rounded marble base. 5. The sculptural Plinth table celebrates the natural, elaborate beauty of marble as its light-reflecting honed surface and the geometric shape create an interesting contrast to the heavy look of marble.   6. The Blown SW6 table lamp is Samuel Wilkinson's study of light's reflection and refraction in glass. The shade stands on a black marble base with white vein patterns.
7. Warm Nordic's Gap candleholder combines a simple, minimalist form with a naturally decorative and unique brown marble surface. 8. Made of Indian marble, the Alza bowl creates a charming setting for fruit servings or displaying small important items. 9. Designed by Charles and Ray Eames, the iconic Hang it all coat rack is adorned with elegant Carrara marble in a limited, numbered edition. The 14 spheres of the rack can fit a great number of clothes and bags.
See also:
• More marble products at Finnish Design Shop >
Text: Design Stories Images: Manufacturers