Now you can decorate your home for the holiday season! Ample arrangements or a few select decorative items are equally sure to create the desired atmosphere for the festive season. No matter what your taste, you will find the most beautiful products for creating a seasonal atmosphere at Finnish Design Shop.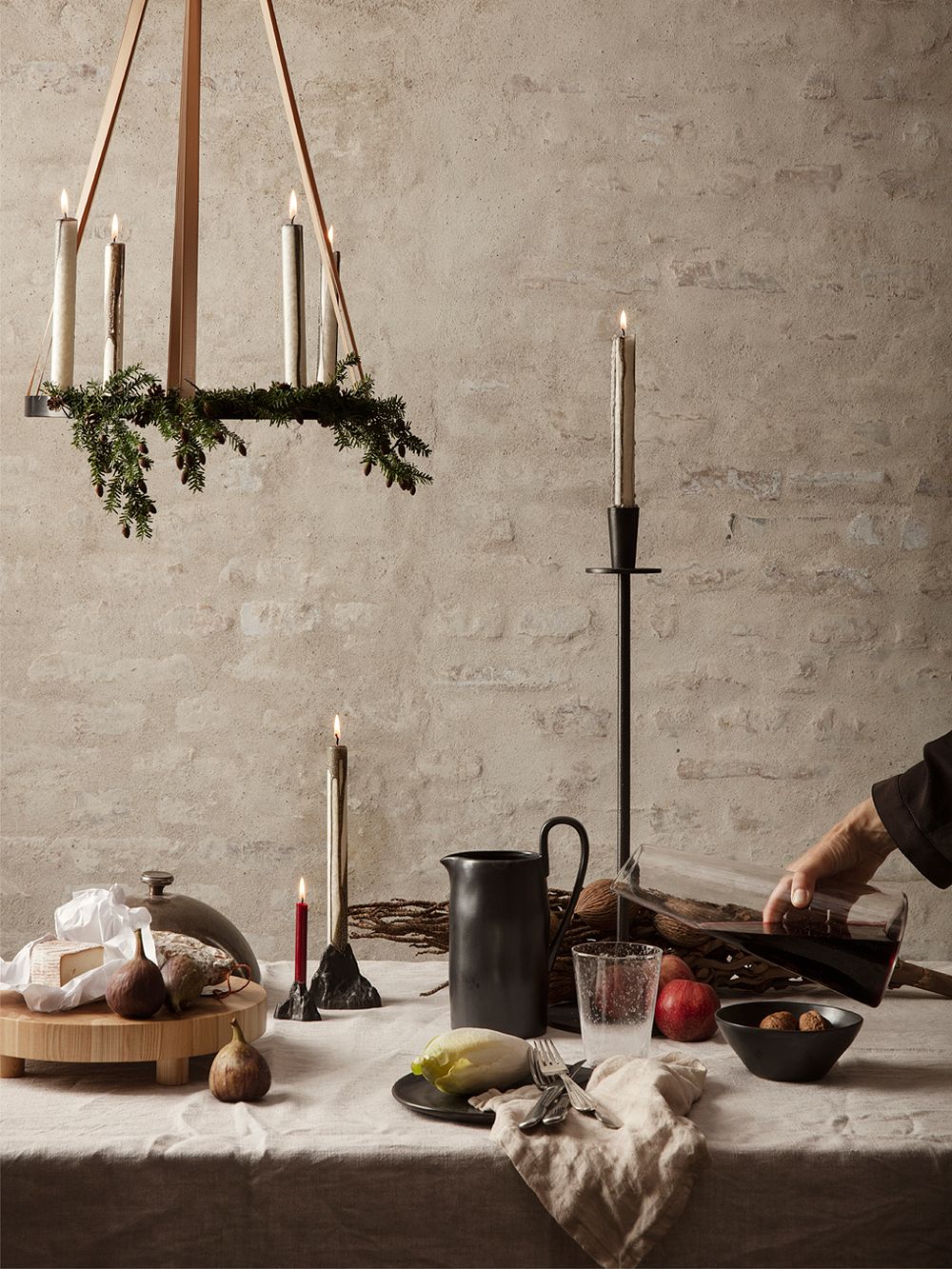 Ample decorations on the holiday table
At the moment, one of the most popular interior design styles combines rugged, rustic materials with minimalist shapes. Simple, tradition-inspired objects are also perfect for the holiday season. The products of Danish Ferm Living combine warm tones with interesting and modern shapes. The Circle candleholder can be placed on a table or hung from the ceiling, decorated with sprigs suitable for the season. Impressive individual candleholders and two-tone Duo candles complete the attractive atmosphere.
• Ferm Living's Circle candleholder >
• All products by Ferm Living >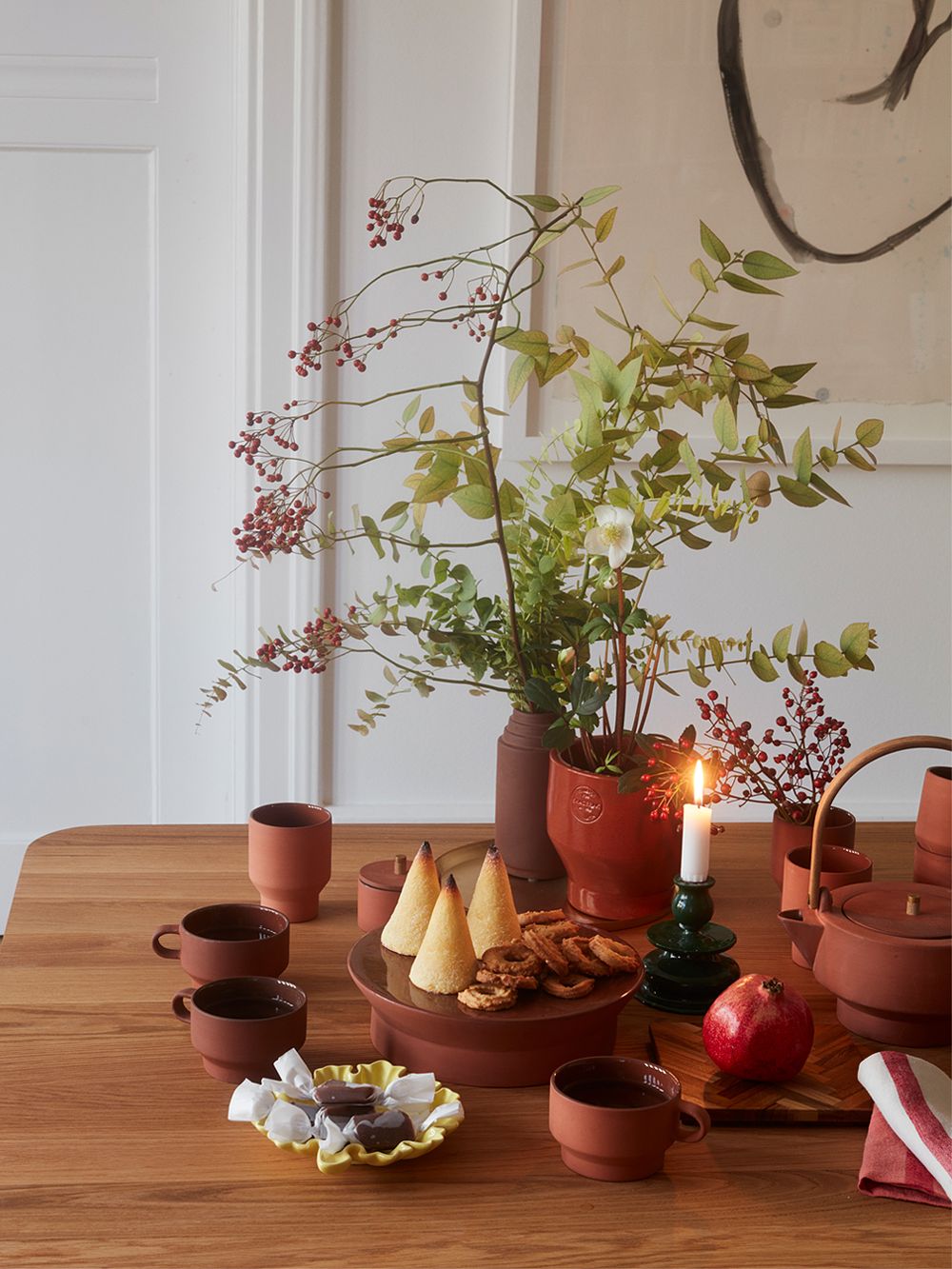 Cozy red clay
Red clay is a traditional material that creates a cozy atmosphere and suits the festive season very well. In addition to minimalist arrangements, it is also advisable try the "more is more" tactic and gather the red-clay elements together. They provide a relaxed yet impressive contrast with modern interiors and are sure to add a touch of warmth to any room. Skagerak's Edge collection offers options for table setting, decoration, and festive arrangements. The red-clay pot in the collection also makes a beautiful container for a small spruce.
• Skagerak's Edge pot >
• All products by Skagerak >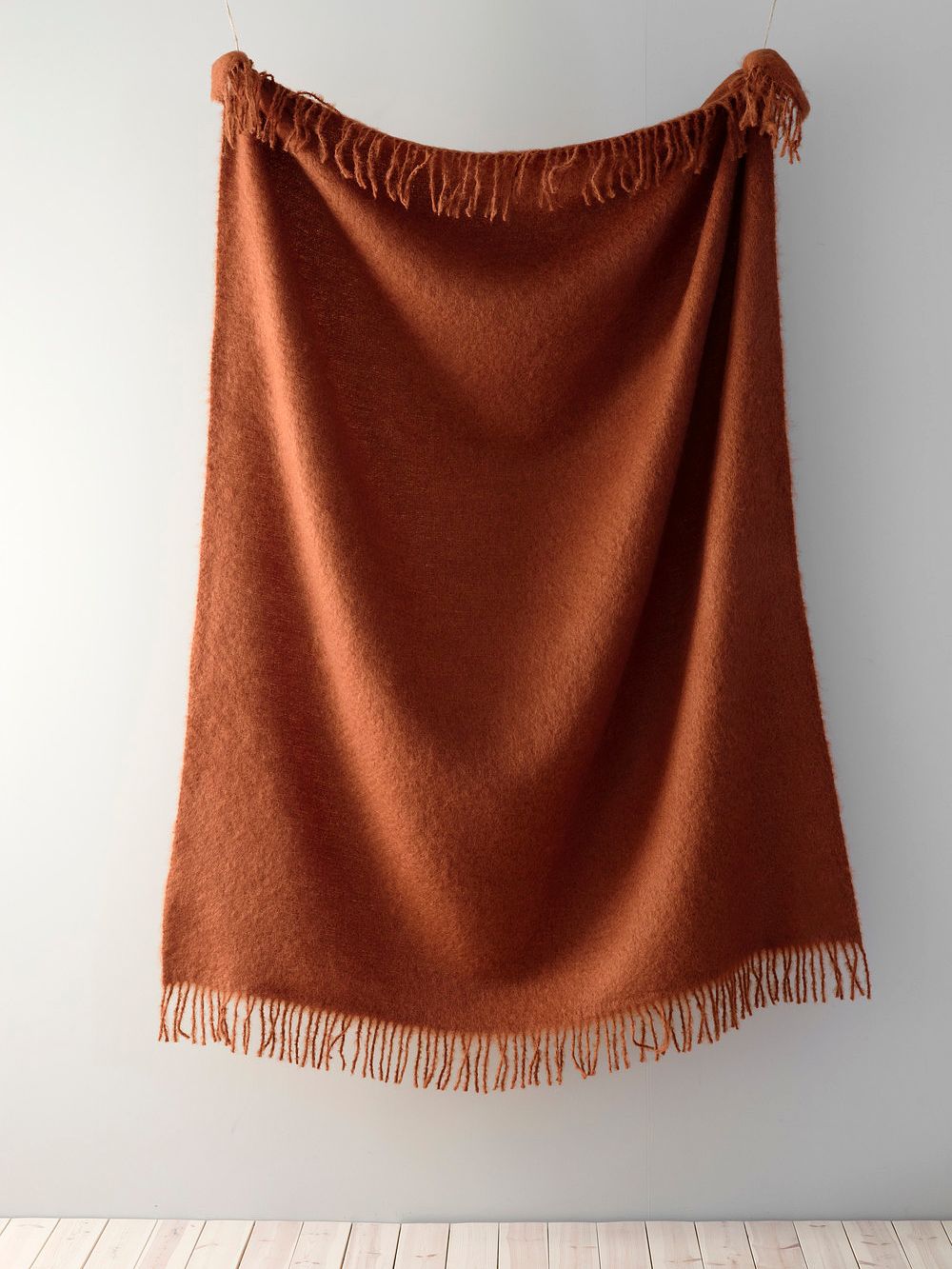 Plush and comfortable
Textiles provide a quick and easy way of adding a festive touch to your home. If you are looking for something else than the traditional tones of the season, try adding rich textures and glowing, spicy tones into your home. Fluffiness and the warm cinnamon tone make the Saaga Uni blanket by Lapuan Kankurit a lovely addition to any interior. The blanket, made of a combination of mulesing-free mohair and wool, adds the finishing touch to your home during the holiday season and feels wonderful when you wrap yourself in it to enjoy the December evenings.
• Saaga Uni mohair blanket by Lapuan Kankurit >
• All blankets >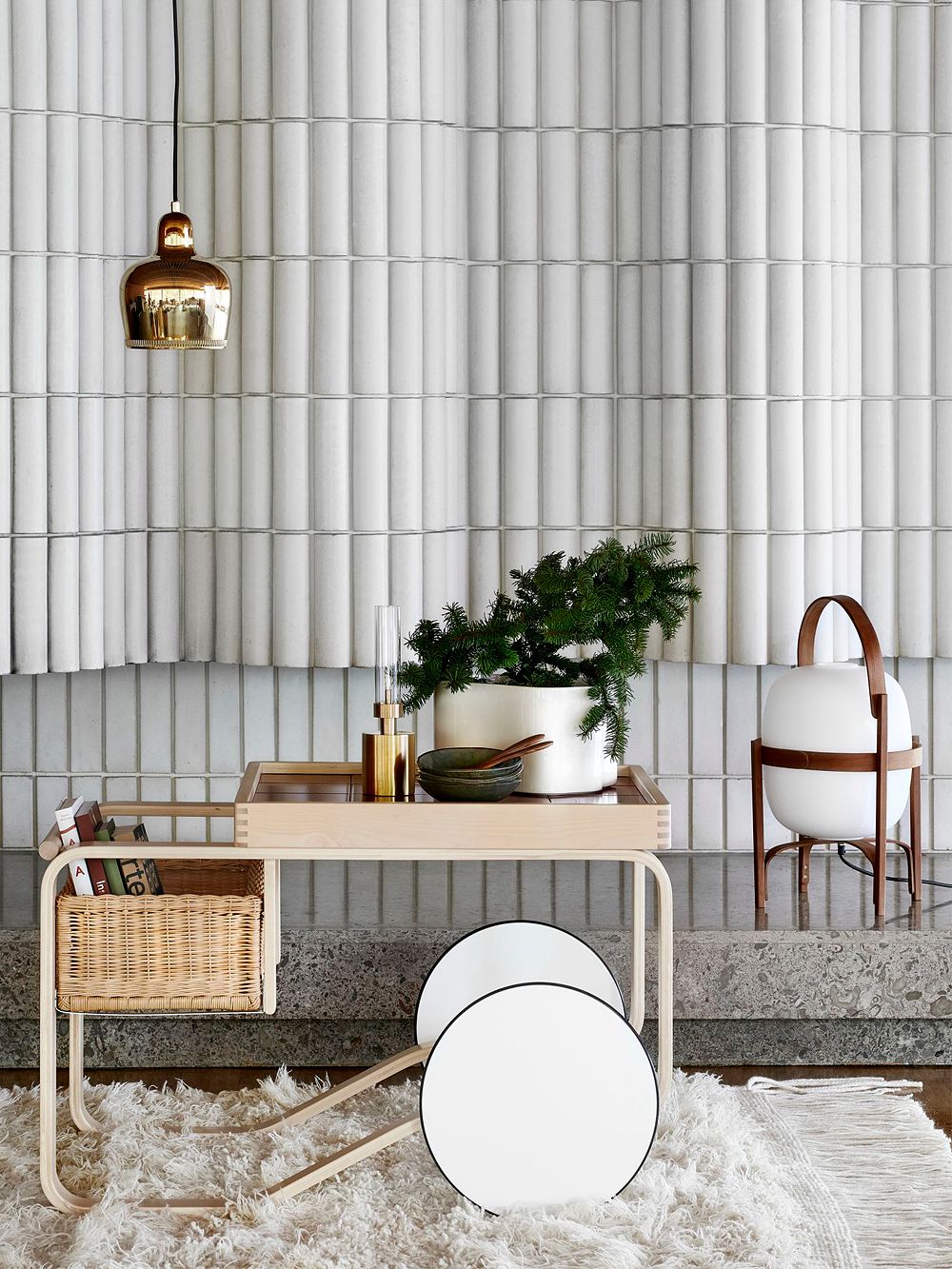 For more minimalist festivities
Details make the style – also for those who like to spend their holiday season in a simpler setting. Conifers, luxurious brass, and natural wood also create a cozy atmosphere in a more minimalist home. Artek's Riihitie pot makes a stylish container for plants, such as, amaryllis flowers, hyacinths, or small conifers. Santa & Cole's Cesta lamp with a wooden frame creates a pleasant ambiance in any room. When the interior remains simple, textures become even more important. Even in neutral tones, plush and soft textiles add a wintry touch and provide a warm contrast to streamlined shapes.
• Artek's Riihitie plant pot >
• All products by Artek >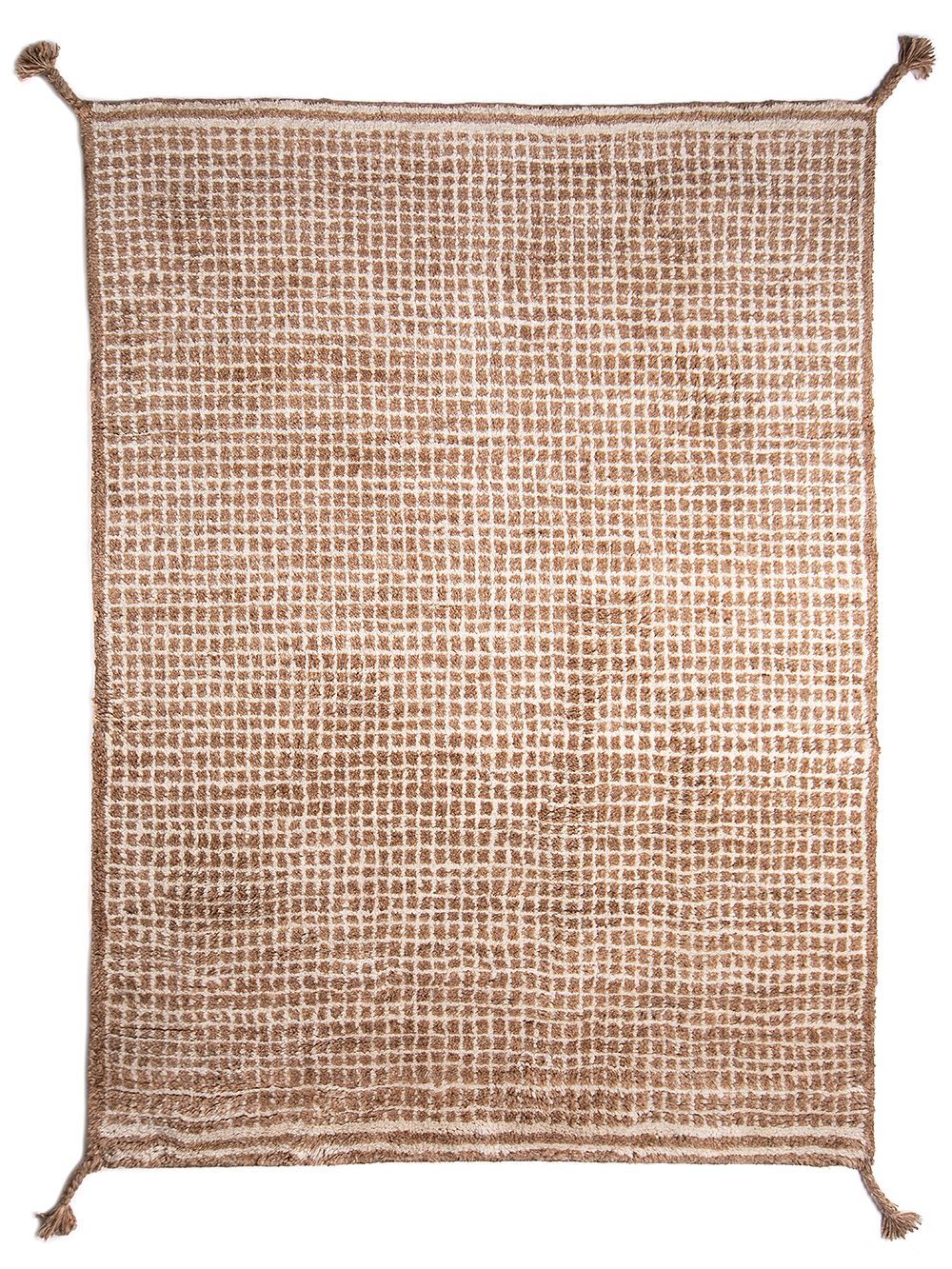 Casual grid pattern
The rug brings the living room together, which makes it an essential interior design element also during the holiday season. The earthy feel of the Grid rugs by Woodnotes is created by natural materials that have not been chemically dyed. The rug is made of 90% wool and 10% cotton, and the asymmetrical pattern and braided wool fringes on each corner give the rug a nice vivid look. This soft 20mm-thick rug adds a cozy, warm feel to the living room. In addition to the camel tone in the picture, the rug is available in black and white and gray.
• Woodnotes' Grid rug >
• All wool rugs >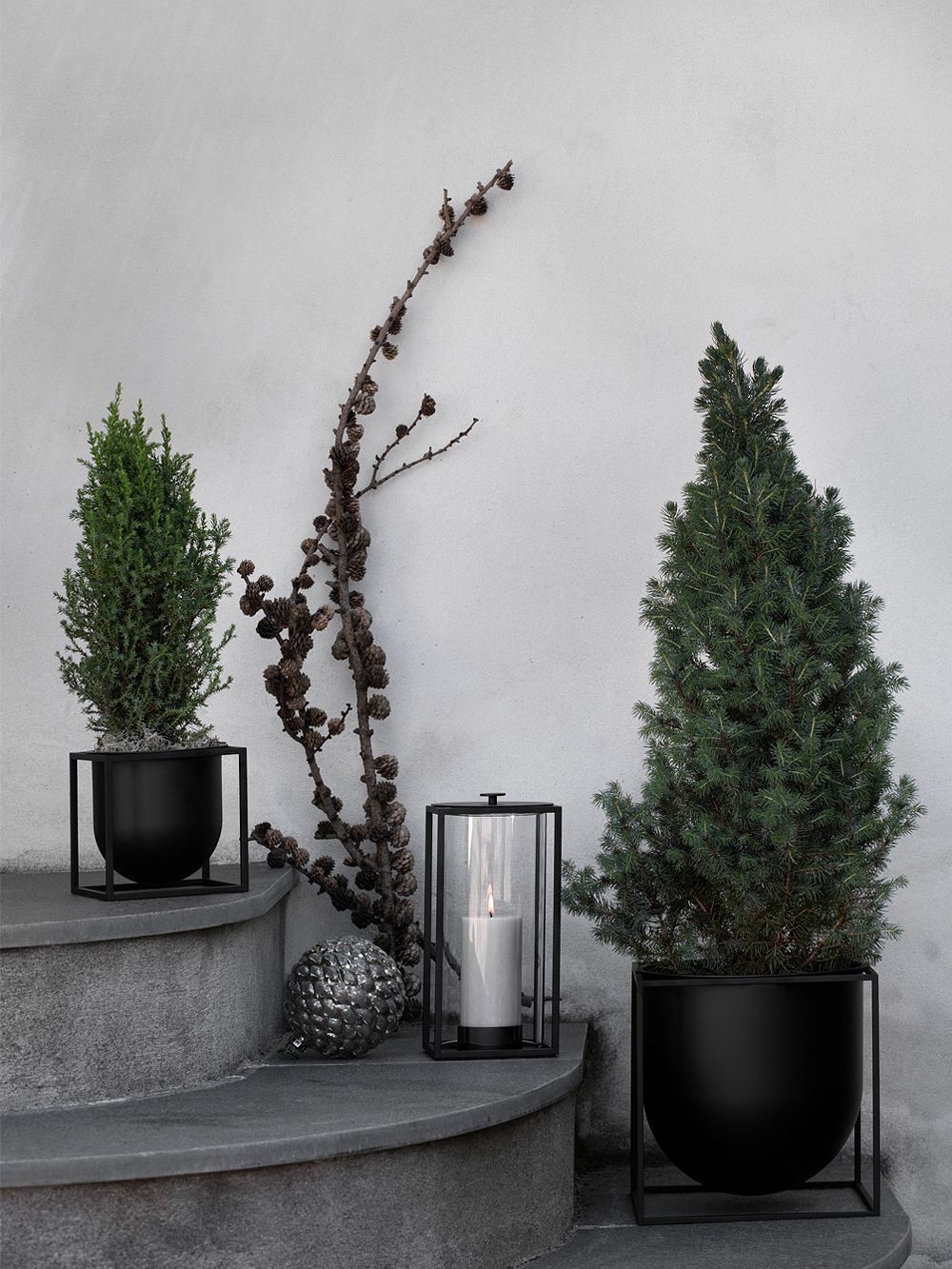 Do not forget outdoor spaces
There is no need to just decorate the indoor spaces for the festive season. Wreaths, plants, and seasonal lights give ambiance to porches, entrances, and balconies. By Lassen's subtle Light'In lanterns are suitable for both indoor and outdoor use, and the lantern can accommodate both tealights and narrow pillar candles. Kubus flowerpots by the same manufacturer feature similar simple and angular shapes as the lanterns.
• By Lassen's Light'In lantern >
• All lanterns and fire pits >
See also:
• Holiday home décor >
• Holiday table decorations >
Text: Maija Rasila Images: Manufacturers