August is well on its way and brings with it not only the return to school and work but also ambient evenings slowly turning darker. We selected nine multi-purpose rechargeable lamps that bring style and additional light to both a bedside table and a work desk – and are also apt for setting the mood outdoors!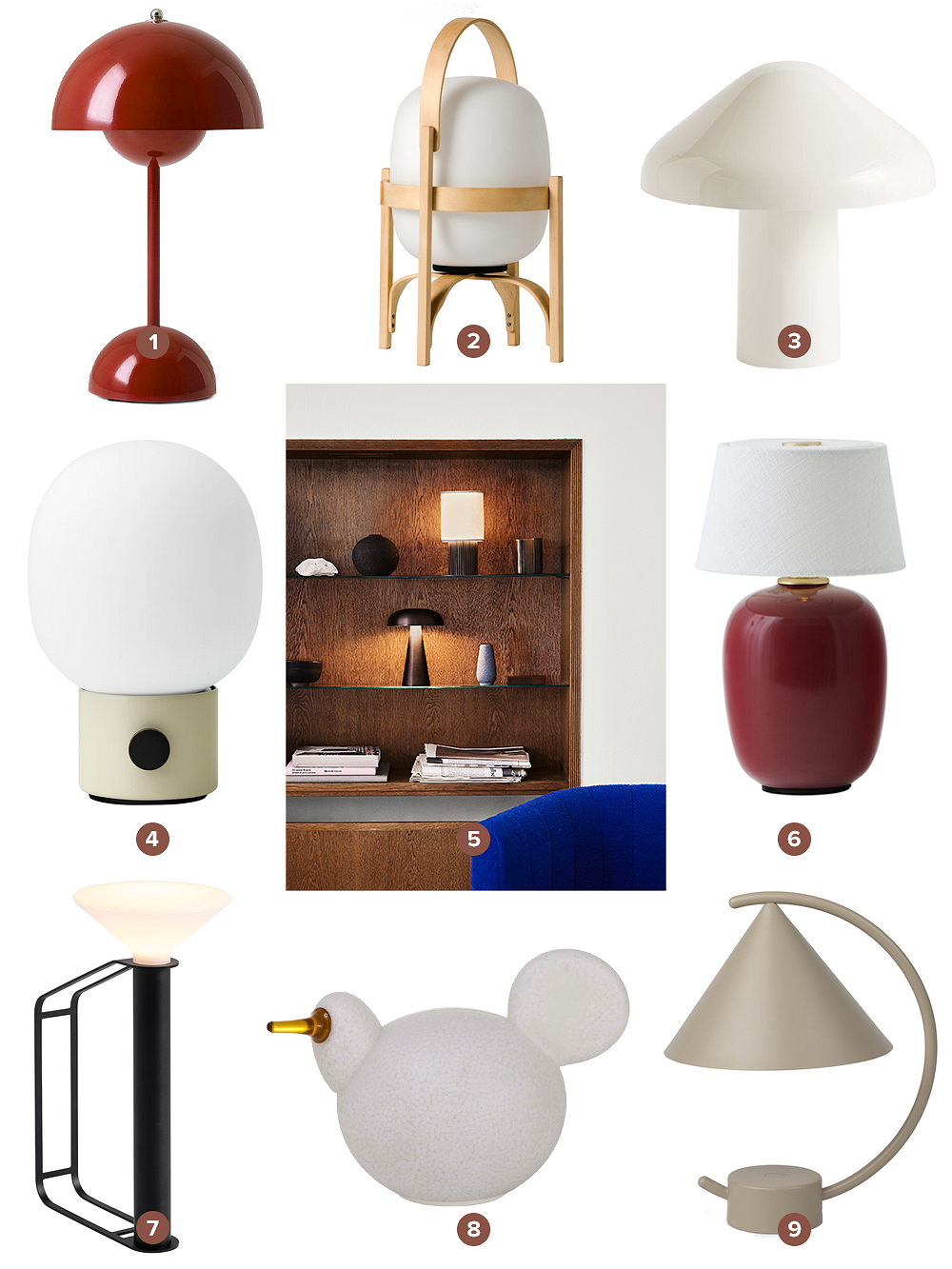 1. &Tradition's portable Flowerpot VP9 is a cordless version of the iconic Flowerpot table lamp designed by Verner Panton in the 1960s. In addition to the beautiful light, Flowerpot spreads around it the atmosphere of the era of peace and love. 2. Portable Cestita Batería comprises a round opal glass shade and a wooden frame formed with traditional steaming techniques. 3. HAY's cordless Pao Portable table lamp is part of the Pao collection, a range of minimalist luminaires conceived by Japanese designer Naoto Fukasawa. Resembling a tent, the Pao lamps are named after Mongolian yurts.
4. The JWDA table lamp by Menu is an elegant and compact luminaire that features a steel base, round opal glass shade, and knob that functions as a switch and a dimmer. Designed by Jonas Wagell, JWDA provides soft illumination for any space, and it makes a perfect addition to your sofa table or nightstand. 5. &Tradition's Manhattan SC52 and Como SC53 are rechargeable, portable table lamps designed by Space Copenhagen. Thanks to the 3-level dimmer, they can be used as a reading light or working light, or a softer mood light. 6. Created by design studio Krøyer-Sætter-Lassen, Menu's Torso Portable table lamp has its origins in the bygone handmade treasures found in childhood homes, and its light brings instant ambiance to any setting.
7. Tom Chung's bold and beautiful Piton lamp is truly an imaginative piece: it can be set to illuminate up, down, sideways or at an angle, suspended to dangle from the ceiling or a tree branch, and carried like a flashlight. 8. The sympathetic, cordless Siiri table lamp is part of the Iittala x Magis Linnut collection developed in collaboration with the design legend Oiva Toikka, featuring light sculptures based on Toikka's iconic Birds by Toikka glass art collection. 9. Due to its compact size and portable nature, ferm LIVING's cordless Meridian lamp can be effortlessly moved from one place to another and is ideal for creating a cozy ambiance on a side table or shelf.
See also:
• All portable lamps at Finnish Design Shop >
• All products at Finnish Design Shop >
Text: Mira Ahola Images: Manufacturers