Winter festivities are filled with joy, anticipation and new memories in the making. Design Stories chose nine high-quality gifts for children – take a look at our thoughtful tips and choose a gift that will bring memorable moments for years to come!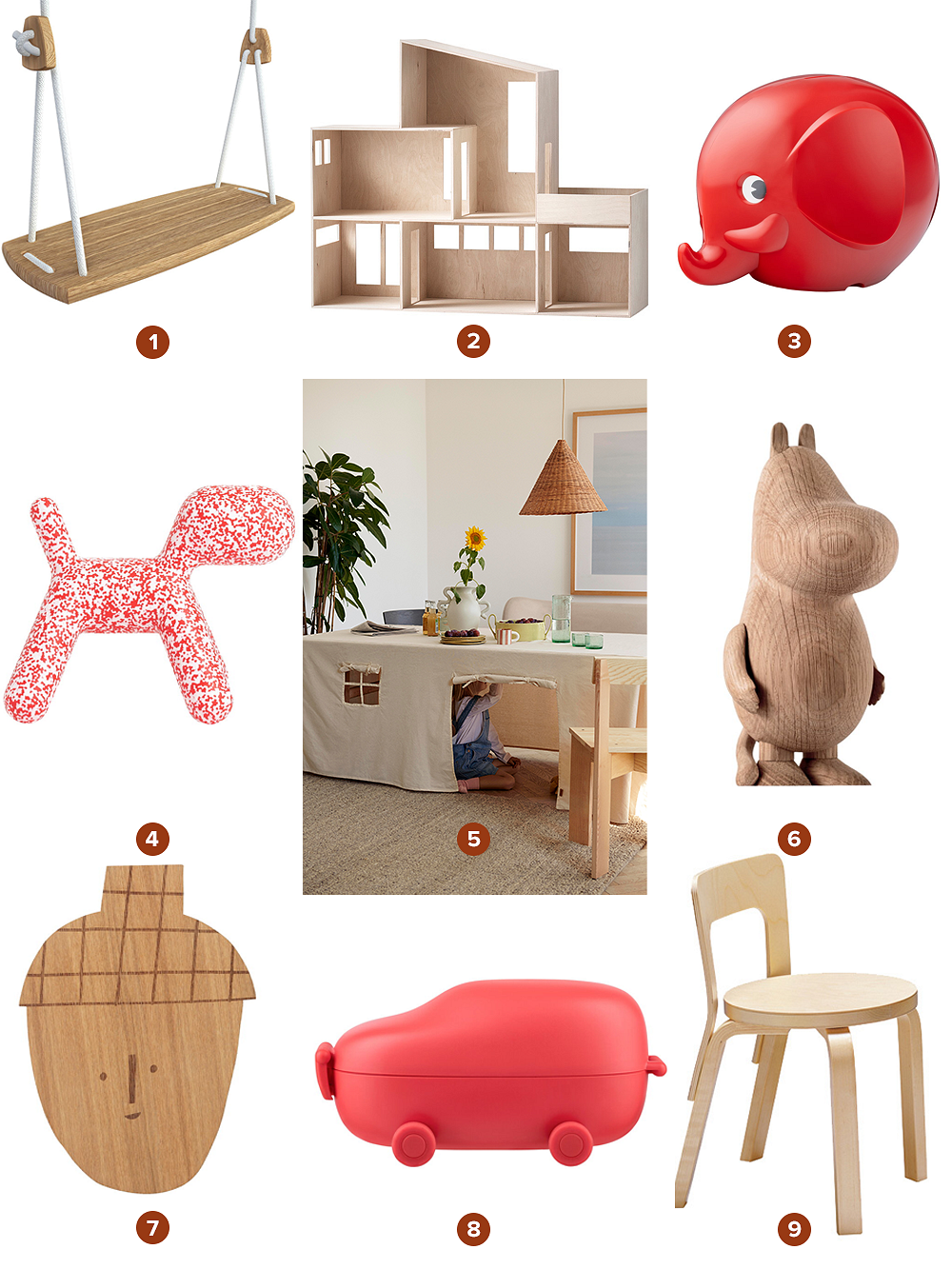 1. The Grand swing by Lillagunga is a reinvented version of a classic wooden swing, perfect for both indoors and out. Lillagunga believes that besides playing and having fun, swinging is also a perfect way to relax, stay young and live in the moment. 2. Ferm LIVING's Funkis dollhouse offers a stylish home for dolls and their friends, but it may be used to store and display objects as well. 3. The Maxi Elephant by Finnish brand Palaset is a fun, large moneybox that not only keeps your coins safe but also infuses your home with a touch of whimsy and nostalgia.
4. Shaped like a small dog, Puppy by Magis is a sculpture, a toy as well as a small stool, whatever your imagination wants it to be. The Christmas edition Puppy is a special release for the 2022 holiday season – decorated with red splashes, this festive Puppy is available for a limited time only. 5. With Ferm LIVING's Settle tablecloth house, you can turn the table into a charming hut, where children – and maybe us adults as well – can let their imagination go wild and play house or set up a shop; whatever comes to mind! The Settle tablecloth house will arrive at Finnish Design Shop this December. 6. The large wooden Moomintroll figurine by Boyhood is sure to charm Moomin fans of all ages!
7. The minimalist appearance of ferm LIVING's Acorn lamp suits any modern nursery and will definitely make you smile! 8. The Food à porter snack box, designed by Sakura Adachi for Alessi, is a joyful interpretation of Japanese bento boxes. 9. The N65 chair, designed by Alvar Aalto, is a Scandinavian design classic of the children's room – its simplistic look complements all kinds of interiors, and its seating height of 38 cm fits easily together with small tables.
See also:
• All items for kids at Finnish Design Shop >
• More gift ideas >
Edit: Design Stories Images: Manufacturers