Green, soft and sparkly – the wonderful festive atmosphere at the Finnish Design Shop's Turku showroom is almost palpable and the tables are filled with carefully selected gift items – almost too many to choose from. Luckily, interior architect Maija Rasila has agreed to share her best gift tips with us all. We warmly welcome you to our showroom for holiday shopping!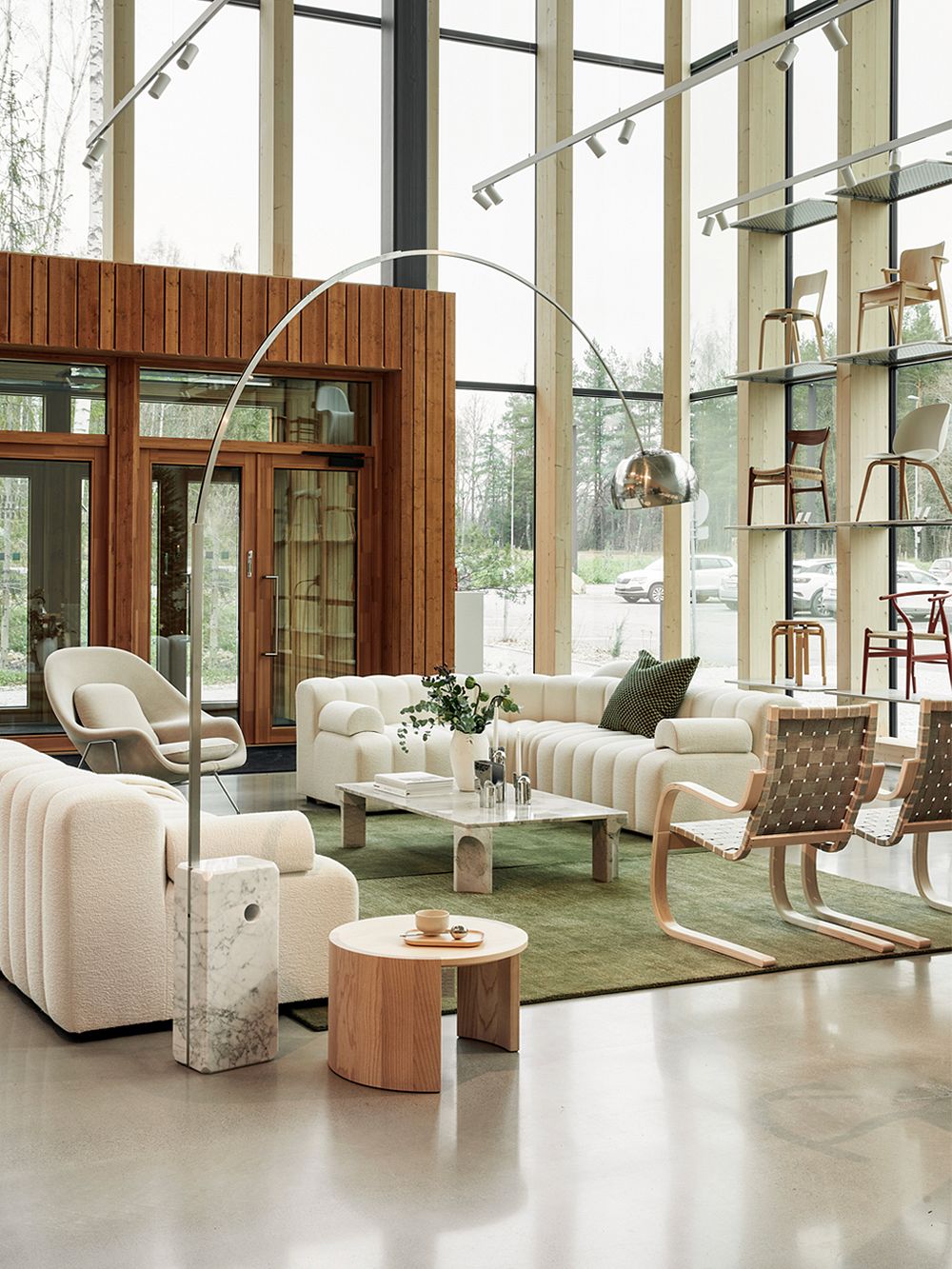 "THE HOLIDAY SEASON has arrived at the showroom. You can feel the warm atmosphere the minute you step into the door. In addition to decorative items fit for the festive season and soft hits to put you in a cheery holiday mood, the showroom's shelves and tables are filled with gift products that especially well-suited for Nordic design enthusiasts.
The carefully crafted selection includes classic gift products, kitchen and bathroom essentials, luxuriously plush textiles and, last but not least, festive decorative items. It also includes a few selected items that are not included in our standard selection, such as tasty food items. In addition to great gift ideas, the trip to Turku showroom is worth the while for the lovely atmosphere alone."
• Finnish Design Shop Showroom, Aviatie 2, Turku, Finland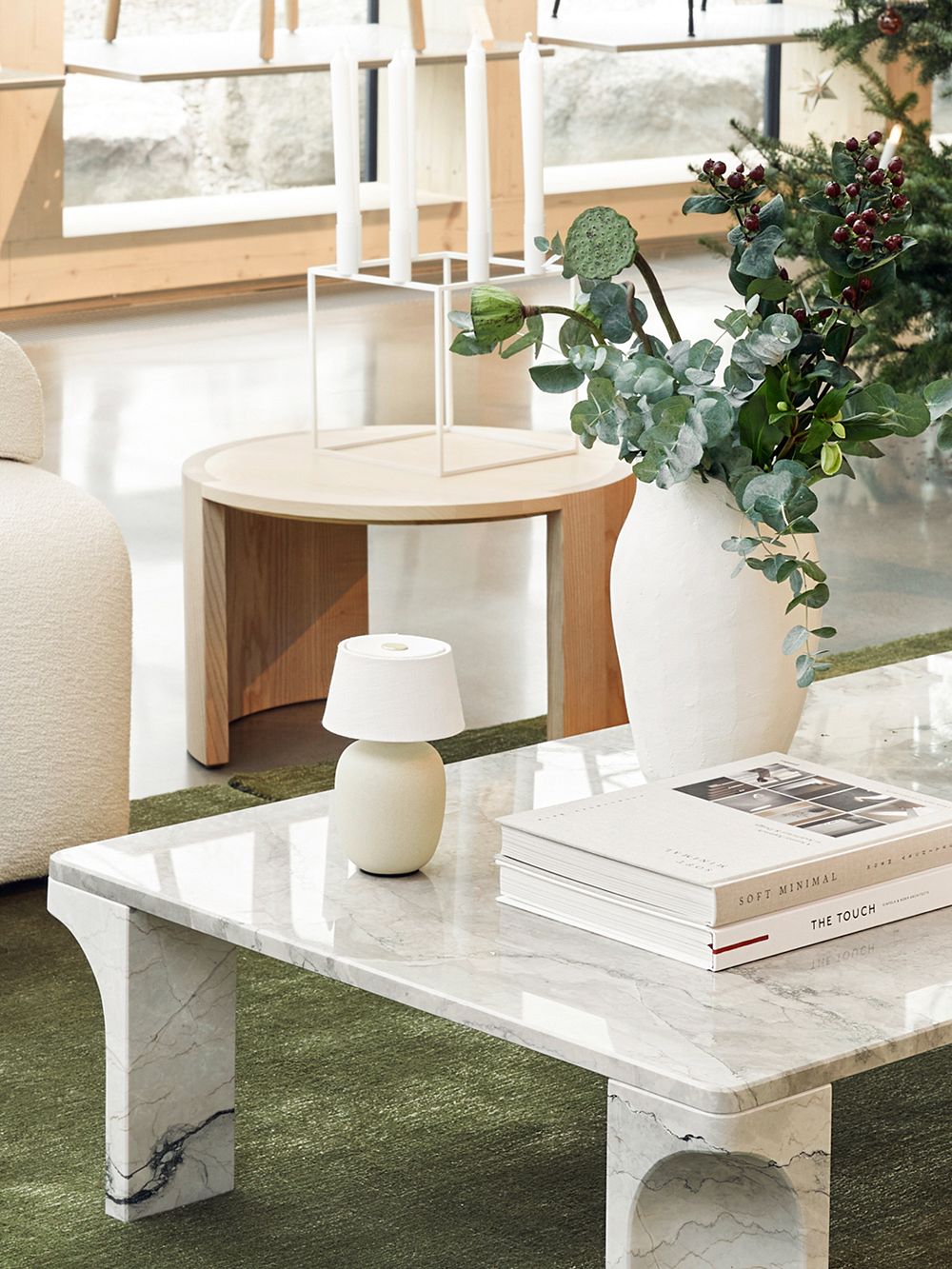 Season's bestseller
If we were to bet on this Holiday season's hit product, we would put our money on a portable LED light. Several manufacturers have recently launched compact, chargeable versions of their classic lighting designs or brought out completely new portable lamp models. With so many LED lamps available, it is easy to find one that fits your taste.
The primary advantage of a portable lamp is how easy it is to use: you can place it on a shelf, a coffee table, on a windowsill, or wherever you happen to need more light at that moment. Try something new this year and switch out the traditional candles to an elegant portable light. Most models have a battery life of six to twelve hours, and can be charged quickly using a separate USB cable.
We have several LED lights on display at our showroom that you can simply purchase and take away with you at once. MENU's Torso Portable light, which can be seen on the coffee table in the picture, is a classic choice suitable for virtually any home. In addition to the sandy beige shade, Torso is also available with a black base.
• MENU's Torso Portable lamp >
• All portable lamps >
"If we were to bet on this Holiday season's hit product, we would put our money on a portable LED light."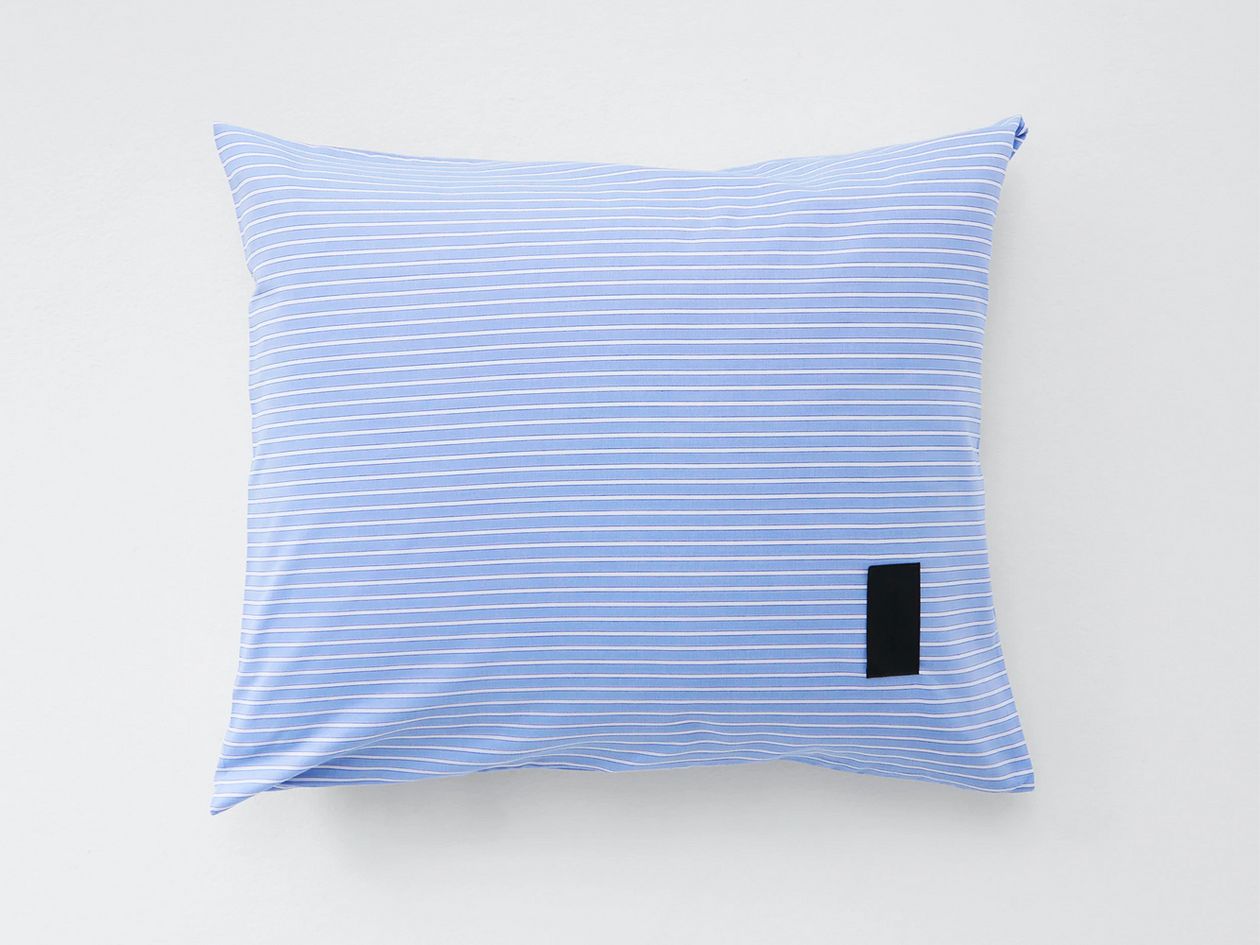 Soft under the head
What to get for a friend who already has it all? In our opinion, you can never go wrong if you buy something that will be useful around the house. Home textiles, for example, must be replaced from time to time. One of our best gift tips is a high-quality pillowcase. This is something that absolutely everyone needs, and even if the gift recipient already has a few of these in their closet, one more will not hurt. A high-quality pillowcase is also not something that people generally tend to buy for themselves.
Magniberg's luxurious pillowcases are made of Egyptian cotton that feels pleasant and soft against the skin. The pillowcase comes in a beautiful cardboard gift box, making it a stylish gift even if you happen to run out of wrapping paper. The classic blue and white stripe pattern is our staff favorite. In 2021, the elegant pattern received the Wallpaper Design Award. In addition to fresh stripes, our selection includes pillowcases in single colors from Magniberg and Tekla. You can order duvet covers with the same patterns and designs from our online store.
• Magniberg's Wall Street Oxford pillowcase >
• All bed linen >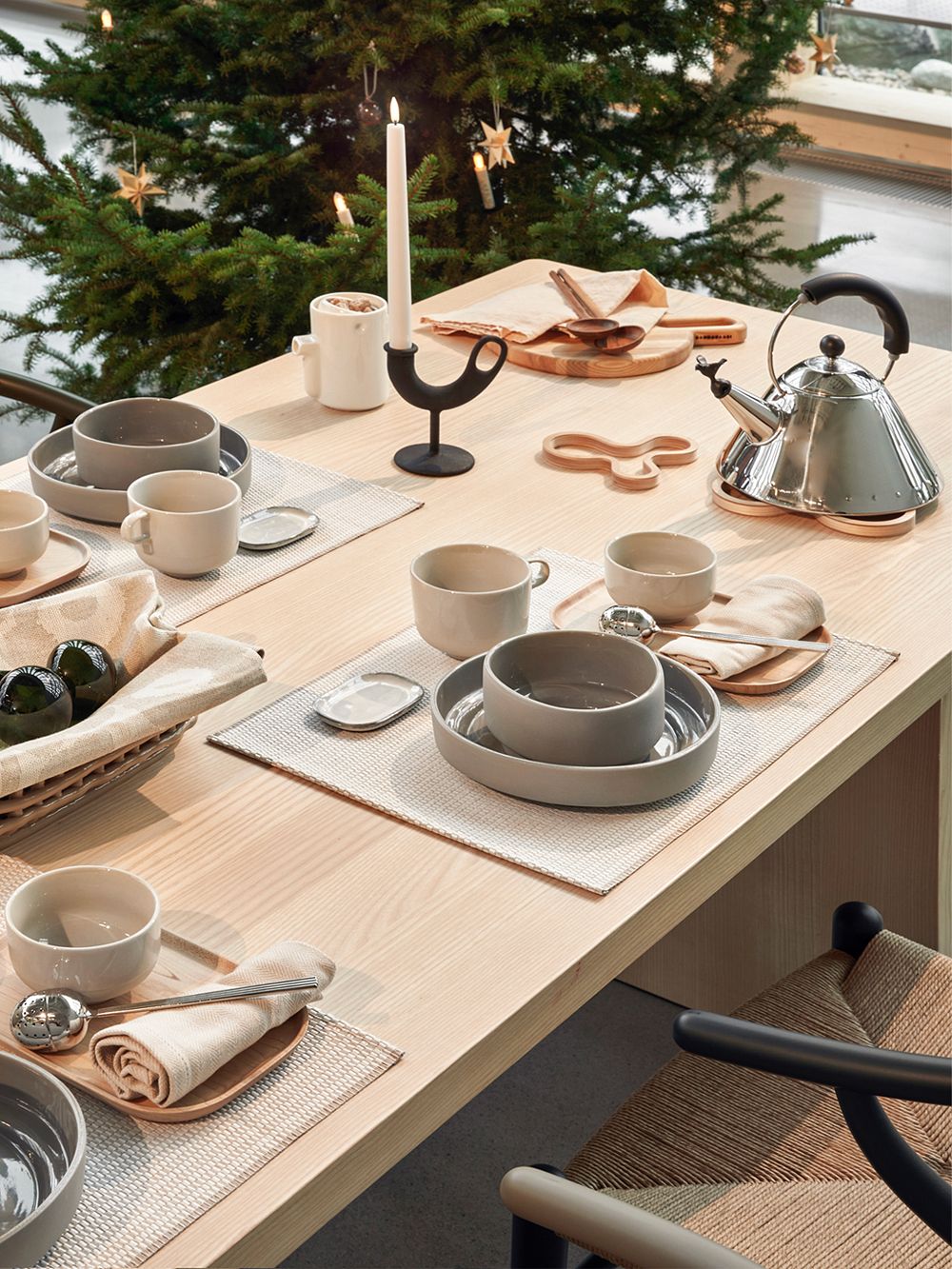 For cozy moments
One of the highlights of the festive season is the dinner menu with all its delicacies. This makes planning the table setting all the more important, since the main act of the night deserves a stage that befits its worth.
The table setting can be used to conjure up different moods for the rice porridge breakfast, the selection of herrings and gravlax served before the main course, or the festive dinner that goes on well into the quiet night. The secret for constructing an impressive whole is to add enough elements: different glasses, cloth napkins and tableware of different heights offer the eye something to observe and ensure an attractive end result. The minimalists among us, however, will want to rely on simple yet elegant dishes and a single centerpiece object, such as a sculptural bouquet of amaryllis flowers.
At the showroom, we have set the tables with Valerie Objects' asymmetric Inner Circle tableware, which is perfect for cozy breakfast moments. They are accompanied by Woodnotes' paper yarn place mats, The Organic Company's cloth napkins and a relaxed mix of different Serax dishes. Shiny chrome, candles and other lights create a festive atmosphere fit for Christmas eve – a perfect way of transitioning from the hustle and bustle of everyday life to a peaceful celebration.
• All tableware >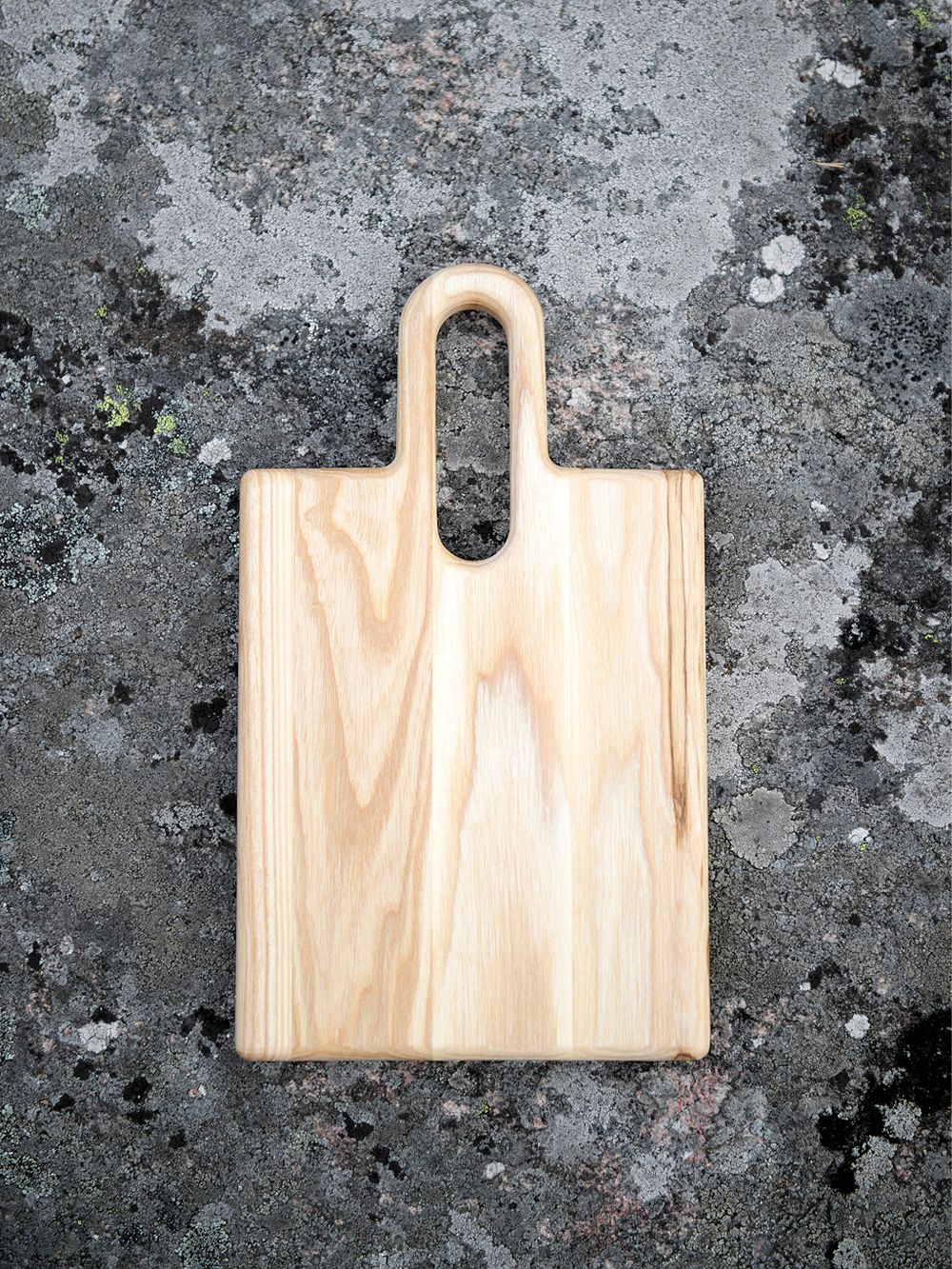 Design items for the kitchen
Kitchen and cooking products continue to rank among the most popular gifts year after year. This is rather unsurprising, given that cooking is an increasingly popular pastime, and high-quality tools make it even more enjoyable.
At the showroom, you can find selected kitchen textiles, gift items for both tea and coffee lovers, as well as serving dishes and cutting boards that are granted to bring a smile to the recipient's face, but also make a good addition to your own kitchen. One of our hot tips for this year are Hanna Saari's Halikko cutting boards. They are made of thick, sturdy wood in Finland. The beautifully designed cutting boards also make for elegant serving platters and are a beautiful addition to the kitchen decor even when they are not in use. Add a loaf of homemade bread or a beautiful tea towel, and you have the perfect gift package.
• Hanna Saari's Halikko cutting board >
• All kitchen utensils >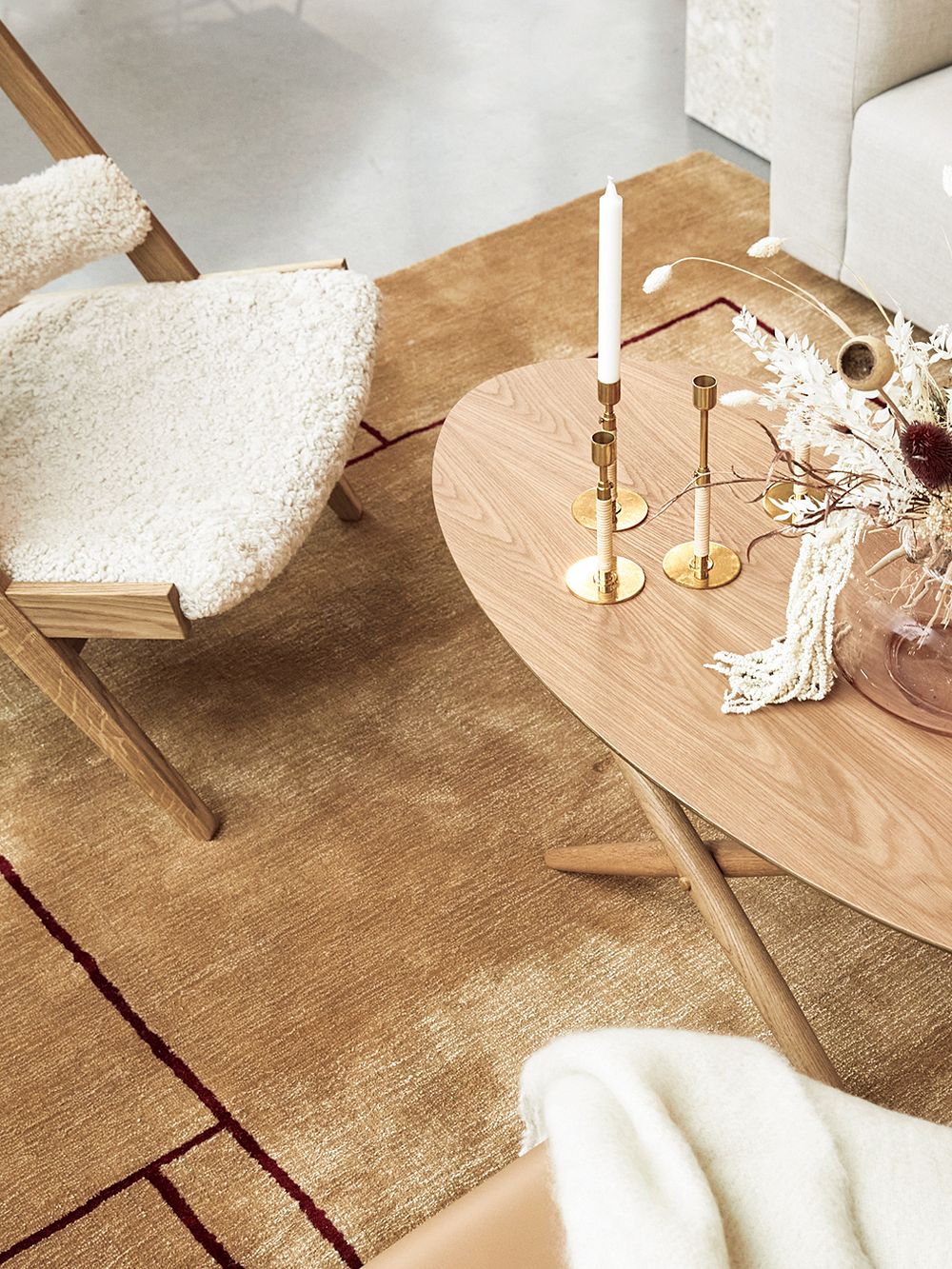 For sparkling evenings
The candle season is finally here. There is an abundance of options available, so regardless of if you prefer luxurious brass, simple geometric designs, or the rugged look of cast iron, you will be able to find many candlestick options to suit your personal taste. MENU's Duca candlesticks feature a braided rattan detail, which presents a natural contrast to the shiny brass. Their height can also be adjusted, allowing you to create a beautifully asymmetric arrangement. It is a good idea to buy a few Duca candlesticks and place them close to each other them to highlight the height differences.
Traditional candles are an unparalleled way of creating a pleasant and festive atmosphere, but we can also warmly recommend trying out Uyuni's LED candles. With their wax surface and gently fluttering flame, the LED candles are astonishingly similar to their non-electric siblings – with the added bonus of being emission-free and safe to use.
• MENU's Duca candlesticks >
• All candleholders >
"With their wax surface and gently fluttering flame, the LED candles are astonishingly similar to their non-electric siblings."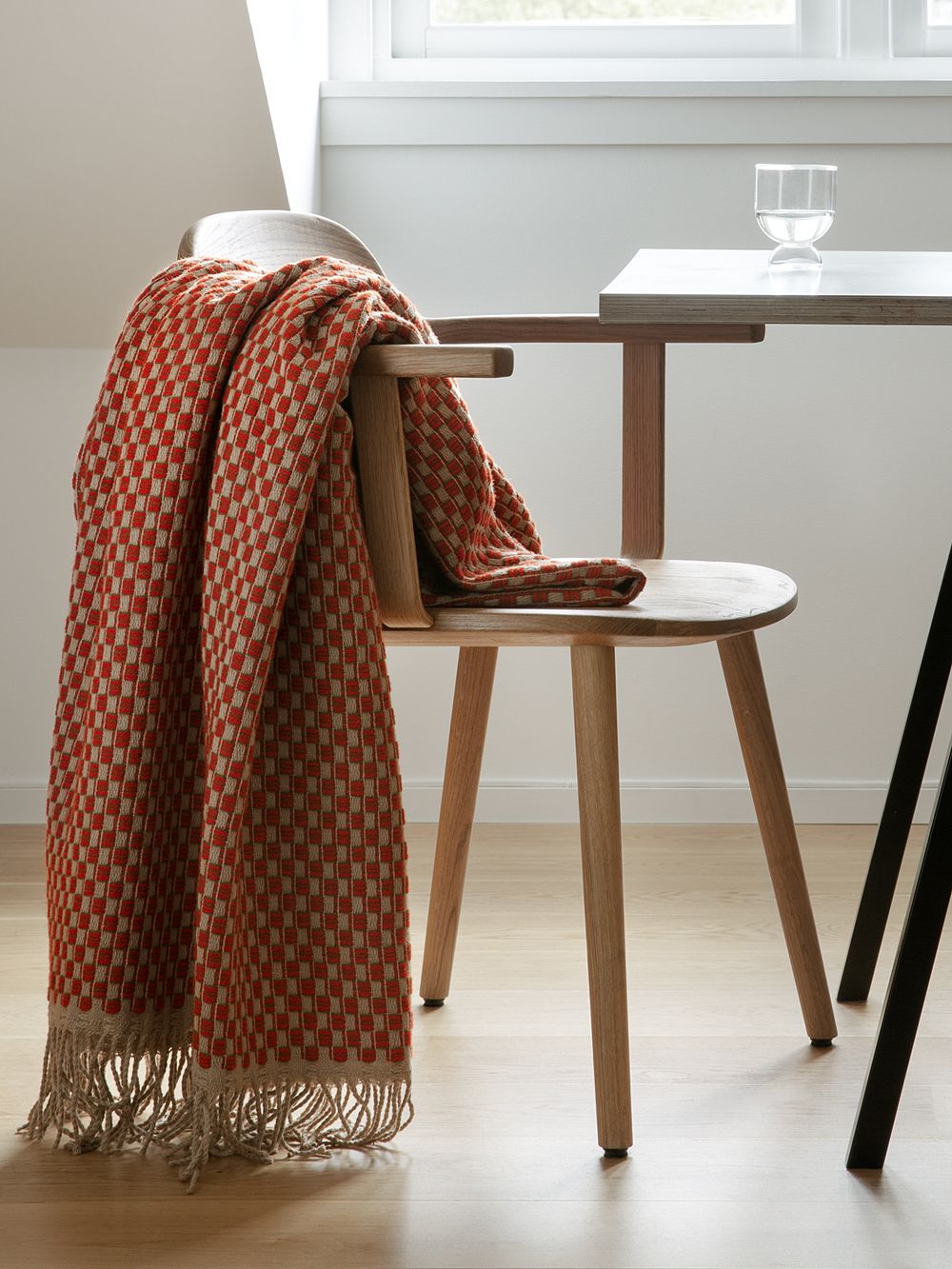 For cool winter evenings
Who would not love a soft package? The most wonderful textiles of this festive season are made of warm and soft wool. The Norwegian company Røros Tweed produces items made of free roaming sheep that range on the Norwegian mountains, making it a real feel good product in more than one sense. The company's items have been manufactured in Norway since it was founded in the 1940s.
The products of the Isak collection feature a lovely small scale plaid pattern available in colors reminiscent of the atmospheric tones of the Nordic winter. The collection includes both cozy blankets and plush, large pillows (60 x 60 cm). With all the beautiful patterns and pleasant shades available, it is hard to pick just one favorite.
• Røros Tweed's Isak throw >
• All blankets >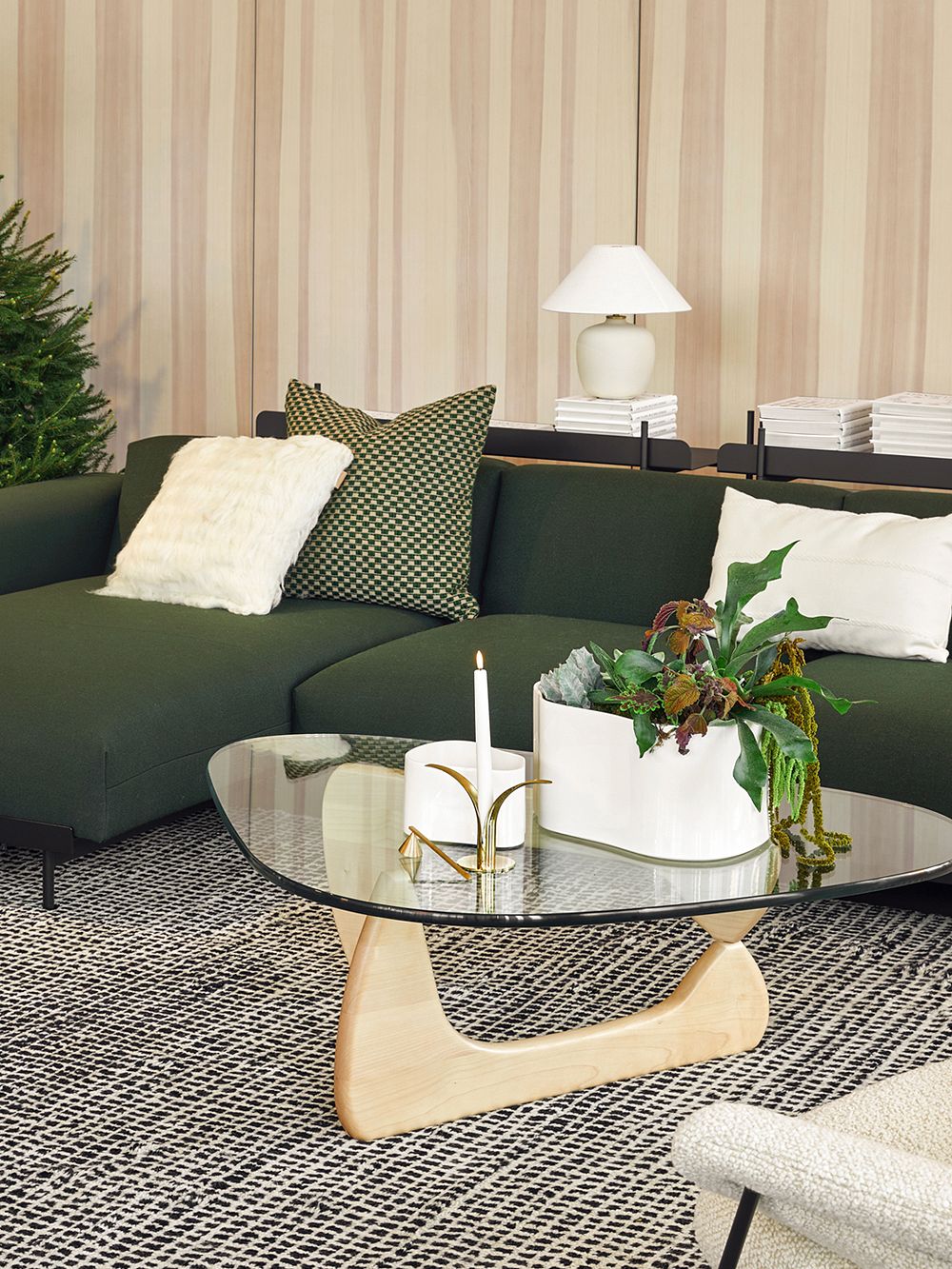 Generating waves
What would Christmas be without the seasonal flowers and decorations that draw on the beautiful winter scenery? Pine twigs and wreaths are a good way to add a splash of green into the room, but if you feel this it still needs something more, you can add more shades using elements such as different decorative textiles, for example. Earthy shades of green work just as well even after the Christmas holidays are over. At the showroom, Muuto's forest green, modular In Situ sofa echoes the shades of the pine twigs and other surrounding plants.
Artek's Riihitie pot is multi-purpose classic that can also be transformed to fit a seasonal decoration. It can be used to display pine or spruce twigs, mosses and other natural decorations that you can find in your local forest. Create an elegant arrangement by filling the bottom of the low pot with gravel or old newspapers and arrange twigs and other elements on top. The curved shape of the pot also makes it a great match for hellebore flowers.
• Artek's Riihitie pot >
• All vases >
---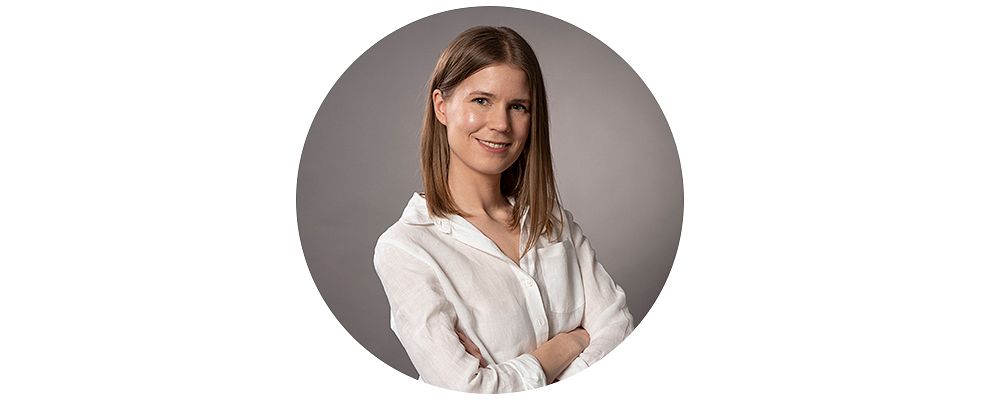 Interior architect Maija Rasila picks the most inspiring products, objects and issues of the month from novel and classic items. Modern Scandinavian style can be spiced up with plenty of details, surprising colors and personal touches.
---
See also:
• Finnish Design Shop's showroom >
• All items at Finnish Design Shop >
Text: Maija Rasila Images: Suvi Kesäläinen and manufacturers