In Kaisu Kaplin's home, art brings color to the Scandinavian interior. The works of art have been carefully selected and have found their place with time. Kaplin tells Design Stories about her art collection and gives tips on how to acquire art.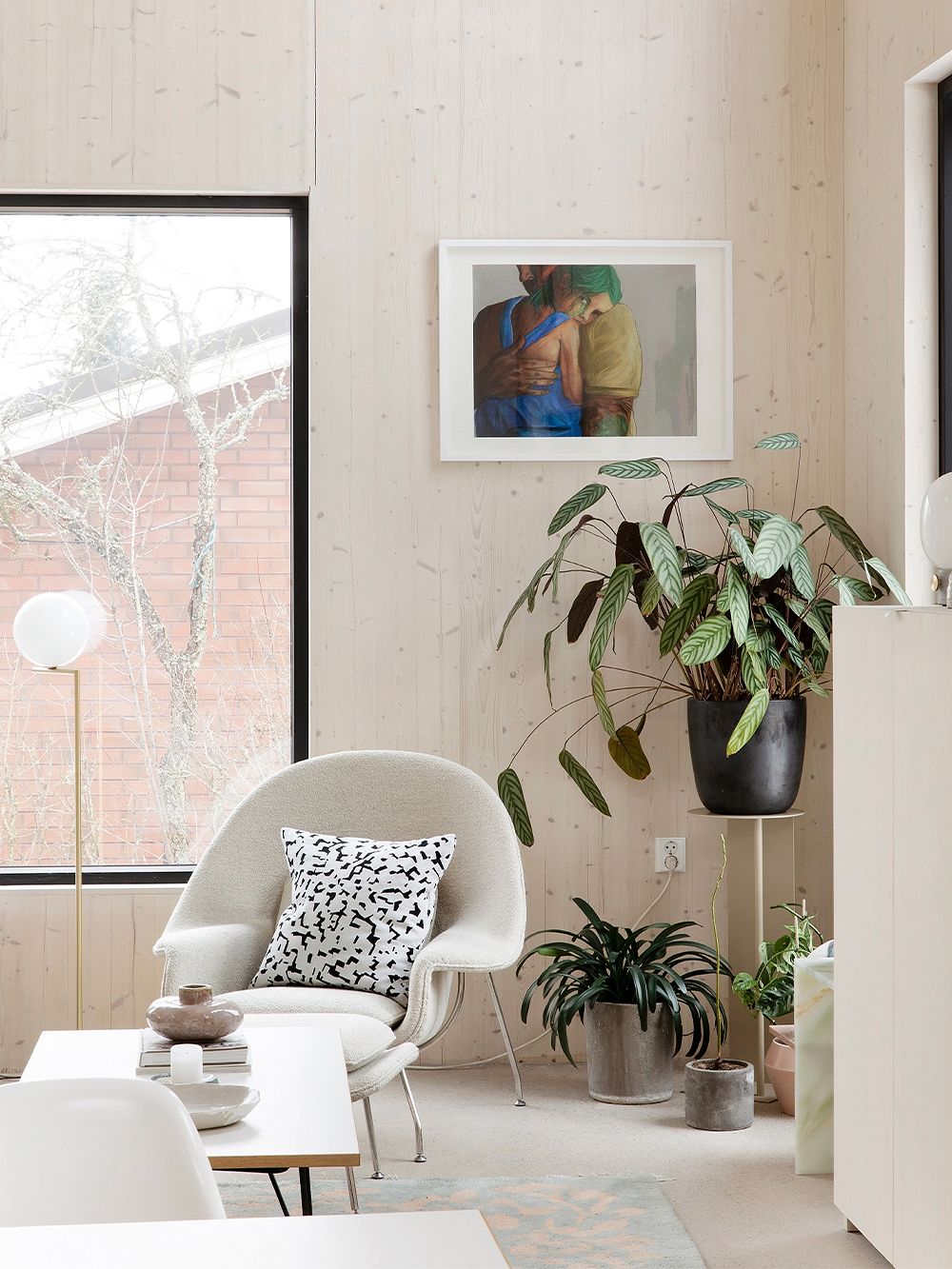 Residents:
Photographer Kaisu Kaplin, spouse Kai, children Leevi and Aapo and Simo the dog. Their home is a 150-square-meter detached house in Järvenpää in southern Finland.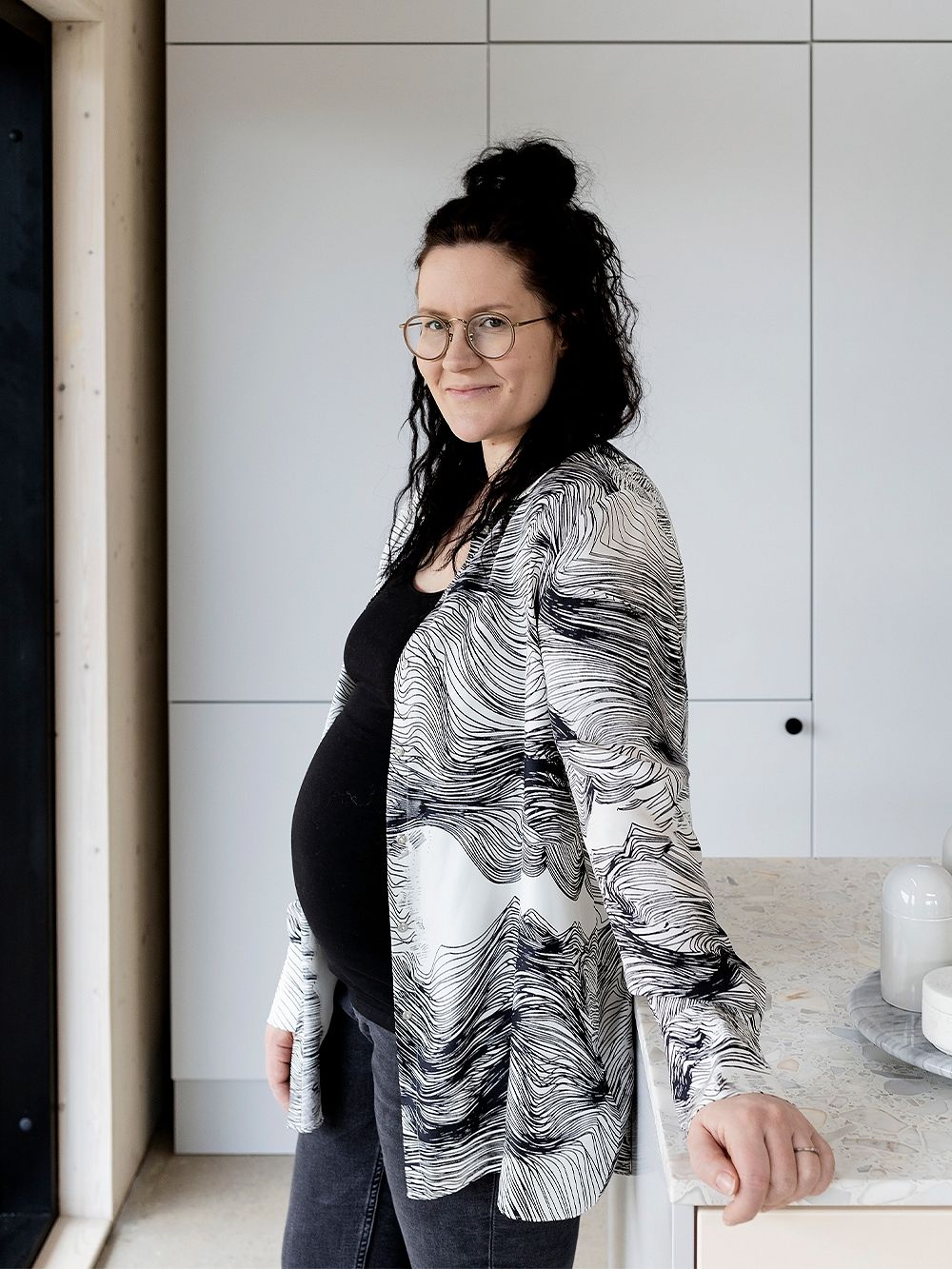 PHOTOGRAPHER KAISU KAPLIN'S family home in Järvenpää is charmingly fresh and bright. The house, completed in 2020, is built of CLT elements, which means cross-laminated solid wood, and inside the house, the spruce wood surface has intentionally been left in view. The lye-treated wooden surfaces, finished with glaze paint, provide a crisp and clear setting for the modern, Scandinavian interior décor.
Art, an important element in the home, is present in almost all rooms. Many of the pieces are by Kaplin herself, while others have been obtained directly from artists. Intense paintings define the space most clearly, but there are also expressive ceramic design items on the shelves. There is a lot of art as is, but Kaplin believes that the current collection will continue growing.
"Our living room-kitchen is almost seven meters high. Only a fraction of the wall area is in use at the moment and I'm sure it will be filled with art over time. Still, I also love the feeling of empty space and the beautiful CLT surface," says Kaisu Kaplin.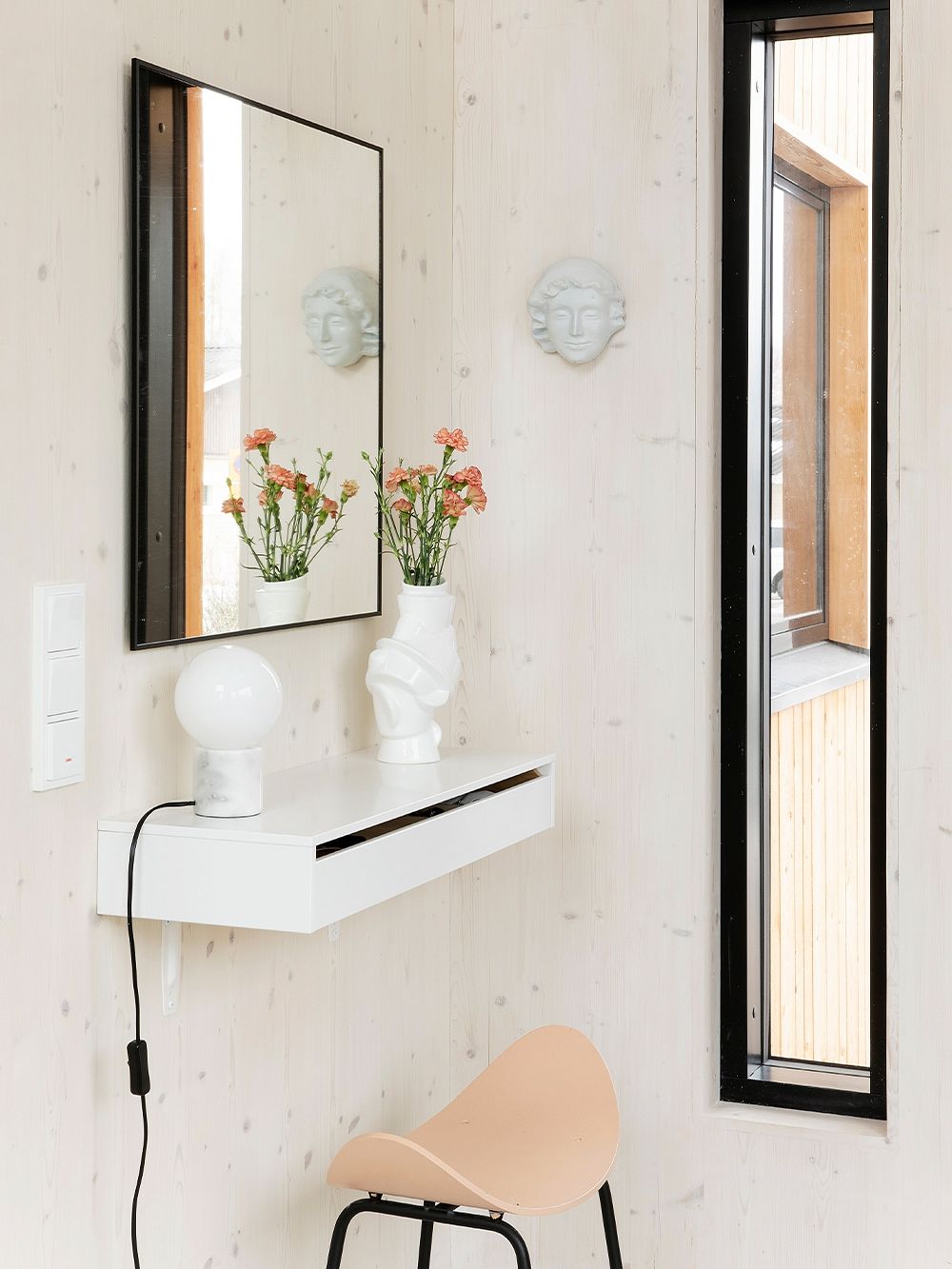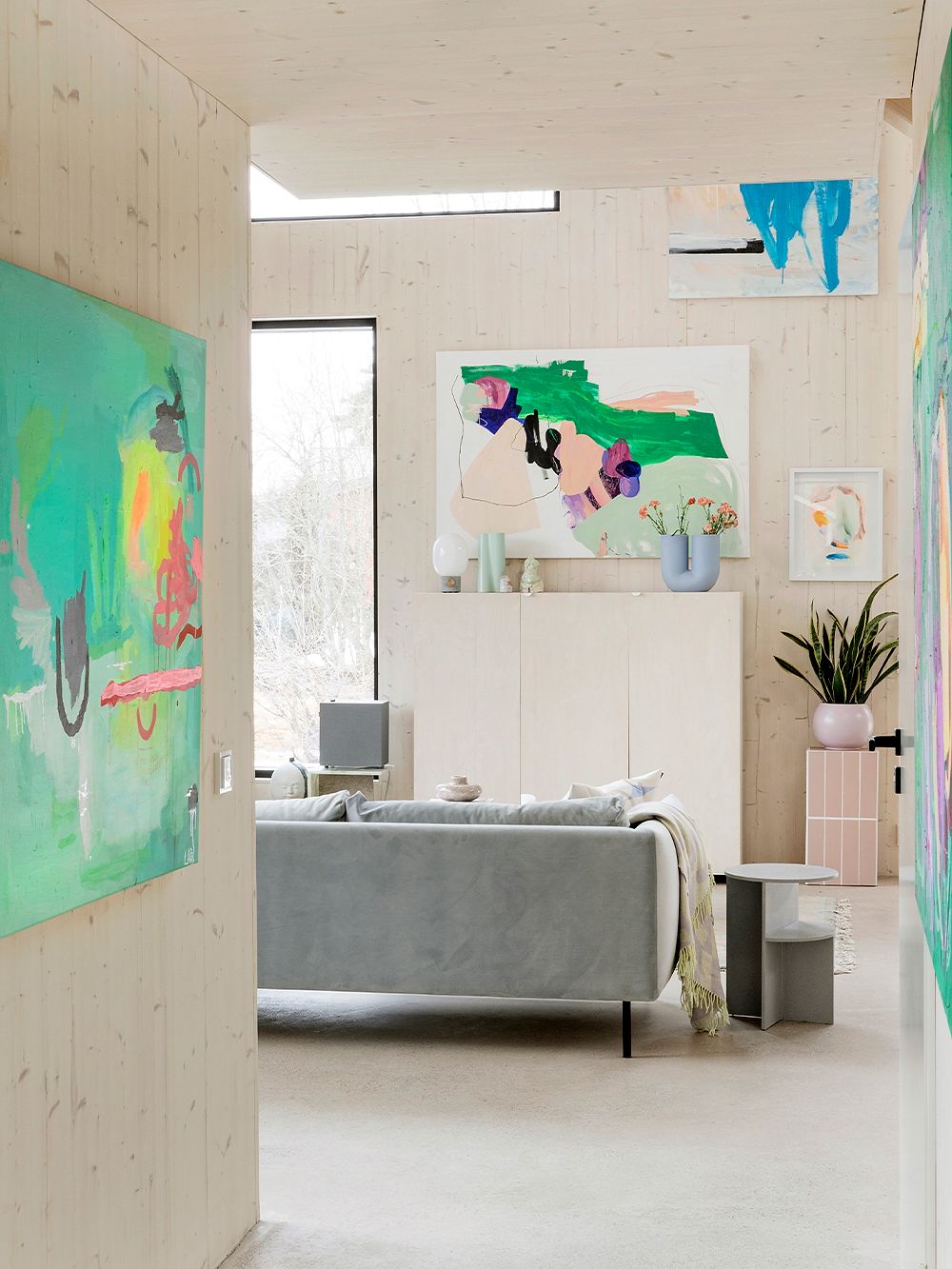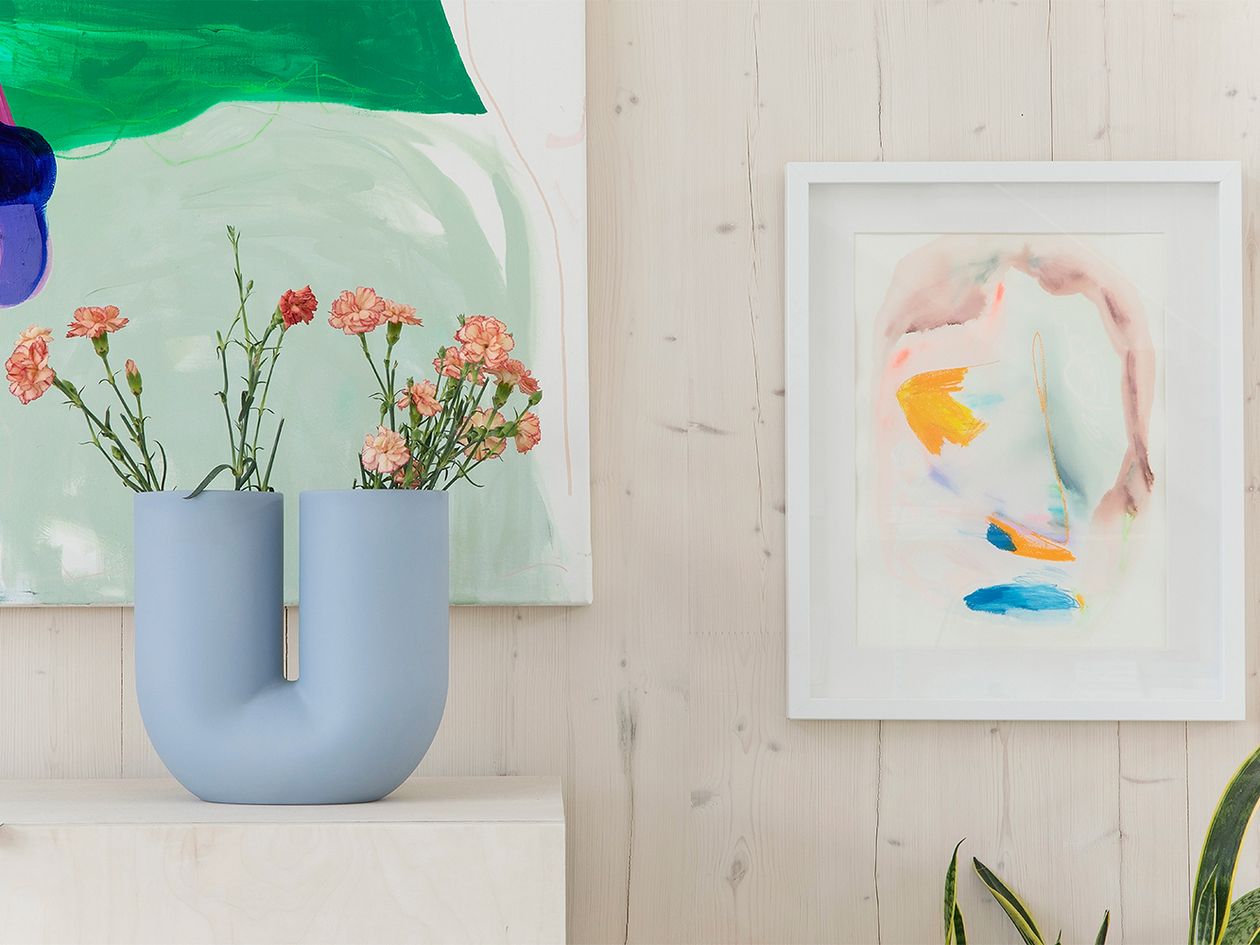 What is the role of art in the interior décor of your home?
"It's huge! Art invigorates, brings joy and changes the atmosphere of the home completely. The works of art are like souvenirs, and each has its own story. I remember clearly how I found each work of art and why I fell for it.
I like my home to have unique things that you don't come across anywhere else. It is thrilling to know that we are the only ones that have a certain work of art. I also appreciate handmade ceramics and our kitchen cupboard is a work of art on its own. Art delights me every single day: sometimes I pause and look at the art, and sometimes it just blends in with the overall atmosphere of the home. Art makes the home our own."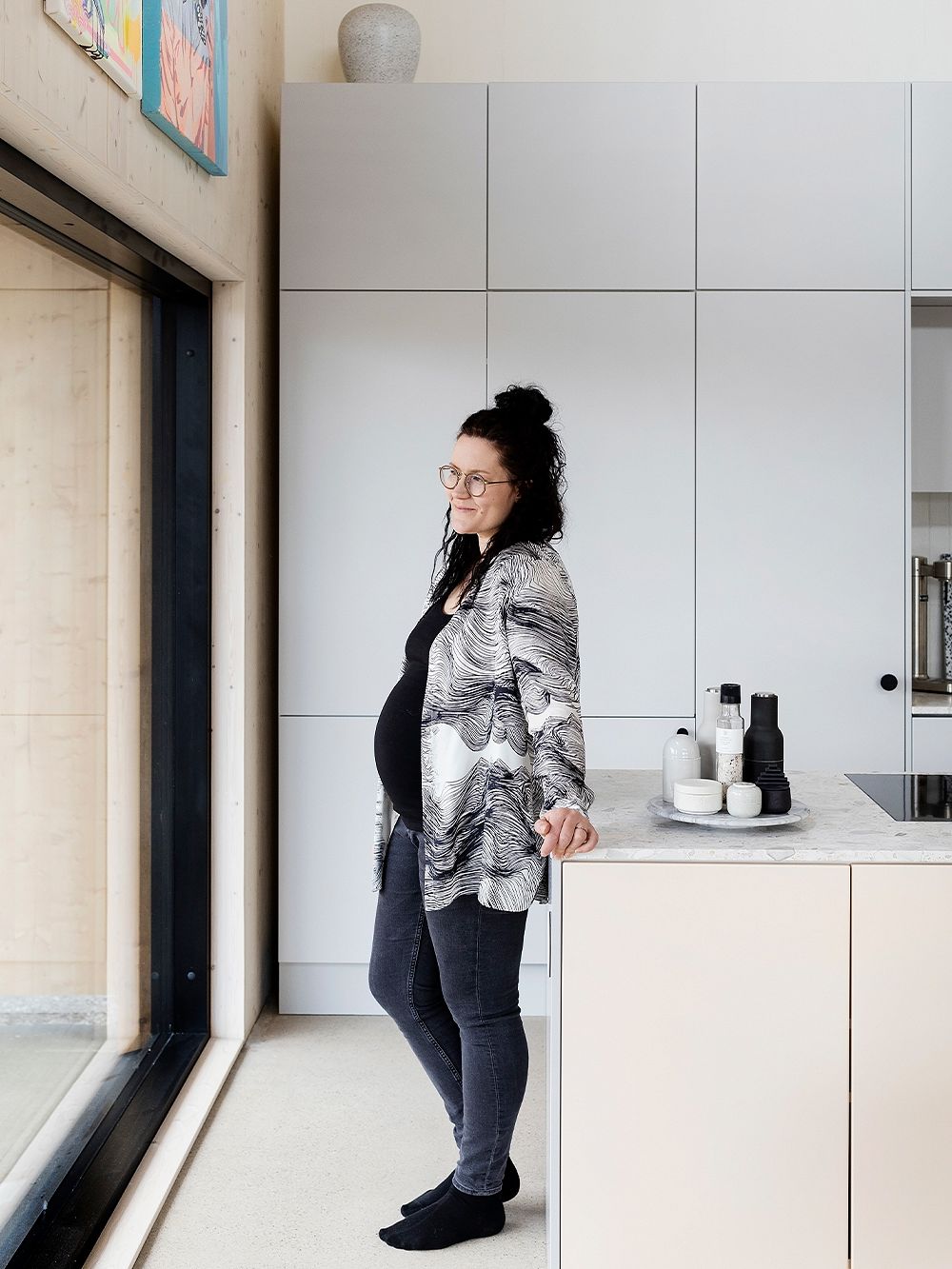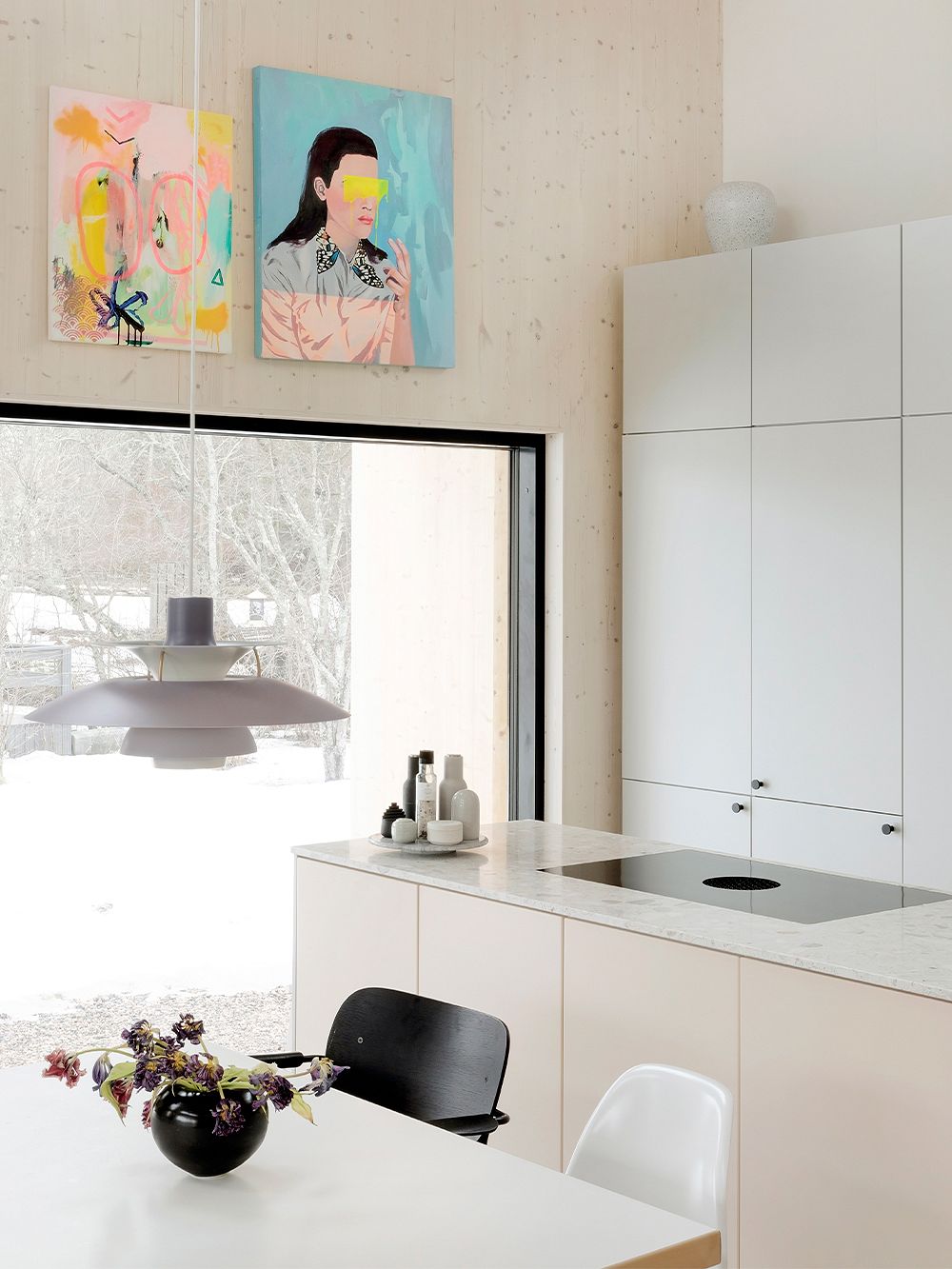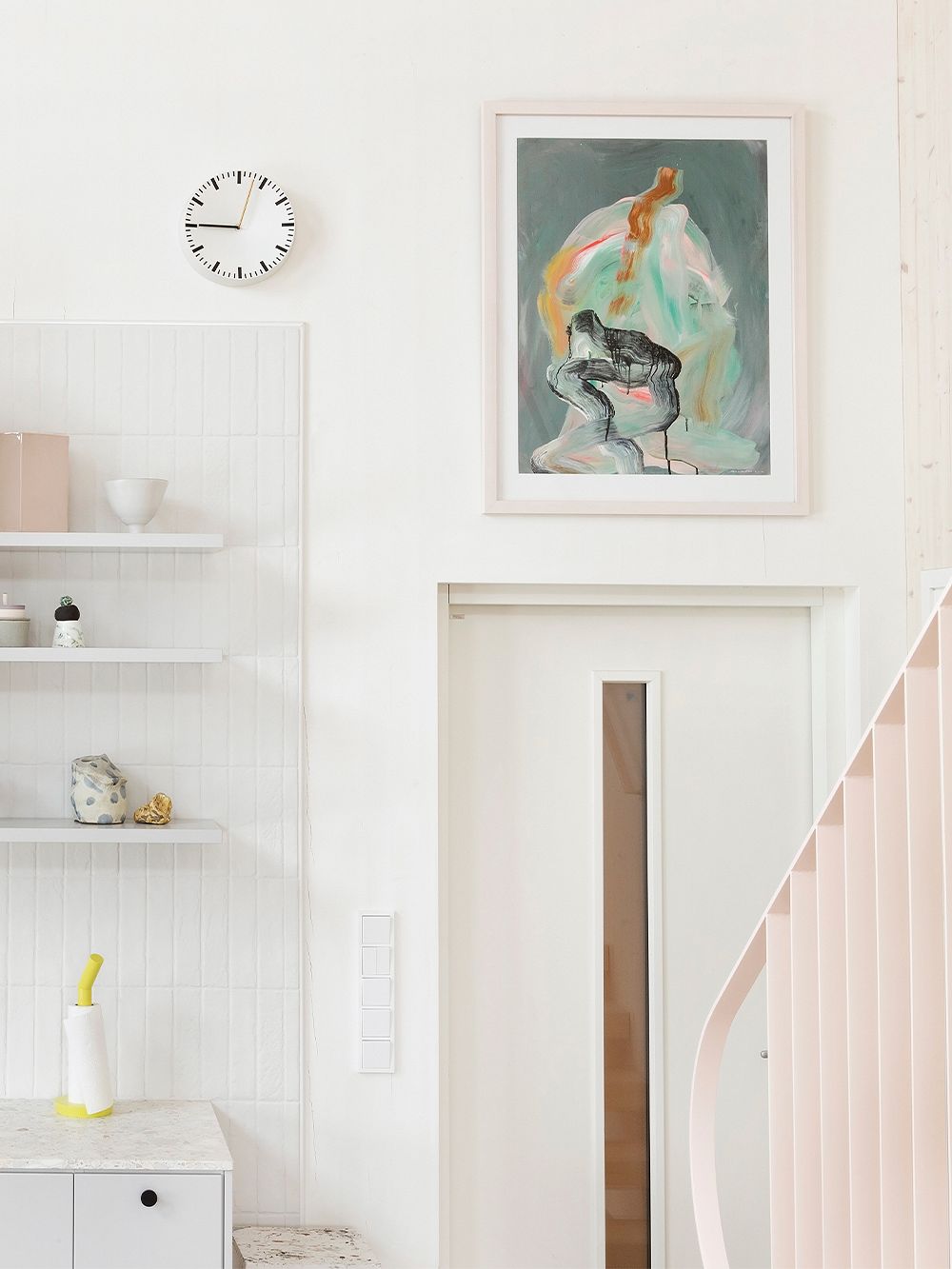 How have you selected the works?
"I like abstract and special works of art. Every single piece we have is contemporary art. If it is figurative, it usually has some unrealistic elements in it, such as green hair and a yellowish face.
I love colorful art. I remember well when pastel shades became trendy almost a decade ago. I have gone through many interior design styles: from hippie style to adoring the color red, from the combination of green and brown to a strictly black and white milieu. When the pastels came, I wondered how long this phase would last. Surprisingly, it has now lasted nine years. Something in that color scheme touches my soul.
Some works of art involve strong emotions. Lauri Ahtinen's painting on the kitchen wall is the first painting I've ever bought and it is the most meaningful. My grandmother died and we, her grandchildren, received a small inheritance in advance. I invested the money in this painting and now it always reminds me of my grandmother."
"The works of art acquired for our home must turn heads to a suitable extent, and somehow match each other."
What will come after the pastel shades?
"For a visual person, the balance of colors is the most important aspect of a work of art. It doesn't mean that it would be boring or without contrasts – it can feature crazy counter-colors or neon colors. The whole, however, must be balanced.
I really enjoy the earthy tones that are trendy at present. I just got one art poster in shades of brown. But I can't find a place for it! The poster seems to require a harmonious color scheme to surround it, perhaps with some green plants. It is clear that the works of art acquired for our home must turn heads to a suitable extent, and somehow match each other.
I think that eventually, everything gets boring and styles change. I don't plan on selling my art, but I think I'll get different styles of art in the future. That, in turn, will mean changes in the color scheme and atmosphere of the interior as well. I believe I can keep the whole under control."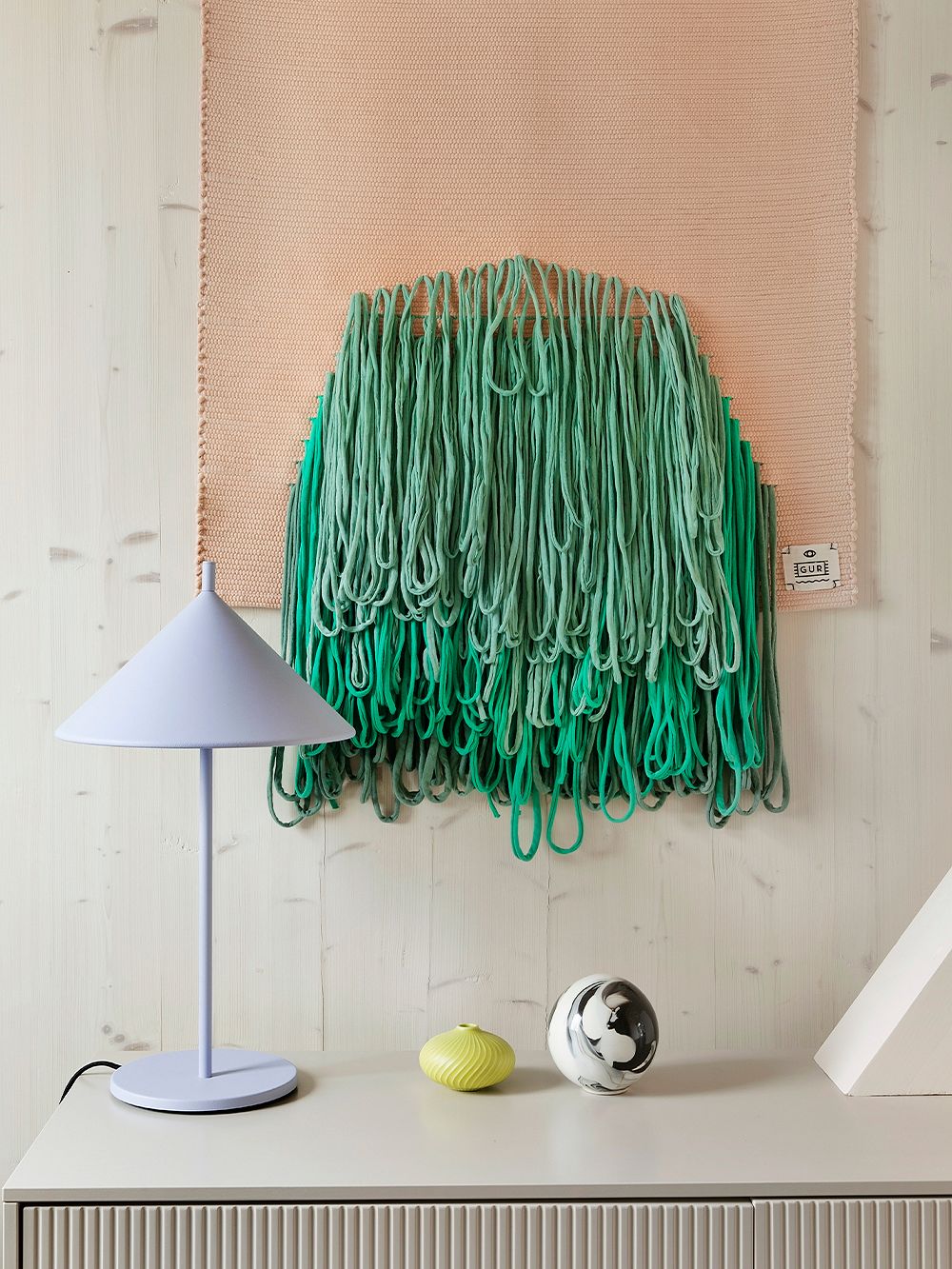 Share your best tips for acquiring art! Where to find and buy art?
"I must confess that I'm the laziest person in the world when it comes to visiting galleries. I often browse the web pages of artotheques, but I've found most of the artists I like on social media, or in big events, like the Sales Event of the Finnish Painters' Union. When the style of an artist pleases me, I occasionally follow their production on social media and get in touch when I see something I like. For years, I've also spotted newcomers at Aalto University's sales events. Price is often a decisive factor because of my limited budget."
Which artists' production do you follow at the moment?
"I keep an eye on the artists whose work I already have, but also a few whose work I would sometimes like to own. Interesting ones include Elisa Tuohimaa and Valtteri Kivelä, whose paintings I would love to display. Ia Kähkönen's textile works would suit us well and Elina Ahlstedt makes wonderful ceramics."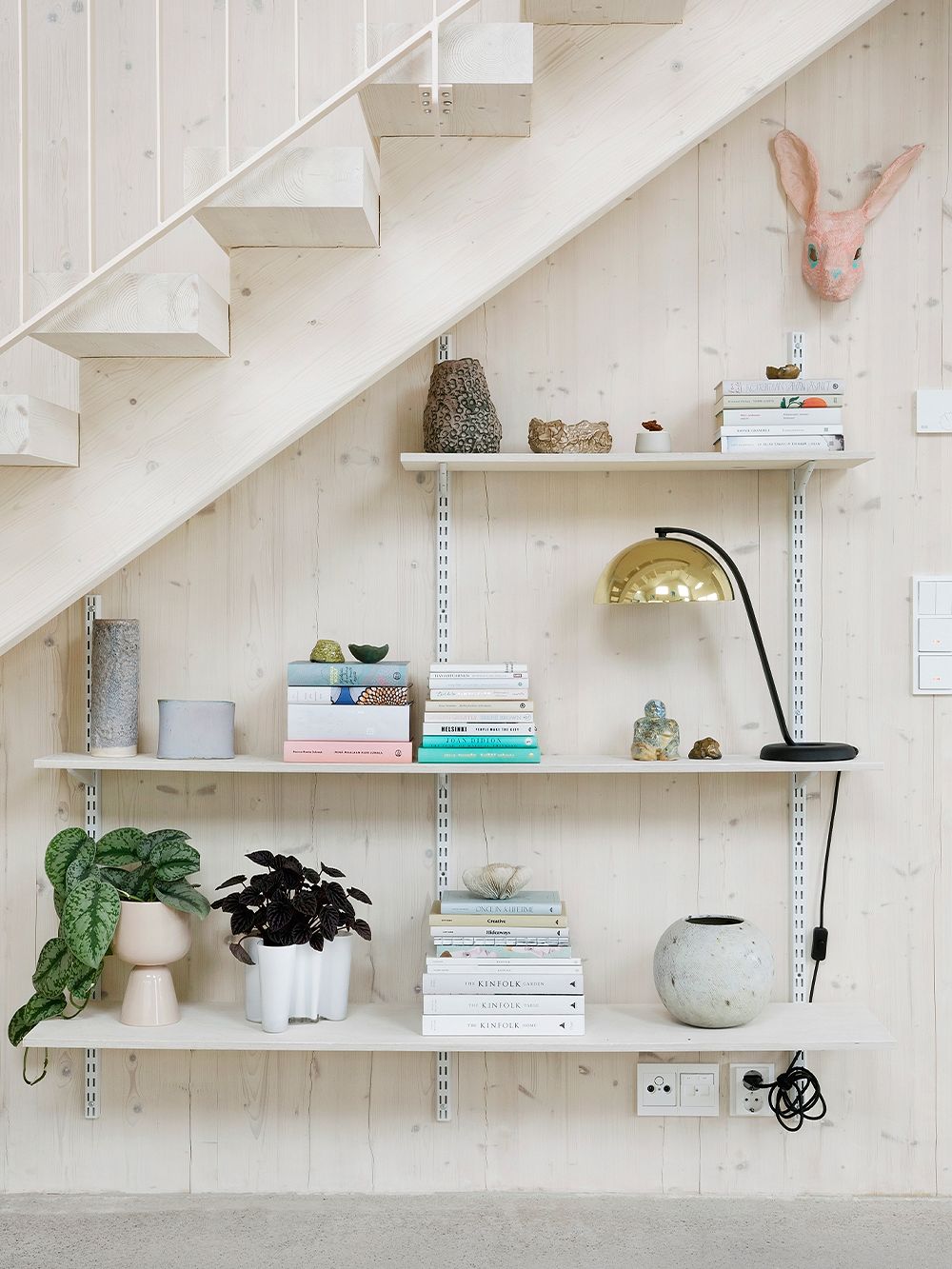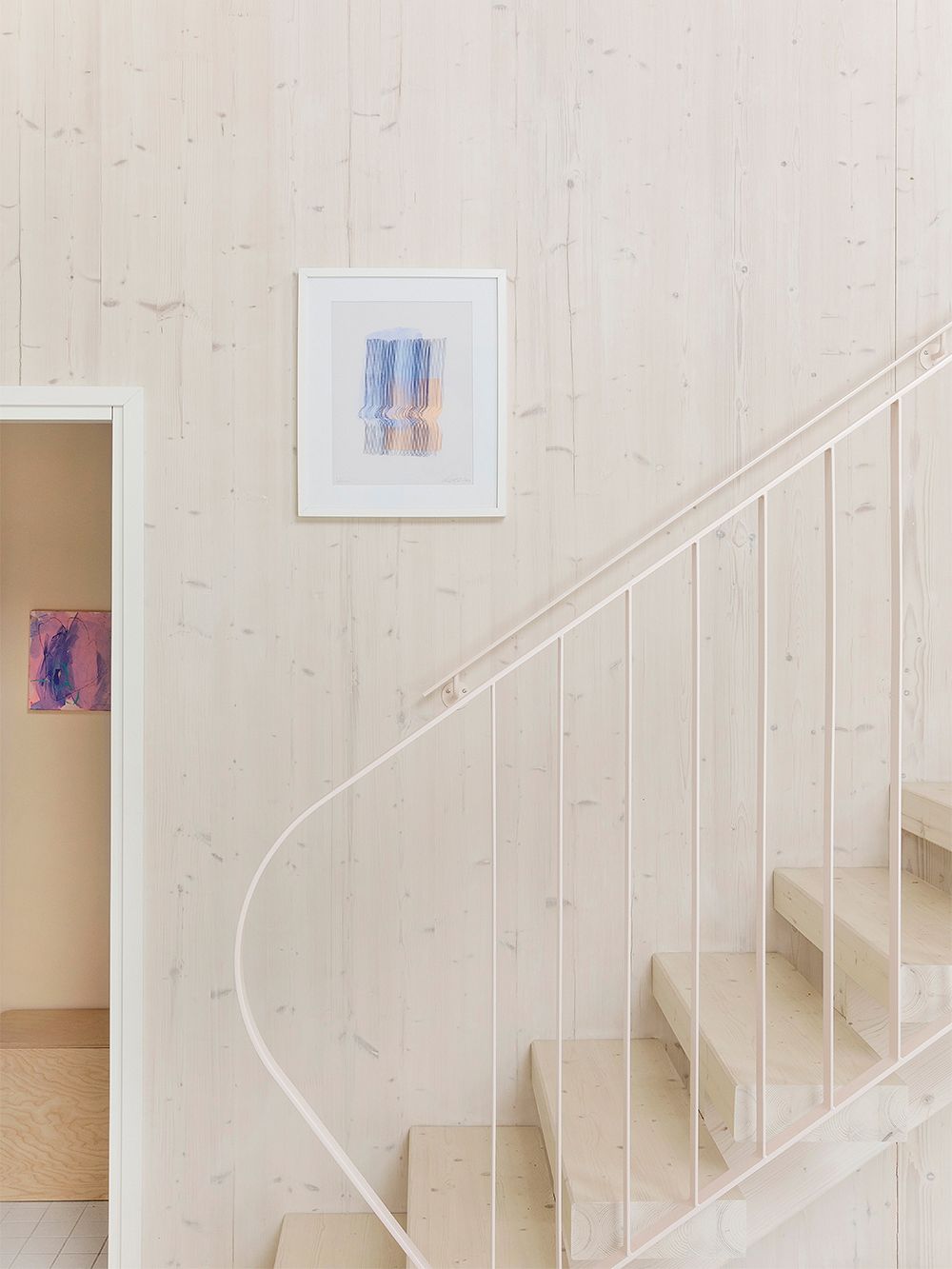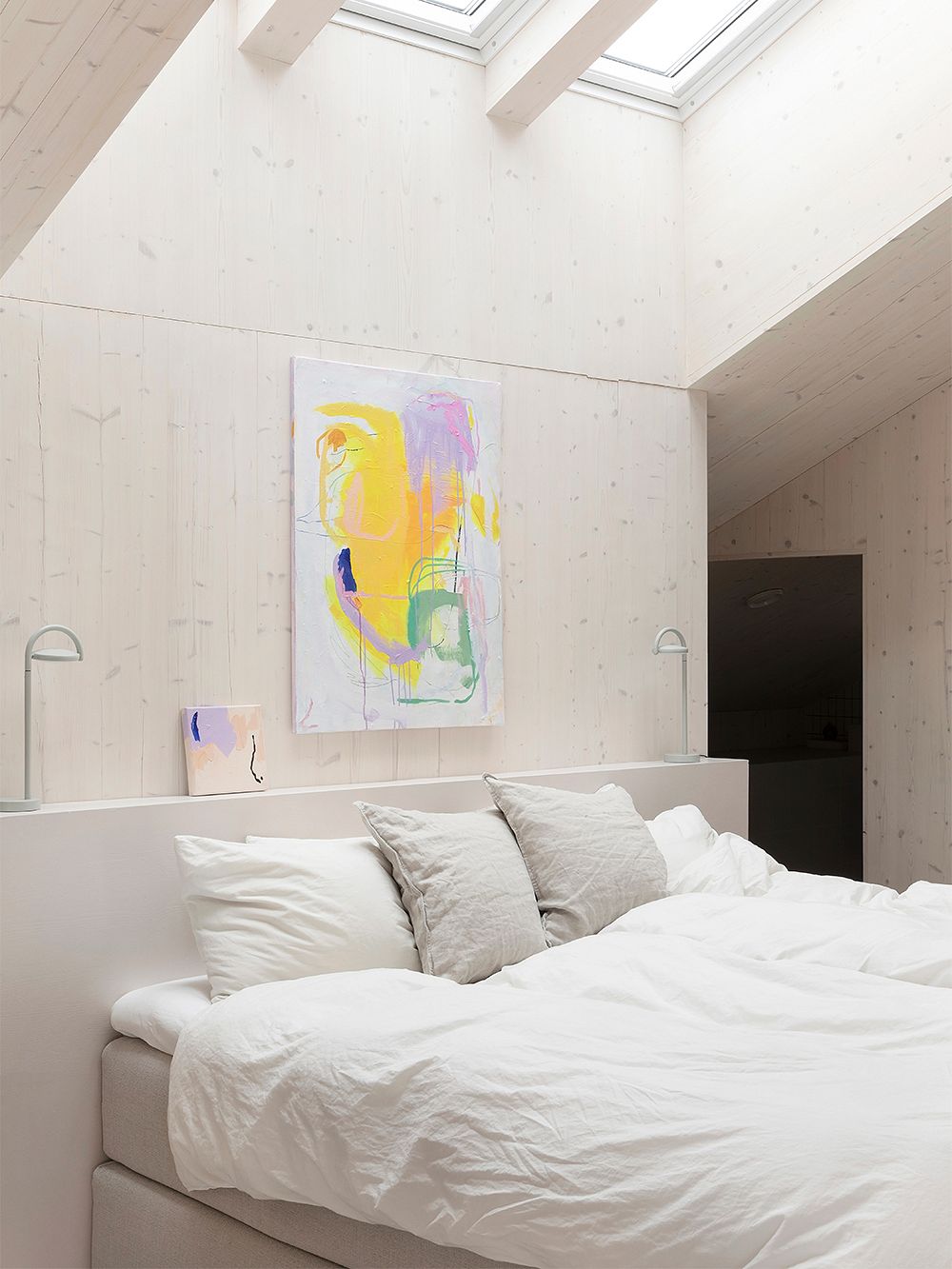 How do you find the right place for a work of art?
"I give a lot of thought to the placement. Even a single piece can make an impact, but it must also find a place in the home. If that doesn't happen right away, the painting will wander around the house, leaning against walls, which means that I want to see what it would look like in different places. So far, every work of art has found its place. I also paint and make ceramics myself, and the collection is growing all the time. Whenever a new piece is added to a wall or a countertop, it usually creates a domino effect and several others change places."
What is your favorite work of art at home?
"The ones that have found their place seem significant and every one of them adds something to the interior. I can't pick a favorite, as there simply isn't one! I get tired of things pretty easily, but with art, that has not happened yet. Every single work of art feels important to me.
For us, art is the most important element in interior design. Of course there is beautiful furniture and lighting, but the unique works of art are the point in our home."
See also:
• Art at Finnish Design Shop >
• Posters at Finnish Design Shop >
• Kaisu Kaplin on Instagram >
Text: Mikko Vaija Images: Kaisu Kaplin