Heini Riitahuhta loves beautiful dinnerware and table settings, which she uses to make day-to-day dining something special. Tomato soup is served from a flower mug she designed herself.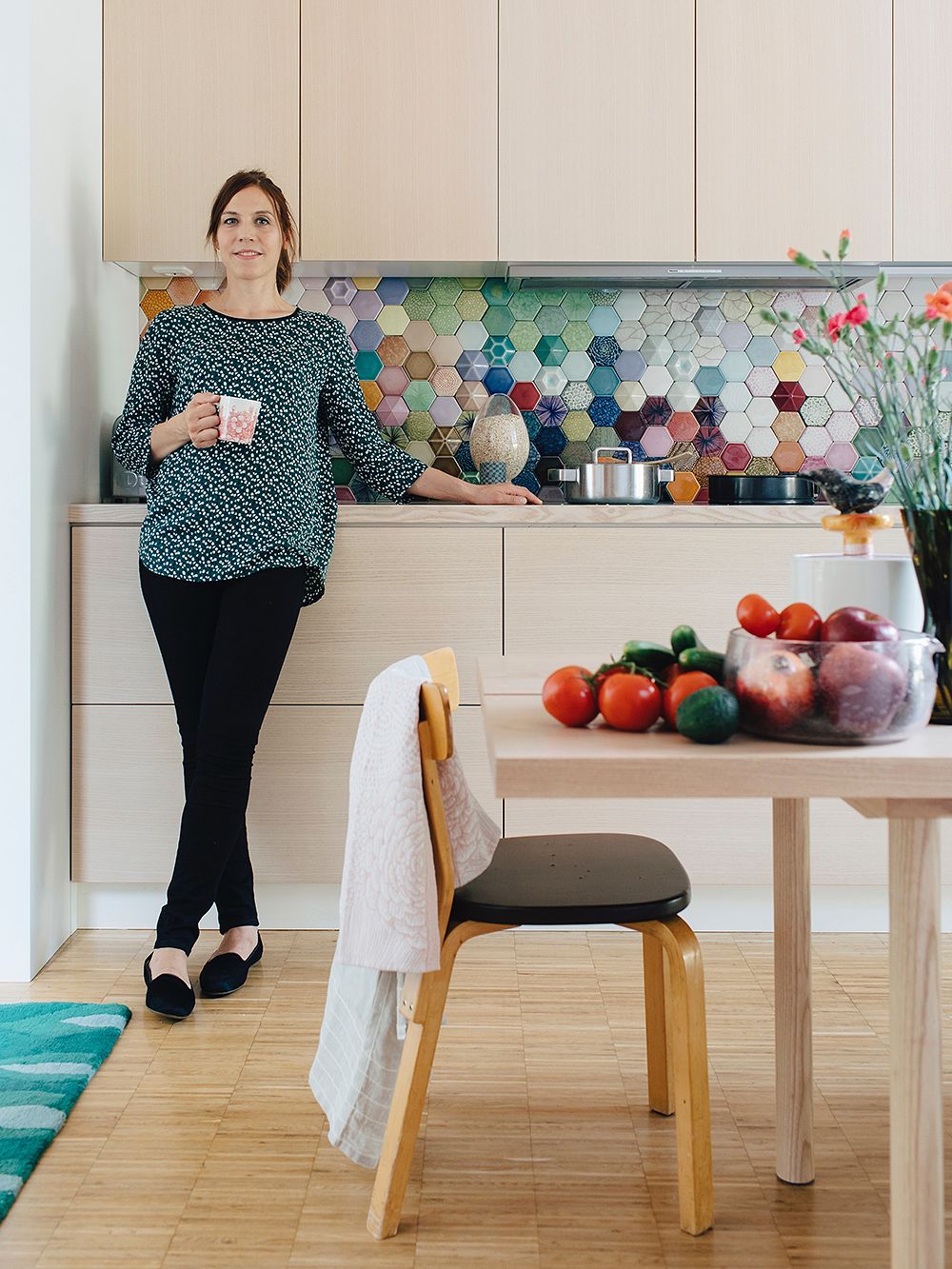 Residents:
Heini Riitahuhta, who works as an independent ceramic artist in the art department at Arabia, her husband, Mikko, and children, Aamos, 5, and Ruut, 10. The timeless ash wood kitchen is in a modern three-story row house in Helsinki's Arabianranta. Food philosophy: All food tastes better, when it is served from beautiful dishes in good company.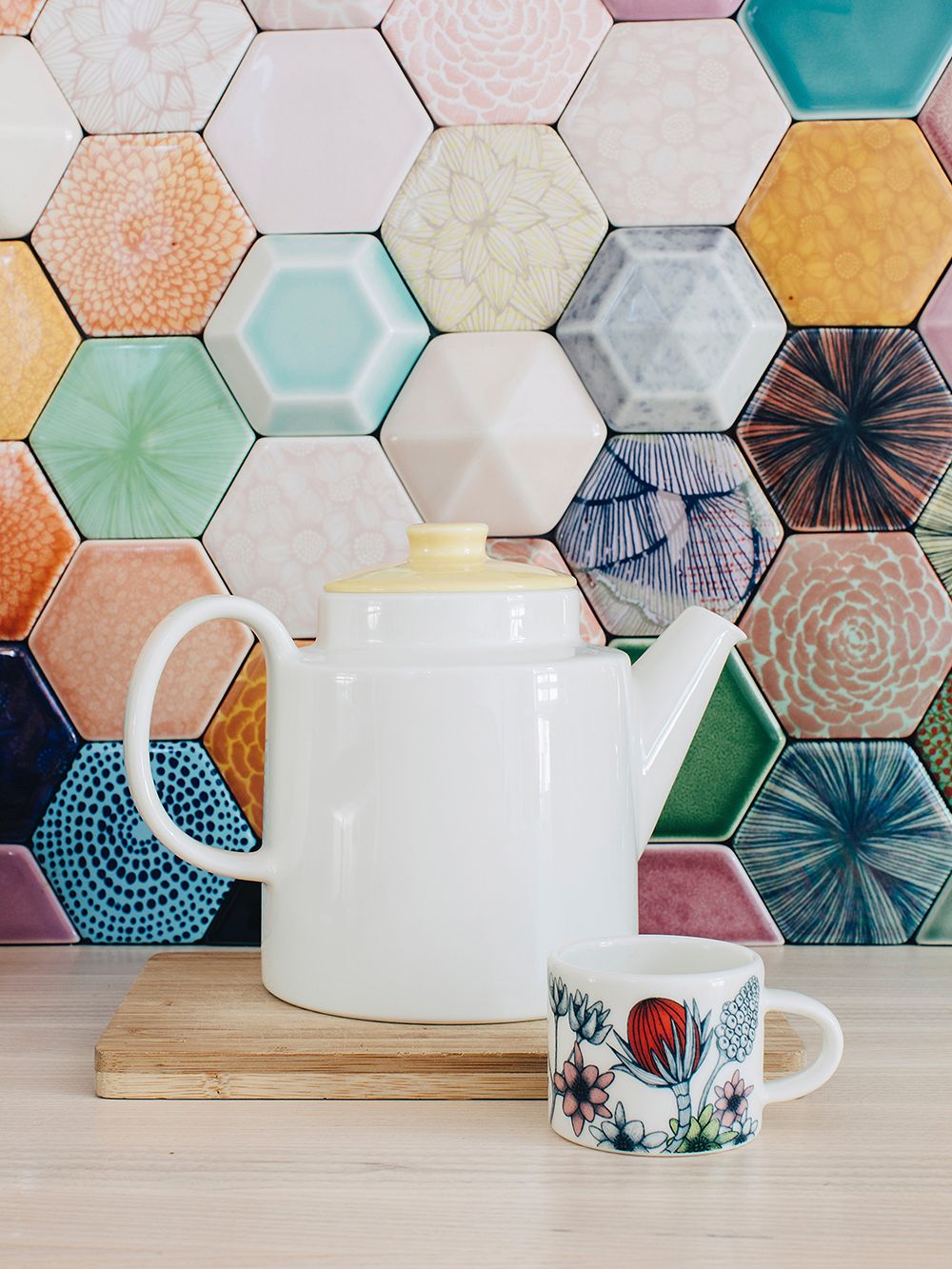 THE COLORFUL KITCHEN does not have a shortage of dishes. The cabinets and drawers have Runo dishes, designed by Heini Riitahuhta for Arabia, decorated with graphic flower designs, as well as a large amount of vintage Arabia and Iittala dishes.
There are at least a couple hundred coffee mugs, which have accumulated over the years. These are in a drawer, arranged by color, either right-side up, or down. "We have two schools of thought. I put the mugs in upside down, and my husband right-side up," Heini says.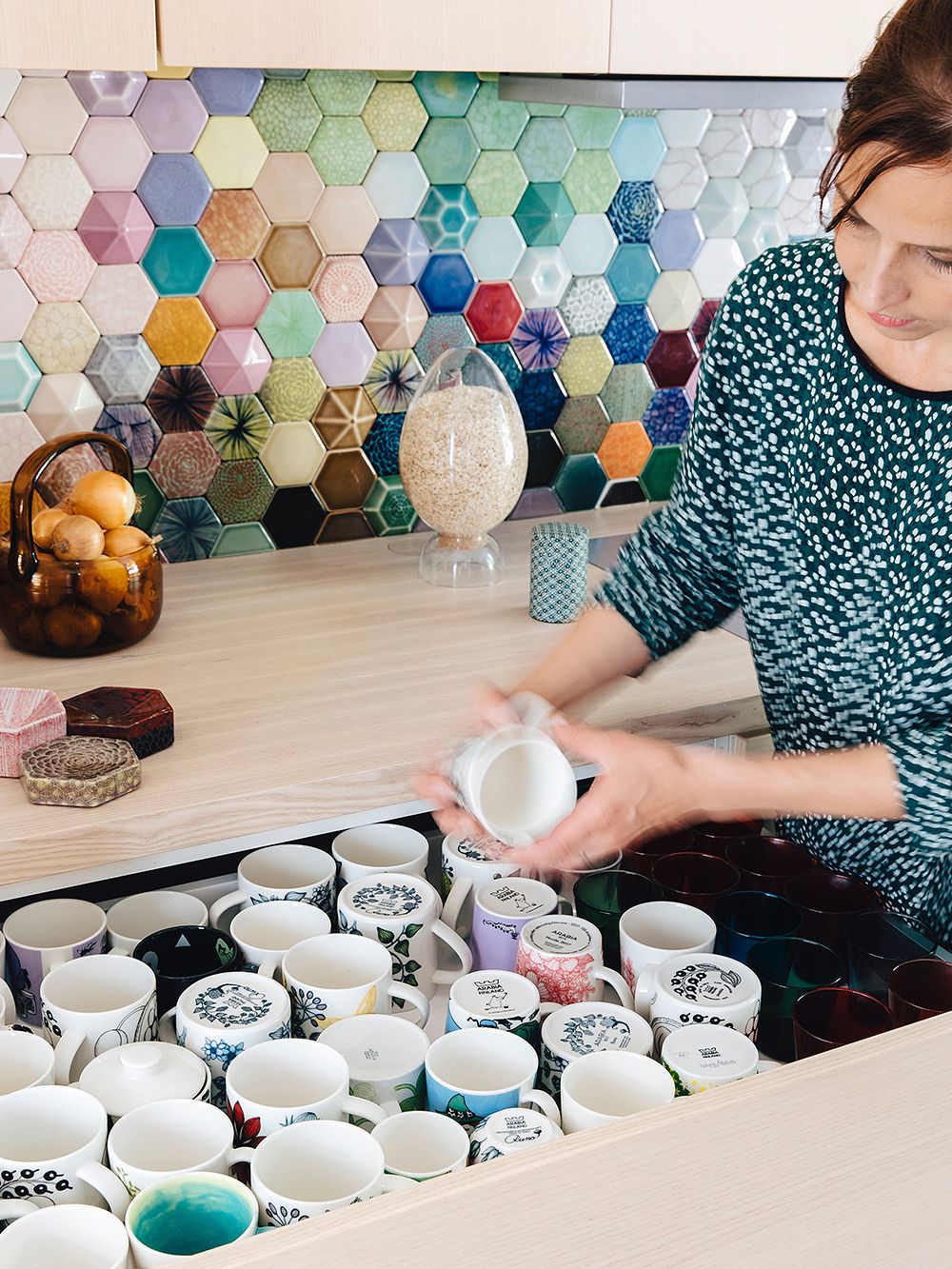 The family has a clear division in cooking. Heini makes the everyday food, Mikko on special occasions. Heini likes to make filling salads and Finnish comfort foods, like macaroni casserole and meatballs. "My mother was a vegan, and she always made special health foods. Maybe that is why I wanted to start making traditional, home-cooked food."
In a ceramicist's family, even everyday place settings are creative.
In a ceramicist's family, even everyday place settings are creative. Heini usually sets the table with her children, Ruut and Aamos. The children like cloth napkins and pedestal glasses, such as Tapio Wirkkala's textured Ultima Thule glasses. They combine the dishes with an unconstrained style, according to patterns and colors. Just about every week there is a cause for celebration, like the birthdays of stuffed animals. "Part of the fun of ordinary days are nice dishes. They put you in a good mood," Heini says.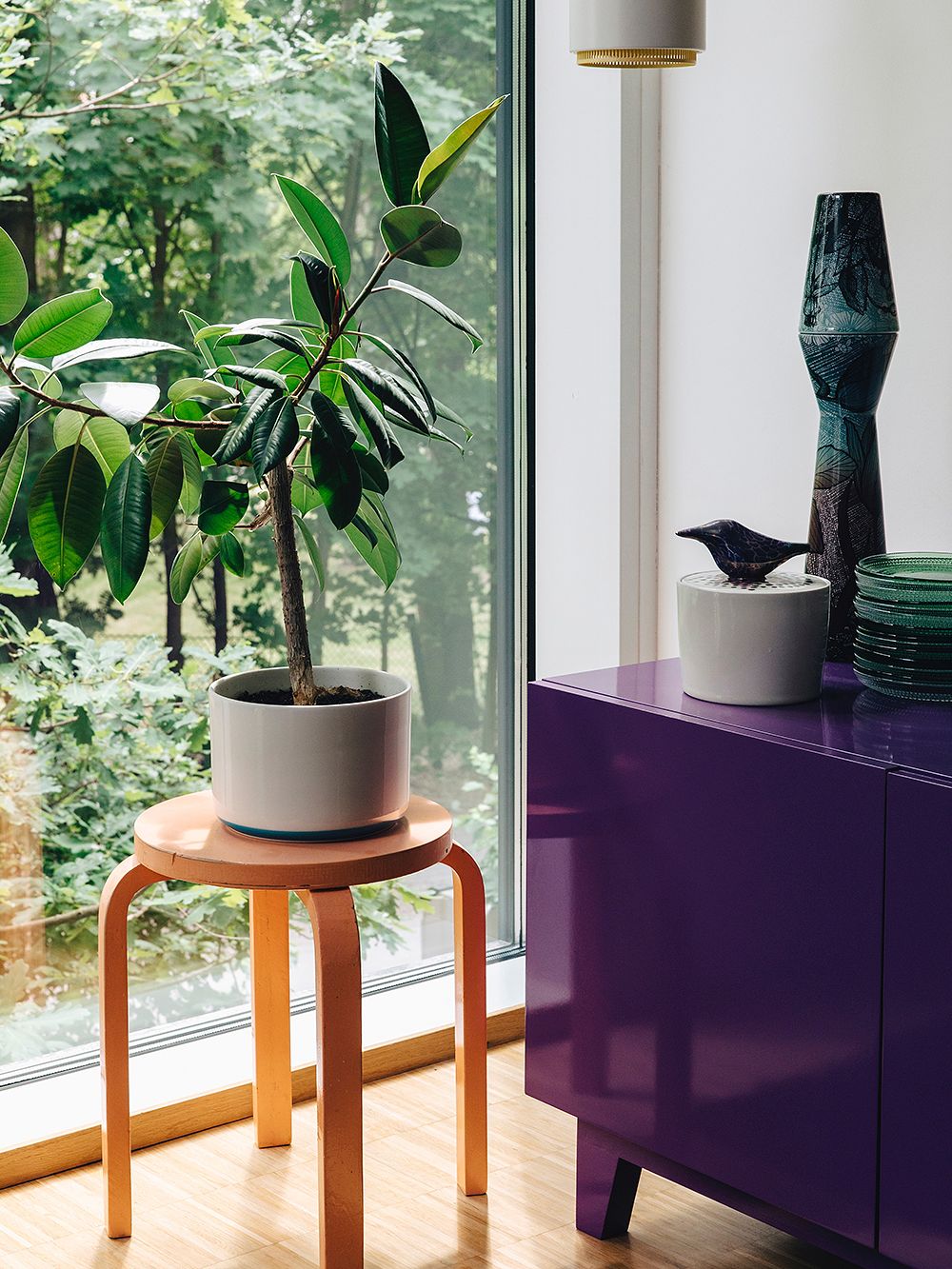 The ceramic artist has decorated the backsplash in her kitchen with hexagonal ceramic tiles. The unique hexagons are pieces accumulated from various stages of Heini's work: layered color, glass, and painting experiments. These three-dimensional tiles are what the artist has used to create works of different shapes in public areas. The newest of these is in progress in the lobby of a new apartment building in Helsinki's Redi shopping center. "The reception desk in the lobby will also have colorful hexagons sunk into the table top."
The dining room table at the artist's home also has a cluster of different colored and patterned hexagons. They work even as a dessert set. Heini drops a scoop of ice cream into one, and a handful of frozen cranberries into the other. With the berries, she serves home-made mud cake. "This delicacy is supposed to be quite flat. Which is good, because I am not very good at baking cakes."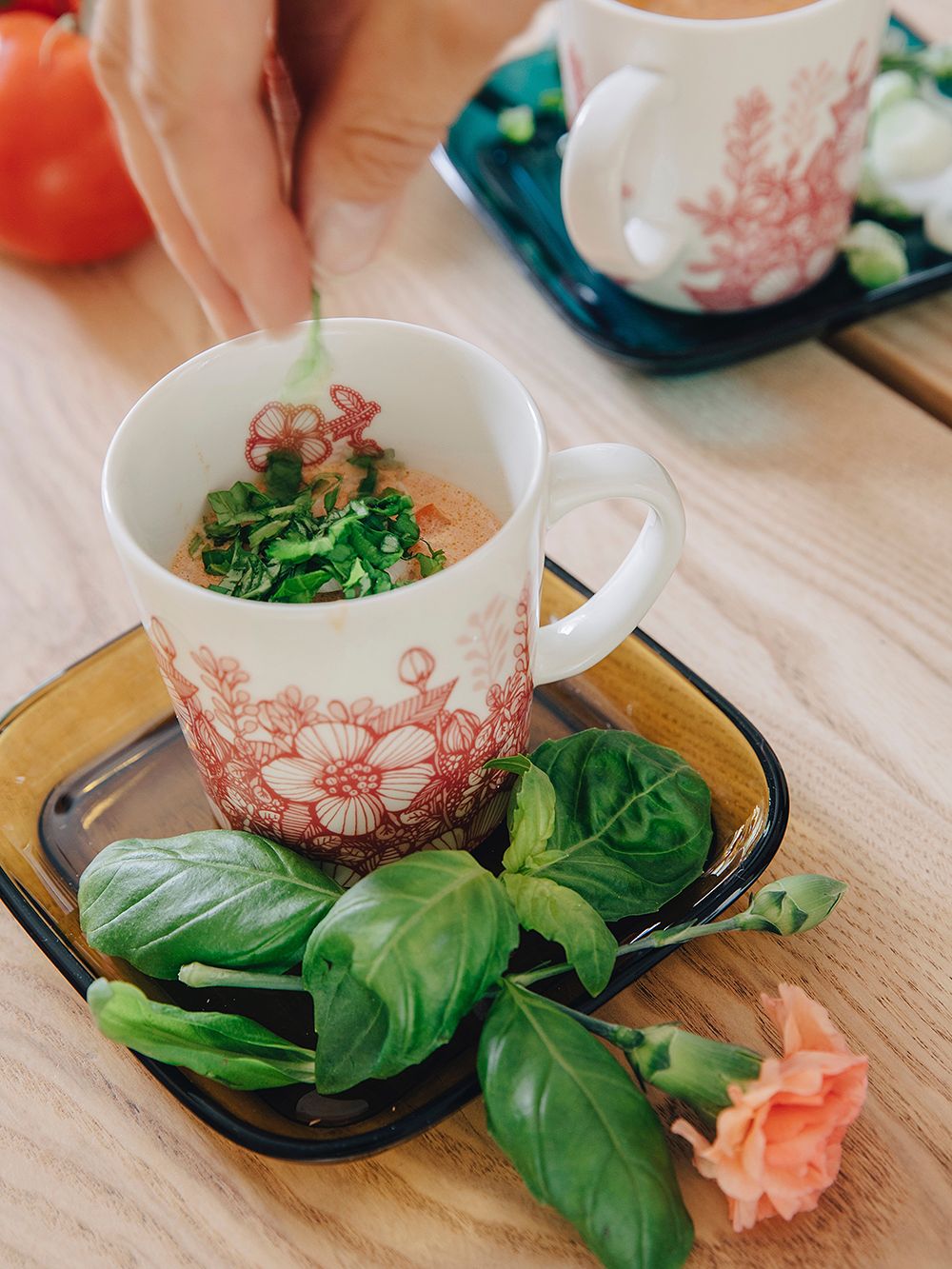 The recipes:
Tomato soup (8–10 servings)
1½ dl long grain rice
2 liters water
2 kg ripe tomatoes
1 onion
1 bell pepper
2 dl cream or 200 g cream cheese
vegetable oil for frying
salt, pepper
a few spring onions
1 pot of basil
1. Chop the bell pepper and dice the onion. Sauté them in oil in a saucepan. Add the water and rinsed rice. Heat until the water boils and set a timer for the cooking time of the rice.
2. Chop the tomatoes finely. When half of the cooking time of the rice has passed, add the tomatoes.
3. Add the cream at the end. Add salt and pepper.
4. Add finely chopped spring onion to the finished soup, and the chopped basil.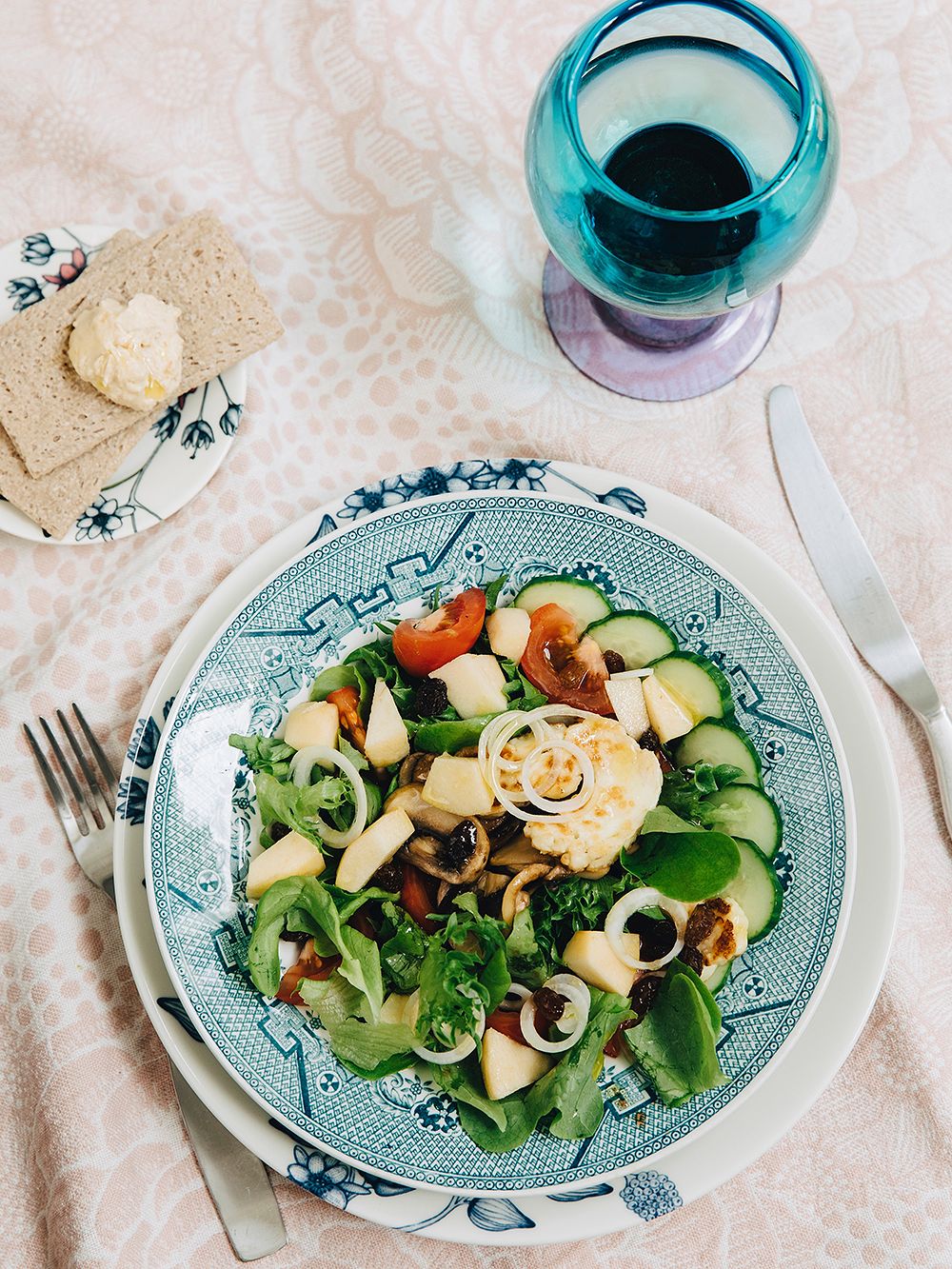 Halloumi and mushroom salad (4 servings)
various lettuce leaves
1 apple (domestic or Pink Lady)
4-5 small tomatoes
1 cucumber
1 package of halloumi cheese
8 domestic common mushrooms
spring onions
2 avocados
fresh herbs
organic raisins
virgin olive oil
balsamic vinegar
salt
1. Rinse and shred the lettuce leaves. Wash and chop the cucumber and tomatoes. If necessary, peel the apple and cut it into slices. Chop the spring onions and the split avocados.
2. Clean the mushrooms and remove the stems. Fry the mushrooms in oil in a pan. Add salt. Fry the chopped halloumi.
3. Set all of the ingredients as a bed on a serving tray, or plates. Finish with herbs and raisins. Sprinkle with olive oil and vinegar. Serve immediately.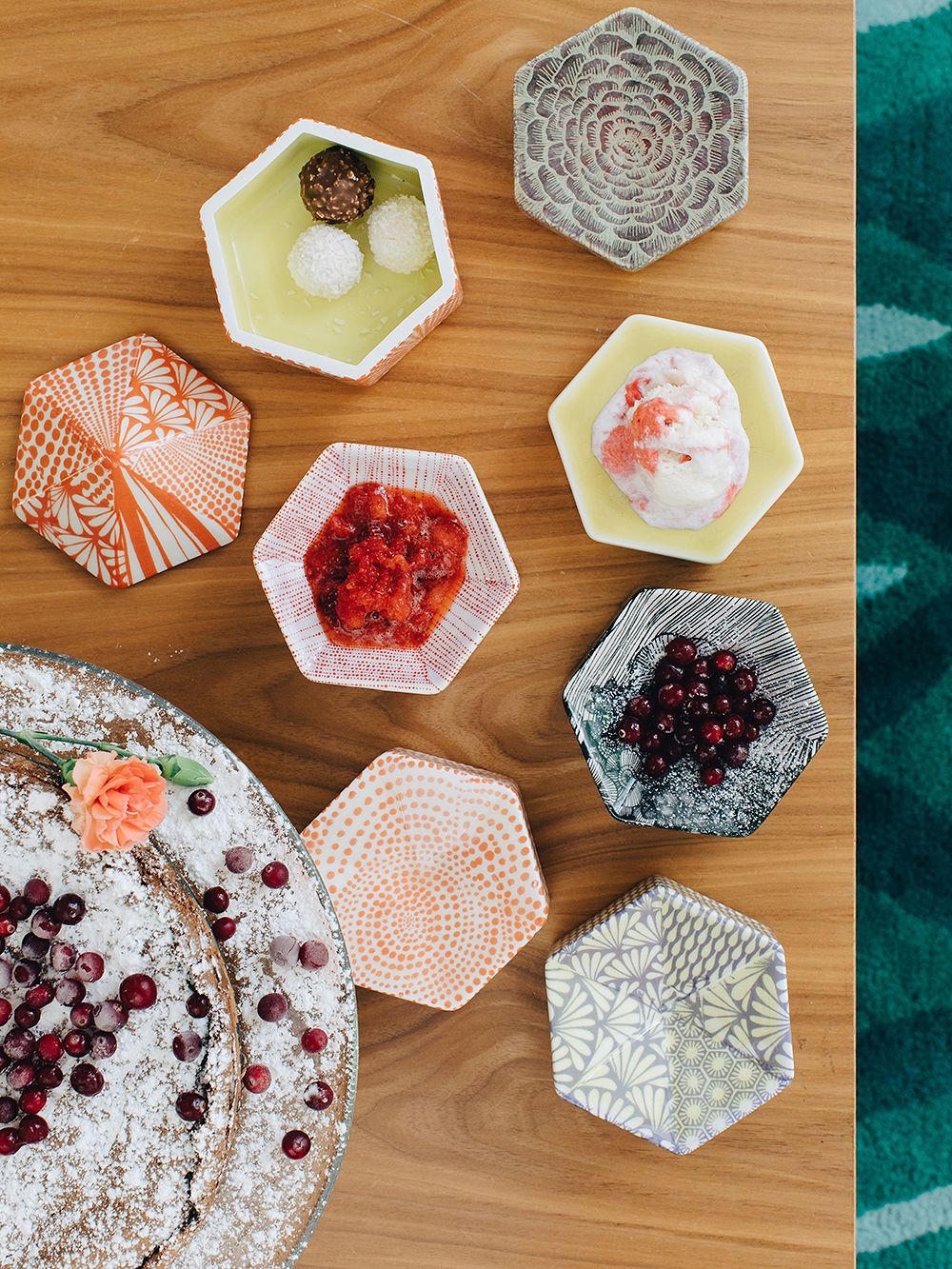 Mud cake (10–12 servings)
200 g butter or margarine
200 g dark chocolate
4 eggs
2 dl sugar
2 ½ dl corn starch (Maizena)
1 tsp baking powder
Into the cake pan:
a little bit of margarine
1-2 tbsp corn starch
Side dishes:
fresh berries
ice cream or whipped cream
1. Melt the butter or margarine and the pieces of chocolate under mild heat. Move to the side.
2. Beat the room temperature eggs and sugar to a thick foam. Mix the corn starch and baking powder together and add to the egg mix. Stir in the chocolate mixture.
3. Oil the loose bottom cake pan, and flour it with corn starch. Pour the batter into the mold.
4. Bake on the lower rack at 200 degrees Celsius for approximately 25-30 minutes. The cake should be moist in the center. Let the cake cool before serving.
See also:
• Heini Riitahuhta's products >
Text: Anna Aromaa Photos: Antti Vettenranta
The story was published originally in Avotakka.