Kivi votive, greyII003967
Description
Kivi is a hand-pressed candleholder designed by Heikki Orvola. Kivi candleholders are available in many different beautiful colours and every year new colours are introduced. Kivi candleholder is one of Iittala's timeless classics and with its simple yet elegant look will add a touch of warmth to your home. Choose Kivi in your favourite colour or create a nice set of different colours or, why not, start collecting them all – Kivi candleholders will create a pleasant atmosphere in any room.
Kivi votive, grey
---
Material

Glass

Colour

Grey

Height

6 cm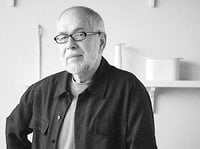 The Finnish designer Heikki Orvola (b. 1943) is one of the driving forces within Finnish design. He works with glass, ceramics, cast iron and textiles. The fields of industrial and product design are most familiar to him, but he has also expressed himself as an artist.
Heikki Orvola has started his career as a glass artist in Nuutajärvi, one of Iittala's glass factories. For Iittala he designed Kivi candleholders (1988), which have become a popular collector's item. Kivi candleholders are available in a wide range of colours and every year new colours are added. These candleholders show the designer's thorough knowledge of glass. Heikki Orvola's creations include also Aika dishware collection (2006) for Iittala and the 24h dishware series (1996) for Arabia, for which he has received the Design Plus Award at the Ambiente International Fair in Frankfurt. For Arabia Heikki Orvola designed also Carambola, a beautiful vase made of bone china. During his career as a designer, Heikki Orvola has received awards and prizes, including the Kaj Franck prize in 1998 and the Pro Finland Medal – two of Finland's most important design prizes. Heikki Orvola received the title of professor in 2002. The designer's glass and ceramics objects have been in many private and group exhibitions all over the world and his works are present in many museums worldwide.
View all products
---