Gift cards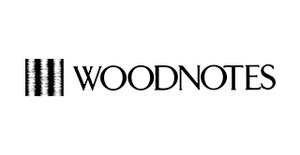 Woodnotes
Woodnotes is Finnish design brand founded in 1987 by textile artist Ritva Puotila and her son Mikko Puotila. The essential idea behind Woodnotes was to create modern design from durable, ecological and beautiful natural material, spun paper yarn. Today, Woodnotes' collections have expanded from paper yarn carpets to furniture and home accessories, but spun paper yarn products still form the core of the company.
Woodnotes was the first company to utilize paper yarn in modern design solely because of its own qualities and certain look, not as a substitute for other materials. Today, Woodnotes is an internationally awarded brand whose products are sold in over 40 counties. One of its most successful products is Harri Koskinen's k-chair that has quickly become a well-known classic of Finnish design.
This brand has collaborated with: Harri Koskinen, Ilkka Suppanen, Minna Ahokas, Ritva Puotila, Tanja Sipilä, Woodnotes, Mia Cullin, Ulla Koskinen, Mari Isopahkala, Raffaella Mangiarotti
---
Show filters
---
0 matching products.
---