We ship worldwide to over 180 countries! Fast and safe shipping Free shipping for all orders over 150 €
We ship worldwide to over 180 countries! Fast and safe shipping Worldwide shipping starting from 7,90 €
We ship worldwide to over 180 countries! Fast and safe shipping Free shipping for all orders over 150 €
We ship worldwide to over 180 countries! Fast and safe shipping Worldwide shipping starting from 7,90 €
Tonfisk Design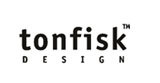 Tonfisk Design
Bored of always seeing the same, Tonfisk Design (est. 1999) was established to bring new ideas to ceramics and tableware. Tonfisk doesn't settle for merely producing new variations of tableware, they aim at reinventing an object and making it a lasting solution that is superior to their competitors.
A great example of their philosophy is the ingenious milk and sugar set 'Newton' designed by Tanja Sipilä, which has received world-wide recognition. Ever since their first product, the widely successful Warm tea and coffee set, Tonfisk has continuously scouted and worked with new young designer talents to produce eye-catching and functional designs.
Email Signup
Subscribe to our free newsletter and be first to hear about new products, interesting people and events.